January 9, 2020
Frosted Sprinkle Brownies
Covered in rich chocolate frosting and loads of sprinkles, these Frosted Sprinkle Brownies are fun, festive, and super delicious! With a thick, fudgy, and chewy brownie, creamy frosting, and crunchy sprinkles, the deep chocolate flavor and texture contrasts make the perfect dessert!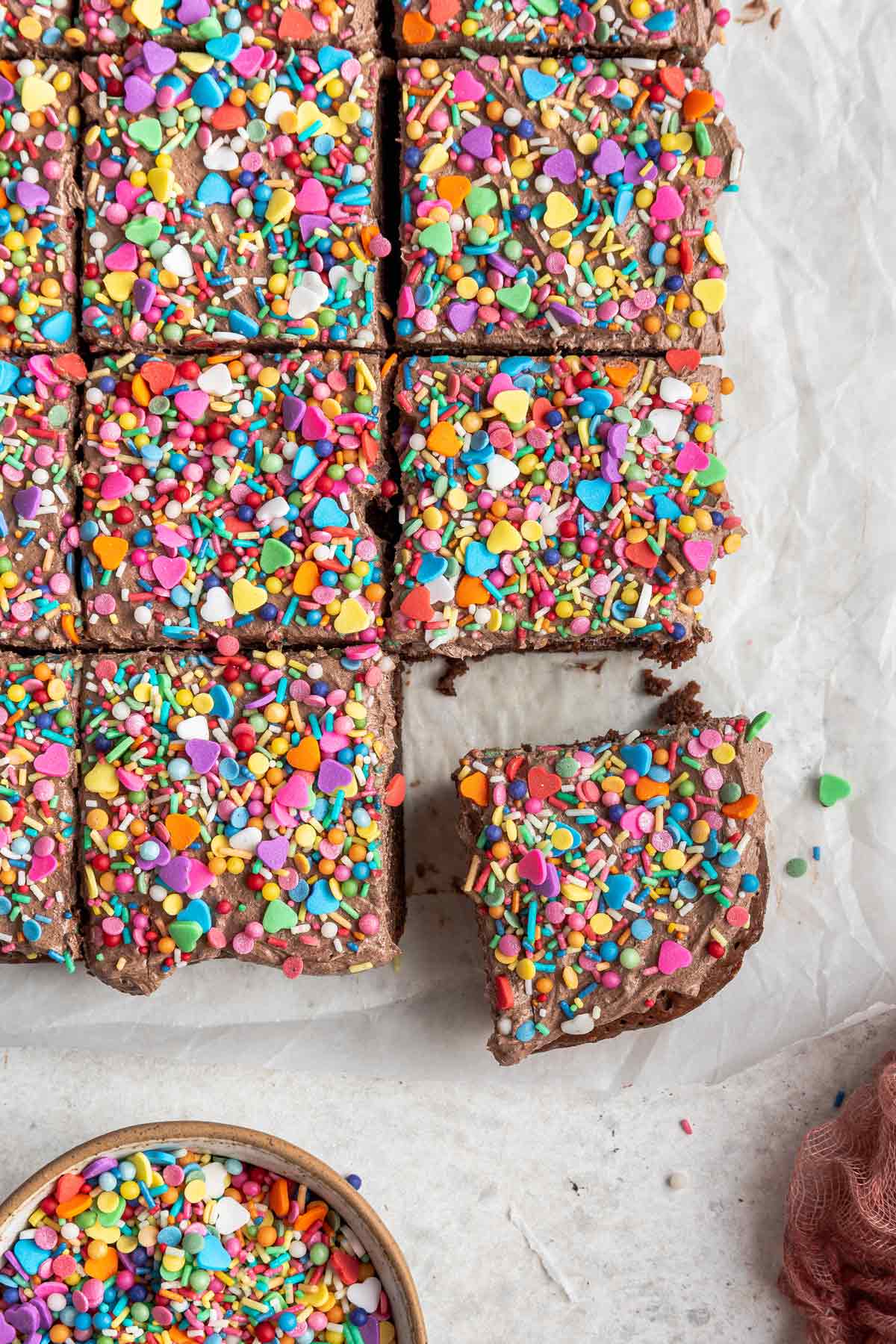 This post may include affiliate links. As an Amazon Associate I earn a fee from qualifying purchases.
Happy 2020! I hope everyone had a wonderful holiday season and is getting back into the normal routine of life. Back to work, back to school, back to not surviving on cookies graciously dropped off by your neighbors.
If you're a long-time reader of Bunsen Burner Bakery, you know we have two annual traditions that we kick off every January.
The first is year-long series of baking something delicious using the same theme for an entire year. Each month, I'll share a new recipe for something in that theme.
So far, we've done quick breads (2016), bundt cakes (2017), pies (2018), and babkas (2019). As much as I loved baking so many babkas last year, I needed something easy this year. Something that didn't require waiting hours and hours (or days!) for dough to rise.
I also have a 4.5 year old who loves chocolate. L-O-V-E-S chocolate. Soo… he'll be extremely thrilled that I'm making 2020 the year of… drum roll please… BROWNIES!
Our second tradition here at Bunsen Burner Bakery is fun, festive, and well, sprinkle-y.
Every year, the first recipe I share in the brand new year is always covered in sprinkles.
I can't think of a better way to kick off a brand new year than a whole boatload of sprinkles for a fun, festive, colorful, and celebratory year ahead!
So this year, we're combining the two traditions and kicking off a new year of recipes with these brownies with frosting and sprinkles!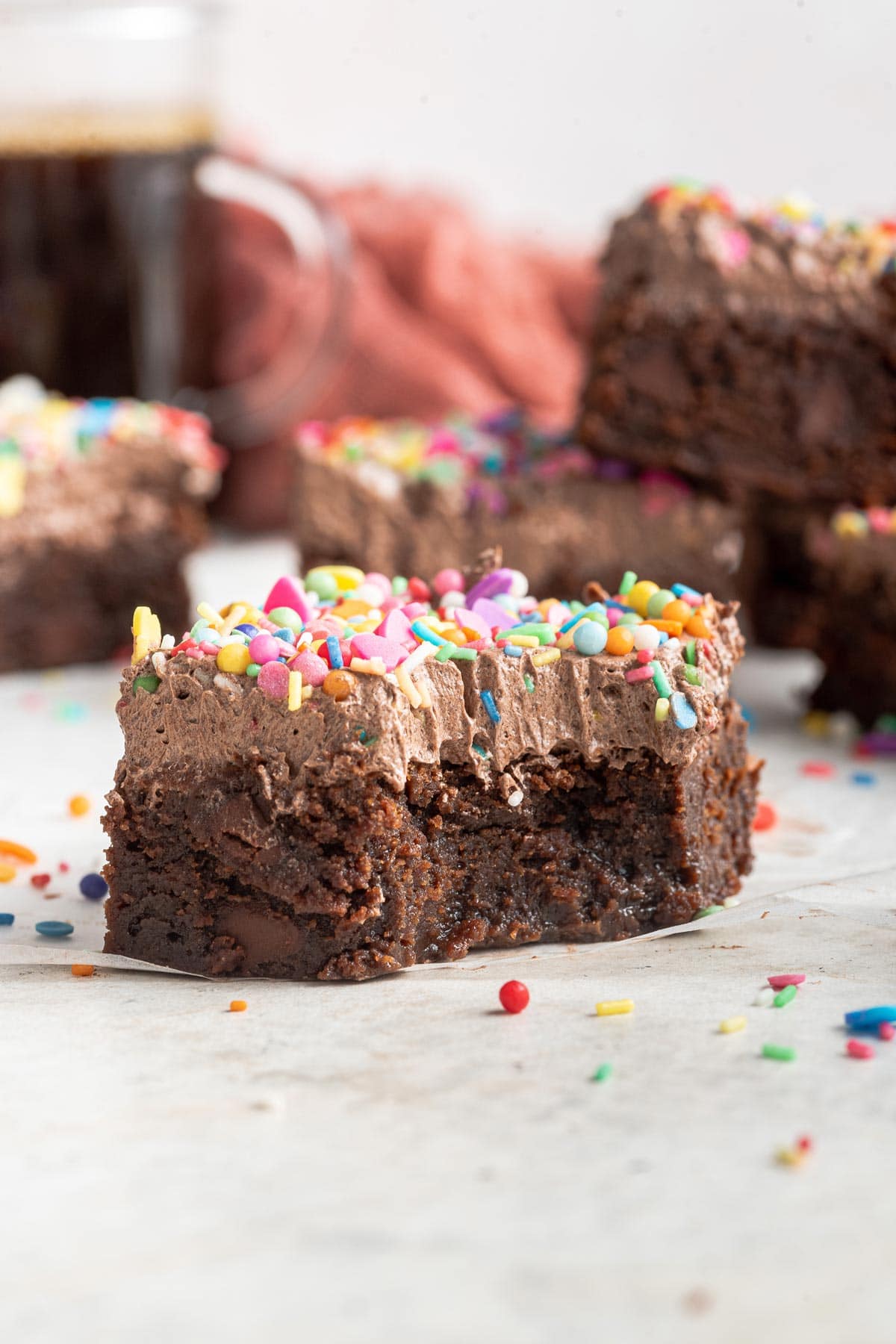 One Bowl Homemade Brownies
Okay, so technically these particular brownies will require two bowls (because the frosting needs a bowl – but you could wash the bowl and reuse the same one). But homemade brownies as a whole? SO EASY.
One bowl. Mix by hand. Barely takes more effort to make by hand than mixing from a box, but better-than-boxed brownies.
We're no strangers to amazing homemade brownies around here.
I've already shared my favorite Simple Fudgy Brownies recipe, which is a great replica for a classic boxed mix (but EVEN BETTER).
I've also shared my Perfect Chewy Brownies, which are oh-so-rich and decadent; the perfect combination between fudgy and cakey.
Today we're doing things a little differently: this recipe produces thick, fudgy, and chewy brownies, with just a little lift from a tiny bit of baking powder. And of course, we will then cover these brownies with sprinkles!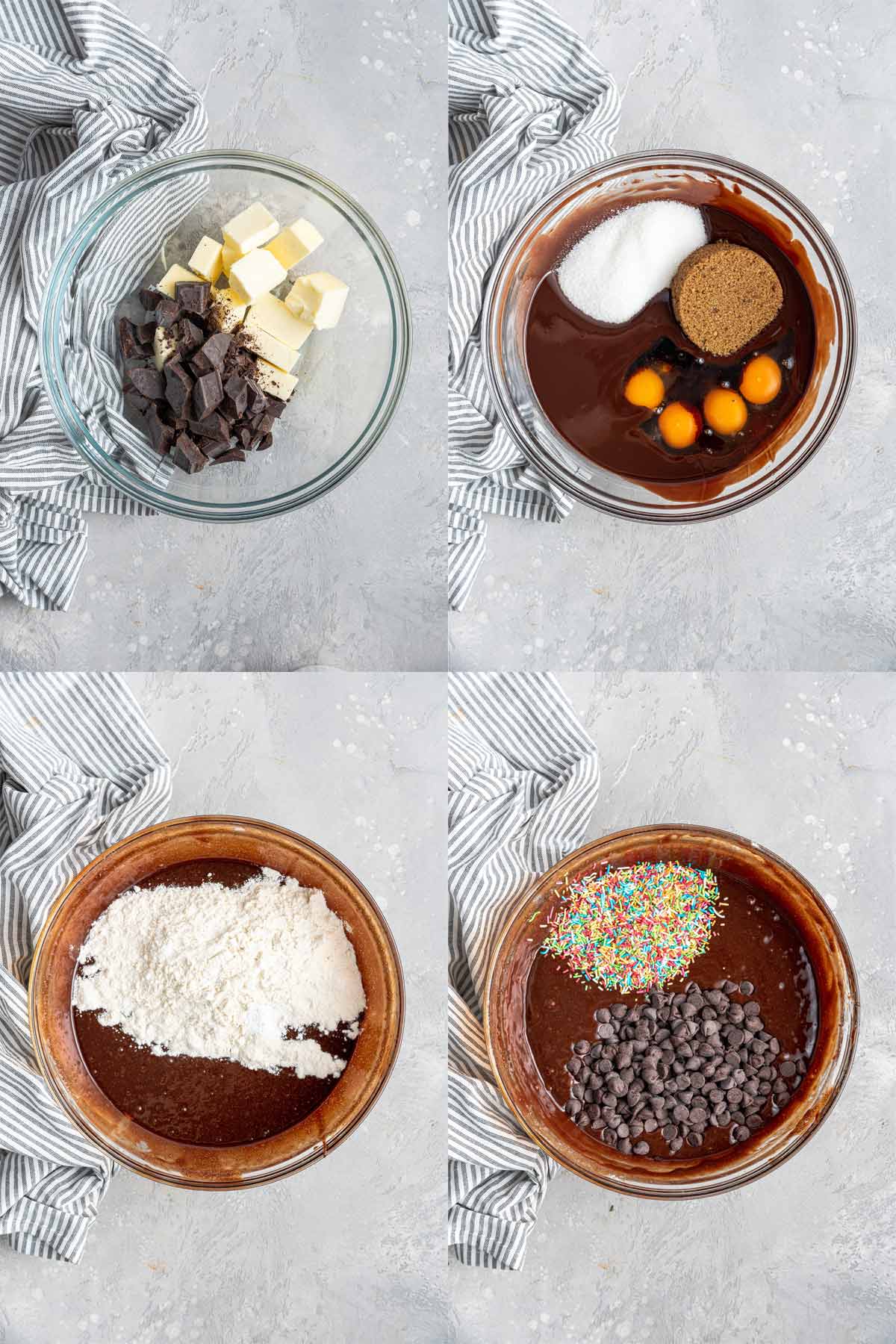 Choosing the Right Brownie Recipe
One of the reasons I chose this style of brownie for this recipe? I wanted something thick, with some chewy bite, to hold up to a big pile of homemade chocolate frosting and lots of sprinkles!
Super fudgy brownies – the kind with a gooey center – are usually fairly thin, and are best on their own. No frosting, fillings, or add-ins are necessary; you want to enjoy that ooey, gooey, truffle-like center on its own.
Cakey brownies are great for piling on frosting — if you know your target audience likes cakey brownies. Most people prefer their brownies on the fudgier side. But if you know you're baking for a cakier brownie lover, this is the perfect opportunity to pile on frosting… just like a cake!
Tall, chewy brownies – often the perfect combination between fudgy and cakey brownies – are great for stirring in extra "treats". You need something thick enough and dense enough to support your add-ins, like chopped-up candy bars, marshmallows, nuts, or cookies.
In this case, we're stirring in sprinkles, piling on the frosting, and putting more sprinkles on top, so we're using a brownie recipe that yields a perfect fudgy and chewy brownie combination. Not too flat, not too gooey, but solid enough to support the frosting. Just right!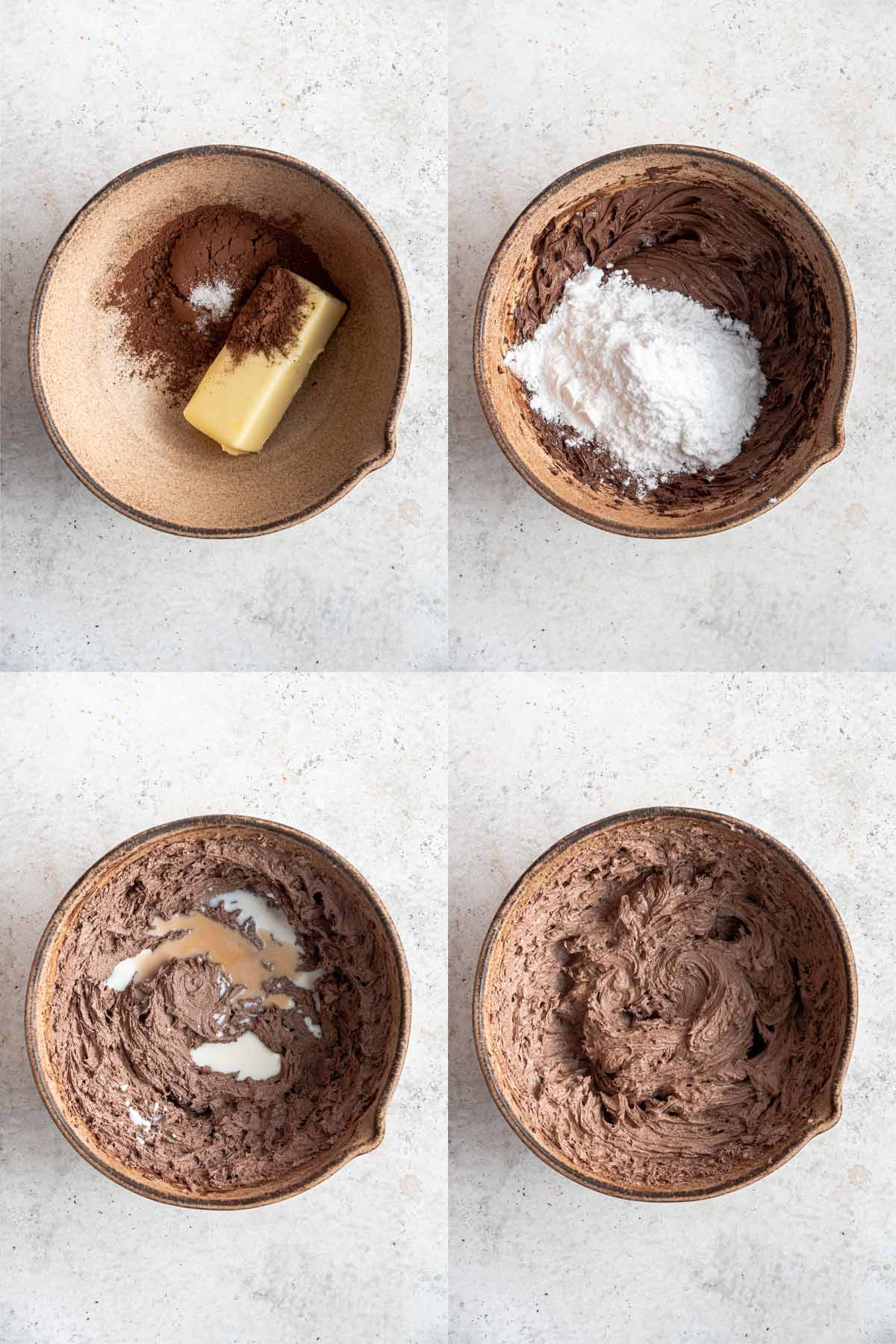 Best Chocolate Frosting for Brownies
I've tried a lot of chocolate frosting recipes, and this one is hands-down my favorite for brownies. The secret? Don't forget to season it properly!
There's no secret ingredient in it, and yet every time I make it, people ask me what I added to it that makes it taste so different. The answer? I just added an appropriate amount of salt!
Adding a big pinch of salt prevents frosting from tasting so cloyingly sweet – and against the rich brownie, you want this. I have 1/2 teaspoon salt in the ingredient list as a good starting point, but if you're making these for adults rather than little kids, I'd even suggest adding a little more to tone the sweetness down further.
And of course, the most important part of frosted sprinkle brownies: we can't forget to pile the sprinkles on top!
The more sprinkles, the better, in my opinion! Use whatever kind of sprinkles you want – because these will be added after baking, on top of the frosting, we don't have to worry about color bleeding into the batter.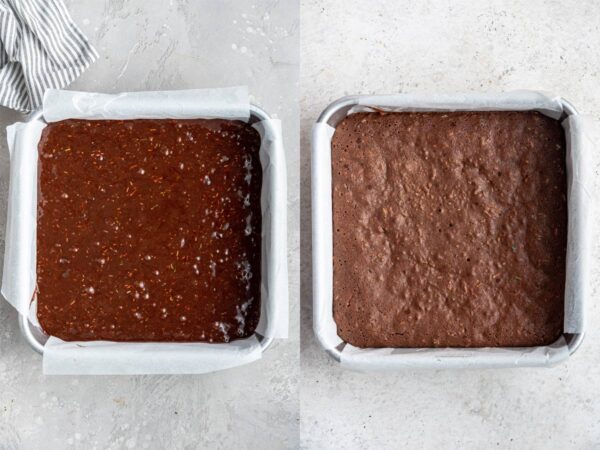 How to Tell when Brownies are Done
The hardest part about baking brownies? Figuring out when to take them out of the oven!
Under-baked fudgy brownies are so gooey, the center is practically liquid. Over-baked brownies in the oven a mere 5 minutes too long have rock-hard edges that no one wants to eat.
Brownie recipes include a wide range in baking times, both because of personal preference, and because brownies will bake faster in a metal pan than in a glass pan.
Since we, the recipe writers, can't predict what kind of pan you'll use, we include a range – and tips like "until a toothpick inserted into the center comes out with a moist crumb."
A moist crumb comment works for a cake. Not so much for a brownie, however. Because the center of a fudgy brownie should be a little gooey, testing using a toothpick can be challenging. If the toothpick comes out covered with chocolate, is that because the batter still hasn't set? Or is it because it's a fudgy brownie with a gooey center… just like we want?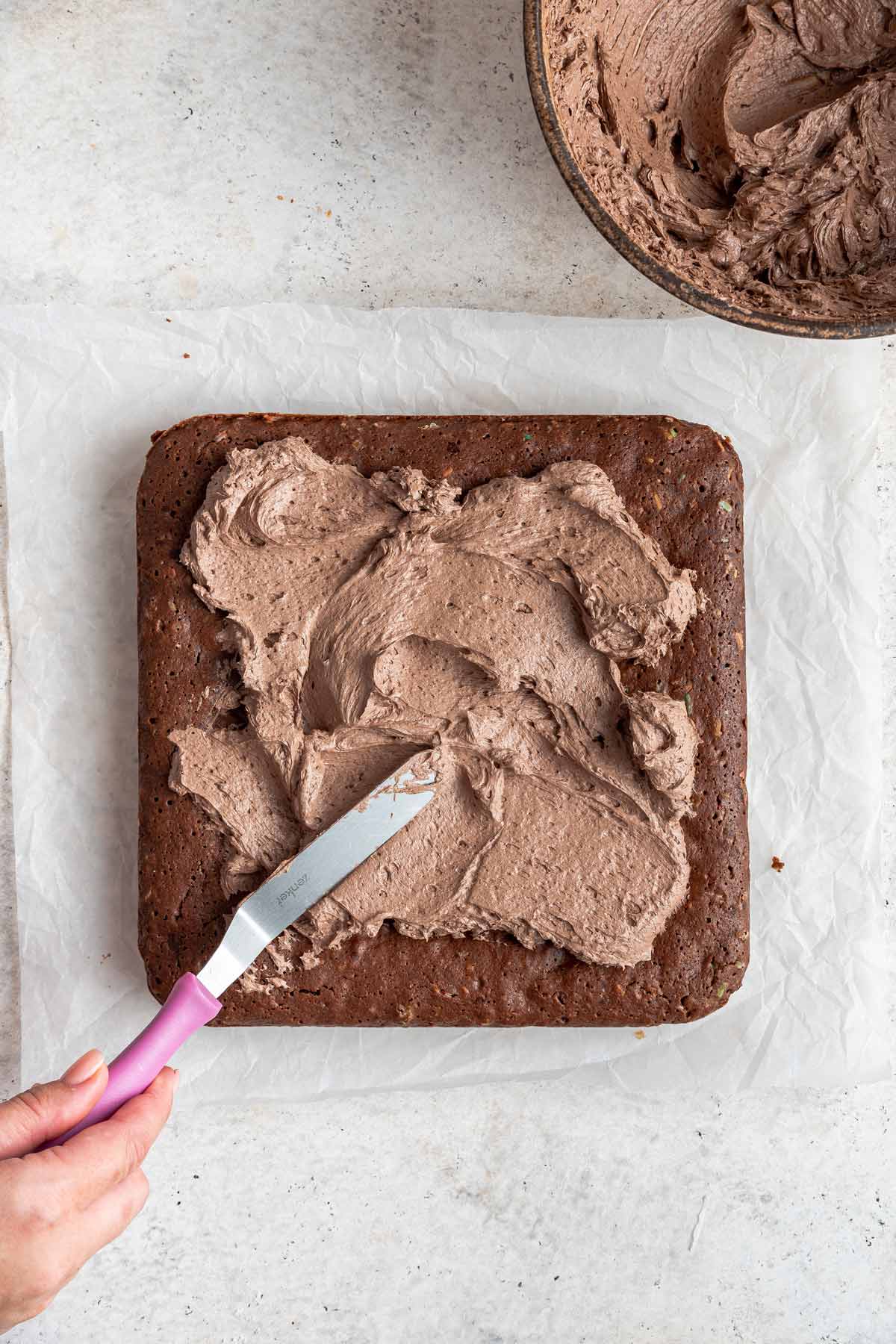 This is where we can rely on my most favorite subject of all… kitchen chemistry! Thanks to science, we can ensure a consistent, perfectly done brownie every time using one simple tool: an instant-read thermometer (affiliate link).
Kitchen Chemistry

To ensure perfectly done brownies, check the temperature of the brownies using an instant-read thermometer. Insert the thermometer probe into the center of the batter, without touching the pan. Fudgy brownie recipes high in chocolate and butter with a higher fat content should be baked to 180 °F, while cakey-style brownies with more flour and baking powder should be baked to 200-210 ° F.
Experiment in your own kitchen as you bake brownies and find your perfect brownie batter done-ness temperature!
The temperatures above are just a suggestion; anything above 165 °F kills any bacteria in eggs and is thus "safe" to eat. Once you know what you like best to suit your own taste, you'll never have under or over-baked brownies again!
For these frosted sprinkle brownies, fudgy brownies with just a little extra flour and on the thicker side, I think 185 °F is juuuuust right!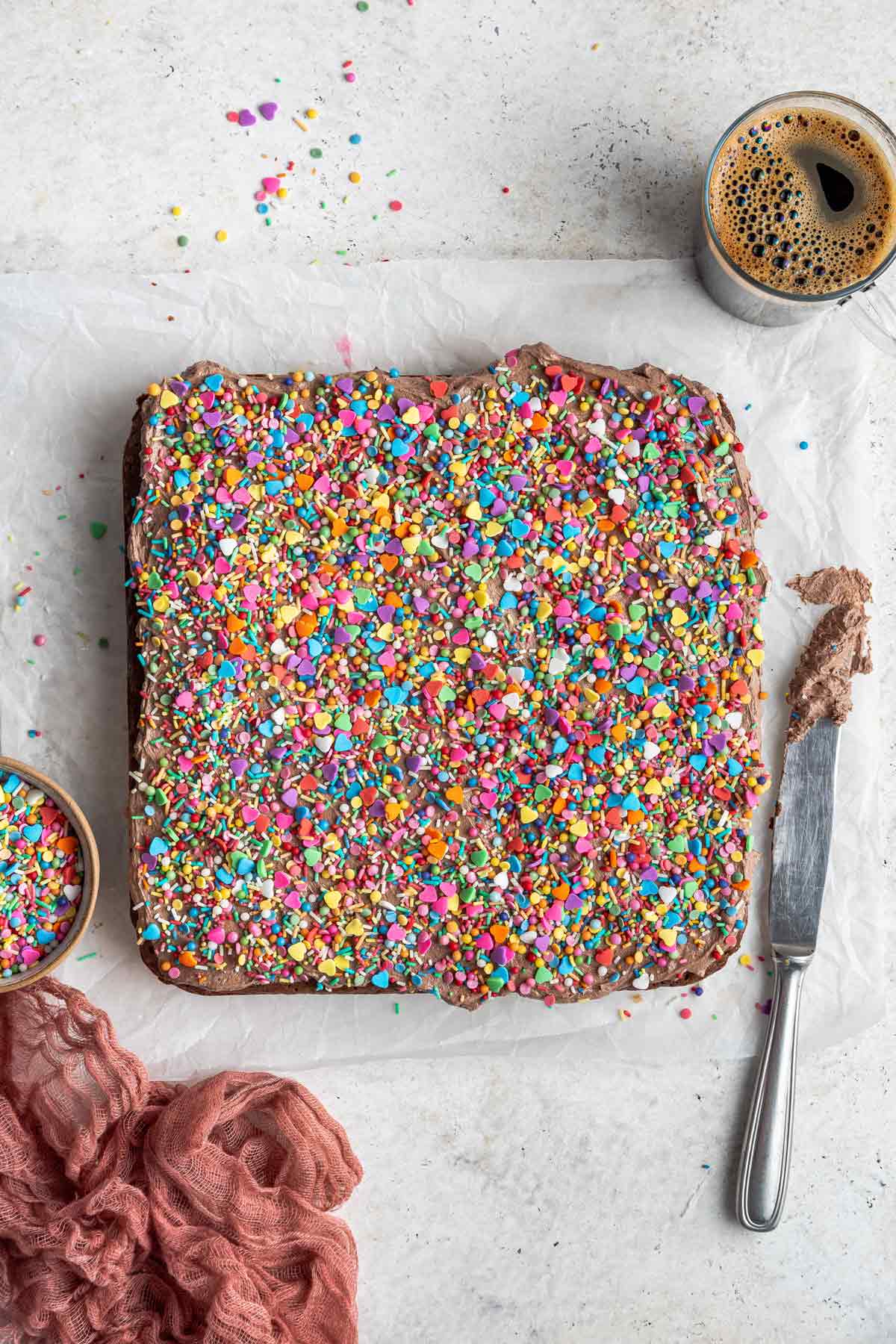 Tips and Tricks for the Best Frosted Sprinkle Brownies
Mix your brownies by hand! While it's tempting to think mixers make everything easier, overmixed brownies are tough, dense, and not as good. Consider hand-whisking brownies your pre-dessert mini arm workout.
Don't over-bake your brownies. To ensure consistently perfect brownies, use an instant read thermometer to determine when to remove the brownies from the oven.
Cool brownies completely before frosting (or slicing, if you're making un-frosted brownies).
Cut brownies with a serrated knife and wipe the knife clean between each slice. This will yield smooth, clean slices.
Want more brownies? Double the recipe! This recipe can be baked in an 8×8-inch or 9×9-inch pan (add 5 minutes of baking time for an 8×8-inch pan) or double the recipe and bake in a 9×13-inch pan.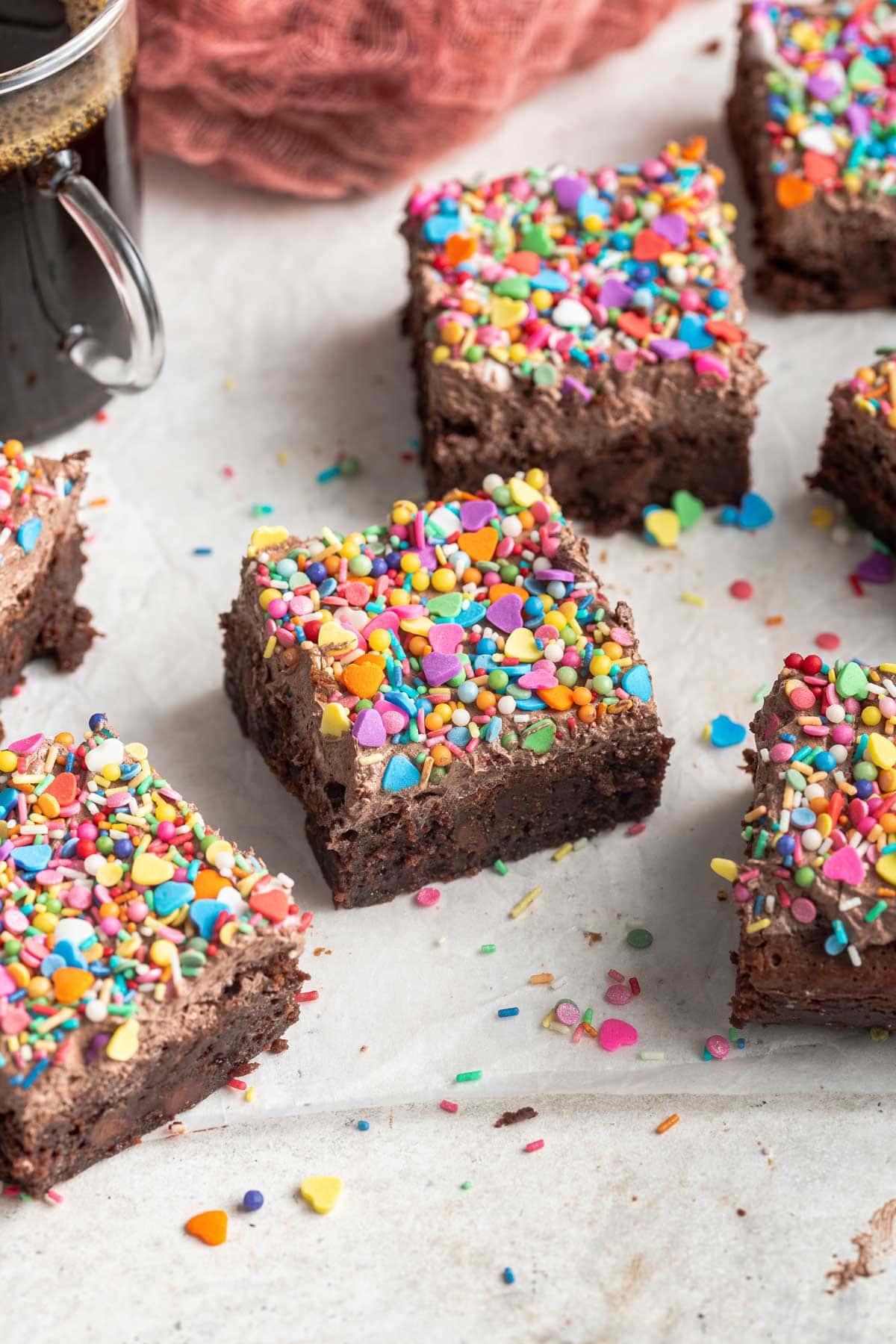 More Sprinkle Desserts:
2020 Brownies of the Month Series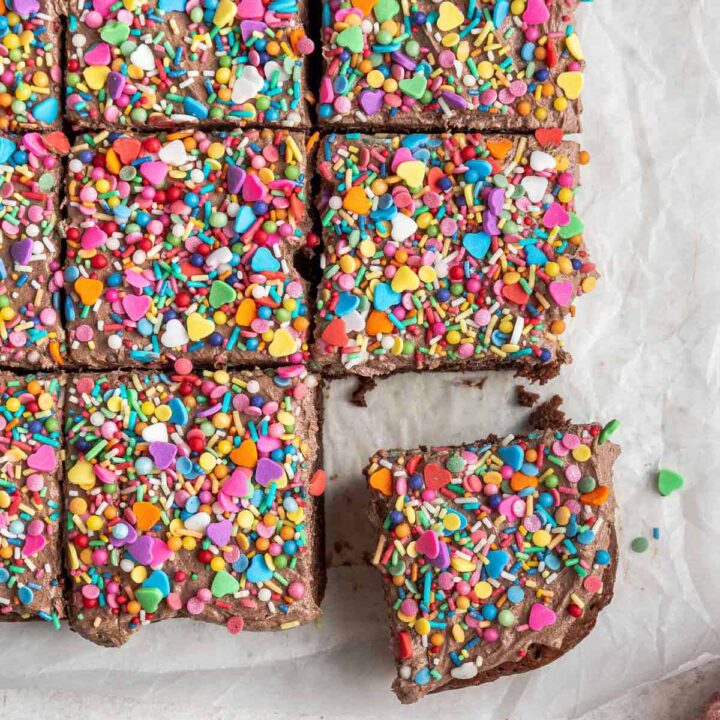 Frosted Sprinkle Brownies
Cooling Time:
1 hour
30 minutes
Total Time:
2 hours
15 minutes
Covered in the rich chocolate frosting and loads of sprinkles, these frosted sprinkle brownies are fun, festive, and super delicious!
Ingredients
For the brownies:
3/4 cup (170 grams) unsalted butter, cut into pieces
4 ounces (113 grams) unsweetened chocolate, roughly chopped
1 cup (19 grams) granulated sugar
1/2 cup (106.5 grams) brown sugar, packed
4 large eggs
2 teaspoons vanilla extract
1/4 teaspoon baking powder
1 cup (120 grams) all-purpose flour
1/2 teaspoon salt
1 cup (170 grams) semi-sweet chocolate chips
3/4 cup (148 grams) sprinkles
For the frosting:
1/2 cup (113 grams) butter, room temperature
1/3 cup (30 grams) unsweetened cocoa powder
1/2 teaspoon salt
1 2/3 cup (190 grams) confectioners sugar
1 teaspoon vanilla extract
5-6 tablespoons heavy cream (can substitute milk)
1 cup (198 grams) sprinkles
Instructions
Preheat the oven to 350 °F. Line a 9x9-inch baking pan with foil and spray with nonstick cooking spray.
In a large microwave-safe mixing bowl, combine the butter and chopped unsweetened chocolate. Heat in the microwave for 1 minute and stir. Heat again for 30 seconds and stir. Continue to heat for 30 seconds and stir, repeating until the mixture is fully melted and smooth. Alternatively, melt on the stovetop using a double boiler. Once melted, set aside to cool slightly.
Whisk in the granulated and brown sugars, eggs, and vanilla extract. Whisk in the flour, baking powder, and salt. Switch to a rubber spatula and fold in the chocolate chips and sprinkles, mixing until just combined.
Transfer the batter into the prepared baking dish and spread it into the corners using the spatula. Bake until a tester comes out with moist, chocolatey crumbs still attached, 30 to 35 minutes, or until an instant-read thermometer registers as 180 to 185 °F. Cool completely.
While the brownies cool, make the frosting. Cream together the butter, cocoa powder, and salt using an electric mixer on medium speed. After 2-3 minutes, add the confectioners sugar and continue to mix on low speed until the sugar is fully incorporated. Add in the vanilla extract and heavy cream, adding additional heavy cream if the frosting is too stiff. Increase the mixer speed to medium-high speed and beat for 3-4 minutes, until the frosting is smooth and fluffy.
Spread the frosting across the cooled brownies and cover with the sprinkles. Cut into 20 squares. Store in an airtight container at room temperature or in the refrigerator, based on personal preference for taste (brownies are safe to consume at room temperature but will taste richer and fudgier when stored in the refrigerator) for up to 5 days.
Notes
Don't over-bake your brownies.  To ensure consistently perfect brownies, use an instant-read thermometer to determine when to remove the brownies from the oven.
Cool brownies completely before frosting.
Want more brownies? Double the recipe!  This recipe can be baked in an 8×8-inch or 9×9-inch pan (add 5 minutes of baking time for an 8×8-inch pan) or double the recipe and bake in a 9×13-inch pan.
Store brownies at room temperature or in the refrigerator for up to 5 days, or freeze for up to 3 months. Brownies can be frozen before or after frosting. Before frosting, bake brownies and freeze uncut; thaw overnight at room temperature and frost before serving. To freeze already frosted and cut brownies, place brownies on a cookie sheet and freeze for 2-3 hours until the frosting layer is completely frozen, wrap in plastic wrap, and store in a plastic freezer bag. To thaw, remove from the freezer bag, unwrap plastic wrap, and thaw at room temperature.
Recommended Products
As an Amazon Associate and member of other affiliate programs, I earn from qualifying purchases.
Nutrition Information:
Yield:

20
Serving Size:

1 brownie
Amount Per Serving:
Calories:

411
Total Fat:

24g
Carbohydrates:

47.7g
Protein:

3.9g