September 3, 2015
Blueberry Peach Coffee Cake
Perfectly ripe peaches and juicy blueberries top a delicious vanilla coffee cake.  Breakfast?  Dessert?  Mid-afternoon snack?  This Blueberry Peach Coffee Cake is all three!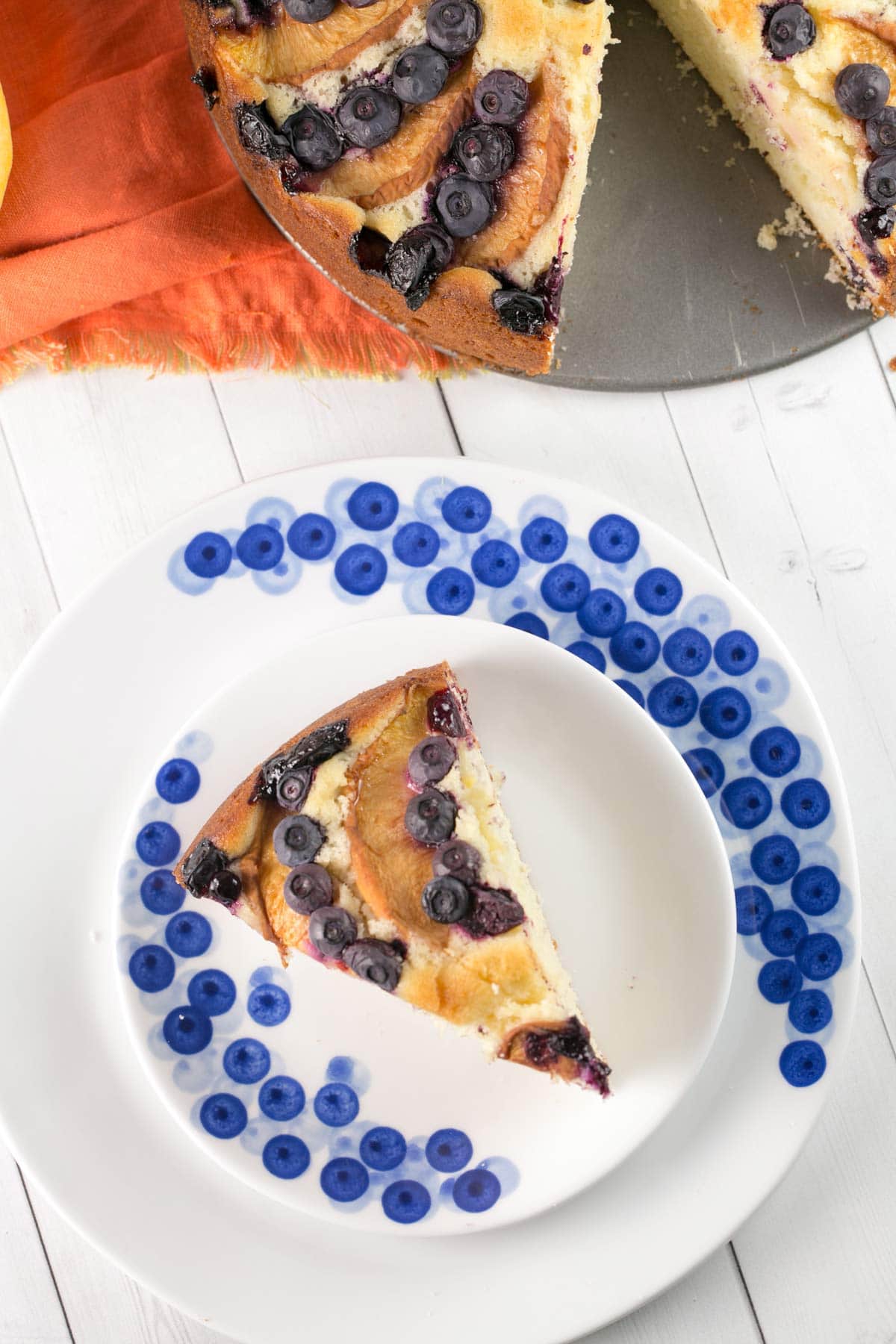 Another summer fruit dessert?  I know, I know.  But I just can't help myself with all this amazing ripe produce, especially when my CSA keeps giving it to me.  It's like someone is just begging me to make stone fruit desserts.  And who am I to say no?
Spoiler alert: this is probably not the last stone fruit dessert of the season.  In a few weeks, when apples and grapes and not much else take over the grocery store and farmers' markets, we'll be back to those heavy chocolate and peanut butter-based desserts (much to my husband's delight).
I'm calling this a coffee cake — that all-encompassing title that implies that something is perfectly acceptable for breakfast, dessert, or a mid-day snack. 
We chose to treat this as dessert, slicing away at it after dinner for a few days (and delivering some to our neighbor to ensure we didn't eat the whole thing…), but it would be equally at home on your breakfast or brunch table.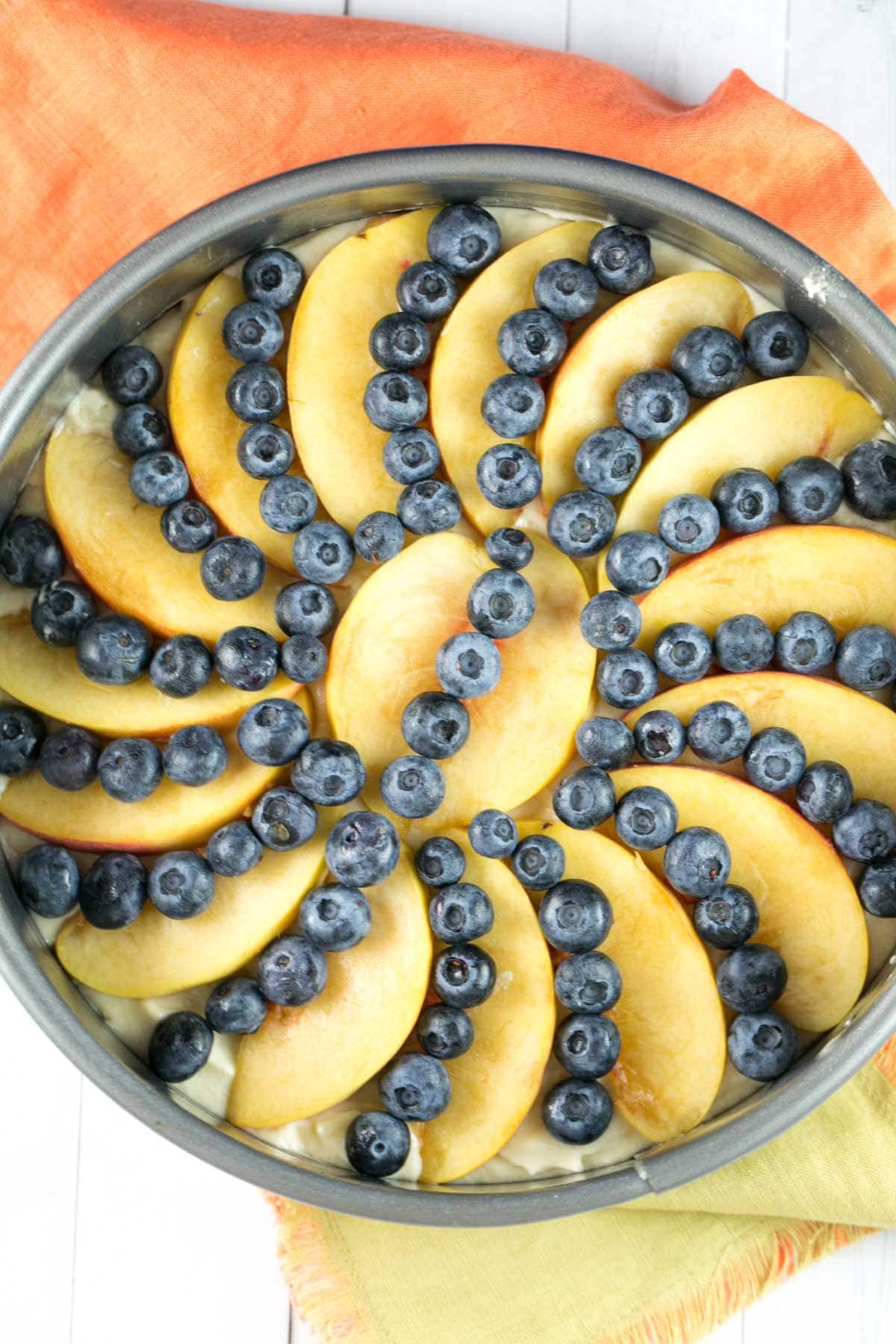 Ingredients and Substitutions
To make this cake, you'll need the following:
Butter: Use unsalted butter, at cool room temperature – not too soft, or the resulting cake will feel greasy. Room-temperature butter should actually be around 65 °F.
Sugar
Eggs: You can substitute flax eggs to keep this egg-free.
Flour: For a gluten-free version, substitute a 1:1 all-purpose gluten-free baking mix.
Baking Powder
Salt: This recipe is written for table salt or Morton's kosher salt; adjust accordingly if using Diamond Crystal salt.
Milk: I bake with whole milk, but you can substitute a high-protein plant-based milk, like soy milk or pea milk (avoid low-protein options, like almond or oat milk).
Vanilla Extract
Fresh Peaches
Fresh Blueberries
Fruit on Top vs. Fruit on Bottom
Two weeks ago, I shared a nectarine upside-down yogurt cake.  This is a similar idea, but the fruit goes on top of this cake, rather than underneath.  Okay, but what's the difference?
When the fruit is on the bottom, the heat releases steam which is trapped under the batter, essentially steaming the fruit.  The fruit winds up nice and soft and delicious.  When the fruit is on the top, it's more of a traditional baking process.  The fruit is still soft inside, but has a little more texture (and is also delicious).  
When you bake with fruit on top, the cake itself tends to rise up around the fruit a bit, so it's not quite as pretty coming out of the oven as it is when the cake goes into the oven, but it's so good that I promise, no one will mind if it doesn't look quite so stunning.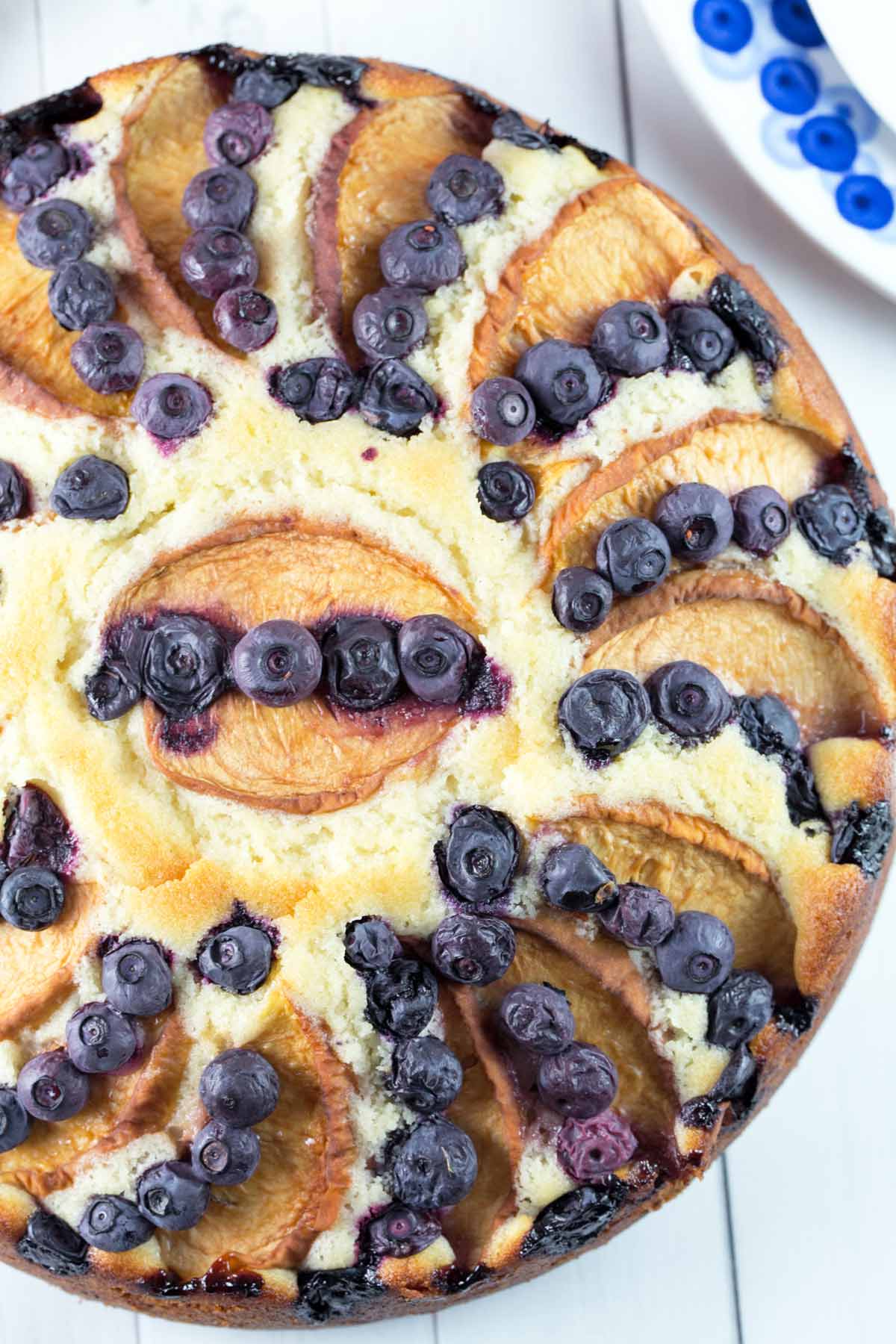 Classic Vanilla Coffee Cake
The base of our blueberry peach coffee cake is a standard vanilla coffee cake. It's delicious on its own – no mix-ins needed!
We're going to start by creaming together the butter and sugar before adding in eggs, and then alternating adding in the flour and the milk.
The resulting batter will be thick – and this is by design! Have you ever wondered why fruit often seems to "sink" into some cakes, while staying evenly distributed in others? How do we make sure the fruit in this cake stays on top of the batter instead of falling down to the bottom? We can answer this with my favorite subject… kitchen chemistry!
Kitchen Chemistry

Whether or not fruit sinks into a cake batter depends on the viscosity of the batter. Viscosity is a measurement of a fluid's resistance to flow. The thicker the cake batter, the more viscous it is: the molecular makeup of the liquid results in a lot of internal friction. A thick cake batter with high viscosity prevents fruit from sinking down into the batter while the cake bakes.
Of course, it's not as simple as adding more flour or using less liquid for your favorite cake recipe – we have to develop a recipe with a specific balance of ingredients. This blueberry peach coffee cake is just the right viscosity to prevent your fruit from sinking down into the batter!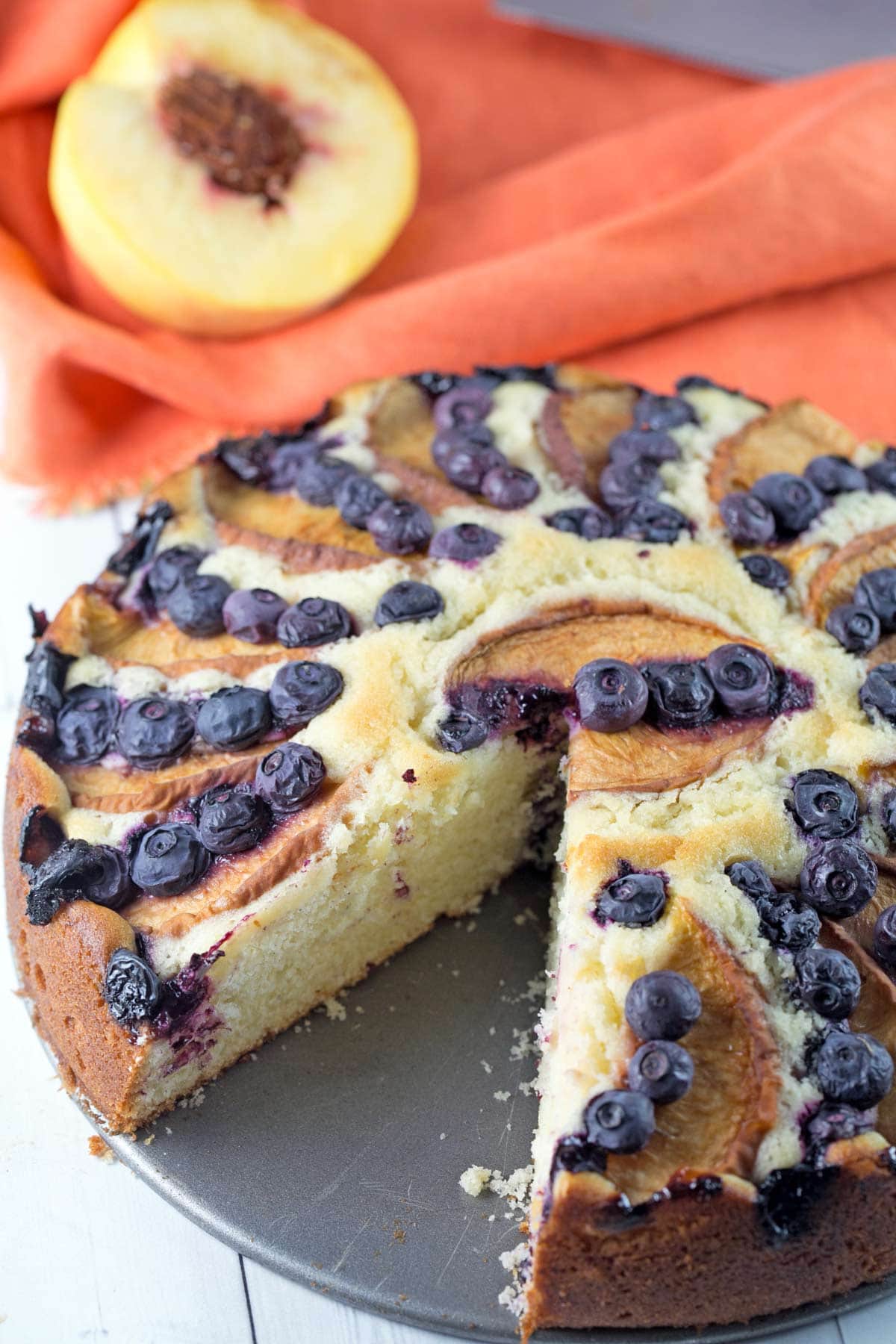 Recommended Tools to Make Blueberry Peach Cake
Tips and Tricks for the Best Blueberry Peach Coffee Cake
Use ripe, but not overripe, fruit. Peaches should give slightly when gently pressed and have a sweet aroma. Look for blueberries that are plump and have a deep blue color. Overripe fruits can lead to a mushy texture and overly sweet flavor.
Don't overmix the batter. Mix the wet and dry ingredients until just combined. Overmixing can lead to a tough texture due to excess gluten development. A few lumps are perfectly fine – they'll disappear during baking.
Cool the cake in the pan before removing. This helps set the structure of the cake and prevents it from crumbling and falling apart.
Blueberry peach coffee cake can be stored in an airtight container at room temperature for up to 4 days or frozen for up to 3 months.
More Fresh Peach Recipes: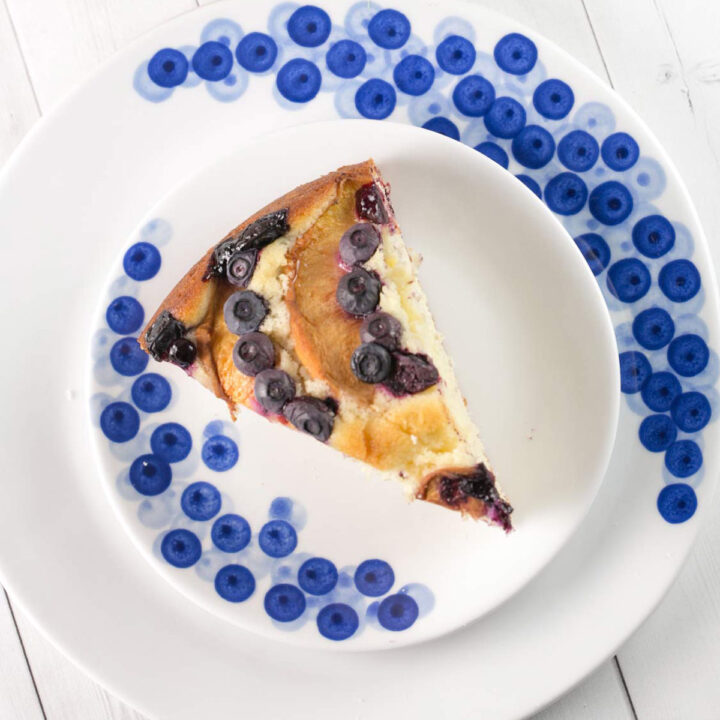 Blueberry Peach Coffee Cake
Total Time:
1 hour
20 minutes
Perfectly ripe peaches and juicy blueberries top a delicious vanilla coffee cake.  Breakfast?  Dessert?  Mid-afternoon snack?  Yes, yes, and yes!
Ingredients
1/2 cup (113 grams) unsalted butter, room temperature
1 cup (198 grams) granulated sugar
2 large eggs, room temperature
2 cups (240 grams) all-purpose flour
1 1/2 teaspoons baking powder
1/2 teaspoon salt
2/3 cup (151 grams) milk
2 teaspoons vanilla extract
2 large peaches, sliced
1 cup fresh blueberries
Instructions
Preheat oven to 350°F. Butter and flour a 9-inch springform pan.
Using an electric mixer, beat the butter at medium speed until light and fluffy, 2 to 3 minutes. Slowly add in granulated sugar, beating well. Add eggs, one at a time, and beat until combined.
Combine together the flour, baking powder, and salt. Add the dry ingredients, alternating with the milk, beginning and ending with the flour mixture. Beat at low speed after each addition until just combined. Stir in the vanilla extract.
Pour the batter into the prepared springform pan, topping with sliced peaches and blueberries.
Bake for 1 hour, or until the center of the cake is set and a tester comes out with moist crumbs. Cool for 30 minutes on a wire rack before unmolding the cake; serve at room temperature.
Recommended Products
As an Amazon Associate and member of other affiliate programs, I earn from qualifying purchases.