October 13, 2021
Candy Corn Pretzel Bites
A pretzel, a Hershey's kiss, and candy corn — so easy, but these make ahead bite-sized sweet and salty Candy Corn Pretzel Bites are super addicting! The perfect easy Halloween treat!
It's the third day of Halloween Treats Week, and today we're turning one of my most popular "recipes" on Bunsen Burner Bakery into a Halloween treat!
These M&M Pretzel Kisses are always wildly popular around the holidays. I get it — December rolls around and we're all so busy that we need EASY – and it truly does not get any easier than this.
We're taking the same concept – pretzel with a softened Hershey's kiss – but swapping out the M&M for candy corn. Trust me – even if you're not a big candy corn fan, these are irresistible!
Candy Corn + Pretzel + Hershey Kiss
All these Candy Corn Pretzel Bites require are a small snack-sized pretzel, a Hershey's kiss or hug, and a bag of candy corn.
Line up your pretzels on a cookie sheet. Put an (unwrapped, obviously) kiss on the pretzel. Melt until soft, then push an M&M into the melted chocolate.
The only "trick" to these? Heat the kisses low and slow. I had the best results when I used an insulated cookie sheet lined with a baking mat, baking at 200 °F for 5 minutes. (No insulated cookie sheet? No problem – just keep a close eye on your melting kisses!) The chocolate melted perfectly and pushing an m&m into the kiss was nice and smooth.
Higher temperatures left the kisses more likely to crack. Lower temperatures took a really long time. A non-insulated pan also lead to more cracks in the chocolate, whether I did them at lower or higher temperatures.
Easy Make Ahead Treat
One of my favorite parts about these Candy Corn Pretzel Bites? You can make them in advance! There's nothing like trying to finish up Halloween treats for a school party or neighborhood gathering the day before.
Instead, with these, you can make them a few weeks ahead of time and have them ready to go for any of your Halloween events.
Store the bites at cool room temperature in an airtight plastic container or storage bag. Keep them away from direct sunlight or other expected sources of heat — you don't want the kisses to melt!
Preventing Chocolate Bloom
To keep these Candy Corn Pretzel Bites looking their best, store them at room temperature and not in the refrigerator.
Have you ever noticed chocolate that takes on a chalky, dusty appearance that doesn't wipe away? This is called sugar bloom. What is it and how can we prevent it? It's time for my favorite subject… kitchen chemistry.
Kitchen Chemistry

Sugar bloom is caused by moisture on the surface of chocolate. Condensation on the surface of the chocolate causes the sugar to absorb the excess moisture and dissolve. When this moisture later evaporates, the sugar forms crystals left on the surface of the chocolate.
So how do we prevent sugar bloom? Keep the chocolate dry – in other words, don't store it in the refrigerator!
But if your chocolate does bloom, don't worry – it's still perfectly safe to eat. It just changes the appearance, not the texture or taste!
Tips and Tricks for Candy Corn Pretzel Bites
Use insulated cookie sheets. If you really want to prevent the kisses from cracking or developing a fat bloom, I found insulated cookie sheets helped prevent the kisses from melting too quickly.
Test the kisses frequently! You want to add the candy corn as soon as the kiss is just soft enough. Ovens are rarely perfectly calibrated, so you may find it takes a minute or two longer or shorter to reach this perfect temperature.
Kisses and hugs melt at different temperatures. Hugs melt faster in the oven than kisses do – keep this in mind if you're mixing and matching and using both!
Work quickly and in small batches to push the candy corn into the kiss. Better to do 20 at a time than 50; the kiss will obviously start to solidify as it sits out at room temperature.
Store in an airtight container in a cool, dry location (but not the refrigerator).
More Halloween Treats: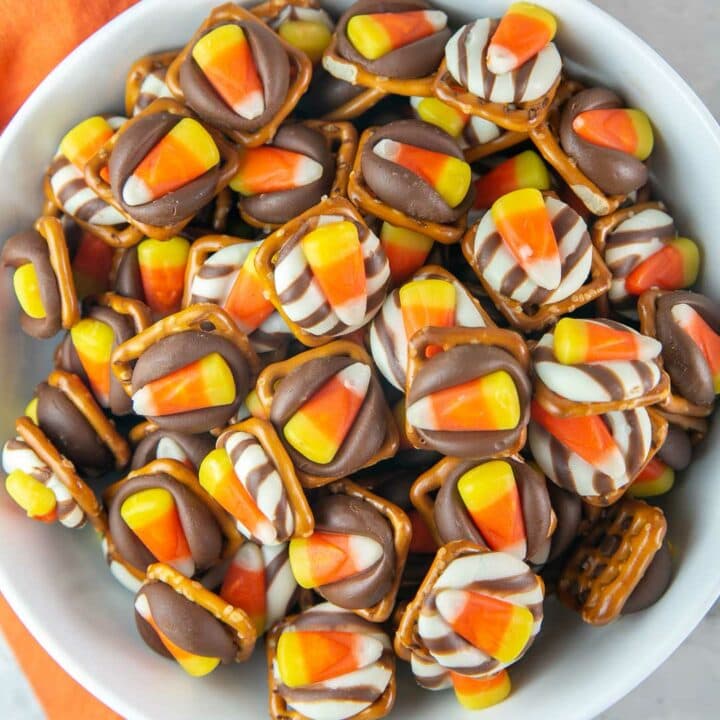 Candy Corn Pretzel Bites
A pretzel, a Hershey's kiss, and candy corn — so easy, but these make ahead bite-sized sweet and salty Candy Corn Pretzel Bites are super addicting!  The perfect easy Halloween treat!
Ingredients
75 miniature bite-sized pretzels
75 Hershey's kisses (1 12-ounce bag)
75 pieces of candy corn
Instructions
Preheat oven to 200 °F. Line a cookie sheet with parchment paper or a baking mat.
Line up pretzels along cookie sheet. Place an unwrapped Hershey's kiss on top of each pretzel. Bake for 5 minutes, until kiss looks shiny and slightly soft (kisses will still retain their shape).
Remove from oven and immediately press one piece of candy corn into the center of each melted kiss, spreading the chocolate across the pretzel.
Cool until chocolate solidifies to room temperature and is no longer soft to the touch, about 1 hour.
Notes
Candy Corn Pretzel Bites can be made up to two weeks in advance. Store in an airtight container at room temperature.
Recommended Products
As an Amazon Associate and member of other affiliate programs, I earn from qualifying purchases.