August 20, 2020
Chocolate Chip Cherry Pound Cake
The very best Chocolate Chip Cherry Pound Cake – a buttery pound cake that melts in your mouth, filled with chopped cherries and chocolate chips, and topped with a cherry fudge frosting. Use fresh cherries in the summer or frozen or maraschino cherries for an off-season cherry treat!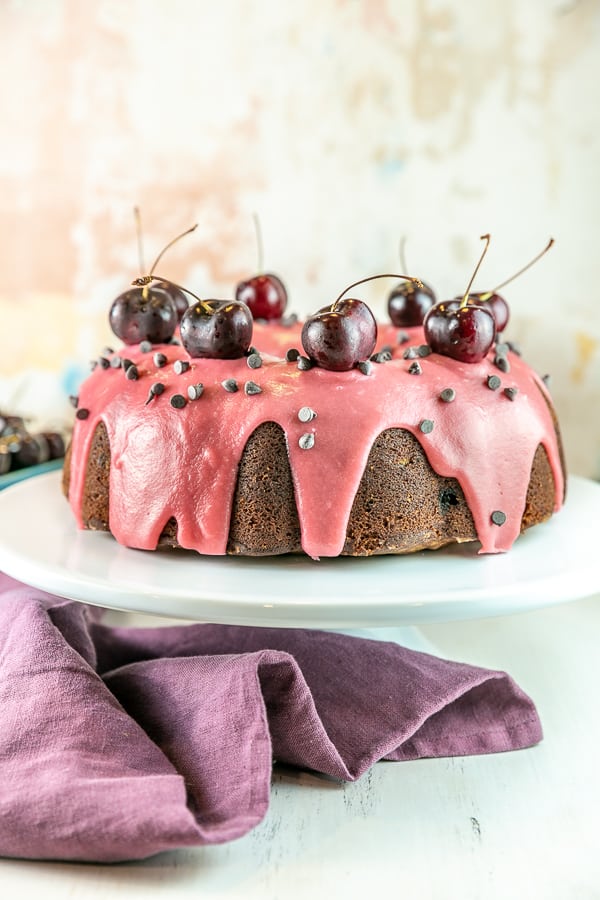 Last month, we took a break from sweets. My 5 year old somehow went from "dessert is a fun treat" to "expecting dessert any day that ends in Y" so we all decided to reset a little.
I have framed pictures of my food photography hanging along one wall of our kitchen. We often joke that my son thinks of this wall as a menu rather than decoration, and sure enough – as the month came to a close, he pointed straight to the picture of this chocolate cherry bundt cake and announced "I want THAT tomorrow."
Of course, after taking an entire month off of baking and recipe developing, I was itching to make something new.
Fortunately for him, however, I had a previously-tested recipe for pound cake I wanted to photograph and we had an entire bag of fresh summer cherries.
And thus: a chocolate chip cherry pound cake. Not quite the same as the original, but as someone who loves pound cakes and doesn't love chocolate cakes, I'm going to go ahead and say it was even better.
The cake base for this cherry pound cake is my favorite pound cake recipe. Adding chocolate chips, chopped cherries, and a cherry almond fudge glaze? Well, that just takes it over the top.
If my son asks me to make this cake again, I'm pretty sure I won't be able to say no – it's one of my favorites that I've ever made!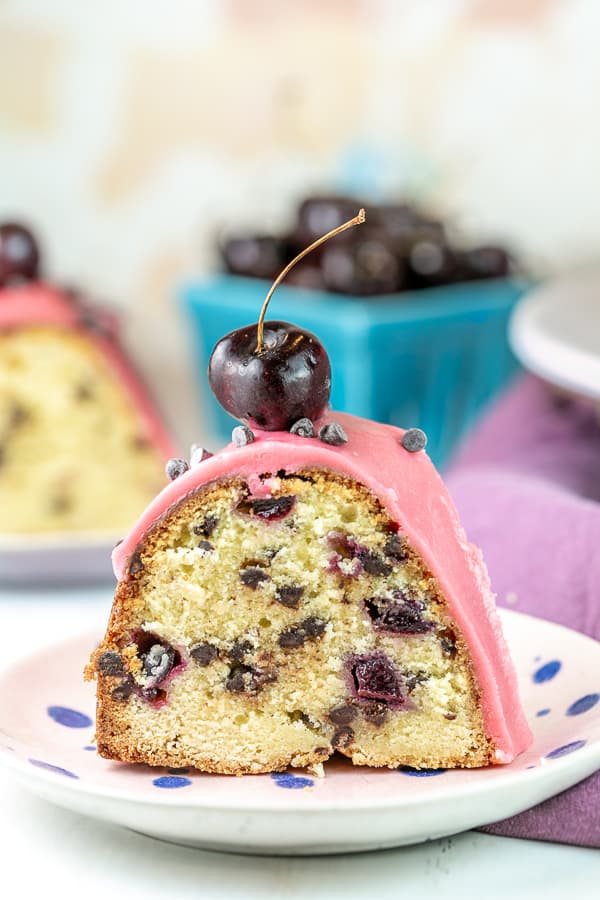 Best Pound Cake Recipe
Traditionally pound cake, or quatre-quarts, as it's known in French, is made using a pound each of butter, eggs, sugar, and flour.
While the ratios have changed a little, you'll notice one thing that remains the same: unlike a "typical" cake, there's no leavening agent!
To lighten the batter and create a little lift naturally, there are two important steps to making a pound cake, and they both require using room temperature ingredients.
Why is this so important? It's time for my favorite subject… kitchen chemistry!
Kitchen Chemistry

Room temperature butter helps the fat distribute more evenly throughout the batter, creating better aeration. When beating together sugar and butter, the sugar cuts through the fat in the butter, filling it with tiny air bubbles to create a lighter texture. Room temperature eggs are also essential, as warmer eggs whip better than colder eggs, also preventing a pound cake from being too dense.
You'll also want to slowly beat the eggs into the mixture, one at a time.
By adding each egg individually, the eggs are better dispersed in the batter which creates an emulsion of liquid and fat. Adding the eggs too quickly results in the eggs separating from the butter and a curdled-looking batter.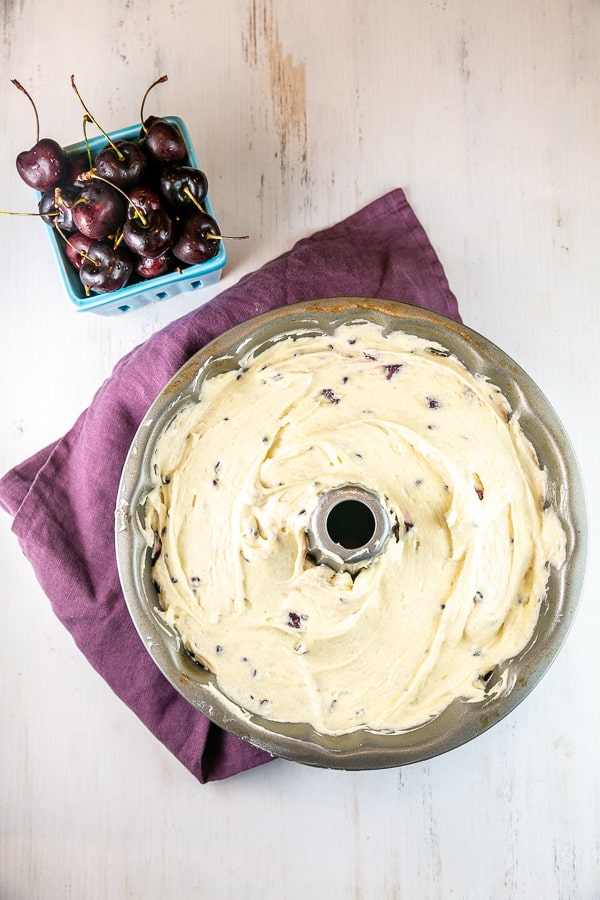 Use Fresh or Frozen Cherries
I like to bake with fresh cherries – and I always have a big bowl around in the summer. (Fresh cherries are my favorite fruit!)
But if you want to make this cake outside of cherry season? You can also use frozen cherries or even a jar of maraschino cherries.
Thaw the cherries in a colander set over a bowl to drain excess liquid. Chop the thawed cherries and save the juice for the frosting!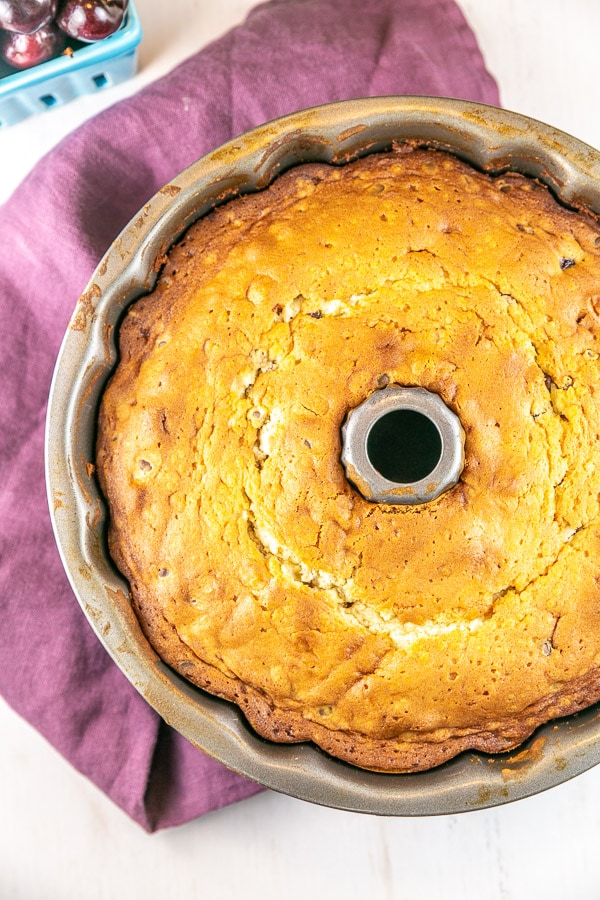 Cherry Fudge Frosting
I'll start by saying that this cherry pound cake recipe does not need frosting. The cake itself is moist, delicious, and perfect on its own.
Buuuut… I'm never one to miss an opportunity to impart even more cherry flavor into a cake.
And thus: almond cherry fudge frosting.
This is a cooked frosting, with ingredients boiled together on the stove, similar to an ermine frosting.
But instead of whipping the butter and slowly adding in the boiled flour and sugar mixture, we're adding the butter into the hot frosting, letting it cool, and pouring it over the cake.
The end result is an incredibly fudgy, slightly chewy texture, with lots of cherry flavor.
You'll need a quarter cup of cherry juice for this. You can purchase cherry juice, use the juice from a jar of maraschino cherries, or make your own.
To make your own cherry juice, toss pitted cherries in a blender or food processor, blend, and strain the solids out using a fine mesh sieve.
And of course, if you used frozen cherries, use the juice from the thawed cherries!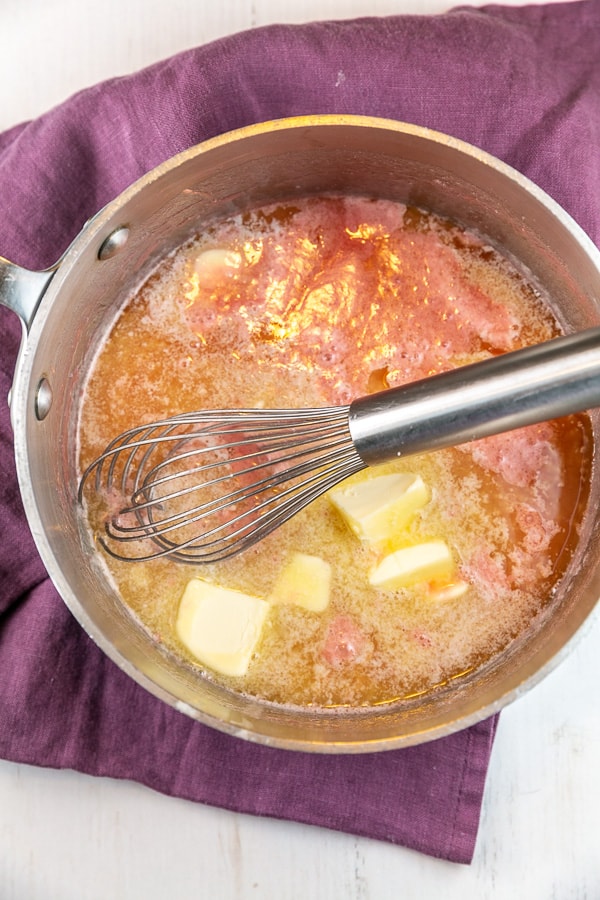 Recommended Tools to Make Chocolate Chip Cherry Pound Cake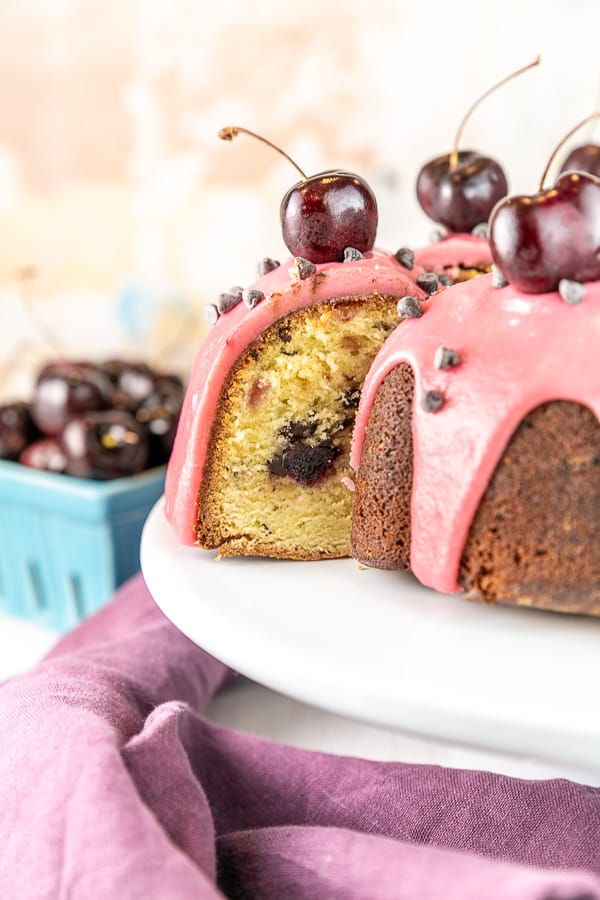 Tips and Tricks for the Best Chocolate Chip Cherry Pound Cake
New to baking in bundt pans? Looking for the best tips and tricks to ensure your cake doesn't stick? Check out THIS POST for all my best bundt tips!
Use room temperature ingredients! Room temperature butter and eggs are essential for a lighter texture and crumb since the cake uses no chemical leaveners.
Don't like almond extract? Leave it out of the cake and substitute vanilla extract for the cherry fudge frosting.
No bundt pan? No problem! Bake this cake in two loaf pans instead of a bundt pan. Divide between two well-greased 9×5-inch loaf pans and bake for 40-50 minutes.
While delicious, the frosting is not absolutely necessary. The cherry pound cake is delicious covered with a dusting of powdered sugar or a dollop of whipped cream.
More Cherry Desserts: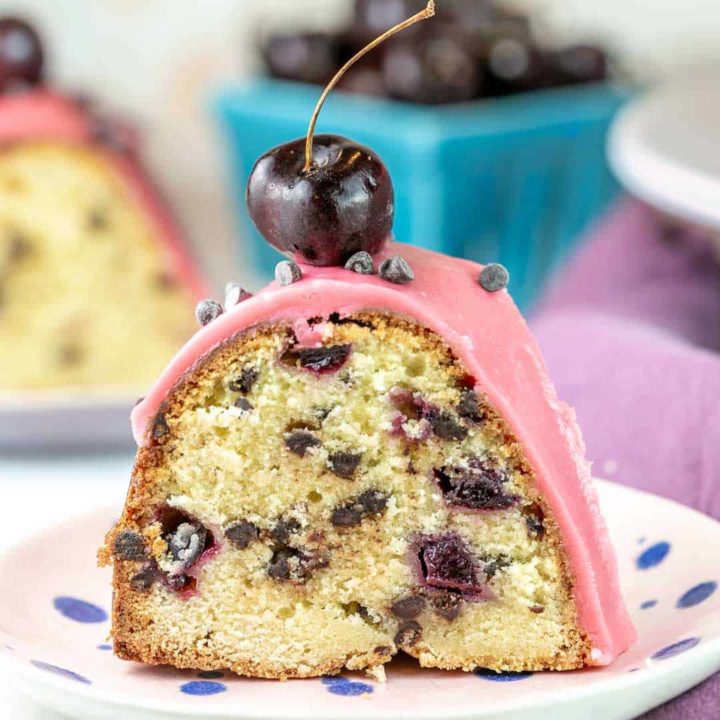 Chocolate Chip Cherry Pound Cake
Total Time:
1 hour
30 minutes
The very best chocolate chip cherry pound cake – a slightly dense, buttery pound cake that melts in your mouth, filled with chopped cherries and chocolate chips, topped with a cherry fudge frosting.
Ingredients
For the Cake:
1 1/2 cups (339 grams) unsalted butter, room temperature
2 1/2 cups (495 grams) granulated sugar
5 large eggs, room temperature
3 cups (360 grams) all-purpose flour
2/3 cup (151 grams) whole milk
1 teaspoon almond extract (optional)
2 teaspoon vanilla bean paste (or vanilla extract)
1 cup (177 grams) miniature chocolate chips
1 cup (160 grams) chopped cherries
For the Cherry Fudge Frosting:
2 cups (396 grams) granulated sugar
1/4 cup (30 grams) flour
1/2 cup (113.5 grams) whole milk
1/4 cup (60 grams) cherry juice
1/2 cup (113 grams) unsalted butter, cut into 8 cubes
1 teaspoon almond extract
1/2 teaspoon salt
additional cherries and miniature chocolate chips, for decorating
Instructions
Preheat the oven to 350 °F. Grease and flour a 12 cup metal bundt pan.
Make the cake batter. Using an electric mixer, beat together the butter and sugar on medium speed until light and fluff, 1 to 2 minutes. Lower the speed to the lowest setting, then add each egg, one at a time, mixing until fully incorporated before adding the next.
Add in half the flour, beating until combined, followed by the milk, and finally the rest of the flour. Mix in the almond extract and vanilla extract. Stir in the chopped cherries and chocolate chips.
Bake the cake. Spoon the batter into the prepared pan. Smooth the top of the batter with a spatula. Bake for 55 to 65 minutes, or until a tester inserted into the center comes out with just a moist crumb and the top of the cake springs back when pressed lightly. Cool the cake in the pan on a wire rack for 15 minutes before turning out to cool completely.
Make the frosting. While the cake cools, make the vanilla cherry fudge frosting. Mix together the sugar, flour, milk, and cherry juice in a large heavy-bottomed saucepan. Cook over medium heat until the mixture reaches a hard boil. Boil for 2 minutes, then remove from the heat and stir in the butter and vanilla extract. Let the frosting cool for 20-30 minutes, then beat the frosting with a spoon until thick and smooth. Once thick, pour the frosting over the cake and decorate with additional cherries and chocolate chips.
Notes
Fresh cherries are best, but frozen or maraschino cherries can be substituted. For frozen cherries, thaw in a colander set over a bowl to collect the juice. Use the juice to make the frosting.
Cherry juice for the frosting can use store bought cherry juice, the juice from a jar of maraschino cherries, leftover juice from defrosting frozen cherries, or made by blending pitted cherries in a blender or food processor, straining through a fine mesh sieve, and diluting in half with water.
Cherry pound cake can be baked in two 8.5x5-inch loaf pans. Grease well and bake for 40-50 minutes.
Instead of frosting, cake can be dusted with powdered sugar or served with a dollop of whipped cream.
Cake can be stored in covered on the countertop for 3 days, refrigerated for up to 5 days, or frozen for up to 3 months.
Recommended Products
As an Amazon Associate and member of other affiliate programs, I earn from qualifying purchases.