October 12, 2021
Chocolate Halloween Sprinkle Cookies
These Chocolate Halloween Sprinkle Cookies are a fudgy chocolate cookie rolled in fun and festive Halloween sprinkles! Swap out with rainbow sprinkles – or other holiday colors – for a fun year round treat!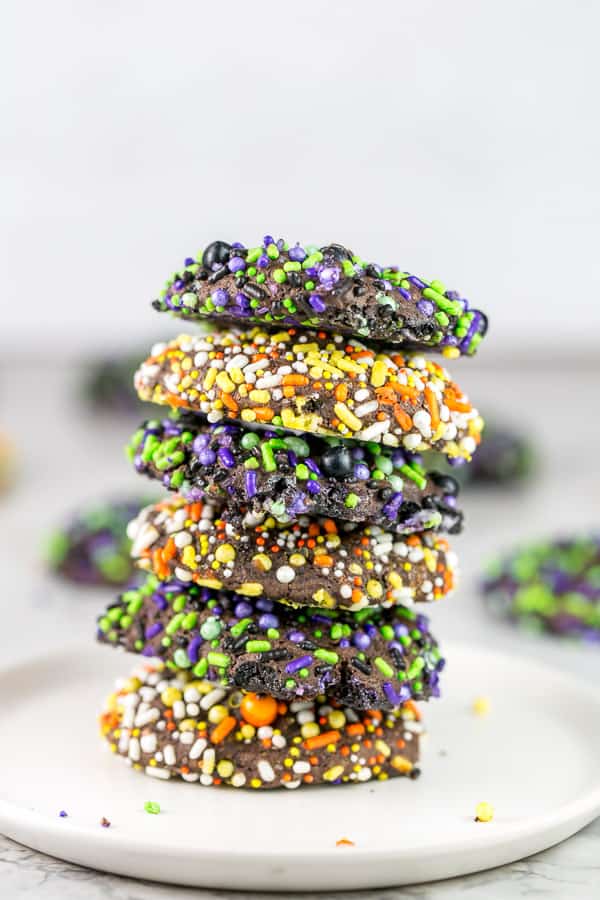 This post may include affiliate links. As an Amazon Associate I earn a fee from qualifying purchases.
It's time for the second recipe in Halloween Treat Week! (Missed the first? Check out this super easy Chocolate Halloween Boo Bark!)
Looking for a quick and easy Halloween treat to share with friends and family? Maybe something to bring to your child's classroom?
Short on time, or not looking for something involving lots of royal icing, making little individual eyeballs, or finding obscure ingredients?
These chocolate Halloween sprinkle cookies are exactly what you need.
Everyone loves sprinkles, and I'm hard pressed to find people who don't love a good soft, chewy, fudgy, chocolatey cookie. I mean, heck, I'm not a big chocolate person, and even I love these cookies!
Because they're made with oil, instead of butter, they are dairy free (perfect for those with dairy allergies!), require no special ingredients (aside from sprinkles), and are perfectly festive.
It's the perfect contrast between thick, chewy, fudgy interior and crunchy, sprinkle-coated exterior.
So go grab some sprinkles (Halloween for these, but of course easily customizable for all holidays) and make some cookies for Halloween!
How to Make Chocolate Halloween Sprinkle Cookies
These cookies are really easy to make: it's the kind of recipe that really just involves combining ingredients using a mixer. The hardest part is waiting for everything to chill!
The most notable part about these cookies? They are made using oil, not butter!
Using oil is responsible for the uniquely fudgy, almost brownie-like consistency of these cookies. Why? It's time for my favorite subject… kitchen chemistry!
Kitchen Chemistry

Fats soften our baked goods. They coat the strands of flour and break down long gluten strands, which get really chewy. Think about a loaf of chewy bread: there's a low fat content so the strand of gluten get long and chewy. But in a cake, there's a high fat content, so the gluten strands are short and hydrated as a result.
The type of fat also determines how light and fluffy baked goods are, and this is where the oil vs. butter debate really comes into play (and solid butter vs. melted butter, too!)
For a typical cookie texture, we want to use the traditional method of creaming together butter and sugar. But for a fudgy chocolate cookie, we really want to make sure to hydrate the flour so we're using oil.
To make the cookies extra black, I used some black cocoa powder, along with regular natural unsweetened cocoa powder. Black cocoa carries a SUPER chocolately flavor, along with adding the classic black color. If you don't have black cocoa powder on hand, you can use all natural unsweetened, but the cookies will both be lighter in color and pack a little less chocolate punch.
Because of the higher fat content in these cookies (to keep them nice and chewy), you'll want to make sure to refrigerate them before rolling into balls. The dough is sticky and the colder the dough, the easier it is to use.
I also found that lightly spraying my hands with cooking spray made it a whole lot easier to handle the dough. Use a cookie scoop to pull out even-sized balls of dough, then use your (sprayed) hands to roll into a ball and roll in sprinkles.
Place on a parchment paper or silicone-mat lined cookie sheet, spaced about two inches apart. Bake for 8 minutes – the cookies should be slightly under-baked. Cool on the sheet for 5 minutes, then remove to a cooling rack to cool completely.
Where to Buy Halloween Sprinkles
Looking for Halloween-themed sprinkles? You can find them at some large grocery stores in the baking aisle, craft stores like Michaels or JoAnn's, or big box stores like Target.
I've even heard of people buying assorted colored sprinkles directly from the in-store bakery at their grocery store!
There are tons of options for festive sprinkles online — I'll link to a few of my favorites from Amazon below (links may be affiliate)!
How to Store Chocolate Halloween Sprinkle Cookies
These chocolate sprinkle cookies will stay perfectly soft at room temperature for up to a week. Store in an airtight container – if you can resist eating them for that long!
If you want to make them ahead of time, they can be frozen for up to 3 months. Transfer the cookies to a freezer-safe storage bag, then place in the freezer. Thaw at room temperature before enjoying.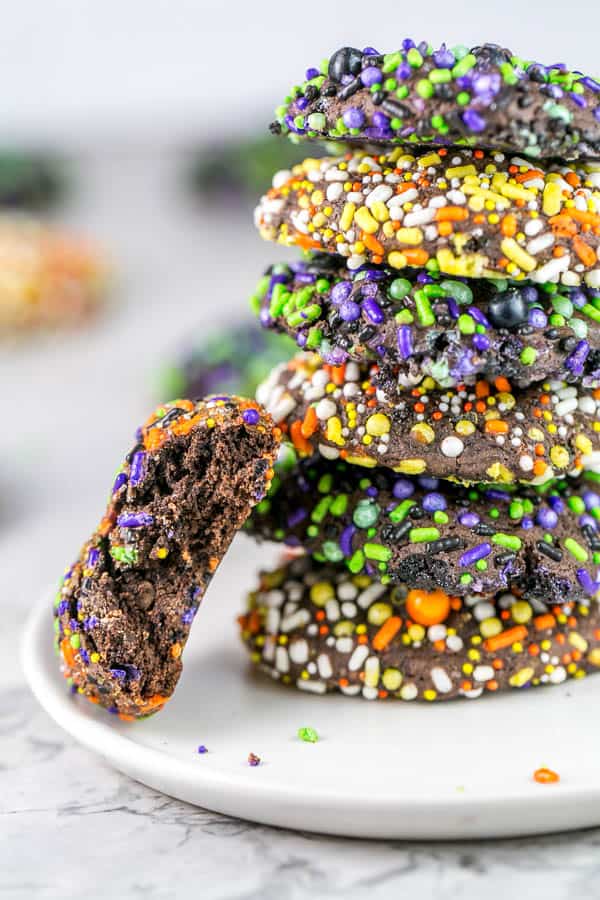 Tips and Tricks for Chocolate Halloween Sprinkle Cookies
Chill the dough before rolling into balls! The dough is quite sticky and much easier to work with when chilled. Allow the dough to chill for at least 2 hours; overnight is even easier!
Use a cookie scoop to scoop out the dough. This will keep the cookies the same size for even baking.
Spray hands with nonstick cooking spray before rolling out the dough to prevent excess dough from sticking on fingers.
Leave about 2″ of space between each cookie on the sheet to allow for spreading.
Looking for a non-chocolate version? These sprinkle sugar cookies are a favorite!
More Halloween (Candy Themed) Desserts: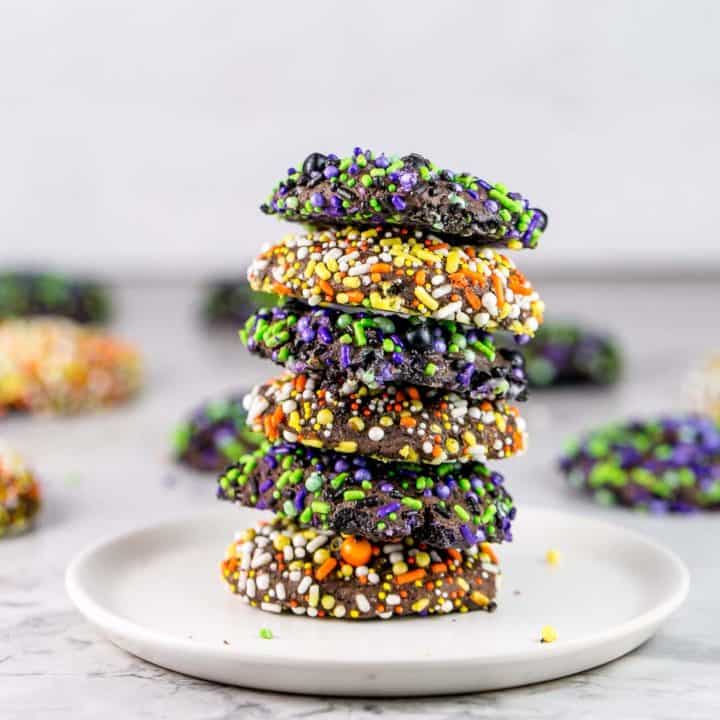 Chocolate Halloween Sprinkle Cookies
Total Time:
2 hours
18 minutes
These chocolate Halloween sprinkle cookies are a fudgy chocolate cookie rolled in fun and festive Halloween sprinkles!
Ingredients
1/2 cup (99 grams) vegetable oil
1 1/2 cup (297 grams) granulated sugar
4 large eggs
2 teaspoons vanilla extract
3/4 cup (63 grams) natural unsweetened cocoa powder
2 1/4 cups (270 grams) all-purpose flour
2 teaspoons baking powder
1/2 teaspoon salt
1 1/2 cups (265 grams) miniature chocolate chips
1 cup (200 grams) sprinkles
Instructions
Make the cookie dough. Using an electric mixer on medium speed, beat together the vegetable oil, sugar, eggs, and vanilla extract until well combined, 3 to 4 minutes. Reduce the mixer to low and add in the cocoa powders, followed by the flour, baking powder, and salt. Mix until just combined. Stir in miniature chocolate chips with a rubber spatula to ensure all ingredients are well mixed. The dough will be thick; more like brownie batter.
Chill the cookie dough. Cover the bowl with a dish towel or plastic wrap and refrigerate for at least 2 hours or up to overnight.
Preheat the oven to 350 °F. Line two baking sheets with parchment paper or silicone baking mats.
Roll the cookies. Place the sprinkles in a small bowl. Using a small cookie scoop, scoop the cookie into 1-inch balls, then roll the dough into the sprinkles, coating on all sides. Set onto the prepared baking sheets, leaving two inches between each cookie.
Bake the cookies. Bake for 8 to 9 minutes, until the cookies have spread and are just starting to set. The cookies will still be very soft and the tops will start to look puffy, but still under-baked. Let the cookies cool on the sheet for at least 5 minutes, then transfer to a wire rack.
Notes
Refrigerate the dough for at least 2 hours, up to 24 hours, before rolling into balls.
Use a cookie scoop to keep the cookies the same size.
Cookies will appear slightly under-baked when done.
To keep the cookies dairy free, use dairy free chocolate chips.
Cookies can be stored in an air-tight container for up to a week or frozen for up to 3 months.
Recommended Products
As an Amazon Associate and member of other affiliate programs, I earn from qualifying purchases.
Nutrition Information:
Yield:

30
Serving Size:

1 cookie
Amount Per Serving:
Calories:

201
Total Fat:

9.3g
Carbohydrates:

28.5g
Protein:

2.8g