June 28, 2019
Funfetti Babka
Whether you call it Funfetti Babka, birthday cake babka, or cake batter babka, this sprinkle-filled colorful yeast babka bread is a perfectly festive sweet treat! Sprinkles for breakfast? What a great way to start the day!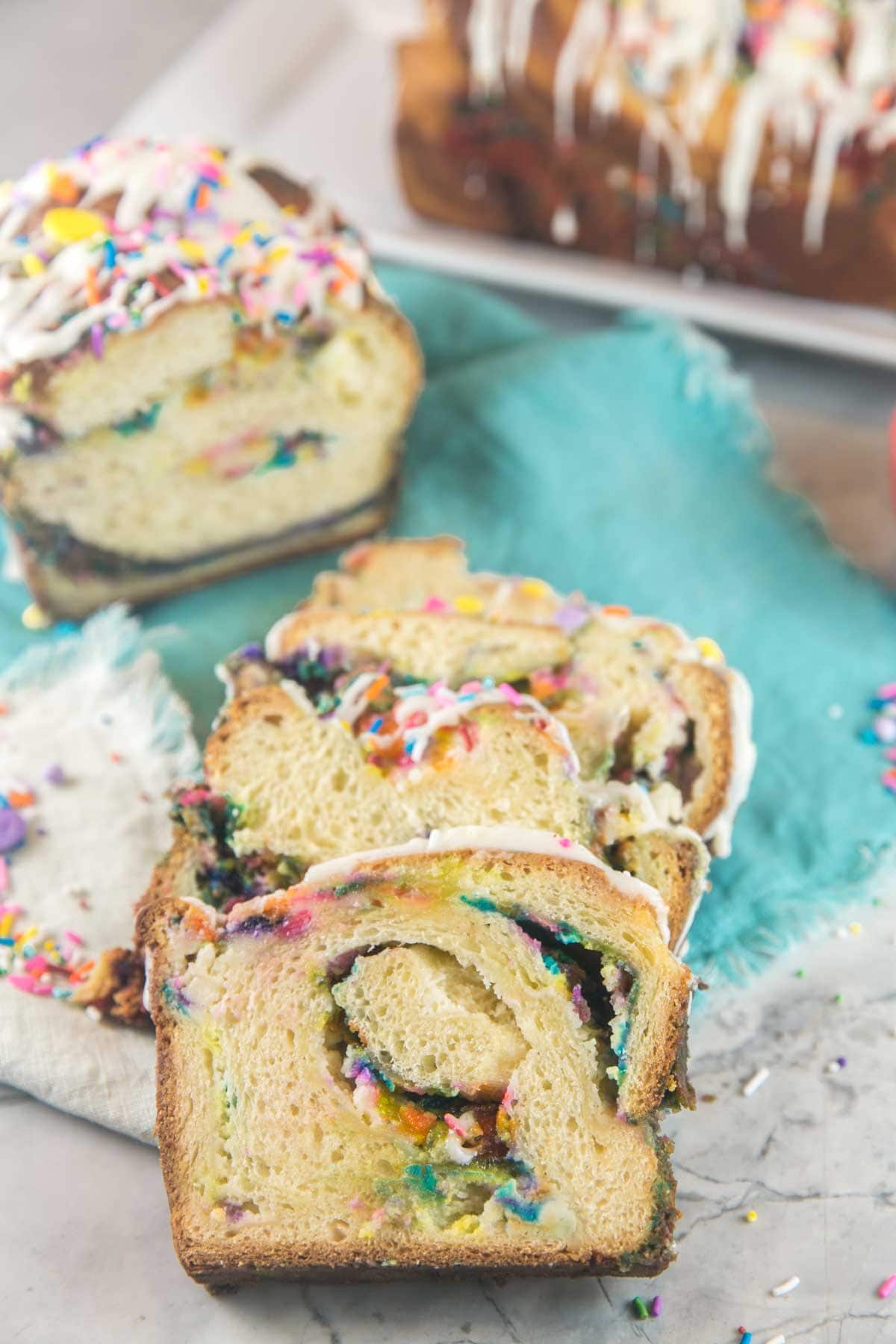 Today, we are celebrating a big milestone. And we're celebrating the only true way to celebrate: with a complete overload of SPRINKLES.
Eight years ago, I hit "publish" on my very first post here on Bunsen Burner Bakery: a dark chocolate cheesecake recipe.
If you've been here for any of those eight years, you know I love sprinkles. And with this year-long series on babkas, well… you knew this was coming, right?
FUNFETTI BABKA. Or cake batter babka. Or birthday cake babka. Whatever you want to call it — a sprinkle-filled, almond-flavored, sugary sweet babka treat.
And sugary sweet this is! I took a bite of my first iteration of this recipe and was blown away by how sweet it was. (It was also a good lesson in how everyone has different preferences — my husband liked it exactly as is!) I've toned it down just a tad, but the filling and glaze definitely make this lean more into the dessert category than breakfast.
Unless you like sweet things for breakfast, which I guess a lot of people do since glazed cream-filled donuts are a breakfast food. In which case — carry on, funfetti babka for breakfast!
Let's dive into making this babka, shall we?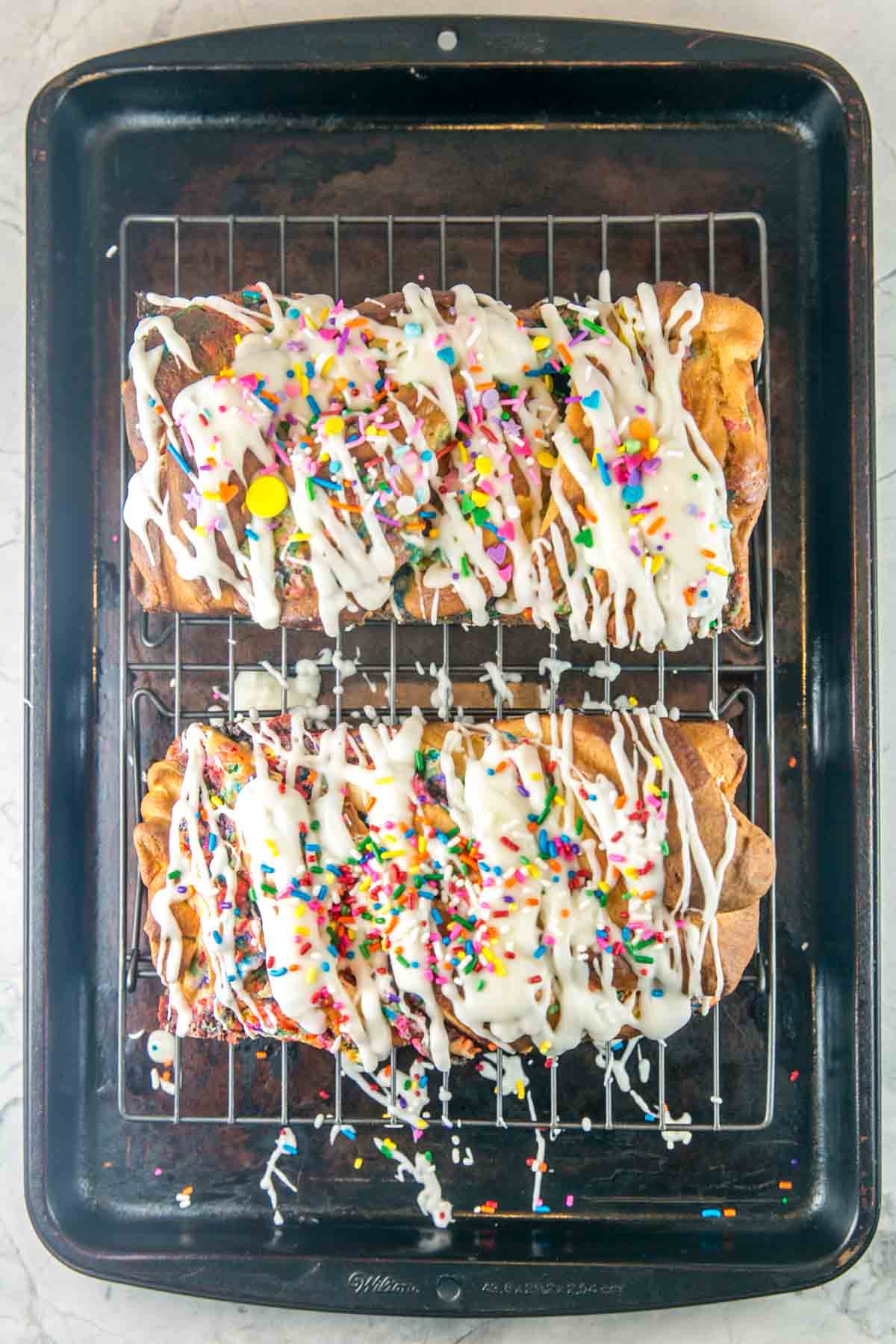 What is Funfetti Babka?
Think about a classic funfetti cake. (Or go check out my Funfetti Bundt Cake recipe!) We're turning it into a yeast bread and rolling up a whole bunch of sprinkles.
While we often think of vanilla as the flavor for funfetti/cake batter, it's really an almond base that gives it the classic, instantly recognizable flavor. (But of course, if you're allergic to tree nuts, leave it out — there's plenty of flavor from the vanilla extract as well!)
We'll add almond extract to the batter and to the cream cheese swirl inside the cake. (But not to the drizzle on top, because I tried this and, well, I have finally learned that there is indeed such a thing as too much almond extract.)
Speaking of too much almond extract… today's kitchen chemistry is a fun one! Almond extract is made from bitter almonds…. which are deadly! Bitter almonds contain cyanide. So why are we able to consume almond extract? It's time for some kitchen chemistry!
Kitchen Chemistry

When almonds are crushed, the compound amygadlin breaks up into two molecules: benzaldehyde and hydrogen cyanide. Cyanide is a water soluble compound, however, and is washed away when the crushed almonds are rinsed. The remaining compound is benzaldehyde, which is responsible for the flavor and scent of bitter almonds.
For the swirl inside, we're going with sweetened cream cheese covered with a thick layer of sprinkles. All the sprinkles! MOAR SPRINKLES! No such thing as too many sprinkles around here, friends.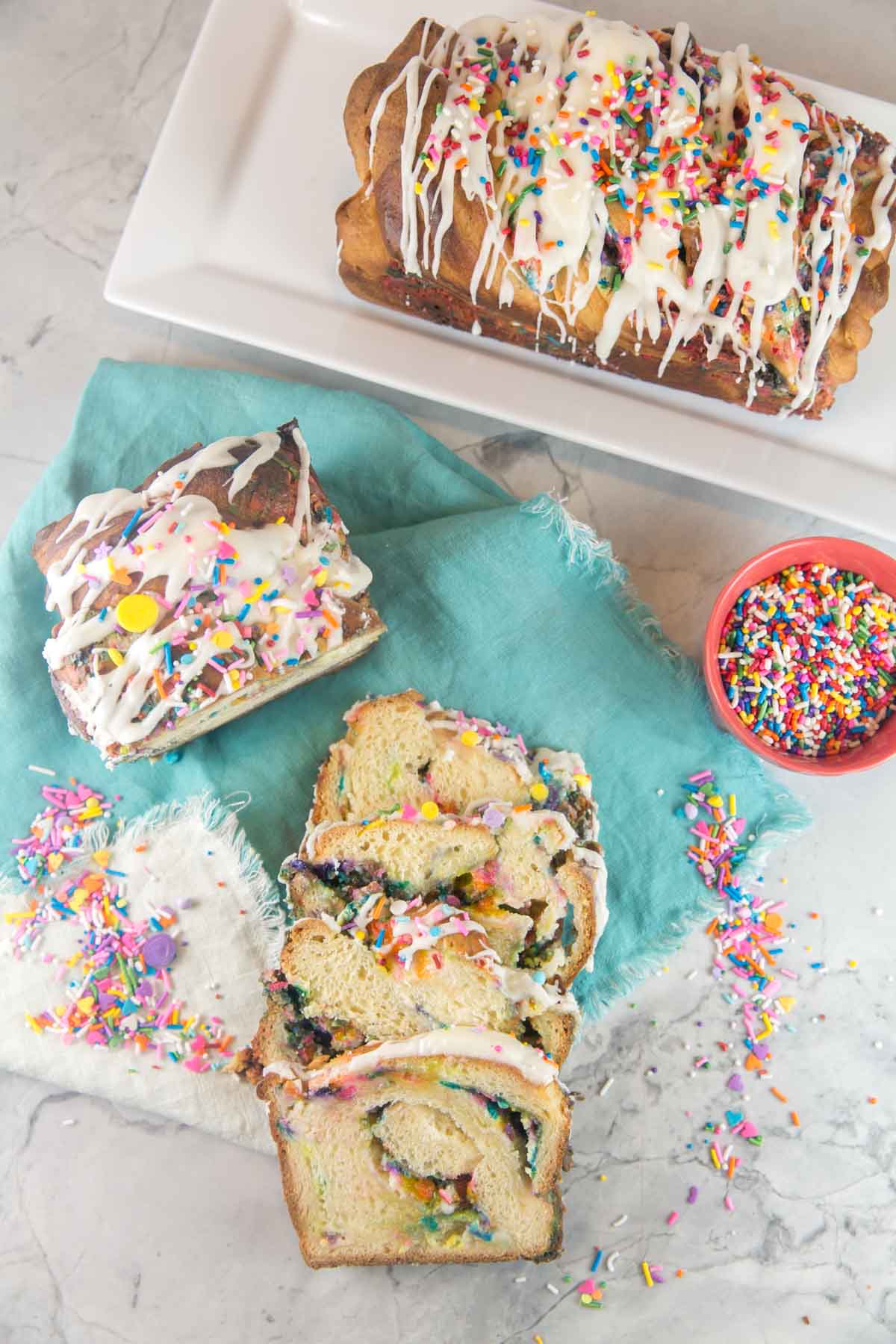 Recommended Tools to Make Funfetti Babka
Instant Yeast: Saf Gold is specifically designed for use in sweetened yeast breads.
Sprinkles: These sprinkles hold up well to baking without bleeding into the dough.
Stand Mixer: My trusty stand mixer comes with a dough hook.
Rolling Pin: Includes guides to keep the dough at an exact thickness.
Loaf Pan: Metal loaf pans are the best conductors of heat.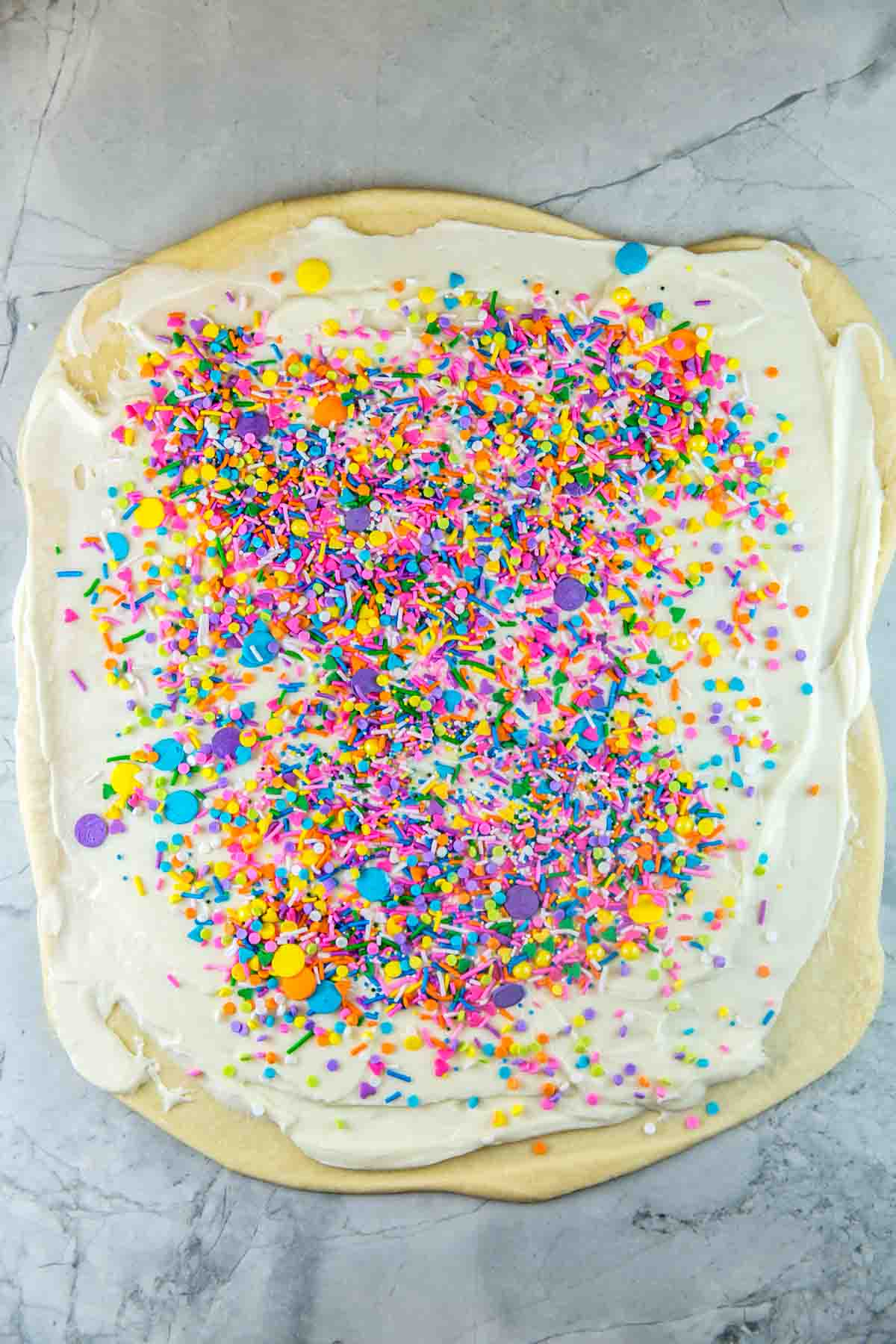 How to Make Funfetti Babka
Since it's a yeast bread, babka does take a little extra time. The good news is, you don't have to make it all in one day — and much of the time is hands-off. Here's the little step-by-step guide to how we're going ot make our funfetti babka:
Make the babka dough (by hand or in a stand mixer).
Let the dough rise at room temperature — 1 hour.
Let the dough rise in the refrigerator — 1 hour to 36 hours.
Roll out the dough.
Cover the dough with cream cheese sprinkle filling.
Shape babka and place in a loaf pan.
Let the shaped babka rise in the loaf pan — 1 hour.
Bake babka.
Cool babka.
EAT BABKA.
Ten easy(-ish) steps to get to two loaves of homemade sprinkle-tastic homemade babka.
Never made babka before? Need a quick refresher? Head on over to my Best Chocolate Babka recipe for some step-by-step photos of how to roll up and shape your loaf of babka.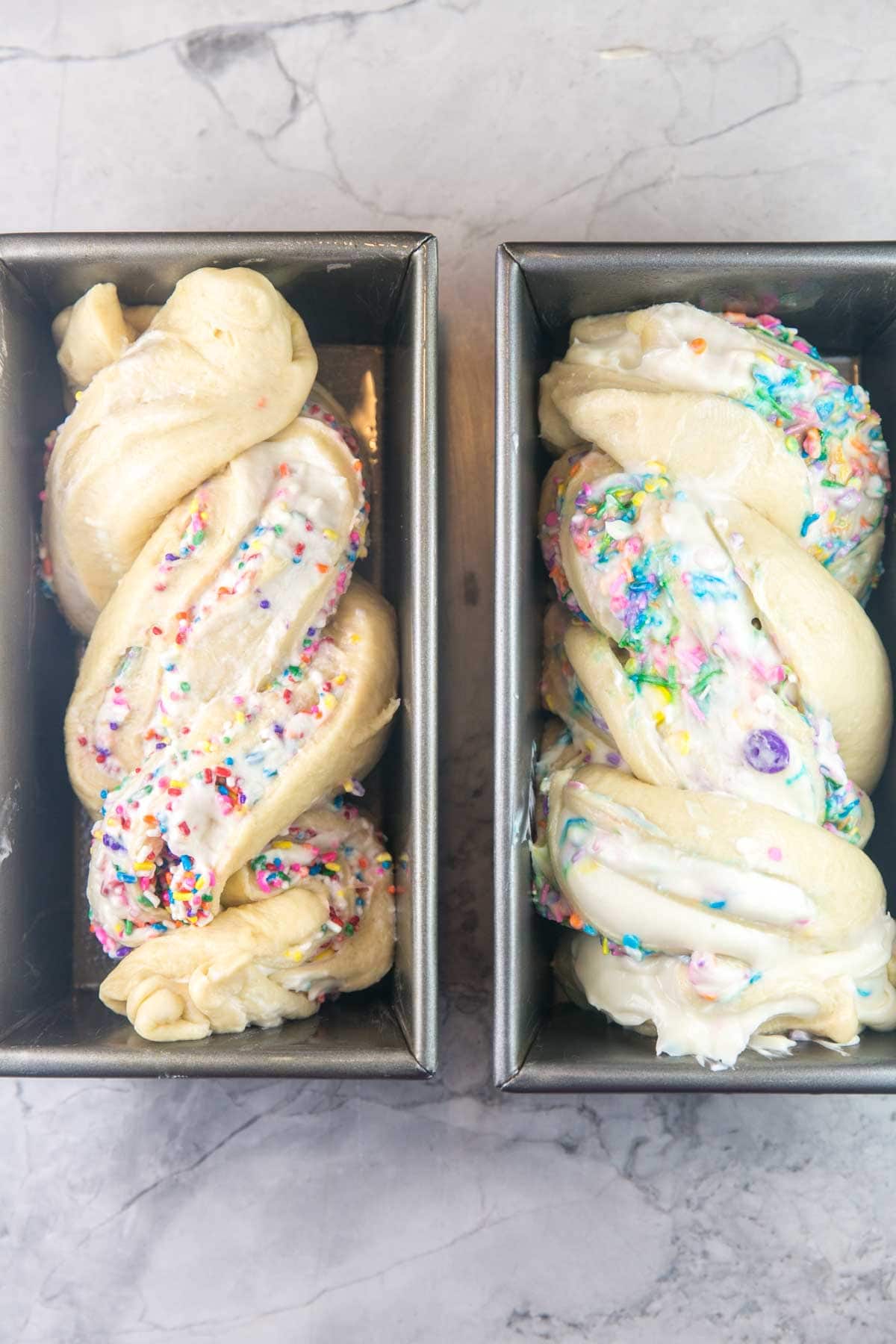 Funfetti Babka Filling
For the filling, we're going to use a sweetened cream cheese base. Beat together cream cheese, confectioners sugar, vanilla extract, almond extract, and a pinch of salt. Spread the cream cheese filling in an even layer all over your rolled-out babka dough.
Then add sprinkles. Go crazy. This is not the time to be subdued and reserved. Sprinkles everywhere!
I often get asked what kind of sprinkles I use — you'll want to use higher-end sprinkles here. Inexpensive grocery store sprinkles often lose their color while baking and bleed into the batter.
In the two loaves of babka pictured here, I used these CK Products Sprinkles (for the "classic" funfetti look) and for the more brightly-colored loaf, I used a sprinkle blend called "80s POP" from Sweetapolita.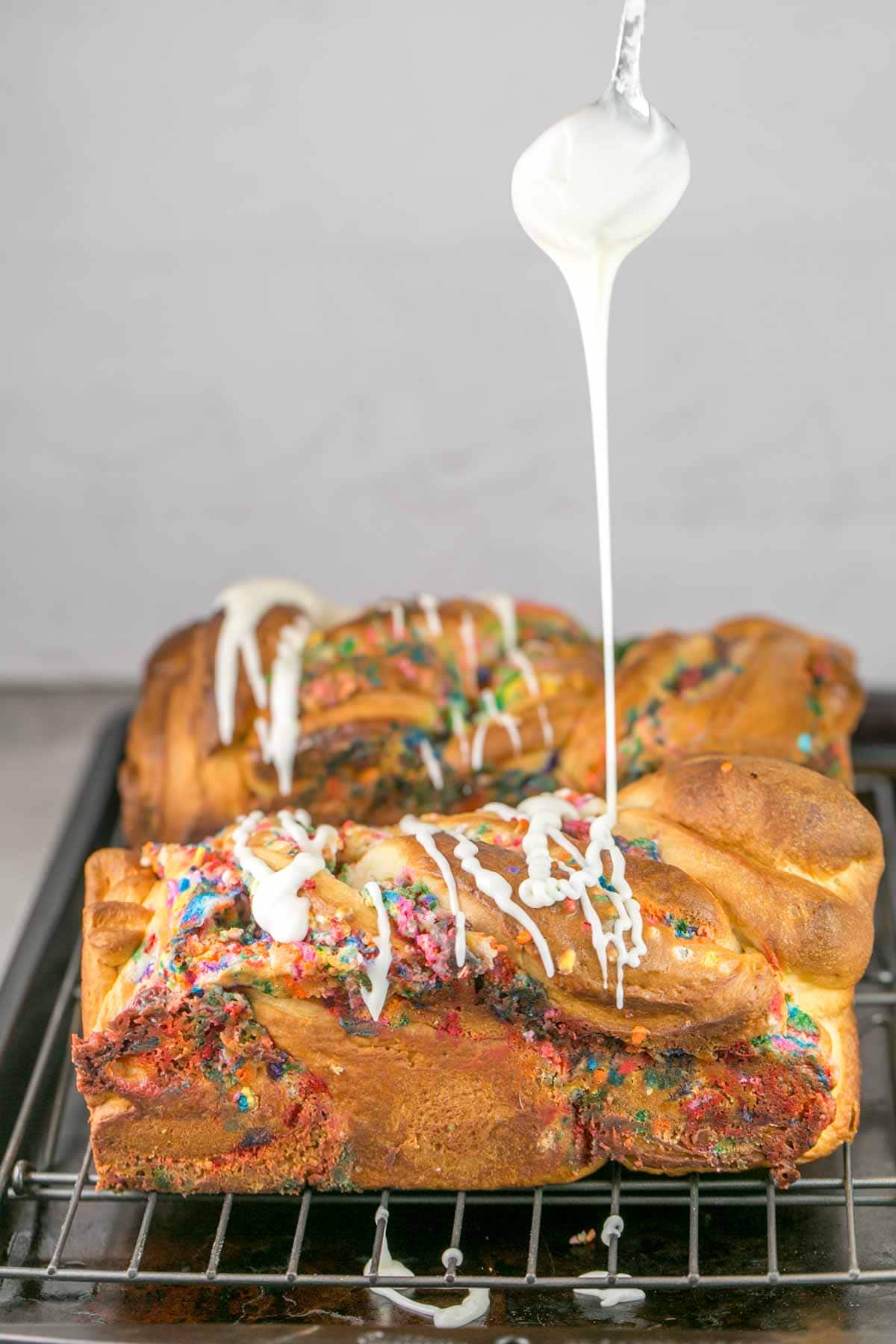 Funfetti Babka Glaze
You could stop with just the sprinkles inside — but really, what's the fun in that?
For the outside glaze, we're going super simple: confectioners sugar, vanilla extract, heavy cream, and a pinch of salt. If your glaze is too thick, add more heavy cream (or milk). If your glaze is too thin, add more confectioners' sugar.
Then drizzle away. And cover with more sprinkles, because… obviously.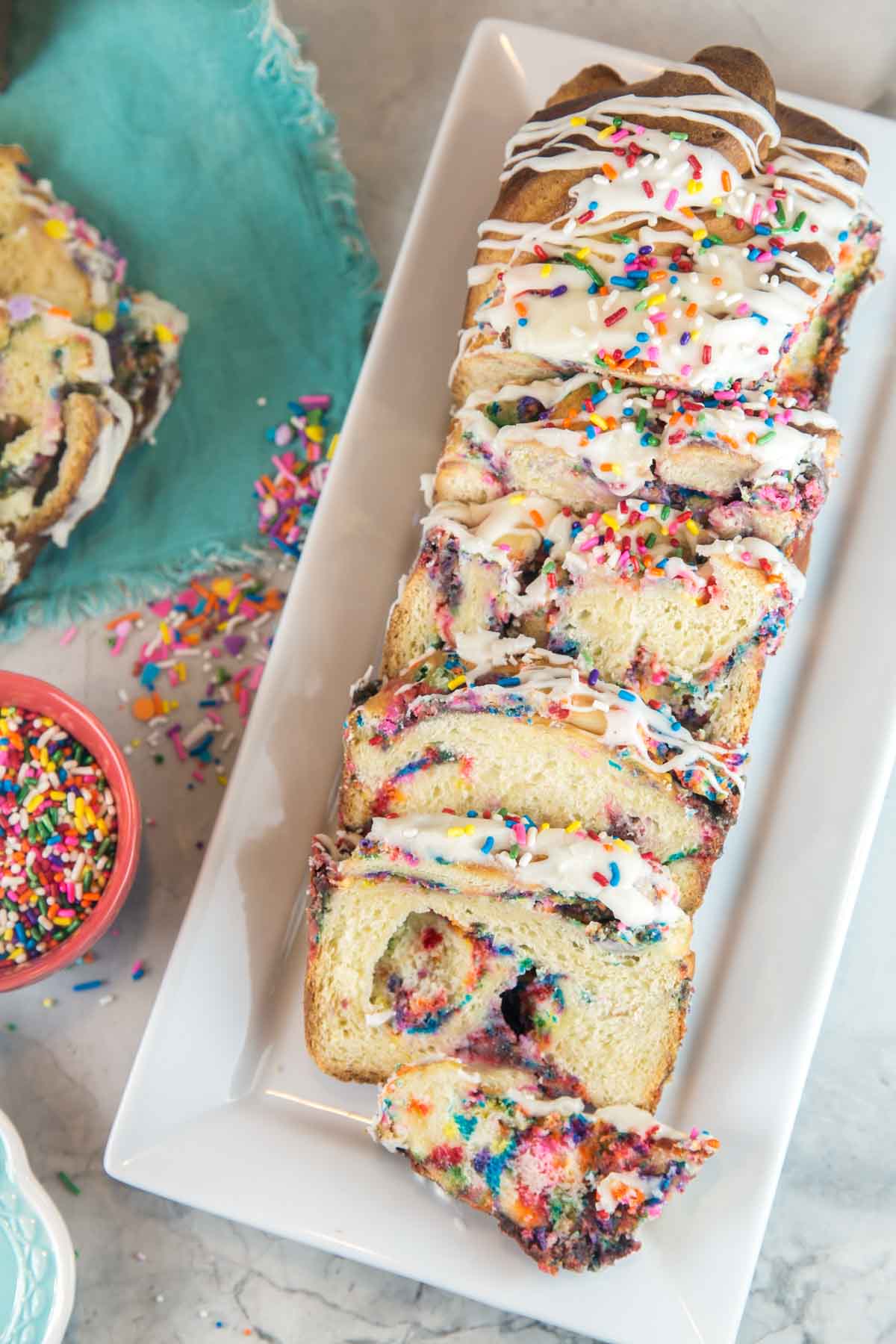 Tips and Tricks for the Best Funfetti Babka
Go easy on the almond extract. Vanilla extract is forgiving — if one teaspoon is good, two teaspoons can be even better! Not so with almond extract. Stick to the recommended amount in the recipe.
Refrigerate the dough for the second hour of the first rise. When the dough is cold, it rolls out beautifully with no real need to add excess flour.
Don't have time to make your babka all in one day? The one hour refrigeration step can be extended to up to 36 hours. When you're ready to resume, leave the babka at room temperature for 15 minutes to slightly warm up before rolling out the dough.
Make sure your cream cheese is room temperature and soft enough to spread before adding a layer to your dough. If the cream cheese is still cold, it will clump in spots, which will create a curdled texture while baking.
Use a thermometer to determine if the babka is done. Take out the guesswork and use an instant-read thermometer: when the center of the babka loaf hits 190 °F, it's done!
Allow the babka to cool before slicing. The babka will hold together better if the cream cheese swirl cools to room temperature first.
Store your funfetti babka in the refrigerator — there is enough sugar in the cream cheese swirl to stabilize it for a day or two at room temperature, but any longer and the babka should be kept refrigerated.
More Sprinkle Dessert Recipes:
2019 Babka of the Month Series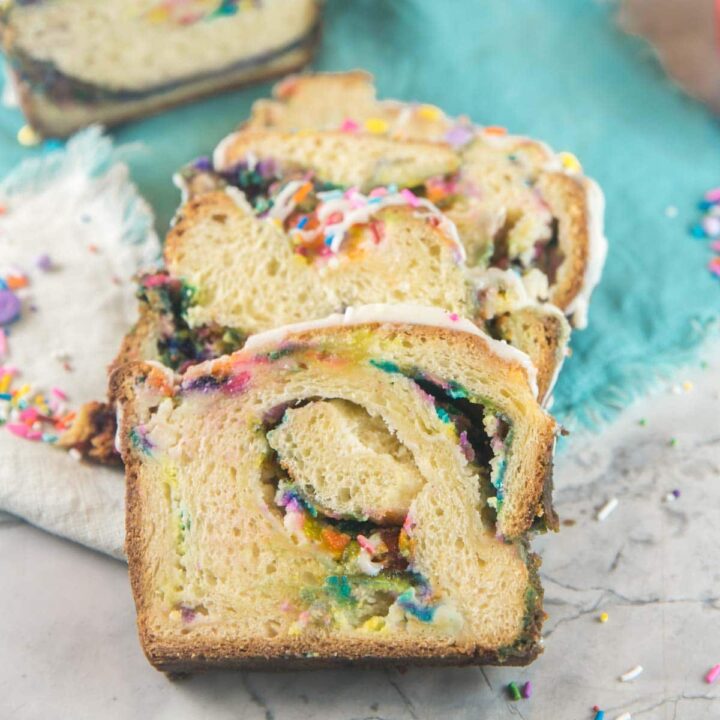 Funfetti Babka
Prep Time:
3 hours
30 minutes
Total Time:
4 hours
15 minutes
Whether you call it funfetti babka, birthday cake babka, or cake batter babka, this sprinkle-filled colorful yeast babka bread is a perfectly festive sweet treat!
Ingredients
FOR THE DOUGH:
1 cup (227 grams) whole milk, room temperature or slightly warmed
1 tablespoon (9 grams) instant yeast, preferably SAF Gold
1/2 cup (99 grams) granulated sugar
2 large eggs, room temperature
2 teaspoons vanilla extract
1 teaspoon almond extract
4 1/2 cups (540 grams) all purpose flour
1 teaspoon salt
12 tablespoons (169.5 grams) unsalted butter, softened and cut into 12 pieces
FOR THE SPRINKLE FILLING:
12 ounces (340.5 grams) cream cheese, softened
1 cup (113.5 grams) confectioners' sugar
1 teaspoon vanilla extract
1/2 teaspoon almond extract
1/4 teaspoon kosher salt
1 cup (198 grams) sprinkles
FOR THE GLAZE:
1 cup (113.5 grams) confectioners' sugar
1 - 1.5 tablespoons heavy cream
1/2 teaspoon vanilla extract
4 tablespoons (49.5 grams) sprinkles
Instructions
Prepare the dough. Whisk together the flour, yeast, sugar, salt, and cinnamon in the bowl of a stand mixer fitted with the dough hook or a large glass mixing bowl. On low speed, beat in the milk, eggs, and vanilla extract, mixing just until the dough comes together, 2-3 minutes. Increase the speed to medium-low and add the butter one piece at a time, beating after each addition until all pieces have been added. Continue mixing with the dough hook until the dough is smooth and pulls away from the sides of the bowl, about 10 minutes. (Alternatively, whisk together ingredients by hand until combined; knead by hand for 10 minutes until dough is soft and smooth.)
Transfer the dough to a large lightly greased bowl and cover it with plastic wrap or a clean kitchen towel. Set aside to rise at room temperature for 1 hour. After 1 hour, transfer the bowl to the refrigerator, still covered, and set aside for 1 hour, until the dough has doubled in size and is firm to the touch.
Prepare the filling. While the babka is rising in the refrigerator, make the cream cheese filling. In a small bowl, combine the cream cheese, confectioners sugar, vanilla extract, almond extract, and salt. Mix together with a fork until smooth and spreadable. Set aside.
Shape the babka. Grease two 9x5-inch loaf pans. Remove the dough from the refrigerator and gently punch it down. Cut the dough in half; remove half from the bowl and recover the other half and set aside.
Roll the dough into a roughly 9-inch by 18-inch rectangle. Spread half the filling over the dough, leaving a slight border along the edges. Sprinkle half the sprinkles over the top of the dough. Working from the long side of the dough, roll the dough into a long cylinder. Using a sharp knife, cut the dough in half longways down the length of the cylinder to expose the sprinkle filling, creating two logs of dough. Twist these two logs together. Fold in half one more time, twisting again, and place the dough in the prepared loaf pan. Repeat with the remaining dough. Cover both loaf pans with plastic wrap or a dish towel and set aside to rise again at room temperature, for another hour
Preheat the oven to 350 °F.
Bake the babka. Bake the loaves at 350 °F for 40 to 50 minutes, until the top of the loaf is golden brown and the inside registers 190 °F using an instant-read thermometer. Allow the breads to cool in the pans for 10 minutes, then transfer to a wire rack to cool completely before glazing.
Glaze the babka. To make the glaze, whisk together the confectioners' sugar, heavy cream, and vanilla extract until desired consistency is achieved. Drizzle over the top of the babkas and top with additional sprinkles.
Notes
For best results, use SAF Gold instant yeast, which is specifically designed for sweet breads.
If you are using active dry yeast instead of instant yeast, proof the yeast before starting. Combine the yeast, warm milk, and 1 tablespoon of sugar and set aside for 5-10 minutes until frothy. Proceed with the rest of the recipe, adding this to the other ingredients and mixing.
Babka can be stored in an air-tight container for up to 5 days, or frozen for up to 3 months. To freeze, wrap the fully cooled loaf in aluminum foil and place it inside a plastic freezer bag.
Recommended Products
As an Amazon Associate and member of other affiliate programs, I earn from qualifying purchases.
Nutrition Information:
Yield:

24
Serving Size:

1 slice
Amount Per Serving:
Calories:

282
Total Fat:

14g
Carbohydrates:

34g
Protein:

4g