February 5, 2018
M&M Pretzel Kisses
A pretzel, a Hershey's kiss, and a fun colored M&M — so easy, but these make ahead bite-sized sweet and salty M&M Pretzel Kisses are super addicting! Perfect for preschool classrooms and adults alike.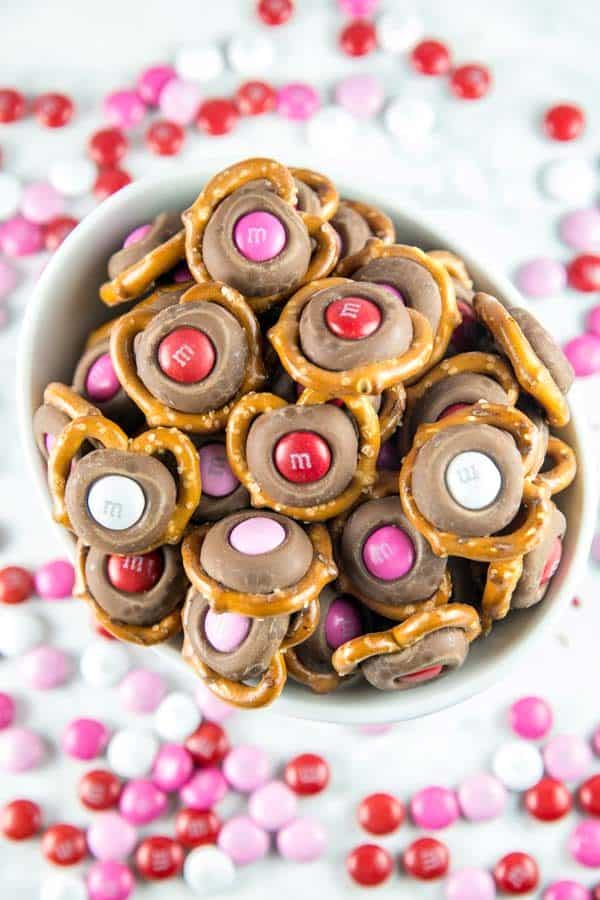 I love to make really rich, decadent desserts. This… is not one of those desserts.
This is something I threw together for my 2.5-year-old's preschool class valentines. A bite-sized pretzel, a Hershey's kiss, and a Valentine's Day colored M&M. M&M pretzel kisses are, quite simply, the easiest dessert in the world.
And yet. Yet. These are such a perfect bite-sized balance of salty and crunchy, milk chocolatey sweet, and fun colored, that adults also can't resist. It's true: despite making these for a group of 2-year-olds, adults are addicted, too.
(I am, too — as someone who generally can leave or take most of what I bake, I couldn't stop snacking on these. I love chocolate-covered pretzels, and M&M pretzel kisses have the same flavor, with none of the hard work!)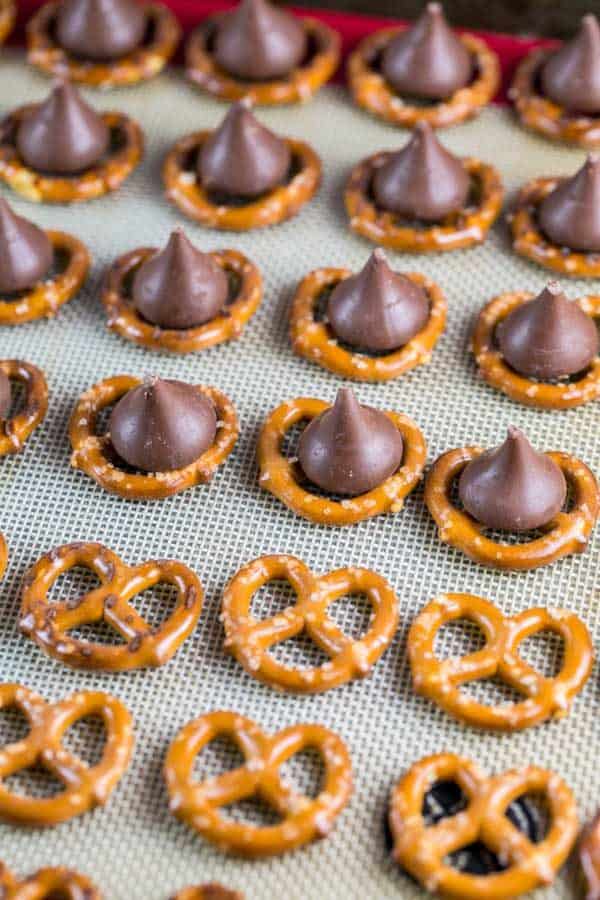 Don't worry. This isn't going to turn into some Pinterest mom "foods and crafts for kids!" blog. But these are just too good not to share!
Maybe you're also looking for an easy Valentine's treat idea for preschool valentines or an elementary school party. Or maybe you just want a bite-sized perfect snack.
(Or maybe you're only into rich, decadent, chocolatey adult desserts for Valentine's Day, in which case I direct you to the following: no bake nutella pie, chocolate fudge bundt cake, chocolate brownie pie, chocolate hazelnut cake, chocolate buttermilk pie, flourless chocolate ganache cake.)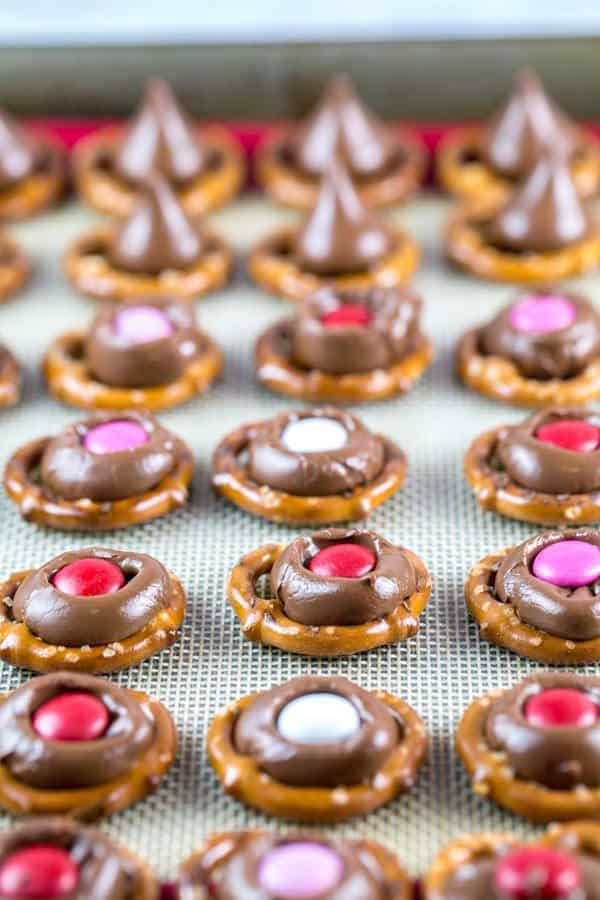 How to Make M&M Pretzel Kisses
It's pretty obvious, right? Line up your pretzels on a cookie sheet. Put an (unwrapped, obviously) kiss on the pretzel. Melt until soft, then push an M&M into the melted chocolate.
Buuuuuttttt… I did learn a few tricks along the way to make the process easier.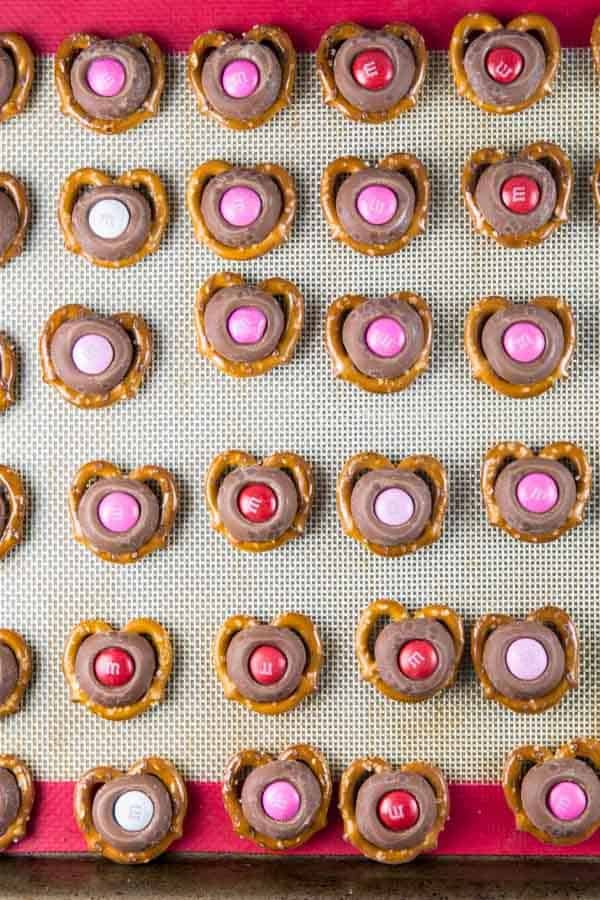 First up, low and slow is the way to go when it comes to melting chocolate! I had the best results by far when I used an insulated cookie sheet lined with a baking mat, baking at 200 °F for 5 minutes. (No insulated cookie sheet? No problem – just keep a close eye on your melting kisses!) The chocolate melted perfectly and pushing an m&m into the kiss was nice and smooth.
Higher temperatures left the kisses more likely to crack. Lower temperatures took a really long time. A non-insulated pan also lead to more cracks in the chocolate, whether I did them at lower or higher temperatures.
Obviously, none of this matters when it comes to eating (and especially not for preschoolers!), but if you're looking for visual perfection: insulated cookie sheet, 200 °F, 5 minutes.
Curious what happens if your temperature is too high? Like maybe your oven isn't calibrated and you set it to 200 but it's really at 245? This is the result: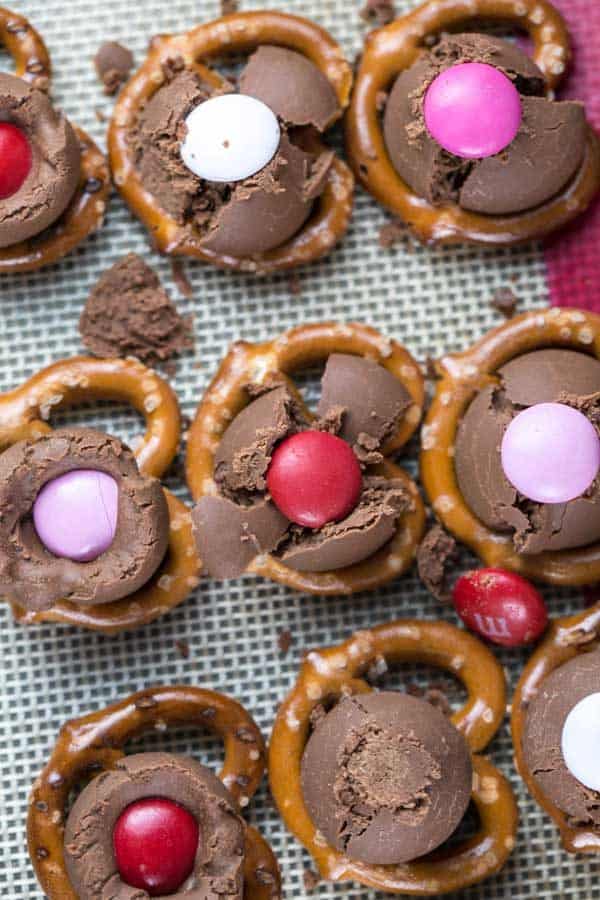 How to Store M&M Pretzel Kisses
Oh, and did I mention you can make these a week or two in advance? That's right – no last minute preschool class valentine drama necessary!
Store the kisses at cool room temperature in an airtight plastic container or storage bag. Keep them away from direct sunlight or other expected sources of heat — you don't want the kisses to melt!
Sudden changes in temperature also makes the chocolate more likely to bloom. What's blooming and why does it happen? It's time for my favorite subject… kitchen chemistry!
Kitchen Chemistry

Chocolate bloom are whiteish streaks that form on the surface of chocolate. Most of the time, they care caused by changes in the fat crystals of the chocolate. The cocoa butter starts to separate as chocolate heats and migrates towards the surface, leaving behind the tell-tale white coating as they form a new crystal lattice.
So how do we prevent this? We don't want to over-heat our chocolate, and we want to make sure it's stored at room temperature. Add the M&M as soon as the chocolate starts to soften, and store in a dry, cool location (but not the refrigerator — it's too humid and can cause sugar blooms!).
Sometimes, despite our best efforts, chocolate still blooms because of reasons outside our control (humidity in the air, etc.). If this happens, don't worry — chocolate that has bloomed is still perfectly safe to eat, although it just doesn't look as pretty.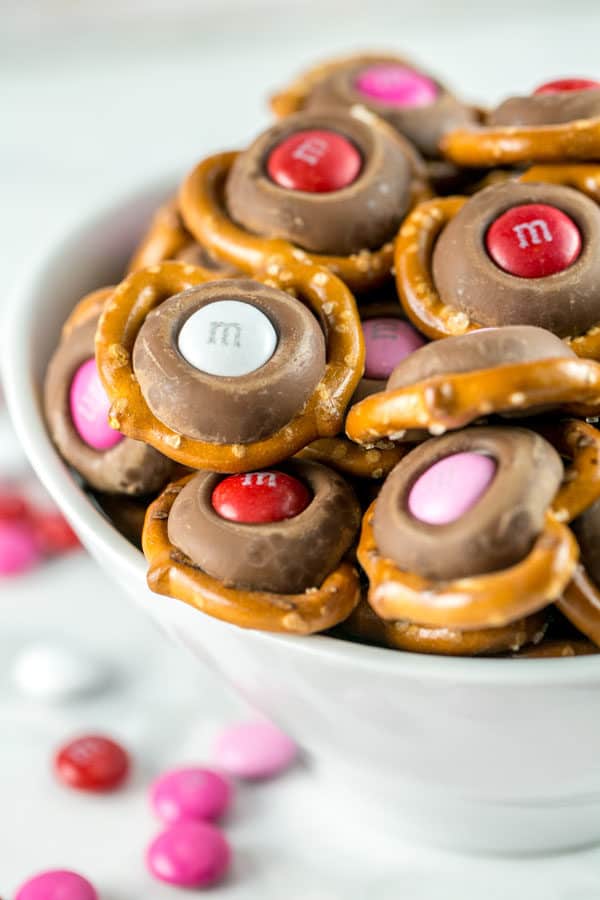 Tips and Tricks for M&M Pretzel Kisses
Use insulated cookie sheets. I mentioned this above — if you really want to prevent chocolate bloom, I found insulated cookie sheets helped prevent the kisses from melting too quickly.
Test the kisses frequently! You want to add the M&M as soon as the kiss is just soft enough. Ovens are rarely perfectly calibrated, so you may find it takes a minute or two longer or shorter to reach this perfect temperature.
Work quickly and in small batches to push the M&M into the kiss. Better to do 20 at a time than 50; the kiss will obviously start to solidify as it sits out at room temperature.
Store in an airtight container in a cool, dry location (but not the refrigerator).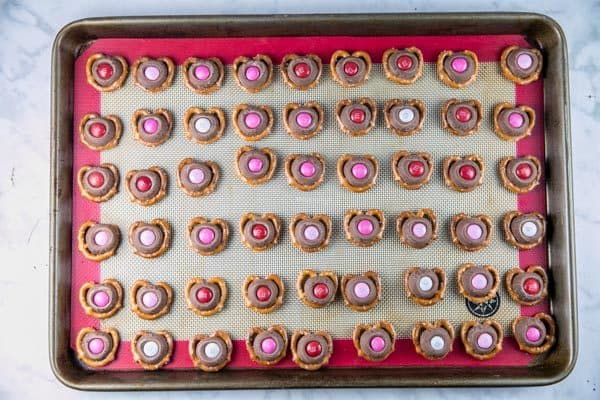 More Candy Desserts: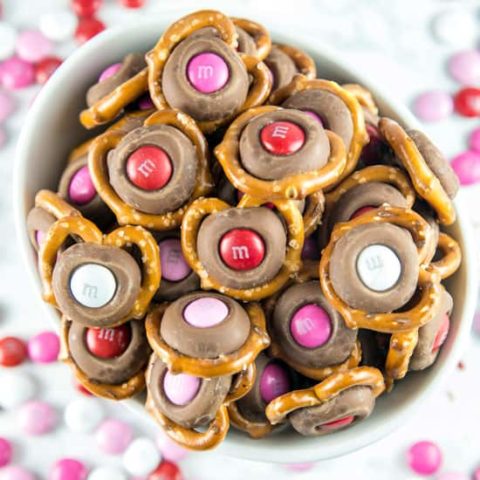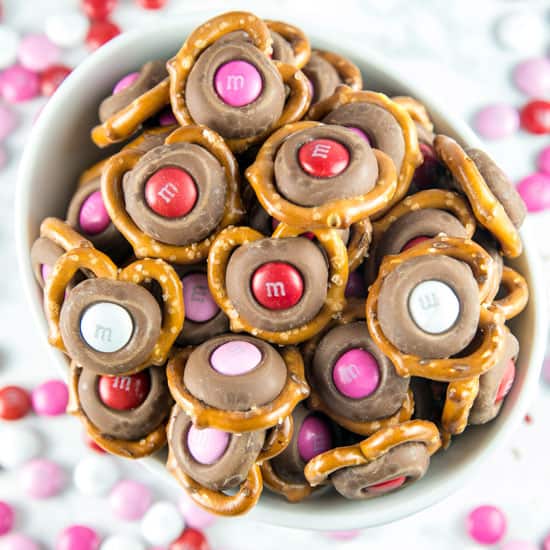 M&M Pretzel Kisses
A pretzel, a Hershey's kiss, and a fun colored M&M — so easy, but these bite-sized sweet and salty M&M Pretzel Kisses are super addicting!
Ingredients
75 miniature bite-sized pretzels
75 Hershey's kisses (1 12-ounce bag)
75 M&Ms, in desired colors
Instructions
Preheat oven to 200 °F. Line a cookie sheet with parchment paper or a baking mat.
Line up pretzels along cookie sheet. Place an unwrapped Hershey's kiss on top of each pretzel. Bake for 5 minutes, until kiss looks shiny and slightly soft (kisses will still retain their shape).
Remove from oven and immediately press one M&M into the center of each melted kiss, spreading the chocolate across the pretzel. If the M&M does not easily press into the kiss and there is some resistance, return the cookie sheet to the oven for an additional 2 to 3 minutes to further melt the kisses.
Cool until chocolate solidifies to room temperature and is no longer soft to the touch, about 1 hour.
Notes
M&M Pretzel Kisses can be made up to two weeks in advance. Store in an airtight container at room temperature.
Recommended Products
As an Amazon Associate and member of other affiliate programs, I earn from qualifying purchases.
Nutrition Information:
Yield:

15
Serving Size:

5 pieces
Amount Per Serving:
Calories:

184
Total Fat:

9.5g
Carbohydrates:

24.6g
Protein:

2.1g