November 27, 2017
Chewy Chocolate Mint Cookies
If you like your cookies chewy and chocolatey, these Chewy Chocolate Mint Cookies have your name written all over them.  Don't forget a tall glass of milk for dunking!
This week, we're going to talk about two things I'm pretty passionate about: cookies and childhood cancer.  Passionate in different ways, obviously.  I really love cookies.  I really hate childhood cancer.  So what do the two have to do with each other?
I'm participating in a cookiepalooza with a bunch of my other favorite food bloggers called The Sweetest Season Cookie Exchange.  And this year, I'm delighted that we are raising money for an organization called Cookies for Kid's Cancer.
We're all sharing delicious new cookie recipes this week (stay tuned for two more over here — hopefully, if I can get my act together!), making donations ourselves, and encouraging our readers to donate a few dollars to a really great cause.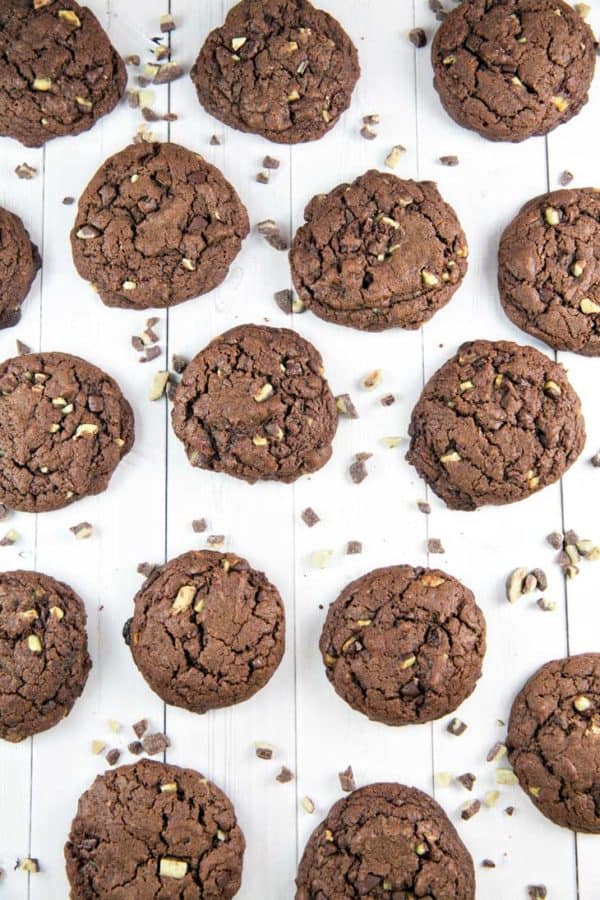 Cookies for Kids' Cancer, founded in 2008, is committed to raising funds for research to develop new, improved, and less toxic treatments for pediatric cancer.
When their 2-year-old, Liam, was diagnosed with childhood cancer in 2007, Larry and Gretchen Witt were shocked to learn of the lack of effective treatments due to lack of funding and pledged their support to the cause. With the help of 250 volunteers, Gretchen baked and sold 96,000 cookies and raised $240,000 for research.
Cookies for Kids' Cancer has inspired more than 8,000 fundraising events in all 50 states and 16 countries and has granted $15 million, funding 100 research projects, including 37 that are now treatments available for children battling cancer today.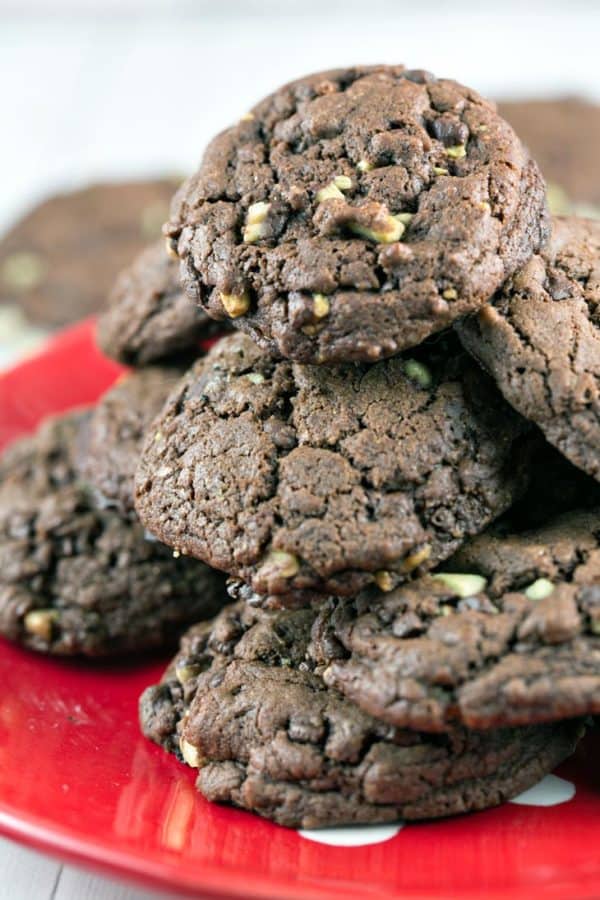 I don't talk about my scientist-life too much on Bunsen Burner Bakery. When I'm not baking delicious cakes and cookies, I'm a biochemist in a cancer research lab.  For seven years, I worked towards my Ph.D. in a pediatric oncology research laboratory, studying Ewing sarcoma, a bone and soft tissue cancer.
The current funding climate for rare pediatric cancers is pretty darn dismal.  Labs like the one I worked in receive a significant percentage of their funding from organizations like Cookies for Kids' Cancer — grass root efforts started by families of affected children.
And you know what? The money raised by these "small" organizations goes on to fund some pretty spectacular research.  The small molecule I worked on in grad school is now being given to humans in a Ewing Sarcoma clinical trial.
(To all my friends whose weddings I had to miss because I had to treat my mice seven days a week: I hope you also agree it was time well spent!)
So obviously, I jumped at the chance to combine cookies with raising money for pediatric cancer research.  And I'd love it if you would do the same, too.  It's the perfect time of year to donate to charity!
Food blogs are an awesome source of recipes available completely for free, so if you've ever made one of mine and enjoyed it, I'd love it if you donated a few dollars via our Sweetest Season fundraising page!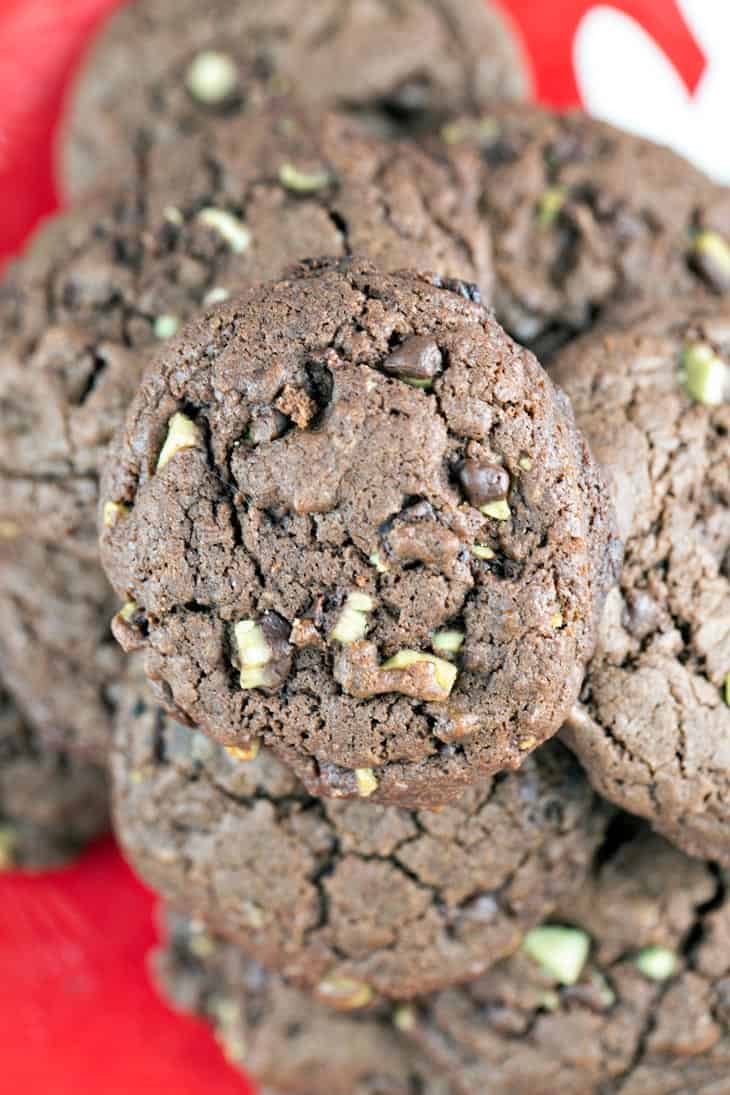 Now let's talk about these cookies!  I'm bringing you three totally different takes on cookies this week in hopes of satisfying everyone: one chewy, one crispy, and one cakey.  As you can probably guess from the title of Chewy Chocolate Mint Cookies, we're starting with chewy.  And chocolatey.  In other words, a safe bet for a crowd pleasing cookie.
Step aside, cocoa powder – these cookies are full of melted chocolate.  And brown sugar, to keep them extra soft and chewy.  I love the chocolate mint combination (mint chocolate chip is my all time favorite ice cream!). so instead of more chocolate chips, I went for mint chips.
Everyone likes mint around the holidays, right?! (Or is that just peppermint? I'm Jewish, I don't know the fine intricacies of Christmas flavors.) I used the Andes Creme de Menthe baking chips, but Hershey's and Guittard both have mint chips too.
To keep your chewy chocolate mint cookies extra soft, don't overbake, and enjoy within the first few days!  (I eat cookies at a glacial pace since I don't have much of a sweet tooth.  This batch has been sitting around for a week and half now.  While still tasty, is not nearly as chewy and soft as they were the day after baking.)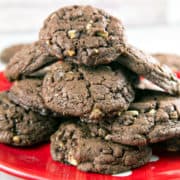 Chewy Chocolate Mint Cookies
If you like your cookies chewy and chocolatey, these Chewy Chocolate Mint Cookies have your name written all over them.
Ingredients:
2 cups semi-sweet chocolate chips
1/2 cup butter
1 1/2 cups all purpose flour
1/2 teaspoon baking soda
1/4 teaspoon salt
3 eggs, room temperature
1/2 cup brown sugar
1 tablespoon vanilla extract
2 cups mint baking chips
Directions:
Preheat oven to 350 °F.  Grease two cookie sheets or line with parchment paper or silpat mats.
Combine the chocolate chips and butter in a large microwave-safe bowl.  Microwave for 1 minute at 50% power.  Repeat, stirring after each minute, until butter and chocolate chips are melted and smooth.  Set aside to cool.
Using an electric mixer, beat together the eggs, brown sugar, and vanilla until light.  Add in the melted chocolate and butter mixture, followed by the flour, baking soda, and salt.  Stir in the mint baking chips.
Refrigerate the dough for 10 minutes, or until firm.  Drop a scant tablespoon of dough onto the prepared baking sheets and bake for 8-10 minutes.  Cookies will be just set on the outside, but still soft in the center.  Cool cookies on the sheet for 5 minutes, then transfer to a wire rack to cool completely.