September 17, 2018
No Bake Cheesecake Parfaits with Blueberry Curd
Creamy, rich, and smooth no-bake cheesecake with layers of blueberry cardamom curd and graham crackers, served in individual jars. These No-Bake Cheesecake Parfaits are an easy make ahead treat perfect for your next dinner party!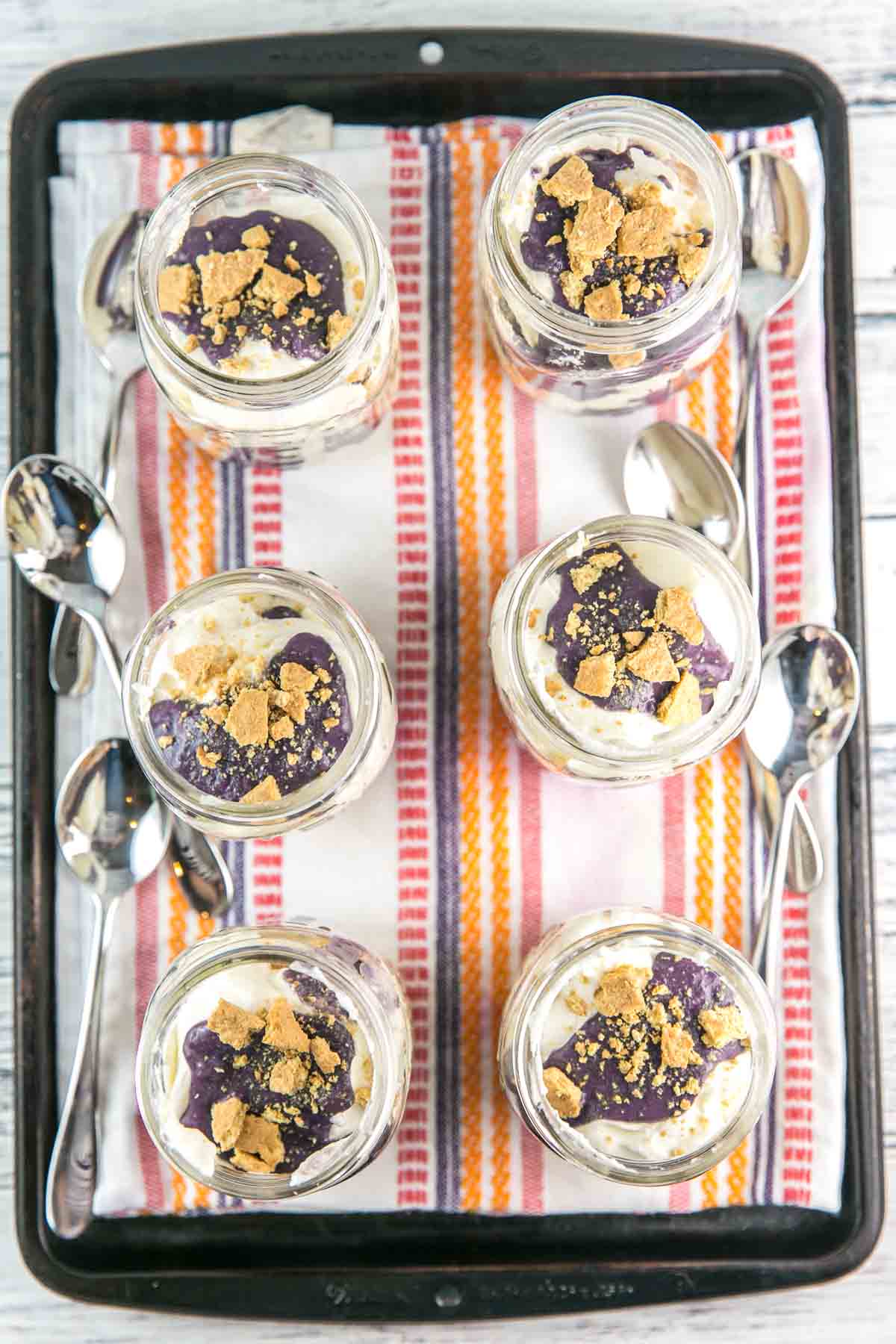 People often ask where I get the inspiration for many of my original recipes. Most commonly, we ate dinner somewhere or spotted something while traveling that looked delicious, and I decided to try to create my own version. Sometimes, someone else quite literally tells me what to make.
This was exactly the case with these no-bake cheesecake parfaits with blueberry curd. Our friend, Erica, is a personal chef (if anyone in Bucks County, PA needs a personal chef service, I fully endorse her amazing cooking!).
At a recent dinner at her house, she served Ottolenghi's Set Cheesecake with Plum Compote for dessert. Halfway through dessert, she mentioned how well the cheesecake would pair with my blueberry cardamom curd.
And thus, here we have no bake cheesecake parfaits (adapted from Ottolenghi's set cheesecake recipe) with blueberry cardamom curd. Erica was right: they do indeed pair together beautifully.
Ingredients & Substitutions
Even though there are three layers in the jars, the ingredient list is fairly short!
To make the no-bake cheesecake, you'll need the following:
Cream Cheese: Use full-fat cream cheese, softened to room temperature.
Mascarpone: Mascarpone is richer and creamier than cream cheese and the perfect addition to a no bake cheesecake
Sugar: Granulated sugar both sweetens and thickens the cheesecake.
Vanilla Extract: You can use regular vanilla extract, but I especially love using vanilla bean paste in these: the little flecks of vanilla beans are so pretty.
Heavy Cream: You'll want to use heavy cream and not whipping cream – we need the extra fat in heavy cream so we can whip it to stiff peaks!
I highly, highly recommend pairing these with my homemade blueberry cardamom curd. The cardamom really takes it to the next level! But if you're not a blueberry fan, you could substitute lemon curd or raspberry curd instead, or use a jar of storebought curd.
To add a little crunch, we'll layer with some crumbled graham cracker crumbs. To keep this gluten-free, use gluten-free graham cracker crumbs. Other ideas for a crumbled cookie layer include vanilla wafers, shortbread cookies, or oatmeal cookies.
Best No-Bake Cheesecake Texture
The cheesecake component of these no-bake cheesecake parfaits is the easiest. This is my favorite kind of dessert: minimal effort, but still fancy enough for entertaining. Are you ready for how hard this is?
Beat together the cream cheese, mascarpone, sugar, and vanilla extract until well combined. Then whip the heavy cream until medium-stiff peaks form. Fold the whipped cream into the cream cheese mixture.
Whipping the heavy cream is the most important part: we need the heavy cream to set the cheesecake. Beating the cream into stiff peaks is essential for a thick filling!
I mentioned above that we want to use heavy cream and not whipping cream, so what's the difference and why does it matter? It's time for my favorite subject… kitchen chemistry!
Kitchen Chemistry

Whipped cream is a foam, made of a suspension of gas bubbles in the cream itself. The high milkfat content of cream stabilizes the foam as triglycerides surround pockets of air. To form this foam, the cream needs to have a sufficient amount of triglycerides: at least 30% fat content, which is the definition of whipping cream. To create stiff peaks, however, we need even more triglycerides, which can be found in heavy cream, which contains at least 36% fat.
The best part is you'll want to make this the day before. The cheesecake sets up to a nice firm texture after overnight refrigeration. Make ahead party desserts: my favorite!
Homemade Blueberry Curd
Another easy-peasy, make-ahead component! All the info you need is on my blueberry cardamom curd recipe. This is also a simple 5 ingredient recipe: blueberries, sugar, cardamom, eggs, and butter.
The blueberry curd takes a little longer to make than the cheesecake, just because you do have to bring the mixture to a boil, but it's still an under 30-minute project. You'll also want to make this ahead of time too, so it has time to chill.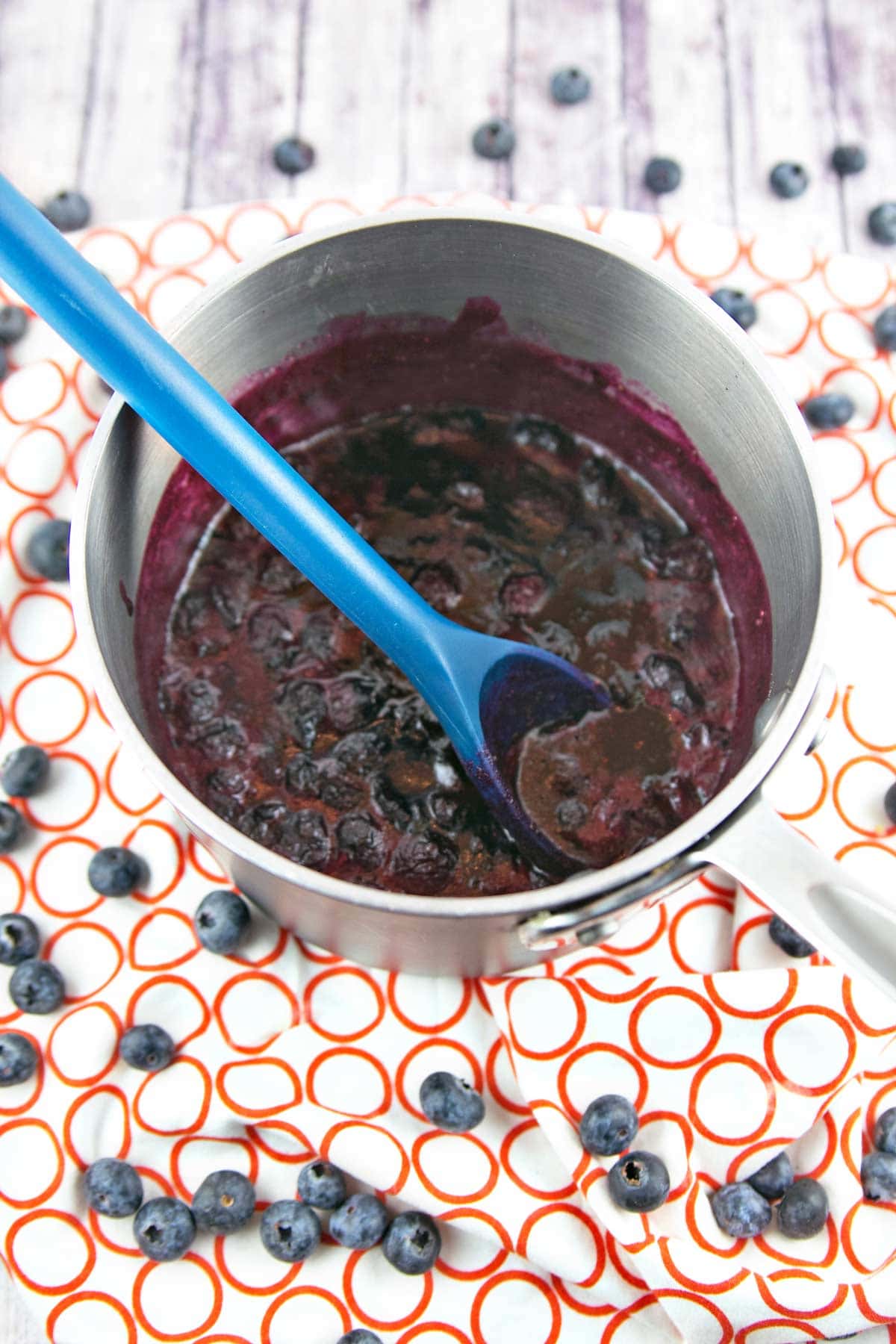 Assembling the Parfaits
I opted to serve these as pre-made parfaits, with layers of the no-bake cheesecake, blueberry cardamom curd, and crumbled graham crackers. Small mason jars work perfectly for size. Everyone loves individual desserts, and as an extra bonus: if someone doesn't finish theirs, they can easily take it home. (Spoiler alert: everyone scraped every last drop out of the jar.)
If you want to leave it more customizable, divide up the cheesecake among 6 bowls and allow individuals to scoop their own toppings. You could even do this as a dessert for a large party with many toppings — make a triple or quadruple batch of the cheesecake and serve it with different flavors of curd or jam and different crumbles. Cookies, pretzels, graham crackers, chocolate chips — all would be delicious!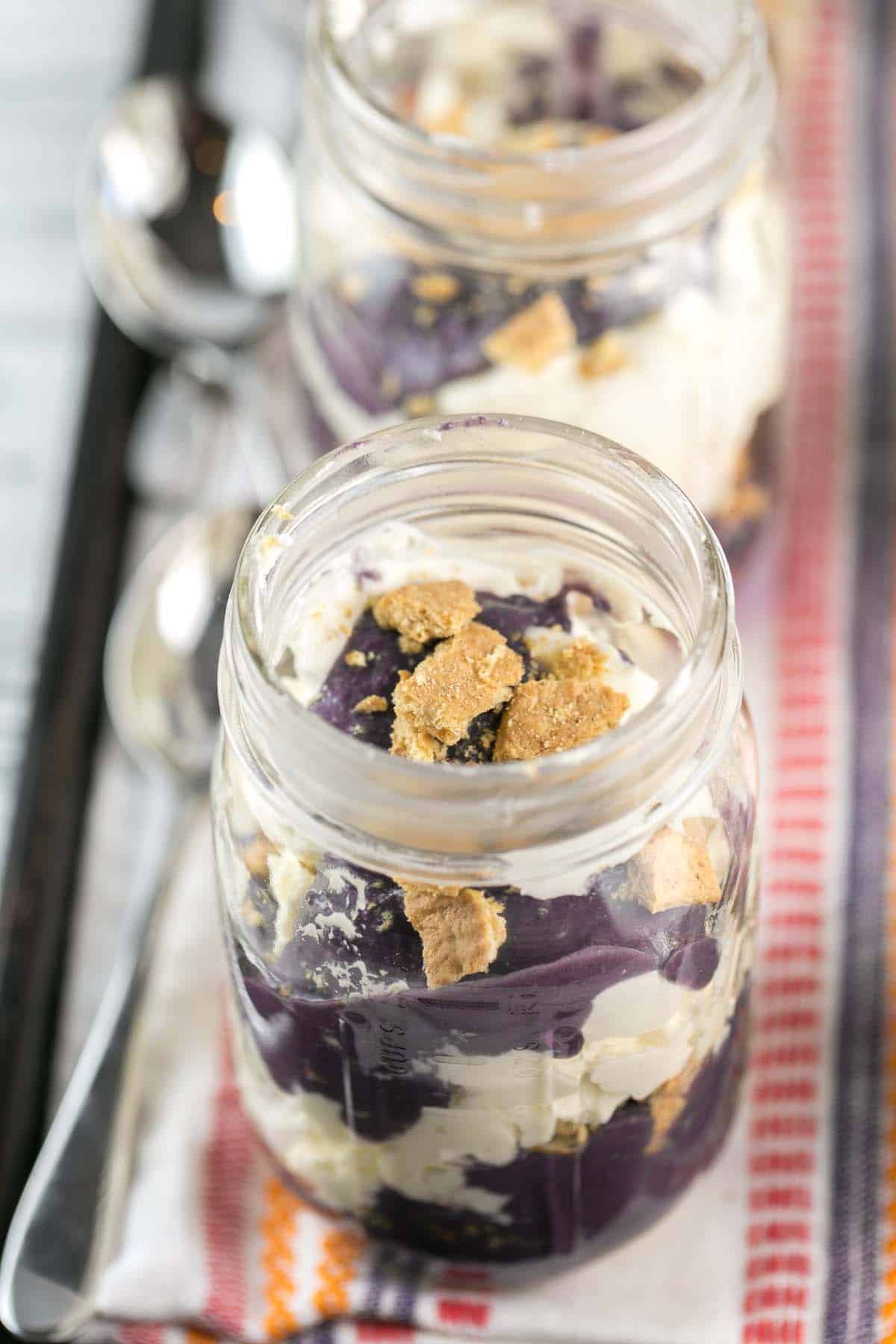 Tips and Tricks for the Best No-Bake Cheesecake Parfaits
Start with room-temperature cream cheese and mascarpone, which makes combining the ingredients together easier and results in a smoother texture.
Whip the heavy cream until stiff peaks form. Stiff peaks are key to properly thickening a no-bake cheesecake.
Gently fold the whipped cream into the cream cheese mixture. We don't want to deflate the air bubbles in the foam!
If you'd like neat and precise layers, use a piping bag or a zip-top bag with the corner snipped off to add the cheesecake and blueberry curd layers.
For a little extra texture, consider sprinkling crushed nuts or granola between the layers of the parfait.
Ingredients for the parfaits can be made ahead of time, but wait until just before serving to layer them (otherwise the graham cracker crumbs get too soggy!)
More Fruit Curd Desserts: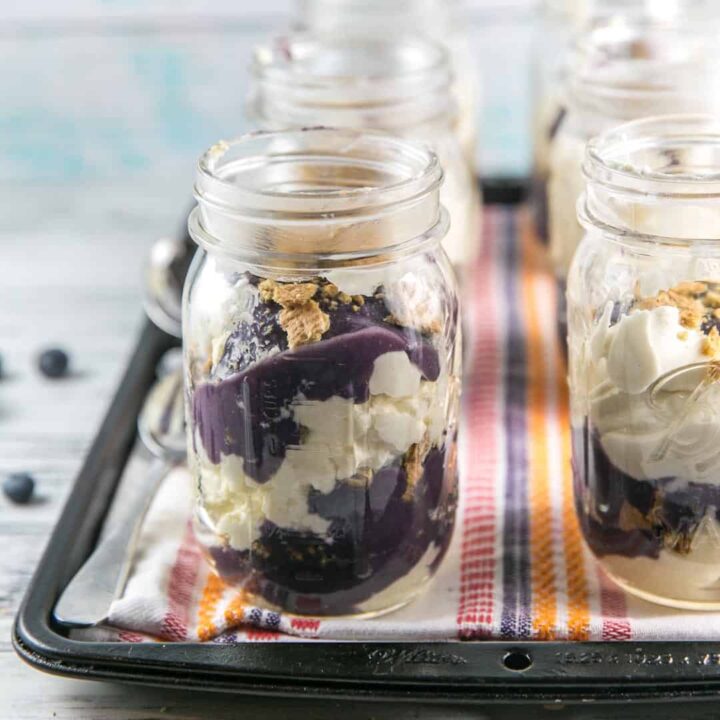 No Bake Cheesecake Parfaits with Blueberry Curd
Total Time:
12 hours
30 minutes
Creamy, rich, and smooth no-bake cheesecake with layers of blueberry cardamom curd and graham crackers, served in individual jars.
Ingredients
For the Cheesecake:
14 ounces (400 grams) cream cheese, room temperature
7 ounces (200 grams) mascarpone, room temperature
3/4 cup (150 grams) granulated sugar
2 teaspoons vanilla bean paste or vanilla extract
1 cup (230 grams) heavy cream
For the Blueberry Curd:
1 quart fresh blueberries
1 cup (200 grams) granulated sugar
1 tablespoon cardamom
3 large eggs, beaten
6 tablespoons (85 grams) unsalted butter, cut into 1 tablespoon pieces
To Assemble:
6 graham cracker sheets, crumbled
Instructions
To make the cheesecake, combine the cream cheese, mascarpone, and sugar in a large bowl. Using an electric mixer, preferably with a paddle attachment, beat on medium speed until the mixture is soft and well combined. In a separate bowl, whip the cream and vanilla extract until stiff peaks form. Using a spatula, fold the whipped cream into the cream cheese mixture by hand. Cover the bowl with plastic wrap and refrigerate for at least 12 hours, up to 3 days.
To make the blueberry curd, follow the directions for the blueberry cardmom curd recipe. Refrigerate for 4 hours, up to 2 weeks.
Immediately before serving, layer cheesecake, blueberry curd, and graham cracker crumbles in 10 ounce glass jars. Alternatively, serve bowls of cheesecake, curd, and graham crackers and allow guests to serve themselves.
Recommended Products
As an Amazon Associate and member of other affiliate programs, I earn from qualifying purchases.