July 12, 2018
Summer Berry Trifle
Let summer produce shine in this easy, make ahead summer berry trifle. With homemade vanilla cake and lemon custard, it's the perfect dessert for all your summer entertaining.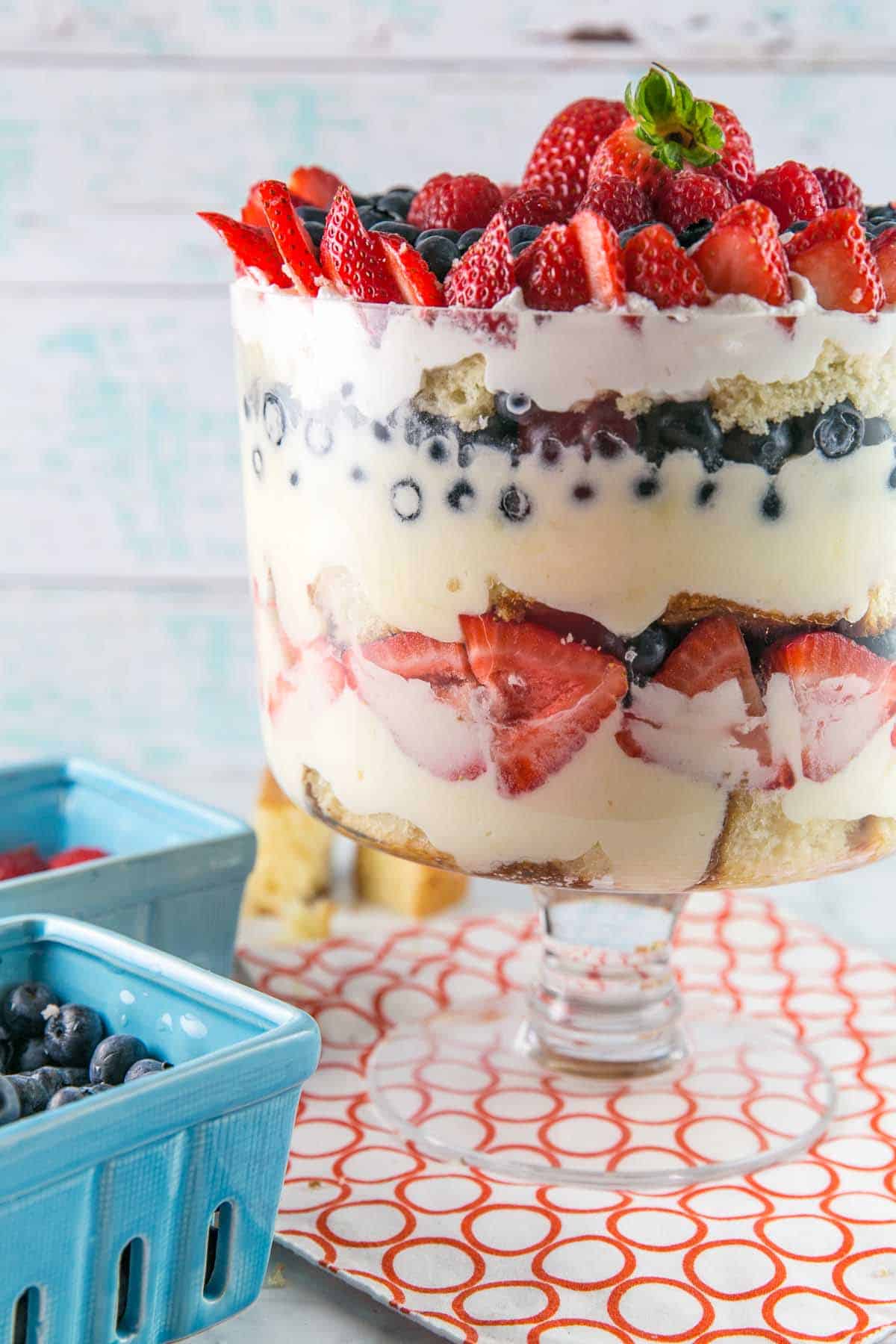 Trifles seem to be the quintessential summer dessert. Fresh summer berries get to shine, paired with cake, custard, and whipped cream.
They are quick and easy to assemble, can be made in advance, and feed a crowd. It's pretty obvious why they are such a popular choice.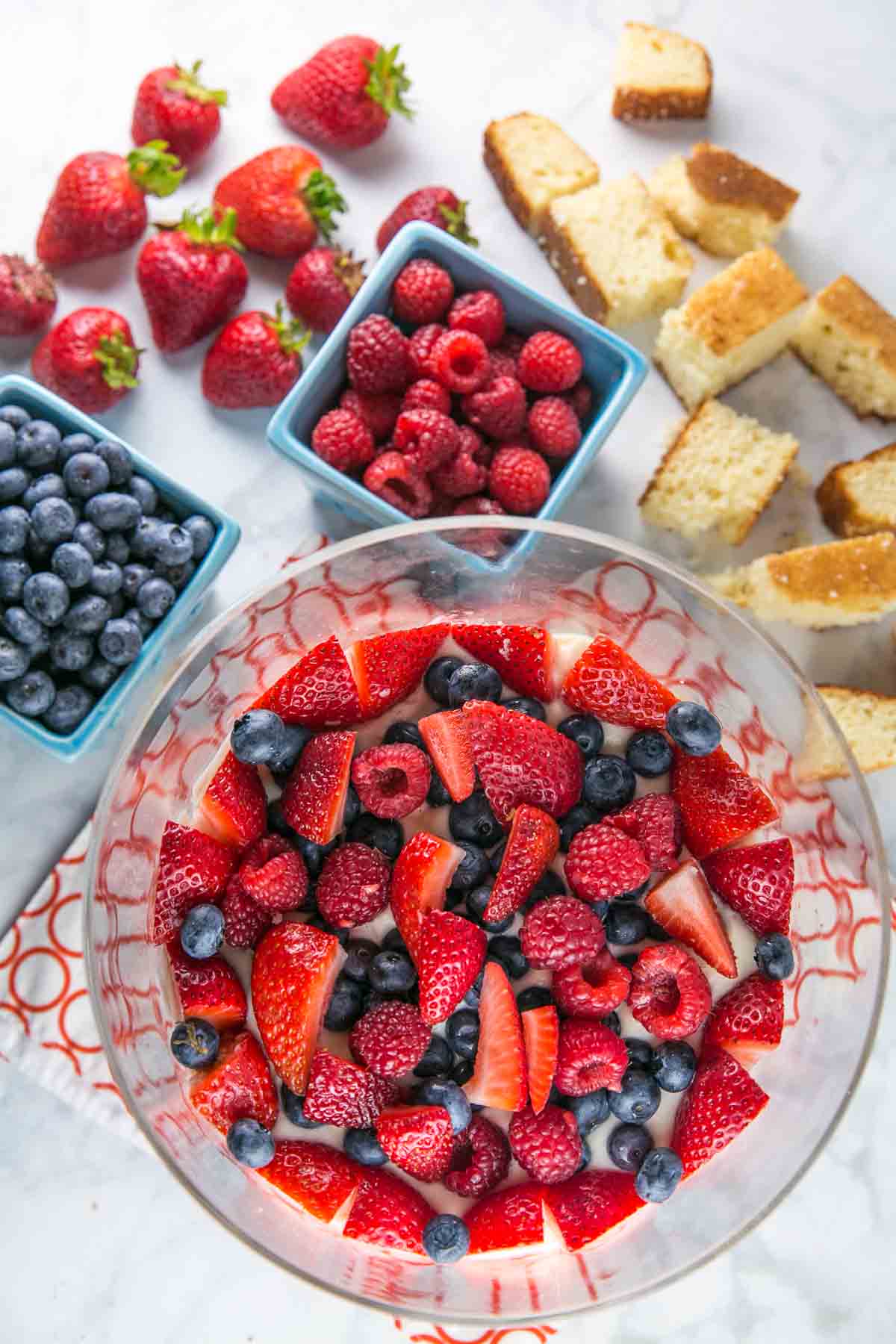 You can make a super duper easy version of a trifle, using all store bought ingredients. Buy an angel food cake or a box of cake mix, some pudding, a tub of cool whip, and layer.
But I really like to make all the components from scratch. It takes surprisingly little time to make (don't let the long ingredient list scare you!), and really elevates this summer berry trifle from good to amazing.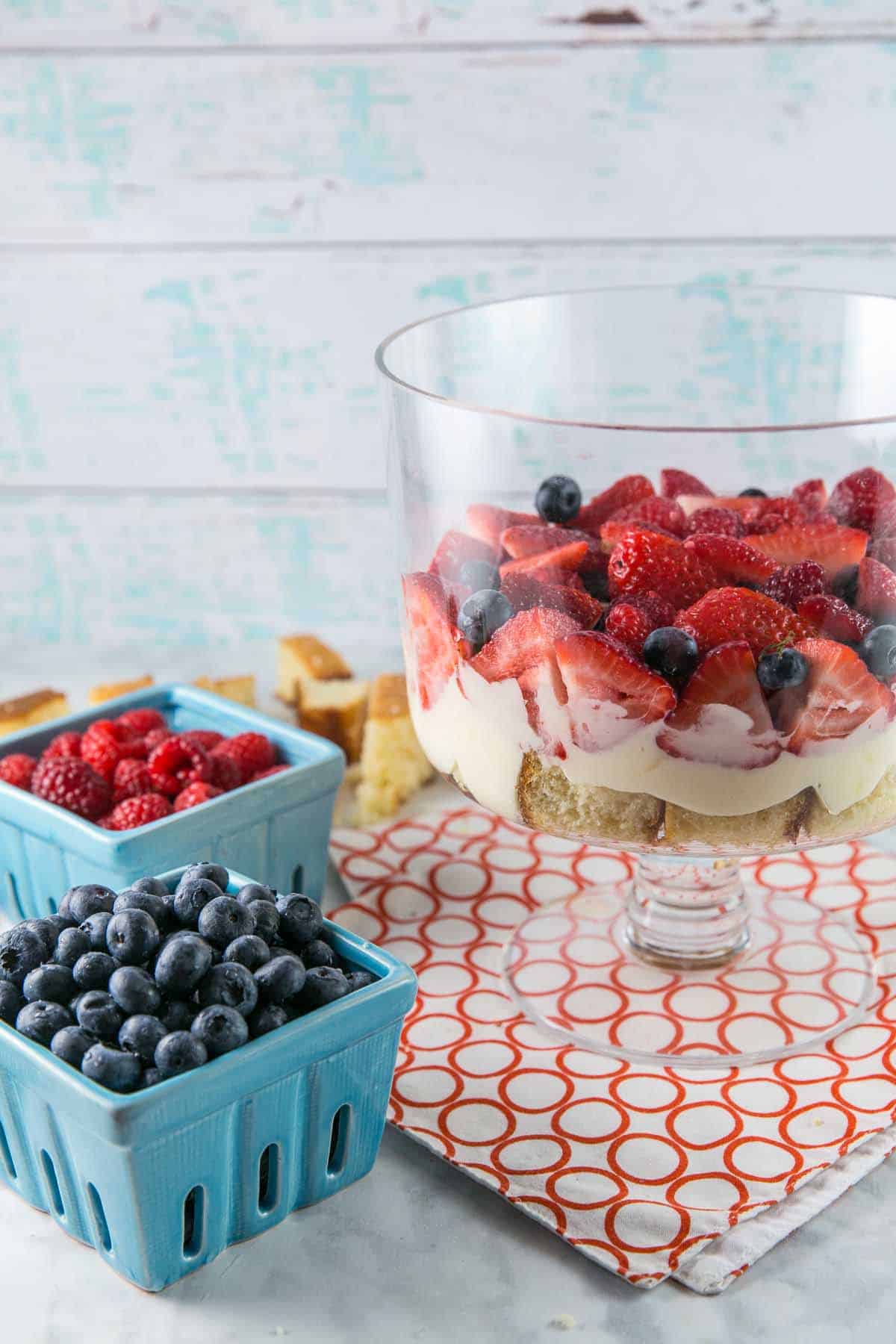 Summer Berry Trifle Layers
Fresh Berries: The star of our trifle is definitely the fresh summer berries. I went with strawberries, blueberries, and raspberries. Because we're not adding anything to the fruit itself (sugar, etc), I like to use the ripest, freshest berries I can find — which is why I really only make this in the summer.
Vanilla Cake: I like to make a plain vanilla cake baked in a 9×13-inch sheet pan. You can use pound cake or angel food cake, but I like the way a simple vanilla cake really lets the berries shine.
Lemon Custard: Instead of plain vanilla, we're going to make a quick and easy homemade lemon custard. Lemon + berries is such a delicious summary combination! To lighten it up, we'll fold in a little…
Homemade Whipped Cream: Super easy to make: just heavy cream, confectioners sugar, and vanilla extract. It helps lighten up the lemon custard and we'll top off the trifle with a big fluffy pile, covered with delicious fresh berries.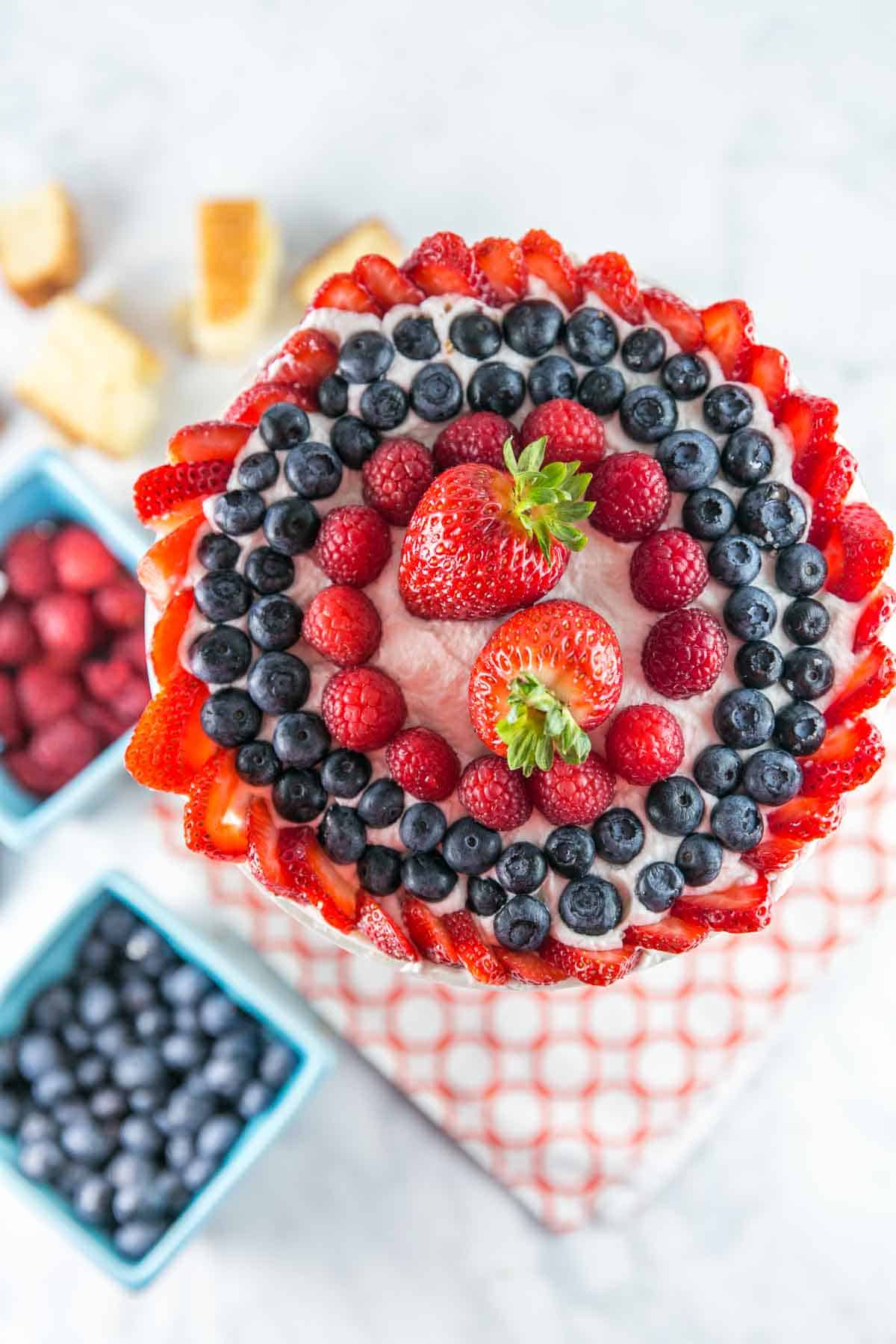 Make Ahead Layers
One of the reasons trifles are so great for entertaining is because the individual components can be prepared ahead of time. Bake the cake a few days ahead of time… heck, even a few months, and store it in the freezer!
Or better yet, trifle is the best use for a cake that accidentally breaks when you turn it out. Baking a layer cake and one of your layers sticks? Don't despair and trash it. Let the cake cool, cut it into cubes, and store it in a bag in the freezer. Pull it out whenever the mood for trifle hits!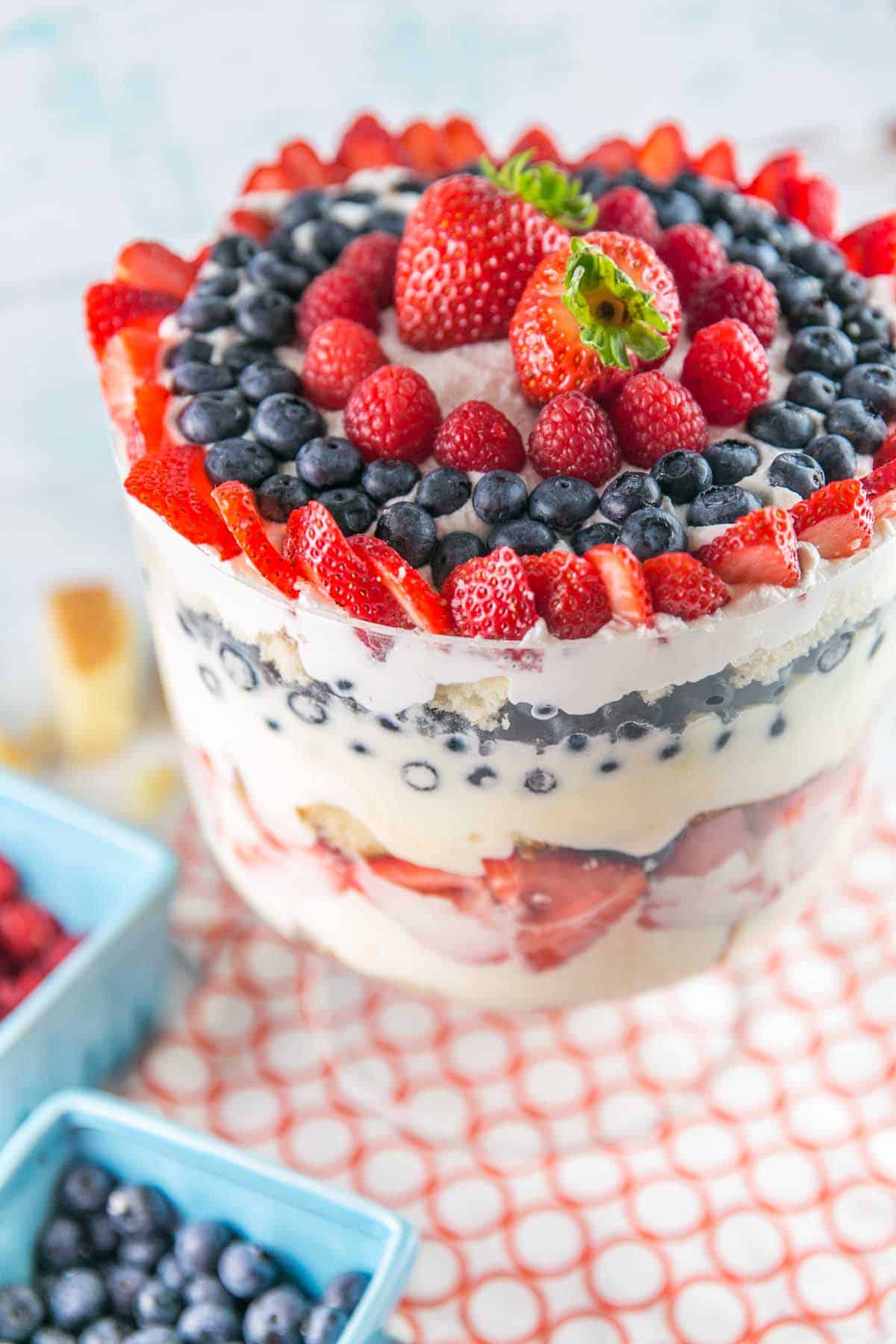 The lemon custard can be made a few days ahead of time, too: store in an airtight container in the refrigerator. When you're ready to make the trifle, all you need are some fresh berries and a batch of homemade whipped cream.
Then it's time to layer: cake, custard, fruit and repeat, topping with a big fluffy pile of whipped cream and more fresh summer berries.
The longer the trifle sits, the more the custardy layer seeps into the cake, making it extra moist and delicious. This is one of those desserts that is even better the day after you make it.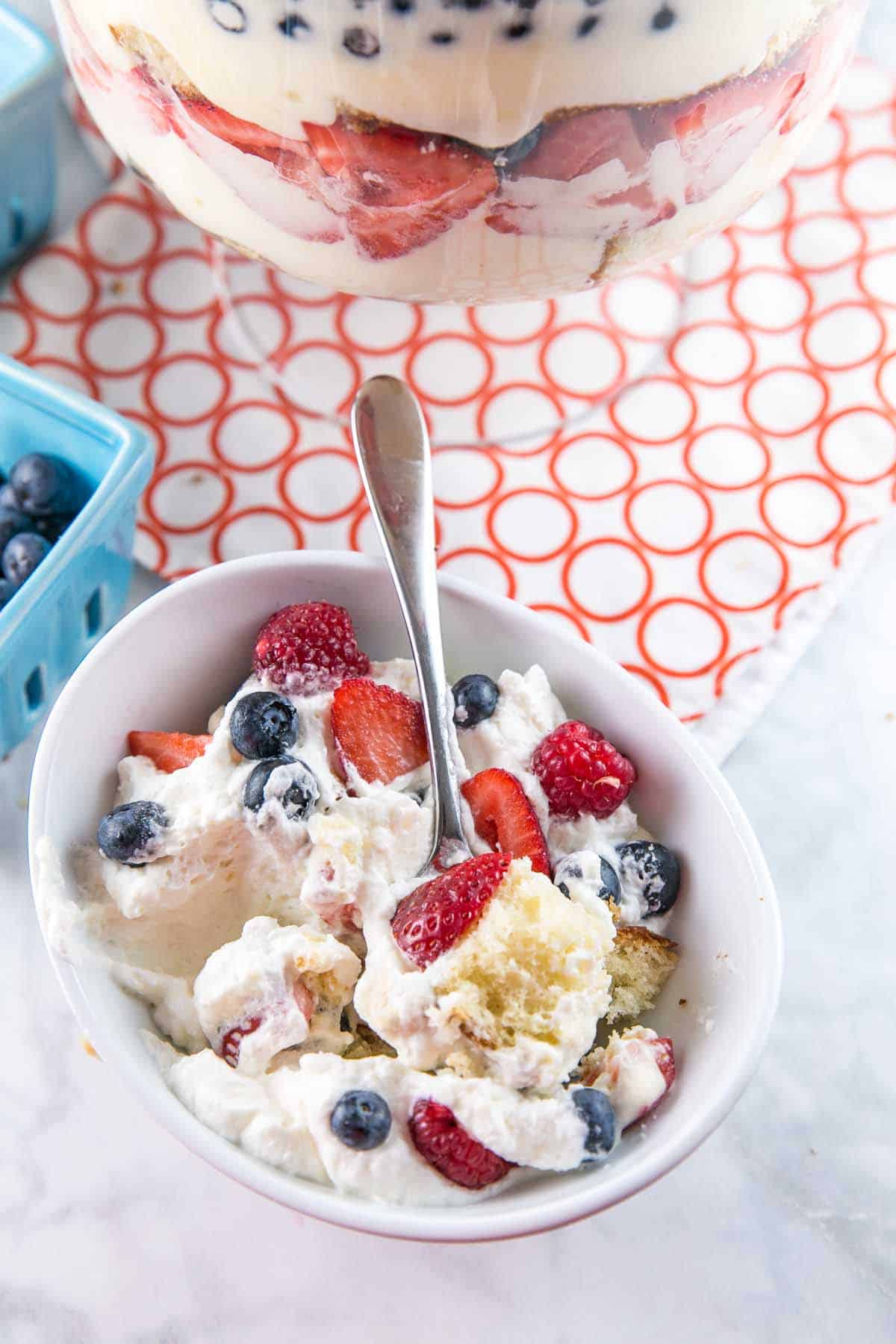 So, let's review. Fresh summer berries. A vanilla cake that can be made months ahead of time. Lemon custard that can be made a few days ahead of time. A big pile of fluffy whipped cream.
Big enough to feed a crowd, and even better when you make it a day before and let it sit out overnight.
It's official: summer berry trifle is hands-down the best dessert for summer entertaining.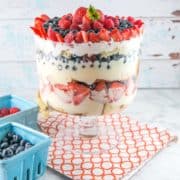 Summer Berry Trifle
Let summer produce shine in this easy, make ahead summer berry trifle with homemade vanilla cake and lemon custard.
Ingredients:
For the cake:
1 cup (2 sticks) butter, room temperature
1 1/4 cups sugar
4 eggs, room temperature
1 tablespoon vanilla extract
1 tablespoon baking powder
1/2 teaspoon salt
3 cups all-purpose flour
1 1/4 cups milk
For the custard:
3/4 cup sugar
1/4 cup cornstarch
2 1/2 cups milk
3 egg yolks
2 tablespoons lemon zest
1/8 teaspoon salt
1/2 cup fresh lemon juice
2 tablespoons butter
1 teaspoon lemon extract
For the whipped cream:
2 cups heavy cream
1/2 cup confectioners sugar
1 tablespoon vanilla extract
To assemble:
7-8 cups of fresh berries
Directions:
To bake the cake, preheat the oven to 350 °F.  Grease a 9×13-inch pan.
Using an electric mixer on medium high speed, beat together the butter and sugar until light and fluffy, 2 to 3 minutes.  Reduce the speed to low and add in the eggs, one at a time, followed by the vanilla extract.  Add in the baking powder, salt, and half the flour, beating to just combine.  With the mixer running on low speed, slowly pour in the milk, followed by the remaining flour, continuing to beat until no streaks of flour remain.
Pour the batter into the prepared pan.  Bake for 30-35 minutes, until cake is golden on top, springs back lightly when touched, and a toothpick inserted into the center comes out clean.  Transfer to a rack and let cool.  Cut cooled cake into 1.5-inch cubes.
To make the lemon custard, whisk together the sugar and cornstarch in a medium saucepan.  Add in the milk and stir until smooth.  Place the saucepan over medium heat and whisk in the egg yolks, zest, and salt.  Continue to cook, stirring frequently, until the custard has thickened enough to coat the back of a spoon.  Remove from heat and stir in the lemon juice, butter, and lemon extract.  Pour through a strainer into a large bowl.  Cool to room temperature, then transfer to the refrigerator and chill until cold.
To make the whipped cream, combine the heavy cream, confectioners sugar, and vanilla extract in a bowl.  Beat on high speed using an electric mixer until stiff peaks form, about 3 minutes.
Fold roughly two-thirds of the whipped cream into the lemon custard, reserving the other third for the top of the trifle.
To assemble, cover the bottom of a trifle bowl or large glass dish with the one-third of the cubes of cake.  Top with half of the lemon custard/whipped cream mixture, followed by a layer of berries.  Top with another third of the cake, followed by the remaining custard/whipped cream, and another layer of berries.  Arrange the remaining cubes of cake and top with the whipped cream.  Arrange remaining berries on top of of the whipped cream.
Loosely cover with plastic wrap and refrigerate for 2 hours, up to overnight.
Cake can be made ahead of time and stored at room temperature for 2-3 days or frozen for up to 3 months.  Lemon custard can be made and stored in the refrigerator up to 3 days ahead of time.  Whipped cream can be made and stored in the refrigerator up to 1 day ahead of time.  Assembled trifle will keep in the refrigerator for 3 days.
A Bunsen Burner Bakery Original Protocol