July 12, 2018
Summer Berry Trifle
Let summer produce shine in this easy, make-ahead Summer Berry Trifle. With homemade vanilla cake and lemon custard, it's the perfect dessert for all your summer entertaining.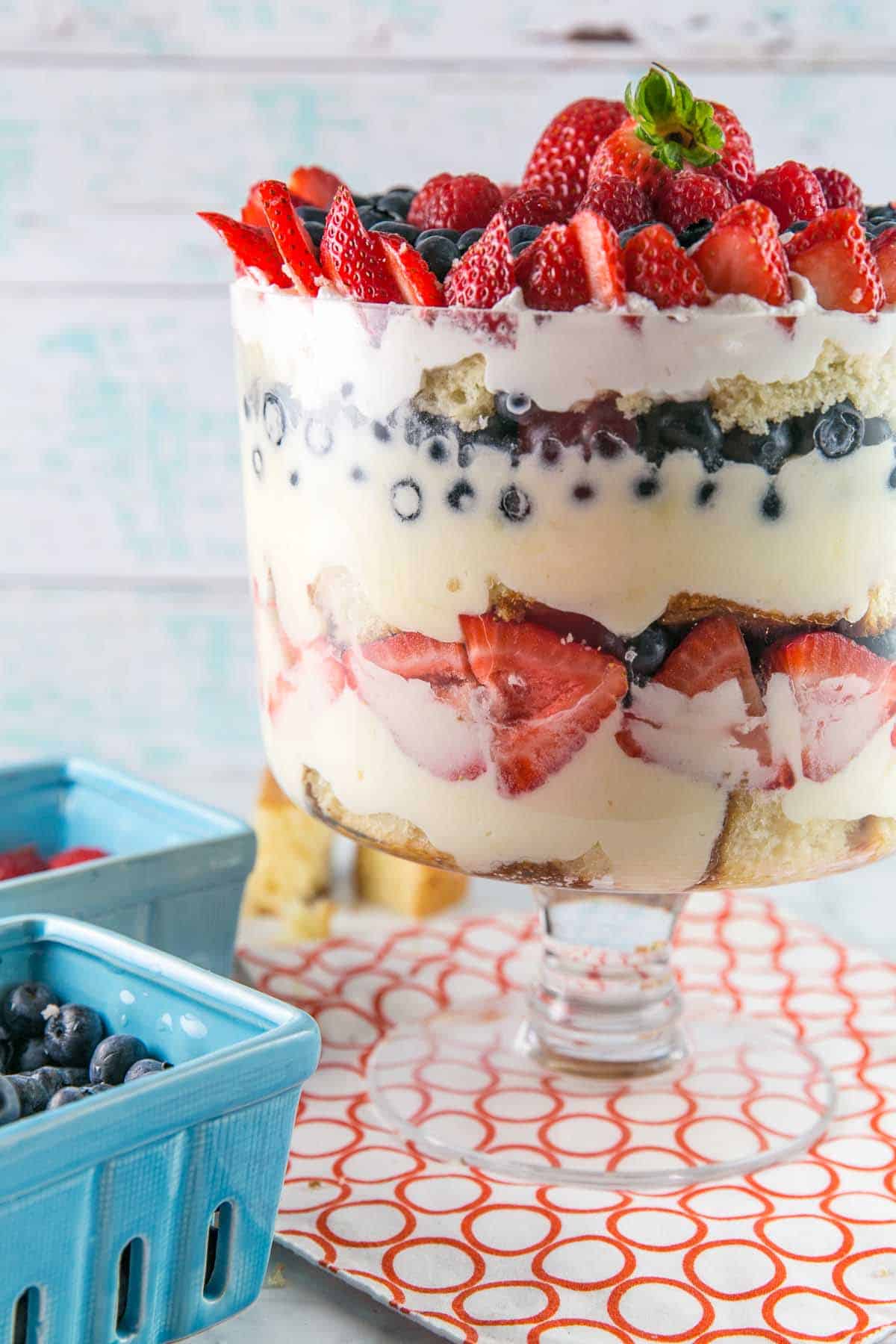 Trifles seem to be the quintessential summer dessert. Fresh summer berries get to shine, paired with cake, custard, and whipped cream.
They are quick and easy to assemble, can be made in advance, and feed a crowd. It's pretty obvious why they are such a popular choice.
You can make a super duper easy version of a trifle, using all store-bought ingredients.  Buy an angel food cake or a box of cake mix, some pudding, a tub of cool whip, and layer.
But I really like to make all the components from scratch. It takes surprisingly little time to make (don't let the long ingredient list scare you!), and really elevates this summer berry trifle from good to amazing.
(And here's my favorite pro tip: if you make any cakes during the year that crack, save them in the freezer and use them later to make this trifle!)
While I call this a summer berry trifle, you can really make this any time of year, thanks to the abundance of fresh berries in our grocery stores year round. But it really does shine with super-ripe in season berries – I make this at least once (if not two or three times!) every summer.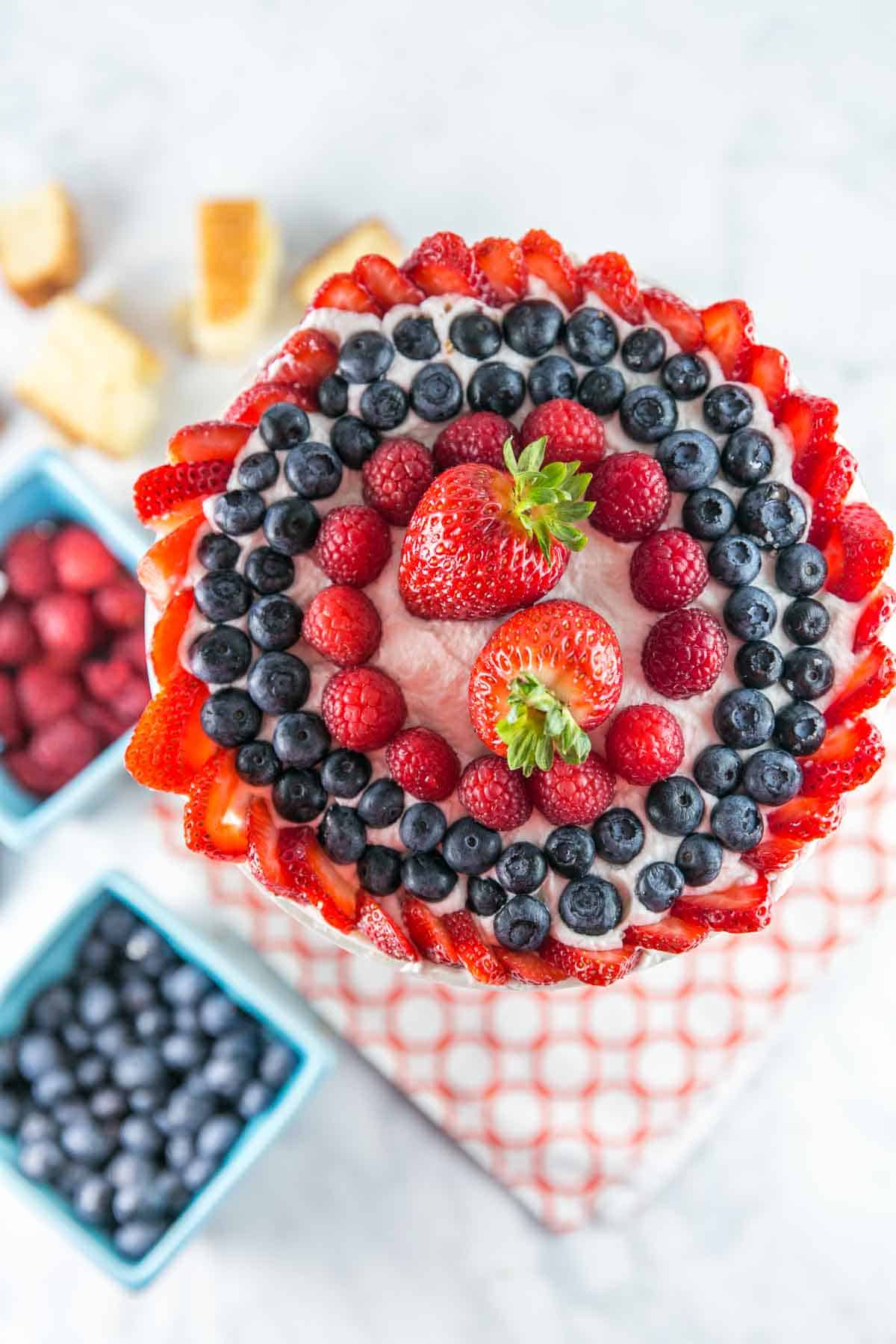 Best Berry Trifle Layers
To make this berry trifle, we'll work with four different layers. While it may seem like a lot, I promise this comes together pretty easily! The four layers we need are:
Fresh Berries: The star of our trifle is definitely the fresh summer berries.  I went with strawberries, blueberries, and raspberries. Because we're not adding anything to the fruit itself (sugar, etc), I like to use the ripest, freshest berries I can find — which is why I generally prefer to make this in the summer.
Vanilla Cake: I like to make a plain vanilla cake baked in a 9×13-inch sheet pan.  You can use pound cake or angel food cake, but I like the way a simple vanilla cake really lets the berries shine.
Lemon Custard: Instead of plain vanilla, we're going to make a quick and easy homemade lemon custard.  Lemon + berries are such a delicious summery combination!  To lighten it up, we'll fold in a little…
Homemade Whipped Cream: Super easy to make: just heavy cream, confectioners sugar, and vanilla extract.  It helps lighten up the lemon custard and we'll top off the trifle with a big fluffy pile, covered with delicious fresh berries.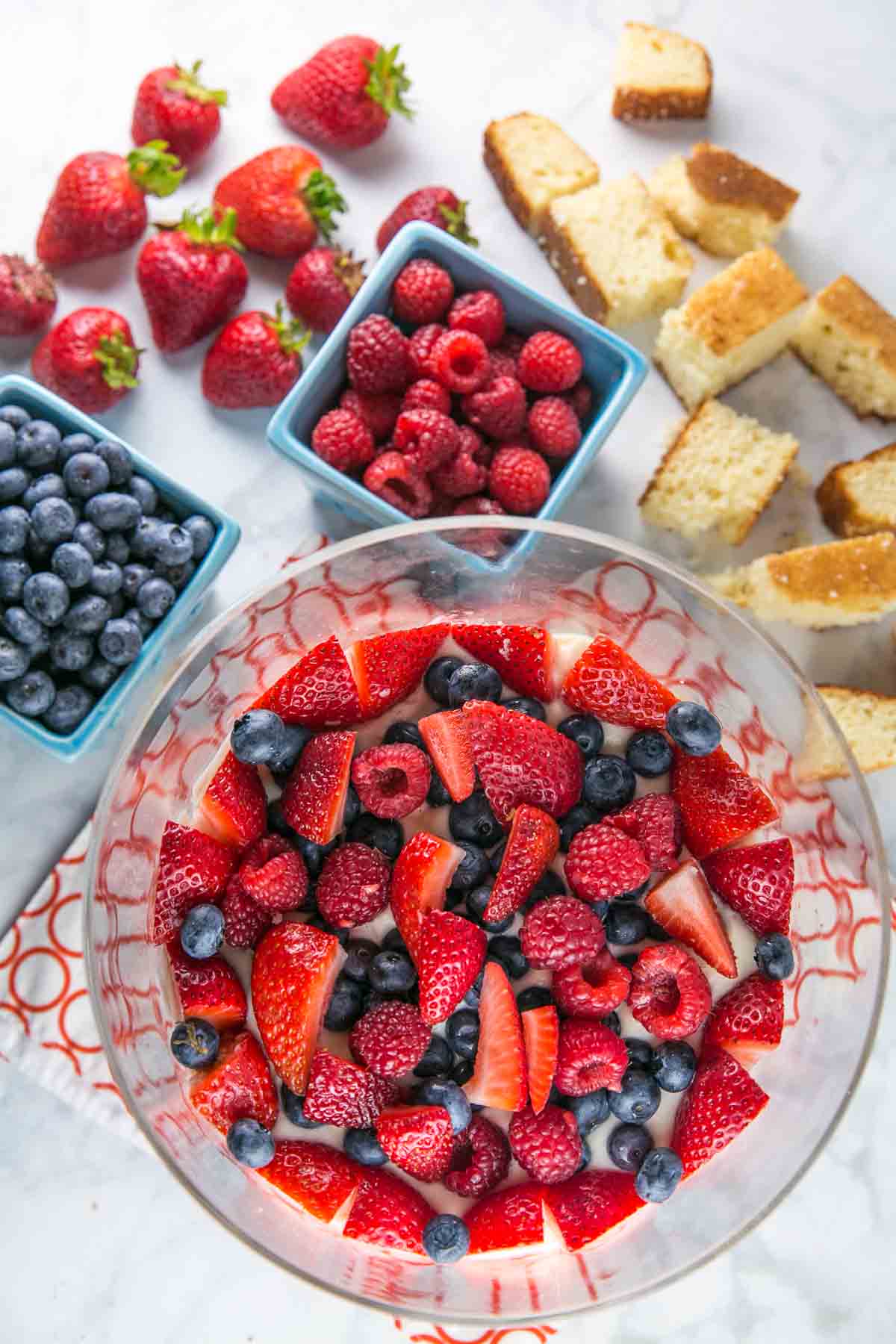 Easy Vanilla Cake
As I already mentioned, I like to use a simple vanilla cake for this trifle, and you'll find my recipe below. But the world is your oyster when it comes to the cake – love chocolate? Make a chocolate cake! Pound cake? I have a great chocolate chip pound cake that would be delicious in this trifle.
One of the reasons trifles are so great for entertaining is because the individual components can be prepared ahead of time. Bake the cake a few days ahead of time… heck, even a few months, and store it in the freezer!
Or better yet, trifle is the best use for a cake that accidentally breaks when you turn it out. Baking a layer cake and one of your layers sticks? Don't despair and trash it. Let the cake cool, cut it into cubes, and store it in a bag in the freezer. Pull it out whenever the mood for trifle hits!
If I'm baking a cake specifically for the trifle, I'll make it in a 9 x 13-inch pan, but cakes made in round, square, or even bundt pans all work fine!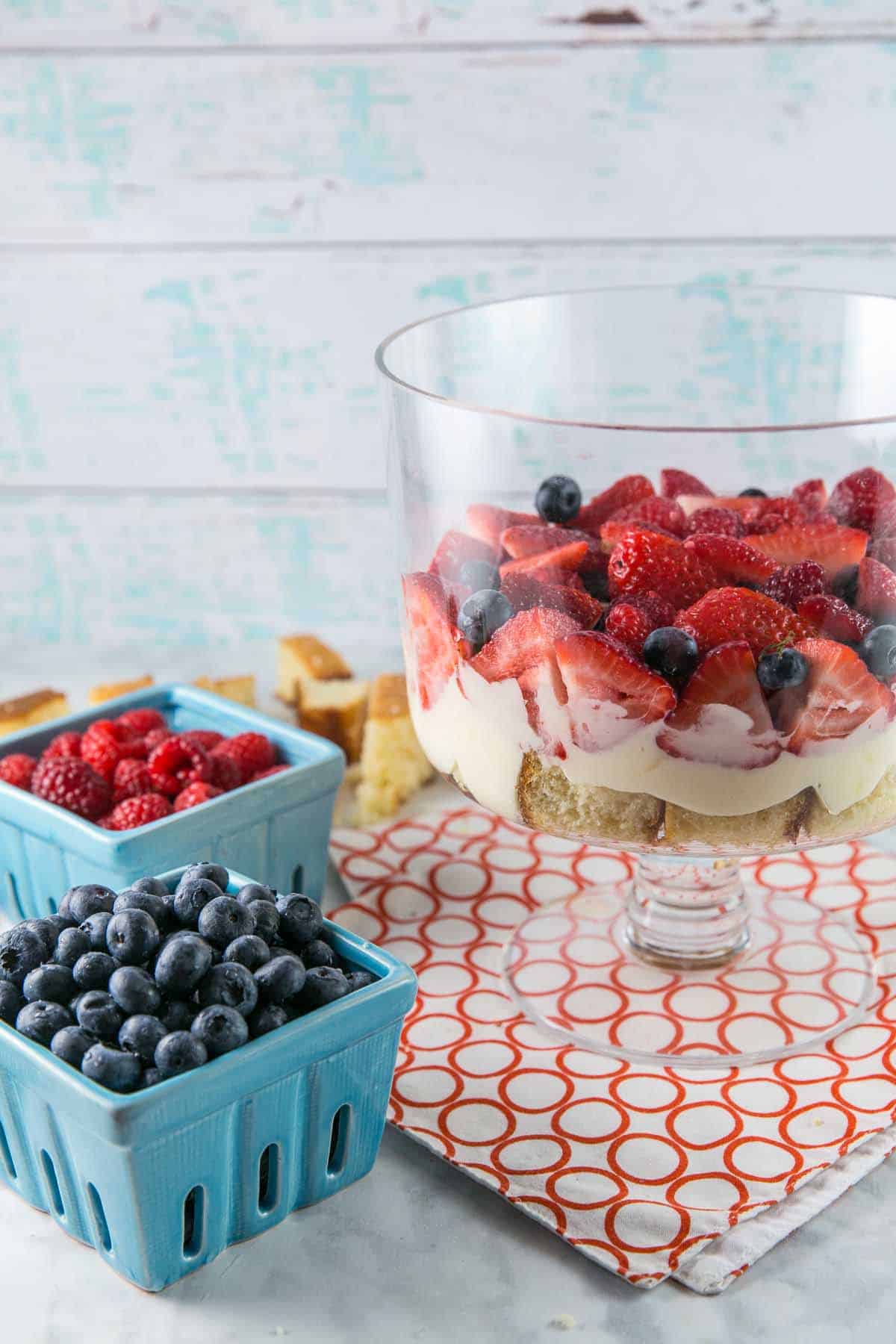 Homemade Lemon Custard
If you know me, you know how much I love lemon desserts – and the berries in this trifle pair perfectly with a little lemon flavor in our homemade custard!
Never made a custard before? Don't worry! I have all the tips you need for a perfect custard. How do we get the perfectly smooth, silky custard in a texture and keep it so soft and wobbly? The answer, of course, is all in the… kitchen chemistry!
Kitchen Chemistry

Custard owes its silky texture to a magical process called coagulation. In this process, the proteins present in the egg yolks denature and bond together, resulting in a thickened mixture. The cornstarch, meanwhile, acts as a stabilizer, helping to prevent curdling and enhancing the custard's smoothness.
Now that we understand the science, let's get our hands dirty and whip up this delightful homemade lemon custard! We just need to follow a few not-so-complicated steps.
Whisk together the sugar and cornstarch. Add in the milk and stir until smooth.
Heat the mixture and whisk in the egg yolks, zest, and salt. Continue to whisk to ensure the cornstarch is fully incorporated and dissolved.
Continue to heat, stirring constantly, until the mixture thickens enough to coat the back of a spoon. Be sure to scrape the bottom and sides of the saucepan while stirring to prevent the custard from sticking.
Remove from the heat and stir in the lemon juice, butter, and lemon extract. Stir until the butter is fully melted.
To ensure a silky-smooth custard, strain it through a fine-mesh sieve into a heatproof bowl. This helps remove any lumps or bits of cooked eggs. Allow the custard to cool slightly at room temperature before chilling it completely in the refrigerator.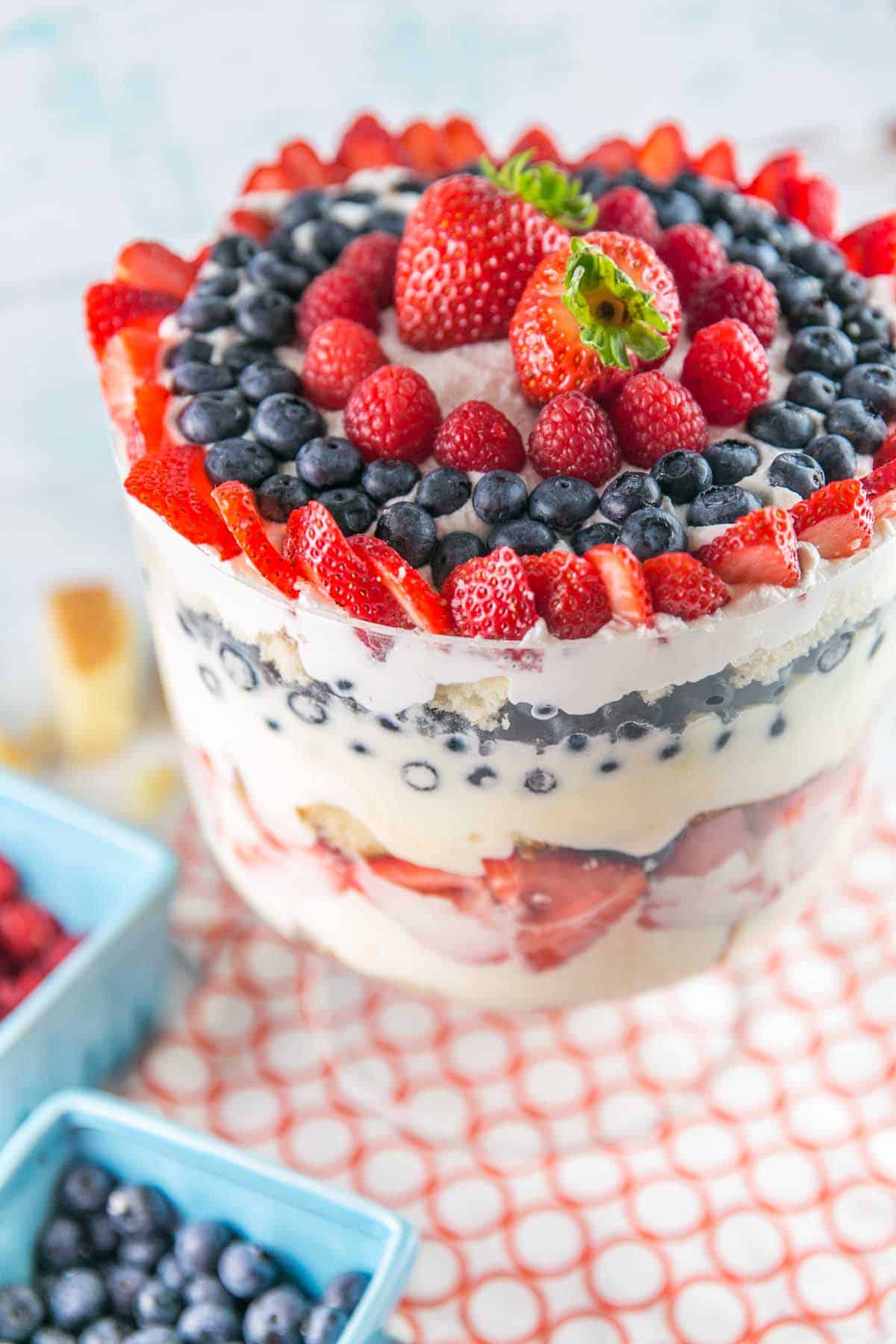 Assembling a Trifle
Once you've made your cake and your custard (which can also be done ahead of time — store in an airtight container in the refrigerator for up to 3 days), we're almost done. Now all you need are some fresh berries and a batch of homemade whipped cream.
Then it's time to layer: cake, custard, fruit, and repeat, topping with a big fluffy pile of whipped cream and more fresh summer berries.
The longer the trifle sits, the more the custardy layer seeps into the cake, making it extra moist and delicious. This is one of those desserts that is even better the day after you make it.
Recommended Tools to Make Berry Trifle
Stand Mixer: My trusty stand mixer is my favorite way to make the cake batter and homemade whipped cream in next to no time!
9×13-inch Baking Pan: Use a light-colored metal pan for the cake — darker metal results in a darker, crispier cake along the edges.
3 Quart Saucepan: My favorite size for making the custard. Look for a saucepan with a heavy bottom to prevent the custard from burning.
Lemon Extract: I always like to add a little lemon extract to the custard to really bump up the lemon flavor!
Mesh Strainer: Pass the custard through a metal mesh strainer to ensure it's super duper smooth.
Trifle Bowl: While you can use any extra-large glass mixing bowl, a trifle bowl allows for the best presentation – it looks so nice on a table and lets you see all the delicious layers inside.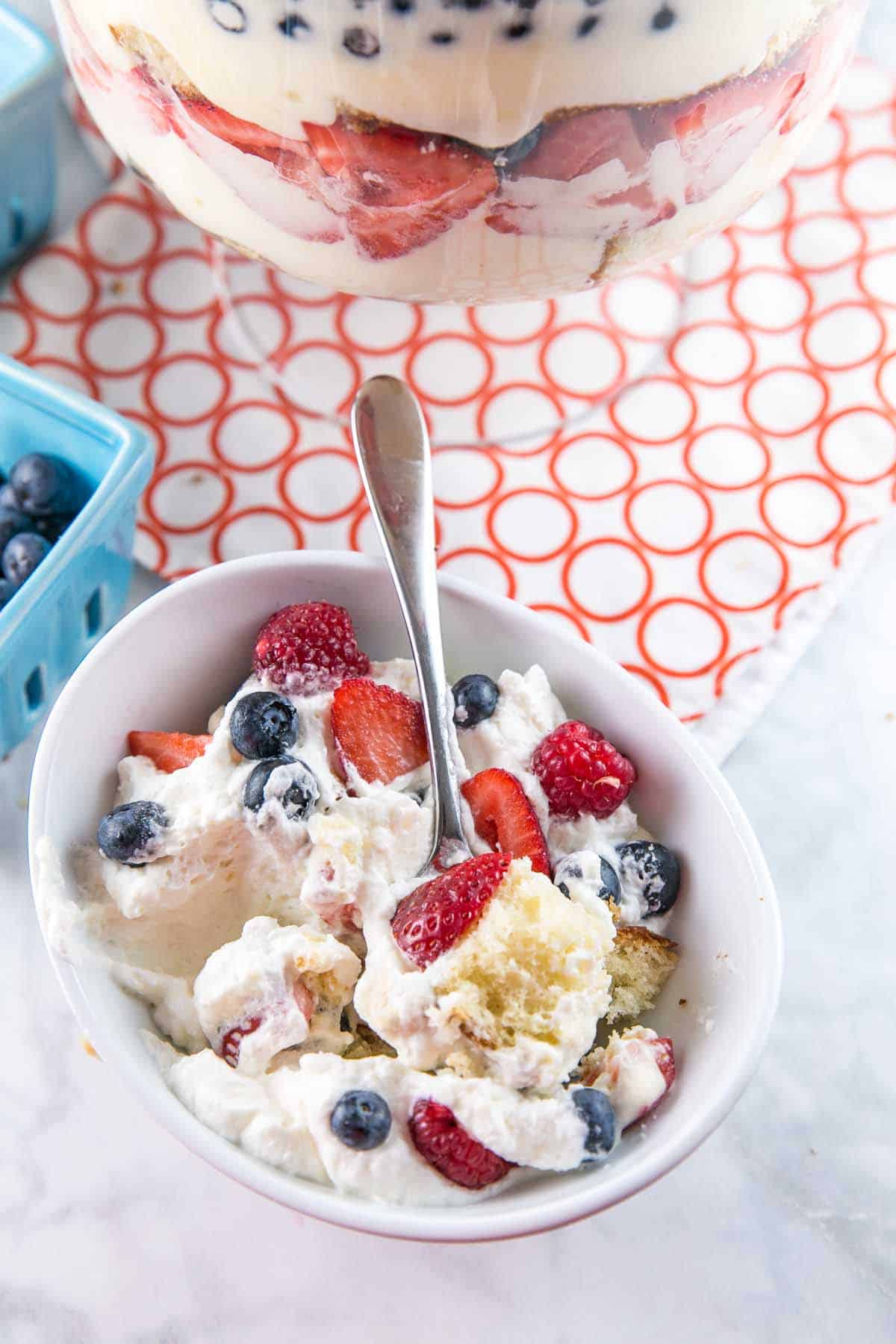 Tips and Tricks for the Best Summer Berry Trifle
Choose ripe, fresh berries for the best flavor and sweetness. Any combination of your favorite berries – strawberries, raspberries, blackberries, blueberries, or even pitted cherries are all great options.
Chill the custard completely before using to ensure it sets properly before folding in the whipped cream.
Don't overwhip the heavy cream! When making the whipped cream, reach until it reaches soft to just-firm peaks so it holds its shape but is still soft and fluffy. Overwhipping cream can result in a grainy texture.
After you assemble the trifle, allow it to rest before serving. Letting the trifle sit for a few hours to overnight helps the flavors meld together and creates the best cake-custard texture.
Use a clear trifle bowl to showcase the beautiful layers of your dessert!
For individual servings, assemble the trifle in multiple glasses or mason jars for an elegant, personalized presentation.
More Summer Fruit Desserts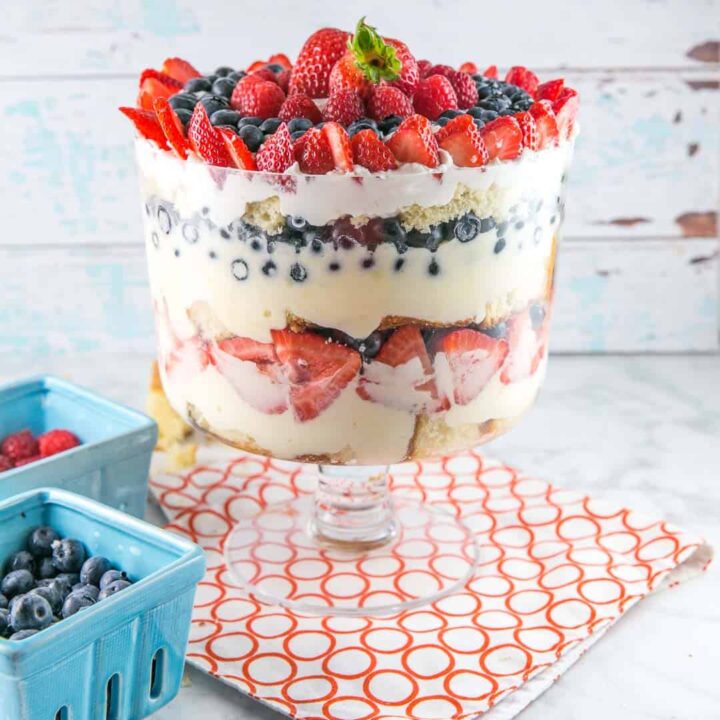 Summer Berry Trifle
Let summer produce shine in this easy, make-ahead Summer Berry Trifle with homemade vanilla cake and lemon custard.
Ingredients
For the Cake:
1 cup (226 grams) unsalted butter, room temperature
1 1/4 cups (248 grams) granulatef sugar
4 large eggs, room temperature
2 teaspoons vanilla extract
1 tablespoon baking powder
1/2 teaspoon salt
3 cups (360 grams) all-purpose flour
1 1/4 cups (284 grams) whole milk
For the Custard:
3/4 cup (148 grams) granulated sugar
1/4 cup (28 grams) cornstarch
2 1/2 cups (568 grams) whole milk
3 large egg yolks
2 tablespoons lemon zest
1/8 teaspoon salt
1/2 cup (112 grams) fresh lemon juice
2 tablespoons (28 grams) unsalted butter
1 teaspoon lemon extract
For the Whipped Cream
2 cups (454 grams) heavy cream
1/2 cup (57 grams) confectioners sugar
1 teaspoon vanilla extract
To Assemble:
7-8 cups of fresh berries
Instructions
Bake the cake. Preheat the oven to 350 °F. Grease a 9×13-inch light-colored metal pan.
Using an electric mixer on medium-high speed, beat together the butter and sugar until light and fluffy, 2 to 3 minutes. Reduce the speed to low and add in the eggs, one at a time, followed by the vanilla extract. Add in the baking powder, salt, and half of the flour, beating to just combine. With the mixer running on low speed, slowly pour in the milk, followed by the remaining flour, continuing to beat until no streaks of flour remain.
Pour the batter into the prepared pan. Bake for 30-35 minutes, until cake is golden on top, springs back lightly when touched, and a toothpick inserted into the center comes out clean. Transfer to a rack and let cool. Cut the cooled cake into 1.5-inch cubes.
Make the lemon custard. Whisk together the sugar and cornstarch in a medium saucepan. Add in the milk and stir until smooth. Place the saucepan over medium heat and whisk in the egg yolks, zest, and salt. Continue to cook, stirring frequently, until the custard has thickened enough to coat the back of a spoon. Remove from heat and stir in the lemon juice, butter, and lemon extract. Pour through a strainer into a large bowl. Cool to room temperature, then transfer to the refrigerator and chill until cold.
Make the whipped cream. Combine the heavy cream, confectioners sugar, and vanilla extract in a bowl. Beat on high speed using an electric mixer or an immersion blender with a whisk attachment until medium peaks form, 2 to 3 minutes.
Fold roughly two-thirds of the whipped cream into the lemon custard, reserving the other third for the top of the trifle.
Assemble the trifle. Cover the bottom of a trifle bowl or large glass dish with one-third of the cubes of cake. Top with half of the lemon custard/whipped cream mixture, followed by a layer of berries. Top with another third of the cake, followed by the remaining custard/whipped cream, and another layer of berries. Arrange the remaining cubes of cake and top with the whipped cream. Arrange the remaining berries on top of the whipped cream.
Loosely cover with plastic wrap and refrigerate for 2 hours, up to overnight.
Notes
The ake can be made ahead of time and stored at room temperature for 2-3 days or frozen for up to 3 months.  The lemon custard can be made and stored in the refrigerator up to 3 days ahead of time.  Whipped cream can be made and stored in the refrigerator up to 1 day ahead of time.  The assembled trifle will keep in the refrigerator for 3 days.
Recommended Products
As an Amazon Associate and member of other affiliate programs, I earn from qualifying purchases.