July 18, 2019
Chocolate Cherry Bundt Cake
This Chocolate Cherry Bundt Cake is made from scratch with real cherries, and topped with a rich chocolate fudge frosting.  Make with fresh or frozen cherries for a perfect year-round treat!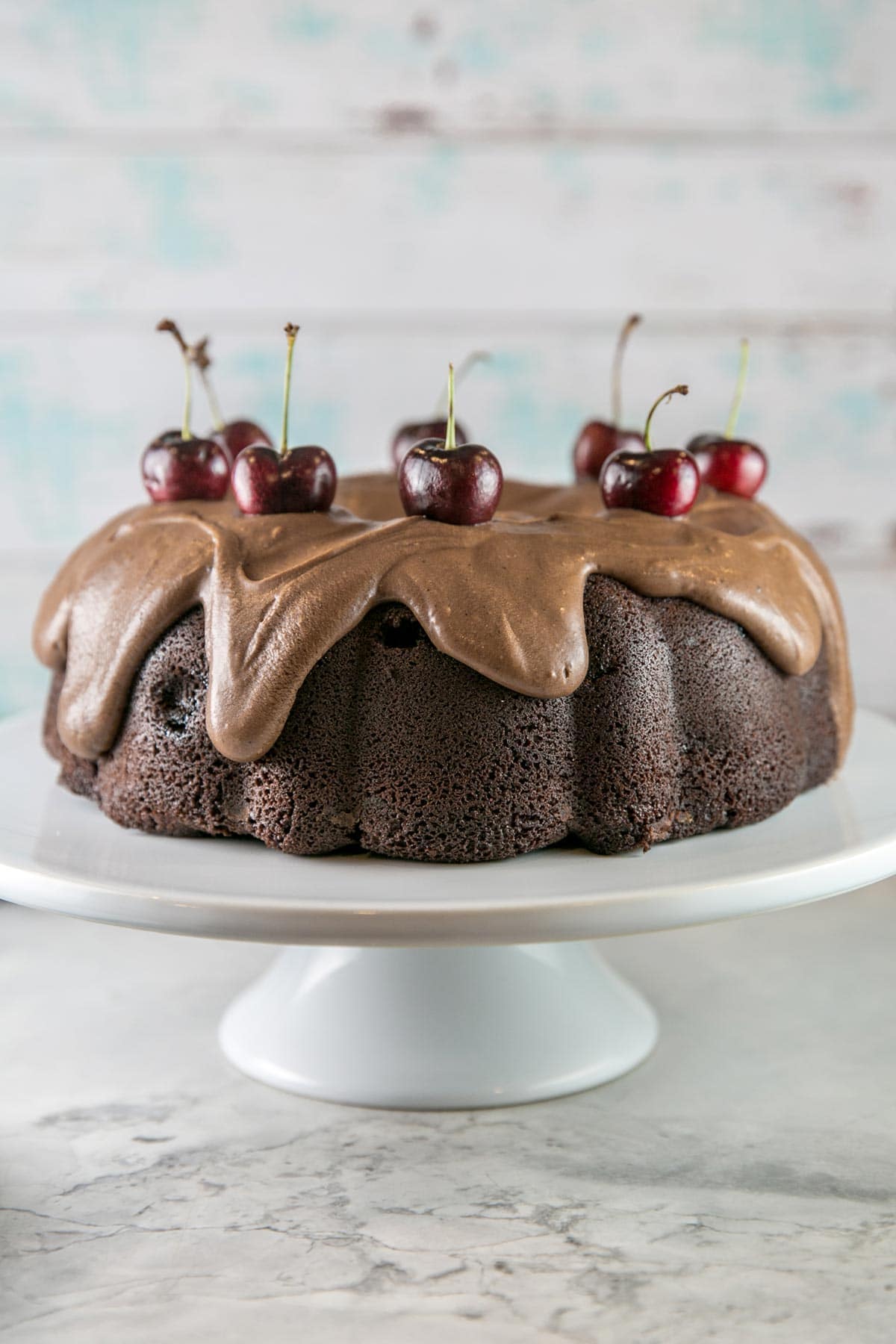 Back in June, I shared this recipe for Cherry Chocolate Chunk Muffins and mentioned I had two more fresh cherry recipes to share this summer.
Given how much traffic it's already generated, I'm thrilled to see you guys also love the chocolate and cherry combination (it's one of my favorites, too) — because here's another!
This time, we're going back to my trusty favorite baked dessert: the bundt cake! I love bundt cakes because somehow they're both really easy and a little fancy.
Why bake a sheet cake when you can make a bundt cake in a pretty mold? And then decorate it with some chocolate fudge frosting and fresh cherries. Why, indeed?
A quick Google search shows that most chocolate cherry cakes are made with chocolate cake mix and a jar of cherry pie filling.
I'm sure these are delicious (because how can you go wrong with chocolate cake and cherry pie filling?) but today, we're going homemade with our chocolate cherry bundt cake.
Don't worry – this cake is still easy despite being entirely homemade – and so, so much better than a box of cake mix and a jar of cherry pie filling!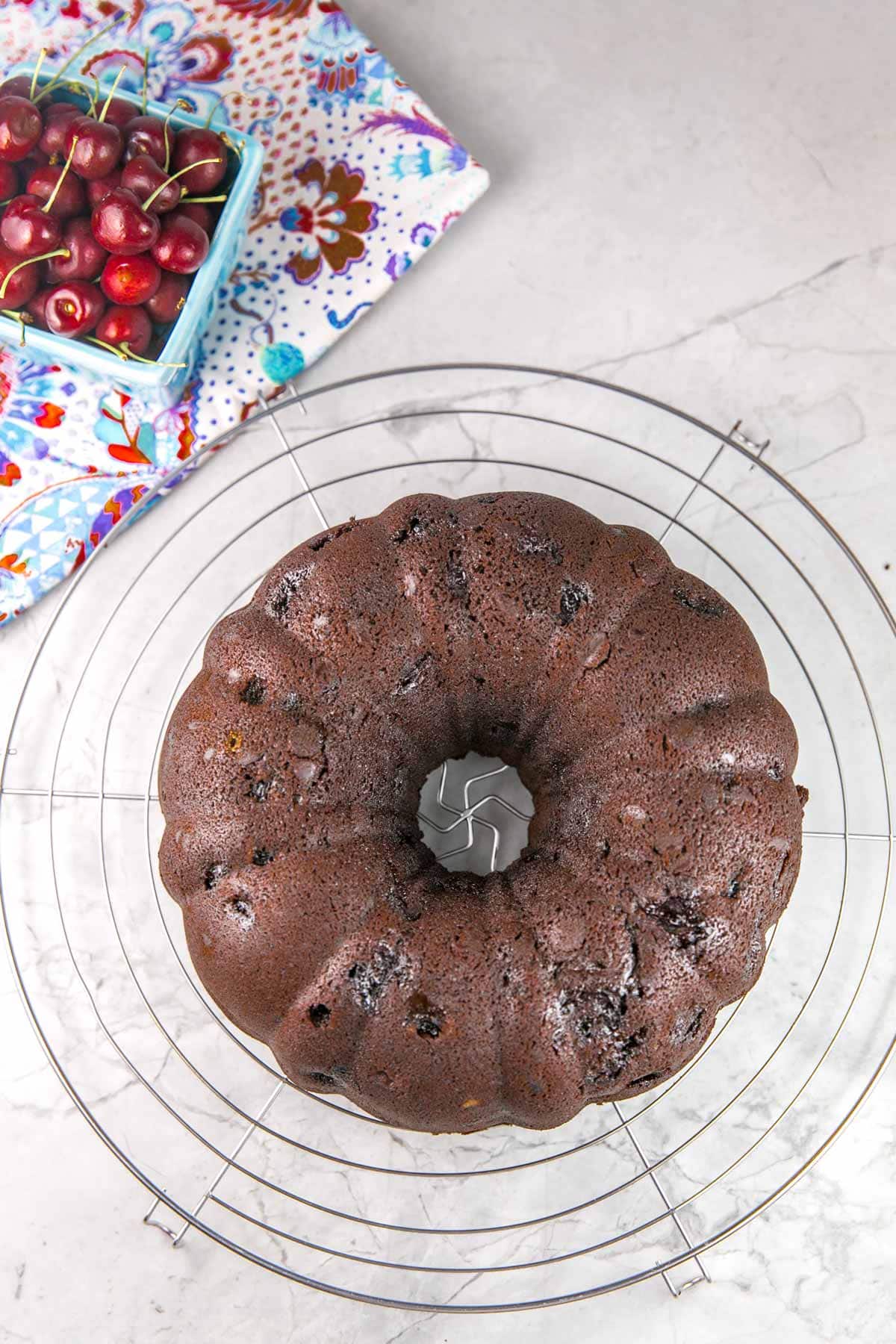 Chocolate Cherry Cake from Scratch
The chocolate bundt cake batter is one of my favorites — in fact, it's based on my chocolate fudge bundt cake and hot chocolate bundt cake.
To turn it into a chocolate cherry bundt cake, we'll add in some cherries, of course. Skip the cherry pie filling and use real cherries. Fresh or frozen work fine, but I can't resist baking with fresh cherries this time of year!
We'll also add in some almond extract because cherry and almond pair so well together. Adding a little almond extract makes this cake somehow taste even cherry-ier.
Not into almonds or dealing with allergies? Just use vanilla extract instead; it's still delicious without the almond!
Best Fudge Frosting for Cakes
But maybe the very best part of this chocolate cherry bundt cake? The fudge frosting!
Bundt cakes are often left naked, or drizzled with a slight glaze. Not today, friends! We're mixing up a batch of rich, fudgy chocolate frosting to pour on top.
This fudge frosting really is fudge-like — it's a recipe similar to old-fashioned boiled fudge, except instead of pouring it into a mold, we're going to pour it over our cake!
(It's also easier than fudge – we don't have to break out a candy thermometer because we don't need, or want, the fudge to set to a hard consistency; we want it to stay soft enough to cut through with a fork while we eat the cake!)
This is where it gets a little "choose your own dessert adventure"-ish, based on how much cherry flavor you like in your chocolate cherry cake.
Do you LOVE cherries? Use some cherry juice in the frosting, to really amp up the cherry flavor. You can find your own at the grocery store, or blend up some cherries in a blender and strain out the solids.
Do you like cherries but want to keep your fudge frosting as chocolatey as possible? Just stick with milk.
To make this frosting, bring the sugar, cocoa powder, milk, and (optional) cherry juice to a hard boil. The most important part of this? Bring the mixture to a boil! It's time for my favorite subject… kitchen chemistry!
Kitchen Chemistry

For super smooth fudge frosting, make sure the ingredients come to a rolling boil. Fudge is a super-concentrated sugar solution and sets when the sugar (dissolved in the milk) comes back out of solution and forms crystals.
After boiling the mixture, remove from heat and add in the butter and vanilla extract. Let the frosting cool to room temperature, then beat it hard with a wooden spoon until the frosting starts to stiffen. Once it's firming up, pour it over the cake. It will harden further as it cools!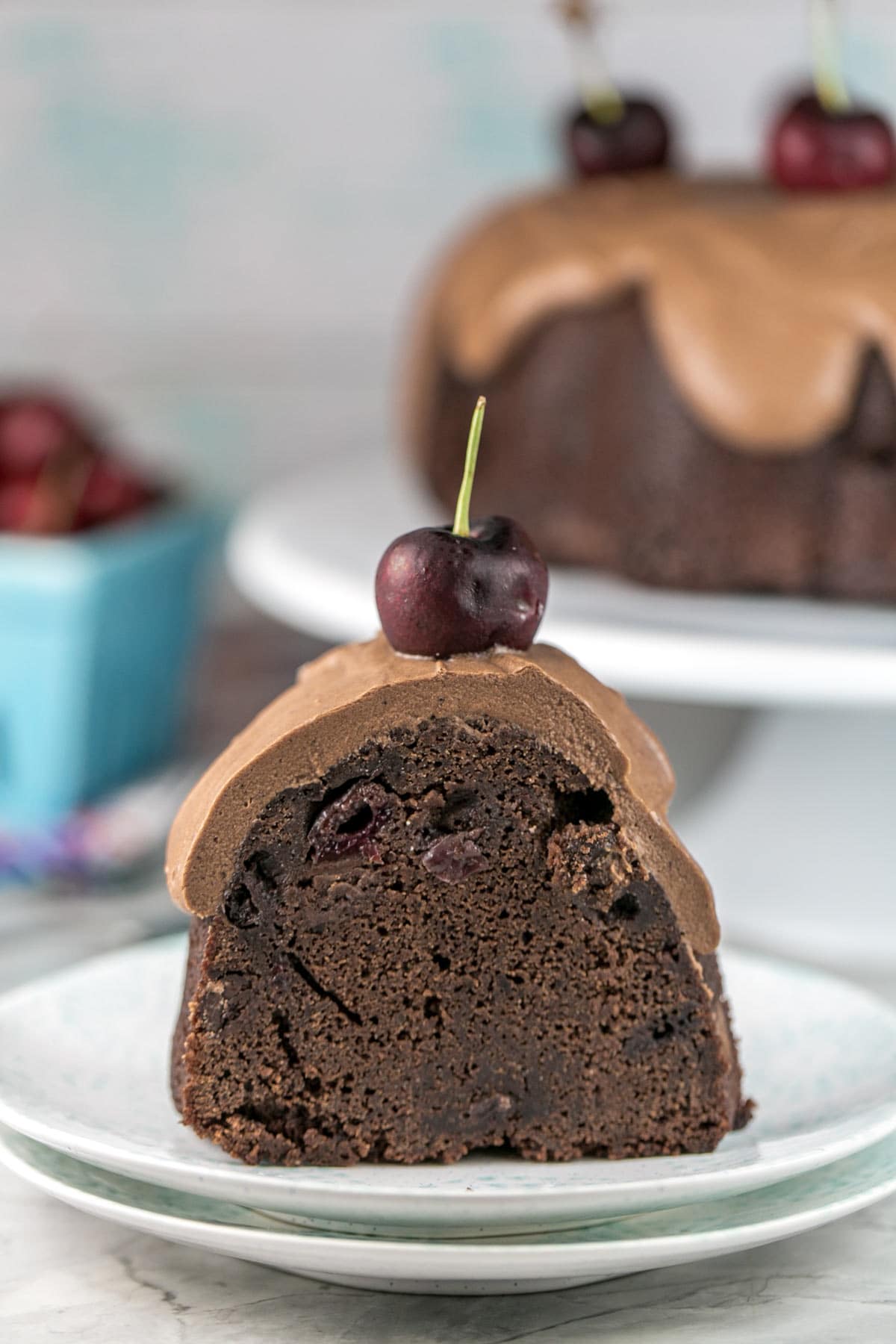 Storing and Freezing
This cake can be stored at room temperature for up to 3 days, refrigerated for up to 5 days (it's safe for a bit longer, but will definitely taste stale!), or frozen for up to 3 months.
To make the cake ahead of time, bake the chocolate cherry cake, cool completely, wrap it in a layer of plastic wrap followed by a layer of aluminum foil, and freeze. Thaw to room temperature, then add the frosting.
To freeze extra slices of already frosted cake, cut them into individual slices and freeze them upright on a sheet pan. Once fully frozen and the frosting is hard, wrap each slice in plastic wrap, followed by aluminum foil, and store in a freezer-safe storage bag.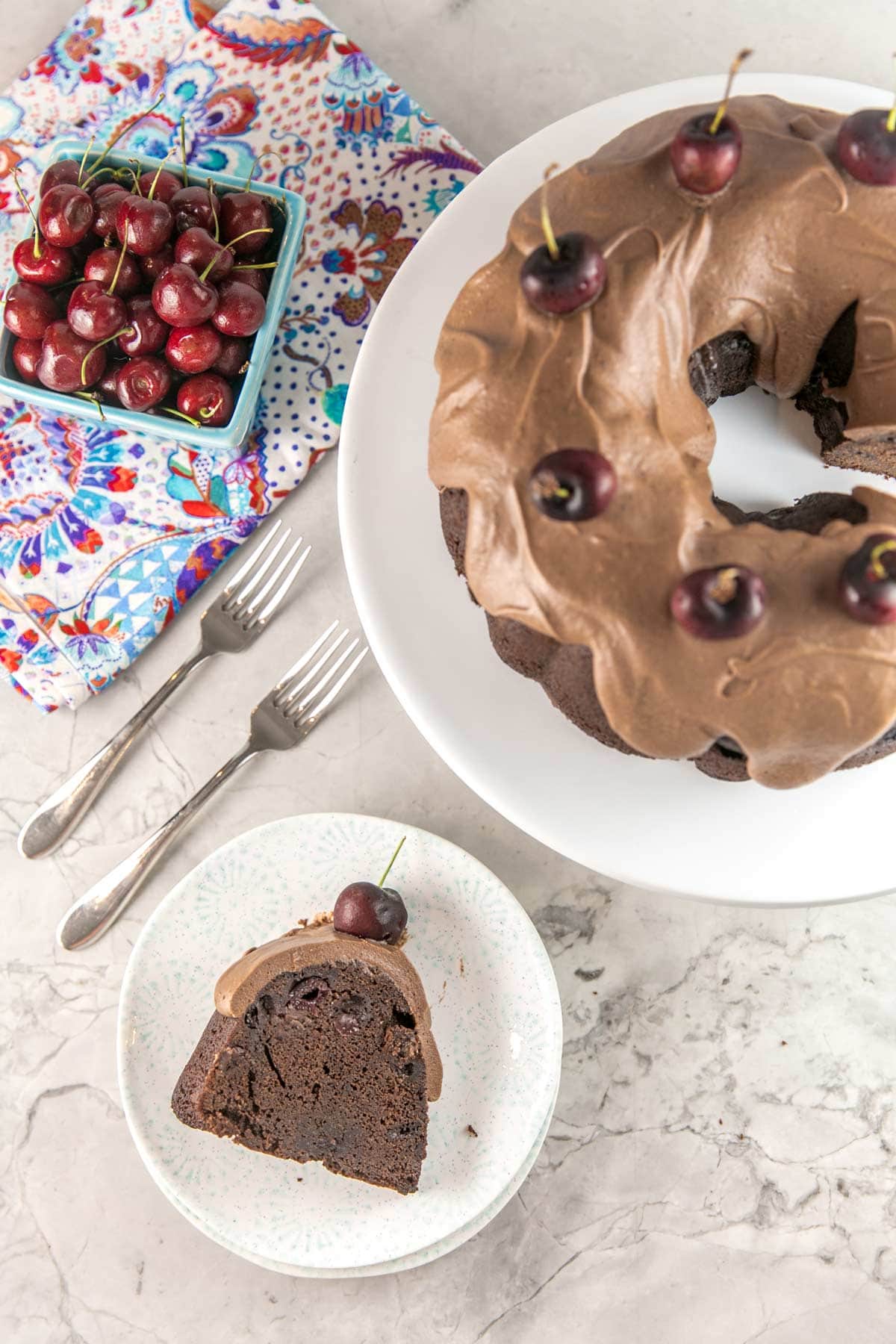 Recommended Tools to Make Chocolate Cherry Bundt Cake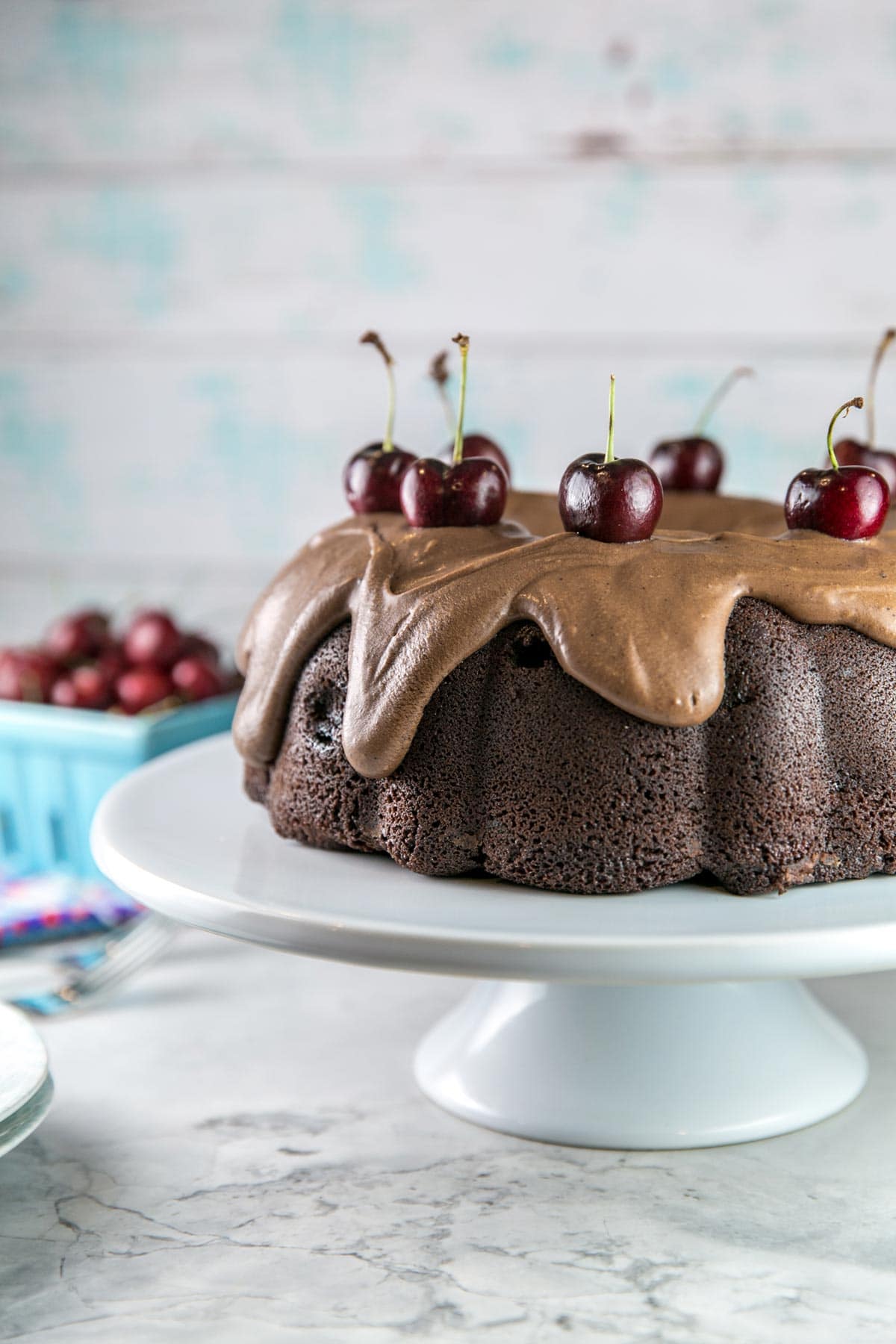 Tips and Tricks for the Best Chocolate Cherry Bundt Cake
If using fresh cherries, a cherry pitter makes life easier.  I recommend this four-at-a-time cherry pitter.
No cherry pitter on hand? No problem!  To pit a cherry without a cherry pitter, push a plastic straw through the stem of the cherry until the pit pushes out the other side.
Baking outside of cherry season?  Use frozen cherries when you can't find fresh!  Toss the frozen cherries with 1/4 cup of flour to help absorb excess liquid and mix the berries into the batter straight from frozen.
Looking to perfect your bundt cake baking skills?  Definitely give this post on ESSENTIAL BUNDT CAKE TIPS a quick read — it covers everything from how to make sure your bundt cake doesn't stick to how to prevent the bottom of the cake from doming! 
For a pure chocolate fudge frosting, omit the cherry juice and use 1 full cup of milk instead.
More Cherry Recipes: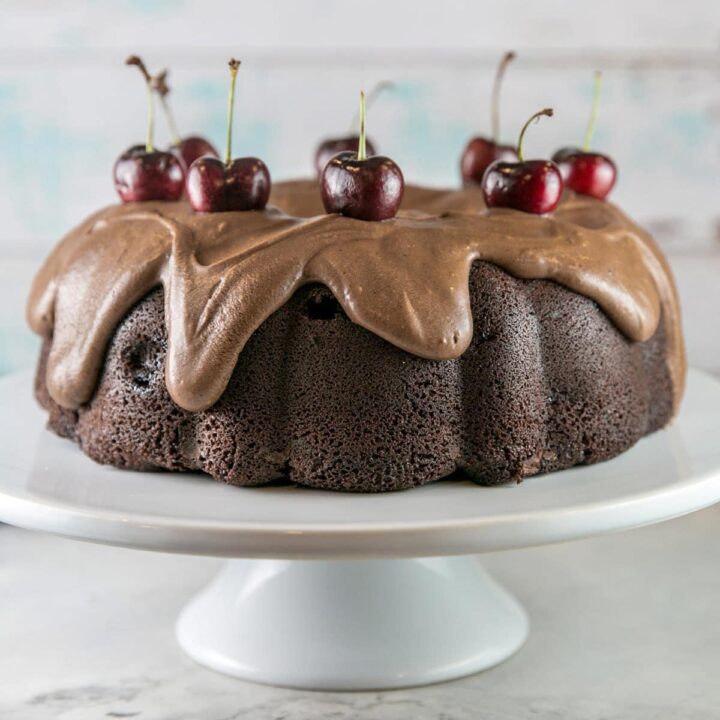 Chocolate Cherry Bundt Cake
Total Time:
3 hours
15 minutes
This chocolate cherry bundt cake is made from scratch with real cherries, and topped with a rich chocolate fudge frosting. 
Ingredients
For the Cake:
1 1/2 cups (339 grams) unsalted butter, cool room temperature
1 cup (198 grams) granulated sugar
3/4 cup (160 grams) brown sugar
5 large eggs, room temperature
2 teaspoons vanilla extract
1 teaspoon almond extract
1 cup (227 grams) whole milk
1 teaspoon salt
2 teaspoons baking powder
1 cup (84 grams) Dutch-processed cocoa powder
2 cups (240 grams) all-purpose flour
2 cups (227 grams) confectioners' sugar
3/4 cup (128 grams) chocolate chips
1 1/2 cups (220 grams) pitted halved cherries
For the Fudge Frosting:
2 cups (396 grams) granulated sugar
4 tablespoons (21 grams) Dutch-processed cocoa powder
1/2 cup (113 grams) whole milk
1/4 cup (57 grams) cherry juice
1/2 cup (113 grams) unsalted butter, cut into 8 cubes
2 teaspoons vanilla extract
1/2 teaspoon salt
additional cherries, for decorating
Instructions
Preheat oven to 350 °F. Grease a 12-cup metal bundt pan.
Using an electric mixer on medium high speed, beat together the butter, granulated sugar, and brown sugar until light and fluffy. On low speed, add the eggs, one at a time, followed by the vanilla and almond extracts. Pour in 1/2 cup of the milk.
On low speed, beat in the remaining dry ingredients (salt, baking powder, cocoa powder, flour, and confectioners' sugar), followed by the remaining 1/2 cup of milk, mixing until just combined and no dry streaks of flour remain. Fold in the chocolate chips and halved cherries.
Scrape batter into prepared pan and bake for 50-60 minutes, until a tester inserted into the center of the cake comes out with a moist crumb. Cool upright on a wire rack for 10 minutes, then invert and remove from the pan to cool completely.
While the cake cools, make the chocolate fudge frosting. Mix together the sugar, cocoa powder, milk, and cherry juice in a large heavy-bottomed saucepan. Cook over medium heat until the mixture reaches a hard boil. Boil for 2 minutes, then remove from heat and stir in the butter and vanilla extract. Allow the frosting to cool to room temperature, then beat the frosting with a spoon until thick and smooth and the color lightens to a medium brown.
As soon as the mixture starts to thicken, pour the frosting over the cake, helping it spill down the sides. Decorate with additional cherries, if desired.
Notes
Cake will keep stored in an airtight container at room temperature for 3-4 days. To freeze, wrap cake tightly in plastic wrap, followed by a layer of aluminum foil. Allow to thaw overnight at room temperature before serving.
Recommended Products
As an Amazon Associate and member of other affiliate programs, I earn from qualifying purchases.