July 24, 2019
Blueberry Babka with Almond Streusel
Filled with homemade blueberry jam (no pectin!) and topped with a crunchy almond streusel, this Blueberry Babka is the perfect anytime treat!  Think babkas are too hard?  These step-by-step instructions will have you twisting your homemade dough in no time!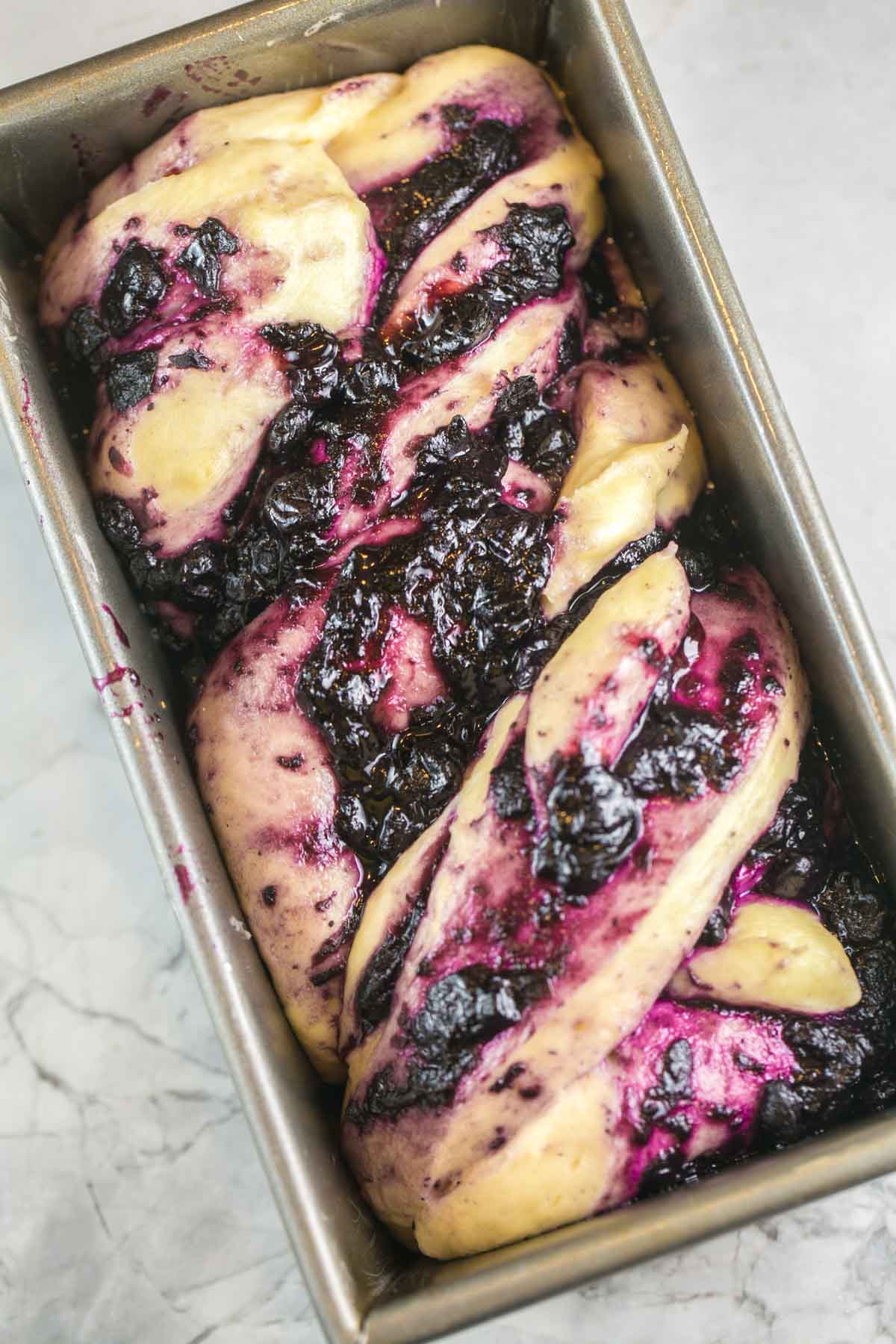 It's time for our next installment of 2019's Babka of the Month series, and I'm prettty excited about this one.
As someone who loves fruit desserts the absolute most, I can't believe it took me into the second half of the year to get to my first fruit-filled babka! Blueberry almond is one of my favorite flavor combinations, and it works so well with the rich babka dough.
It's also perfect for this time of year — hello, blueberry season! Fresh local blueberries are abundant around here this time of year, but if you're not so lucky, this recipe works just as well with frozen blueberries, too.
After some really sweet babkas (chocolate babka and funfetti babka, I'm looking at you!), this blueberry babka is a nice more subtly sweet option. It's breakfast appropriate – not just for dessert.
And out of all the babkas I've made thus far, it's my 15-month-old's favorite – she's been signing "more" like crazy after each bite! (I guess the blueberry-loving apple doesn't fall far from the tree.)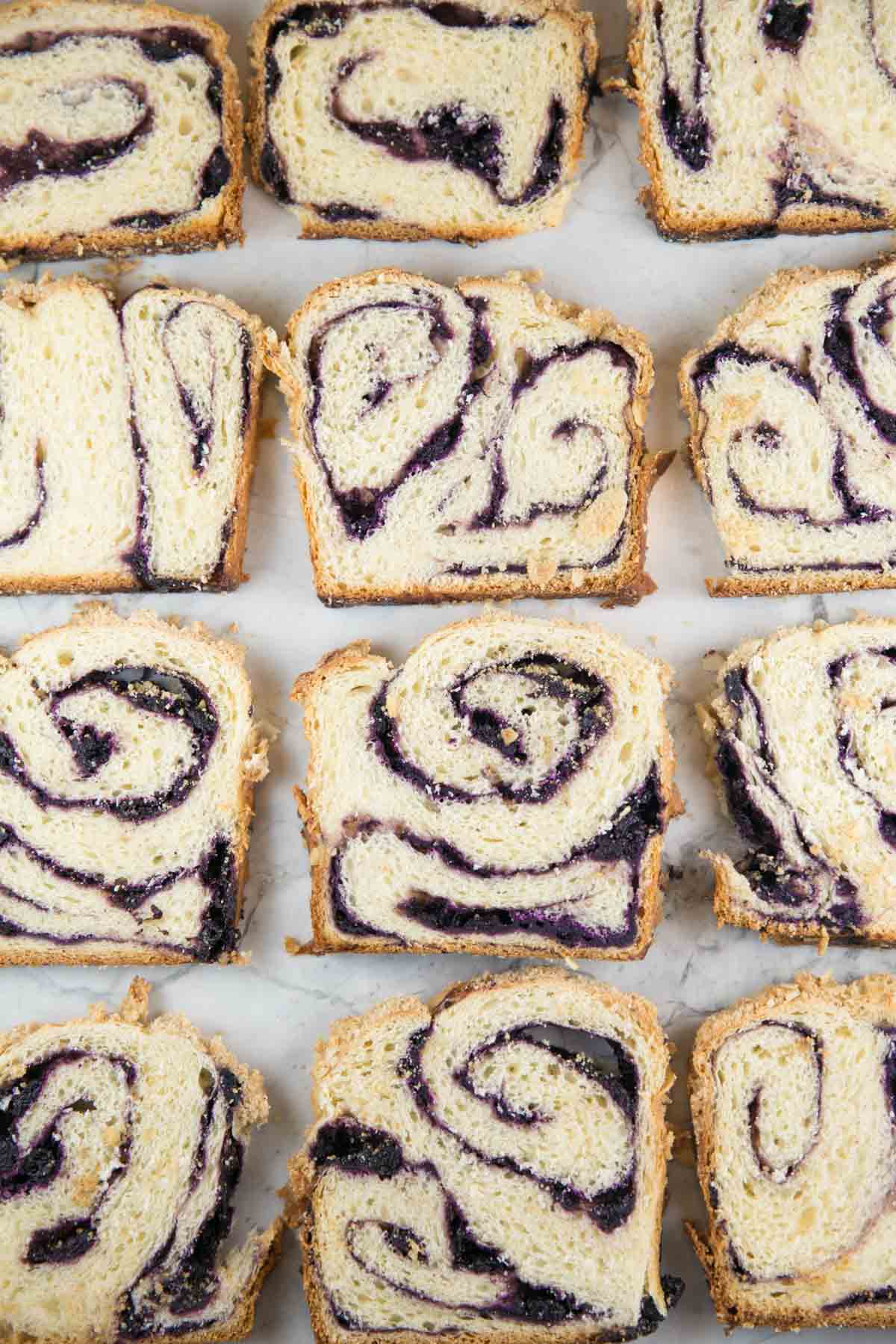 How to Make Blueberry Babka
Whew! Here we are again, with some instructions on how to make a babka.
We'll use the same basic babka dough I use in all my recipes, but we'll add a little almond extract to play up the almond flavor.
Because babkas are a yeast bread, there is indeed some "waiting around for the dough to rise" time. While you can make this, start to eating, in one day, it's also easy to break it up into two (or more!) days — which I'll indicate below.
The first step is to make the babka dough, using either a stand mixer or kneading by hand. Rise in a warm, dark place for 1 hour, then move the dough to the refrigerator to slow the rise. The dough can remain in the refrigerator for anywhere from 1 to 36 hours.
While the dough is rising, make the blueberry jam filling. Once the dough is ready, roll out the dough, spread the jam on top, and roll it into a log. Form the babka, place it in a loaf pan, and allow it to rise again until it fills the pan (1 to 1.5 hours).
During the second rise, make the almond streusel. Immediately before baking, cover the dough with the almond streusel and bake for 50-ish minutes.
As usual, this recipe makes not one, but *two* loaves of babka, because if you're going to go through the effort to make babka, you may as well make a double batch.
If you only want one, it's an easy recipe to halve, but the second loaf is perfect to tuck away in the freezer for later (which is what I did with this loaf — babka FRENCH TOAST is in my future!) or hand off to a neighbor (my usual babka-baking plan).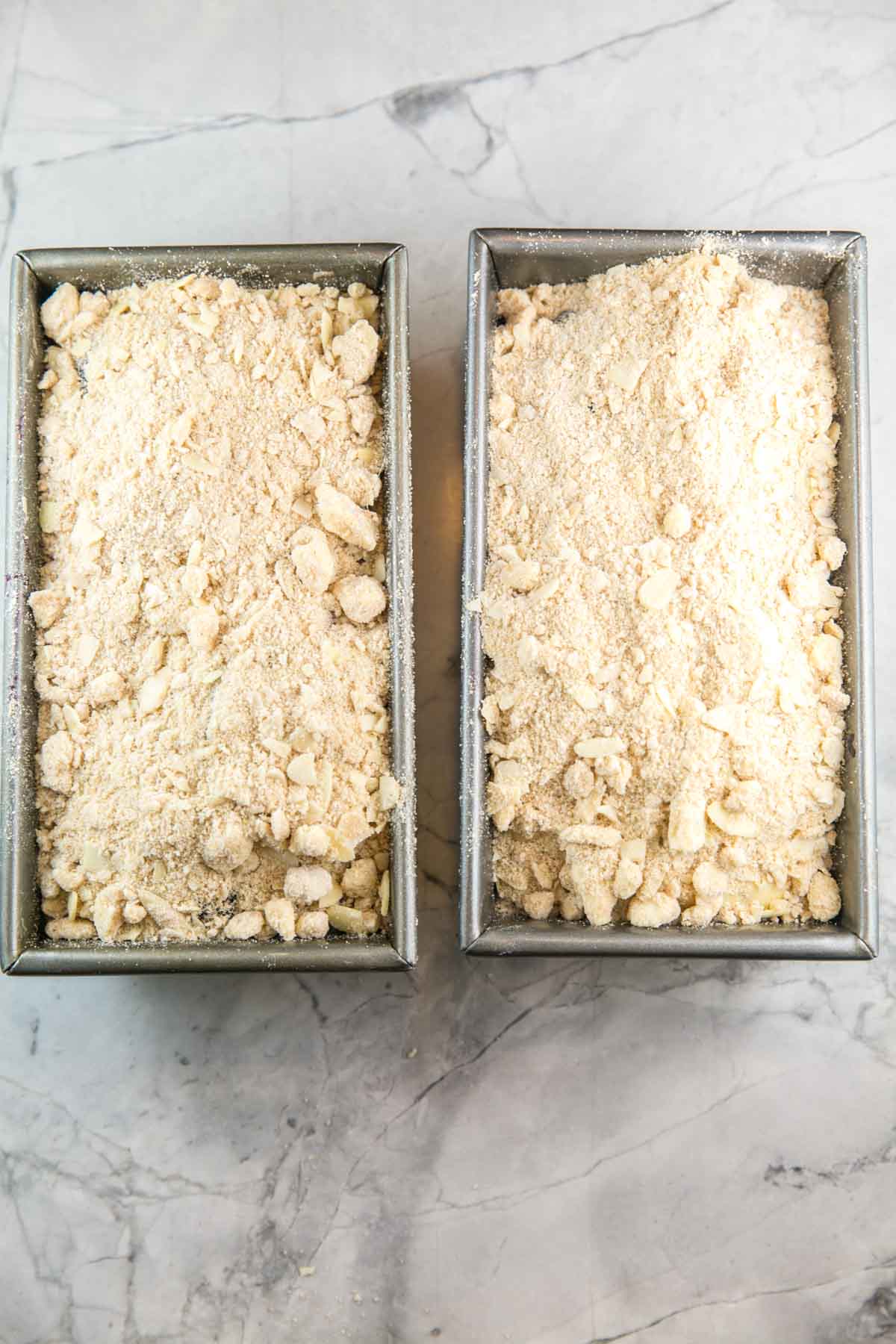 Homemade Blueberry Jam Filling
For this babka, I made my own easy-peasy homemade blueberry jam. No pectin or other unusual things are necessary — just blueberries (fresh or frozen), sugar, and some lemon juice.
If this is more work than you're interested in, go ahead and use store-bought jam. I am all about whatever makes your life easier!
If you're going to go the homemade route, we're just going to combine the blueberries, sugar, and lemon juice in a saucepan and cook away. How long it cooks will depend on whether you use fresh or frozen, and how juicy your blueberries are.
If you've ever heated blueberries (for a pie filling, perhaps?), you know that they sort of congeal together into a thick jam without adding anything extra. This is because blueberries are naturally high in pectin — a complex starch derived from plants.
Kitchen Chemistry

Fruits which are low in pectin, like strawberries, will not gel when cooked, but since blueberries are naturally higher in both pectin and acid, we can make jam with nothing more than blueberries and sugar (and a little extra lemon juice to help break down the cell walls more quickly).
Bring the mixture to a slow boil, then turn down the heat to medium-low. Mash the blueberries with a potato masher (or the back of a spoon) to break them open and continue to simmer until thickened. You're looking for a spreadable consistency – something you can scoop up and spread across the dough with a knife, rather than pour.
Once the mixture is as thick as you'd like, cool it (pop in the fridge to speed this along if you're making the babka in one day) and you're ready to go. We're not filtering out the blueberry skin or anything – we'll spread the whole mixture over the dough.
You may or may not use your full batch of blueberry jam for the babka, depending on how thinly you roll the dough and how thick your final jam is.
Almond Streusel Topping
Having made a few babkas, I've learned that I definitely like my babkas with some sort of crunchy topping. I love the contrast between the soft bread, sweet filling, and crunch on top!
So for this blueberry babka, we're making an easy almond streusel to sprinkle on top of the bread before baking.
Mix together brown sugar, flour, sliced almonds, cinnamon, and salt. Cut in some cold butter with a pastry cutter (or two forks… or smush with your fingers) until the mixture is clumpy and has the consistency of sand.
If you're not an almond person, swap out the sliced almonds for old-fashioned rolled oats — similar crunchy topping, without the nuts!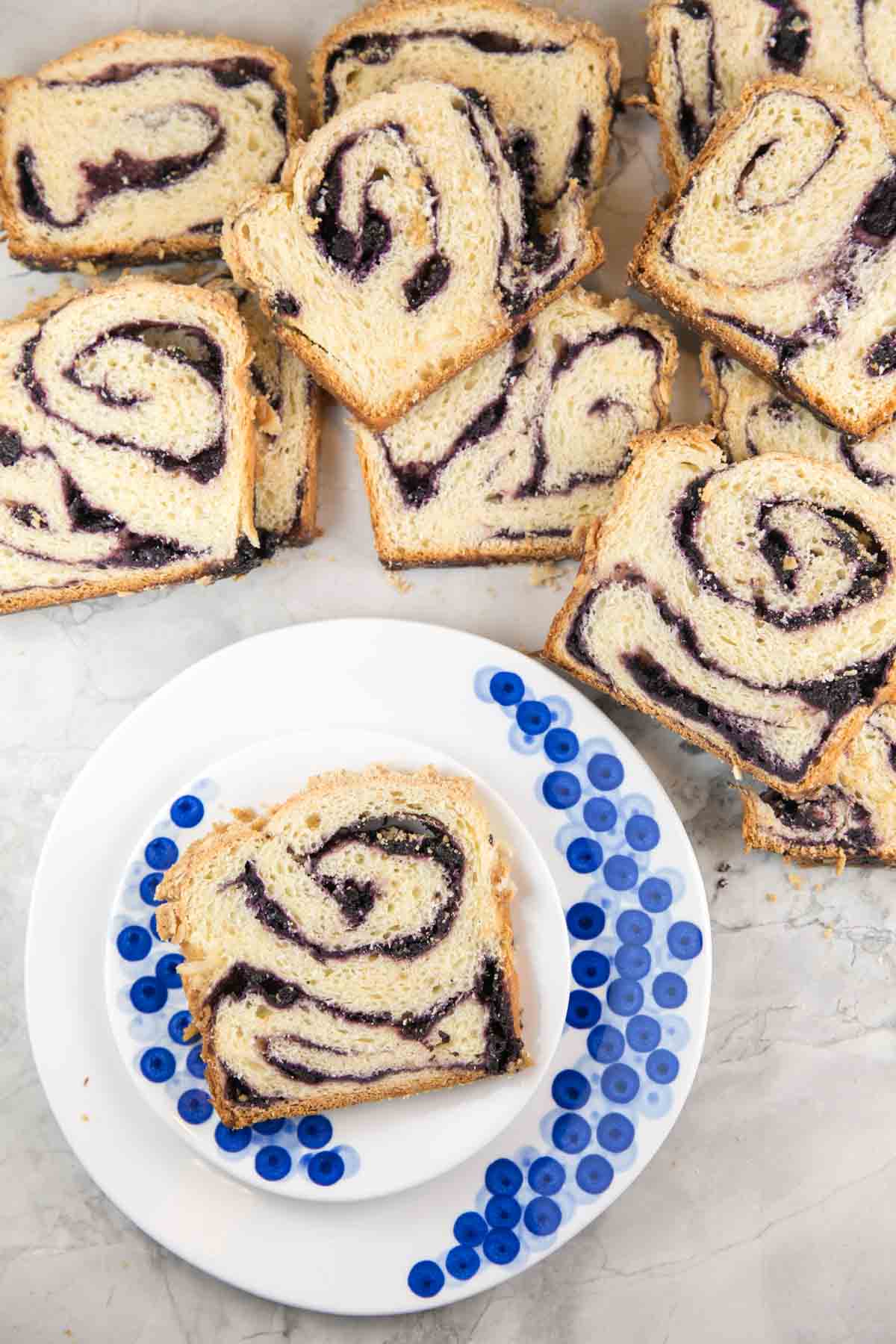 Storing Babka
Store your blueberry babka in an airtight container for 3-4 days at room temperature.
For longer storage, the fully baked babka can be frozen. Cool completely after baking, then wrap in a layer of aluminum foil and place inside a freezer-safe storage bag. Store in the freezer for up to 3 months.
Thaw overnight and enjoy the next day at room temperature, or pop a slice back into the oven (or toaster) for 5-10 minutes for a warm, crispier slice of blueberry almond babka.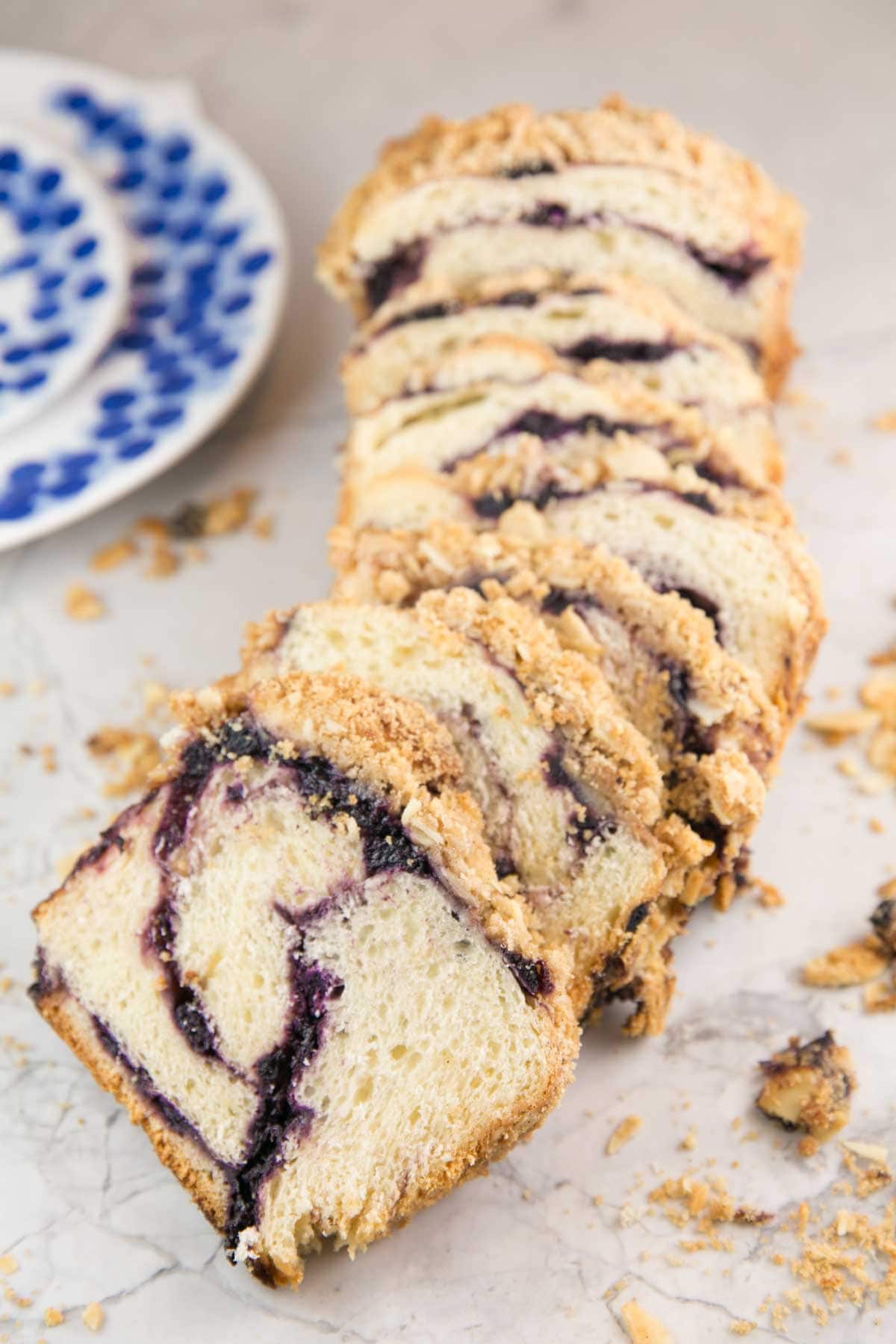 Tips and Tricks for the Best Blueberry Almond Babka
New to babka?  Check out my "The Best Chocolate Babka" post for step-by-step photos of rolling, twisting, and shaping babka dough.
Refrigerate the dough for the second hour of the first rise.  When the dough is cold, it rolls out easily without extra flour.
Don't have time to make your babka in one day?  The one-hour refrigeration can be extended up to 36 hours.  When you're ready to finish making the babka, leave the dough at room temperature for 15-30 minutes before rolling.
Make sure the blueberry jam is fully cooled before spreading it on the dough — we don't want to heat up the dough because it makes it harder to shape.
Use a thermometer to determine if the babka is done.  When an instant-read thermometer inserted into the middle of the loaf hits 190 °F, the babka is done.
More Blueberry Dessert Recipes:
2019 Babka of the Month Series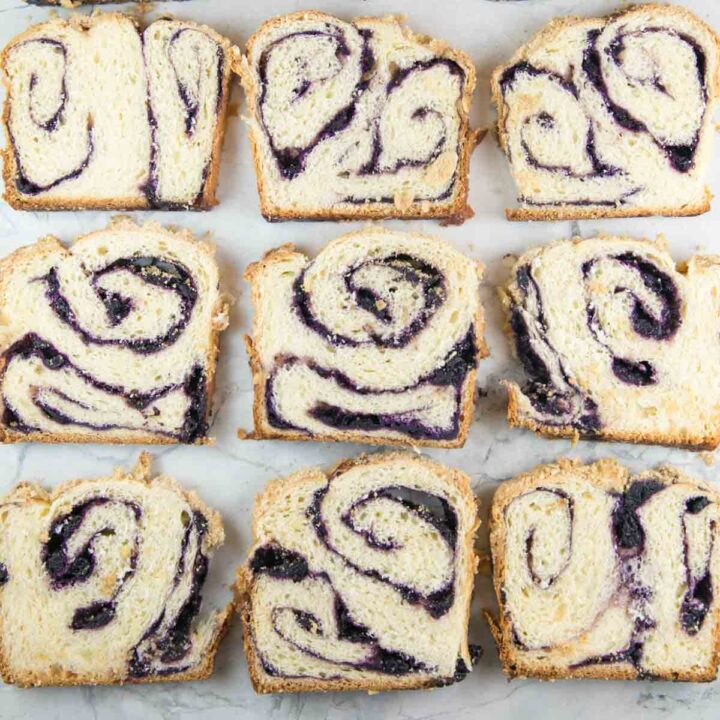 Blueberry Babka with Almond Streusel
Prep Time:
3 hours
30 minutes
Total Time:
4 hours
15 minutes
Filled with homemade blueberry jam (no pectin!) and topped with a crunchy almond streusel, this blueberry babka is the perfect anytime treat.
Ingredients
For the Dough:
1 cup (227 grams) whole milk, room temperature or slightly warmed
1 tablespoon (9 grams) instant yeast, preferably SAF Gold
1/2 cup (99 grams) granulated sugar
2 large eggs, room temperature
2 teaspoons vanilla extract
1/2 teaspoon almond extract
4 1/2 cups (540 grams) all-purpose flour
1 teaspoon salt
12 tablespoons (170 grams) unsalted butter, softened and cut into 12 pieces
For the Blueberry Jam:
4 cups (620 grams) blueberries, fresh or frozen
1/2 cup (99 grams) granulated sugar
1 teaspoon lemon juice
For the Almond Streusel:
1/2 cup (107 grams) brown sugar
1/2 cup (60 grams) all-purpose flour
1/2 cup (42 grams) sliced almonds
1 teaspoon cinnamon
1/4 teaspoon salt
6 tablespoons (85 grams) cold unsalted butter
Instructions
Prepare the dough. Whisk together the flour, yeast, sugar, salt, and cinnamon in the bowl of a stand mixer fitted with the dough hook or a large glass mixing bowl. On low speed, beat in the milk, eggs, and vanilla extract, mixing just until the dough comes together, 2-3 minutes. Increase the speed to medium-low and add the butter one piece at a time, beating after each addition until all pieces have been added. Continue mixing with the dough hook until the dough is smooth and pulls away from the sides of the bowl, about 10 minutes. (Alternatively, whisk together ingredients by hand until combined; knead by hand for 10 minutes until dough is soft and smooth.)
Transfer the dough to a large lightly greased bowl and cover it with plastic wrap or a clean kitchen towel. Set aside to rise at room temperature for 1 hour. After 1 hour, transfer the bowl to the refrigerator, still covered, and set aside for 1 hour or up to 36 hours, until the dough has doubled in size and is firm to the touch.
Prepare the filling. While the babka is rising in the refrigerator, make the blueberry jam filling. Combine blueberries, sugar, and lemon juice in a medium saucepan. Bring mixture to a slow boil, then reduce heat to medium-low. Smash the blueberries with a potato masher or the back of a spoon until all blueberries are squished open. Continue to simmer until the mixture has thickened enough to spread. Refrigerate the jam to cool before using.
Shape the babka. Grease two 9x5-inch loaf pans. Remove the dough from the refrigerator and gently punch it down. Cut the dough in half; remove half from the bowl and recover the other half and set aside.
Roll the dough into a roughly 9-inch by 18-inch rectangle. Spread half the jam over the dough, leaving a slight border along the edges. Working from the long side of the dough, roll the dough into a long cylinder. Using a sharp knife, cut the dough in half longways down the length of the cylinder to expose the blueberry filling, creating two logs of dough. Twist these two logs together. Fold in half one more time, twisting again, and place the dough in the prepared loaf pan. Repeat with the remaining dough. Cover both loaf pans with plastic wrap or a dish towel and set aside to rise again at room temperature until the dough fills the loaf pan, an hour to an hour and a half.
Make the streusel topping. In a small bowl, mix together the brown sugar, flour, almonds, cinnamon, and salt. Cut in the cold butter using a pastry cutter or two knives until the butter is pea-sized and the mixture has a sandy texture. After the dough finishes rising, sprinkle the streusel topping over both loaves.
Preheat the oven to 350 °F.
Bake the babka. Bake the loaves at 350 °F for 40 to 50 minutes, until the top of the loaf is golden brown and the inside registers 190 °F using an instant-read thermometer. Allow the breads to cool in the pans for 10 minutes, then transfer them to a wire rack to cool completely before serving.
Notes
For best results, use SAF Gold instant yeast, which is specifically designed for sweet breads.
If you are using active dry yeast instead of instant yeast, proof the yeast before starting. Combine the yeast, warm milk, and 1 tablespoon of sugar and set aside for 5-10 minutes until frothy. Proceed with the rest of the recipe, adding this to the other ingredients and mixing.
Babka can be stored in an air-tight container for up to 5 days, or frozen for up to 3 months. To freeze, wrap the fully cooled loaf in aluminum foil and place it inside a plastic freezer bag.
Recommended Products
As an Amazon Associate and member of other affiliate programs, I earn from qualifying purchases.
Nutrition Information:
Yield:

24
Serving Size:

1 slice
Amount Per Serving:
Calories:

263
Total Fat:

10.7g
Carbohydrates:

37.9g
Protein:

4.4g