December 21, 2017
Chocolate Fudge Bundt Cake
This chocolate fudge bundt cake is the perfect everyday cake.  A rich chocolate cake, covered in chocolate ganache, with a soft, fudgy center.  Easy to make, delicious enough for company.
This is it.  We've reached the end of the 2017 yearlong Bundt Cake of the Month series.  Talk about bittersweet (and not the chocolate variety… ba-dum ching!).
In all seriousness, though, it really is bittersweet.  I thought maybe I'd be bored of bundt cakes by the end of the year, but instead, I'm even more convinced that they are literally the most perfect form of cake.
A bundt cake is an anytime cake; it's perfectly in place at your brunch table, a potluck, or for dessert after dinner with friends. It's just so much more approachable and relaxed than a traditional layer cake, but a step up from a plain sheet cake.
Don't get me wrong — I love a good layer cake, with multiple layers of cake stacked tall, sandwiched between cinnamony cream cheese frosting, filled with blueberry cardamom curd, covered with candy, or fluffy peanut butter frosting.
But bringing out a whole layer cake at the end of a dinner for four on any old Saturday just seems… pretentious. Excessive. Over-the-top.
Instead: the bundt cake. The same great cake flavor you love, but somehow, so much more appropriate for a small gathering.  It's less fanfare and celebration — no need for birthday candles or a baby shower — and yet just as tasty.
You can cover it with frosting, if you like, but I think a little bit of my love of the bundt cake is because you don't have to use frosting.  A delicious lemon glaze!  A dollop of whipped cream!  A scoop of ice cream!  Or, of course, for you chocolate lovers out there — a nice smothering of ganache.
I love bundt cakes so much, I thought about continuing the trend and making 2018 a repeat Bundt Cake of the Month again.
I mean, this year flew past in the blink of a pie.  Thirteen (we had a bonus double bundt month in June) bundt cakes is just not enough!  I was really taken pie surprise how much I enjoyed making all these, because if we're being honest – I was kind of over quick breads by the end of 2016.  But not the ever-perfect bundt cake.
But it's time to say goodpie to monthly bundts and move on to something new in 2018.  (Any guesses on what will keep me occupied in the kitchen next year?)
I can safely say, however, that there will still be at least one new bundt cake making an appearance in 2018.  This chocolate fudge bundt cake is not how I planned on ending my series.
I had a perfect, unique, show-stopping bundt in mind… but sadly, the recipe isn't quite ready for public sharing.  Sometimes recipes are easy to create, and sometimes they need a little (or in this case, a lot) of tweaking.  My year-end spectacular is not ready for prime time.
So instead, I'm sharing a tried and true old favorite for my December Bundt Cake of the Month. This chocolate fudge bundt cake truly is an every occasion cake.  It may actually be the first bundt cake I ever made, come to think of it.
The first time I made this cake, it was after hosting our first Mother's Day brunch in our new house, paired with Belgian waffles, an asparagus tart in a shortbread crust, and a carrot and pineapple soufflé.
The second time I made this cake, it was for a bridal shower.
The third time I made this cake, it was for a last minute dinner with friends, looking for something quick to serve for dessert with only a few hours notice.
The fourth time I made this cake, it was for my husband for Valentine's Day, because he was on call all weekend and nothing brightens his day more than chocolate topped with more chocolate.
The fifth time I made this cake was for dinner with the neighbors.
The sixth time I made this cake was for my husband's family.
The seventh time I made this cake was last week for a little Hanukkah celebration with my parents.  And you know if I'm making the same cake seven times, it has to be really good.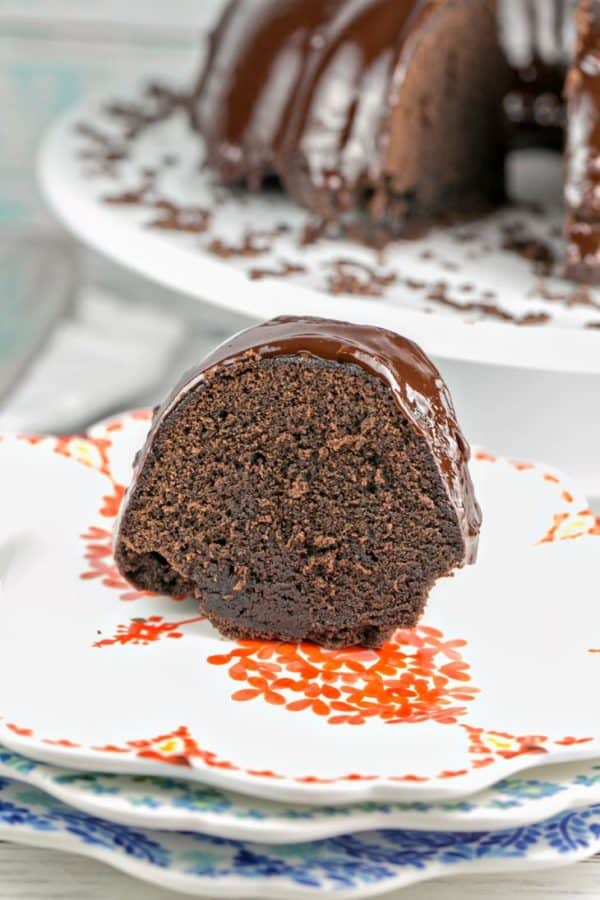 Why is it a fudge cake?  Because if you bake it correctly (don't overbake!), the middle of the cake stays nice and soft, like a decadent center of fudge.
You'll notice the directions state it's done when the edges begin to pull away from the center, but nothing about using a tester to determine if the center is done — this is because the center stays so soft and fudgy, it won't give an accurate reading.  Resist the urge to poke the cake!
This is truly a cake for chocolate lovers — rich, decadent, and delicious.  So delicious, my toddler opted to double fist his slice of cake.  Adults are usually able to restrain themselves to one fork a time, but I won't blame you if you also dig in with two hands.
Ready for a little walk down memory lane?  May I present to you:
2017's Bundt Cake of the Month Series:
Chocolate Fudge Bundt Cake
A rich, fudgy chocolate cake, covered in chocolate ganache, easy enough for everyday.
Ingredients:
1/2 cup boiling water
10 ounces chopped bittersweet chocolate, divided
1 cup granulated sugar
3/4 cup light brown sugar, packed
1 1/4 cups (2 1/2 sticks) butter , room temperature
5 eggs, room temperature
1 tablespoon plus 1 teaspoon vanilla extract, divided
3/4 cup Dutch-processed cocoa powder
2 cups flour
2 cups confectioners' sugar
1 teaspoon salt
3/4 cup heavy cream
1/4 cup light corn syrup
Directions:
Preheat oven to 350F.  Grease a 12-cup bundt pan.
Pour boiling water over 2 ounces of chopped chocolate in a medium bowl and whisk until smooth.  Cool to room temperature.
Using an electric mixer on medium-high speed, beat granulated sugar, brown sugar, and butter until light and fluffy.  On low speed, add eggs and 1 tablespoon of vanilla until combined, about 30 seconds.  Add the chocolate mixture and beat another 30 seconds, until incorporated.
Beat in remaining dry ingredients (cocoa, flour, confectioners' sugar, and salt) until just combined.
Scrape batter into prepared pan and bake about 45 minutes, just until edges are beginning to pull away from the pan.  Cool upright on a wire rack for 1 – 2 hours, then invert onto a serving plate and cool completely.
For the glaze, combine heavy cream, corn syrup, and remaining 8 ounces of chopped chocolate in a small saucepan over medium heat, stirring constantly, until smooth.  Remove from heat and stir in 1 teaspoon vanilla.  Set aside until slightly thickened, about 30 minutes.  Pour glaze over cake.