October 4, 2016
Chocolate Chip Cherry Cupcakes
Vanilla-speckled cupcakes studded with mini chocolate chips and a pile of fluffy cherry buttercream.  Top with a cherry – or bake one right inside! 
As I'm sure every single of one of my US-based readers know, October is Breast Cancer Awareness Month.  You know the drill — everything suddenly turns pink, from the top of the Empire State Building to NFL attire.
This year, KitchenAid is joining in with a campaign called 10,000 Cupcakes.  All you have to do is bake a cupcake, take a picture, and share it on Twitter or Instagram with the hashtags #10000cupcakes and #donate.
In exchange, KitchenAid will donate $1 for every cupcake photo shared up to $10,000. Bake a cupcake and $1 is donated to breast cancer.  Pretty sweet, right? (Literally and figuratively!)
So why not whip up a batch of these deliciously pink chocolate chip cherry cupcakes?
Breast cancer is a pretty central theme in my own family.  In the evening, you'll find me in my kitchen, creating new recipes.  But during the day, I'm a scientist in a biophysics lab, where I study two proteins that are overexpressed in breast cancer and melanoma.  I research protein structure and function in a quest to discover new targeted treatments for these cancers.
My husband is a radiologist, fellowship trained in women's imaging, who spends his days reading mammograms (and his evenings washing all my dishes and taste testing new recipes!).  Part of the reason he chose to specialize in women's imaging is because his own mother is breast cancer survivor.
Yes, the pink gets a little overwhelming in October, but we all know someone who has been impacted by breast cancer.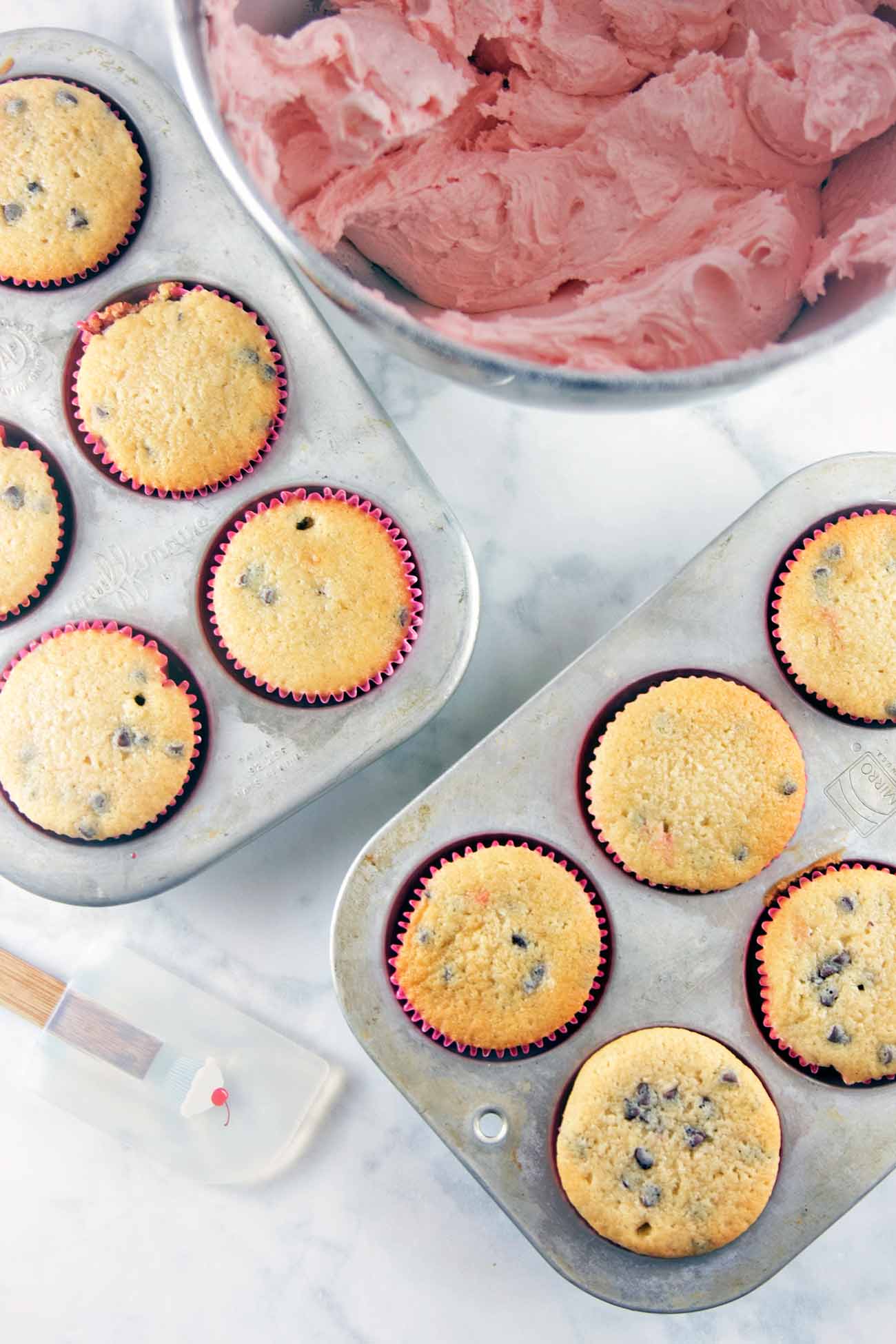 I'm (obviously) participating in the 10,000 Cupcake challenge and hope you will too.  In fact, I'm bringing my two dozen chocolate chip cherry cupcakes to work to share with my coworkers and encouraging each of them to take a picture of the cupcakes and share them on social media.
Bake a batch of these cupcakes, share them with friends, and spread the word on the 10,000 Cupcake challenge.  Suddenly, that's $24 to support the fight against breast cancer.  Want to do even more?  Make a direct donation to my favorite breast cancer research charity.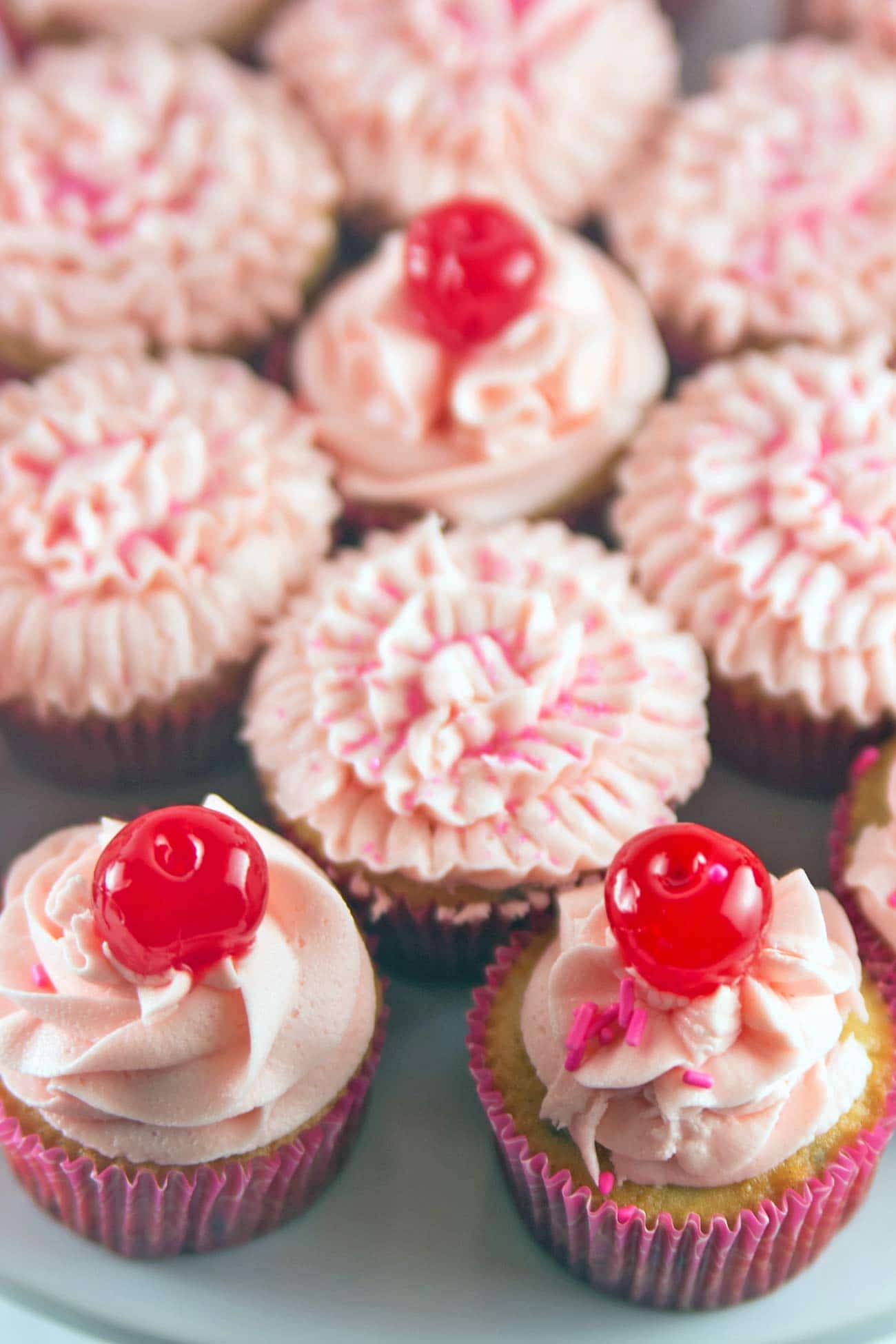 Now, on to the delicious part of this post – the cupcakes!  Vanilla cupcakes, made with both vanilla extract and vanilla bean paste, for a boost of vanilla flavor.  If you don't have vanilla bean paste, you can skip it – but I highly recommend this one, and you can add it to everything for extra flavor and beautiful brown vanilla specks.  Miniature chocolate chips for just a little chocolate flavor – after all, everyone loves that chocolate and cherry combination, right?
We're using maraschino cherries here, because it's October and there is nary a fresh cherry in sight.  Every summer, I have grand plans to bake with fresh cherries… and then just eat them all plain, because cherries are my favorite fruit.  I try to plan ahead.  I buy three bags of cherries instead of just one.  And yet somehow, I still can't save enough for baking.  Add in a little boy who also loves cherries, and now it's hopeless.  Maraschino cherries it is!
Finish your chocolate chip cherry cupcakes with a big pile of pink cherry buttercream frosting, and of course, the cherry on top.  Unless you put the cherry right into the batter and bake it into the cupcake.  I couldn't decide, so I did half and half.  The cherry on top is such a classic look, but the cherry inside is a fun little unexpected crunch.  I love the little heart shape it forms when I cut the cupcake in half!
Chocolate chip cherry cupcakes and breast cancer funding – a perfect pair.  But get on this quickly, friends – the 10,000 Cupcake Challenge ends October 18th.  For more information, check out the 10,000 Cupcake and Cook for the Cure site.  Fortunately, these cupcakes are delicious year round, so even if you miss the challenge, you can still make them.  Over and over.  I know I will!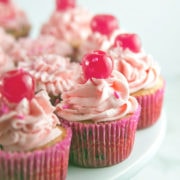 Chocolate Chip Cherry Cupcakes
Vanilla-speckled cupcakes studded with mini chocolate chips and a pile of fluffy cherry buttercream.  Top with a cherry – or bake one right inside!
Ingredients:
For the Vanilla Chocolate Chip Cupcakes:
8 tablespoons butter, room temperature
1 3/4 cups sugar
2 eggs, room temperature
2 1/2 cups flour
1 tablespoon baking powder
1/4 teaspoon salt
1 tablespoon vanilla extract
1/2 tablespoon vanilla bean paste
1 1/4 cups milk, room temperature
1 cup miniature chocolate chips
For the Cherry Buttercream Frosting:
16 tablespoons (1 cup) butter, room temperature
2 pounds (7-8 cups) confectioners sugar
8 tablespoons juice from maraschino cherry jar
1/2 tablespoon vanilla extract
24 maraschino cherries
Directions:
Preheat oven t0 350 °F.  Line muffin tins with 24 liners.
In the bowl of a stand mixer, beat together the butter and sugar until light and fluffy, 3-4 minutes.  Add in the eggs, one at a time, until fully incorporated.
In a small bowl, whisk together the flour, baking powder, and salt.  Pour the vanilla extract and vanilla bean paste into the milk.
Add half the dry ingredients to the bowl and beat with the mixer until combined.  Add in half the milk-vanilla mixture, continuing to stir.  Add in the remaining half of the dry ingredients, followed by the rest of the milk.
Add in the miniature chocolate chips, stirring until just combined.
Pour the batter into the baking cups and bake for 18 minutes, or until a tester inserted into the center of a cupcake comes out clean.  Cool completely on a wire rack.
To make the frosting, beat the butter in the bowl of a mixer until soft and fluffy.  Add in the powdered sugar, one cup at a time, beating until combined before adding the next cup.  Slowly pour i nthe maraschino cherry juice and vanilla, continuing to beat until frosting is smooth and fluffy.
Top each cupcake with a generous heap of frosting, followed by a cherry on top.
A Bunsen Burner Bakery Original Protocol