August 6, 2020
S'mores Brownies
Why choose between s'mores and brownies when you can have both? These S'mores Brownies have a graham cracker crust, the fudgiest brownie layer, and toasted marshmallows and chocolate piled on top!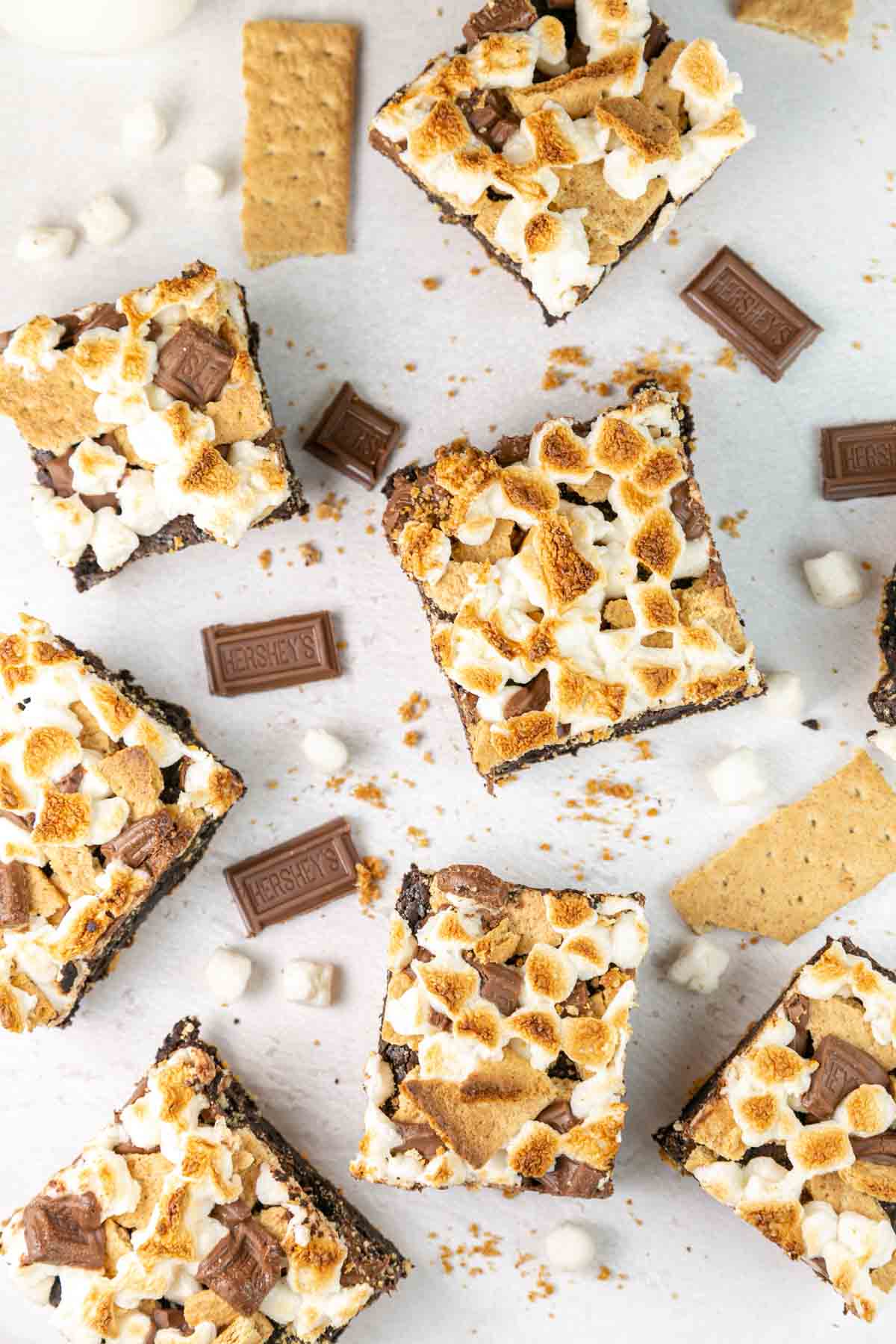 If you've been following Bunsen Burner Bakery for any length of time, you know how much I love s'mores-themed desserts.
(Real talk: I like s'mores-ish desserts more than actual s'mores. I hate how the graham cracker always breaks and crumbles when you try to bite into it…)
National S'mores Day, which is the only silly food holiday I acknowledge, is August 10th. So every August, I share a new s'mores dessert.
Brownie of the Month + National S'mores Day = S'mores Brownies. Obviously!
There are dozens of variations on s'mores brownies, but my favorite version includes a graham cracker crust and a thick, fudgy chocolate brownie middle, topped with a combination of toasted miniature marshmallows, chopped milk chocolate, and more graham cracker pieces.
It's the best parts of a brownie (fudgy, chocolatey) combined with the best parts of a s'more (gooey marshmallows and melted chocolate).
This, my friends, is summer in a brownie. But because it's toasted in your oven, you can enjoy it all year long.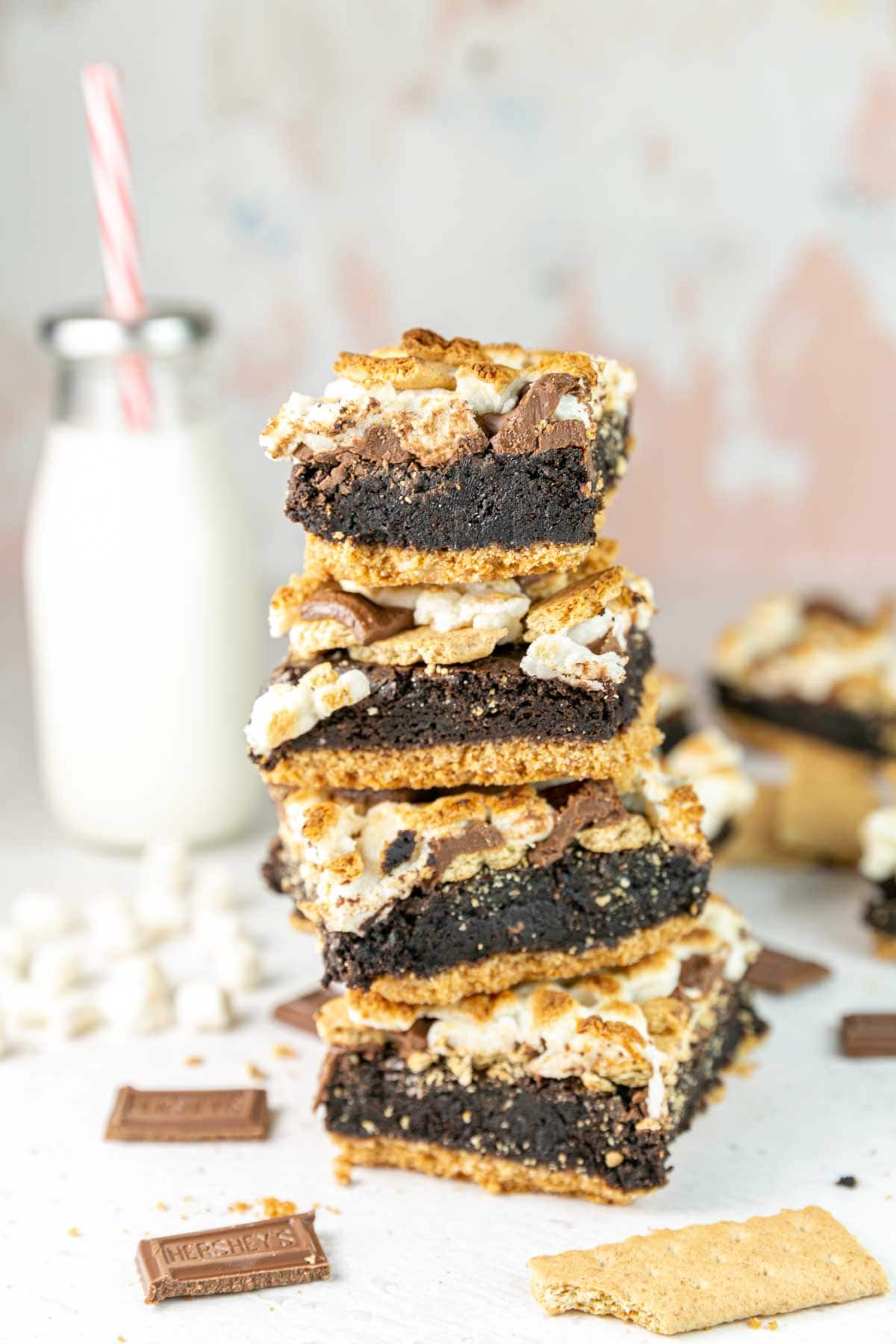 Graham Cracker Crust
Making the crust is as simple as grinding the graham crackers into crumbs. This can be done using a food processor, blender, or smashing the graham crackers with a rolling pin or heavy pan.
Just make sure the crumbs are finely ground and uniform in size!
Then mix in some butter, a little extra sugar (the sugar crystals help bind the butter to the graham cracker crumbs), and press into the bottom of the pan.
Bake until just slightly browned and pour in the brownie batter.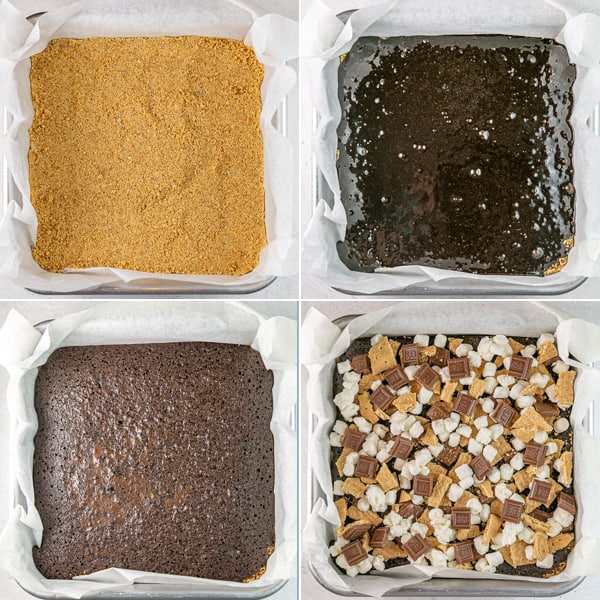 Thick Fudgy Brownies
These s'mores brownies use my go-to fudgy brownie recipe when I'm looking for soft brownies without any mix-ins.
You'll see this recipe calls for Dutch processed cocoa powder – what does this mean, and is it really necessary? It's time for my favorite subject… kitchen chemistry!
Kitchen Chemistry

Cocoa beans are naturally fairly acidic, with a pH of 5.5. When cocoa beans are Dutched, they are washed with potassium to neutralizes the acidity. (Inversely, natural cocoa powder is made from roasted and ground beans, and thus remains acidic.) Dutch processed cocoa powder has a much smoother, more mellow flavor than acidic natural cocoa powder.
So now that we know the difference, the next step is understanding if you can switch back and forth between the two.
Dutch-processed cocoa powder has a neutral pH, which means it pairs with baking powder as a chemical leavener. Cakes made with natural unsweetened cocoa powder, however, generally call for baking soda, because the ingredients are already acidic.
But in this brownie recipe, we don't use baking soda OR baking powder, which means you can use whichever you'd like!
Dutch-processed cocoa will result in a smoother chocolate taste and slightly darker brownies, but you can feel free to switch in this recipe, based on what you have on hand.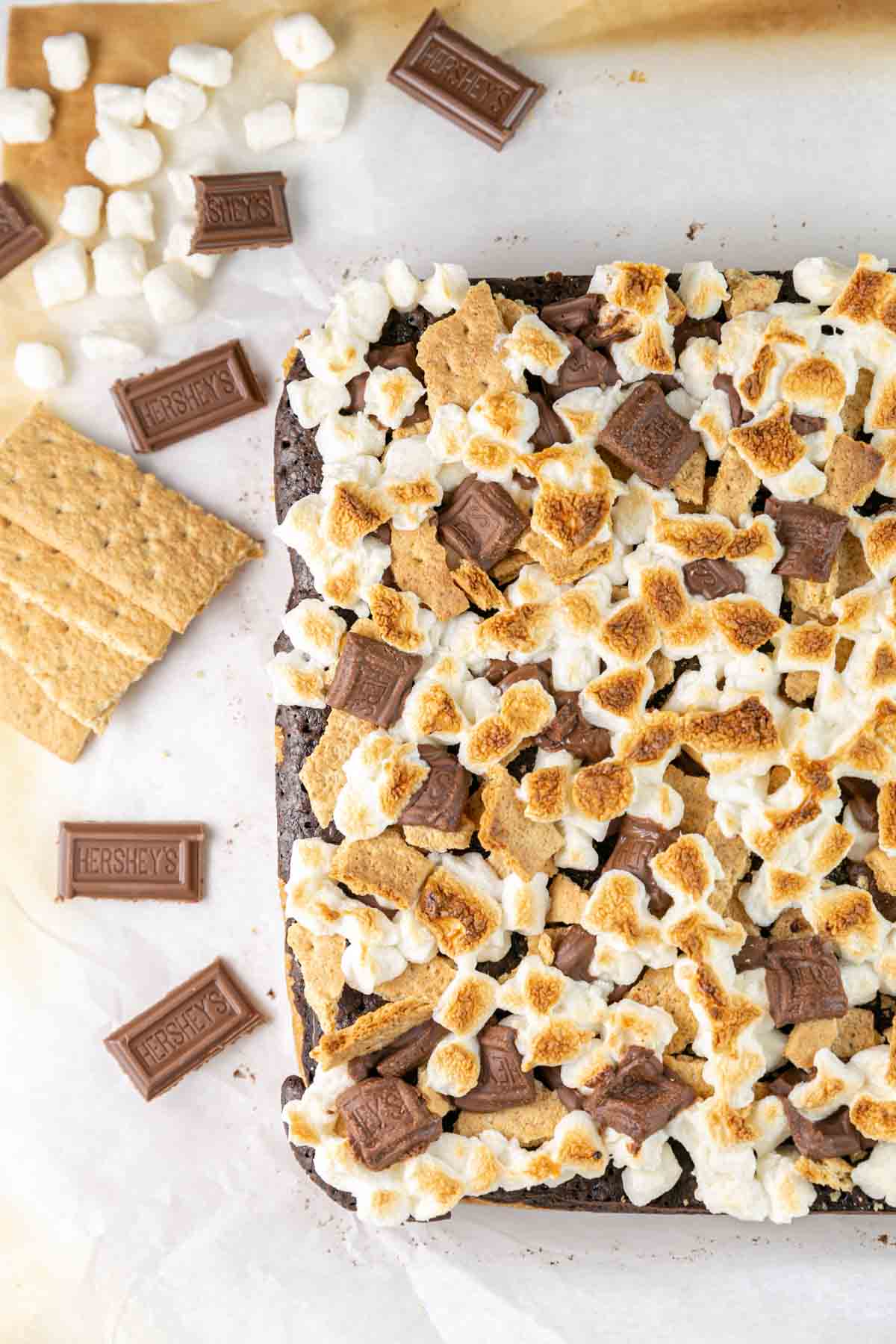 Toasted Marshmallow Topping
After the brownies bake, top them with crumbled graham crackers, chopped milk chocolate bars, and of course – miniature marshmallows!
The easiest way to toast your marshmallows indoors is to use the broiler of your oven. Place the pan 8-ish inches below the broiler and watch closely! Marshmallows go from toasty to burnt very quickly.
Then let the brownies (and marshmallows!) cool before slicing; slicing warm brownies will result in crumbly brownies and extra gooey marshmallows that stick to the knife!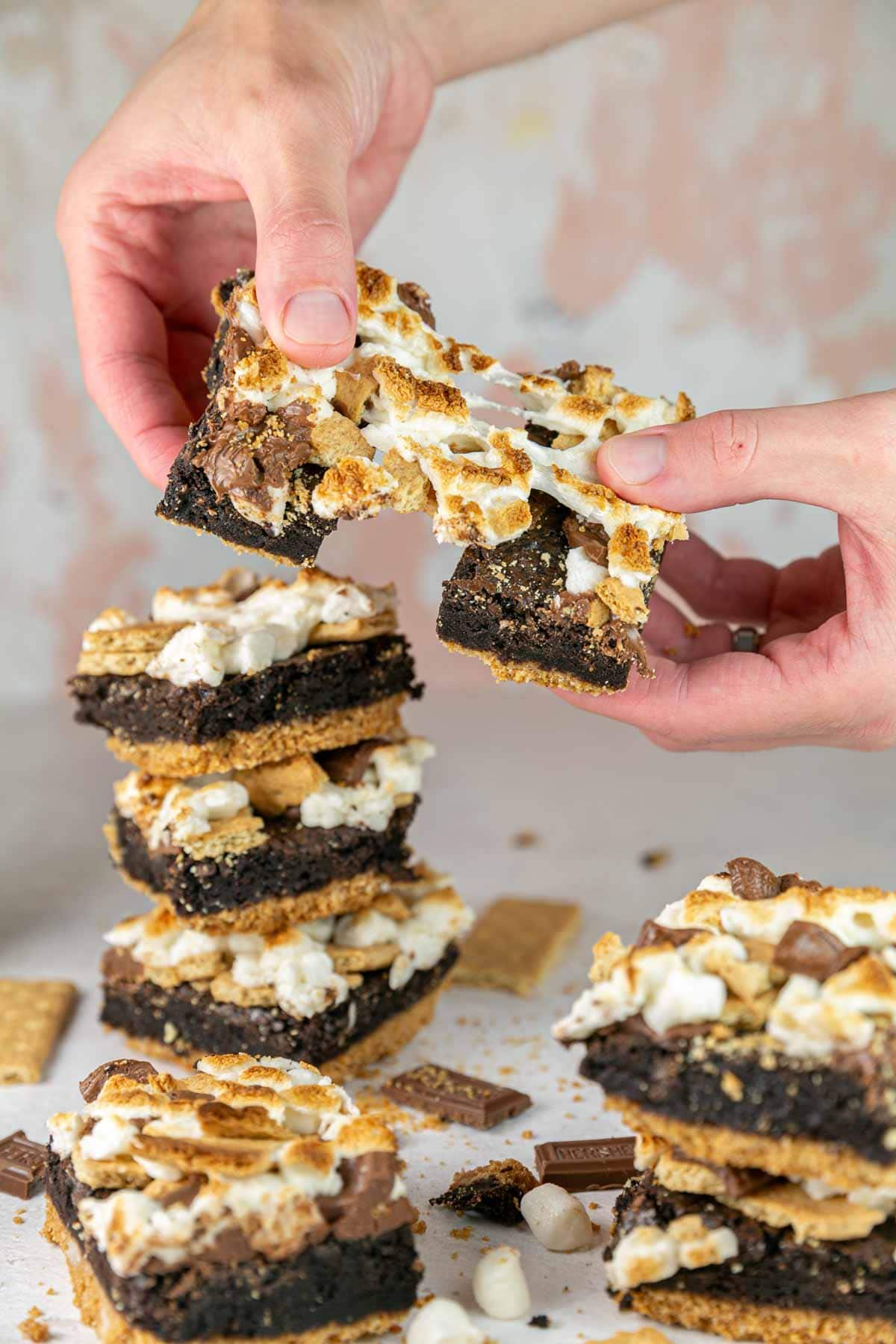 Recommended Tools for S'mores Brownies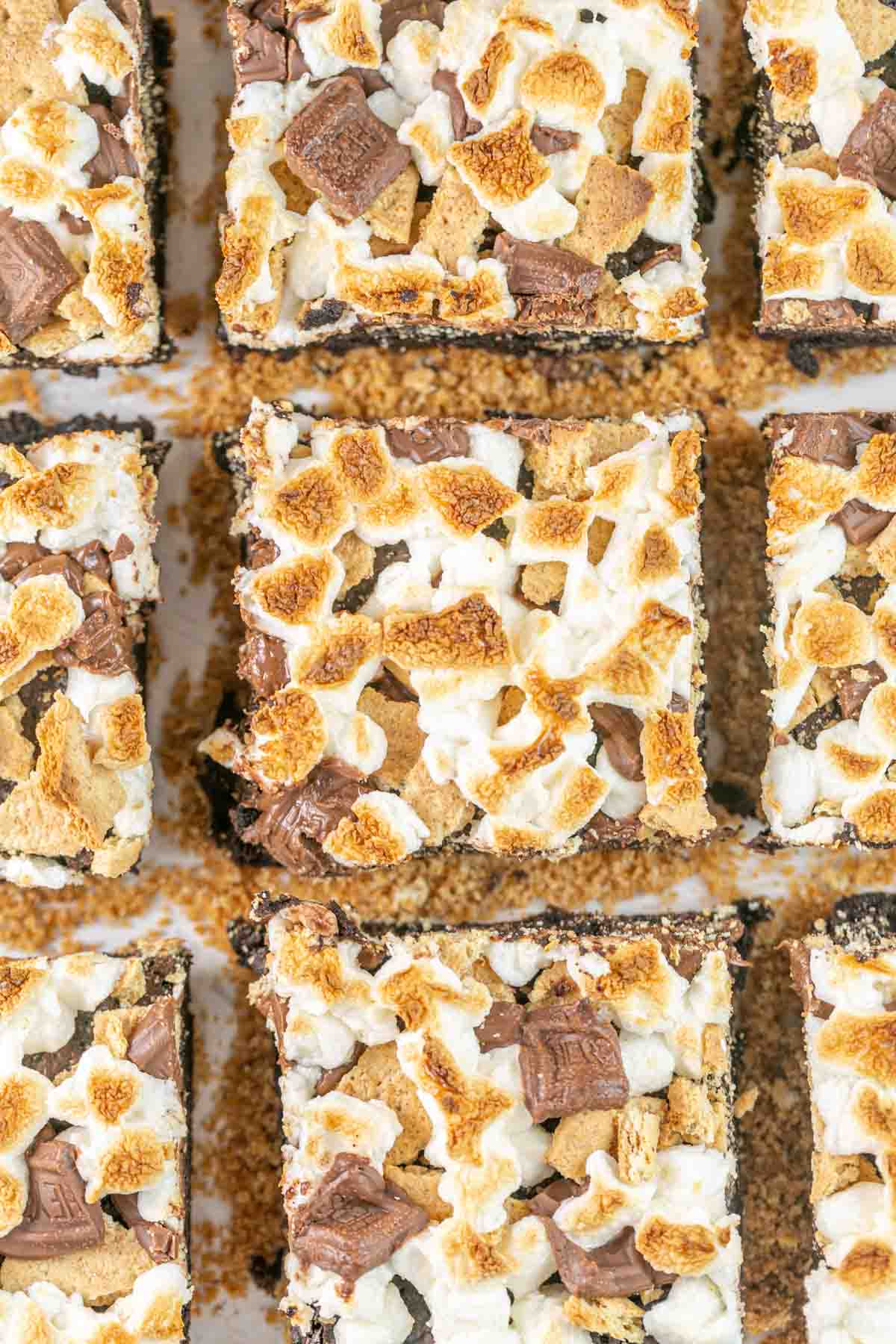 Tips and Tricks for the Best S'mores Brownies
Line the pan with parchment paper. The slightly melted marshmallows will release from parchment paper easier than from aluminum foil or a greased pan.
Either natural unsweetened or Dutch-process cocoa powder can be used. I suggest using Dutch-process cocoa powder; the color is darker and richer and the cocoa flavor is more prominent.
Use good quality cocoa powder for the best chocolate flavor. My favorite brands include Cacao Barry Extra Brute, Droste, and Valhrona.
Use miniature marshmallows for the topping – or cut full-sized marshmallows into smaller pieces. Jumbo marshmallows will burn on the outside without melting on the inside.
Need more s'mores brownies? (Yes!) Double the recipe and bake in a 9×13-inch pan, adding an extra 5 minutes to the baking time.
More S'mores Recipes
2020 Brownie of the Month Series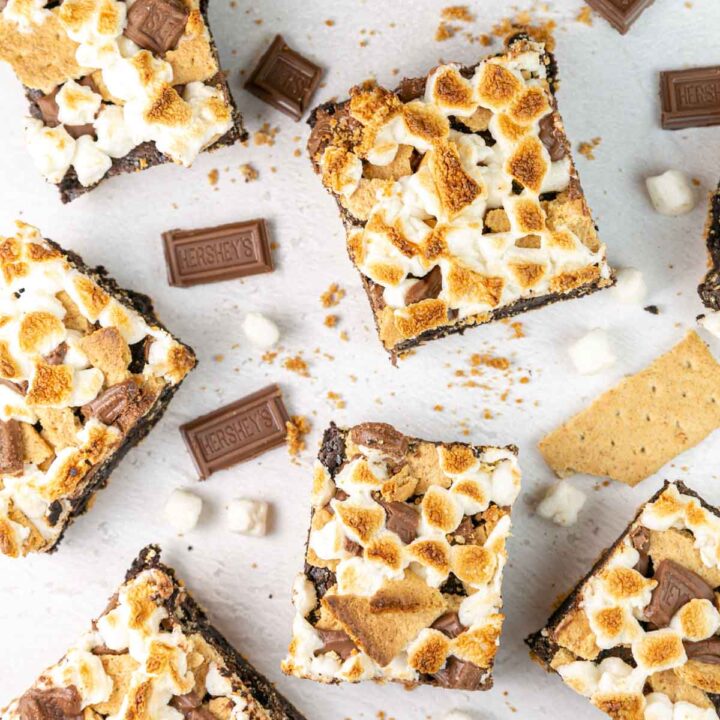 S'mores Brownies
Why choose between s'mores and brownies when you can have both? A graham cracker crust, the fudgiest brownie layer, and toasted marshmallows and chocolate piled on top!
Ingredients
For the Graham Cracker Crust
2 cups (210 grams) graham cracker crumbs - 14 full size sheets
1/4 cup (50 grams) granulated sugar
7 tablespoons (99 grams) unsalted butter, melted
For the Brownies
12 tablespoons (170 grams) unsalted butter
1 1/2 cups (300 grams) granulated sugar
3 large eggs
3/4 cup (63 grams) Dutch-process cocoa powder
1/2 teaspoon salt
2 teaspoons vanilla extract
1 cup (120 grams) all-purpose flour
For the Topping
3-4 graham crackers sheets, broken into pieces
6 ounces (172 grams) miniature marshmallows
two 1.55 ounce (86 grams) milk chocolate bars
Instructions
1. Make the crust. Preheat the oven to 350 °F. Line a 9x9-inch metal baking pan with parchment paper and spray with cooking spray.
2. Add graham cracker crumbs, sugar, and melted butter into a bowl. Mix until combined. Press the graham cracker crumbs into the bottom of the prepared pan and bake for 10 minutes. Remove from oven and cool on a wire rack for 5 minutes.
3. Make the brownies. While the graham cracker base bakes and cools, make the brownie batter. Combine the butter and sugar in a large microwave-safe bowl. Microwave for 30 seconds, then whisk. Repeat this process until all the butter is melted and the mixture looks shiny (granulated particles of sugar will still remain). Whisk in the eggs, one at a time, followed by the cocoa powder, salt, and vanilla extract. Stir by hand with a wooden spoon until well combined and shiny. Add in the flour, folding in gently until just combined and no dry streaks of flour remain.
4. Bake the brownies. Spread the brownie batter in the prepared pan, using a knife to carefully spread the batter into the corners.. Bake 30 to 35 minutes, until a toothpick inserted into the center comes out almost clean.
5. Add toppings. Break the remaining graham crackers and chocolate bars into small pieces. Once the brownies are out of the oven, sprinkle crackers, chocolate bar pieces, and marshmallows over the brownies. Return pan to the middle rack of the oven, positioned under the broiler, and broil (or toast using a culinary torch) until marshmallows are browned and toasted, approximately 2-3 minutes.
6. Let brownies cool completely before slicing. For clean cuts through the marshmallows, gently spray a knife with non-stick cooking spray between cuts.
Notes
Either natural unsweetened cocoa powder or Dutch process cocoa powder can be used, but Dutch process will result in a smoother, less bitter chocolate flavor.
Recipe can be doubled and baked in a 9x13-inch pan; add 5 to 10 minutes to the time required to bake the brownies.
Brownies can be stored at room temperature for up to a week or frozen for up to 3 months. If frozen, allow to thaw to room temperature for several hours.
Recommended Products
As an Amazon Associate and member of other affiliate programs, I earn from qualifying purchases.
Nutrition Information:
Yield:

16
Serving Size:

1 brownie
Amount Per Serving:
Calories:

387
Total Fat:

18.4g
Carbohydrates:

54.0g
Protein:

4.5g