June 14, 2017
Chocolate Chip Pound Cake with Hot Fudge Frosting
The perfect party cake, this chocolate chip pound cake is ideal for carving, or for serving as a sheet cake with a layer of homemade hot fudge frosting!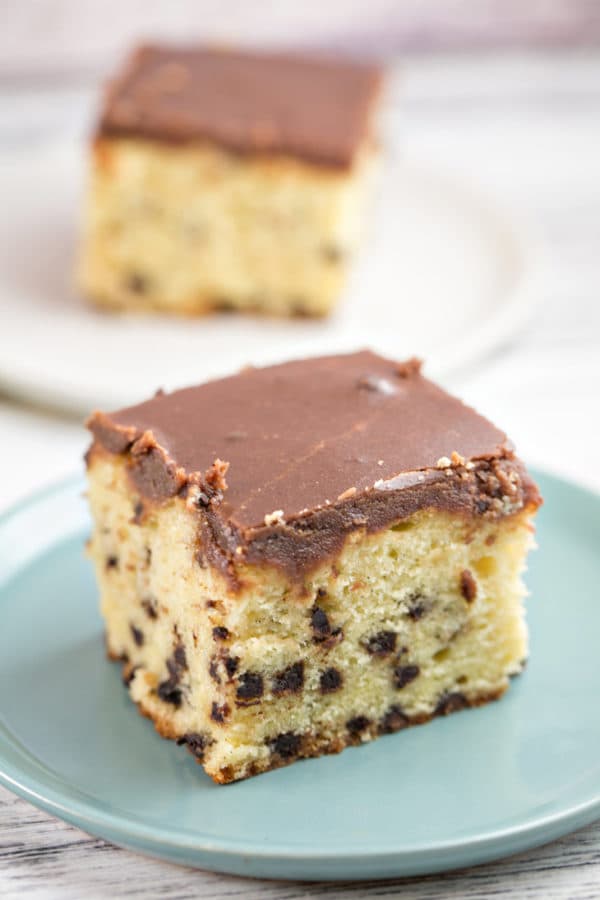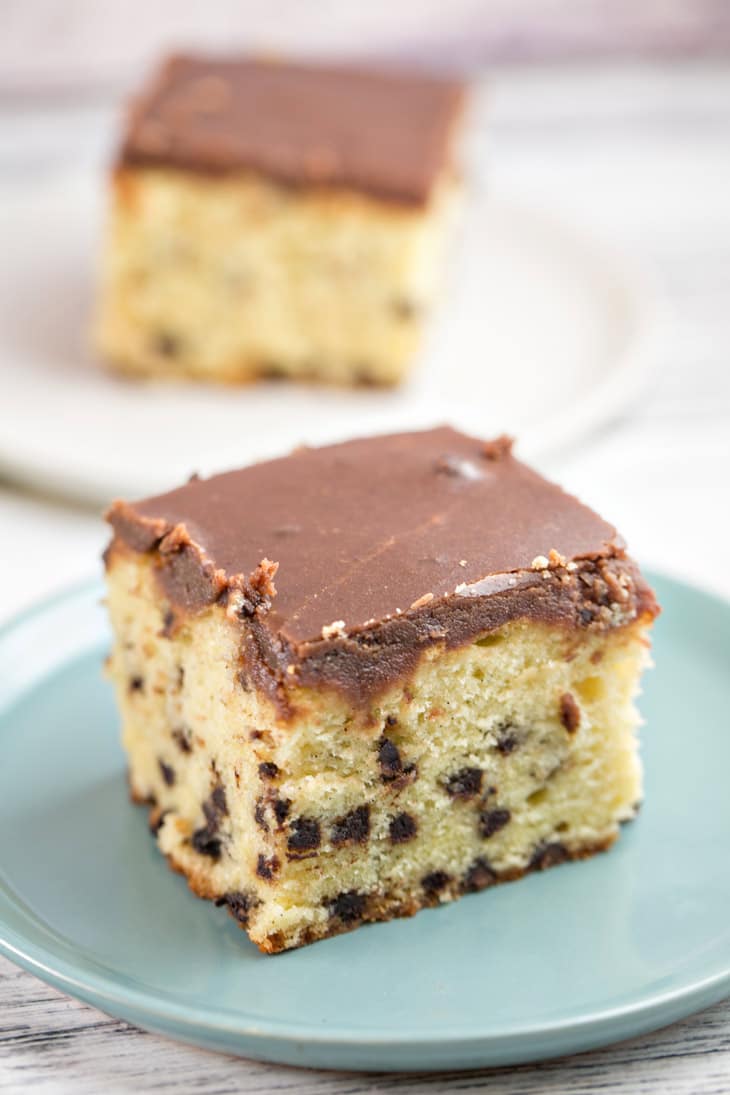 It seems like a lifetime ago that I shared this Vanilla Layer Cake with Blueberry Cardamom Curd – the first birthday cake for our little guy.  And yet it was only a year ago.
You always hear how quickly time passes after having children.  It's true – time does fly.  But somehow, I also find the opposite to be just as true.  It's hard to remember life without Ryan, even though it was just two years ago.
This time last year, Ryan was just learning to take his first steps, still had zero teeth, and very few words.  Now he's running around all over the place, has a mouth full of little chompers, and talks (and sings!) up a storm.
How is it possible that all this happened in just one year?
Last year, I chose the flavors for his cake because he wasn't old enough to express an opinion.  This year, however – his birthday cake was all about him!
I had a very different idea in mind for a cake, but he picked up a little bit of a double decker bus obsession on our trip to London.  After talking about "double busses" nonstop, I realized a double decker bus cake was in order.
While this was a very minor carving project (just stacking some layers and rounding off the front of the bus), I needed a dense, sturdy cake that would withstand four thick layers and some shaping.  How perfect that one of my favorite cakes — chocolate chip pound cake — is perfect for the job!
Chocolate chip pound cake seems to play a roll in major life events for us.  It was the compromise flavor for our wedding cake, between a chocolate lover (my husband) and a chocolate disliker (me).  And back in April, it served as a perfect second birthday cake for one double decker bus obsessed two year old.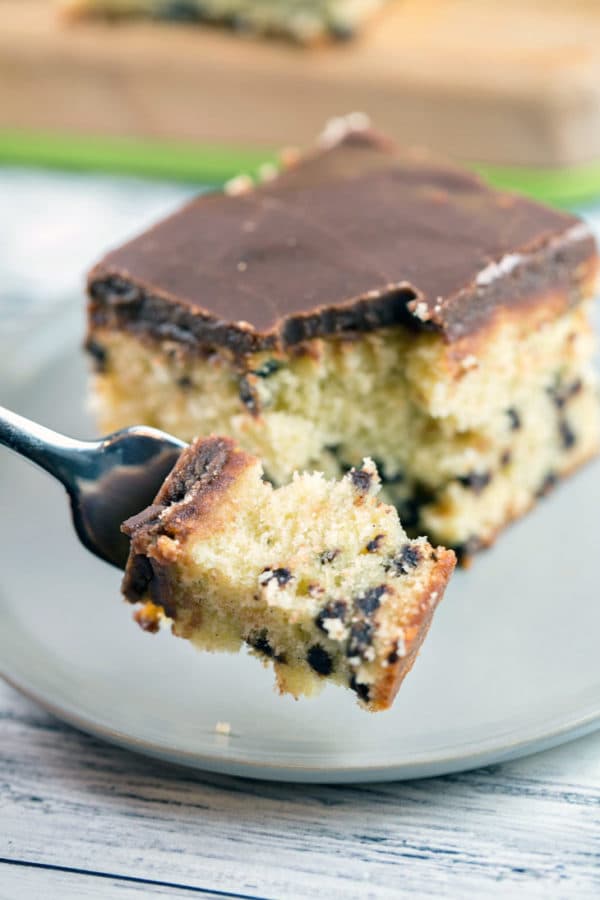 Don't think this cake is only good for carving, though — it's quite delicious on its own.  I paired it with a hot fudge frosting for this post, and it makes a perfect party sheet cake.  The rich, chocolatey frosting is perfect with the vanilla pound cake.
Think pound cake is boring?  Think again – the vanilla flavor shines, the crackly hot fudge frosting is lick-the-spoon delicious, and the whole cake freezes wonderfully, so it's great to make ahead of time.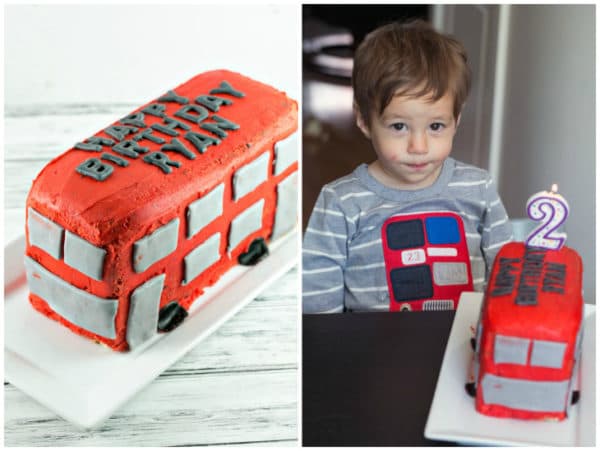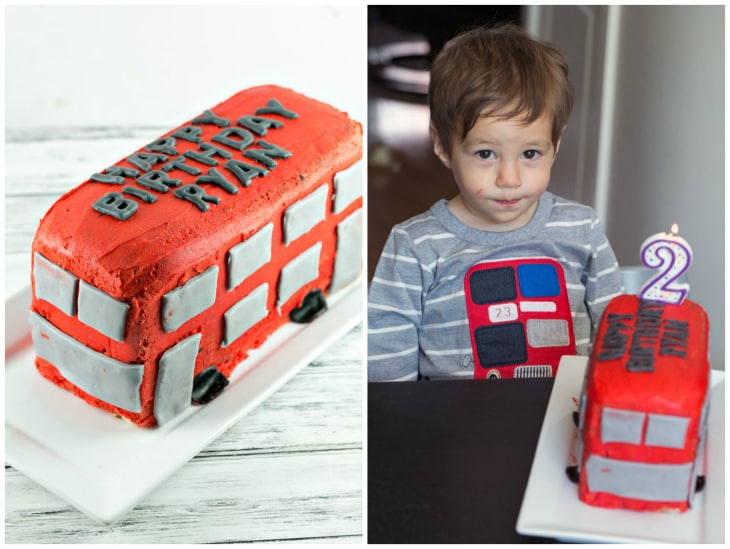 As far as our little double bus lover?  He was much more excited about the cake than this picture captures.  He had a big smile on his face as I pulled it out of the hiding spot in the microwave, but once he saw me pick up a camera, the smile was gone.
(No judgement on the cake decorating, please.  I like to bake cakes, not decorate them, and that is a huge difference.  I will clearly not be quitting my day job to make double decker cakes!)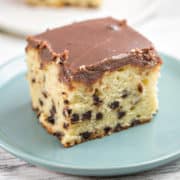 Chocolate Chip Pound Cake
The perfect party cake, this chocolate chip pound cake is perfect for carving, or for serving as a sheet cake with a layer of homemade hot fudge frosting!
Ingredients:
For the Chocolate Chip Pound Cake:
16 tablespoons (2 sticks) butter, room temperature
3 cups sugar
2 tablespoons vanilla bean paste (Amazon affiliate link) or vanilla extract
7 eggs, room temperature
3 cups flour
1 teaspoon salt
1/4 teaspoon baking soda
1/4 teaspoon baking powder
1 cup sour cream
1 1/2 cups miniature chocolate chips
For the Hot Fudge Frosting:
1/2 cup (1 stick) butter
1/4 cup cocoa powder
6 tablespoons heavy cream
4 cups confectioners sugar
1 teaspoon vanilla extract
Directions:
Preheat oven to 325 °F.  Line a 9×13-inch baking pan with aluminum foil, creating an overlap of foil hanging over the edge of the pan, then spray with cooking spray.
Beat together the butter and sugar using an electric mixer on medium speed until butter is light and fluffy, about 3 minutes.  Add vanilla bean paste and continue to beat until combined.  Add eggs, one at a time, beating after each addition.
Whisk together flour, salt, baking soda, and baking powder in a small bowl.  Slowly add to mixer, beating just until no traces of dry ingredients remain.  Mix in sour cream, followed by chocolate chips.
Pour batter into prepared pan and bake for 50-55 minutes, until a tester inserted into the middle of the cake comes out with a moist crumb.
Remove cake from the oven and allow to cool in the pan for 10 minutes.
While cake is cooling, prepare the frosting.  In a medium saucepan, combine the butter, cocoa powder, and heavy cream.  Stir together until butter is fully melted, then whisk in the powdered sugar and vanilla.  Continue to whisk until the frosting is smooth.
Pour the hot frosting over the still-warm cake and allow the cake to fully cool in the pan.  One cool, lift the cake and foil from the pan using the aluminum foil overhang.
Cake can be carved with or without hot fudge frosting.  For best results, freeze cake for 20 minutes before carving.
Cake can be frozen and saved, with or without frosting.  Wrap cake tightly with aluminum foil and a layer of plastic wrap (can be done with cake still in pan) and store in the freezer for up to 3 months.
Make this cake and turn it into a chocolate chip strawberry trifle!