December 27, 2016
Lemon Poppy Seed Bread
A fresh take on a classic, this glazed Lemon Poppy Seed Bread is moist, flavorful, and full of lemon – with just fresh lemon (no lemon oil or extract!). It's the perfect breakfast or mid-day snack to brighten up your day.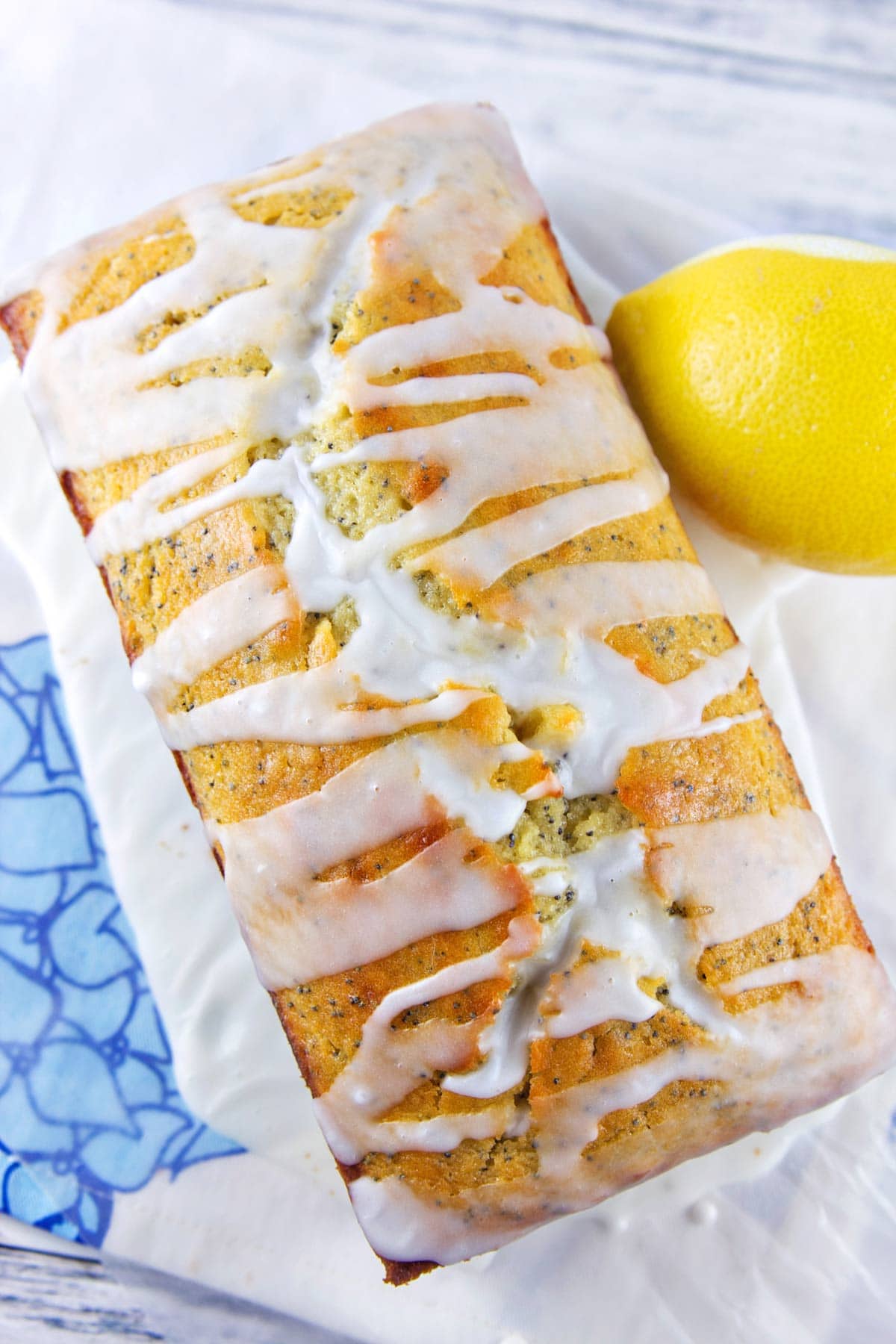 Well friends, we've reached the end. This is the last post in my 2016 Quick Bread of the Month series. 12 quick breads in 12 months – it sure was a delicious endeavor!
But alas, all good things must come to an end. Out with the old, in with the new – and starting next month, I'll have a new [Baked Thing] of the Month to unveil! (Any guesses?)
I had so many ideas for my final quick bread. I mean, the eleven prior quick breads barely scratched the surface! Sure, we covered the major groups – sweet and savory, fruity and chocolatey – but really, the possibilities are endless.
But in the end, simple won. A true classic – a lemon poppy quick bread. Citrus is one of my favorite winter flavors, and I couldn't resist some bright, cheery lemon in the middle of winter.
A slice of this lemon poppy quick bread. A warm mug of tea. Flipping through your favorite magazine while watching the snow fall (oooooor more likely – answering your work emails). Does it get any better?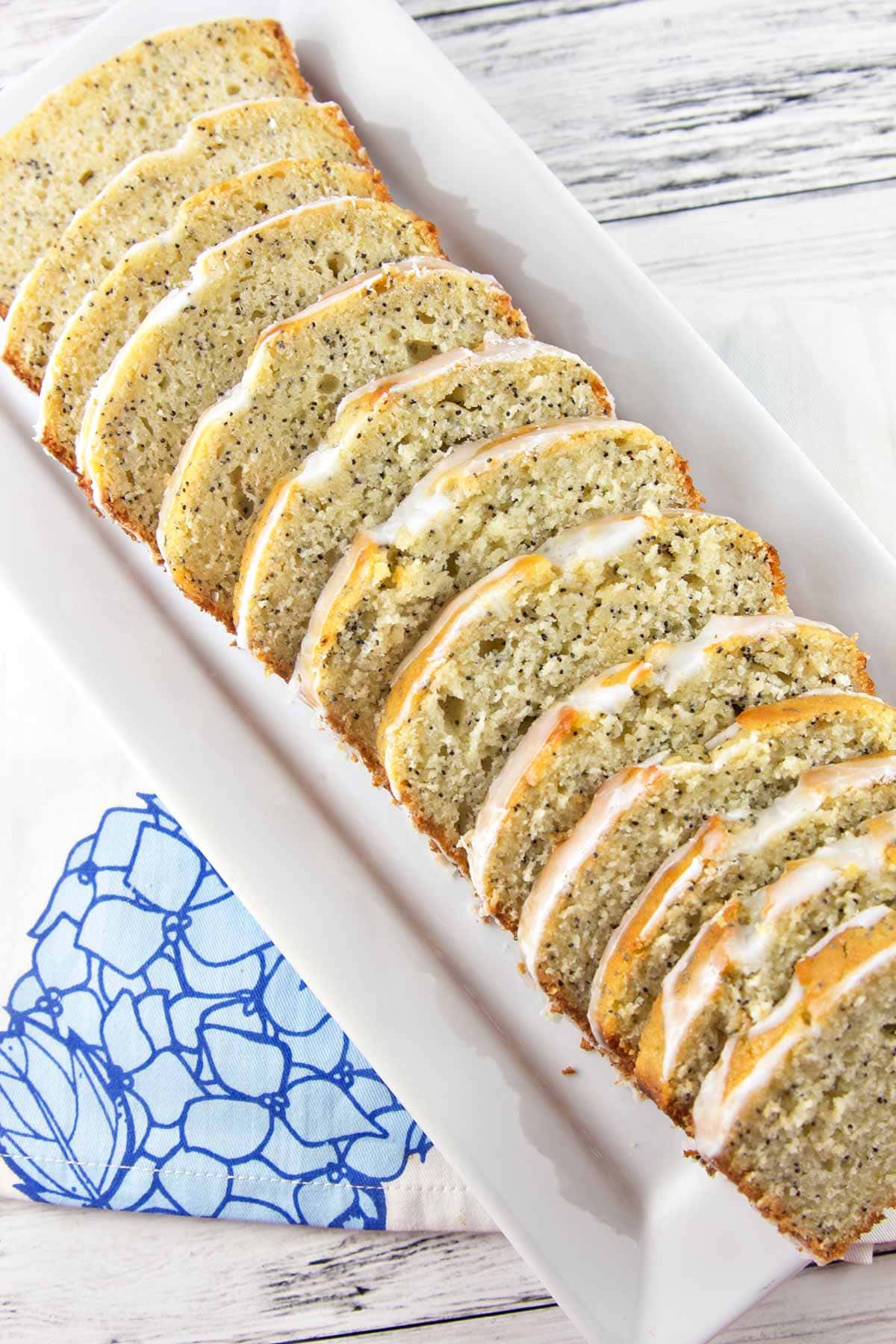 Best Lemon Poppy Seed Bread
It's fitting that this is the last bread I'm sharing in my Quick Bread of the Month series, because I spent the most time perfecting this recipe.
Simple flavors are often the hardest to master. We're not covering this bread with melted chocolate or frosting or peanut butter cups – there's nothing to hide any flaws.
I felt like Goldilocks trying to get this bread juuuuust right. Too dry. Then not lemony enough. But in the end, I found a winning combination.
To keep the bread extra moist (have you had dry quick breads before? they're the worst!), we're using oil instead of butter. Two eggs instead of one to keep the batter rich and tender. And of course, my favorite "secret ingredient" in baking… buttermilk!
Buttermilk adds both a little tangy zip, but also helps make breads, muffins, and cakes even more tender. Don't skip out on the buttermilk – it's an important ingredient!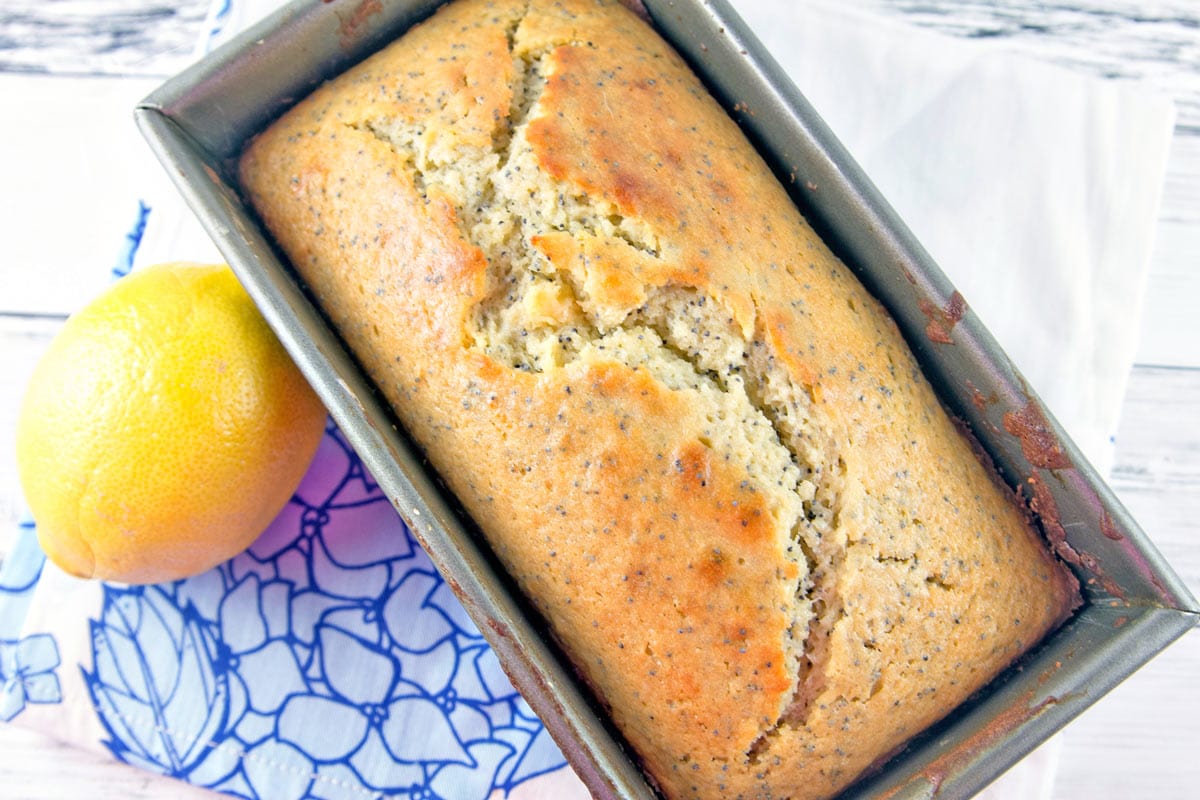 Made with Real Fresh Lemon
My favorite part about this lemon poppy seed loaf: it just contains lemon. Not lemon extract. Not lemon oil. Just plain real, fresh lemon.
So many recipes call for lemon extract or lemon oil. I don't know about you, but that is not something I keep on hand in my kitchen. And you all know I love to procrastinate – I don't want to have to make a separate trip to the store when I'm in the mood to bake a lemon loaf!
So instead, we're getting all our lemon flavor from lemon juice and lemon zest.
Bumping up the lemon juice isn't as simple as adding a little extra juice to a regular quick bread recipe, though! We have to adjust ingredients accordingly – and make sure to add some extra baking soda.
What does it do and why do we need it? It's time for my favorite subject… kitchen chemistry!
Kitchen Chemistry

Adding an acid, like lemon juice, to the quick bread batter denatures (unfolds) the proteins in the batter. Too much acid will cause the structure of the bread to fall apart. Because we're adding a lot of lemon juice to bump up the real lemon flavor, we need to add baking soda to the cake to neutralize the acid. As baking soda interacts with the lemon juice, carbon dioxide forms, releasing bubbles and giving the bread some extra lift.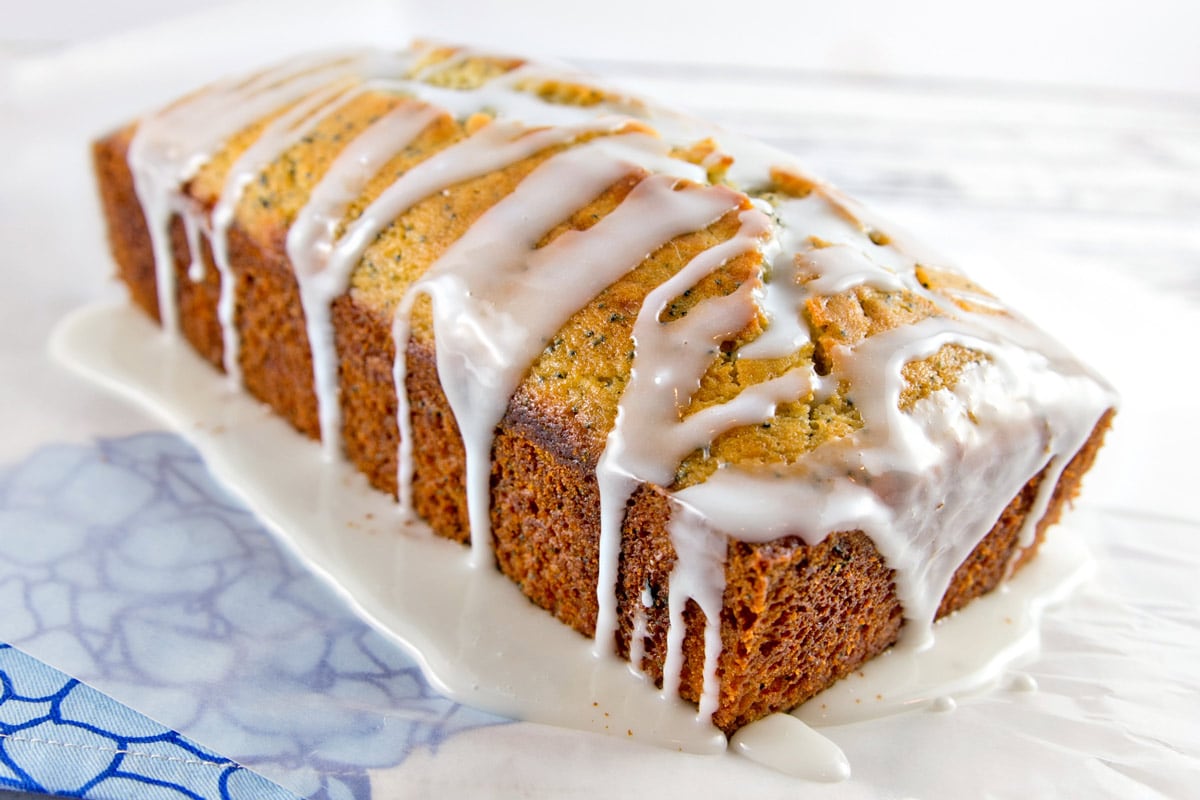 Lemon Juice Glaze
Of course, we can't make a lemon poppy seed bread without a lemon glaze on top, right?! The glaze is the best part!
This one is super duper simple: just mix together confectioners' sugar and lemon juice.
If you want a thinner glaze, add a little. more lemon juice.
If you prefer a thicker glaze, add a little more confectioners' sugar.
And if you have an extra lemon lying around and want to get a little fancy and an extra punch of lemon, sprinkle some lemon zest on top of the glaze before it sets.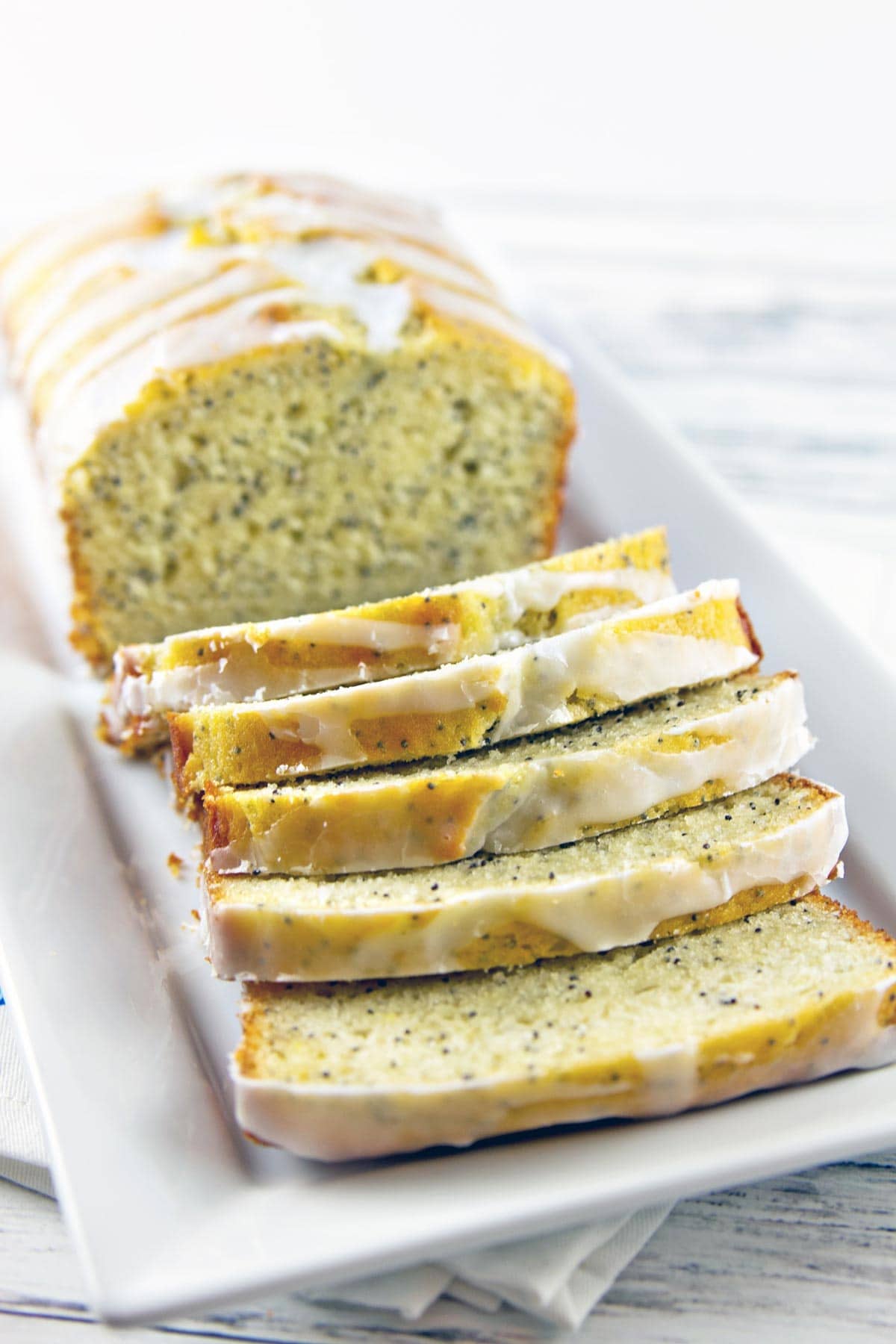 Common Questions about Lemon Poppy Seed Bread
How should I store this lemon poppy seed bread?
Lemon quick bread can be stored in an air-tight container at room temperature for 3-4 days.
Can lemon poppy seed bread be frozen?
For long-term freezing, I recommend freezing the whole loaf wrapped in plastic wrap and aluminum foil. Thaw completely at room temperature before slicing. To freeze leftover individual slices, wrap in plastic wrap, then a layer of aluminum foil, and store them in a freezer-safe bag. Unwrap completely before thawing to prevent the glaze from sticking to the plastic wrap.
How do I keep the bread light and tender?
Use room temperature ingredients and do not overmix the batter. The batter should be stirred just so no streaks of flour remain.
Can I substitute regular milk for buttermilk?
The taste and texture of this bread rely on the tenderizing properties of buttermilk. Real buttermilk will yield the best results, but in a pinch, adding "faux" buttermilk (1 cup whole milk mixed with 1 tablespoon of lemon juice; let stand for 5 minutes before adding to batter) will work. The substitution is not as thick and creamy as real buttermilk, however.
Who's in need of a little sunshine in the middle of winter?  I know I sure am!  Brighten up your dreary winter days with a delicious slice of this lemon poppy quick bread.
More Lemon Recipes:
2016 Quick Bread of the Month Series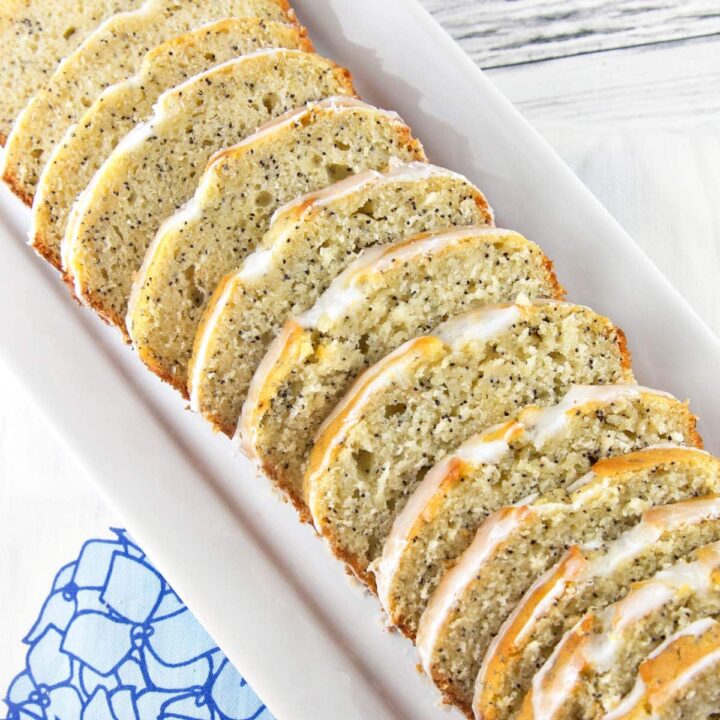 Lemon Poppy Seed Bread
Yield:
1 loaf (12 slices)
Total Time:
1 hour
5 minutes
A fresh take on a classic, this lemon poppy seed bread is moist, flavorful, and full of lemon – made with just fresh lemon (no lemon oil or extract!).
Ingredients
For the Bread:
2 large eggs, room temperature
1 cup (198 grams) granulated sugar
1/2 cup (99 grams) vegetable oil
3/4 cup (170 grams) buttermilk
1/4 cup (57 grams) fresh squeezed lemon juice
zest of 2 large lemons
2 cups (240 grams) all-purpose flour
1 teaspoon baking powder
1/2 teaspoon baking soda
1/2 teaspoon salt
2 teaspoons vanilla extract
2 tablespoons poppy seeds
For the Glaze:
1 cup (113.5 grams) confectioners' sugar
2 tablespoons lemon juice
Instructions
Preheat the oven to 350 °F. Lightly grease an 8.5×4.5-inch loaf pan.
In a large bowl, whisk together the eggs, sugar, oil, and buttermilk until well combined. Add in the lemon zest and lemon juice. Add in the dry ingredients, whisking until just moistened. Stir in the vanilla and poppy seeds.
Pour the batter into the prepared baking pan. Bake for 50 minutes, or until a tester inserted into the cake comes out with a moist crumb. Check the loaf at 35 minutes; if the top is browning too quickly, tent with aluminum foil.
Remove from oven, cool in the pan for 10 minutes, then turn out to a wire rack to cool completely.
To make the glaze, whisk together the confectioners sugar and lemon juice. Drizzle the glaze over the cooled quick bread before slicing.
Notes
Lemon poppy seed bread can be frozen for up to 3 months.  Wrap tightly in plastic wrap, followed by a layer of aluminum foil.
Recommended Products
As an Amazon Associate and member of other affiliate programs, I earn from qualifying purchases.