May 11, 2017
Lemon Lavender Bundt Cake
A light and delicate bundt cake full of citrus and floral flavors, this Lemon Lavender Bundt Cake is perfect for spring and summer entertaining.
This is the Cake That Almost Wasn't.
I am not one of those people who believes in signs from the universe, but if I did – the universe was definitely telling me I should not share this Lemon Lavender Bundt Cake recipe.
Which is a shame, because it's really quite delicious. And perfect for Mother's Day!
You don't have to be a mother to love this cake, though. In fact, you don't even have to be a human. Because I stayed up until 2:30 am baking this cake, just for it to be devoured by… my dog.
Yep, that's right. I turn my back for two minutes, and half a cake is devoured. Two big paws up from the Dreidel-monster.
In my fit of annoyance, I even (jokingly) put my dog up on our neighborhood Buy Nothing group.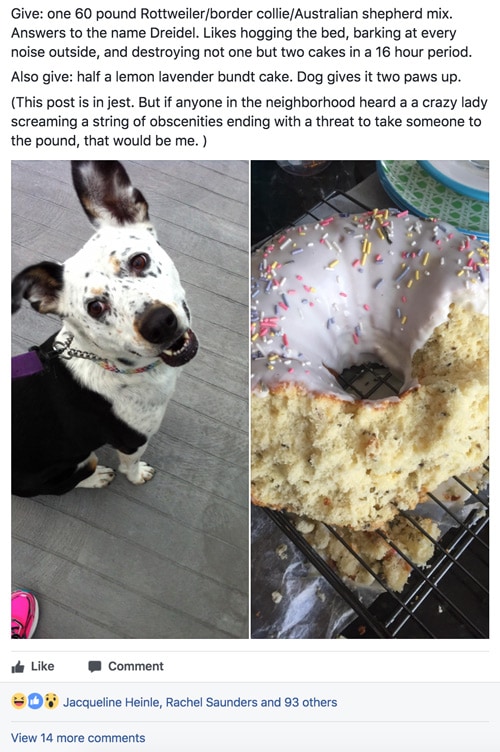 [Side tangent: Do you know about Buy Nothing Project? My local group is basically the highlight of living in my neighborhood. We're one giant, hilarious, supportive family, who also just happens to gift things to each other.]
No one wanted my dog… but there were multiple individuals who offered to eat the rest of the lemon lavender bundt cake, despite the potential dog slobber.
Lucky for them, I went ahead and remade the cake for photography purposes, and gave away the slobber-free cake to some awesome neighbors. Thank you, Buy Nothing, for allowing me to continue my baking hobby while still managing to fit into my pants!
Now, let's talk about this dog-gone delicious lemon lavender bundt cake for a minute, shall we? (See what I did there? I know, I'm hilarious! Admit it, you laughed. Fine, I'll settle for an eye roll.) I was a little stuck on what flavor cake to make for the May installment of Bundt Cake of the Month.
My husband suggested something floral, a nod to the amazing rosewater macaron we had at Ladurée in Paris. It was a little mind-boggling how much rose flavor was jam packed into that little macaron.
The lavender in this is much more subtle, although it's still quite a bit more than most of the lavender baked good recipes out there. Lemon can be a little overpowering (although in a good way – I love citrus!), so the extra boost of lavender helps the flavor come through.
And don't skip the glaze – it's the most lavender-y part! Seeping the lavender in some warm heavy cream really brings helps it shine.
As far as obtaining lavender, I purchased this culinary lavender off of Amazon [affiliate link] — four ounces will make you many lemon lavender bundt cakes!
I also made this cake with cake flour — all my other bundt cakes in the flour use all purpose flour, so I wanted to see if cake flour made a difference.
(Well, the first cake my dog ate was made with cake flour. The second cake was made with 'homemade' cake flour – all purpose flour + cornstarch.)
Kitchen Chemistry: Cake flour contains less protein than all-purpose flour (roughly 8% versus 11%). Less protein means less gluten formation, so a cake made with cake flour has a lower gluten content. Cake flour also undergoes a special bleaching process (typically with peroxide) different than other flours. This means cake flour can hold more water and sugar, and also produces a super tender, fine crumbed cake.
I normally prefer my cakes denser (total personal preference), so I generally bake with all purpose flour. But I wanted a lighter, airy cake to pair with the delicate lavender flavor, so I used cake flour this time.
It's also a great choice for a bundt cake, which is generally heavier and denser to begin with, since it's so thick.
Uhoh! You want to make this lemon lavender bundt cake, but you don't have any cake flour! What can you do?
Well, as I mentioned above, you can approximate cake flour by adding in 2 tablespoons of corn starch to 1 cup minus two tablespoons of all purpose flour. If you just want to stick with all purpose flour, leave out the two tablespoons from each cup of flour.
All purpose flour weighs more per cup than cake flour, so we need to use a little less all purpose flour for this cake. #themoreyouknow
Light and delicate, citrusy and floral. A lemon lavender bundt cake is perfect for spring or summer weather. The unexpected hint of lavender is a unique flavor. The lemon is bright and cheerful and perfect for the warmer days.
So make this for brunch, for dessert, for a celebration, just because, or to share with your neighbors. Just keep your dog out of the kitchen.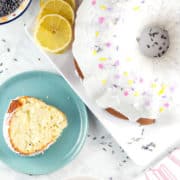 Lemon Lavender Bundt Cake
A light and delicate bundt cake full of citrus and floral flavors, this Lemon Lavender Bundt Cake is perfect for spring and summer entertaining.
Ingredients:
For the cake:
1 cup butter, room temperature
1 1/2 cups sugar
2 tablespoons dried lavender
4 eggs, room temperature
2 tablespoons vanilla extract
juice of 1 lemon (~2 tablespoons)
zest of 2 lemons (~2 tablespoons)
1 cup sour cream
3 cups cake flour
1 1/2 teaspoons baking powder
1 teaspoon baking soda
1/4 teaspoon salt
For the glaze:
1/2 cup heavy cream
2 tablespoons dried lavender
3 cups confectioners sugar
juice of 1 lemon (~2 tablespoons)
Directions:
Heat the oven to 325 °F.  Grease and flour a 12-cup bundt pan.
In a large bowl, beat together the butter and sugar on medium speed, until fluffy, about 3 minutes.  Add in the lavender and beat an additional 1-2 minutes.  Add in the eggs, one at a a time, followed by the vanilla, lemon juice, and lemon zest.
Turn the speed down to low and add in the sour cream, followed by the cake flour, baking powder, baking soda, and salt.  Continue to mix on low speed until all ingredients are combined and no dry spots of flour remain.
Spoon the batter into the prepared pan.  Bake for 55 minutes, or until a tester inserted into the center of the cake comes out clean.  Cool in the pan for 10 minutes, then invert to a wire rack to cool completely before glazing.
To make the glaze, heat the heavy cream in a medium bowl in the microwave, until steaming and just starting to bubble, about 60 seconds.  Add the dried lavender and allow the mixture to seep for 10 minutes.  Strain the mixture, reserving the lavener-infused cream.
Add the powdered sugar to a second medium-sized bowl.  Add the fresh lemon juice and whisk.  Whisk in a few tablespoons of the heavy cream at a time until the desired glaze consistency is reached (thick enough to pour while scraped out of a bowl).  Pour the glaze over the cake and allow the glaze to solidify for 30 minutes before cutting.
Cake can be made ahead and frozen.  Wrap cooled, unglazed cake in plastic wrap, followed by a layer of aluminum foil and store in the freezer for up to 3 months.  Bring cake to room temperature overnight, then cover with lavender-infused glaze.