May 9, 2014
Berry Clafoutis
An easy brunch or dessert, berry clafoutis with strawberries and blackberries highlights fresh summer produce and only requires a blender. Serve plain or with a scoop of ice cream on top!
Dessert people fall into two categories: decadent dessert lovers (think chocolate or peanut butter) and lighter, fruit dessert lovers (like pies or fruit coffee cakes). Sure, you can like both, but when given the choice, people pick one or the other.
It is no secret that I am firmly in the fruit dessert camp. Both feet, all the time. And this berry clafoutis is no exception.
Traditional clafoutis are made with cherries (the truly traditional version leaves the pits right in the cherries!). And while I am a sucker for fresh cherries, sometimes I like to switch it up a little.
The summer produce season is short — use all the produce! So for this version, I went with fresh strawberries and blackberries, picked at our local farmer's market.
What is a Clafoutis?
If you're not familiar with clafoutis, let me introduce you to the easiest dessert ever. Not too sweet, not too fancy… and so, so easy. Literally all you need is a blender and a pie dish. That's it. No creaming butter, no whisking a thick batter.
Dump your ingredients into a blender and give it a whirl. Let the batter sit for a few minutes (or up to overnight – love a good make ahead option!), pour into the pie dish, and bake.
You can pour in the batter, add the berries, and bake all at once, but I like to do it in layers. Pour a little batter, bake just until set. Then add your berries and bake the rest of the way.
This lets the berries sit in the top half of the clafoutis, instead of all sinking to the bottom. Both ways are delicious; the latter is a little prettier.
I think light, fruit based desserts, like this berry clafoutis, are the perfect end to brunch. It's just a little something sweet to nosh on after a leisurely meal, but not dense or heavy leaving you feeling weighed down for the rest of the day.
Mother's Day is right around the corner. If you're hosting your mother for brunch, I'd nominate this to have a spot on your table.
Perfect for Breakfast… Or A Sweet Dessert
For brunch, I love to slice a room temperature clafoutis into wedges and serve plain. But what if you want to take it up a notch and serve this as a full fledged dessert? Scoop of ice cream.
Instead of cooling and cutting it into a wedge, serve it straight out of the oven. Scoop it out with a spoon, like a custard or pudding, and top with a big scoop of ice cream.
Warm berry clafoutis melting the cold ice cream – it's dessert perfection.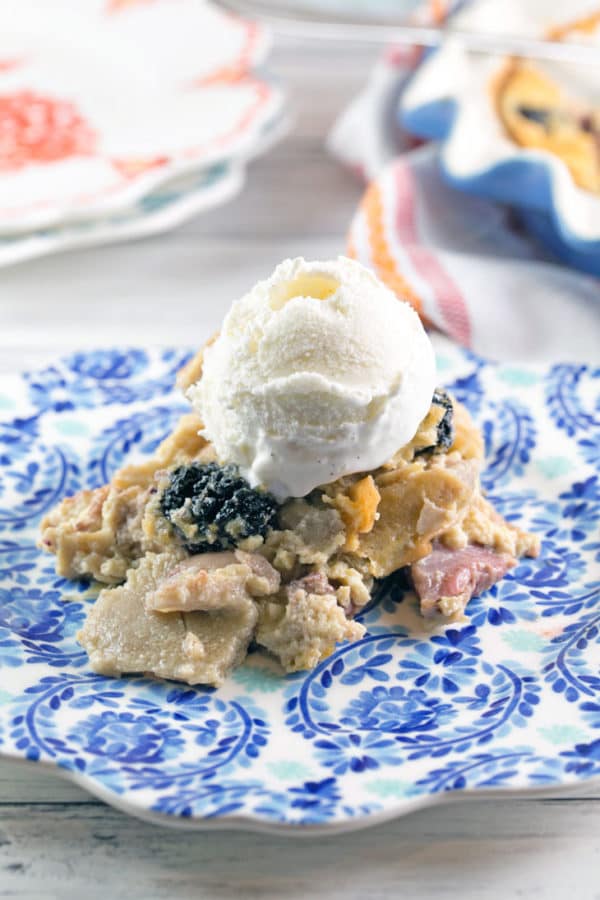 Tips and Tricks for the Best Berry Clafoutis
Wash and dry your berries ahead of time. I like to wash them the night before and let them dry in a colander in the refrigerator overnight – we don't want to use berries with any extra moisture, as it will add additional unnecessary moisture to the clafoutis batter.
Because of the aforementioned moisture, use fresh berries. Frozen berries are delicious in lots of desserts – this isn't the best use for them.
Let the batter sit for at least 15 minutes after mixing. Letting it rest helps eliminate any air bubbles, similar to making crepes.
The batter can be made the night before and refrigerated overnight. In the morning, pour into the pie pan and bake.
More Fruit Breakfast Recipes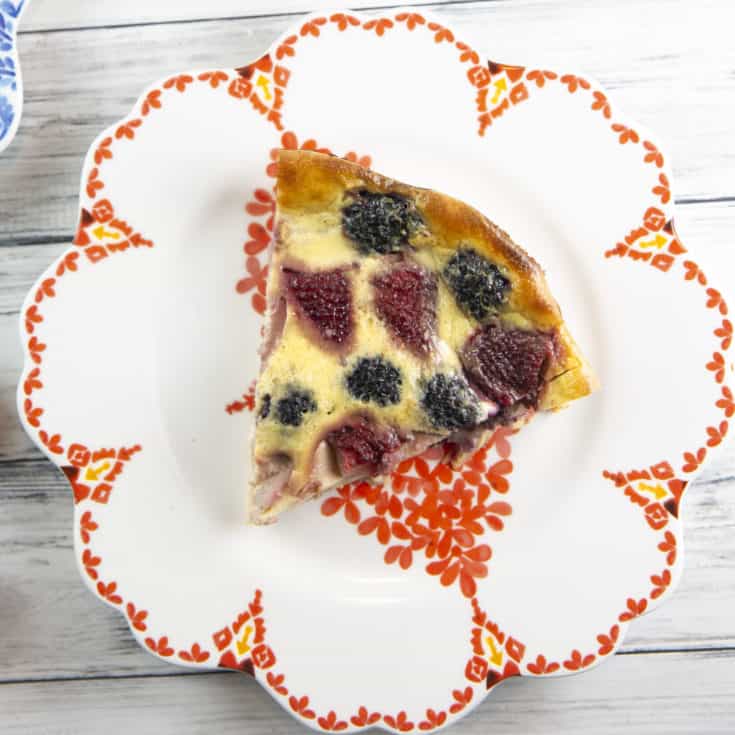 Berry Clafoutis
Total Time:
1 hour
10 minutes
An easy brunch or dessert, berry clafoutis highlights fresh summer produce and only requires a blender.  Serve plain or with a scoop of ice cream on top!
Ingredients
1 3/4 cup (387 grams) whole or low fat milk
1/2 cup (99 grams) sugar, divided
3 large eggs
1/2 cup (60 grams) all purpose flour
1/4 teaspoon salt
2 teaspoons vanilla extract
1/4 teaspoon lemon zest
1/8 teaspoon cinnamon
2 cups (320 grams) fresh berries
Instructions
Preheat over to 350 °F. Lightly butter a baking dish or pie plate.
In a blender, combine the milk, 1/3 cup (66 grams) of the sugar, eggs, vanilla extract, salt, lemon zest, cinnamon, and flour. Let the mixture sit at room temperature for 15 minutes, up to overnight (refrigerate if sitting for more than an hour).
Pour a 3/4 to 1-inch layer of the batter into the dish and bake just until the batter sets, about 5 minutes.
Remove the dish from the oven and add the berries on top. Sprinkle on the remaining sugar, and top with the remaining batter.
Bake for an additional 45-50 minutes, or until puffed and brown and a tester comes out clean. Serve warm or at room temperature
Notes
This clafoutis works best with fresh berries (not frozen), which should be completely dry before baking. For best results, wash and dry the berries ahead of time.
Clafoutis can be served warm, scooped straight out of the pan with a spoon, and topped with ice cream, or cooled to room temperature and served sliced into wedges.
Leftover clafoutis can be stored in the refrigerator for up to 4 days.

Adapted from Julia Child's Mastering the Art of French Cooking
Recommended Products
As an Amazon Associate and member of other affiliate programs, I earn from qualifying purchases.
Nutrition Information:
Yield:

8
Serving Size:

1 slice
Amount Per Serving:
Calories:

155
Total Fat:

3.7g
Carbohydrates:

24.7g
Protein:

5.4g