April 19, 2018
Chocolate Chip Streusel Muffins
It's time for dessert for breakfast with these domed, bakery style, Chocolate Chip Streusel Muffins. Filled with chocolate chips and covered with a crunchy, chocolatey streusel topping… plus, all the tips for baking jumbo-sized domed muffins in regular a regular size muffin tin!
It's no secret that I love muffins. Most of the time, I like normal sized, fruit-filled muffins, perfectly appropriate for breakfast.
But sometimes… sometimes you want the dessert-for-breakfast muffin. The giant, domed, sugar-topped bakery style muffin. The kind of muffin you eat when you really want to treat yourself.
A big, beautiful, domed top. A crunchy, chocolatey streusel topping. Rich, chocolate chip filled muffin base.
When you're in the mood for that kind of muffin, you want chocolate chip streusel muffins.
Here's the good news: these freeze beautifully. So you can make a whole batch, without the temptation to eat them all at once.
Whether you call them dessert-for-breakfast or a legitimate dessert, chocolate chip streusel muffins are perfect for pretty much any occasion. Bake sale? Overnight guests? Family brunch? Because you're in the mood for a delicious muffin? Absolutely perfect.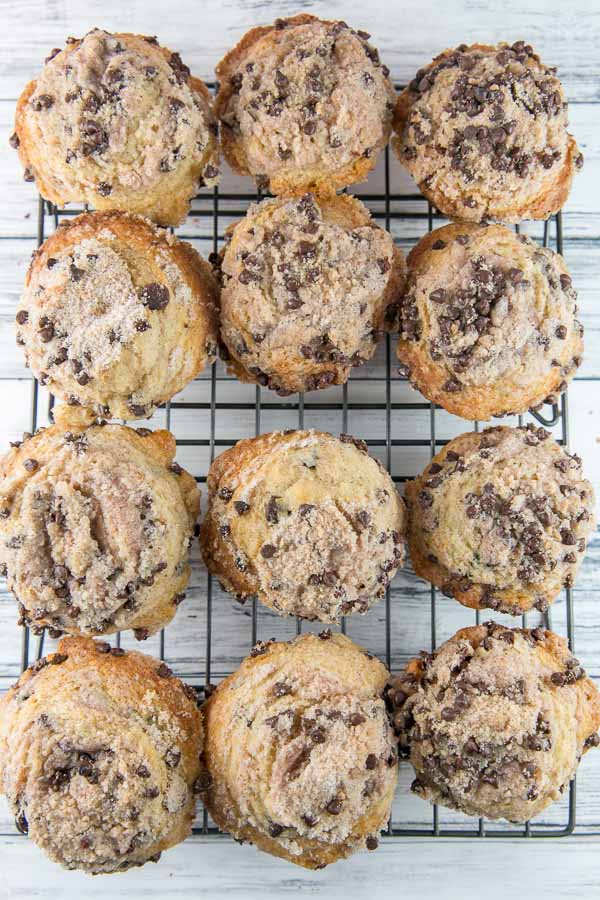 The Best Chocolate Chip Muffins
The muffin base for these is similar to the cranberry orange streusel muffins I shared back in January.
For extra moist muffins, we'll use vegetable oil instead of butter. And for an extra tender crumb, we have buttermilk. Except instead of cranberry and orange… these muffins are all about the chocolate chips!
Regular sized chocolate chips in the muffins. Mini chocolate chips in the streusel. Yes, please!
Of course, one of the other requirements for dessert-for-breakfast, bakery style muffins is the jumbo size, right? But how many people actually have the jumbo muffin pans? (I don't.)
Fret not, there are some great ways to make big, domed muffins using your regular muffin pan!
Tips for Bakery Style Domed Muffins
These chocolate chip streusel muffins look jumbo thanks to the giant, crumbly tops. But they're actually baked in plain old regular sized muffin tins.
So how did we get them so tall and big? It's time for my favorite subject… kitchen chemistry!
These muffins contain a high ratio of baking powder, a chemical leavener, to help provide the lift. But the true secret to getting big domed tops: steam!
Kitchen Chemistry

For large domed muffins, start the muffins at high temperature for the first 5 minutes.  This initial high temperature heats the liquid ingredients enough to form steam, which helps to boos the height fo the muffins.  The outside edges of the muffins, up against the muffin pan, start to bake and set while the middle is still batter and continues to expand upwards.
Just don't forget to turn your oven down after the first 5 minutes – otherwise, the tops of the muffins will burn!
Fill Muffin Tins to the Top
The next tip for jumbo domed muffins? Fill your muffin tin all the way to the top!
These aren't cupcakes where you want a flat surface for decorating. Fill those cups right up to the very top so the batter spills up and over, creating the classic domed muffin shape.
And while you're at it, skip the paper liners and just grease the muffin tins well and bake right in the tin.
Paper liners stick to the batter and hold the muffin down. We want our batter to slip and slide right up the edge of the muffin tin. Don't forget to spray the top of the muffin pan too, so the domed part doesn't stick when you try to turn out the muffins!
Frequently Asked Questions about Chocolate Chip Streusel Muffins
Can you use chocolate chunks instead of chips in these muffins?
Yes, chopped chocolate or chocolate chunks or miniature chocolate chips can be substituted for the chocolate chips in the muffin batter. Be sure to use miniature chocolate chips or finely chopped chocolate in the streusel mixture.
What else can be added to this muffin?
Nuts make a great addition to either the batter or the streusel – pecans are my favorite. Dried craisins or
How do I keep the muffins soft and fluffy?
Don't overmix the batter! I prefer to mix by hand instead of using a mixer to make sure the batter doesn't get mixed too much. Just stir together until no streaks of flour remain.
Can I use this recipe to make mini-muffins?
This recipe makes 12 regular sized muffins or can be used to make 24 miniature muffins. Bake miniature muffins at 350 °F for 12-13 minutes (skip the initial 5 minute bake at 425 °F for mini muffins).
Can these chocolate chip streusel muffins be frozen?
These muffins freeze wonderfully – freeze in an airtight freezer bag for up to 3 months, then thaw at room temperature.
What can I use instead of buttermilk?
Regular whole milk can be used instead of buttermilk, but buttermilk will create a more tender, fluffy muffin.
More Muffin Recipes
Chocolate Chip Streusel Muffins
It's time for dessert for breakfast with these domed, bakery style, Chocolate Chip Streusel Muffins. Filled with chocolate chips and covered with a crunchy, chocolatey streusel topping… plus, all the tips for baking jumbo-sized domed muffins.
Ingredients
For the Muffins:
1/2 cup (99 grams) vegetable oil
1 cup (198 grams) granulated sugar
2 large eggs, room temperature
3/4 cup (170 grams) buttermilk, room temperature
2 teaspoons vanilla extract
2 1/2 cups (300 grams) all-purpose flour
4 teaspoons baking powder
1/2 teaspoon salt
1 teaspoon cinnamon
1 1/2 cups (255 grams) chocolate chips
For the Streusel Topping:
1/2 cup (99 grams) granulated sugar
1/4 cup (30 grams) all-purpose flour
4 tablespoons (56.5 grams) cold butter, cut into half-inch size pieces
1/2 cup (88.5 grams) miniature chocolate chips
Instructions
Preheat oven to 425 °F. Spray the wells and top of a 12 cup muffin tin with non-stick cooking spray.
Make the muffin batter. In a large bowl, whisk together the vegetable oil, sugar, eggs, buttermilk, and vanilla. Slowly add in the flour, baking powder, salt, and cinnamon. Mix until just combined and no dry streaks of flour remain. Fold in the chocolate chips. Divide the batter between the 12 muffin cups, filling to the top.
Make the streusel topping. Combine the sugar, flour, and butter in a small bowl. Using a pastry blender or fork, cut the butter into the dry ingredients until the streusel has the texture of clumpy, wet sand. Stir in the mini chocolate chips. Sprinkle the streusel evenly over the tops of the 12 muffins.
Bake the muffins. Bake at 425°F for 5 minutes, then reduce the oven temp to 375°F (do not open the oven door) and bake for another 13-15 minutes. Cool muffins in the muffin tin for 10 minutes, then run a sharp knife under just the edges of the muffin domes before turning out onto a wire rack to cool completely.
Notes
Whole milk can be substituted for buttermilk, although buttermilk will result in a more tender muffin.
Muffins can be baked as 24 miniature muffins; bake at 350 °F for 12-13 minutes.
Muffins can be stored at room temperature for up to 5 days, or wrapped in foil and stored in a zip-top bag in the freezer for up to 3 months.
A Bunsen Burner Bakery Original Protocol
Recommended Products
As an Amazon Associate and member of other affiliate programs, I earn from qualifying purchases.