October 15, 2015
Chocolate Chip Pumpkin Bread
Chocolate chip pumpkin bread is a fall favorite!  This version is extra moist, thanks to the addition of yogurt, and perfectly spiced with  cinnamon.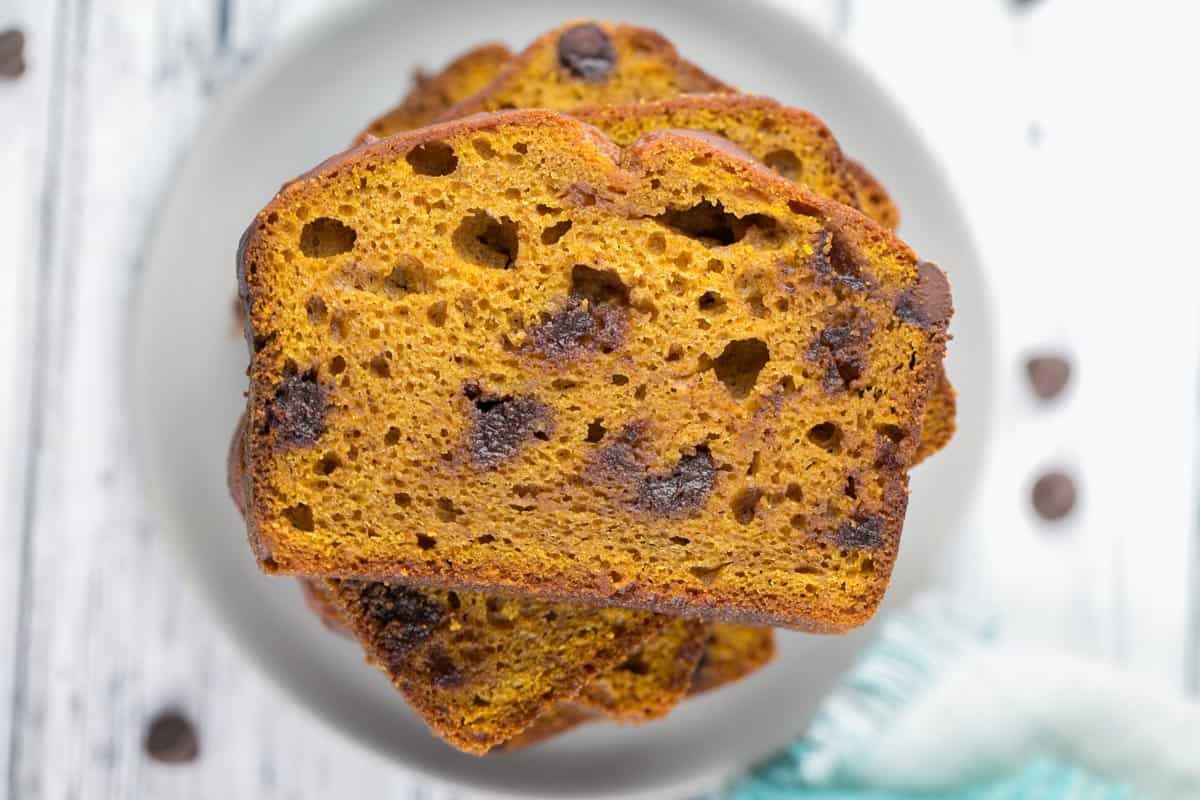 Oh, hey — it's October, and here's a pumpkin recipe.  I know, could I possibly be more cliché (I really can't stand the overuse of the #basic hashtag, but yes, it probably applies here as well)?
I've found that my love of pumpkin has dwindled lately, inversely related to the increased rise in pumpkin popularity.  I think I liked it because it seemed almost special.  There really weren't too many pumpkin-flavored foods (pumpkin pie, pumpkin ice cream, pumpkin bread) and they were available for such a short period of time.
But now?  Pumpkin Oreos.  Pumpkin Spice Marshmallows.  Break-and-Bake Pumpkin Spice Nestle Toll House Cookies.  Pumpkin Pie Greek Yogurt.  Pumpkin Spice Milano Cookies.  And of course, the ubiquitous PSL.  Stop the madness!
And yet here I am, contributing to your annual ridiculous pumpkin overload.  I kind of hate myself, too.  But somehow, it doesn't feel like fall unless I make this chocolate chip pumpkin bread at least once, and it's always a real crowd pleaser.
As I'm writing this, I'm sitting at a shore house in Avalon, NJ, with a group of friends for our annual Columbus Day Week beach trip.  It actually feels nothing like fall outside.  We've hit an amazing stretch of weather with sunny, 70 degree days, and have spent every day basking in sunny glory on the beach.
But the chocolate chip pumpkin bread has still disappeared, despite the uncharacteristically warm temperatures.  (We were all ill-prepared and had to purchase swimsuits and shorts for our time spent on the beach).
Given the lack of fall-ness around here, I just may have to make this one more time this season.  But that's okay – I don't think anyone will complain.  Just like no one has complained about having to eat pumpkin bread while wearing aforementioned swimsuits and shorts and slathering on some sunscreen before another beautiful day on the beach.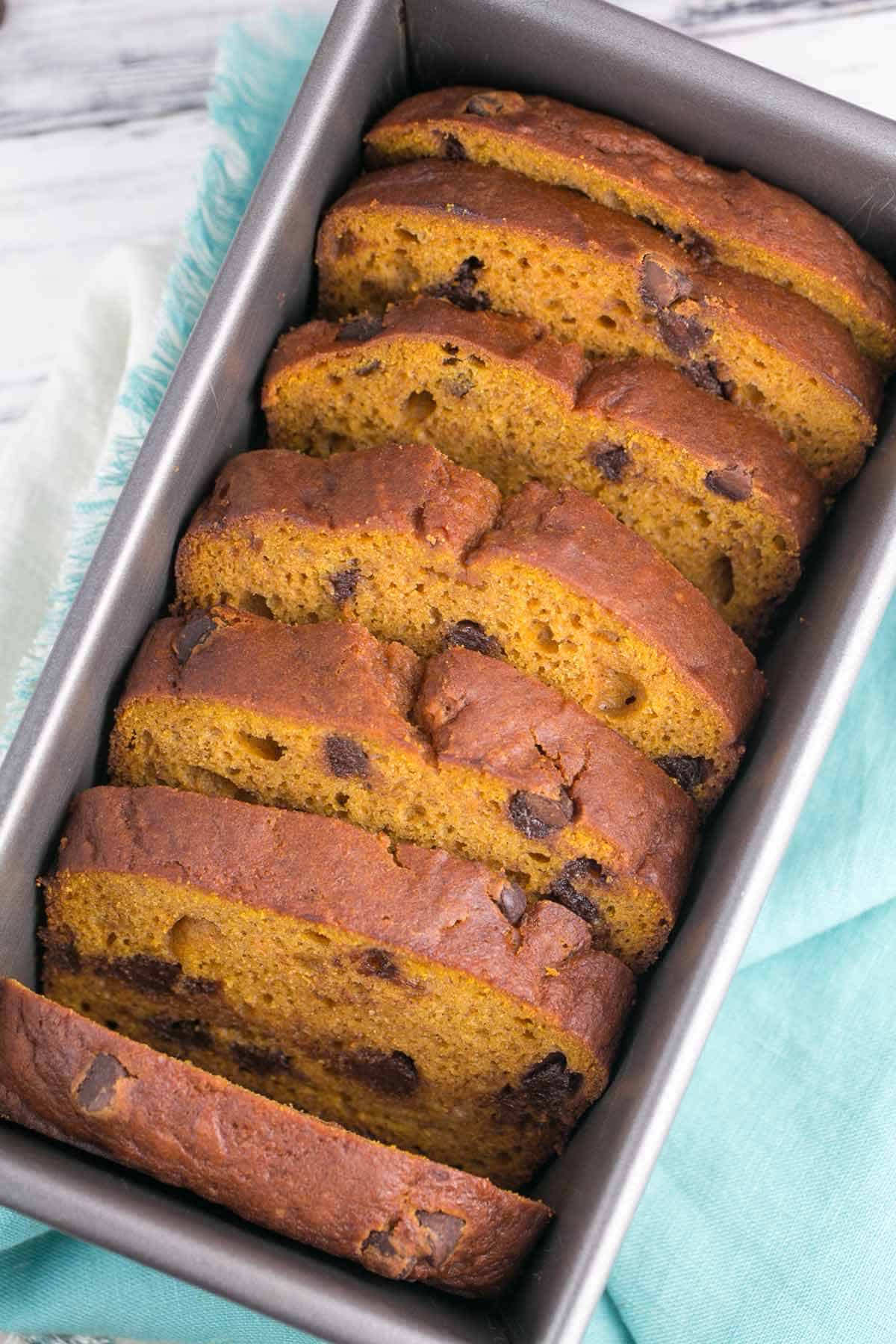 Why do we bake with yogurt?
This chocolate chip pumpkin bread is a little dense but not at all dry, thanks to the addition of yogurt.  I usually use vanilla yogurt, but this is a really fun chance to play around with flavors.  Try it out for yourself — I've made it with maple and it was delicious.  You could even use one of those pumpkin pie flavored yogurts hogging up valuable yogurt shelf-space this month.  I promise not to roll my eyes.  Too much.
But why are we adding yogurt to the cake?  We already have 2 cups of canned pumpkin and half a cup of oil.  What could yogurt possible contribute, on top of all those other liquid ingredients?  Time for my favorite subject: kitchen chemistry!
In baking, the liquid component of a cake provides two major roles: it determines the acidity and the fat level of the batter.  The acidity of the cake both interacts with leavening reagents to help the cake rise and has an effect on gluten development.  Fat content, meanwhile, provides moisture content and reduces gluten formation.

Ideal gluten development happens at a pH between 5 and 6.  For crusty breads, we want lots of gluten!  For a cake… we d0 not.  We want a soft, tender crumb.  We can get this one one of two ways: adding extra fat to reduce the gluten formation (hello, cakes with lots of butter!) or lower the pH.
Adding yogurt is a great way to lower the pH of the batter to reduce gluten formation, resulting in a tender, fine-crumbed cake or quick bread, while reducing overall fat content.  Win-win!
How to make Chocolate Chip Pumpkin Bread
This chocolate chip pumpkin bread recipe is seriously, seriously easy.  Like, one bowl, one whisk easy.
Whisk together the sugar, pumpkin, oil, yogurt, and eggs.  Then add in the flour, baking soda, and some spices.  Fold in chocolate chips.  Pour into loaf pans.  Bake.
And thanks to the addition of yogurt, we can keep the amount of oil to a minimum in the recipe.  So, you know, it's basically low fat.  All the more reason to have a second (or third) slice!
More Pumpkin Recipes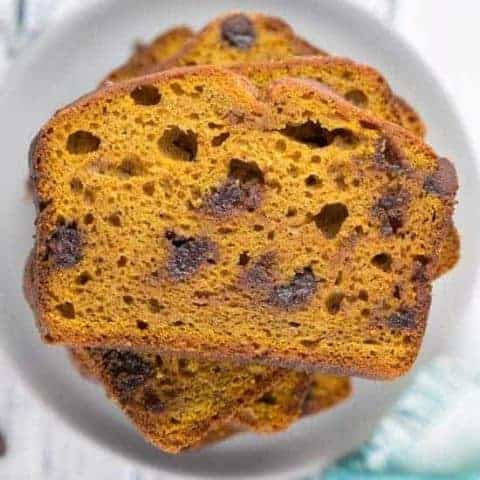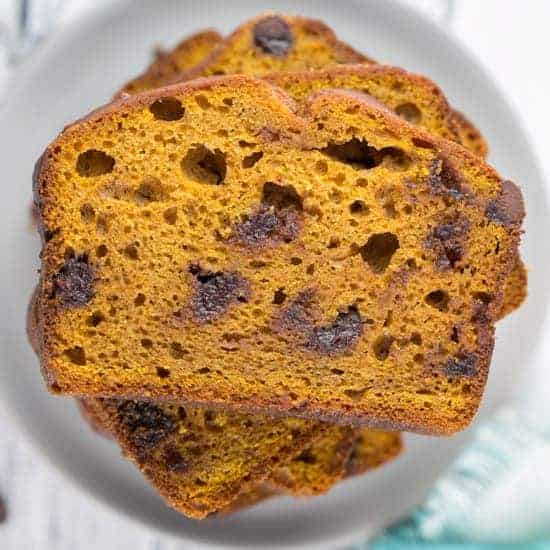 Chocolate Chip Pumpkin Bread
Yield:
2 loaves (24 slices)
Cook Time:
1 hour
10 minutes
Total Time:
1 hour
20 minutes
Chocolate chip pumpkin bread is a fall favorite! This version is extra moist, thanks to the addition of yogurt, and perfectly spiced with cinnamon.
Ingredients
2 cups sugar
1 (15-ounce) can (~2 cups) canned pumpkin
1/2 cup canola oil
3/4 cup yogurt (plain or flavored)
4 eggs
3 cups all-purpose flour
1 tablespoon ground cinnamon
1 1/4 teaspoon salt
1 teaspoon baking soda
1 cup chocolate chips
Instructions
Preheat oven to 350F. Grease two 8×4-inch loaf pans.
In a large bowl, whisk together sugar, pumpkin, canola oil, yogurt, and eggs.
Stir in the flour, cinnamon, salt, and baking soda until dry and wet ingredients are just combined.
Fold in chocolate chips.
Spoon batter into prepared loaf pans and bake for 1 hour and 10 minutes, or until a tester comes out with just a few moist crumbs.
Cool pumpkin bread in the loaf pans for 10 minutes; then remove from the pans and cool completely on a wire rack.
Notes
Pumpkin bread is best consumed within 3 days of baking. For long term storage, freeze a loaf by wrapping in aluminum foil and storing in a freezer bag. Freeze for up to 3 months. Thaw overnight at room temperature.
A Bunsen Burner Bakery Original Protocol
Recommended Products
As an Amazon Associate and member of other affiliate programs, I earn from qualifying purchases.
Nutrition Information:
Yield:

24
Serving Size:

1 slice
Amount Per Serving:
Calories:

225
Total Fat:

8g
Carbohydrates:

35g
Sugar:

21g
Protein:

3g