September 15, 2016
Chocolate Hazelnut Cake
Two layers of rich chocolate hazelnut cake, sandwiched between layers of fluffy Nutella buttercream, topped with chocolate ganache and chopped hazelnuts. Simple flavors, decadent dessert.
If my grad school labmates hadn't bestowed the name Bunsen Burner Bakery upon this little food blog, I probably would have gone with something like The Midnight Baker. Or The Last-Minute Baker. Perhaps, The Procrastinating Baker – that has a nice ring to it.
Because if I've committed to baking something, chances are you'll find me in the kitchen at 2am in a cloud of flour and cocoa powder. Hi, I'm Julie, and I always wait until the last minute.
My husband and I are polar opposites in so many ways. He want to know every last detail; I like waiting and rolling with the punches. He thinks there's nowhere like home, with your couch and your TV and your dog; I think there's nothing better than exploring the world. His indulgence of choice: chocolate cheesecake. My indulgence of choice: a big box of Cheez-Its. He listens to sports podcasts; I listen to NPR Politics podcasts. He'll take chocolate cake with a big scoop of chocolate ice cream for dessert; make mine a blueberry pie with a scoop of vanilla, please. Introvert (him), extrovert (me).
But perhaps the biggest difference between us? The speed at which we get things done. He has his lectures for residents done weeks (often months) ahead of time. Me? I'm giving a departmental talk tomorrow. I'll start working on my presentation… when I finish this post.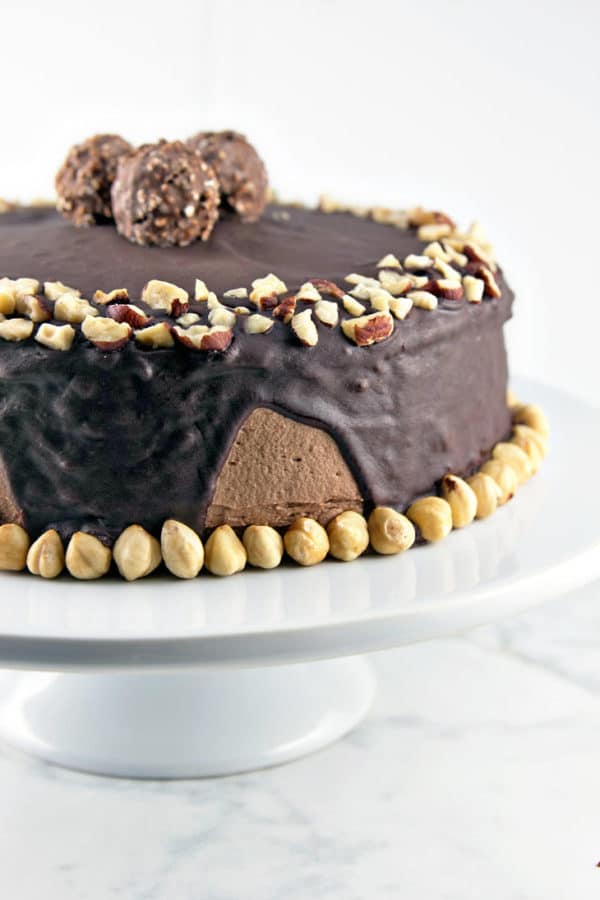 My wait-until-the-last-minute habits drive my husband nuts. I'm completely calm and relaxed, but he stresses on my behalf. Am I overconfident? Do I rely too much on that feeling like "everything works out in the end?"
Perhaps, but a recent TED Radio Hour podcast on procrastination explains it perfectly. The longer I wait, the better ideas I get. It's not that I'm entirely putting it off – I'm constantly thinking about things, tossing around new ideas, deciding what works best. I just wait until the last minute for the execution.
While putting Ryan to bed last night, I was running through my talk in my head – I just have to make the slides to go along with the talk in my head. Aaron Sorkin totally nailed it when he told Katie Couric, "You call it procrastinating. I call it thinking."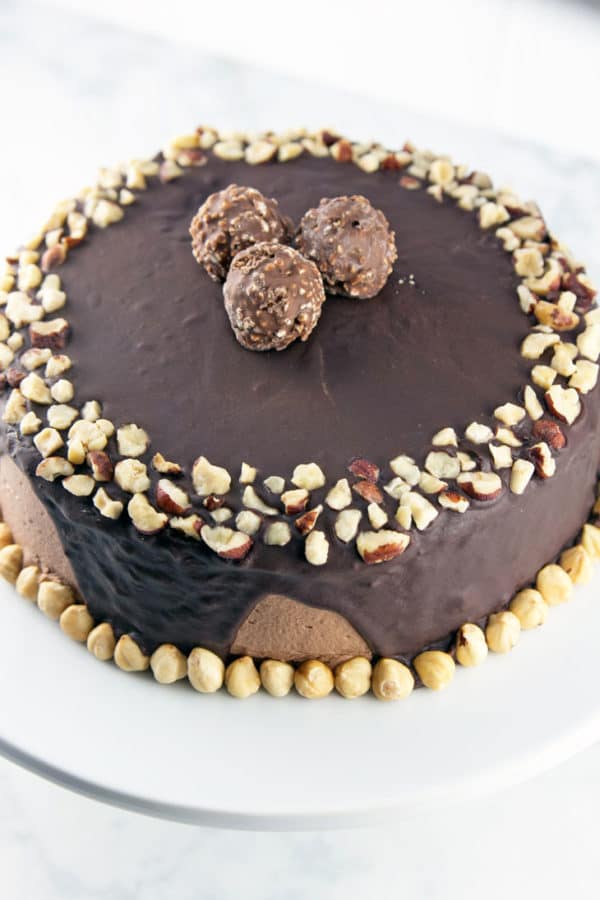 And thus, I procrastinated thought my way into this very last minute chocolate hazelnut cake, a Father's Day treat for my father. Giant bag of roasted hazelnuts*, last minute overnighted from Amazon (thank you, Amazon, for encouraging my procrastination). A box of Ferrero Rocher chocolates, a holiday gift from a friend.
And finally, after the little guy was fast asleep and my science-related work for the evening was done, I started baking this cake. At 2am.
Last minute baking is totally my jam, but not for the faint of heart. Once you commit, you commit – there's no time for redos.
If you notice in the photo below, the two cake layers are not exactly even. I didn't want to pull everything out out of my cabinets for my cake leveler (pulling things out is so loud, and the last thing I needed was to wake my sleeping baby!), so I tried leveling by hand. I couldn't get the cake even on both sides, so I kept trimming away a little more… and a little more… and a little more… until I realized I had whittled away half the cake.
Ooops. Oh well, an uneven cake is still delicious! (I assure you, no one even noticed those uneven layers once they took a bite.)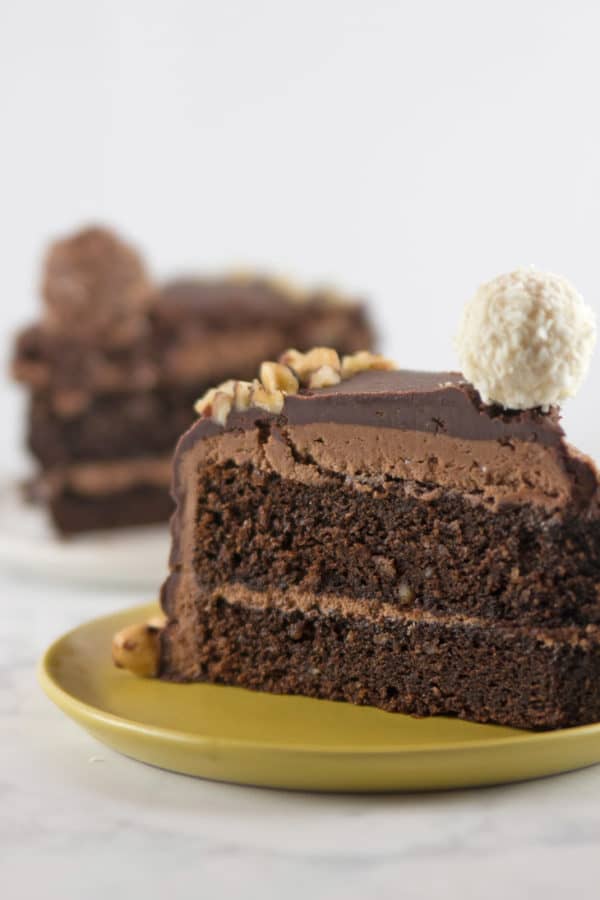 And this chocolate hazelnut cake sure was delicious… assuming you're into chocolate cake (I am not, so I rely on comments from family and friends).
A rich, fluffy cake, full of chocolate flavor and chopped hazelnuts. Nutella-based chocolate hazelnut frosting, whipped to perfection. A layer of decadent chocolate ganache. Chopped hazelnuts and a few Ferraro Rocher chocolates as decoration.
Don't be turned off by the number of steps listed below – this cake is pretty simple to make. Only two layers, easy frosting. Cover the whole top with microwave-made chocolate ganache. Then sprinkle on some hazelnuts for decoration (totally optional!) and you have a lovely cake.
Simple perfection. Another successful last-minute baking endeavor – let the tradition continue!
Chocolate Hazelnut Cake
Two layers of rich chocolate hazelnut cake, sandwiched between layers of fluffy Nutella buttercream, topped with chocolate ganache and chopped hazelnuts
Ingredients:
For the Cake:
2 1/4 cups all-purpose flour
1/4 cup Dutch process cocoa powder
1 teaspoon baking soda
1/2 teaspoon salt
2/3 cup butter, room temperature
1 1/2 cups sugar
3 eggs
2 teaspoons vanilla extract
1 1/2 cup buttermilk
1 cup ground hazelnuts (whole hazelnuts can be ground in a food processor or crushed in a ziploc bag with a heavy pan)
For the Frosting:
6 tablespoons unsalted butter, room temperature
3/4 cup Nutella
1/2 teaspoon salt
3 cups confectioners sugar
3 tablespoons heavy cream
For the Ganache:
6 ounces dark chocolate, chopped
3/4 cup heavy cream
optional decorations: whole roasted hazelnuts, Ferraro Rocher hazelnut chocolates
Directions:
Preheat oven to 350 °F.  Line two 8-inch round cake pans with parchment paper and lightly grease.
In a medium bowl, whisk together flour, cocoa powder, baking soda, and salt.
In the bowl of a stand mixer or a large bowl using a hand mixer, cream together butter and sugar until light and fluffy.  Beat in eggs, one at a time, followed by vanilla extract.
With the mixer running, stir in half the flour, followed by half of the buttermilk.  Add the remaining flour mixture, followed by the rest of the buttermilk.  Beat the mixture until dry ingredients are just incorporated and no pockets of flour remain.  Add in 1 cup of ground hazelnuts, stirring by hand until mixed into the batter.
Divide cake batter evenly between pans.  Bake for 30-35 minutes, until a tester comes out with a moist crumb.  Cool in pan for 15 minutes, then invert onto a wire rack to cool completely before frosting.
While cake cools, prepare the frosting.  Beat the Nutella, butter, and salt together in a mixer, until fully combined and fluffy, 2-3 minutes.  Slowly add in confectioners sugar while mixer is running.  The mixture will appear very dry and crumbly.  Add in the heavy cream and beat on high speed until the frosting is light and smooth.
To assemble the cake, level the cakes if necessary.  Cover the bottom layer with a heap of frosting, spreading to the edge.  Top with the second cake layer, followed by another heap of frosting.  Use the remaining frosting to cover the sides of the cake.  For a smooth finish, dip an offset spatula or knife in hot water and gently spread over the frosting.  Refrigerate the cake for at least an hour, until the frosting is set.
While the cake chills, make the ganache.   Add the heavy cream to a small, microwaveable bowl, and microwave 2-3 minutes, until steaming.  Add the chopped chocolate to the bowl and allow the mixture to sit for 5 minutes to melt the chocolate.  Whisk the heavy cream and melted chocolate together until smooth.  Set aside to cool until room temperature, whisking occasionally.
Pour the chocolate ganache into the center of the cake.  Push the ganache to the outside of the cake using a spatula, allowing the ganache to run down the sides of the cake.  Decorate with whole or chopped hazelnuts, and/or Ferraro Rocher hazelnut chocolates.
A Bunsen Burner Bakery Original Protocol
*Amazon links are affiliate