November 13, 2020
Flourless Brownie Pie
Chewy edges, ultra-gooey middle: this extra fudgy Flourless Brownie Pie is the perfect brownie, baked right into a pie crust.  Simple ingredients, one bowl, gluten free.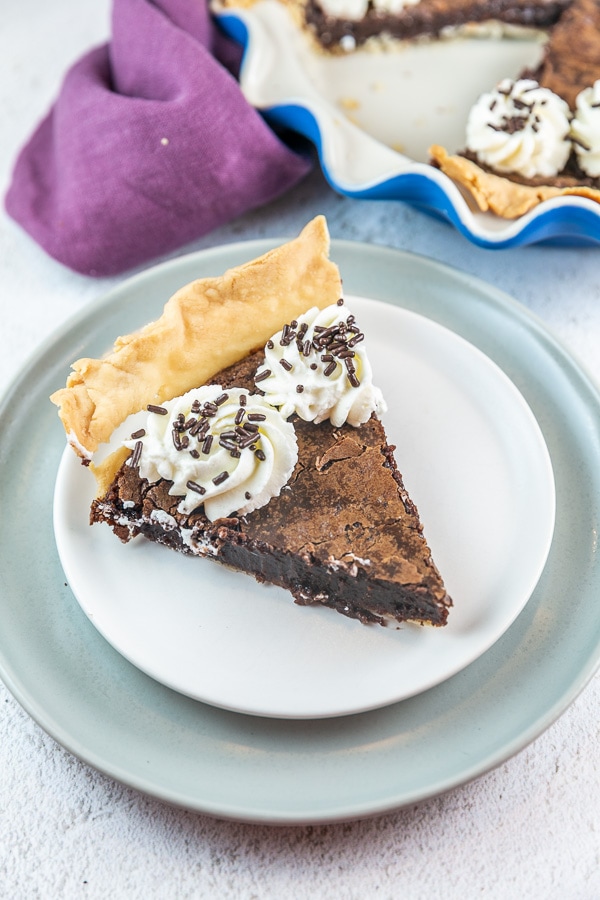 Is it even Thanksgiving season without sharing a pie recipe? 🤔 Thanksgiving is like the Super Bowl of pies, and as a dedicated pie lover, I am here for it.
This year, I'm re-sharing an improved version of a family favorite: an ooey-gooey, super fudgy, flourless brownie pie.
I know, it's a little non-traditional for Thanksgiving.
(If you want more traditional, allow me to suggest any of the following: Nutella Swirled Pumpkin Pie, Chocolate Bourbon Pecan Pie, Chocolate Buttermilk Pie, Caramel Pear Pie, or Bourbon Buttermilk Pie.)
But! If you have a chocolate lover in your family, I promise this pie will be met with rave reviews.
And really, if there was ever a year to shake things up and try something different… 2020 is it, right? Zoom Thanksgiving with a side of brownie pie.
Hopefully next year we'll be back to in-person Thanksgiving gatherings… but I have a feeling the brownie pie will stick around.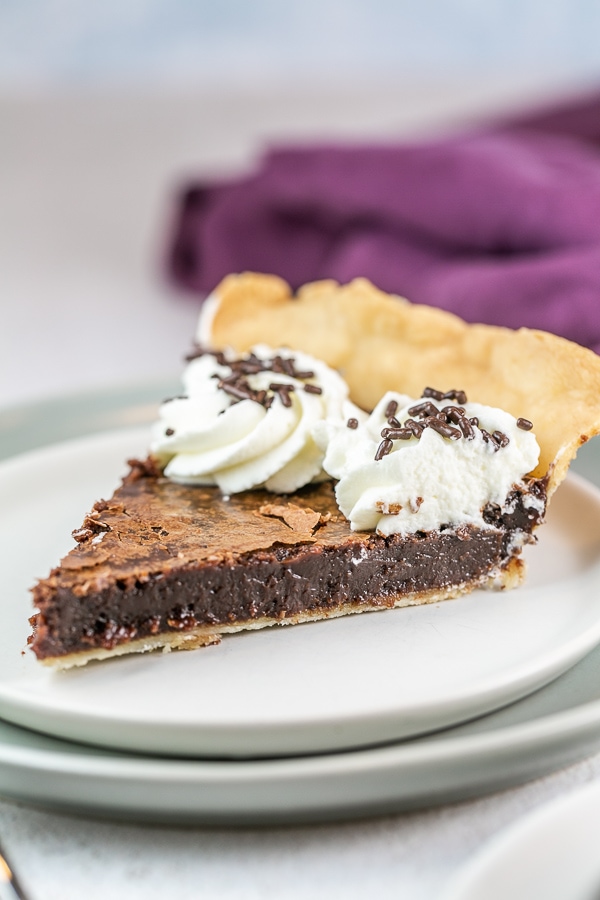 Fudgy Brownie in a Pie Crust
So what on earth is a brownie pie? It's basically a super fudgy, decadent brownie baked in a pie crust.
It's more like a flourless chocolate cake than a traditional brownie, and almost custardy in the center. You could probably call it a Flourless Chocolate Pie. Or a Baked Custard Pie.
(Oh, and that flourless part? That means that if you use an appropriate pie crust, this is gluten-free.)
Baking this in a pie crust means the middle can be so much fudgier and, well, gooey-er, than regular brownies, because you have a bottom to support the slice.
The edges around the crust start to get just a little chewy, so it's the best of both brownie worlds. The top is beautiful and shiny and flaky, just like my Simple Fudgy Brownies. The middle is buttery smooth and oh-so-gooey.
And it's all contained in delicious flaky pie crust.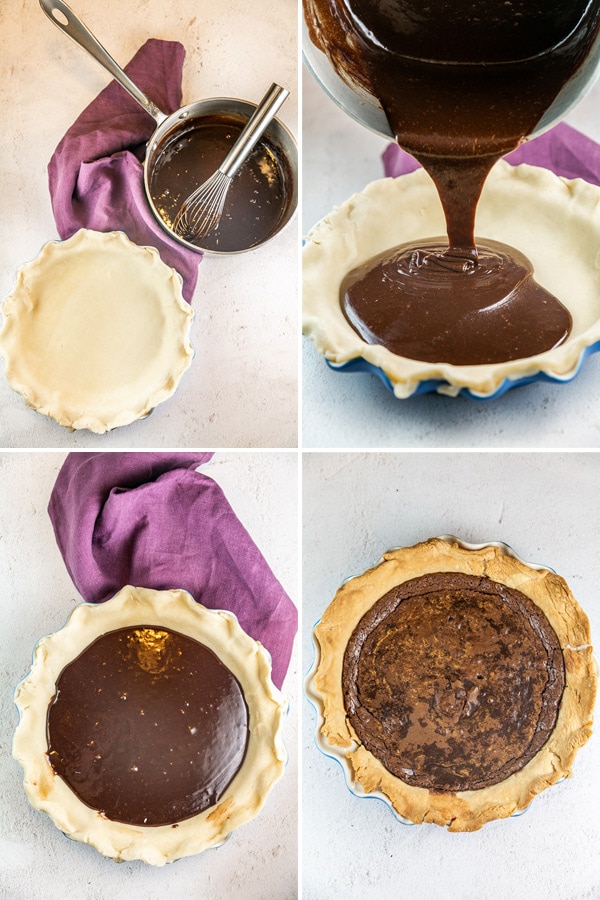 Easy No Fail Pie Crust
The first step to a brownie pie? A pie crust!
I, of course, use my No Fail Pie Crust recipe. It's easy, it's pretty much foolproof, and you can make the crusts ahead of time and store them in the freezer.
Homemade pie crusts not your thing? Feel free to substitute a store-bought crust.
Gooey Brownie Filling
Making the filling for the brownie pie is easy-peasy.
All you need is one saucepan and a whisk, along with some butter, sugar, chocolate, and eggs.
The reason the brownie filling is so fudgy and soft? The lack of flour!
Kitchen Chemistry

Flour provides the structure necessary to hold baked goods together.  As flour is hydrated, the proteins in the flour interact with each other and begin to form strands of gluten. The gluten is like an elastic network which stretches as baked goods rise.
Without the flour, our brownie pie filling doesn't develop as much structure and lift – meaning it maintains a custard-like interior.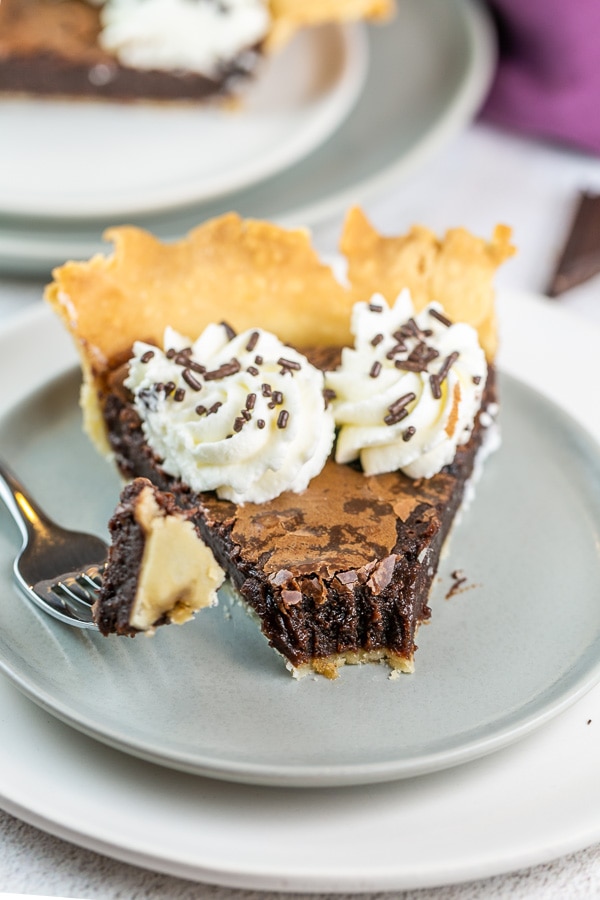 Common Questions about Flourless Brownie Pie
Can I use a store-bought pie crust?
Yes. Be sure to use a regular size pie crust, not deep dish, if you are using a pre-formed frozen crust in a disposable pie tin.
Can I use brownie mix for the filling?
Baking brownie mix inside a pie crust will work, but the texture will be different. Brownie mix will yield a normal crumby brownie, whereas this brownie pie has more a gooey, fudgy, custard-like (but still sliceable) filling.
Can this brownie pie be made ahead of time?
This can be made up to three days ahead of time and stored at room temperature, or frozen for up to 3 months.
How should I serve this pie?
We like it served at room temperature, but it can be heated briefly in the microwave (15-20 seconds) for a warm pie, or stored in the refrigerator for an even fudgier texture. While delicious plain, it's also perfect with some freshly whipped cream or vanilla ice cream.
Is this brownie pie gluten free?
Yes! The pie filling is entirely gluten free. The recommend pie crust recipe is not, but if you'd like to make a gluten free pie crust, I recommend using this recipe.
More Chocolate Pie Recipes: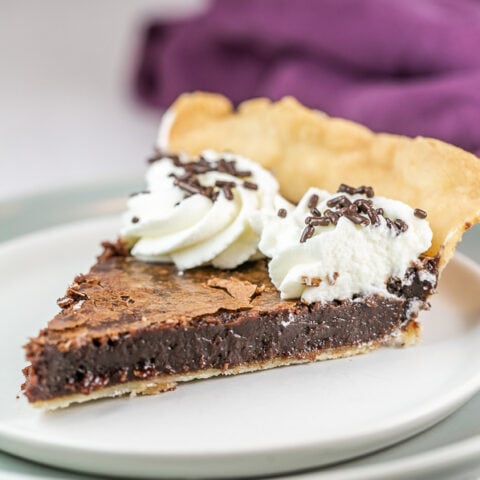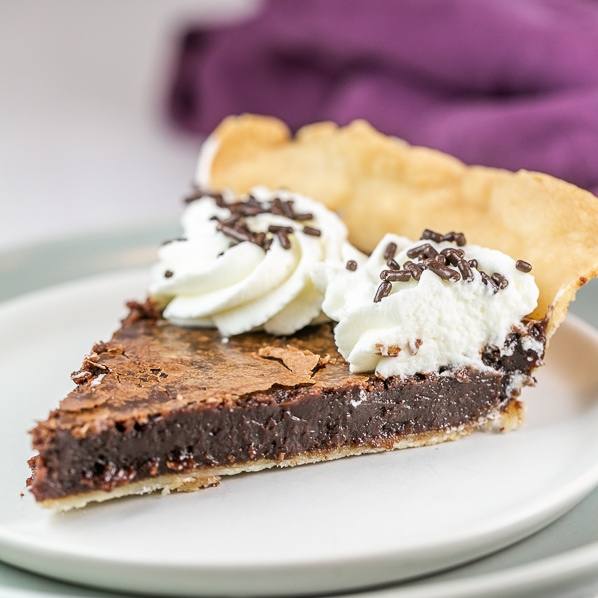 Flourless Brownie Pie
Chewy edges, ultra-gooey middle: this extra fudgy Flourless Brownie Pie is the perfect brownie, baked right into a pie crust.
Ingredients
4 ounces (113 grams) semi-sweet or dark baking chocolate
1/2 cup (113 grams) unsalted butter
1 cup (198 grams) granulated sugar
2 large eggs, room temperature
1 tablespoon unsweetened cocoa powder
1 teaspoon vanilla extract
pinch of salt
Instructions
Preheat oven to 350 °F.
Transfer the pie crust to a 9-inch pie plate and flute the edges. Place the pie crust in the freezer while preparing the chocolate brownie pie filling.
Melt the butter and chocolate together in a small, heavy bottomed saucepan over medium heat, whisking until combined. Remove from heat add in the sugar, whisking until fully incorporated. Add in the eggs, one at a time, whisking after each addition. Add the cocoa powder, vanilla extract, and salt and stir to combine.
Remove the crust from the freezer. Pour the pie filling into the crust. Bake for 35 minutes, or until edges are just set and brownie-like, but the middle is still soft and gooey. Enjoy warm or at room temperature.
Notes
For a gluten free pie crust, use this recipe.
Browne pie can be stored at room temperature for up to 5 days or frozen for up to 3 months.
A Bunsen Burner Bakery Original Protocol
Recommended Products
As an Amazon Associate and member of other affiliate programs, I earn from qualifying purchases.
Nutrition Information:
Yield:

8 slices
Serving Size:

1 slice
Amount Per Serving:
Calories:

419
Total Fat:

24.6g
Carbohydrates:

48.7g
Protein:

3.1g
This Flourless Brownie Pie recipe was originally published on 10/28/2016 and republished with new photos and helpful tips on 11/13/2020.