October 28, 2016
Flourless Chocolate Brownie Pie
Chewy edges, ultra-gooey middle: this flourless chocolate brownie pie is the perfect brownie, baked right into a pie crust. Simple ingredients, one bowl, gluten free.
This summer, our beloved neighbors of the past four years moved to Boston. We truly could not have asked for better neighbors with whom to share a wall (city rowhouse living for life!), and miss them terribly.
We had many things in common, truly enjoyed their company, and perhaps most important when you live next to a food blogger: they loved dessert.
A few weeks before they departed, we had them over for dinner. Knowing that they are both huge chocolate fans, I made a decadently rich, ooey gooey, chocolate brownie pie for dessert.
I took a few photographs before, and planned on taking a few photographs of an individual slice after they left.
Except… well… um… this is the before and after photo from the dinner:
Yes, that's right. The four of us ate an ENTIRE CHOCOLATE BROWNIE PIE.
I'm going to ask that you not think of this in terms of me being extremely gluttonous (though certainly I was that night). Instead, take it as a testament to the unbelievably deliciousness of the pie.
Alas, I had to make the pie all over again to take additional photos. I know, I had to make more pie. And then eat more pie.
Guys, it's really hard being a food blogger, and you should feel really bad for me.
I'm happy to report that the next time around, we were much more responsible and managed to get 8 servings. But it was hard to restrain ourselves. Oink, oink.
What is Chocolate Brownie Pie?
So what on earth is a gooey chocolate brownie pie? It's basically a super fudgy, decadent brownie baked in a pie crust.
It's more like a flourless chocolate cake or brownie than a traditional brownie, and almost custardy in the center. You could probably call it a Flourless Chocolate Pie. Or a Baked Custard Pie.
But I like really descriptive recipe names, and I can't think of a better way to describe this than a seriously gooey Flourless Chocolate Brownie Pie. (Oh, and that flourless part? That means that if you use an appropriate pie crust, this is gluten free.)
Baking this in a pie crust means the middle can be so much fudgier and, well, gooey-er, than regular brownies, because you have a bottom to support the slice.
The edges around the crust start to get just a little chewy, so it's the best of both brownie worlds. The top is beautiful and shiny and flaky, just like my Simple Fudgy Brownies. The middle is buttery smooth and oh-so-gooey.
And it's all contained in delicious pie crust.
How to make Flourless Chocolate Brownie Pie
It's just like making a brownie! Well, and a pie crust.
Start by prepping your pie crust, just like you would for any other pie. (I, of course, use this No Fail Pie Crust recipe.)
The brownie filling is easy-peasy. Simple ingredients: butter, sugar, chocolate, eggs. One saucepan and one whisk. Pour into the crust and bake. Just 10 minutes of prep, 35 minutes of baking and you can have your own gooey, delicious flourless chocolate brownie pie.
Serves Four. Oink, oink.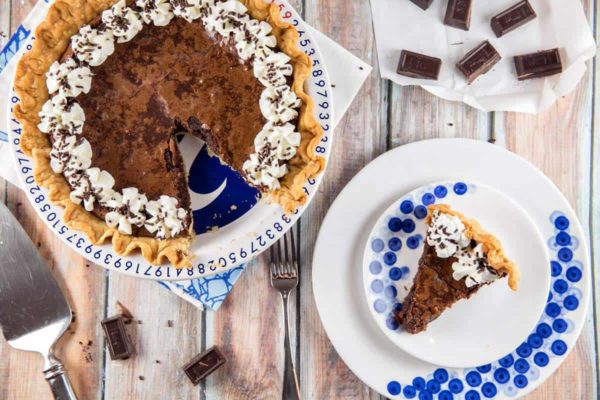 More Brownie Recipes:
Flourless Chocolate Brownie Pie
Chewy edges, gooey middle – the perfect brownie, baked right into a pie crust.
Ingredients
4 ounces semi-sweet or dark baking chocolate
1/2 cup butter
1 cup granulated sugar
2 eggs, room temperature
1 tablespoon unsweetened cocoa powder
1 teaspoon vanilla extract
Instructions
Preheat oven to 350 °F.
Transfer the pie crust to a 9-inch pie plate and flute the edges. Place the pie crust in the freezer while preparing the chocolate brownie pie filling.
Melt the butter and chocolate together in a small, heavy bottomed saucepan over medium heat, whisking until combined. Remove from heat add in the sugar, whisking until fully incorporated. Add in the eggs, one at a time, whisking after each addition. Add the cocoa powder and vanilla and stir to combine.
Remove the crust from the freezer. Pour the pie filling into the crust. Bake for 35 minutes, or until edges are just set and brownie-like, but the middle is still soft and gooey. Enjoy warm or at room temperature.
Notes
For a gluten free pie crust, use this recipe.
A Bunsen Burner Bakery Original Protocol
Recommended Products
As an Amazon Associate and member of other affiliate programs, I earn from qualifying purchases.
Nutrition Information:
Yield:

8 slices
Serving Size:

1 slice
Amount Per Serving:
Calories:

419
Total Fat:

24.6g
Carbohydrates:

48.7g
Protein:

3.1g