August 25, 2016
Blueberry Pie Quick Bread
Bored with the same old blueberry muffins and quick breads?  Try something different with Blueberry Pie Bread — homemade blueberry pie filling swirled into the batter and topped with an almond crumble topping.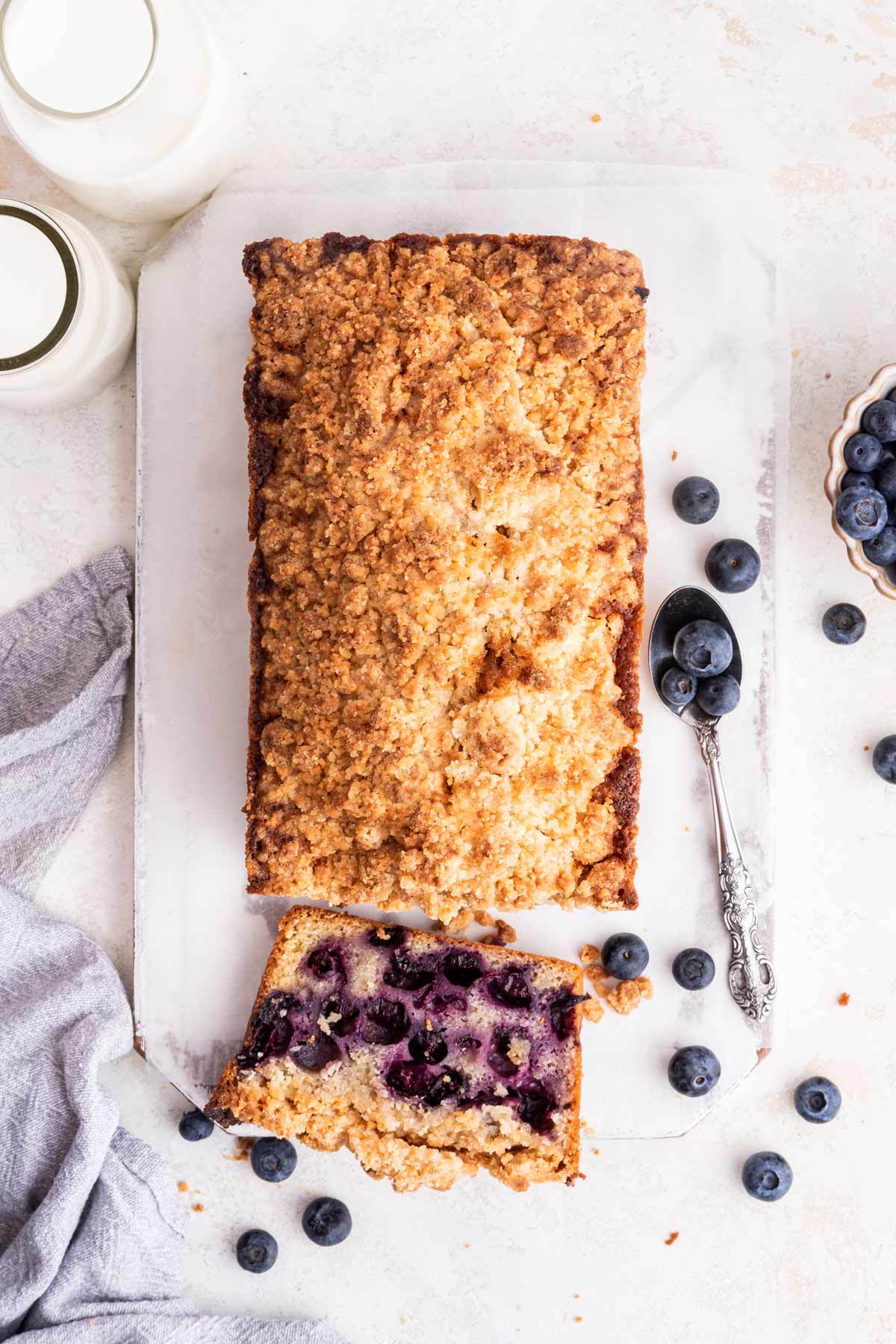 It's time for yet another in the 2016 Quick Bread of the Month series!
Fresh peaches have been abundant now, so I've been dreaming of some sort of peach bread for August. But.. blueberry pie bread is not peach.
A choosey toddler had different plans, and left me with an awful lot of unconsumed blueberries, and I couldn't possibly let all those fresh blueberries go to waste!
Ryan is digging other summer fruits much more than blueberries right now, and a blueberry bread is a perfect way to use up an unexpected excess. But what kind of bread?
Blueberry bread is kind of like banana bread. There are hundreds and hundreds of basically the same recipe out there.
My goal with Quick Bread of the Month is to do something a little off the beaten path each month, like this candied grapefruit bread, or cinnamon streusel rhubarb bread, or a savory Italian herb tomato bread.
Not just any blueberry bread will do – it has to be something a little different.
And so, I converted my favorite almond crumble blueberry pie recipe into a quick bread. Same blueberry filling, simmered on the stove. Except instead of pouring it into a pie crust, we're going to swirl it into a quick bread batter.
The bread itself is not super sweet. The blueberry swirl filling is completely reminiscent of a pie (goal achieved!) and the almond crumble topping adds both a great flavor and textural contrast.
While this is certainly appropriate as brunch/mid-day snack option, I also wouldn't say no to a slice with a big scoop of ice cream for dessert. Blueberry pie bread a la mode. Yes, please!
Ingredients and Substitutions
Blueberries: Either fresh or frozen work for the bread!
Granulated Sugar: For both the blueberry pie filling and the quick bread batter.
Cornstarch: We'll be using cornstarch for our thickener – it's my favorite for thickening fruit. If you want to substitute in flour, double the amount since cornstarch has twice the thickening ability as flour.
Lemon Juice: Lemon juice helps set the pectin in the blueberries, making a thicker jam consistency.
Butter: Unsalted and melted. To keep the blueberry bread dairy-free, you can substitute vegetable oil instead.
Eggs: Two large eggs, at room temperature.
Milk: I always bake with whole milk, but high-protein plant-based milk, like soy milk or pea milk, can be used.
All-Purpose Flour: Be sure to either measure by volume or fluff the flour, spoon it into a measuring cup, and level the top. Too much flour results in dense and tough blueberry bread!
Almond Paste: The crumble topping is made with almond paste or marzipan – you can find one or the other in the baking aisle of most grocery stores.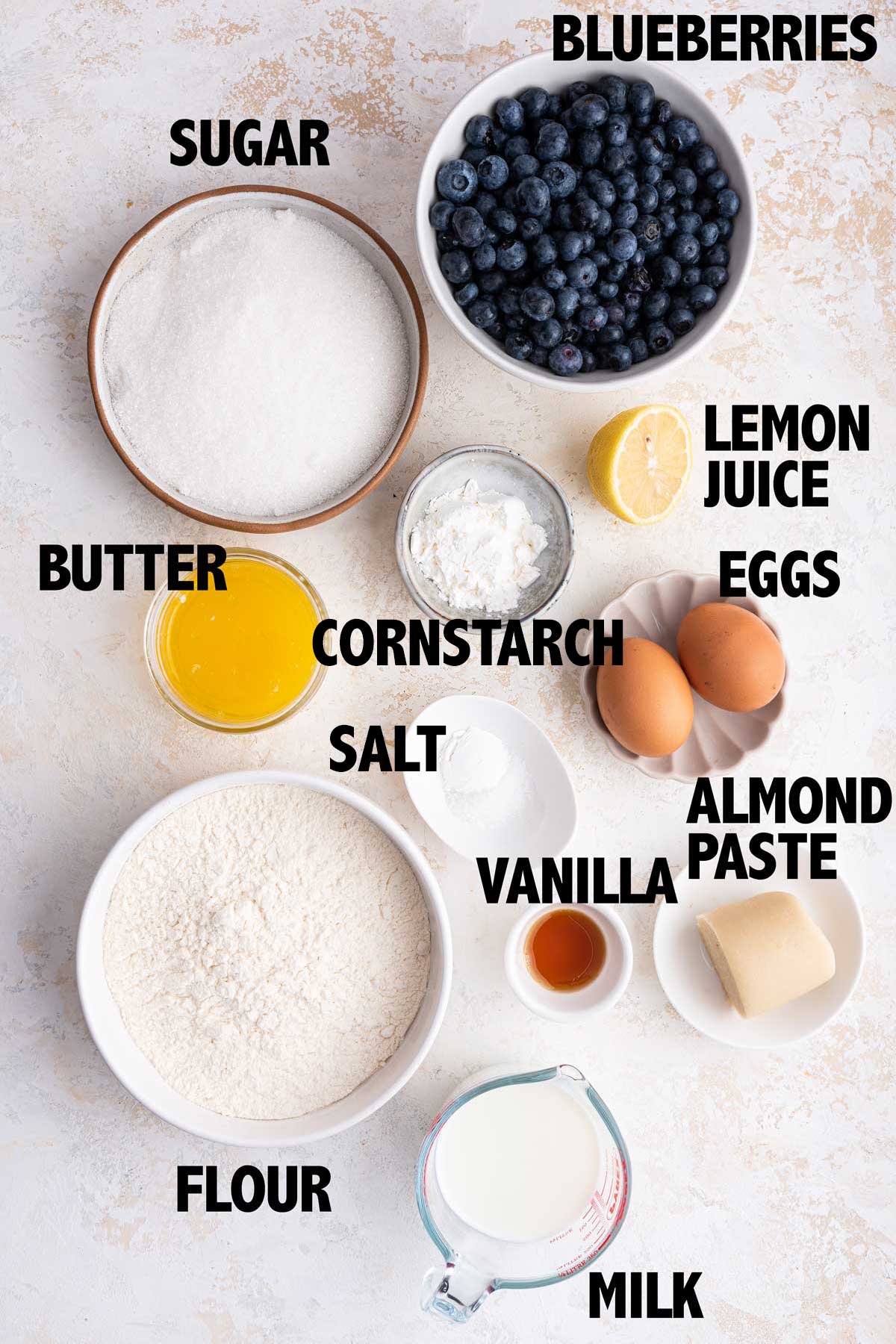 Homemade Blueberry Pie Filling
The star of this bread is the homemade blueberry pie filling. It's swirled into the batter, and it's both delicious and beautiful!
You might realize that there's a high ratio of cornstarch to berries in this.
You know how blueberry pie is sometimes a little goopy and juicy and delicious? That works great in a pie, but I didn't want that much in the swirly part of the bread.
We'll cook down the blueberries (fresh or frozen – this also works great with frozen berries!) until they're more of a jam-like consistency.
Let's talk a little more about cornstarch and how it works. It's time for my favorite subject… kitchen chemistry!
Kitchen Chemistry

When cornstarch is added to a recipe, the starch molecules start absorbing water through a process called gelatinization. This absorption causes the starch molecules to swell and thicken the mixture. Heat breaks down the hydrogen bonds between the starch molecules, allowing them to unwind and interact with water. As the mixture cools down, the starch molecules re-form hydrogen bonds and reassociate with each other, setting the structure of the mixture with a semi-solid or gel-like consistency.
One very important thing to keep in mind when it comes to cornstarch: don't boil the mixture! Very high temperatures or prolonged boiling leads to the breakdown of the starch molecules. The thickened mixture will lose its structure, reverting back to a more liquid state. Cook over medium-high heat, stirring frequently, and turn down the heat if the blueberry filling starts to boil!
Blueberry Bread Batter
We're using a very standard quick bread batter for this blueberry bread. I kept it on the less-sweet side; after all this is a bread and not a cake. (Although, if we're being honest, the line between the two is seriously blurred wth many quick breads!)
Because this recipe uses melted butter, it's a super simple mix-by-hand base recipe. Whisk together the liquid ingredients, stir in the dry ingredients, and then fold the blueberry pie filling into the batter.
Don't fold too much – more like a gently swirl. We don't want all the filling incorporated througout the bread, but rather, we're aiming for big pockets of blueberries dispersed throughout.
Almond Crumble Topping
The almond crumble, just like the pie, uses crumbled almond paste.
If you have a nut allergy, or really don't like almond, then you can always substitute a traditional brown sugar and butter streusel topping.
But if neither of these apply to you, I really, really recommend that you pick up some almond paste or even marzipan.
You should be able to find one or the other in the baking aisle of major grocery stores or pick it up from Amazon (the above links are affiliates).
The unexpected almond crumble really adds a great new flavor and a crumbly deliciousness to the bread.  
Recommended Tools to Make Blueberry Bread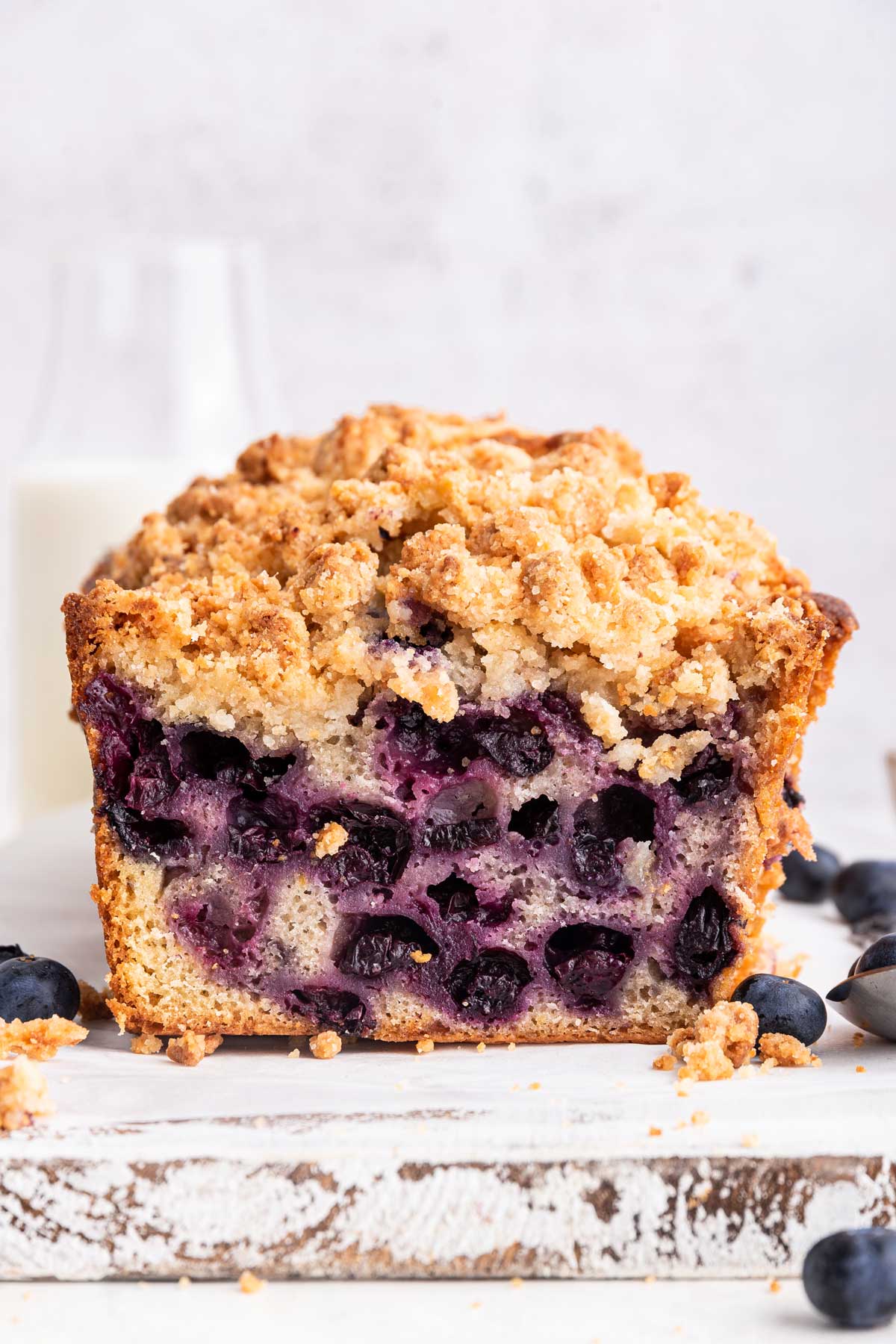 Tips and Tricks for the Best Blueberry Pie Bread
The blueberry pie filling can be made using either fresh or frozen blueberries.  Frozen blueberries may require cooking down for a few additional minutes.
Use room temperature eggs and butter for the best incorporation of ingredients while mixing.
If you can't find almond paste, marzipan can be substituted – it has a similar flavor, but a higher sugar content.
For a nut-free topping, replace the almond paste with an equal amount of brown sugar.
If the almond crumble topping is browning too quickly, tent the loaf pan with foil for the last 15-20 minutes of baking.
The bread can be stored at room temperature for up to 4 days or frozen for up to 3 months.  To freeze, wrap fully cooled bread in plastic wrap, followed by a layer of aluminum foil.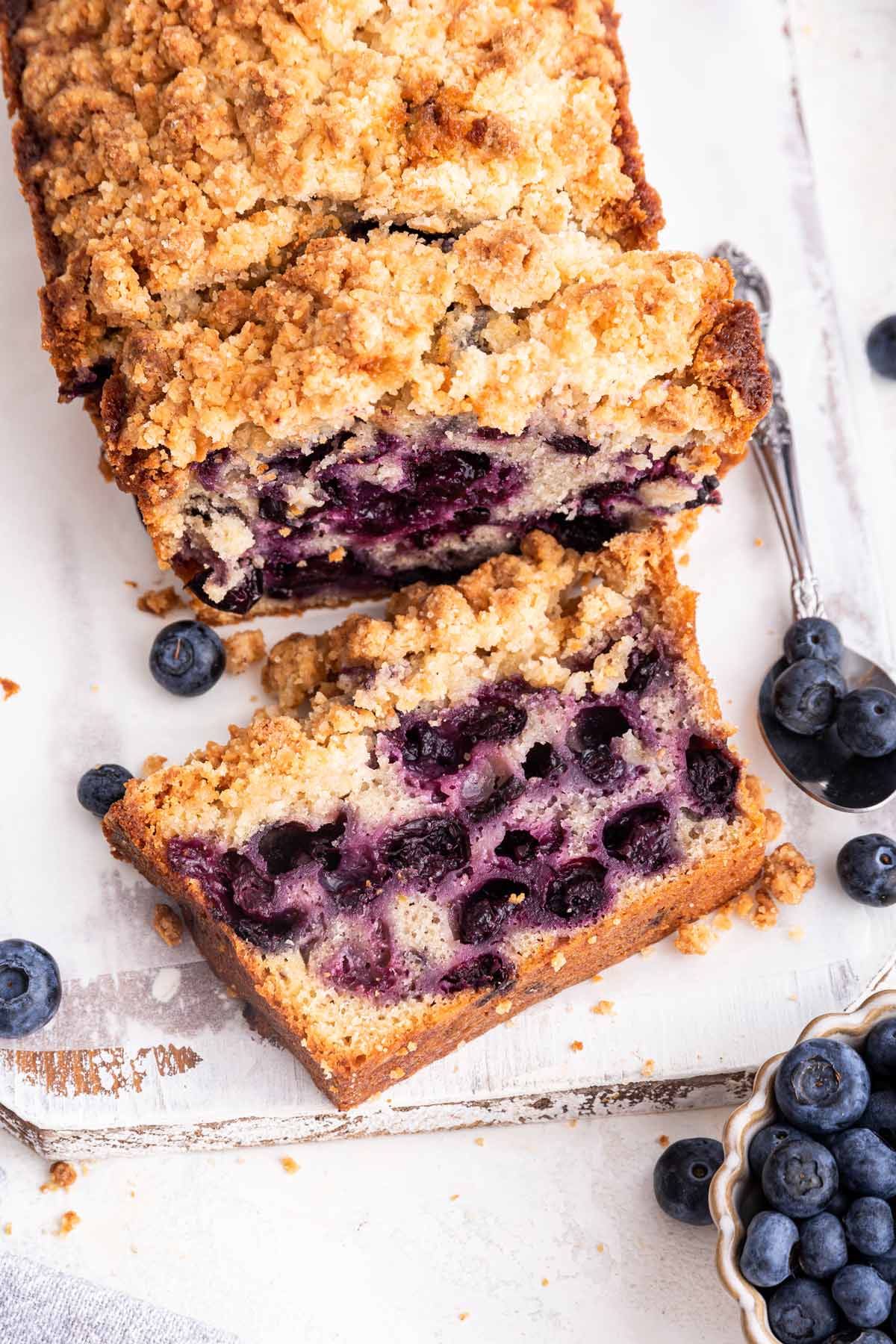 More Blueberry Dessert Recipes:
2016 Quick Bread of the Month Series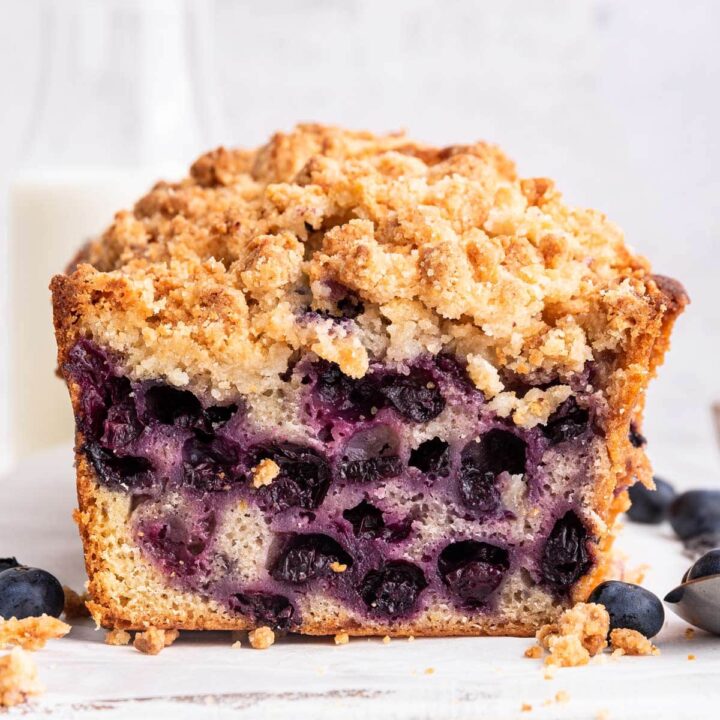 Blueberry Pie Quick Bread
Total Time:
1 hour
10 minutes
An easy quick bread swirled with homemade blueberry pie filling and topped with an almond streusel crumble.
Ingredients
For the Blueberry Pie Filling:
2 cups (170 grams) blueberries
1/4 cup (50 grams) granulated sugar
2 tablespoons (14 grams) cornstarch
1/2 teaspoon lemon juice
For the Bread:
1/3 cup (75 grams) unsalted butter, melted
1 cup (198 grams) granulated sugar
2 large eggs, room temperature
1/2 cup (113 grams) milk, room temperature
1 1/2 cups (180 grams) all-purpose flour
1 teaspoon baking powder
1 teaspoon salt
1 teaspoon vanilla extract
For the Almond Crumble:
2 1/2 tablespoons (35 grams) unsalted butter, melted
1/3 cup (40 grams) flour
1/3 cup (66 grams) granulated sugar
1/3 cup (86 grams) almond paste
Instructions
Preheat the oven to 350 °F. Grease an 8.5x4.5-inch loaf pan.
Make the blueberry pie filling. Combine the blueberry pie filling ingredients in a small, heavy-bottomed saucepan over medium-high heat. Cooking, stirring frequently, for about 10 minutes, until the mixture is quite thick. Remove from heat and set aside to cool.
Make the bread batter. In a large bowl, stir together the butter, sugar, eggs, and milk. Gently stir in the flour, baking powder, salt, and vanilla, until just combined. Fold in the blueberry pie filling until the filling and batter are swirled together. Pour the batter into the prepared pan and gently smooth the top.
Make the almond crumble. Combine the melted butter, flour, sugar, and almond paste in a small bowl. Using your fingers or two forks, break the almond paste into small pieces and stir together until a clump forms. Break the clump into small bits and sprinkle over the bread.
Bake the bread. Bake at 350 for 50-60 minutes, until a tester inserted into the bread comes out with a moist crumb. Cool in the pan for 10 minutes, then turn out to a wire rack to cool completely.
Notes
Fresh or frozen blueberries can be used for the blueberry pie filling.
Marzipan can be substituted for almond paste. For a nut-free version, replace the almond paste with brown sugar.
If the almond crumble topping is getting too dark during baking, tent the loaf pan with foil for the last 15-20 minutes of baking.
Blueberry pie bread can be stored in an airtight container at room temperature for four days or frozen for up to 3 months. To freeze, wrap fully cooled bread in plastic wrap, followed by a layer of aluminum foil.  Thaw unwrapped at room temperature.
Recommended Products
As an Amazon Associate and member of other affiliate programs, I earn from qualifying purchases.
Nutrition Information:
Yield:

12
Serving Size:

1 slice
Amount Per Serving:
Calories:

303
Total Fat:

10.5g
Carbohydrates:

49.1g
Protein:

4.1g