June 25, 2014
One Skillet Mexican Zucchini
Spice up your summer zucchini with tomatoes, red onion, jalapenos, cilantro, and cotija cheese. Easy one skillet, vegetarian and gluten free, Mexican zucchini includes all your favorite flavors.
If there's one thing ubiquitous with summer, it has to be zucchini. We've all experienced the zucchini overload, right?
Too much zucchini in your CSA box. Giant, cat-sized zucchini growing in your garden. Grocery stores practically giving it away. Summer is all about the zucchini.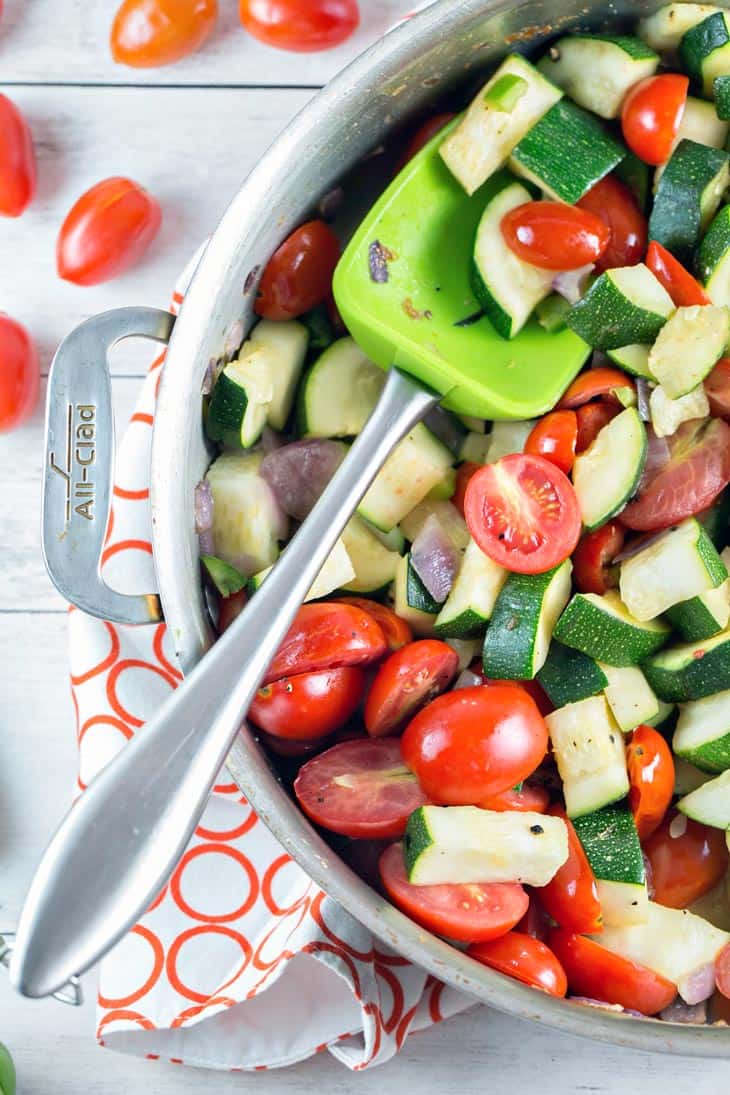 Don't like zucchini? You're not alone. I may have mentioned my love of zucchini many times before, but my husband most definitely does not share those feelings.
The only way he'll eat zucchini is if it's hidden in something. If it looks like a zucchini, smells like a zucchini, or tastes like a zucchini — he's out.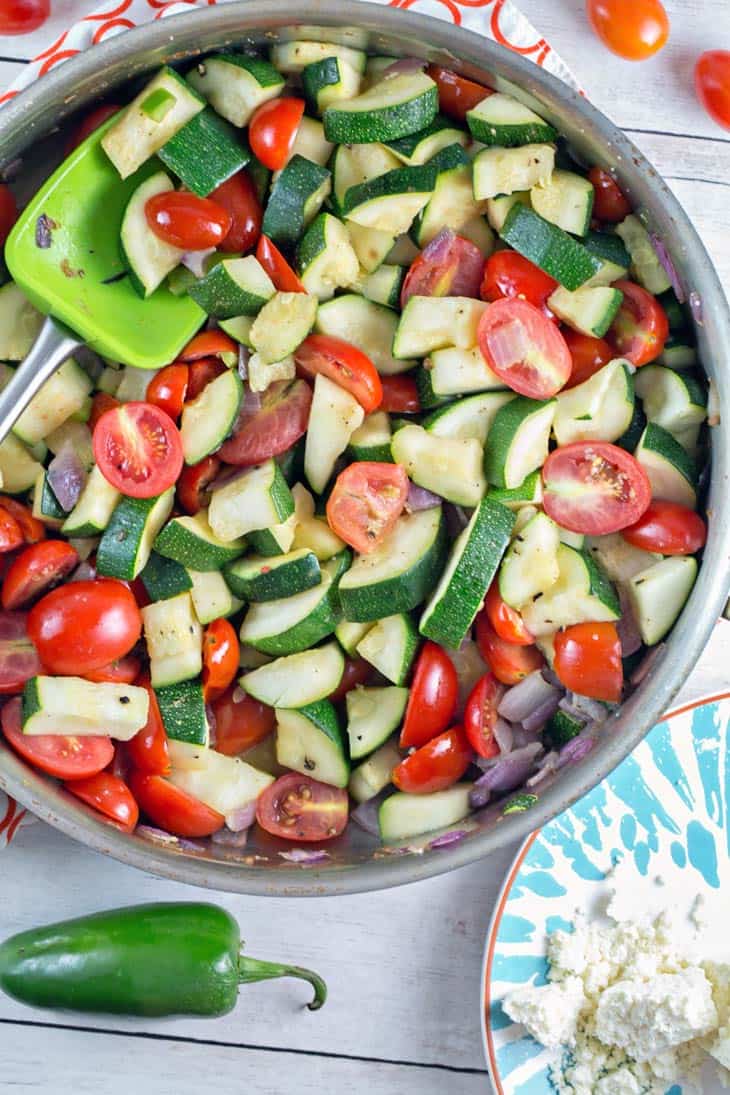 Ways he will eat zucchini: chocolate zucchini bread, grated into taco meat, chili, or sloppy joes. Ways he won't eat zucchini: this Mexican zucchini.
Which is really a shame, because it's so dang good.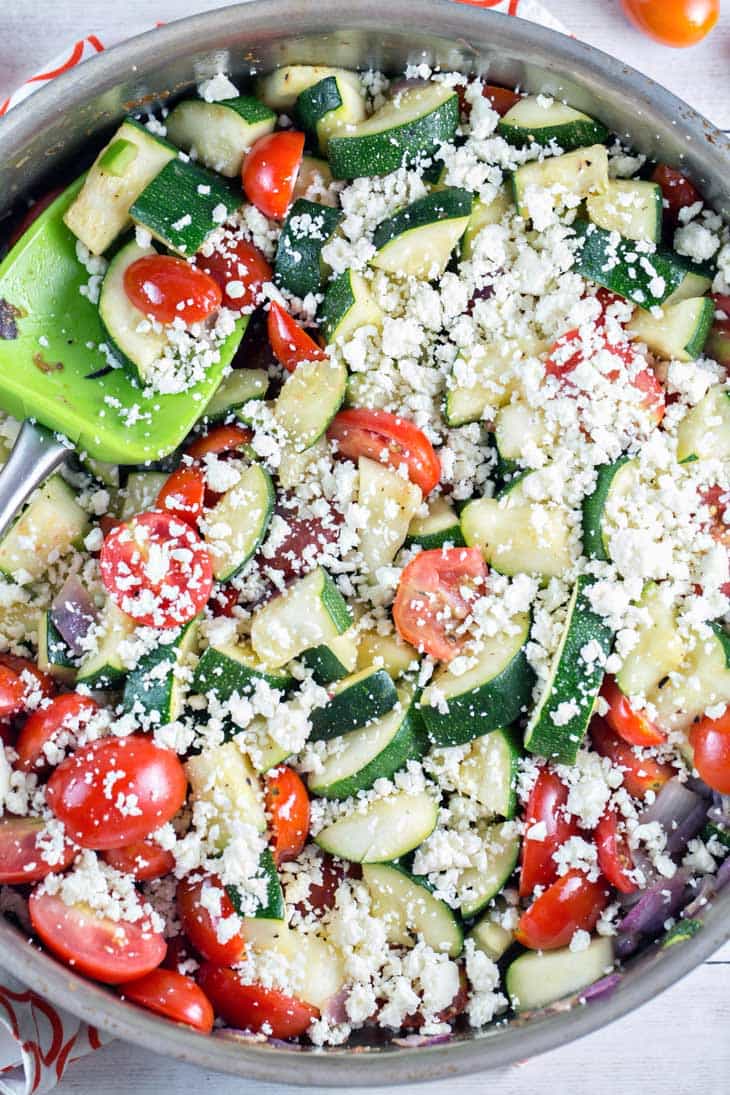 This week marks the last week of our many years of long-distance marriage (finally!). So I'm enjoying all the zucchini in its recognizable zucchini-like form right now. But this Mexican zucchini is so quick, easy, and delicious, I'm not sure I'll be able to give it up.
Summer zucchini and cherry tomatoes, red onion and garlic, fresh cliantro, jalapenos, and cotija cheese. It's all my favorite Mexican flavors, paired with fresh zucchini. And the perfect way to get through your giant zucchini stash.
I just can't get enough. Sorry Scott; I'm thrilled you're moving back home, but you might have to learn to like zucchini or get used to cereal for dinner.
One Skillet Mexican Zucchini
All your favorite fresh Mexican flavors, paired with fresh summer zucchini.
Ingredients:
2 tablespoons olive oil
2 cloves of garlic, minced
1/2 red onion, chopped
1 pound zucchini, chopped
1 pint cherry tomatoes, halved
1 jalapeno, minced
2 tablespoons minced fresh cilantro
salt + pepper, to taste
juice of 1 lime
6 ounces cotija cheese, crumbled
Directions:
Heat the olive oil in a large skillet over medium heat.  Add the garlic and sautee, stirring frequently, until fragrant.  Add in the red onion and zucchini, stirring occasionally, for 5 minutes, or until slightly softened.  Add in the tomato and jalapeno and cook an additional 3-4 minutes.
Remove skillet from the heat and add in the cilantro and salt and pepper to taste.  Squeeze the juice of the fresh lime over the vegetables, followed by the crumbled cotija and serve warm or at room temperature.
A Bunsen Burner Bakery Original Protocol