August 20, 2021
One Skillet Mexican Zucchini
Spice up your summer zucchini with tomatoes, red onion, jalapeños, cilantro, and cotija cheese.  Easy one skillet, vegetarian and gluten-free, One Skillet Mexican Zucchini includes all your favorite flavors.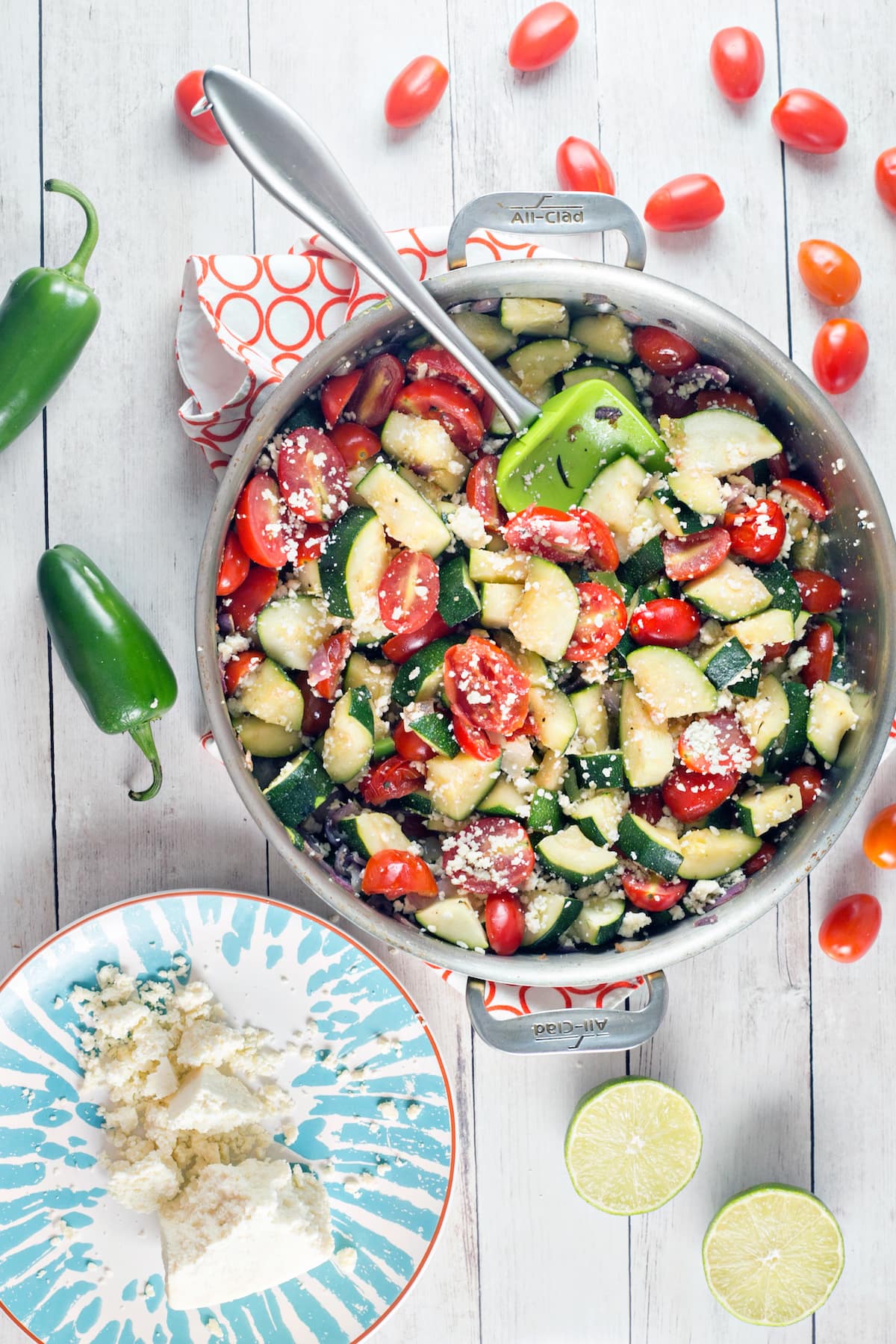 If there's one thing ubiquitous with summer, it has to be zucchini. We've all experienced the zucchini overload, right?
Too much zucchini in your CSA box. Giant, zucchini growing in your garden. Grocery stores practically giving it away. Summer is all about the zucchini.
Don't like zucchini? You're not alone. The other members of my household are most definitely not zucchini lovers the way I am.
If I'm looking to appease them, I make Double Chocolate Zucchini Bread, Streusel Topped Zucchini Muffins, Zucchini Bundt Cake, or Frosted Zucchini Brownies.
If, however, you're like me and do like zucchini when it actually tastes like a vegetable, you need this Mexican zucchini in your life.
Summer zucchini and cherry tomatoes, red onion and garlic, fresh cilantro, jalapeños, and cotija cheese. It's all my favorite Mexican flavors, paired with fresh zucchini. And the perfect way to get through your giant zucchini stash.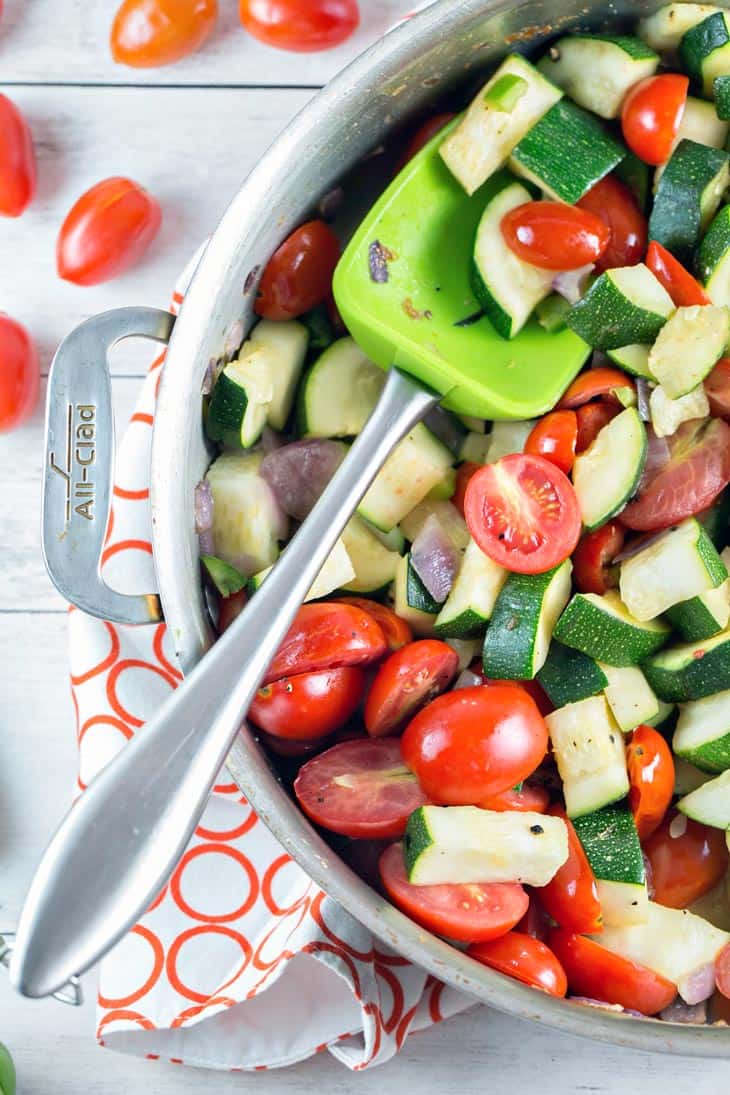 Quick and Easy Zucchini Side
Did I mention that this is quick and easy? As in, sauté in one pan in just 10 minutes quick?
All we're doing here is sautéing garlic, red onion, and zucchini until just slightly softened. Then add in some cherry tomatoes and jalapeño and cook just a few minutes more.
Remove from the heat and top with some cilantro, lime juice, and crumbled cotjia cheese.
That's it. Serve warm, right off the stove, or cook ahead and serve later. (Pro tip: this is delicious for lunch the next day!)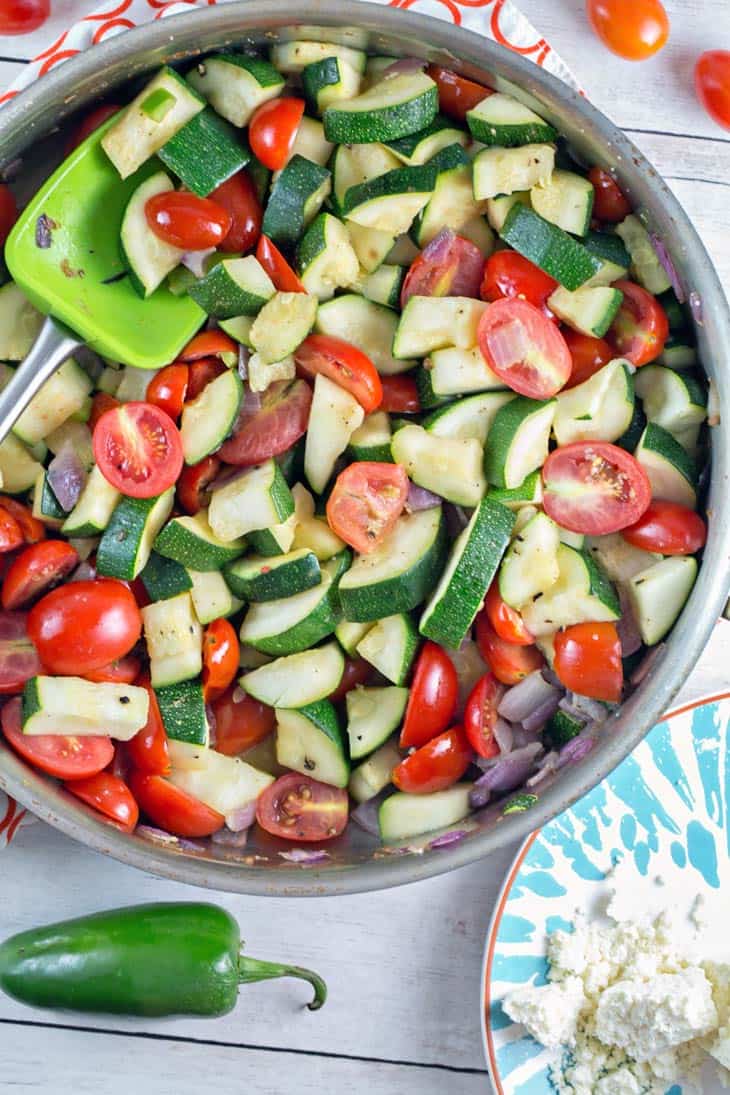 Optional Ingredient Substitutions
This recipe yields well to substitutions. Want to use yellow summer squash instead of zucchini? Great! No red onion? Use yellow. Can't find cotija cheese? Feta is a great substitute.
If you're serving this room temperature or chilled, I love cutting an avocado into bite-size cubes and mixing it in.
And yes, of course, cilantro haters: you can leave it out. If you have Mexican oregano on hand, it makes a great substitution.
Let's also talk for a second about this hatred of cilantro, because someone brings it up any time I post a cilantro recipe! Time for my favorite subject… kitchen chemistry.
Kitchen Chemistry

Some individuals have a genetic variant in their olfactory receptor genes that is extra sensitive to the aldehydes present in the cilantro leaves. While these people often say cilantro tastes soapy, new research shows this is actually from smelling the cilantro and the airborne odor molecules reaching the olfactory receptors in the nasal cavity.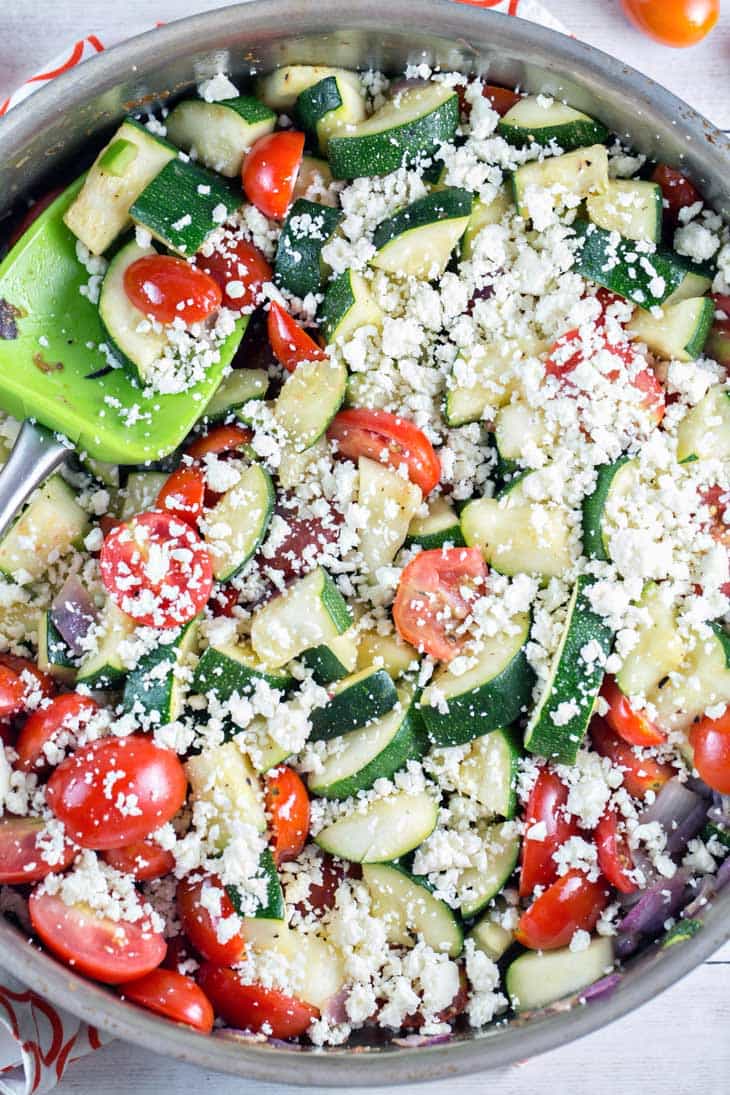 Recommended Tools to Make Mexican Zucchini
Tips and Tricks for the Best Mexican Zucchini
For the best zucchini, look for a smaller, brightly colored zucchini for the best flavor and texture.
Store the zucchini in a paper bag in the refrigerator — keeping it in a plastic grocery bag will trap too much moisture and cause the outside to become slimy.
Cook just until the zucchini starts to soften; it should still hold its shape ad not feel 'mushy'.
If you can't find cotija cheese, feta is a perfect substitute!
More Vegetable Dinners and Side Dishes: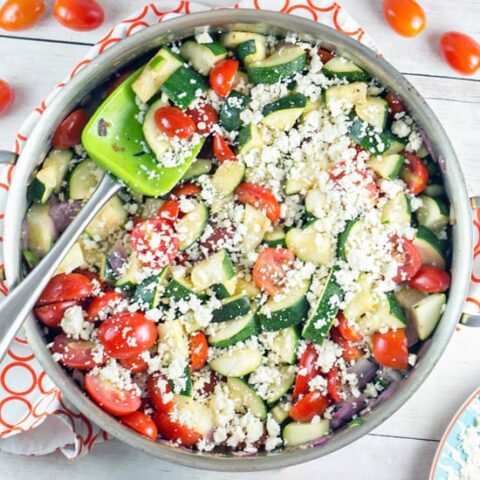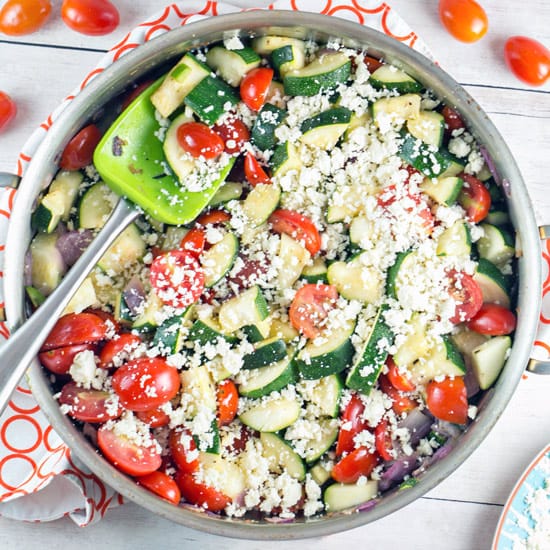 One Skillet Mexican Zucchini
Spice up your summer zucchini with tomatoes, red onion, jalapeños, cilantro, and cotija cheese.  Easy one skillet, vegetarian and gluten free, Mexican zucchini includes all your favorite flavors.
Ingredients
2 tablespoons olive oil
2 cloves of garlic, minced
1/2 red onion, chopped
1 pound zucchini, chopped
1 pint cherry tomatoes, halved
1 jalapeno, minced
2 tablespoons minced fresh cilantro
salt + pepper, to taste
juice of 1 lime
6 ounces cotija cheese, crumbled
Instructions
Heat the olive oil in a large skillet over medium heat. Add the garlic and sautee, stirring frequently, until fragrant. Add in the red onion and zucchini, stirring occasionally, for 5 minutes, or until slightly softened. Add in the tomato and jalapeno and cook an additional 3-4 minutes.
Remove skillet from the heat and add in the cilantro and salt and pepper to taste. Squeeze the juice of the fresh lime over the vegetables, followed by the crumbled cotija and serve warm or at room temperature.
Notes
A Bunsen Burner Bakery Original Protocol
Recommended Products
As an Amazon Associate and member of other affiliate programs, I earn from qualifying purchases.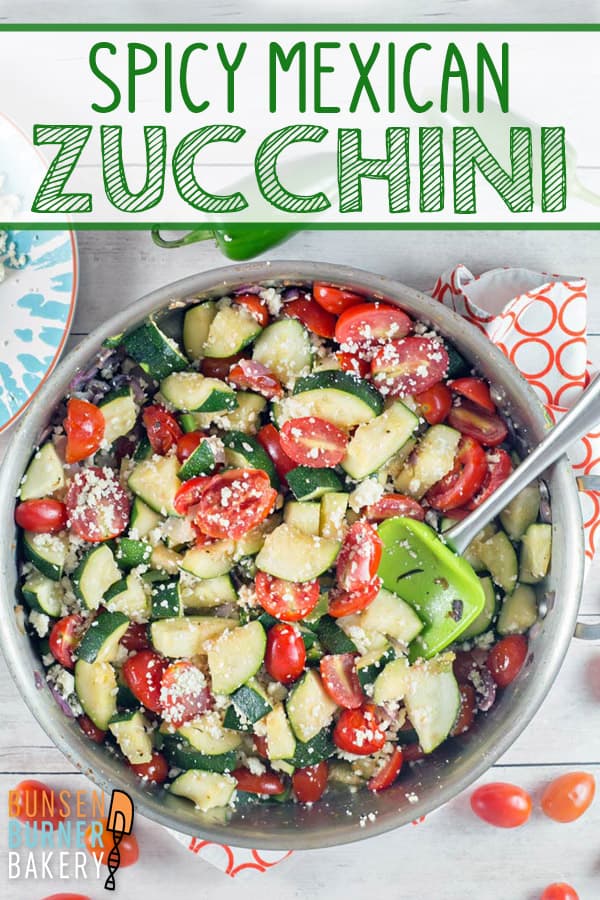 This One Skillet Mexican Zucchini recipe was originally published on 06/25/2014 and republished with updated text and helpful tips on 08/20/2021.