March 26, 2018
Glazed Lemon Poppy Seed Muffins
Simple and classic, glazed lemon poppy seed muffins are the perfect sweet-tart treat for breakfast, a mid-afternoon snack, or a light dessert.  Perfect in winter, spring, or year-round, the bright flavor and light crumb is a perfect break from heavy, sugar overloaded bakery muffins.
The sun is shining.  The daffodils are starting to bloom.  I walked into work this morning without a jacket (quilted vests forever).
And yet, last week we had 8″ of snow dumped on us.
What can I say – March weather is nothing if not unpredictable.  Good thing these glazed lemon poppy seed muffins are the perfect bridge between winter and spring.
Bright and sunshiny to perk up the cold, snowy, winter days… fresh and light to enjoy with the windows open and the birds chirping.
(And really, delicious all year round.  While I tend to think of lemony desserts as winter and spring, we can get them year round.  California lemons are usually harvested late winter through early summer, while Arizona lemon groves harvest fall through early winter.)
Lemon poppy seed is a classic combination, and one of my personal favorites!  I love these muffins because they're not too sweet on their own, and topped with a tangy lemon glaze.
I've said it before: we need a better dividing line between muffins and cupcakes (and not just a giant dome of buttercream frosting).
These are muffins – sweet, yes, but not overly sweet.  A perfect little morning pick-me-up, or a mid-afternoon snack, or a laid back after dinner treat.
Tart and sweet, crumbly with just a little crunch from the poppy seeds.  And packed full of lemon, thanks to grated lemon zest and fresh squeezed lemon juice.
Bottled lemon juice certainly has its role in the kitchen, but this is not it.  Squeeze some fresh lemon juice for these muffins; the bright lemon flavor is well worth it.
(I know, I know, but some things in life are worth a little extra work.)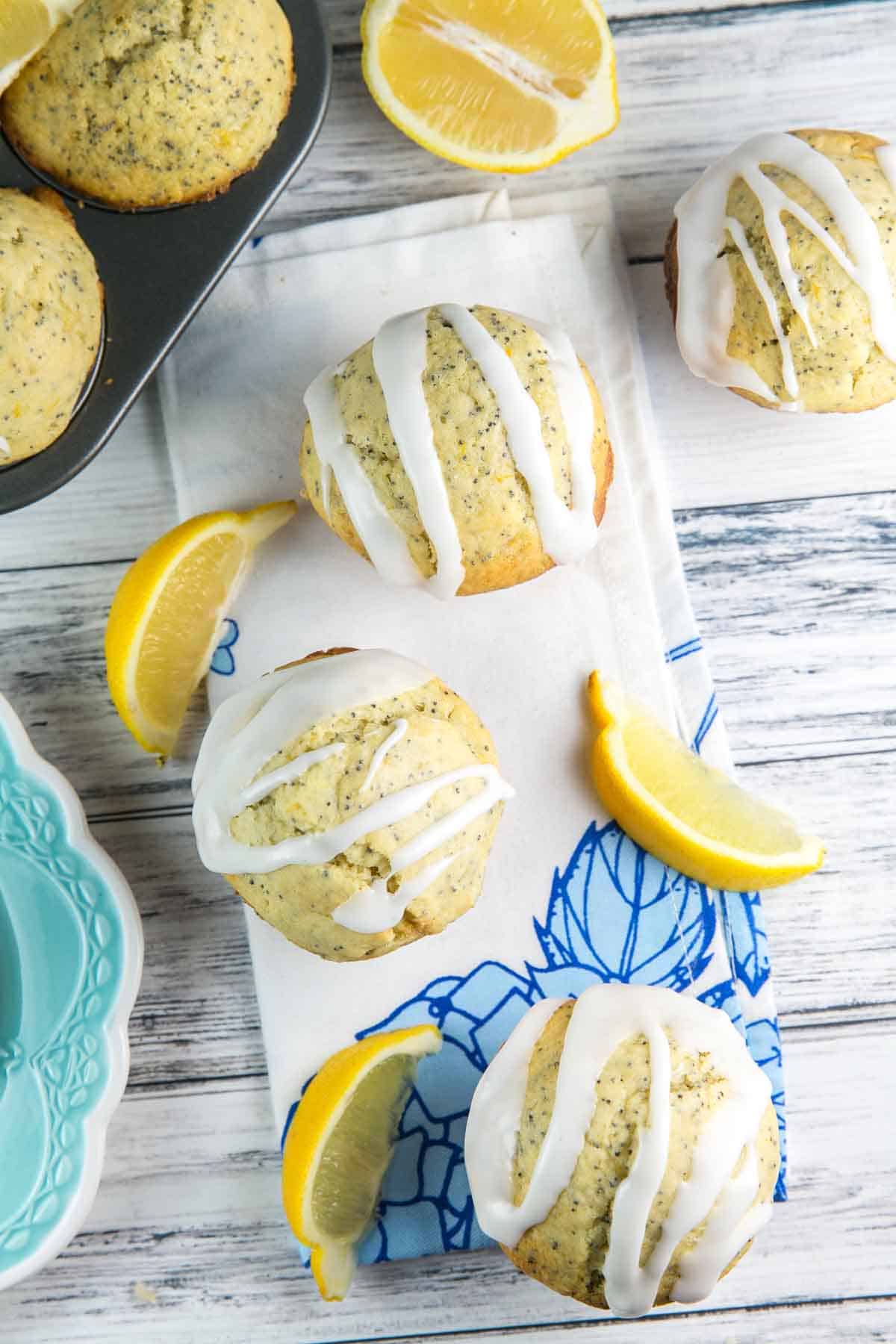 As far as spring, well, I'm ready some slightly warmer days and to pack up my snow boots until November.
But if we're not quite done with winter, at least these glazed lemon poppy seed muffins will help me get through.
Love lemon? Don't miss these other lemon favorites!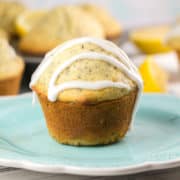 Glazed Lemon Poppy Seed Muffins
Glazed lemon poppy seed muffins are the perfect sweet-tart treat for breakfast, a mid-afternoon snack, or a light dessert.
Ingredients:
For the muffins:
10 tablespoons butter, room temperature
1/2 cup brown sugar, packed
1/2 cup granulated sugar
2 tablespoons lemon zest
2 eggs, room temperature
1 teaspoon vanilla extract
4 teaspoons baking powder
1/2 teaspoon salt
3 tablespoons poppy seeds
3 cups all-purpose flour
2 tablespoons fresh squeezed lemon juice
1 1/4 cups buttermilk
For the glaze:
1 cup confectioners sugar
1 1/2 tablespoons fresh squeezed lemon juice
Directions:
Preheat oven to 425 °F.  Grease a muffin 12-well muffin tin with melted butter or non-stick spray.
Using an electric mixer on medium speed, beat together butter, brown sugar, granulated sugar, and lemon zest until light and fluffy, 3 to 4 minutes.  Add the eggs, one at a time, followed by vanilla extract.
Turn mixer speed down to low.  Add in the baking powder, salt, poppy seeds, and half the flour.  Mix until just combined.  Slowly pour in the buttermilk, followed by the remaining flour, mixing just until no dry streaks of flour remain.
Divide batter evenly among 12 muffin tins, filling to the top.  Bake for 5 minutes, then lower the temperature to 375 °F without opening the oven door.  Bake an additional 15 to 18 minutes, until muffins are brown on top and springy when touched (a toothpick inserted into the center should come out clean).  Remove muffins from tin and cool completely on a wire rack.
Once cool, glaze muffins,  Whisk together confectioners sugar and lemon juice to form a thick glaze.  Drizzle over muffins, then set aside until glaze firms.
Muffins can be made ahead of time and stored in an airtight container at room temperature for up to 3 days, or frozen for up to 3 months.  Defrost overnight at room temperature before consuming.