March 20, 2023
Lemon Sugar Cookies
Perfectly soft and chewy Lemon Sugar Cookies – bake up a delicious batch of summery sunshine, any time of year!  Made with 100% real lemon – no lemon cake mix or pudding necessary.
I always think of citrus as a winter flavor — clementines, Meyer lemons, grapefruits.  But regular lemons?  They remind me of warm weather – spring and summer all the way. So on behalf of the technical first day of spring (even though it doesn't feel very springy outside!), it's. time to share some lemon sugar cookies.
These lemon sugar cookies are my favorite cookies for spring and summer. Think spring picnics, playground meetups, grilling with friends and neighbors, pool parties. But make no mistake – as a certified lemon dessert lover, I fully support enjoying lemon year-round, and will happily accept one of these cookies in the middle of a snowstorm!
I'm not a huge fan of plain sugar cookies.  I always feel like they need a little something extra, like a boatload of sprinkles or, in this case, a double dose of lemon.  These lemon sugar cookies use both lemon juice (freshly squeezed, please!) and lemon zest for a bright, lemony punch.
They're just the right amount of soft and chewy with lots of bright lemon flavor – an ever-so-slight upgrade to a classic sugar cookie with a little extra punch!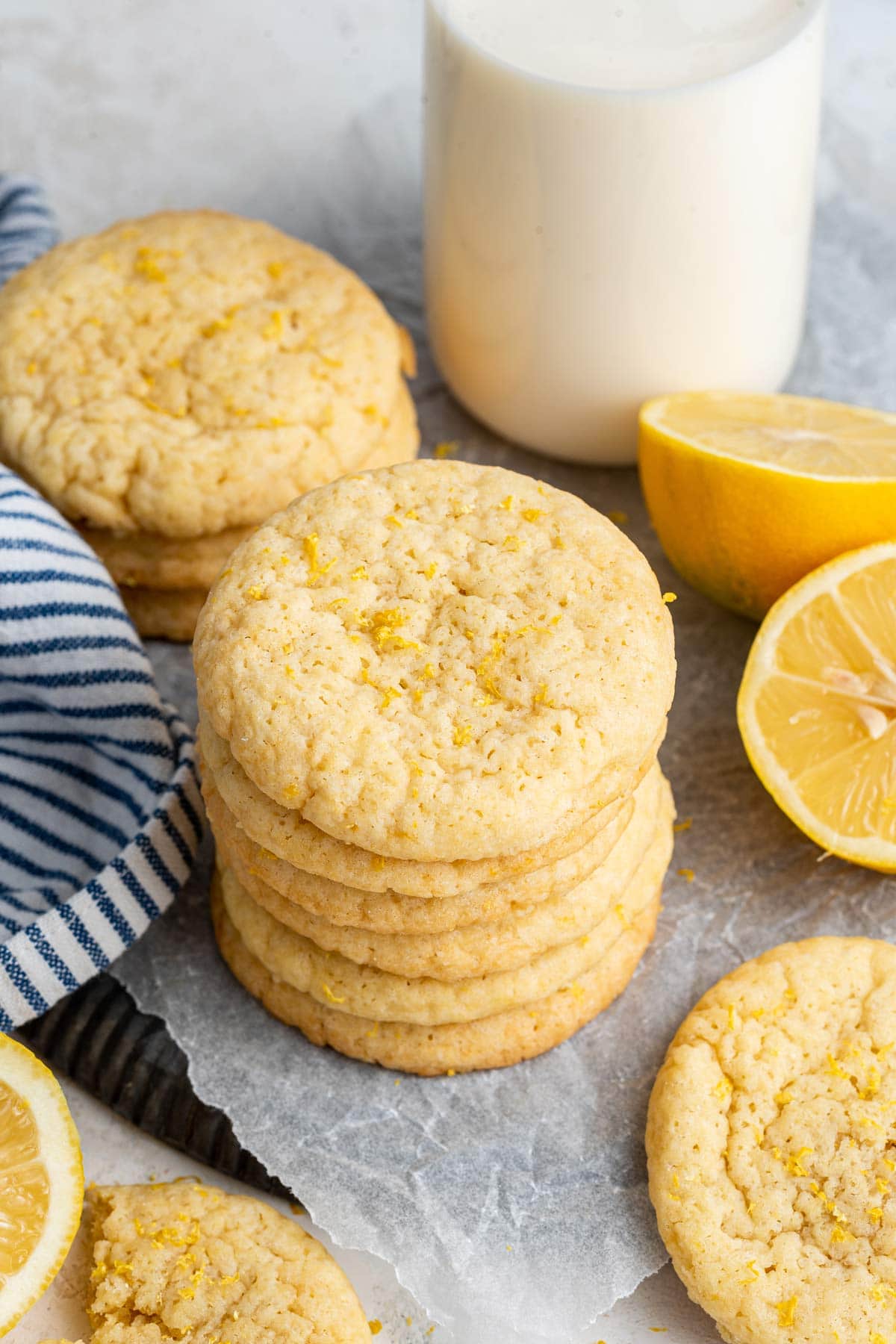 Cookies with Real Lemon
Here's the thing about lemon desserts: there's an awful lot of fake lemon involved in them.  I am never one to bash shortcuts (no boxed cake mix scolding on this blog!), but fresh lemon is so easy to find.  Why do so many lemon cookie recipes call for lemon cake mix or pudding or extract?
For these lemon sugar cookies, it's nothing but real lemon: freshly squeezed lemon juice and some lemon zest baked right in.  And then an extra little sprinkling of lemon zest on top, because: more lemon.  Yes, please! (You can also include lemon extract if you REALLY want to pump up the lemon, but if you don't have any on hand – these are absolutely delicious without!)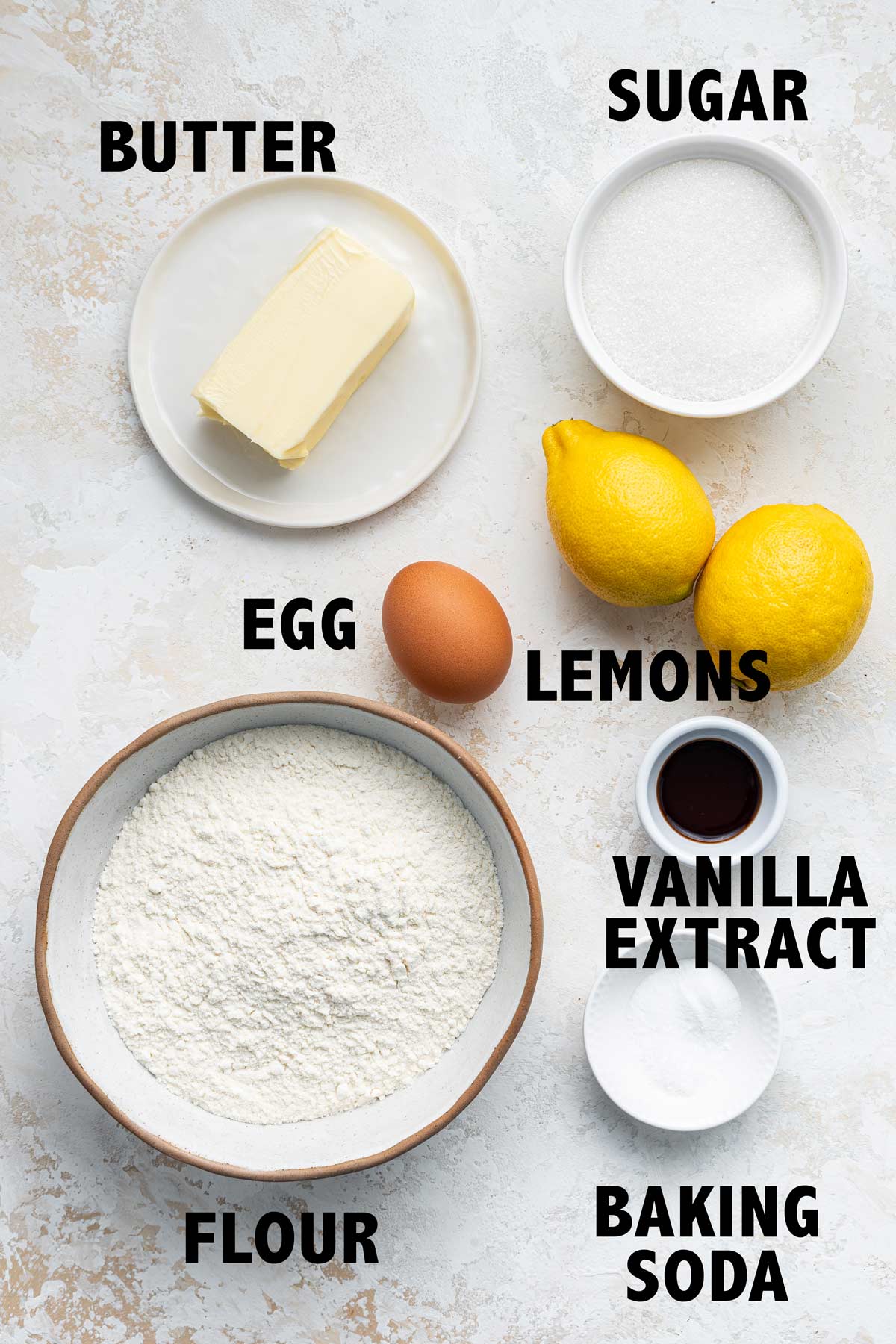 Ingredients and Substitutions
To make these perfectly soft and chewy lemon cookies, you'll need the following:
Butter: Use unsalted butter at room temperature. Room temperature butter shouldn't be soft but you should be able to make a slight indent with your thumb. Using an instant-read thermometer, the butter should be between 65 and 67°F.
Sugar: Granulated sugar, and use the full amount! There are many recipes where sugar can be reduced, but in these cookies, you need the full cup to maintain the structure of the cookie.
Egg: One egg, also at room temperature. To bring eggs to room temperature quickly, set them in a bowl of warm water for 15 minutes.
Lemon: You'll need two tablespoons of lemon zest and two tablespoons of lemon juice, which you should be able to get form one large or two medium lemons.
Vanilla Extract: I know these are lemon cookies, but the vanilla flavor pairs perfectly!
Lemon Extract: This is optional! The cookies are plenty lemony without the extract, but if you already have some at home or want extra lemon flavor, add in 1/4 to 1/2 teaspoon of lemon extract.
All-Purpose Flour: Fluff the flour before spooning into a measuring cup or weigh the flour for the most accurate results. To make the cookies gluten-free, a 1:1 gluten-free baking mix can be used (not regular gluten-free flour).
Salt: Use either regular table salt or Morton's kosher salt; adjust as necessary if using Diamond kosher salt.
Baking Soda: Because lemon is acidic, these cookies get their lift from baking soda.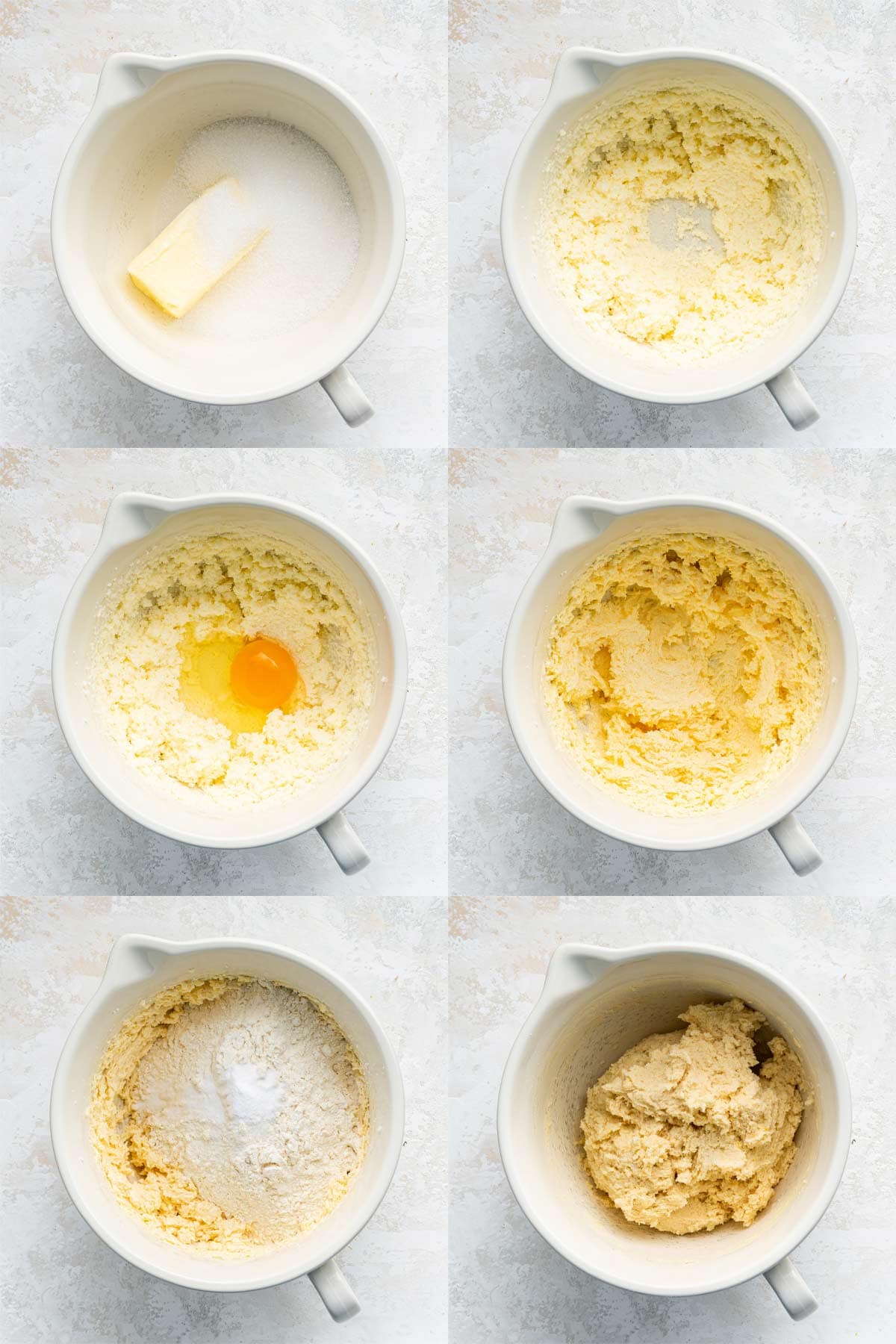 Easy Cookie Recipe
Making these cookies is super straightforward!
Cream together the butter and sugar until well combined, at least 2 to 3 minutes. Add in the egg, lemon juice, half the lemon zest, and vanilla (and lemon, if using) extract, mixing until combined. With the mixer turned to low, add in the dry ingredients.
To keep the cookies soft and tender rather than tough and crumbly, mix on low speed and just until no large streaks of flour remain. You do not want to over-mix these cookies!
Then, we're going to refrigerate the cookie dough. You can actually do this before or after you roll the cookies into balls. If I'm going to refrigerate for only an hour or two, I'll refrigerate the dough and then roll the cookies into balls. If I'm going to refrigerate for more than 2 hours (you can keep this dough in the refrigerator overnight!), I'll roll it into balls first.
Why do we refrigerate our cookie dough? The answer, of course, is all in the kitchen chemistry!
Kitchen Chemistry

When cookie dough is refrigerated before baking, the fat solidifies. Cold butter takes longer to melt while baking when compared to room temperature butter, which means the cookies spread less and retain their shape. Furthermore, refrigerating cookie dough allows the sugar to fully hydrate and absorb the liquid from the batter and, with enough time, any additional liquid starts to evaporate and dry out, concentrating the flavors of the cookie even further.
After the dough has been chilled, it's time to bake the cookies. Once the edges of the cookie are set but the tops are still puffed and golden, remove the cookies from the oven and immediately sprinkle with some of the remaining lemon zest. Make sure to add it while the cookies are still warm and soft in the middle so the lemon zest will stick to the cookies as they cool!
Perfect Make Ahead Cookies
One of the best things about these lemon sugar cookies?  Make them ahead and have them whenever you want! 
The dough can be frozen unbaked – roll the dough into balls, freeze the balls on cookie sheets, then combine and store in a freezer-safe bag. You can either thaw the cookie dough in the refrigerator overnight OR bake straight from frozen. To bake from frozen, reduce the oven temperature by 25 degrees and add 4 to 5 minutes to the baking time.
You can also bake the cookies and then freeze them. Let the cookies cool completely, then transfer to a freezer-safe bag and pull one (or many!) out whenever you're in the mood. Thaw at room temperature before enjoying or, to heat quickly, bake in a 300 °F oven for 5 to 7 minutes, or until warmed through.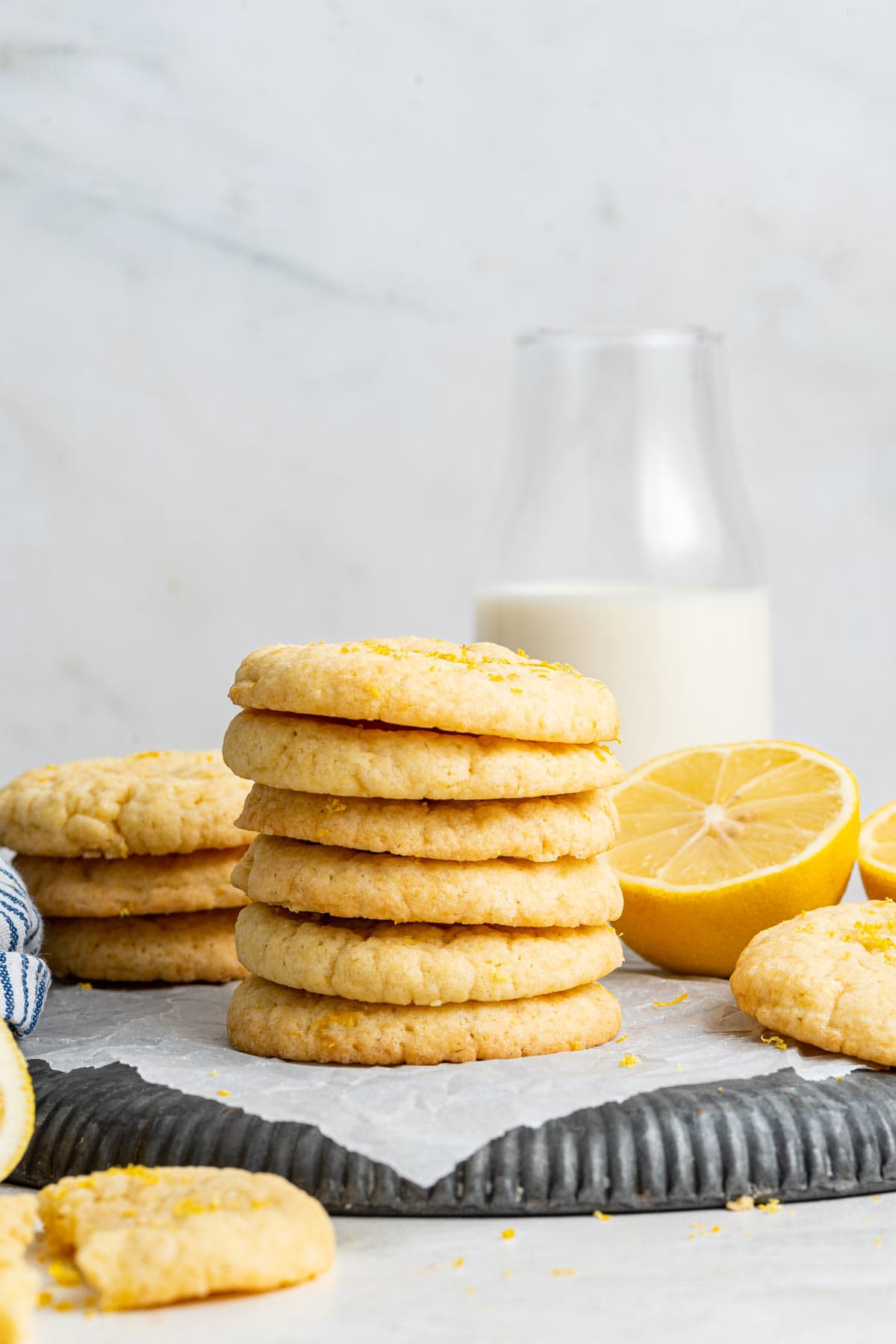 Recommended Tools for Lemon Sugar Cookies
Tips and Tricks for the Best Lemon Sugar Cookies
Use room temperature butter – it should be slightly soft, but not too soft! Butter that is too warm will not cream properly with the sugar. The butter should be between 65° and 67°F.
Fresh lemon juice tastes much brighter and packs more flavor than bottled lemon juice (and since you have to zest the lemon anyway, just use freshly-squeezed lemon juice!).
For perfectly round cookies, twirl a round cookie cutter slightly larger than the diameter of the cookie around the just-out-of-the-oven cookies, or use a spoon to push in any bumpy spots along the edges.
Sprinkle the lemon zest on top of the cookies while they are still hot, before the top of the cookie has set.
The cookies can be frozen either as cookie dough (scoop into balls and freeze; bake at 325°F for 15-17 minutes) or as baked cookies (store cookies in a freezer-safe bag and thaw before eating).
More Lemon Desserts: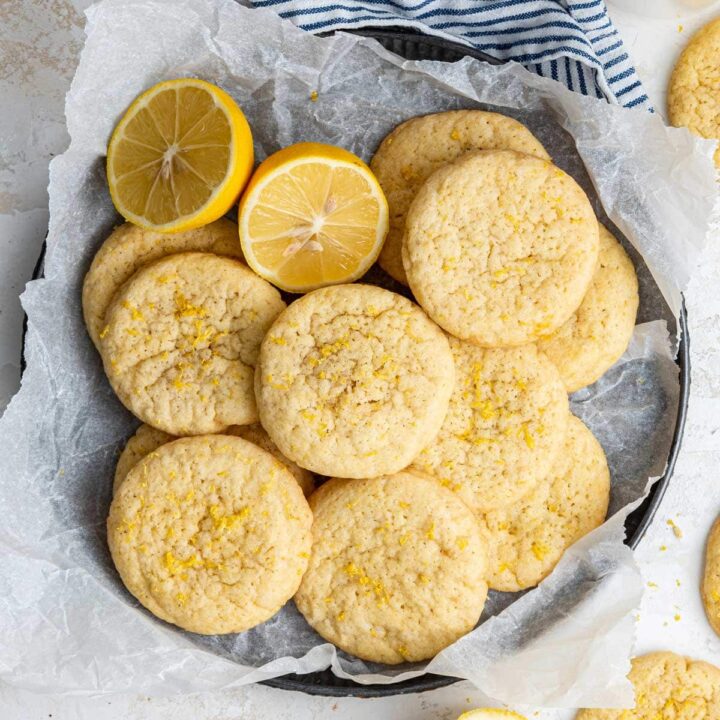 Lemon Sugar Cookies
Total Time:
1 hour
22 minutes
Perfectly soft and chewy lemon sugar cookies – bake up a delicious batch of summertime, any time of year!
Ingredients
1/2 cup (113 grams) unsalted butter, room temperature
1 cup (198 grams) granulated sugar
1 large egg, room temperature
2 tablespoons lemon zest, divided
2 tablespoons lemon juice, freshly squeezed
1 teaspoon vanilla extract
1/4 teaspoon lemon extract (optional)
2 cups (240 grams) all-purpose flour
1/2 teaspoon salt
1 teaspoon baking soda
Instructions
Using an electric mixer, cream together the butter and sugar on medium-high speed. Beat until butter is light and fluffy, 3 to 5 minutes. Beat in the egg. Add in 1 tablespoon of the lemon zest, lemon juice, vanilla extract, and lemon extract, if using. Turn the mixer to low and add the flour, baking soda, and salt. Mix just until flour is fully incorporated and no dry streaks remain. Refrigerate dough for at least 30 minutes, until chilled, or up to 3 days.
Preheat oven to 350 °F. Line a baking sheet with a nonstick mat or parchment paper.
Scoop 1 1/2 tablespoons of dough and roll into round balls. Space 3 inches apart on the baking sheet.
Bake for 11-12 minutes, or until the tops of the cookies are slightly puffy and not quite set and the bottoms are just starting to brown. Remove the cookies from the oven and sprinkle with the remaining lemon zest. Let the cookies cool on the cookie sheet for 10 minutes, then transfer them to a wire rack to cool completely.
Notes
If the dough is only going to chill for 30 minutes to an hour, chill it in the bowl. If the dough will chill for a few hours or longer, scoop the cookie into balls, place the balls on a plate or cookie sheet, cover loosely with plastic wrap, and refrigerate the balls of cookie dough for up to 3 days.
The sides of the cookie will be just set, but the tops of the cookie should still be puffy and slightly wet-looking when they are removed from the oven.
Sprinkle the zest on top of the cookies while they are still hot before the tops of the cookies have fully set.
Cookies can be stored in an airtight container at room temperature for up to a week.
The cookies can be frozen either as cookie dough or as baked cookies. To freeze the dough, roll it into balls, refrigerate for a few hours, and transfer the dough balls to the freezer. Once the balls are frozen, transfer them to a freezer-safe zip-top bag and store them in the freezer for up to 2 months. Bake from frozen at 325°F for 15-17 minutes, or until golden and puffy. To freeze already baked cookies, transfer them to a freezer-safe bag and store them in the freezer for up to 3 months.
Recommended Products
As an Amazon Associate and member of other affiliate programs, I earn from qualifying purchases.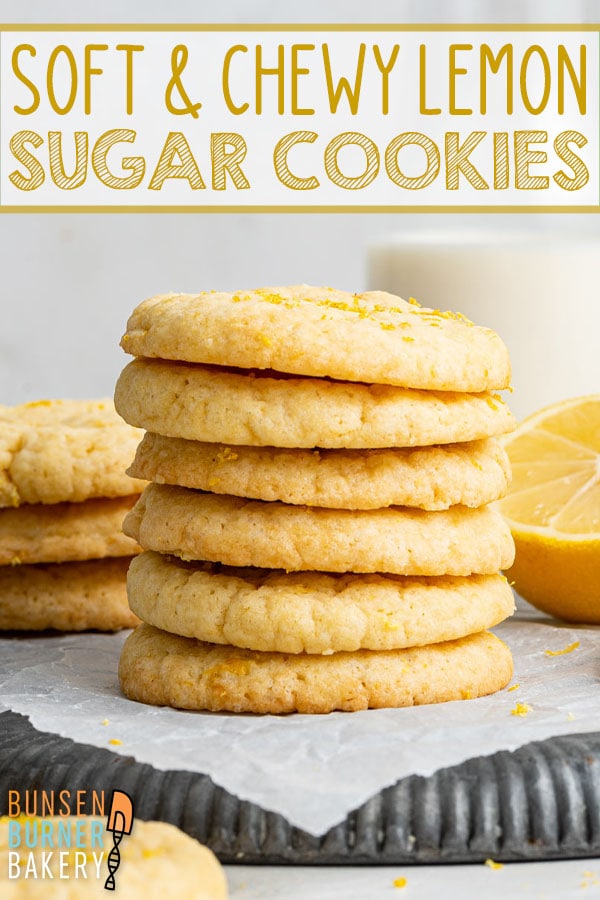 This Lemon Sugar Cookie recipe was originally published in June 2017 and updated in March 2023 with new photos and more helpful tips.