February 28, 2023
Lemon Raspberry Muffins
Bursting with lemon and perfectly ripe raspberries, these glazed Lemon Raspberry Muffins are the ideal treat any time of day! An easy mix-by-hand recipe, the muffins are delicious whether they are standard, jumbo, or mini-sized.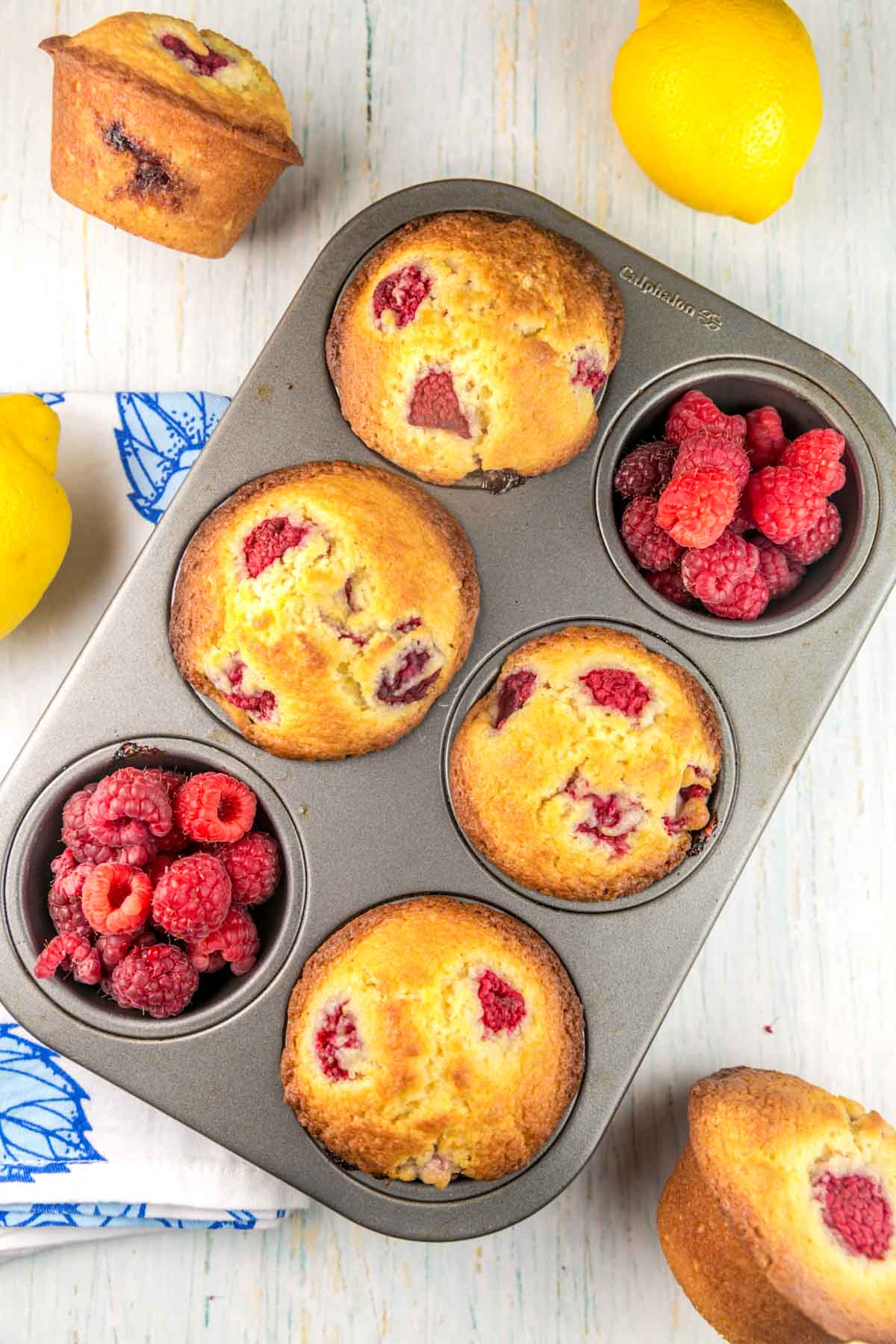 Hi, my name is Julie, and I love lemon. Lemon everything. Lemon in savory dishes, lemon in sweet dishes. So of course, it only goes without saying that at least one (spoiler alert: probably several more!) of my 2023 Muffin of the Month series of recipes would include lemon.
We've already done lemon poppy muffins, so this time we're switching it up – lemon raspberry muffins. Of course, you can swap out the fruit as you prefer. Lemon blackberry muffins? Yes, please. Lemon blueberry muffins? I'll take two! But for these dreary late winter days, something about raspberries seemed bright and cheerful, so we're doing lemon raspberry muffins.
I love these muffins because they're truly perfect any time. They're easy to make, customizable, and this recipe can be adapted to fit any size muffin tin (jumbo, standard, or mini!). You can use fresh or frozen fruit and sweet-tart lemon and raspberry flavors really burst.
I covered mine with an optional lemon glaze, but I assure you – they're perfectly delicious "naked", too! And even better – they freeze wonderfully. Bake up a big batch and fill your freezer for a perfectly easy anytime treat in the future.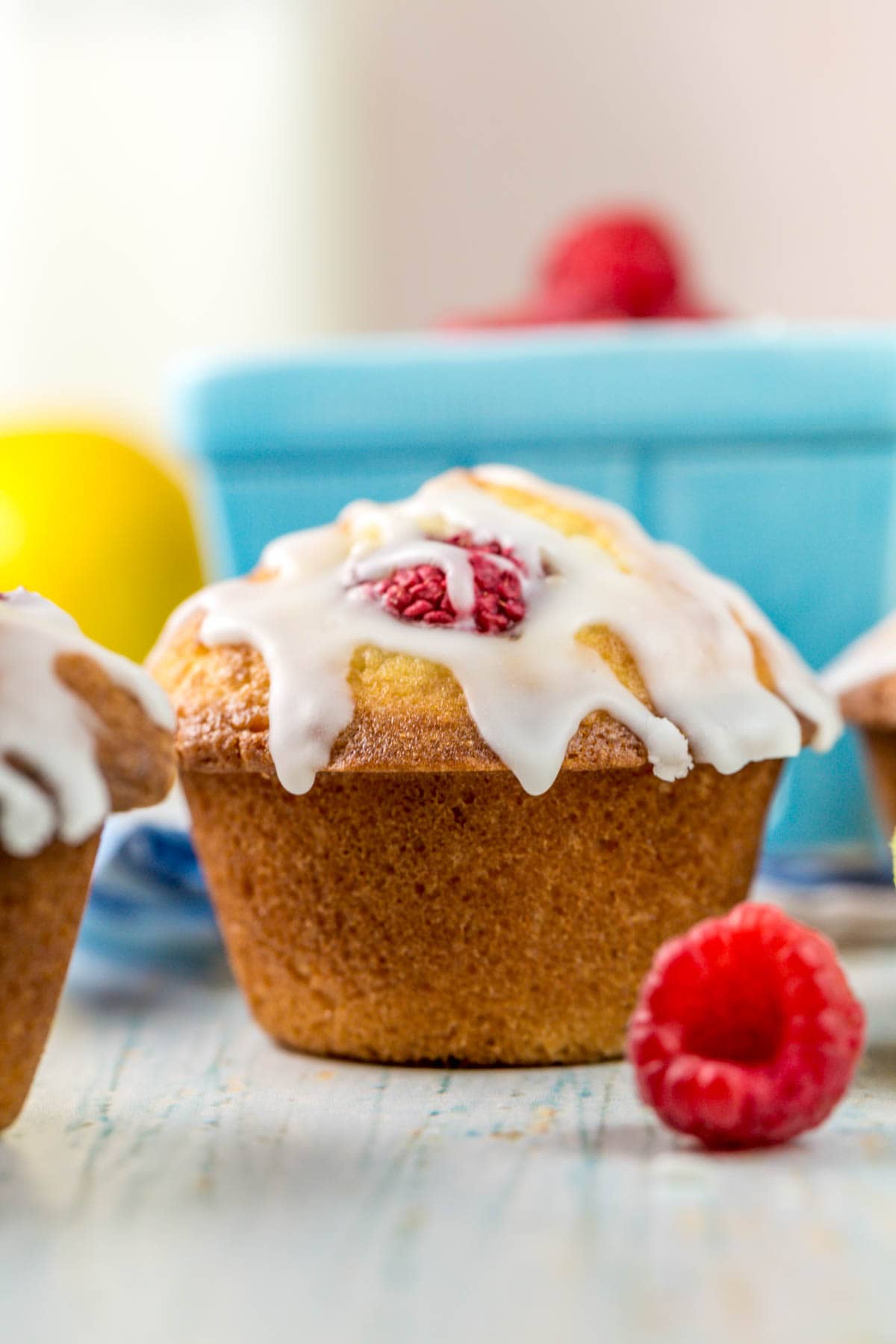 Best Lemon Muffins
We'll start with one of my favorite basic muffin batters, with lots of lemon flavor added in. To make these lemon muffins, we'll need:
Butter: Use unsalted butter, melted and cooled. The and cooled step is important to ensure the hot butter doesn't start to cook the eggs!
Eggs: The eggs should be at room temperature (eggs that are too cold will cause the butter to solidify).
Buttermilk: Use good quality, higher-fat buttermilk, if available – it will result in richer, more tender muffins than watery, low-fat buttermilk. You can also use whole milk instead of buttermilk.
Vanilla Extract: A little vanilla extract adds great flavor to these muffins.
Lemon Juice or Lemon Extract: Lemon juice works to add some lemon flavor, but if you have lemon extract, it packs even more punch.
Lemon Zest: Zest a fresh lemon and add to the batter to really pack a delicious lemon punch.
Flour: Use all-purpose flour, properly measured or weighed to ensure the batter is not too dense.
Sugar: This recipe calls for 3/4 cup of granulated sugar to counteract the tartness of the lemons. If you'd like to reduce the sugar for personal preferences, use 1/2 cup of sugar (the muffins are still good – but not AS delicious!).
Baking Powder: We're using baking powder as the leavening agent to ensure the recipe will still rise, even if whole milk is used instead of buttermilk.
Salt: A crucial step to every baking recipe, salt prevents flavors from tasting too flat.
You'll notice that I include the option for either lemon juice or lemon extract. Lemon juice is definitely easier, and if you're testing a lemon you'll already have juice on hand. But if you can get it, lemon extract is my favorite addition, because it guarantees lots of bright, lemony flavor. Why use lemon extract? It's time for my favorite subject… kitchen chemistry!
Kitchen Chemistry

Lemon extract is made by soaking lemon rinds in alcohol, which allows the liquid to absorb the lemon flavor. Unlike lemon juice, lemon extract is not acidic or bitter, resulting in a more concentrated, brighter lemon flavor. It's a great way to add the taste of lemon without changing the pH of a batter by adding an acid.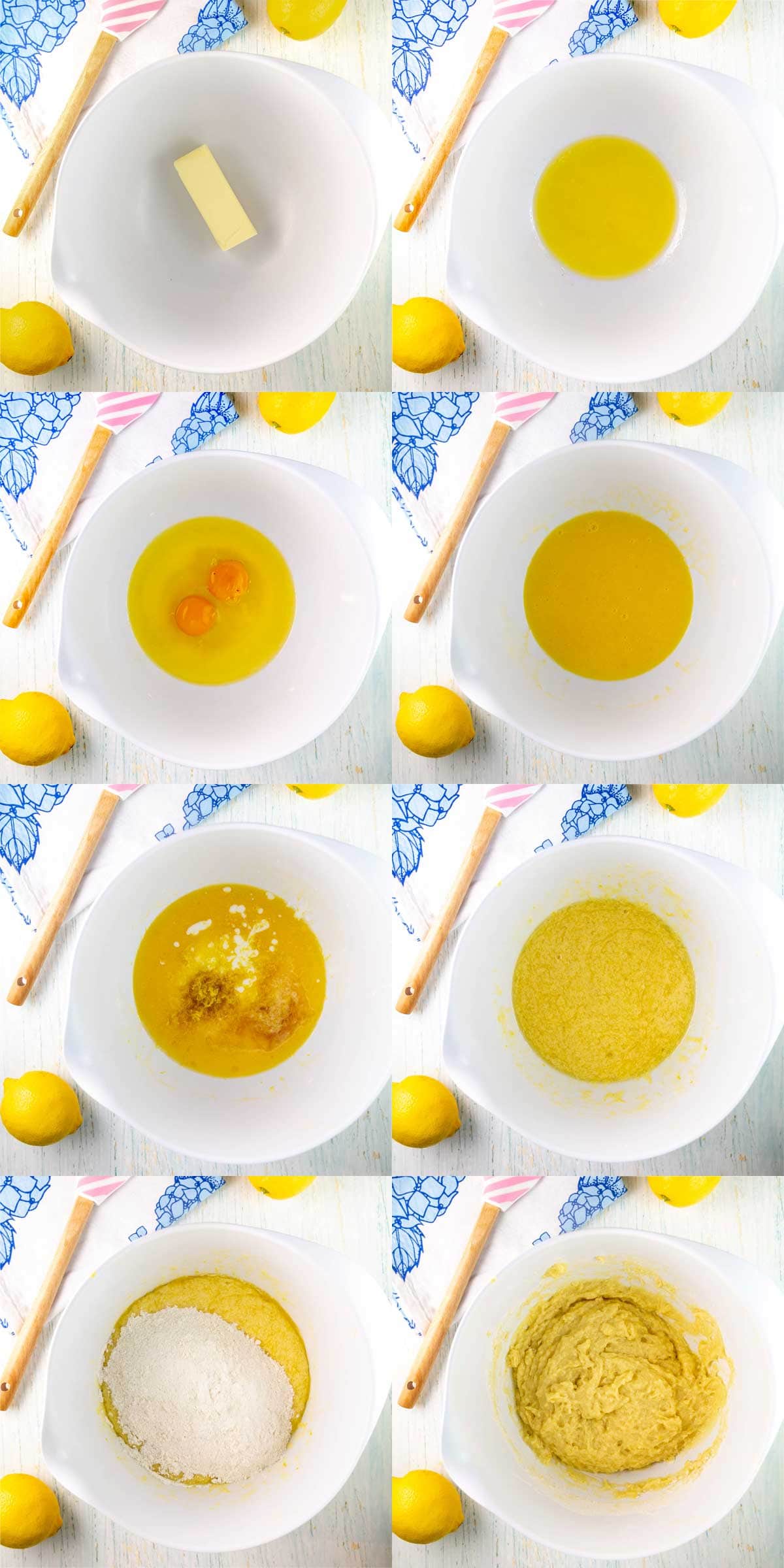 Layer Raspberries, Don't Mix
If you've made my low sugar blueberry muffins or cranberry orange muffins, you'll notice that I mix the fruit right into the batter. With these raspberry muffins, however, we're going to make the lemon batter and then layer the raspberries in the muffin tin.
Raspberries are super fragile and mixing them into the batter, even folding them very carefully, causes them to break apart. As the raspberries are squished, the batter is tinted pink and little bits of raspberry dilute the batter. There are times when this is exactly what you want, but in this case, I wanted a raspberry muffin with whole visible raspberries.
So instead, we're going to layer the batter and fruit. A little batter, a few raspberries. Cover with another little scoop of batter, and a few more raspberries. Repeat if there's space in the muffin tin, ending with an extra raspberry or two on top.
Another benefit to this: you can easily use the same muffin batter. to make different types of muffins. Add raspberries to a few wells, blueberries to others, and strawberries to others. A whole cornucopia of berry muffins!
Adaptable for Any Size Muffin
Pick your preference for these muffins: you can make 12 regular-sized muffins, 6 jumbo muffins, or 24 mini-muffins with this recipe. The baking temperature will be the same, but the time gets shorter as the muffins get smaller.
Start at 425°F and bake for 5 minutes, then turn the oven temperature down to 350°F. Continue to bake for an additional 15-18 minutes for standard muffins, 20-22 minutes for jumbo muffins, or 9-11 minutes for mini-muffins.
After the muffins are cooled, I like to add an optional lemon glaze – it's both pretty and another opportunity to add some lemon flavor. I almost always do this for jumbo or standard muffins, though I usually skip the glaze on mini muffins.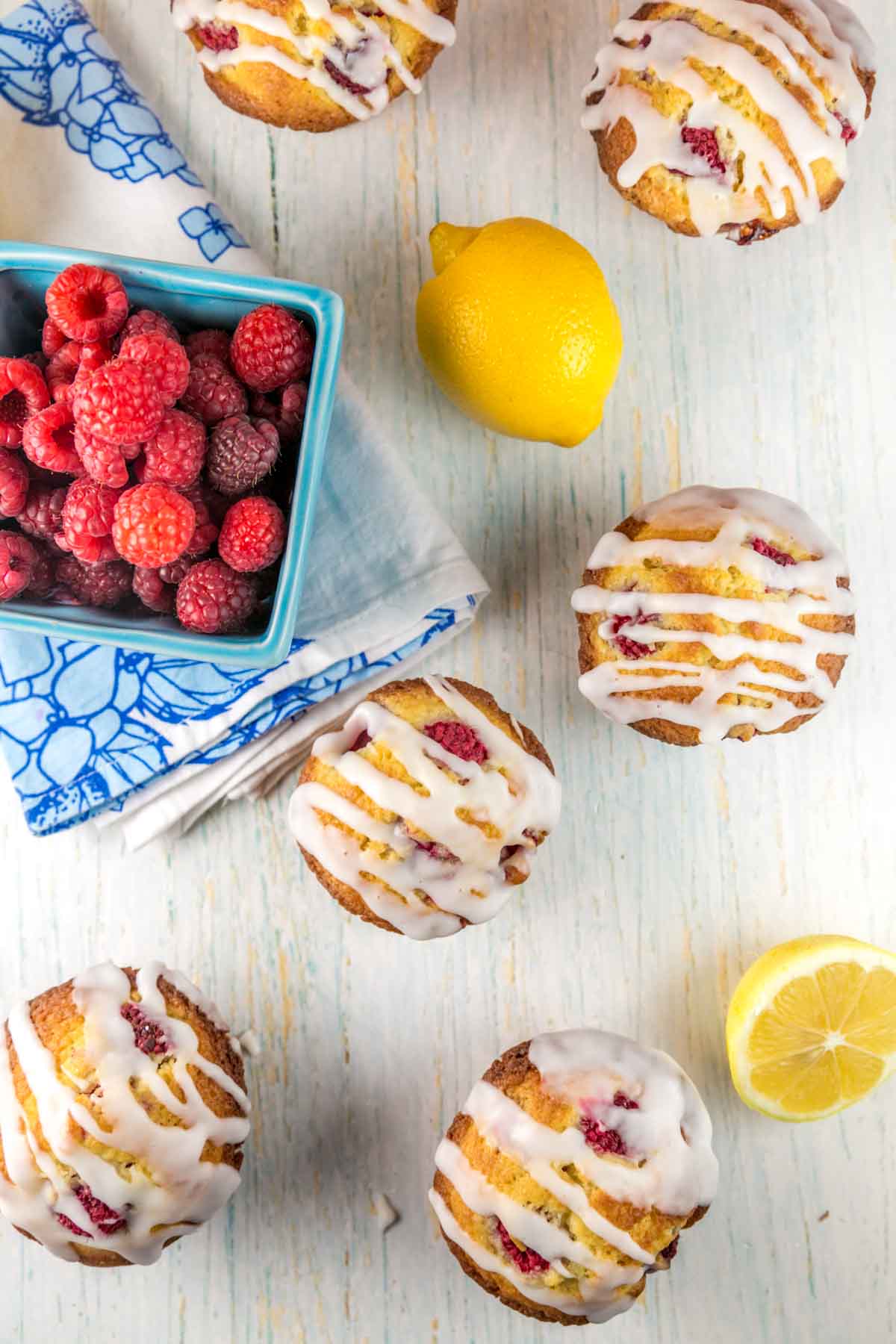 Recommended Tools for Lemon Raspberry Muffins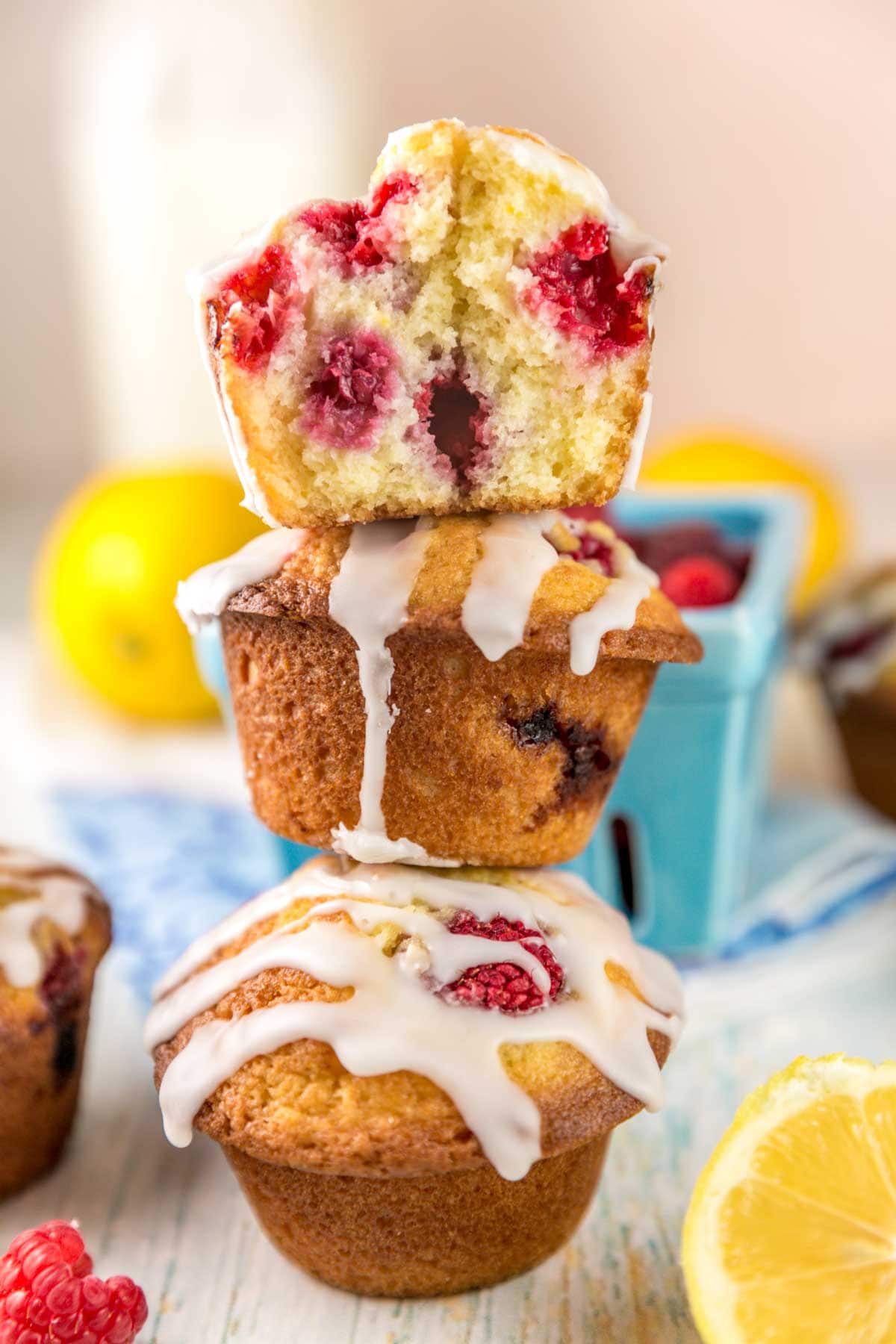 Tips and Tricks for the Best Lemon Raspberry Muffins
Don't overmix the muffins! Stir just enough to combine the wet and dry ingredients – the batter should be lumpy and streaks of flour should still remain.
Fresh or frozen raspberries can be used in these muffins. If using frozen raspberries, there is no need to thaw them first.
These lemon raspberry muffins can be baked as jumbo muffins, standard muffins, mini muffins, or in a loaf pan. Bake for 5 minutes at 425°F, then reduce the temperature to 350°F and bake as follows: 20-22 minutes for jumbo muffins, 15-18 minutes for standard muffins, or 9-11 minutes for mini muffins. An 8.5 x 4.5 loaf will bake at 350°F for 45-50 minutes.
Store muffins in an airtight container at room temperature for up to 4 days or freeze for up to 3 months.
To thaw frozen muffins, leave at room temperature overnight or reheat from frozen in a 350° oven, wrapped in foil, for 10-15 minutes, until warmed through and the internal temperature reaches 125°F.
More Raspberry Recipes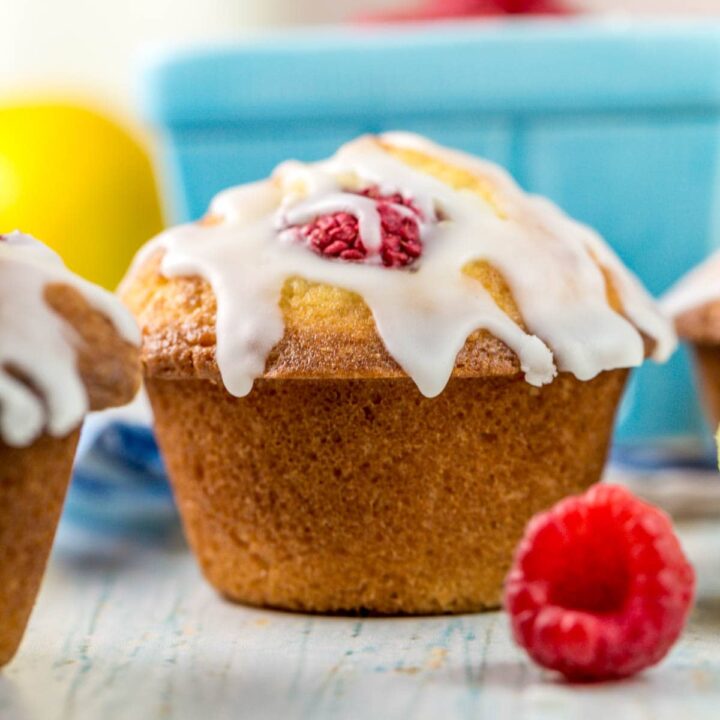 Lemon Raspberry Muffins
Yield:
12 standard muffins
Bursting with lemon and perfectly ripe raspberries, these glazed Lemon Raspberry Muffins are the ideal treat any time of day! An easy mix-by-hand recipe, the muffins are delicious whether they are standard, jumbo, or mini-sized.
Ingredients
For the Muffins:
6 tablespoons (85 g) unsalted butter, melted and cooled
2 large eggs, room temperature
1/3 cup (75 g) buttermilk, room temperature
1 teaspoon vanilla extract
2 tablespoons lemon juice OR 2 teaspoons lemon extract
1 tablespoon lemon zest
1 1/2 cups (180 g) all purpose flour
3/4 cup (148 g) sugar
1 1/2 teaspoons baking powder
1/2 teaspoon salt
1 cup (130 g) raspberries, fresh or frozen
For the Glaze:
1 cup (114 grams) confectioners' sugar
1 1/2 tablespoons lemon juice
Notes
Preheat the oven to 425°F. Grease a muffin tin (12 well standard, 6 well jumbo, or 24 well mini) with nonstick cooking spray or line with paper muffin liners.
In a large bowl, whisk together the cooled melted butter and the eggs. Add in the buttermilk, vanilla extract, lemon juice or extract, and lemon zest, and whisk until combined. In a medium bowl, stir together the flour, sugar, baking powder, and salt. Add the dry ingredients to the wet ingredients and stir together, just until combined. The batter should be lumpy and still have streaks of flour.
Spoon 1 - 1.5 tablespoons of batter into the muffin tin and sprinkle a few raspberries on top. Top with additional batter and raspberries, adding a third layer of space in the muffin wells allows. End with a few raspberries sprinkled on top of each muffin. The batter should come to the top of the muffin wells.
Bake for 5 minutes at 425°F, then reduce the temperature to 350°F. Bake an additional 15-18 minutes (standard muffins), 20-22 minutes (jumbo muffins), or 9-11 minutes (mini muffins) until the tops are golden. To test for doneness, use a finger to gently press on the top of the muffin; if the muffin bounces back, they are done. If the indentation remains, the muffins are not yet fully baked.
Let the muffins cool in the pan for 10 minutes, then remove them from the muffin tin and transfer to a wire rack to cool completely.
If the glaze is desired, whisk together the confectioners' sugar and lemon juice to form a thick but pourable glaze. If the glaze is too thick to pour, add a few additional drops of lemon juice. If the glaze is too runny, add confectioners' sugar. Pour the glaze over the cooled muffins.