March 23, 2018
Perfect Graham Cracker Pie Crust
Learn how to make the perfect graham cracker pie crust from scratch with these simple tips to prevent it from crumbling.  Ideal for bake or no-bake pies, and easy to customize to match your favorite pie flavors.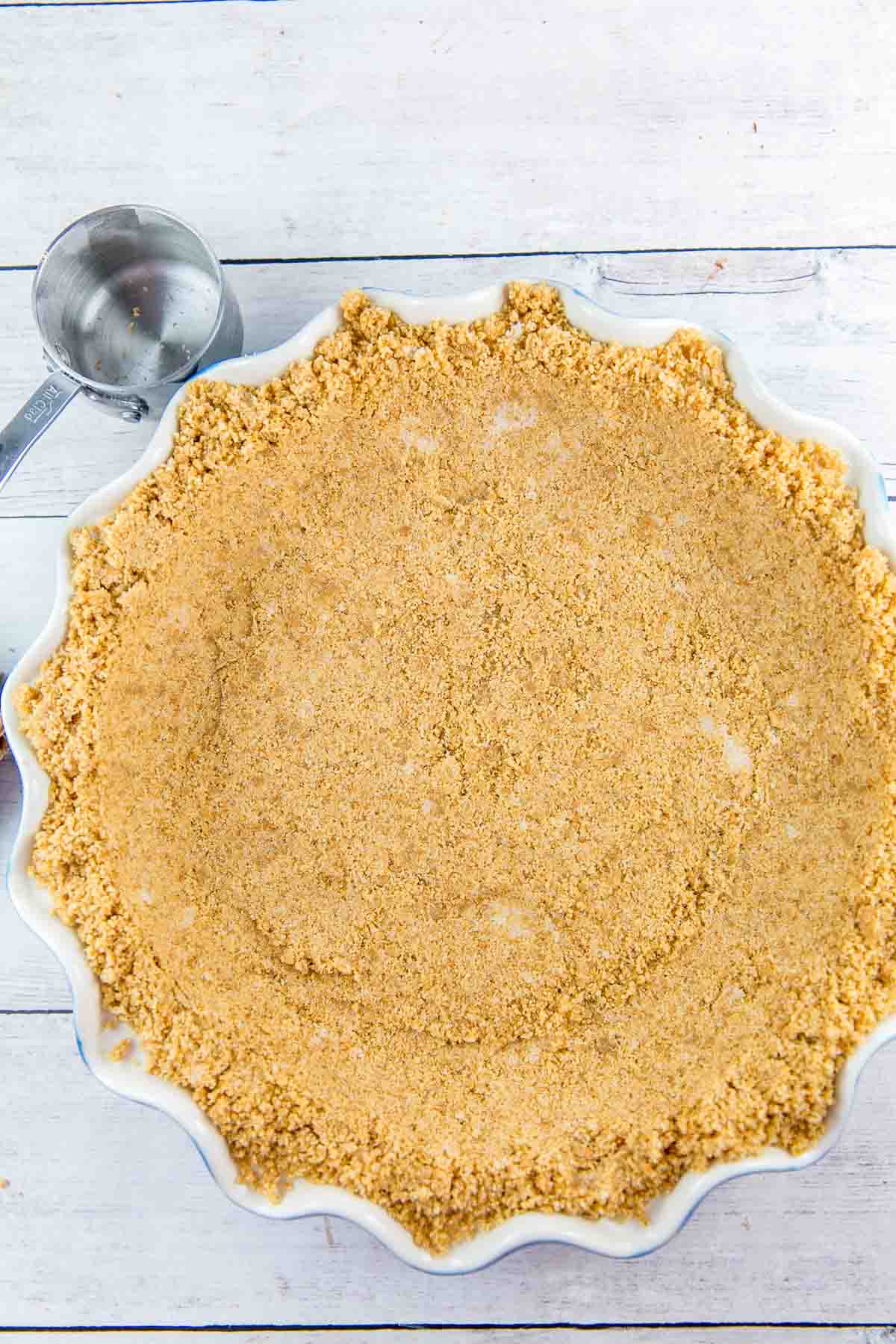 We've tackled a regular doughy no-fail pie crust.  We did an oreo cookie crust.
And now, my Pie of the Month series is taking us into new crust territory, with this perfect graham cracker pie crust!
Graham cracker crusts are perfect for bake and no-bake pies alike.  While the first things that come to mind are probably key lime pies and cheesecakes, the possibilities are endless!  S'mores pie. Peanut butter pie. Strawberry icebox pie.
And of course, a new personal favorite pie, coming to you soon right here on Bunsen Burner Bakery!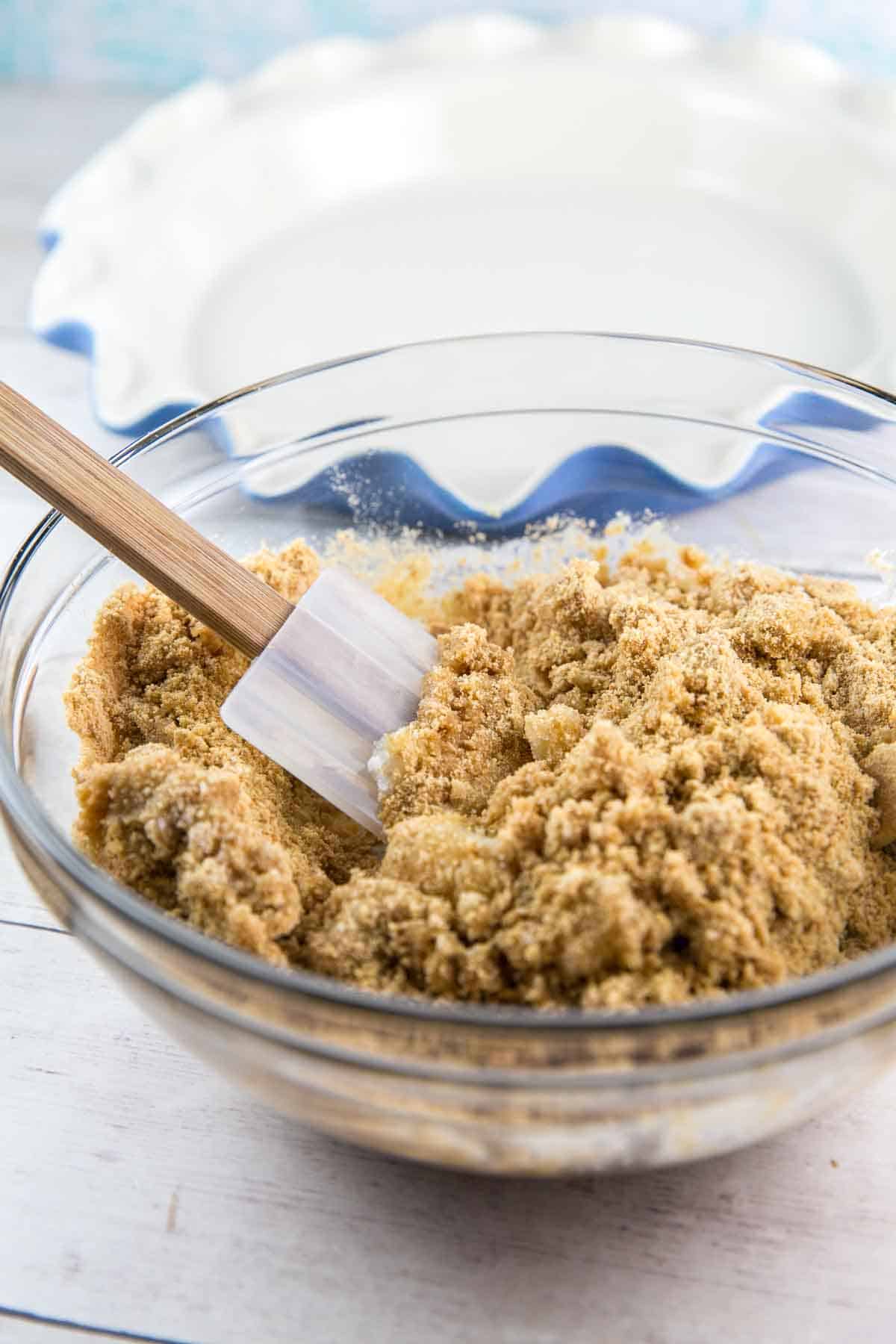 While the technique is the same as an oreo cookie crust, the ratio of ingredients is a little different.
We need more butter to make up for the lack of frosting.  We'll also add in a little sugar, since graham crackers are nowhere near as sweet as chocolate sandwich cookies.  And the best part of a graham cracker crust: customize it a little with a pinch of your favorite spices!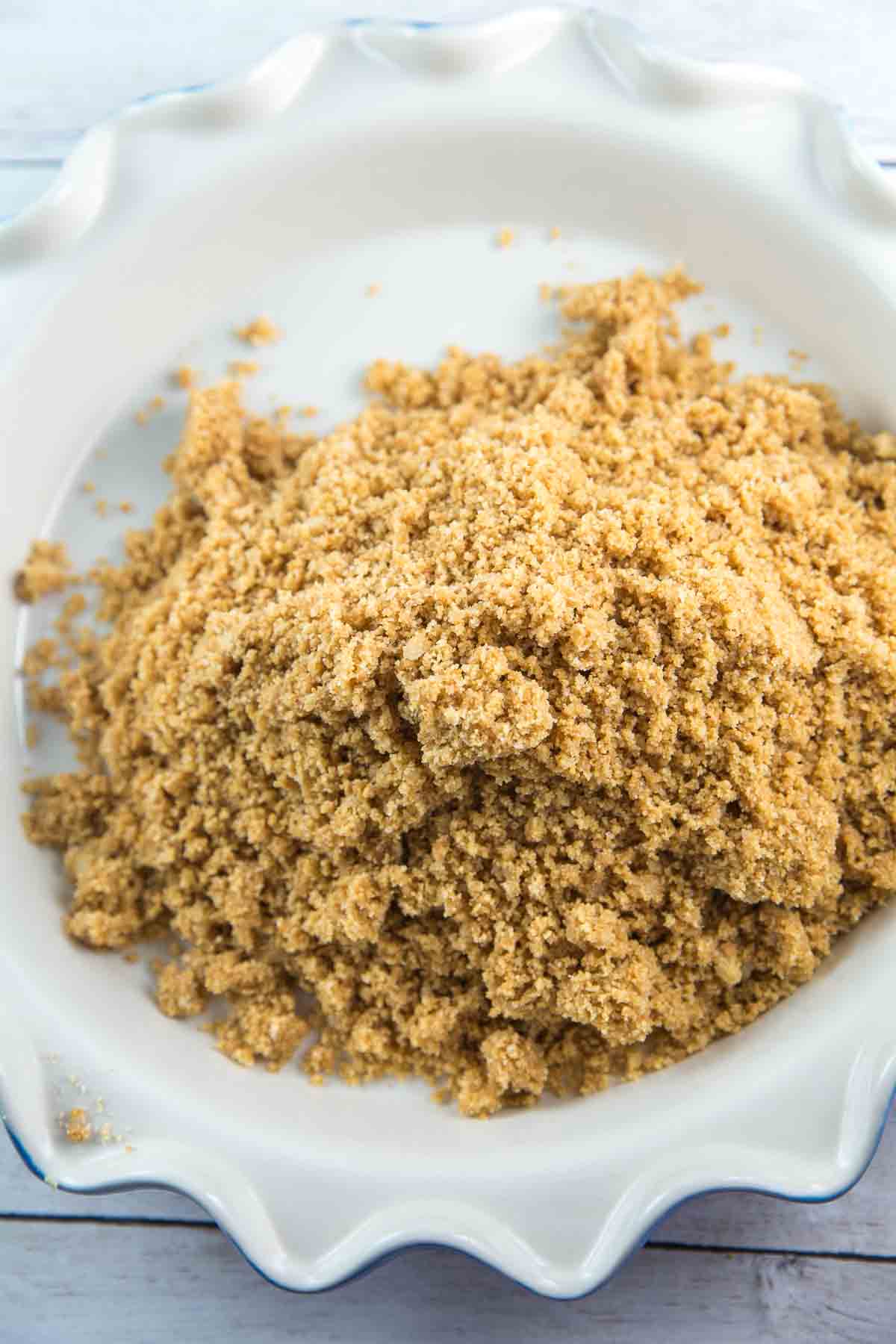 Tips for a perfect graham cracker pie crust:
Crush your graham crackers really finely – the end result should resemble sand. Any larger pieces will cause your crust to crumble when you cut into it. You can do this with a food processor, but a heavy frying pan or rolling pin works just as well. Just double-bag your graham crackers in case the bag has a little hole!
Use a heavy measuring cup or glass to press the crumbs along the bottom of the pie plate and the back of a spoon to pack down the crumbs along the edge.  Push firmly – you really want to pack the crust tightly, which will help prevent it from crumbling when you cut it.
In addition to sugar, add a little bit of your favorite spice that complements the pie filling.  Cinnamon, ginger, cardamom, and fresh citrus zest are some of my personal favorites!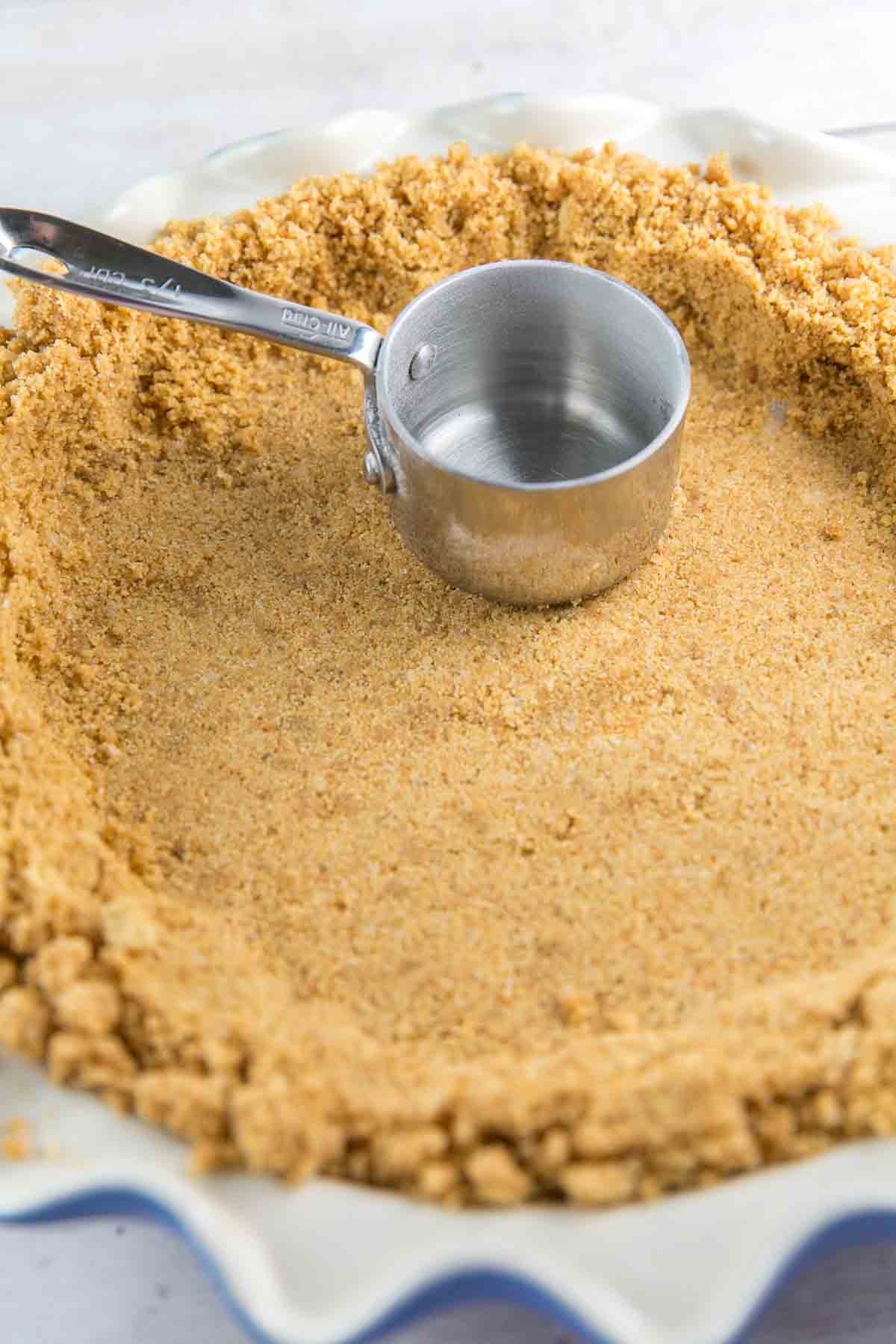 You can make a truly no-bake pie and skip the baking step here.  The filling will help hold the crust together well enough.
But I love how crispy a graham cracker pie crust is after baking, so I always opt to blind-bake my crust first, before pouring in the filling.  (I do this for both baked and no-bake pies.)  This really helps guarantee that even if your pie sits in the refrigerator for a few days, the crust will still be nice and crispy.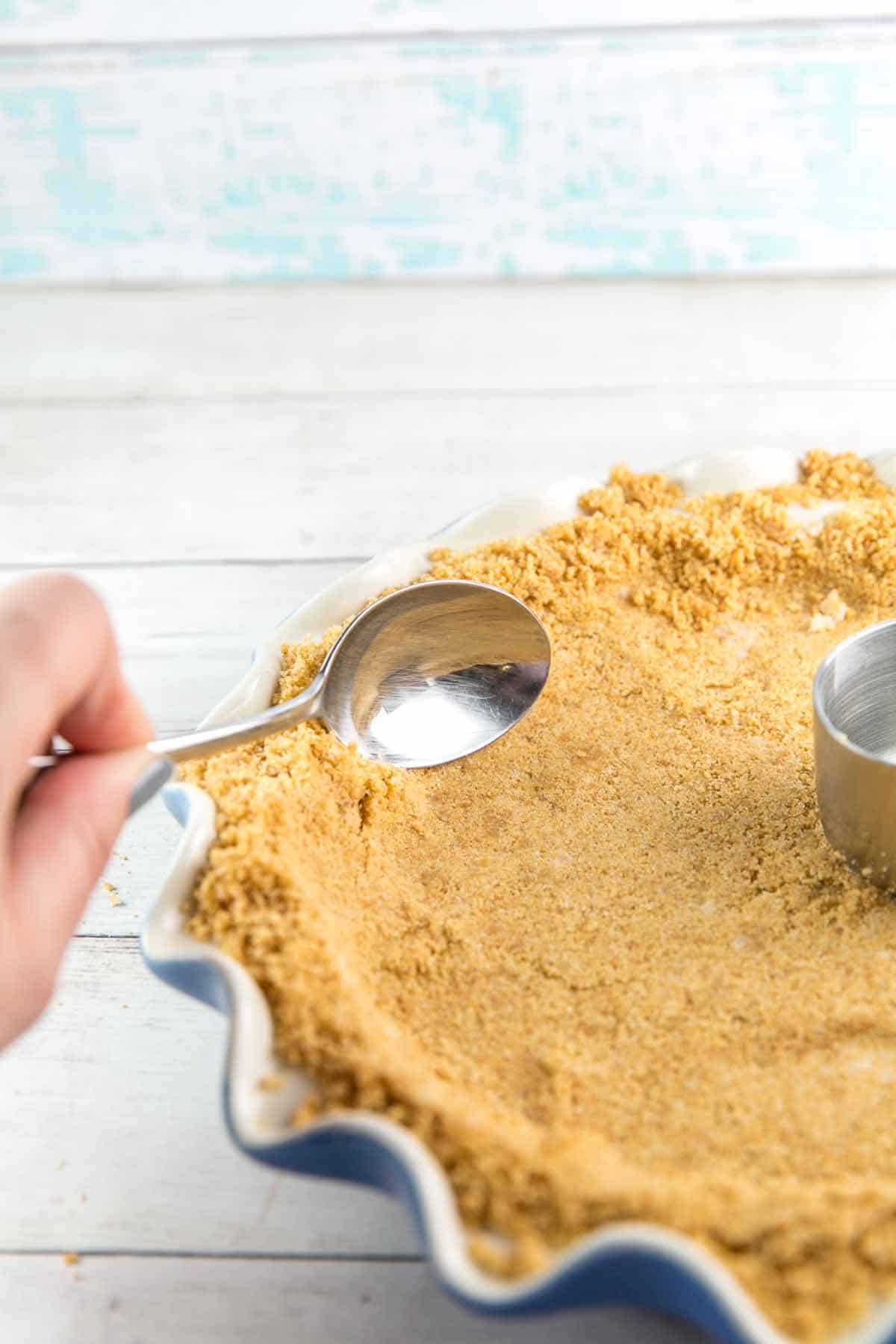 Or you could eat the pie all at once, and then soggy crusts are no longer an issue.  Come to think of it, this sounds like an even better option.  Pie for breakfast, please!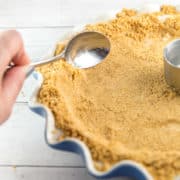 Perfect Graham Cracker Pie Crust
Learn how to make the perfect graham cracker pie crust from scratch with these simple tips to prevent it from crumbling.
Ingredients:
1 1/2 cups graham cracker crumbs (approximately 12 full size sheets, finely crushed)
1/3 cup granulated sugar
6 tablespoons melted butter
optional: 2 teaspoons favorite baking spice (cinnamon, cardamom, ginger, etc.)
Directions:
Preheat oven to 350 °F (optional: pie crust can also be no bake, but baking ensures crispier crust).
Combine all ingredients in a large bowl and mix until no dry clumps remain.
Press mixture into the bottom and up the sides of a 9″ pie pan, using a sturdy measuring cup or glass and a spoon.
Bake for 8 minutes, then cool before adding filling.
Pie crust can be made up to 3 days in advance before filling.