July 5, 2017
Grilled Pork Tenderloin Wraps
Thank You for supporting the brands that support me and allow me to continue to grow my blog.  This shop has been compensated by Collective Bias, Inc. and its advertiser.  All opinions are mine alone.  #SimplyTastyPork #ResetTheTable #CollectiveBias
Easy grilled pork tenderloin wraps with peppers, onions and homemade corn salsa are perfect for summer dining.  Wrap in parchment paper and take them on the go – great for picnics and backyard dining!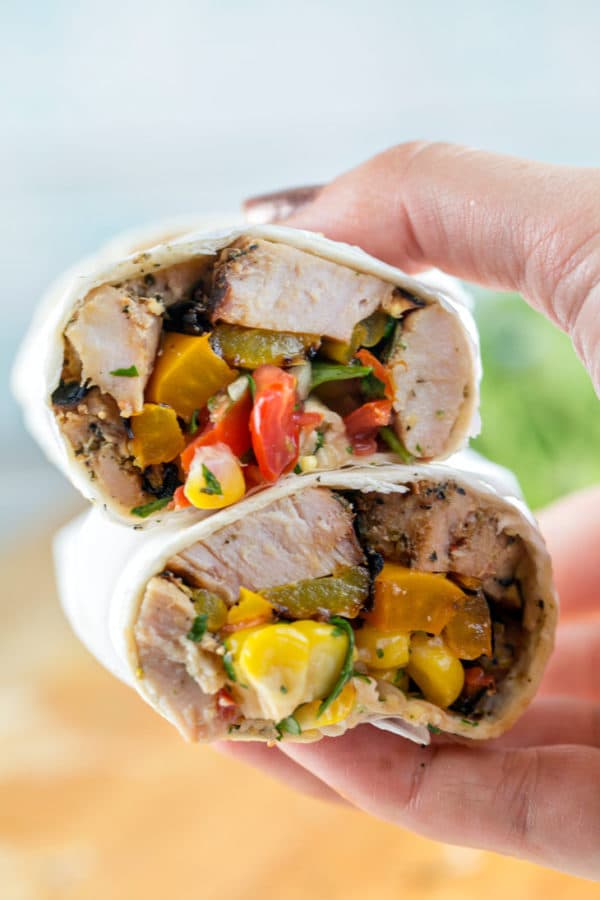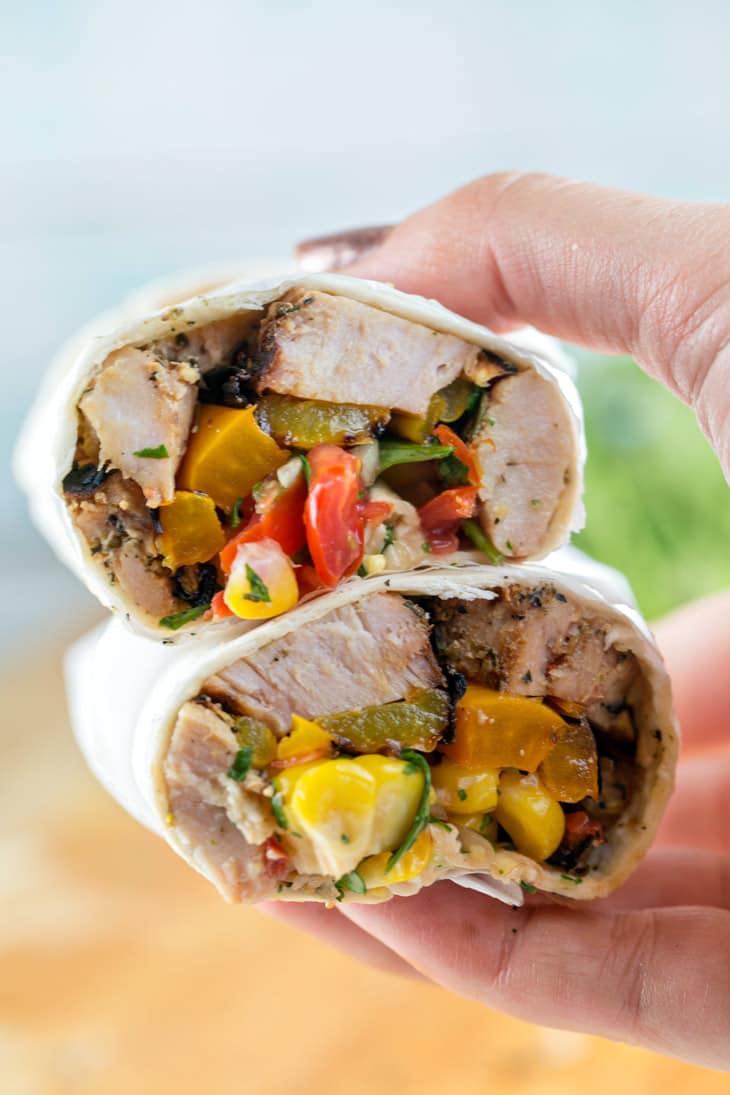 As a working mom (basically two jobs, between science-ing and food blogging), we need fast and easy weeknight dinners.  All summer long, that means GRILLING.
There is truly no faster, easier way to get dinner on the table in a timely fashion than heating up the grill.
We love grilled veggies, so it's a great way to cook both your protein and vegetables at the same time.  Plus, grilling outside means not turning on the oven when it's approximately three billion degrees outside, which is the ultimate win.
Buuuut… sometimes I feel like we're stuck in a grilling rut.  There are only so many ways I can grill a chicken breast before I'm really bored.  So this summer, I'm letting Hatfield Dry Rub Seasoned pork help keep things exciting on the grill.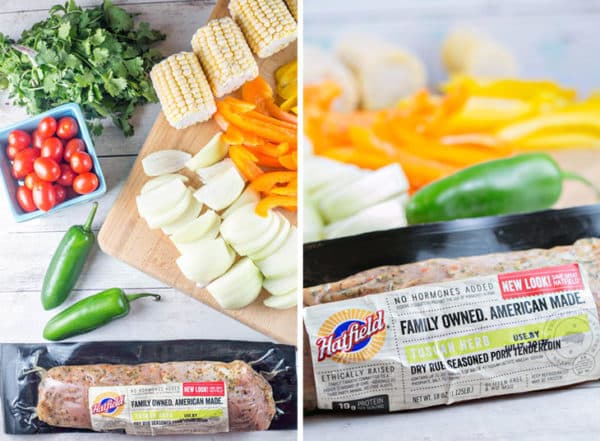 I just made these Grilled Pork Tenderloin Wraps using Hatfield Dry Rub Seasoned Tuscan Herb Tenderloin, and it was truly the perfect summer meal.  Grill the pre-seasoned pork, alongside onions, sweet peppers, and summer corn on the cob.
While the meat and veggies are grilling, dice some tomatoes and a jalapeno or two.  Layer together the grilled pork, peppers and onions, and some fresh corn salsa for a delicious dairy free, gluten free dinner.
The best part of these wraps?  They're just as good cold as they are hot.  Make them for dinner and pack one for lunch the next day.  Or better yet, make them ahead of time and bring them on a picnic.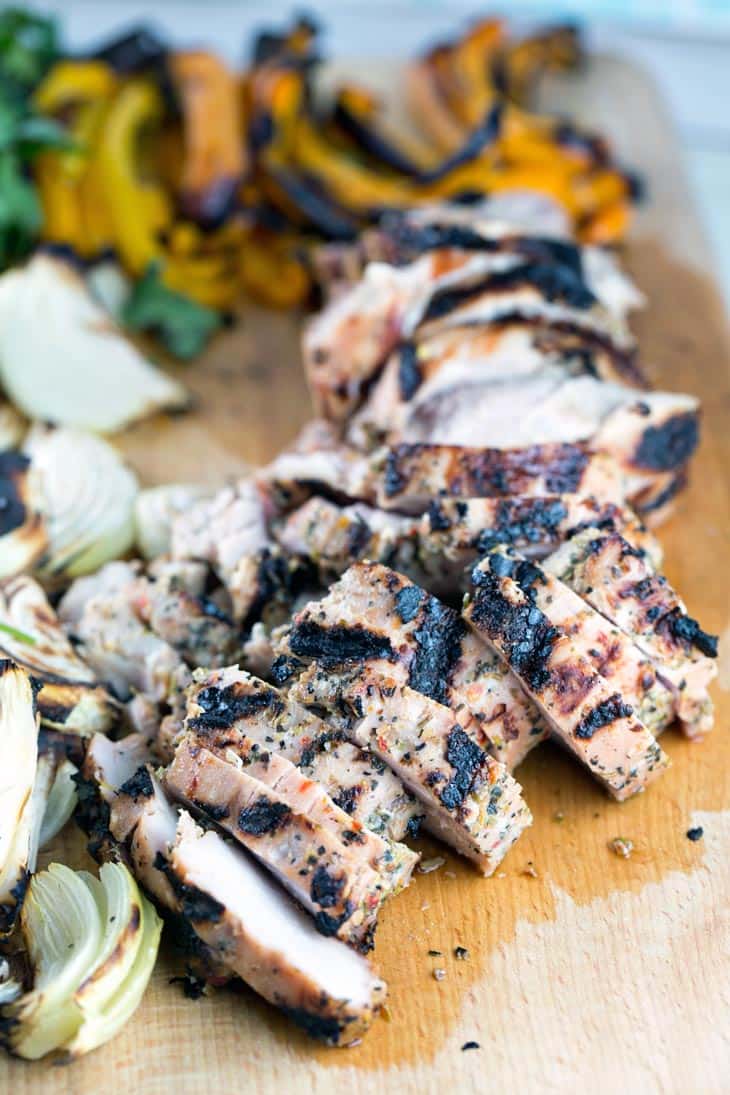 Living in the city, we lack a backyard, but we make up for it with park space.  There are tons of neighborhood-wide outdoor events, free concerts, and family gatherings in the park.  These grilled pork tenderloin wraps are perfect to bring along on a fun outdoor adventure – and they're family friendly, too!  My two year old LOVED these.
To make them a little more portable and help clumsy toddler hands, I wrapped each stuffed tortilla in a little parchment paper (bonus: you can overstuff the tortillas this way too – more filling is always a win!).  It also makes them super easy to grab the next morning to bring for lunch.
Summer is all about spending time outdoors, staying up a little later, and playing in the grass.  Take your dinner outside with these easy Grilled Pork Tenderloin Wraps – whether it's a nearby park or your own backyard.  Bring them to the beach, to an outdoor concert, or over to your neighbor's house.  Wherever you eat them, they're sure to be a hit!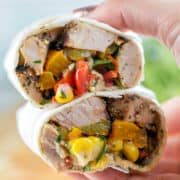 Hatfield Tuscan Herb Grilled Pork Tenderloin Wraps
Easy grilled pork tenderloin wraps with peppers and onions and homemade corn salsa are perfect for summer dining.
Ingredients:
1 Hatfield Dry Rub Seasoned Tuscan Herb Tenderloin
2 bell peppers, sliced lengthwise into thin strips
2 onions, cut into crescents
2 ears corn, shucked
2 ripe tomatoes, diced
2 jalapenos, seeded and diced
1/2 red onion, diced
juice of 1 lime
1 tablespoon balsamic vinegar
1/2 cup fresh cilantro, chopped
salt and pepper to taste
6 10-inch corn tortillas
Directions:
Preheat grill until fully heated, 10 to 15 minutes.

Place the pork tenderloin and ears of corn on the hot grill.  Close the lid and grill for 7 minutes.  After 7 minutes, open the grill, flip the pork and corn, and add the peppers and onions to the grill.  Close the lid again and grill for an additional 7 minutes.  Keeping the lid closed, turn off the heat and allow the pork to cook with the residual grill heat for an additional 5 minutes.  Confirm the thickest part of the pork has reached a temperature of 145 °F.

Remove the pork and vegetables from the grill.  Allow the pork to rest at room temperature for 5 minutes before carving.

While the pork is resting, start the salsa.  Strip the kernels from the corn cob.  Combine the corn kernels, diced tomatoes, jalapenos, red onion, lime juice, balsamic vinegar, and cilantro in a medium bowl.  Add salt and pepper to taste.

To assemble, place a few strips of pork, some peppers and onions, and several tablespoons of the corn salsa in the center of a corn tortilla.  Fold the ends in and roll.  If desired, wrap in parchment paper or aluminum foil for transport and ease of eating.
A Bunsen Burner Bakery Original Protocol