July 5, 2017
Grilled Pork Tenderloin Wraps
Easy grilled pork tenderloin wraps with peppers, onions and homemade corn salsa are perfect for summer dining. Wrap in parchment paper and take them on the go – great for picnics and backyard dining!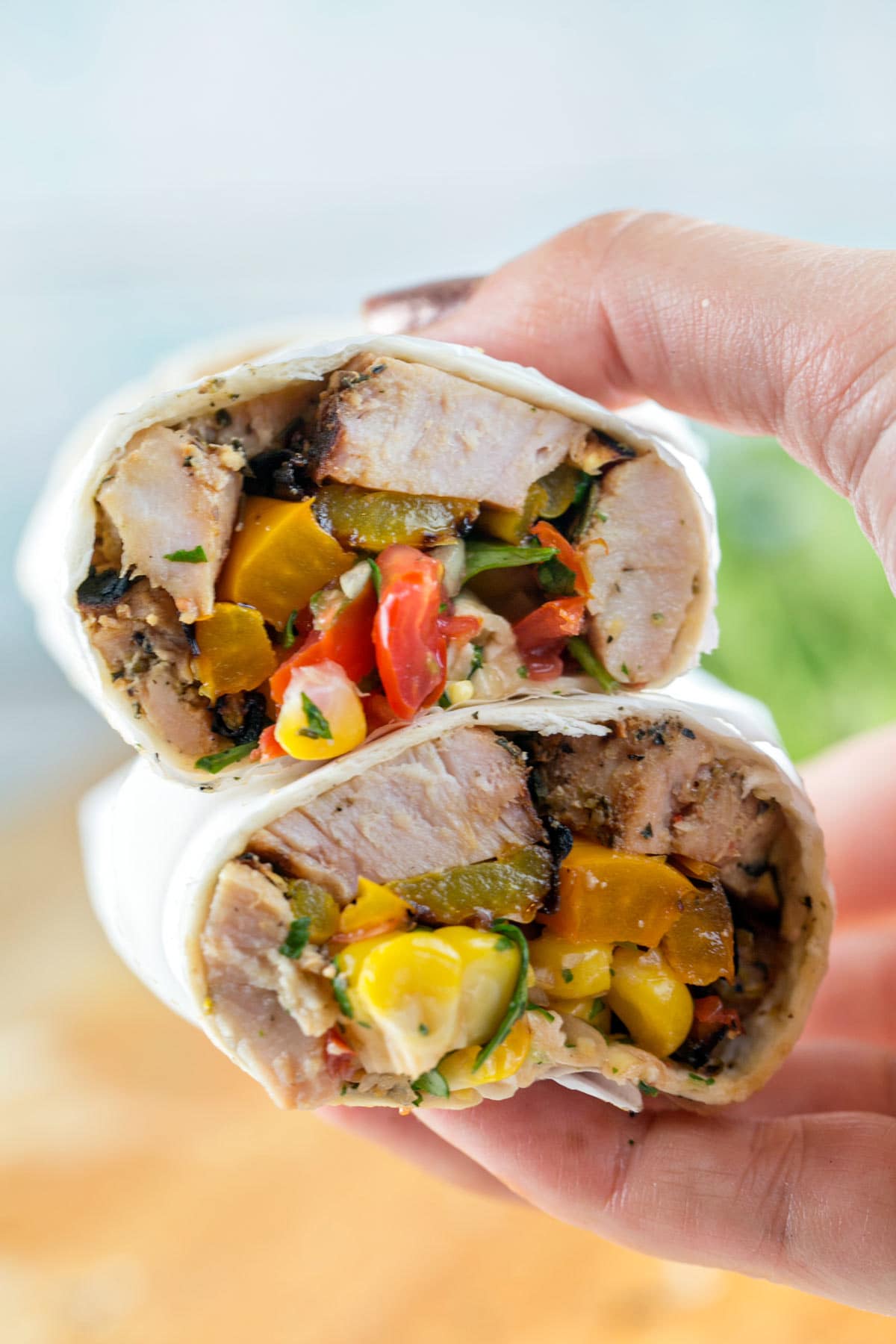 As a working mom (basically two jobs, between science-ing and food blogging), we need fast and easy weeknight dinners. All summer long, that means GRILLING.
There is truly no faster, easier way to get dinner on the table in a timely fashion than heating up the grill.
We love grilled veggies, so it's a great way to cook both your protein and vegetables at the same time.  Plus, grilling outside means not turning on the oven when it's approximately three billion degrees outside, which is the ultimate win.
Most of the time, people think of hot dogs or hamburgers or chicken when it comes to grilling. Maybe a steak, to change things up a little. But let's take it in a different direction – with grilled pork tenderloin.
One of the reasons I love this recipe so much for a quick weeknight dinner is because there is no real prep involved. No shaping hamburgers. No marinating things for hours beforehand. Just rub some herbs and seasoning on a pork tenderloin and go grill.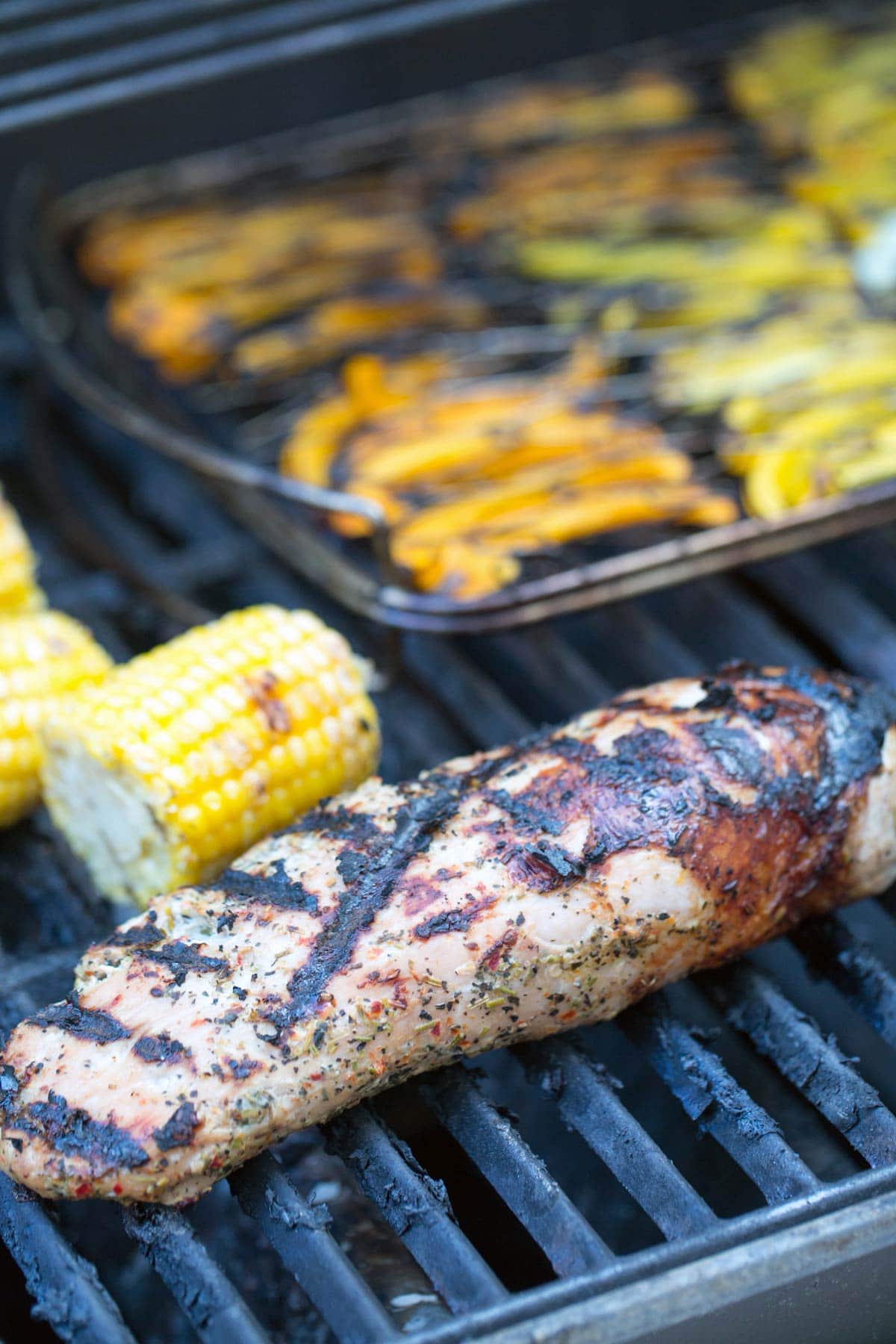 Garlic Herb Pork Rub
Because pork tenderloin is so lean, we don't need any sort of marinade to penetrate fat. Instead, a quick dry rub before grilling is all we need!
Pull the pork out of the refrigerator and bring to room temperature for 15 – 20 minutes while the grill preheats. This is the perfect time to slice the accompanying vegetables, too.
Pat the tenderloin dry with a towel, then coat both sides with the easy pork rub.
To make the rub, combine together dried rosemary, thyme, oregano, parsley, basil, red pepper flakes, garlic powder, salt, and pepper.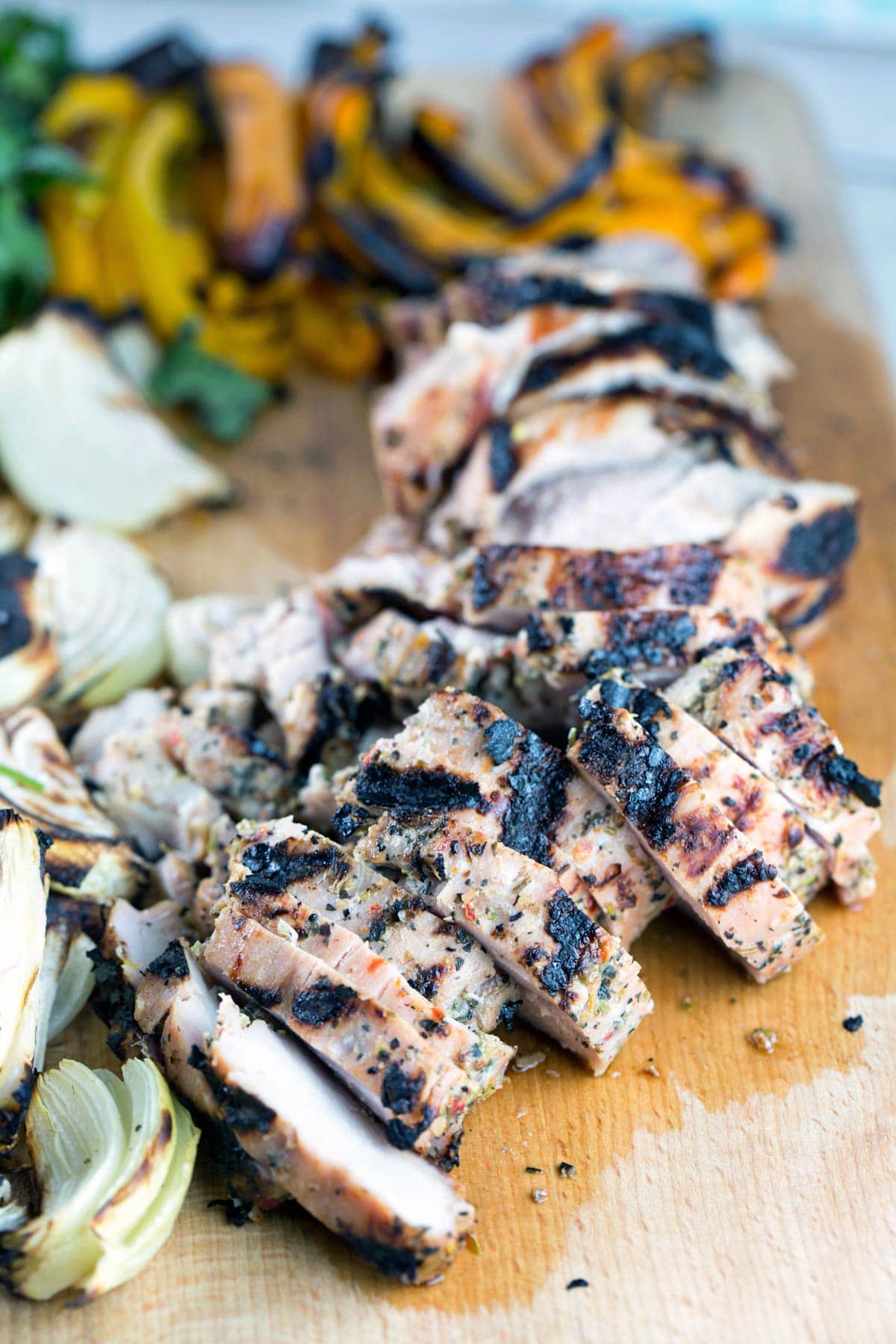 Grilling Pork Tenderloin
Grilling is always my favorite way to make pork tenderloin! Confession: while I love the flavor that comes from charcoal grills, we use a gas grill at home because it's just so much faster. (And fast is the name of the game for weeknight dinners!).
Start by preheating the grill to medium-high. Oil the grates well – because pork tenderloin is so lean, it's more likely to stick to the grates. Add your herb-rubbed tenderloin to the grill, close the lid, and grill for 7 minutes. After 7 minutes, flip to the other side, close the lid, and grill another 7 minutes. Then turn off the heat and allow the pork to cook with the residual heat for another 5 minutes, or until the internal temperature reaches 145 °F.
Once the pork tenderloin is off the grill, let it rest for 5 – 10 minutes before slicing. Why do we always let meat rest before cutting into it? It's time for my favorite subject… kitchen chemistry!
Kitchen Chemistry

As meat is cooked, the muscle fibers begin to tighten and narrow.  If these fibers are still hot, they are unable to hold onto any juice, and thus all the juice (and flavor!) leaks onto the cutting board once the meat is cut.  However, by letting the meat cool slightly, the muscle fibers are able to relax and widen slightly, and thus able to hold onto the additional juice inside the meat.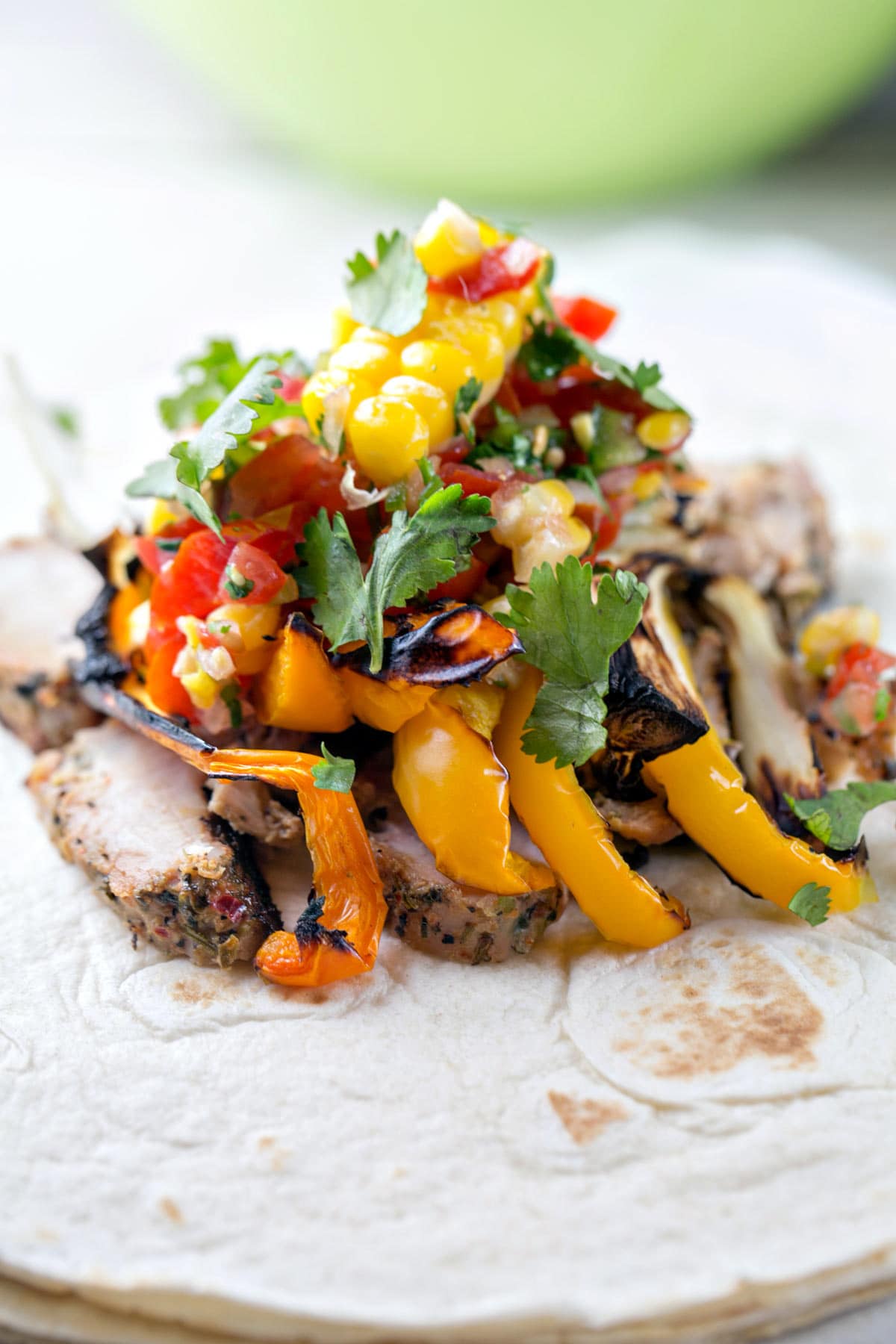 Easy Grilled Vegetables
Along with the pork, toss some vegetables on the grill. I like to include onions, bell peppers, and fresh summer corn on the cob.
Of course, any summer vegetables you like would be delicious in these wraps, like long slices of zucchini or summer squash, or slices of portobello mushrooms.
If you're grilling the pork but planning on eating it without wrapping it in a tortilla, grilled sweet potatoes would also be a delicious side.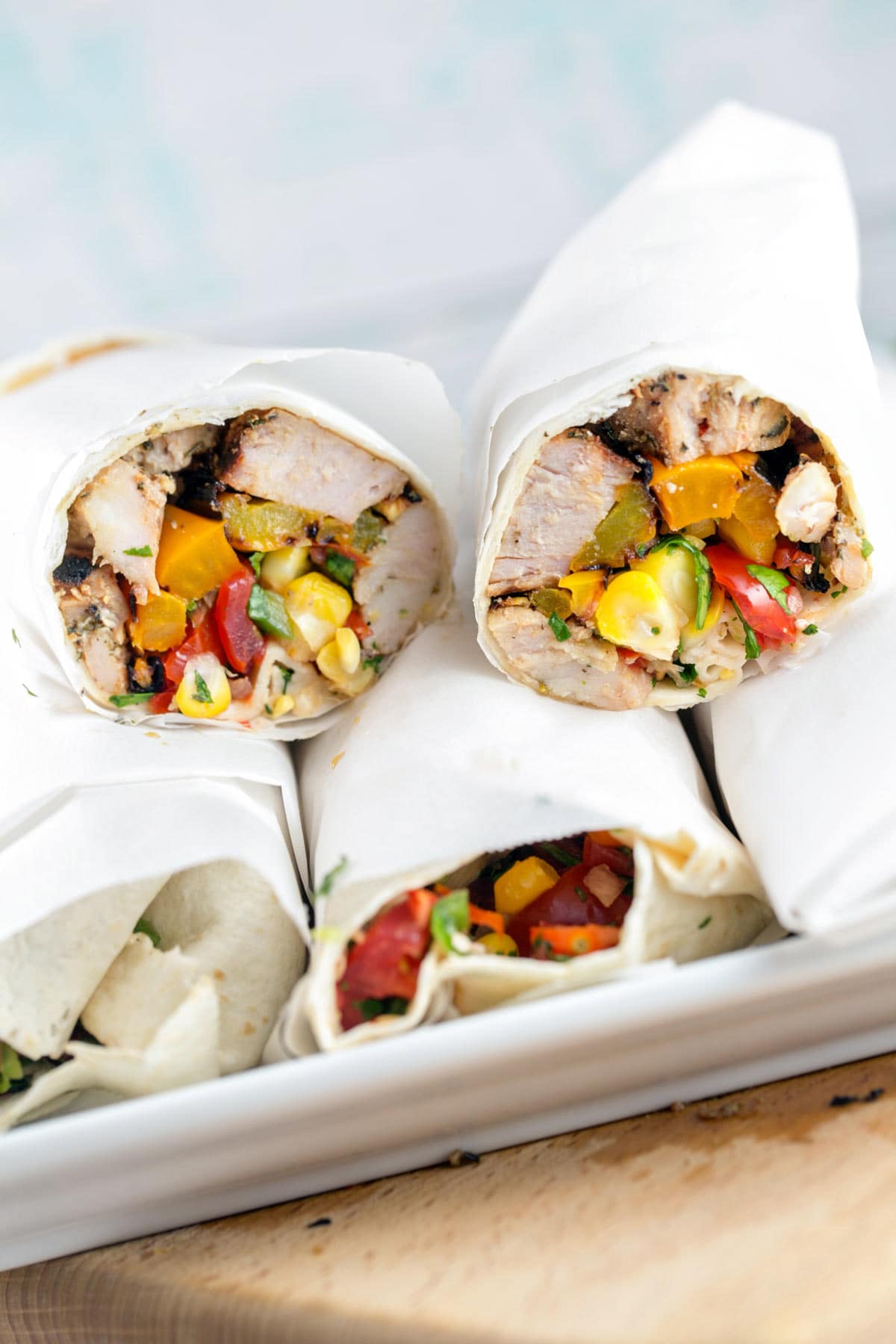 Wraps for an Easy Portable Dinner
While the pork tenderloin and vegetables are grilling, dice some tomatoes and a jalapeno or two (depending on how spicy you like it!). Layer together the grilled pork, peppers and onions, and some fresh corn salsa on to your tortilla for an easy dairy-free, gluten-free dinner.
Pork tenderloin wraps are one of our favorites to eat sitting around the table, but we also love them because they're easy to take on the go! They are just as good cold as they are hot, meaning we can make them for dinner and pack another for lunch the next day. Or better yet, make them ahead of time and bring them on a picnic.
I don't know about you, but our life in the summer is always so busy! Adorable two-year-old soccer practice? Concert in the park? Wrap the filled tortillas with parchment paper (bonus: you can even overstuff the tortillas this way too — more filling is always a win!) and take them along for all your outdoor family adventures.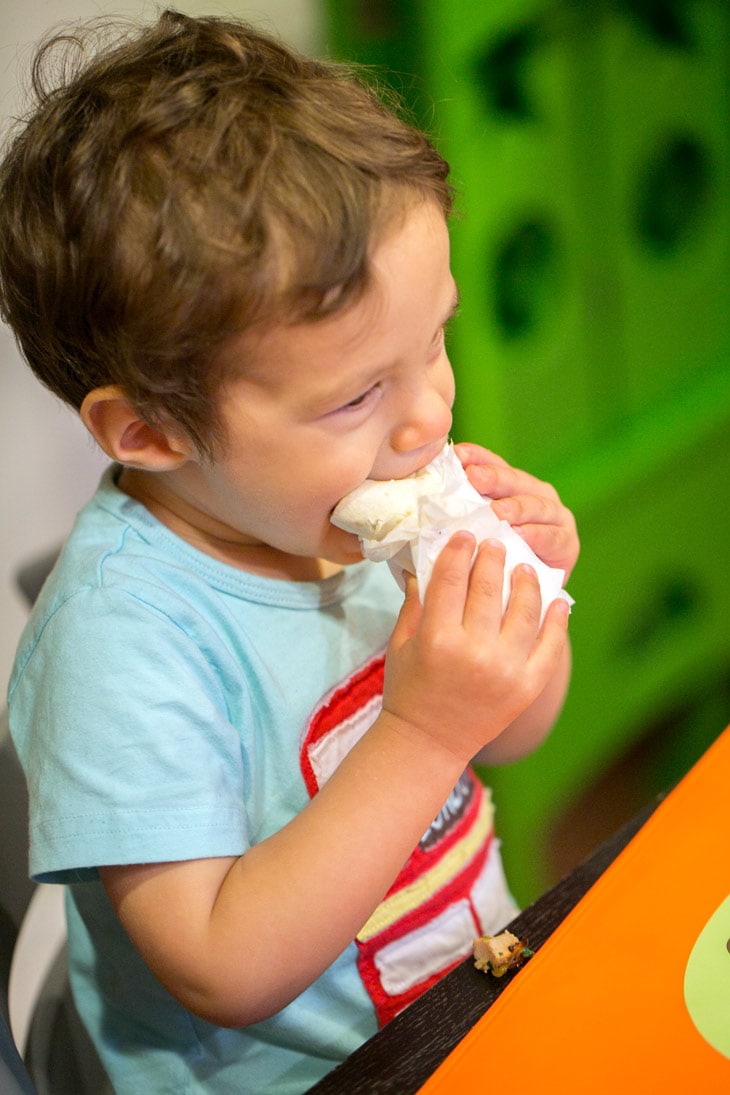 Tips and Tricks for the Best Grilled Pork Tenderloin Wraps
Pork tenderloins from the grocery store are often sold as packs of two. This recipe is designed for one tenderloin – either double the herbs and grill both at once or freeze the other for later.
Allow the pork tenderloin to sit at room temperature for 15 – 20 minutes before grilling, which will allow for more even cooking.
Oil the grill grates well so the tenderloin does not stick to the grill.
Let the pork tenderloin rest for 5 – 10 minutes after grilling to ensure the meat is juicy and flavorful.
More Summer Grilling Recipes:
Grilled Pork Tenderloin Wraps
Easy grilled pork tenderloin wraps with peppers and onions and homemade corn salsa are perfect for summer dining.
Ingredients
1 - 1.5 pound pork tenderloin
1 teaspoon dried rosemary
1 teaspoon dried thyme
1 teaspoon dried oregano
1/2 teaspoon dried parsley
1/2 teaspoon dried basil
1/4 teaspoon red pepper flakes
1 teaspoon garlic powder
1/2 teaspoon kosher salt
1/2 teaspoon freshly ground black pepper
2 bell peppers, sliced lengthwise into thin strips
2 onions, cut into crescents
2 ears corn, shucked
2 ripe tomatoes, diced
2 jalapenos, seeded and diced
1/2 red onion, diced
juice of 1 lime
1 tablespoon balsamic vinegar
1/2 cup fresh cilantro, chopped
salt and pepper to taste
6 10-inch corn tortillas
Instructions
Remove pork tenderloin from the refrigerator and leave at room temperature for 15 - 20 minutes. Preheat grill until fully heated, 10 to 15 minutes. Grease the grill grates well.
Combine the rosemary, thyme, oregano, parsley, basil, red pepper flake, garlic powder, salt, and pepper in a small bowl. Pat the pork tenderloin dry and spread herb rub all over both sides of the tenderloin.
Place the pork tenderloin and ears of corn on the hot grill. Close the lid and grill for 7 minutes. After 7 minutes, open the grill, flip the pork and corn, and add the peppers and onions to the grill. Close the lid again and grill for an additional 7 minutes. Keeping the lid closed, turn off the heat and allow the pork to cook with the residual grill heat for an additional 5 minutes. Confirm the thickest part of the pork has reached a temperature of 145 °F.
Remove the pork and vegetables from the grill. Allow the pork to rest at room temperature for 5 - 10m inutes before carving.
While the pork is resting, start the salsa. Strip the kernels from the corn cob. Combine the corn kernels, diced tomatoes, jalapenos, red onion, lime juice, balsamic vinegar, and cilantro in a medium bowl. Add salt and pepper to taste.
To assemble, place a few strips of pork, some peppers and onions, and several tablespoons of the corn salsa in the center of a corn tortilla. Fold the ends in and roll. If desired, wrap in parchment paper or aluminum foil for transport and ease of eating.
Recommended Products
As an Amazon Associate and member of other affiliate programs, I earn from qualifying purchases.