July 23, 2018
Spicy Grilled Okra
Think okra is slimy? Think again, with this Spicy Grilled Okra – crunchy, creamy, and totally delicious.  Plus, the top cooking tips to keep your fresh okra slime-free!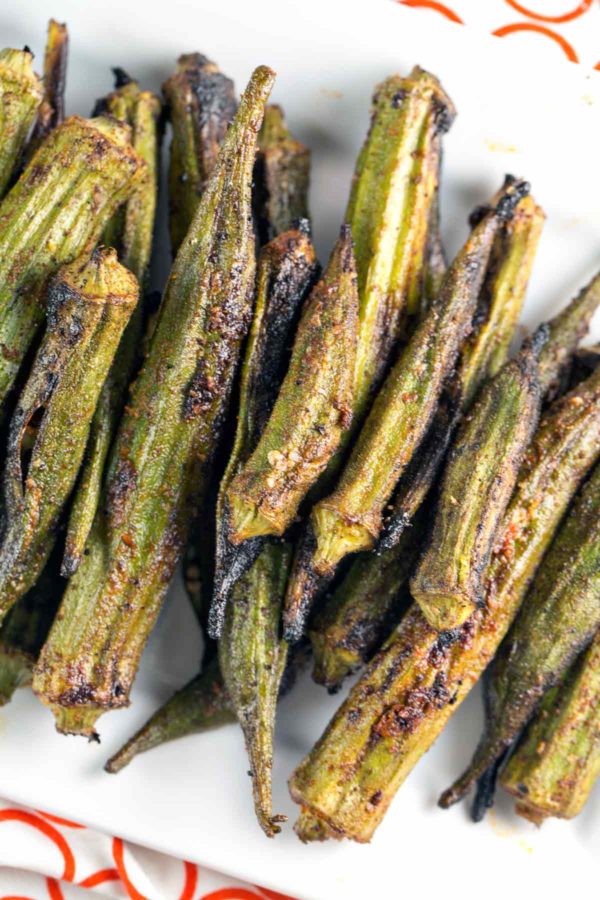 Let's take a little break from summer desserts this week, and talk about one of my absolute, all-time, most favorite foods: grilled okra.
A little unexpected? Perhaps. I'm not from an area or culture that frequently cooks with okra; in fact, I'm not sure if I ever even tried okra before I was in my 20s.
And yet now, as an adult, I love okra… as long as it's grilled or roasted. (Or dehydrated in those crispy okra snacks from Trader Joe's which might be laced with something illegal because they are so dang delicious.)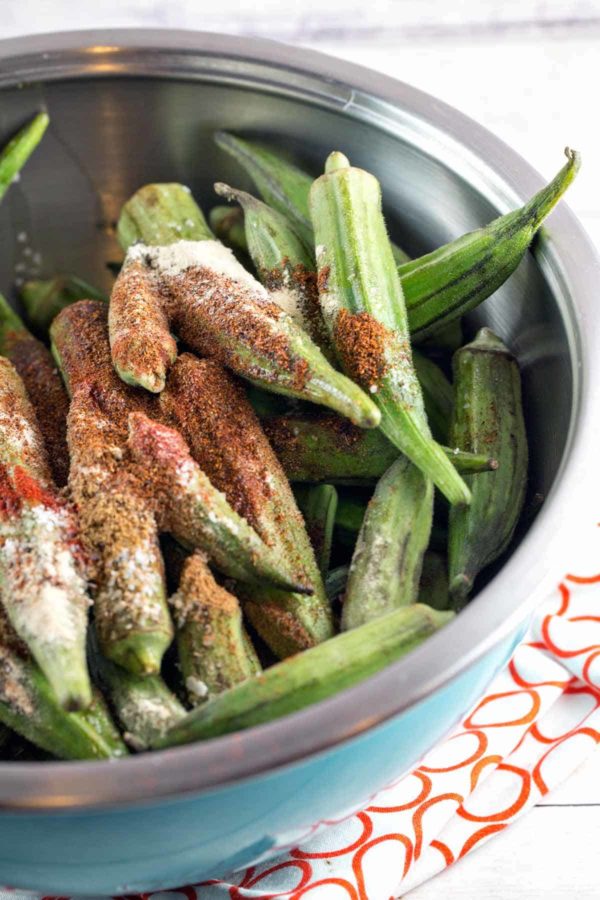 I owe my recent love affair with okra to our CSA a few years ago, who packed up a few pounds of okra into our weekly box.  I had never made okra before and wasn't quite sure what to do with it.  So I did what I do with all the vegetables that leave me stumped: throw them on the grill.
Suffice to say, I was hooked. Now I spend my summers grilling as much fresh okra as I can find, and roasting it in the winter (a close second to grilling).
Now, look. At the end of the day, this is still okra. Grilled okra isn't a french fry or a mozzarella stick or any other crunchy, salty, delicious food. But it's about as good as a vegetable comes (and I generally love vegetables).
Let's talk a little about okra before I get into why I love spicy grilled okra so much.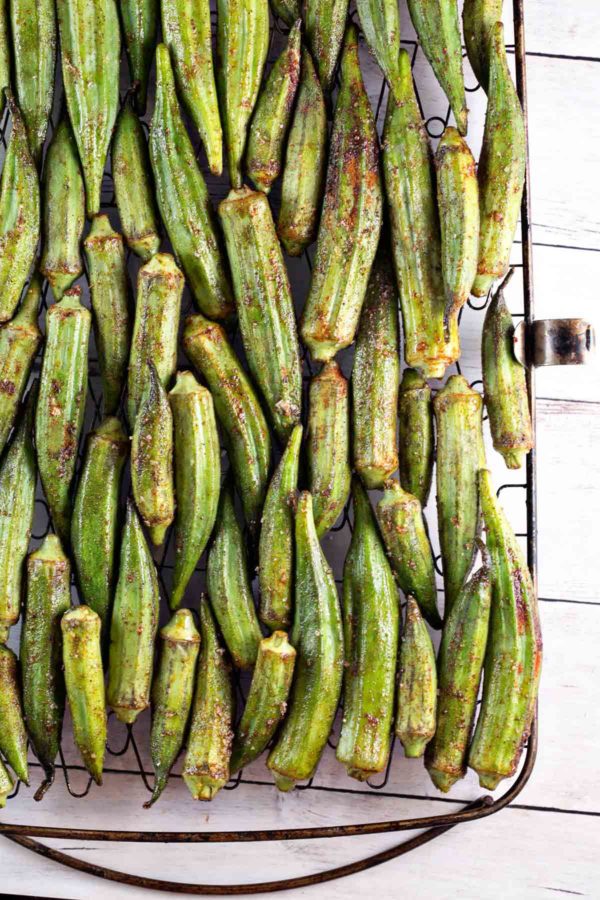 Why is Okra Slimy?
To understand why okra is slimy, it's time for my favorite subject… kitchen chemistry!
Kitchen Chemistry

Okra gets it slime from mucilage, which is that sticky, slimy substance that seems to ooze from okra. Mucilage is composed of sugar residues called exopolysaccharides and proteins called glycoproteins, both of which thicken when heated. Mucilage is produced by nearly all plants, but okra produces it in much greater quantities (so do other sticky plants – like aloe and licorice root).
This increased viscosity is great when it comes to gumbo — the mucilage acts as a thickening agent. Buuuuut… it can also make okra feel pretty slimy. There's a reason you don't usually come across sauteed okra, where there is nothing to absorb this excess mucilage.
Why Grill Okra?
The biggest trick to reducing the 'sliminess' of okra is to cook it quickly, over high heat. Grilling is a great way to accomplish this – it's fast and easy.
Grilling over high heat means some bits get nice and charred and crispy (i.e., the best part of grilling anything). The seeds have a nice little pop, offset by the creamy inside (because high heat = creaminess, not slime!).
Grilled okra is also the perfect side to just about anything you'd toss on the grill: burgers (or my favorite veggie burgers), sausage, fish, grilled tahini chicken, etc.  Toss on some ears of corn and these three-ingredient grilled potatoes for a true summer feast.
How to Grill Okra
Okra itself is a little bland in flavor (almost like an eggplant), so I like to make mine a little spicy. After washing and drying the okra (remember, dry it well!!), toss with a little olive oil and a heaping pile of spices for a little zing. The smoked paprika adds a smokey flavor, which pairs so perfectly with the charred bits from the grill. Add a little garlic powder, chili powder, cumin, and salt, and toss on the grill.
If you're careful and your okra is large, you can lay the okra directly on the grill grates. I usually put mine in a fish basket (Amazon links may be affiliate) or string them on skewer sticks. Grill for a few minutes per side and that's it.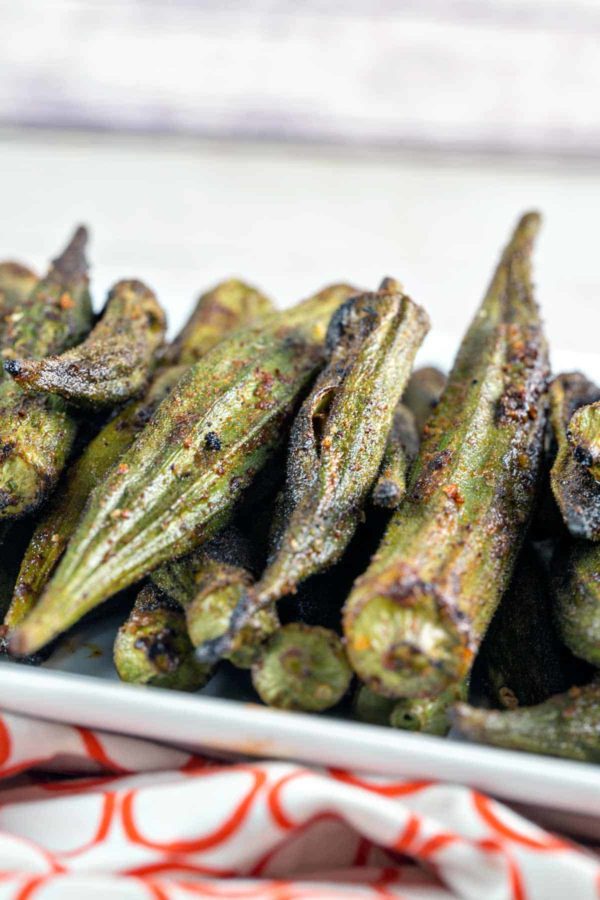 Tips & Tricks to for the Best Spicy Grilled Okra
Choose smaller pods. Smaller pods = less mucilage = less slime.
Cook okra fast over high heat. When you cook okra quickly, the mucilage doesn't have time to develop, and you'll wind up with a crispy outside and an almost creamy inside. (This is why fried okra works so well.)
Dry okra thoroughly before cooking. If your okra is at all wet when you start to cook it, it will steam, which will produce more mucilage.
Cook okra in a single layer. In other words, don't crowd the pan! Whether grilling or roasting, cook in a single layer, ensuring that the outside of each piece of okra is exposed and can cook quickly.
Perfectly creamy, crunchy, spicy grilled okra… no slime allowed.
More Grilling Recipes: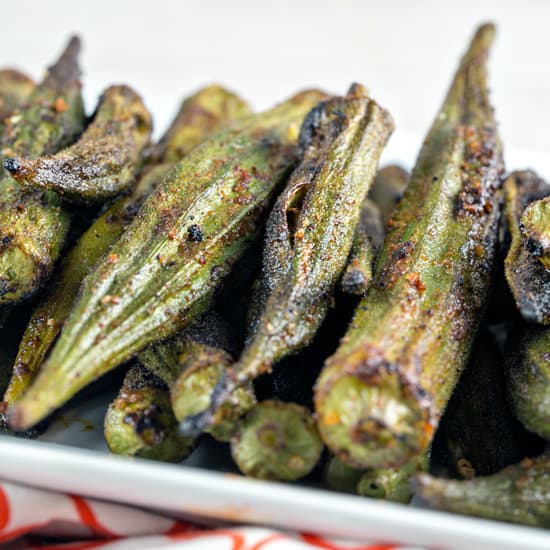 Spicy Grilled Okra
Think okra is slimy? Think again, with this spicy grilled okra – crunchy, creamy, and totally delicious.
Ingredients
2 pounds fresh okra
2 tablespoons olive oil
1 teaspoon salt
1 teaspoon smoked paprika
1 teaspoon chili powder
1/2 teaspoon garlic powder
1/2 teaspoon cumin
Instructions
In a large bowl, combine okra and olive oil, tossing to coat. Add spices and continue to toss, until okra is evenly coated.
Arrange okra in a single layer on a fish basket or skewer on a stick.
Grill over medium high heat for 3 minutes with the cover closed. Flip and grill an additional 3 minutes, or until okra is slightly charred and crispy outside and soft in the center.
Notes
Look for smaller okra pods, which will both cook quicker and produce less mucilage.
To keep the outsides crispy and prevent the slimy feeling, cook quickly over high heat.
Dry the okra thoroughly before seasoning and placing it on the grill.
Recommended Products
As an Amazon Associate and member of other affiliate programs, I earn from qualifying purchases.
Nutrition Information:
Yield:

6
Amount Per Serving:
Calories:

94
Carbohydrates:

11.9g
Fiber:

5.2g
Protein:

3.1g