June 28, 2017
Funfetti Bundt Cake
Get ready to celebrate with this festive sprinkle-filled funfetti bundt cake. Everyone's favorite childhood cake flavor, baked entirely from scratch and turned into a bundt cake. It's party time!
Another bundt cake? Didn't I just post one two days ago? You betchya (this patriotic red white and blue bundt cake, to be exact). So why two bundt cakes in a week?
Because today, friends, we are celebrating. Six years ago today, I hit "publish" on my very first post here on Bunsen Burner Bakery — a dark chocolate cheesecake.
Six years – it doesn't sounds like that long ago, but I barely remember life back then.
Six year ago, I was a graduate student working on my Ph.D. in a pediatric oncology research laboratory. I baked all the cakes for my labmates birthdays and they encouraged me to start a food blog as a means of sharing my recipes with them.
And here we still are, six years later. Ph.D. finished. A move from Washington, D.C. to Philadelphia to join a biophysics lab as a postdoc. Buying a house. Adopting a dog. Adding a tiny human to our family.
Six years, but sometimes it feels more like sixteen.
I've made (and rekindled) some wonderful friendships through food blogging, have an automatic "interesting fact" about myself for job interviews, and now, it's even become a way to spend time with my two year old.
We recently gave him an old point-and-shoot camera, and he stands up on a chair next to me, taking pictures of my photo setup while I do. He'll sit down at the computer and start pretend typing, telling me all about the recipe he's food blogging.
"I blogging a salad! I blogging pasta salad. No, I blogging ICE CREAM SALAD!" <– he might be on to something there. Ice cream salad, coming to Bunsen Burner Bakery soon!
All this to say: I had no idea a little hobby would turn into such a big part of my life. Thanks to all of you who have joined me for the adventure! Now let's celebrate with cake!
Of course, it's a bundt cake, because… Bundt Cake of the Month series. And of course, there have to be sprinkles involved, because… I love sprinkles. So why not make it the sprinkliest of sprinkle cakes: funfetti bundt cake!
With sprinkles inside and outside, this funfetti bundt cake is definitely ready to celebrate. It's a basic vanilla cake, although I like to add a little almond extract in as well for that classic cake batter flavor.
(Totally optional though – leave out if you have nut allergies!).
Top with a simple vanilla glaze and sprinkles. Then add more sprinkles. Then take a picture and decide you need to add even more sprinkles. You should probably just go ahead and buy sprinkles in bulk (Amazon links are affiliate) to make sure you have enough.
(You can never have too many sprinkles.) (Plus then you can funfetti all the things, like these sprinkle sugar cookies.)
Now to spend the next 364 days to figure out how to make an even more sprinkle-filled dessert for next year.
But in the meantime, join me in celebrating Bunsen Burner Bakery's sixth blog-ivesary with a big slice of funfetti bundt cake.
Watch the Funfetti Bundt Cake Video ↓↓↓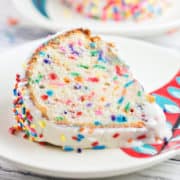 Funfetti Bundt Cake
Get ready to celebrate with this festive sprinkle-filled funfetti bundt cake.  Everyone's favorite childhood cake flavor, baked entirely from scratch and turned into a bundt cake.
Ingredients:
For the cake:
4 eggs, room temperature
3/4 cup vegetable oil
1 cup whole milk, room temperature
1 tablespoon vanilla extract
1 teaspoon almond extract
3 cups all-purpose flour
1 3/4 cups sugar
1 1/2 teaspoons baking powder
3/4 teaspoon salt
1 cup sprinkles
For the glaze:
2 1/2 cups confectioners sugar
1/4 cup milk
1 teaspoon vanilla extract
sprinkles, for decorating
Directions:
Preheat the oven to 350 °F.  Grease and flour bundt pan.
Using an electric mixer, beat together the eggs, oil, milk, vanilla, and almond extract.  Slowly add in the flour, sugar, baking powder, and salt.  Continue to beat until ingredients are fully incorporated and smooth.  Add in the sprinkles and mix until evenly dispersed.
Pour batter into the prepared bundt pan.  Bake 45 to 50 minutes, until a tester inserted into the cake comes out clean and the cake springs back gently when pressed with a finger.  Cool cake in pan for 10 minutes, then invert onto a wire rack and cool completely before glazing.
To make the glaze, whisk together the confectioners sugar, milk, and vanilla extract until smooth.  Add additional powdered sugar for thicker glaze or more milk to thin.  Pour over the cooled cake, letting the glaze drip down the sides of the cake.  Decorate liberally with sprinkles.
To freeze, wrap unglazed cake tightly in aluminum foil, followed by a layer of plastic wrap.  Defrost fully and bring to room temperature before glazing.  Glazed slices can be frozen, wrapped as above, but glaze may separate from the cake while thawing.
A Bunsen Burner Bakery Original Protocol