March 12, 2021
Mint Chocolate Chip Cake
This Mint Chocolate Chip Cake is the ultimate birthday or celebration cake for mint lovers! Three layers of moist chocolate cake, minty buttercream frosting filled with chopped chocolate, layers of Andes mints, and chocolate ganache – perfection!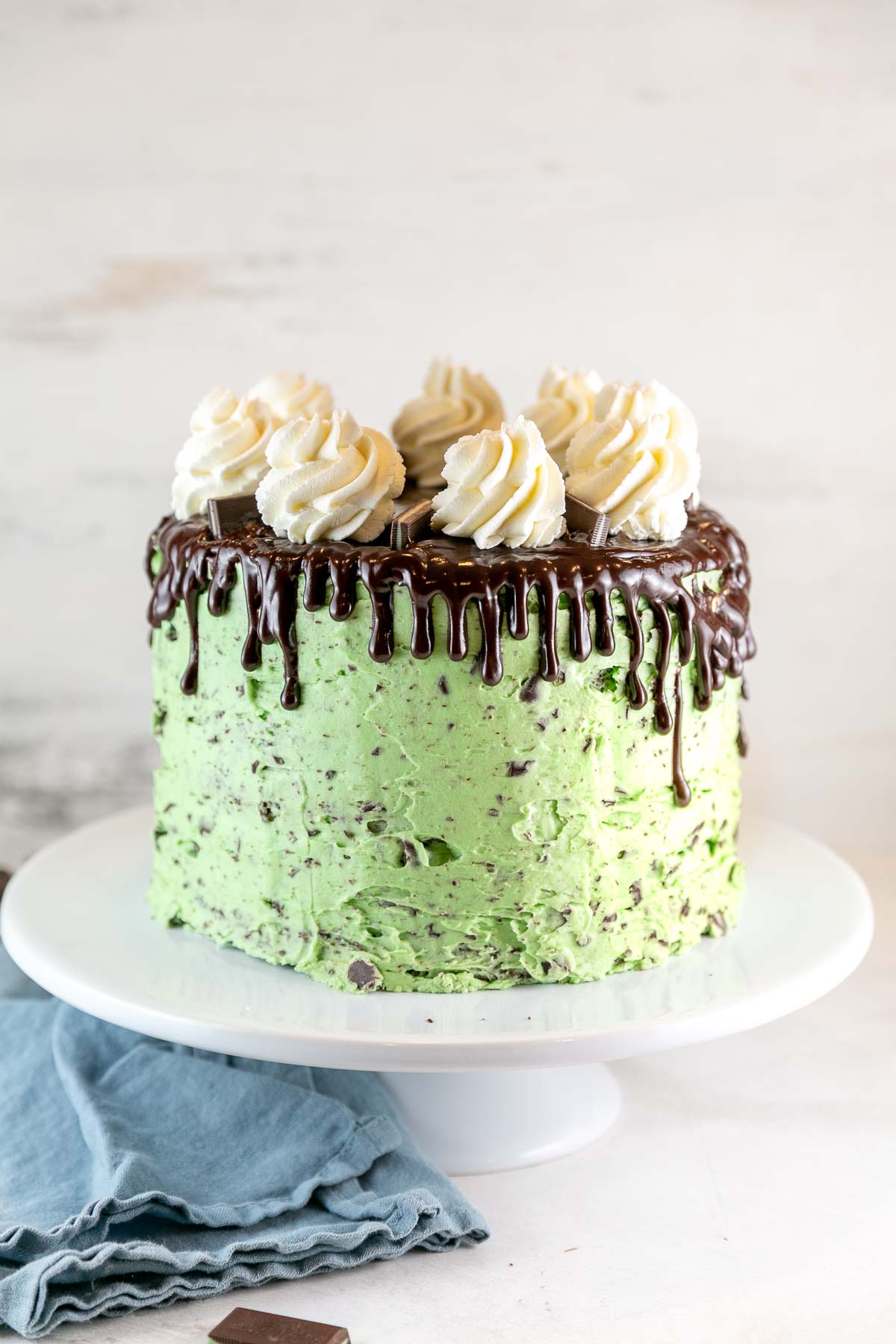 This post may include affiliate links. As an Amazon Associate I earn a fee from qualifying purchases.
I've shared before that my favorite ice cream flavor is mint chocolate chip (recipe HERE for the best mintiest mint chocolate chip ice cream!).
Apparently, the apple doesn't fall far from the tree — my 5-year-old recently declared that mint chocolate chip is his favorite ice cream flavor, too.
So when I was thinking through my cakes for 2021's Layer Cake of the Month project, mint chocolate chip cake seemed like an obvious choice, and between St. Patrick's Day and the start of spring, March seemed like the perfect month!
Mint + chocolate is a super popular combination, so this cake uses chocolate cake layers. If, like me, you're not a huge chocolate cake fan, swap out the chocolate for a vanilla cake. This strawberry layer cake uses my favorite vanilla cake recipe – just leave out the freeze-dried strawberries!
Whichever flavor cake you use, the minty buttercream frosting, full of chopped chocolate, layers of chopped Andes mints, dark chocolate ganache, and swirls of whipped cream make this cake a true winner!
Mint Chocolate Chip Frosting
While the cake is delicious, it's not new — you'll find it in my Chocolate Raspberry Cake, Best Chocolate Layer Cake, and Chocolate Peanut Butter Cup Cake.
The new, exciting star of this Mint Chocolate Chip cake is the FROSTING — a super easy buttercream frosting, flavored with mint, and packed full of lots of chopped chocolate.
(So much chopped chocolate, in fact, that it's hard to spread the frosting to a smooth finish. It's well worth the trade-off — I'll take a delicious frosting over a perfectly smooth one any day!)
For the best-tasting frosting, use good-quality chocolate and chop it into small pieces by hand. (I tried both a food processor and grating with a box grater – both shredded the chocolate so finely, the frosting turned brownish when I mixed it in. Stick with chopping by hand!)
I like to use Scharffen Berger, Guittard, Callebaut, Valrhona, or Lindt for an easier-to-find option (links are affiliate).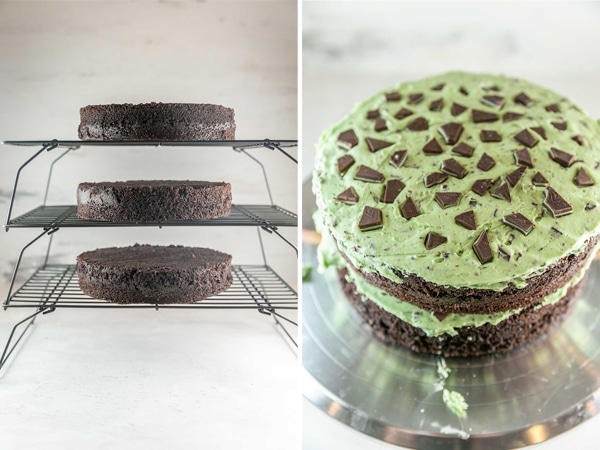 Types of Mint Extract for Baking
The mint flavor in the mint chocolate chip buttercream frosting comes from the mint extract. But there are multiple different types! What should you use?
For classic mint chocolate chip flavor, use mint extract. For mint flavor like a candy cane, use peppermint extract. For mint flavor like toothpaste or gum, use spearmint extract.
Because we want this cake to taste like mint ice cream, it uses regular mint extract.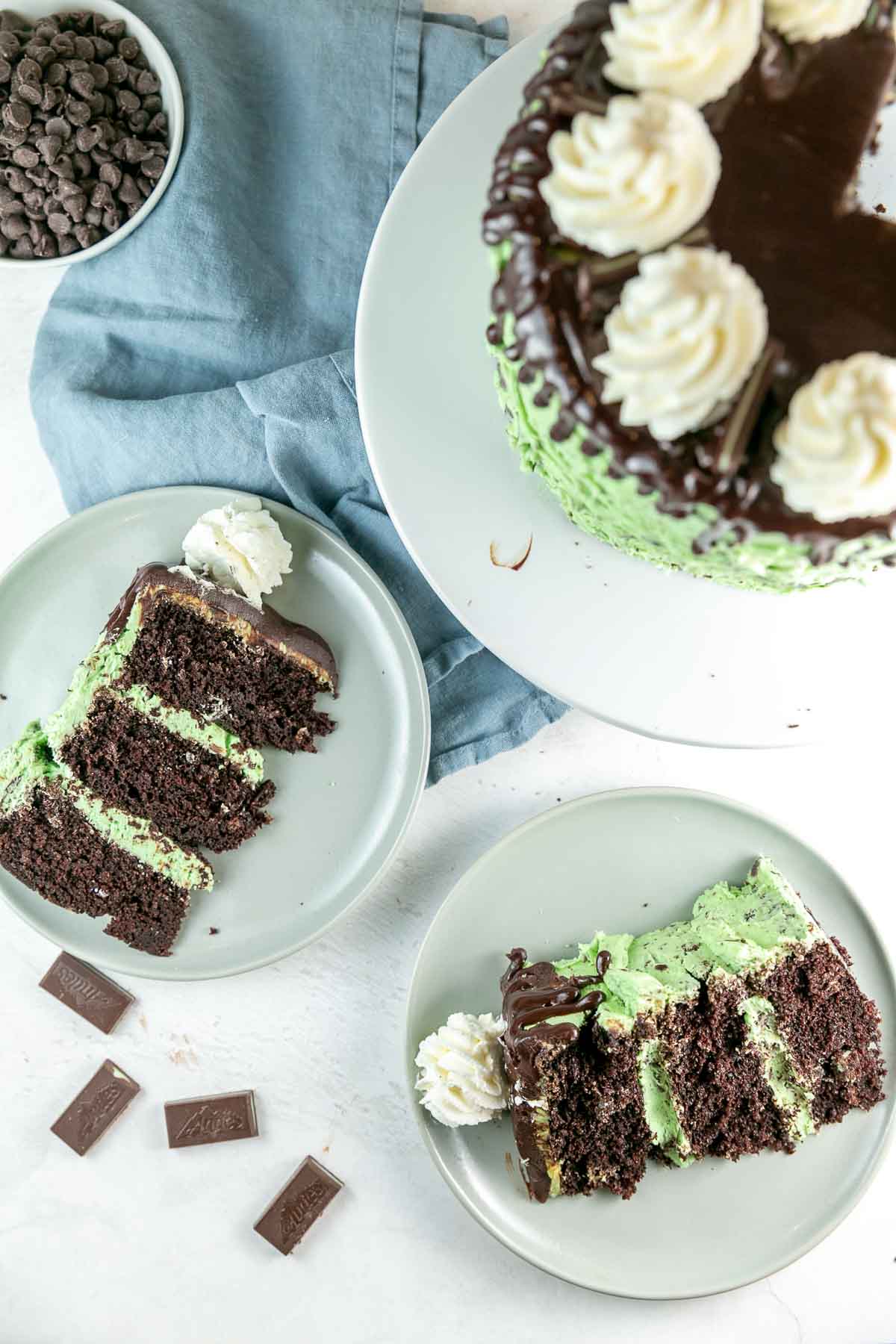 Gel Food Coloring for The Best Color
For the perfect green frosting for this mint chocolate chip cake, I recommend using gel food colorings (affiliate link). Gel food colorings add a brighter color without adding extra liquid. How does this work? It's time for my favorite subject… kitchen chemistry!
Kitchen Chemistry

Gel food colorings are made with a corn syrup or glycerin base, which results in a very viscous texture. This results in a very concentrated color with a gel-like consistency.
Liquid food coloring has a water base, making it runnier and resulting in more dilute colors. Tinting the frosting green will require quite a bit more liquid food coloring than gel.
Common Questions about Mint Chocolate Chip Cake
Can I use regular milk instead of buttermilk?
The cake relies on the acidity of buttermilk. If you don't have buttermilk, combine 1 cup of whole or 2% milk with 1 teaspoon of lemon juice and vinegar and allow this mixture to sit for 5 minutes before mixing it into the cake.
How do you keep the cakes from sticking in the baking pans?
Spray the pans with nonstick baking spray (or butter and flour), line them with parchment paper, and spray again.
How do I keep the layers of my cake flat?
I will always, always recommend using Bake Even strips around your cake pans – it keeps the cakes perfectly flat so you don't have to level them!
Can I bake this cake in 6-inch or 9-inch cake pans?
To bake in 6-inch pans, halve the ingredients. To bake in 9-inch pans, multiply each ingredient by 1.5.
How do I turn this into a peppermint chocolate chip layer cake?
Use peppermint extract instead of mint extract and tint the frosting pink! Decorate with candy canes or crushed peppermints.
More Mint Chocolate Desserts:
Mint Chocolate Chip Cake
Prep Time:
1 hour
30 minutes
This Mint Chocolate Chip Cake is the ultimate birthday or celebration cake for mint lovers!
Ingredients
For the Cake:
2 3/4 cups (330 grams) all-purpose flour
3 cups (594 grams) granulated sugar
1 cup (84 grams) natural unsweetened cocoa powder
1 tablespoon baking soda
1 1/2 teaspoon baking powder
1 1/2 teaspoon salt
3 large eggs, room temperature
1 1/2 cups (340.5 grams) buttermilk
1 1/2 cups (340.5 grams) hot coffee
3/4 cup (148.5 grams) vegetable oil
1 1/2 tablespoons vanilla extract
For the Frosting:
1 1/2 cups (339 grams) unsalted butter, room temperature
6 cups (681 grams) confectioners sugar
1/2 teaspoon salt
1/4 cup (57 grams) heavy cream
1 teaspoon mint extract
1-2 drops of green gel food coloring
4 ounces (113 grams) dark chocolate, finely chopped
24 Andes mints, roughly chopped
For the Ganache:
7 ounces (198 grams) dark chocolate, chopped
2/3 cup (151 grams) heavy cream
whipped cream, for decorating
additional Andes mints, for decorating
Instructions
Preheat the oven to 350 °F. Grease and flour (or spray with nonstick baking spray) three 8-inch round cake pans. Line the pans with parchment paper, then spray or grease and flour again.
Make the cake batter. Using a mixer, combine together the flour, sugar, cocoa powder, baking soda, baking powder, and salt in a large bowl. In a separate smaller bowl, whisk together the eggs, buttermilk, coffee, oil, and vanilla extract. Add the wet ingredients to the dry ingredients and mix on low speed until combined, about 2 minutes. The batter will be thin.
Bake the cake batter. Divide the batter evenly among the three pans. Bake for 30-35 minutes, or until a toothpick inserted into the center of the cake comes out with a moist crumb. Cool the cakes in the pan for 20 minutes, then turn out onto cooling racks to cool completely before frosting.
Make the frosting. To make the frosting, cream the butter until smooth using an electric mixer on low speed. Slowly add in the powdered sugar, 1 cup at a time, followed by the salt. Add in the heavy cream and mint extract and beat until liquid is combined. Add in 1 drop off green food coloring, turn the mixer to medium high, and beat for 1 minute. Add additional food coloring if necessary and beat for an additional minute. Stir in the chopped dark chocolate. If the frosting is too dry, add an additional tablespoon or two of heavy cream; if the frosting is too runny, add an additional tablespoon or two of confectioners sugar
Assemble the cake. Level the cakes if necessary. Cover the bottom layer of cake with 3/4 cup of the frosting. Spread half the chopped Andes mints across the top of the frosting. Top with a second cake layer and repeat. Place the final layer on top of the cake, face down, and frost the sides and top of the cake. Refrigerate to set the frosting.
Prepare the chocolate ganache. Microwave the heavy cream on 50% power for 30 second increments or heat on the stovetop in a small saucepan until it just comes to a boil. Place the chopped chocolate in a glass mixing bowl and pour the cream over the chocolate. Allow this mixture to sit for 2 minutes to melt the chocolate, and then whisk from the center outside until the ganache is smooth. Set aside to cool, whisking occasionally, until the ganache has thickened but is still pourable, 10 to 15 minutes. Transfer the ganache into a piping bag, snip off the corner, and drip the ganache along the edge of the cake, encouraging the ganache to run down the sides. Pour the remaining ganche into the center of the cake. Decorate with whipped cream swirls and Andes mints, if desired.
Notes
Buttermilk can be substituted for 1 cup of whole or 2% milk + 1 teaspoon of lemon or vinegar. Mix together and set aside for 5 minutes before adding to the batter.
For perfectly flat, even cakes, weigh the batter to ensure the same amount is in each pan and use Bake Even strips while baking.
This recipe makes 3 thick 8 inch layers. To use 9 inch pans, multiply each ingredient by 1.25. To use 6 inch cake pans, divide the recipe in half.
Recommended Products
As an Amazon Associate and member of other affiliate programs, I earn from qualifying purchases.