August 1, 2019
Lemon Curd Cake with Blackberry Buttercream Frosting
Covered with blackberry frosting and filled with homemade lemon curd, this triple-layer lemon curd cake made from scratch with fresh lemon is the ultimate delight for lemon lovers!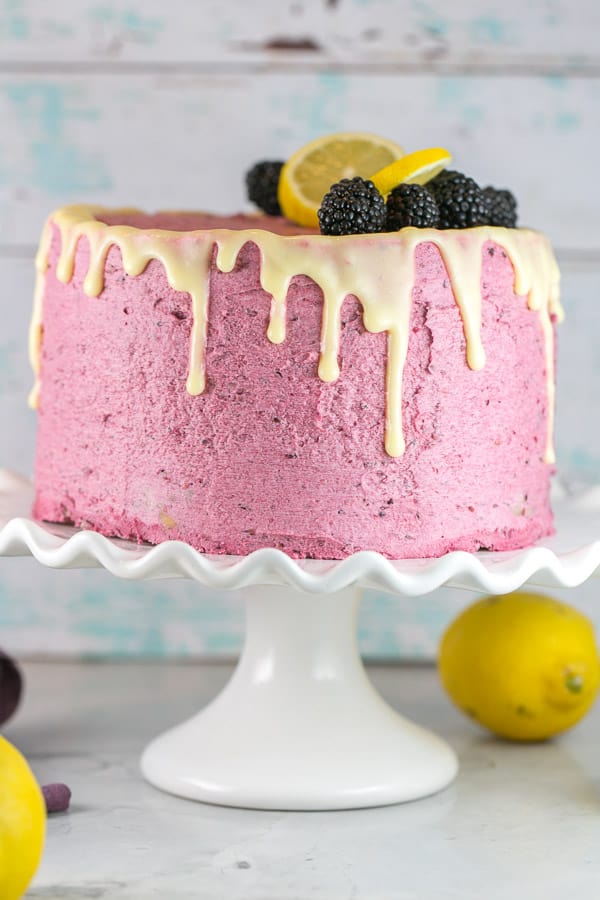 I am the official Maker of Food in my household. My husband does so much to keep our household running smoothly — washing dishes, cleaning the kitchen, packing lunches, grocery shopping — but when it comes to making what we eat, that's all on me.
So it's not surprising that this continues into birthday celebrations. I make the cakes for everyone else's birthday… but it also means that if I want a birthday cake, I have to make it myself.
And the really, really big upside to this is: you get exactly what you want. There's no sending someone to wander around a bakery and guessing. There's no someone choosing what they like best even though it's your birthday.
It was my birthday back in June, and I wanted a lemon curd cake with blackberry buttercream, so I made a lemon curd cake with blackberry buttercream. And it was glorious.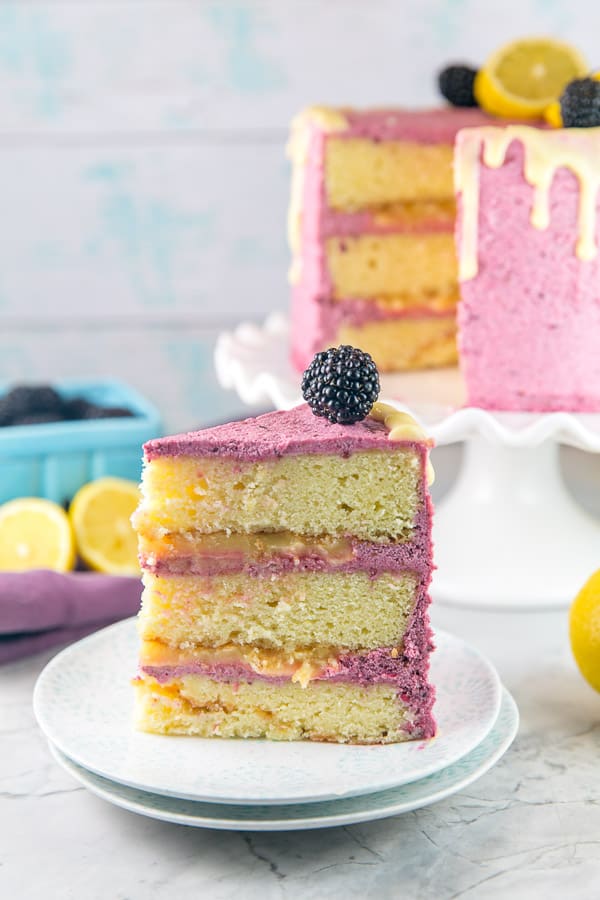 How to Make Lemon Cake from Scratch
The base of this cake is very similar to the strawberry layer cake with whipped cream frosting (made earlier this year for my daughter's first birthday!). The base is a delicious light vanilla cake — hearty enough to hold up to our lemon curd filling, but not dense like pound cake.
To make sure the lemon flavor shines through, we're using both lemon juice and lemon zest. A lot of lemon cakes call for lemon jello, lemon pudding, or lemon extract. Nothing but real lemon here, friends. I don't love the artificial lemon flavor in baked goods.
Plus, we don't want to go too overboard on the lemon flavor, since we're also using lemon curd as a filling.
Because we're adding in even more acid from the lemon juice, we're adding some baking soda into the mix, on top of the baking powder. This gives the cake a little extra lift and helps balance the flavor. Why do we want to add baking soda? It's time for my favorite subject… kitchen chemistry!
Kitchen Chemistry

Adding an acid (like lemon juice) to cake batter denatures (unfolds) the proteins in the batter. In small amounts, this makes the cake more tender. However, too much acid – and the cake structure falls apart! Because we're adding a full 1/3 cup of lemon juice to impart a real lemon flavor to the cake, add baking soda to neutralize the acid. As the baking soda interacts with the lemon juice, carbon dioxide is formed, which gives the cake extra lift.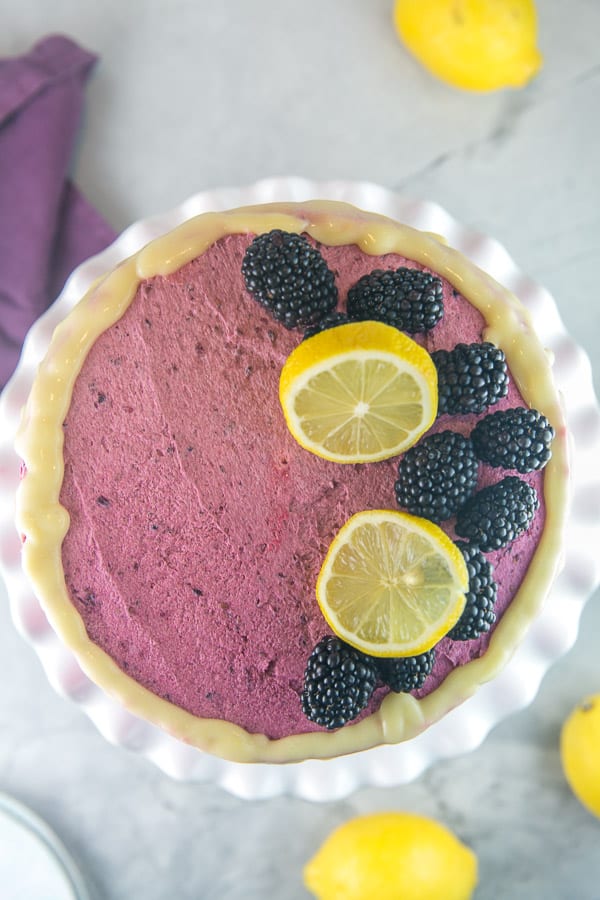 Lemon Curd Filling for Cake
I love lemon curd. L-O-V-E lemon curd. So obviously, there's lemon curd in the birthday cake I chose to make for myself.
I used my own homemade lemon curd recipe for the filling. One batch is plenty — you'll likely have some leftover (to eat with a spoon, obviously). There isn't an exact scientific amount to put on each layer; feel free to eyeball.
Because lemon curd is so moist (I know, I know — people hate the word, but how else can we describe it? Has such a high liquid content? Is so viscous?), we need a barrier between our cake and the lemon curd — so the curd doesn't all soak into the cake.
Spread a thin layer of the blackberry buttercream frosting on the base of the cake, piling it up higher around the edges (like this ↓↓↓), then fill the inside with the lemon curd.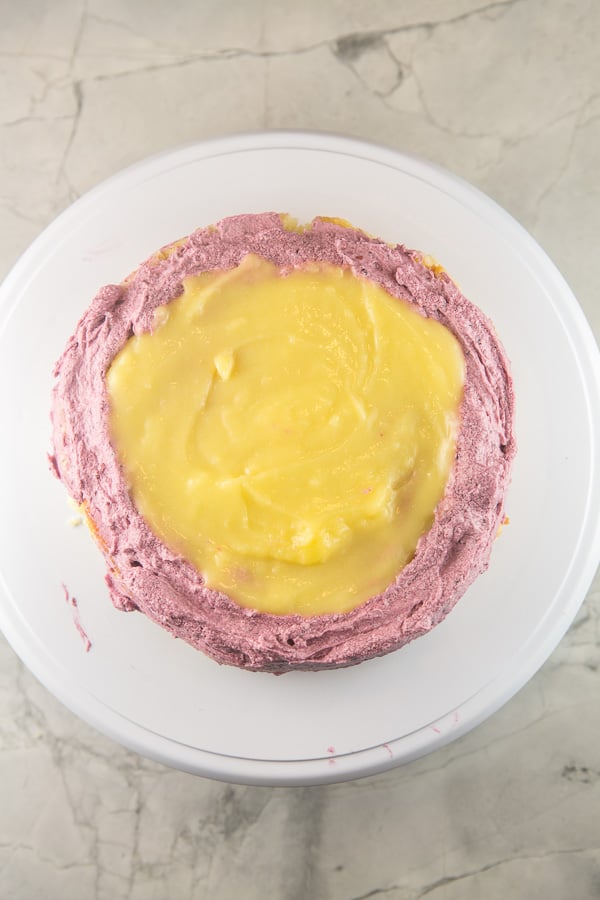 Fresh Blackberry Buttercream Frosting
Lemon and blackberry pairs so well together, and the frosting on this lemon curd cake is no exception. A thick layer of frosting, naturally tinted a beautiful shade of pinkish-purple, with just the right amount of tart blackberry flavor.
Since blackberries don't hold a lot of liquid, we can just toss whole blackberries into the frosting, mixing until smooth, and spread on the cake.
After assembling the cake, I used the leftover lemon curd and thinned it down with just a little heavy cream. This works as a perfect easy glaze to drip down the sides of the cake for some visual contrast – and to let everyone know what lemony goodness is waiting inside!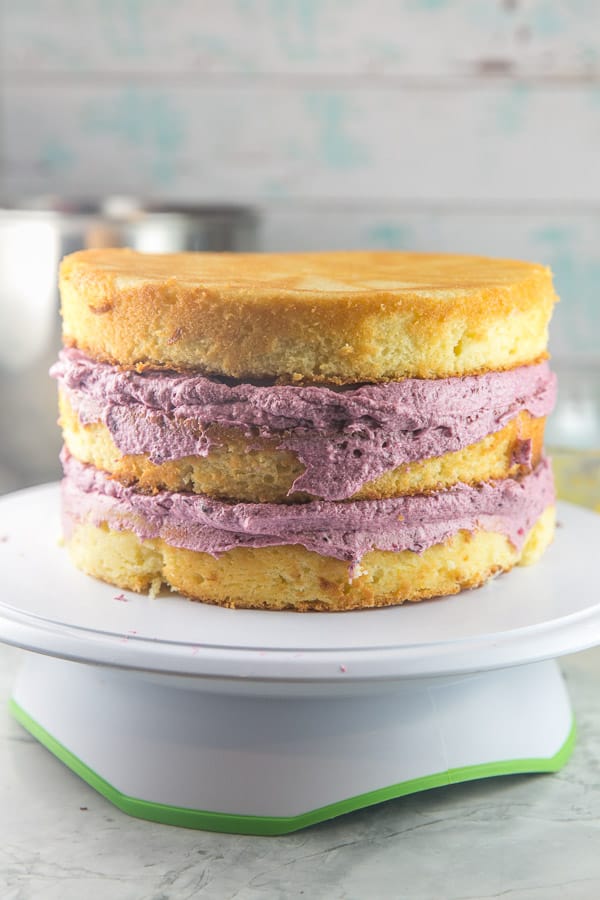 Storing Lemon Curd Cake
Because of the lemon curd filling, this lemon curd cake with blackberry frosting should be stored in the refrigerator.
The frosted, assembled cake will store well in the refrigerator for 2-3 days. Once cutting into the cake, slices will start to go stale under refrigeration, and is best consumed within another 2 days.
To freeze individual slices, cut the cake, wrap in plastic wrap, followed by a layer of aluminum foil, and freeze for up to 3 months.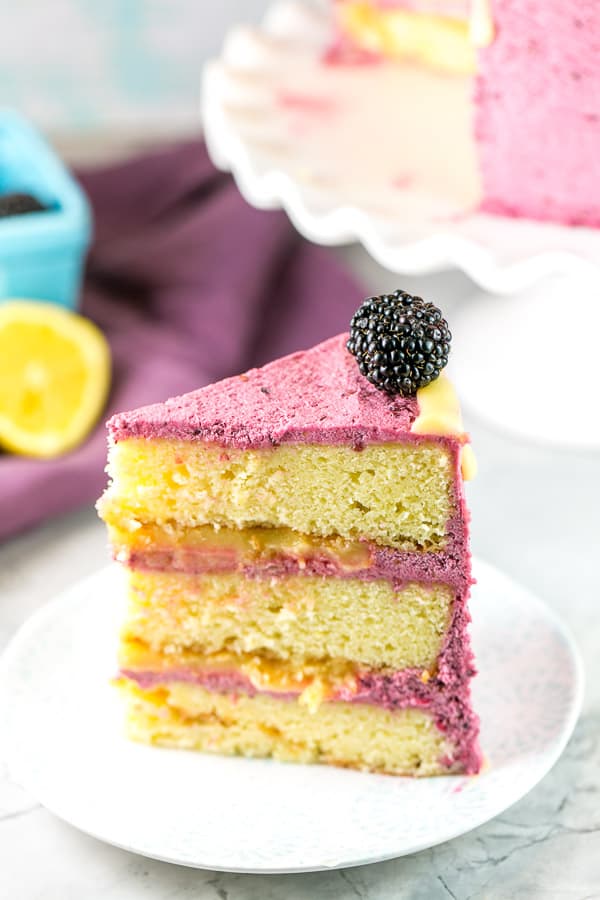 Tips and Tricks for Lemon Curd Cake:
For perfectly flat, non-domed cakes, use Bake Even Strips (or wet cloths soaked in water and wrapped around the outside of the cake).
For even cake layers, weigh the batter of the cake and divide into three baking pans.
Short on time? All components of this cake can be made ahead of time. The cake layers can be baked and frozen for up to 3 months. The lemon curd can be made a week or two ahead of time. The blackberry buttercream can be made the night before. The cake can be assembled 1-2 days prior to consuming.
Store the lemon curd cake in the refrigerator. The lemon curd does require refrigeration.
To prevent the cut cake from getting stale, wrap leftover slices in plastic wrap or push wax paper against the exposed edge to minimize contact with air.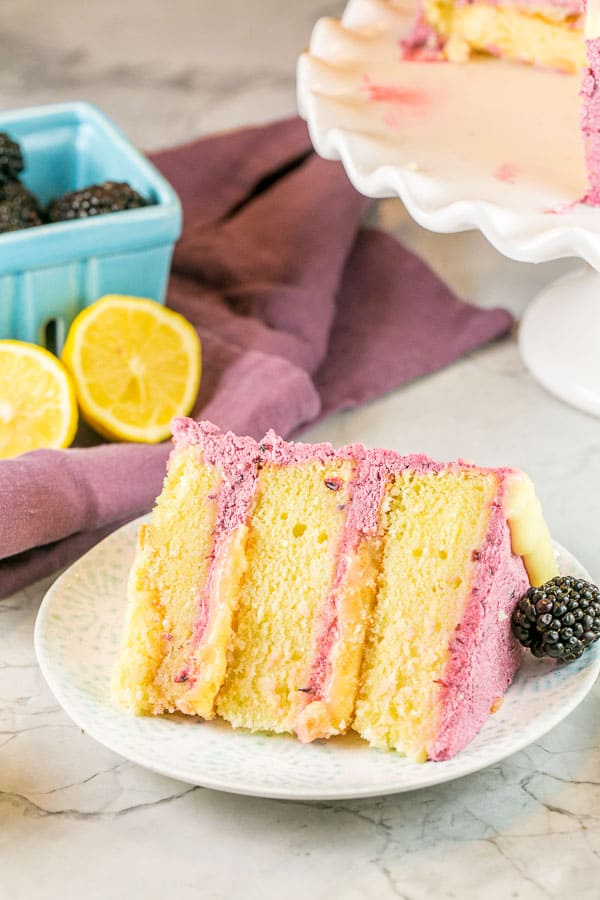 More Layer Cake Recipes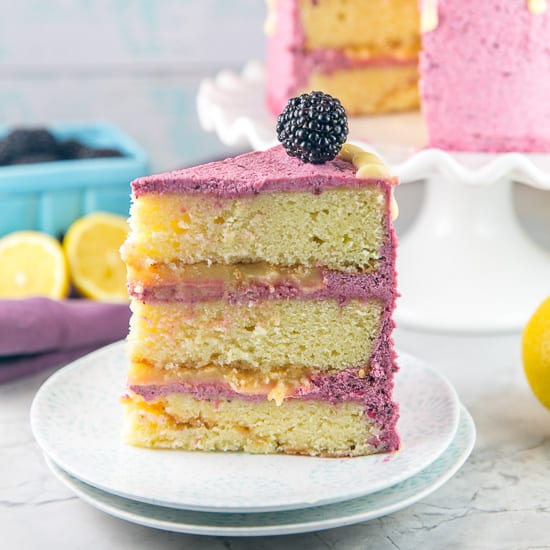 Lemon Curd Cake with Blackberry Buttercream Frosting
Prep Time:
1 hour
20 minutes
Covered with blackberry frosting and filled with homemade lemon curd, this triple-layer lemon curd cake is the ultimate delight for lemon lovers!
Ingredients
FOR THE CAKE:
1 1/2 cups butter, softened
3 cups sugar
5 eggs, room temperature
3 cups flour
2 teaspoons baking powder
1/2 teaspoon baking soda
1/2 teaspoon salt
1 cup buttermilk
1 tablespoon vanilla extract
1 tablespoon lemon zest
1/3 cup fresh lemon juice
FOR THE LEMON CURD:
1 cup fresh lemon juice (4-5 large lemons)
1 cup sugar
3 eggs + 1 egg yolk
1 tablespoon lemon zest (~2 lemons)
1/2 cup unsalted butter, cut into 8 pieces
tiny pinch salt
FOR THE BLACKBERRY BUTTERCREAM FROSTING:
1/2 cup butter, room temperature
6 ounces blackberries
1 teaspoon vanilla extract
1 teaspoon lemon zest
1/4 teaspoon salt
5 cups confectioners sugar
Instructions
Preheat oven to 350° F. Line three 8-inch round cake pans with parchment paper, then spray parchment paper with nonstick baking spray.
In the bowl of an electric mixer, beat together the butter and sugar until light and fluffy, 5 minutes. Beat in the eggs, one at a time.
In a small bowl, stir together the flour, baking powder, baking soda, and salt. Add half of this mixture to the butter and eggs and beat until just combined. Pour in the buttermilk, vanilla extract, lemon zest, and lemon juice, mix to combine, and follow with the remaining flour. Beat until just combined and no lumps remain.
Divide the cake batter into three equal portions. Scrape the cake batter into each of the tree prepared pans. Bake for 35-40 minutes, until a tester inserted into the center comes out with a moist crumb. Remove from the oven, allow to cool in the cake pans for 5 minutes, then turn out onto a wire rack to cool completely.
While cakes are cooling, prepare the lemon curd, following this recipe. Chill the lemon curd for 1 hour, while the cakes cool.
To make the blackberry buttercream frosting, combine the butter, blackberries, vanilla extract, lemon zest, and salt using an electric mixer, continuing to beat until smooth. Add in the confectioners sugar, 1/2 cup at a time, until all 5 cups have been added. Turn the mixer up to high speed and whip for 3 minutes, until fluffy. If frosting is too stiff, and 1-2 tablespoons of milk or heavy cream. If mixture is too loose, add an additional 1/4 to 1/2 cup of confectioners sugar.
To assemble the cake, spread a thin layer of the frosting on the bottom of a cake plate to help prevent the cake from sliding. Place a layer of cake on the bottom and spread a thin layer of frosting across the top of the cake. Pipe an additional thicker border of frosting along the edge of the cake. Fill the center with a third of the lemon curd. Repeat with the next layer of cake, frosting, and lemon curd, followed by topping with a layer of vanilla cake.
Spread the remaining frosting along the sides and top of the cake. If desired, thin some of the remaining lemon curd with a teaspoon or two of heavy cream and drip down the edge of the cake as a glaze. Decorate with additional blackberries and lemon slices as desired. Refrigerate cake until serving
Notes
Frosted cake should be stored in the refrigerator. Remaining slices can be frozen (see "Storing Lemon Curd Cake" section of text).
A Bunsen Burner Bakery Original Protocol
Recommended Products
As an Amazon Associate and member of other affiliate programs, I earn from qualifying purchases.
Nutrition Information:
Yield:

16
Serving Size:

1 slice
Amount Per Serving:
Calories:

674
Total Fat:

29g
Carbohydrates:

99g
Protein:

6g