February 1, 2018
No Bake Nutella Pie
It doesn't get any easier than a No Bake Nutella Pie with a crispy Oreo cookie crust. Rich Nutella, creamy mascarpone cheese, a splash of heavy cream, and a sprinkle of salt are all you need for a decadent, indulgent dessert.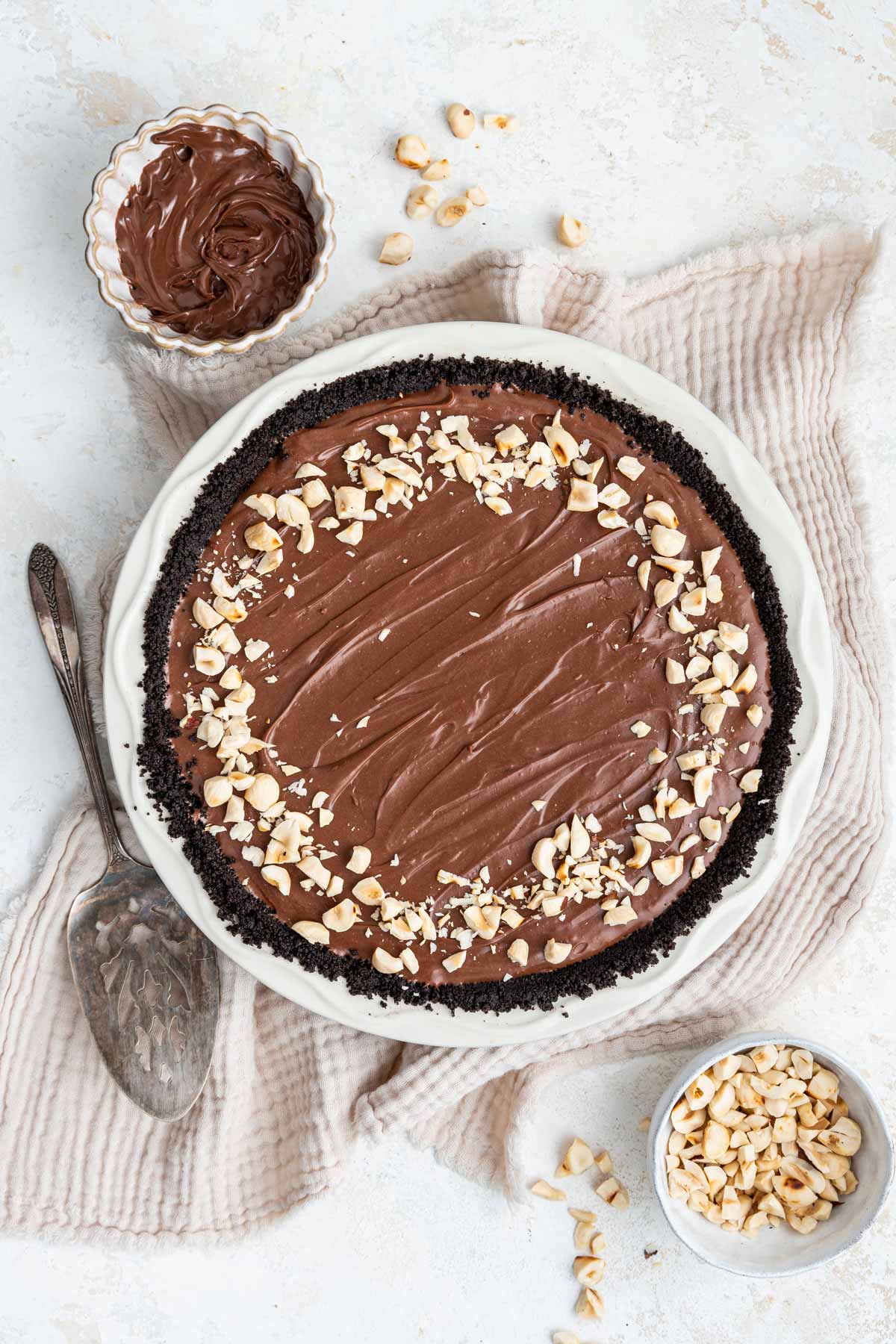 Oh hey, February! A new month means it's time for a new PIE OF THE MONTH recipe!
Can I just pause a give myself a big pat on the back for being so ahead of the game this month? I think I was dangerously close to missing some of the Bundt Cake of the Month end-of-month deadlines last year.
But this year? We're on top of things! (For the first two months, at least. Check back in March.)
My main motivation for getting this pie out so early is because it's perfect for Valentine's Day.
I'm not entirely sure why we associate Valentine's Day with chocolate, but we do – and this no bake Nutella pie is full of chocolate.
And that no bake part? Well, it means it's really, really easy. So easy, you can whip it up during the week and enjoy it for a mid-week celebration.
Obviously, it goes without saying – this is a perfect year-round pie. No Valentine's Day plans necessary to enjoy.
It's equally perfect for hot summer months when you don't want to turn on your oven. Or dessert after a big holiday dinner, like Thanksgiving or Christmas. Keep your oven free for the rest of the food!
Or, you know, just because it's a Tuesday and you feel like some Nutella pie. (Which is basically every Tuesday, amirite?)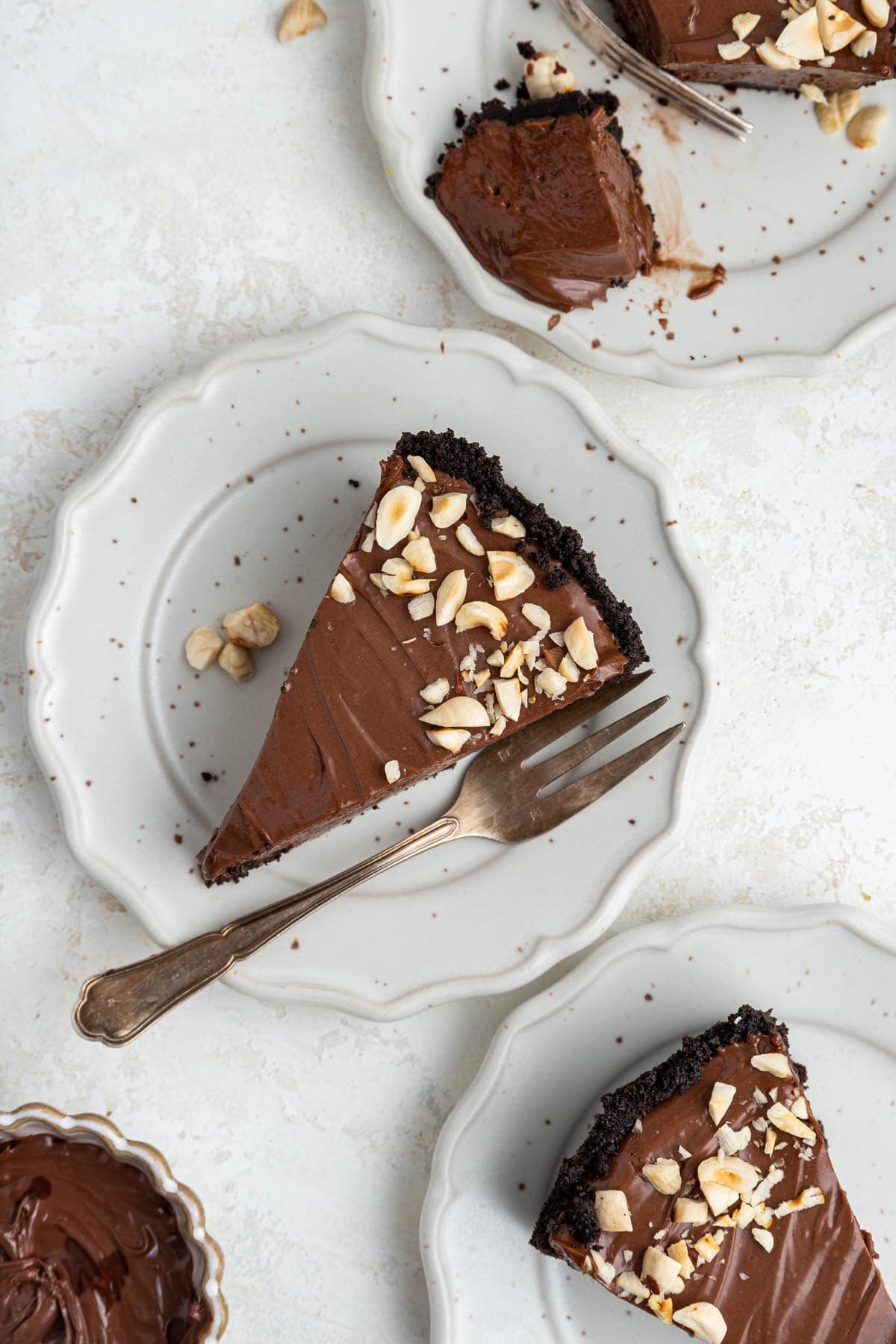 Ingredients and Substitutions
Chocolate Sandwich Cookies: Otherwise known as Oreos – traditional flavor or any of the fancy ones, like peanut butter Oreos. Just use the single layer of filling and not 'double stuf' Oreos.
Butter: Melted butter is the glue that holds the crust together.
Chocolate Hazelnut Spread: Nutella or any other equivalent brand works here, or even chocolate tahini spread.
Mascarpone: Mascarpone has the creamiest texture and the ideal flavor, but you can substitute cream cheese mixed with a little heavy cream, ricotta, or creme fraiche instead.
Heavy Cream: We need the fat in the heavy cream to properly whip into the pie, so stick with heavy cream – don't substitute in half and half or whole milk!
Melted Chocolate or Toasted Hazelnuts: Use either (or both) if desired tot top the pie, or top with swirled of whipped cream or crushed chocolate sandwich cookies.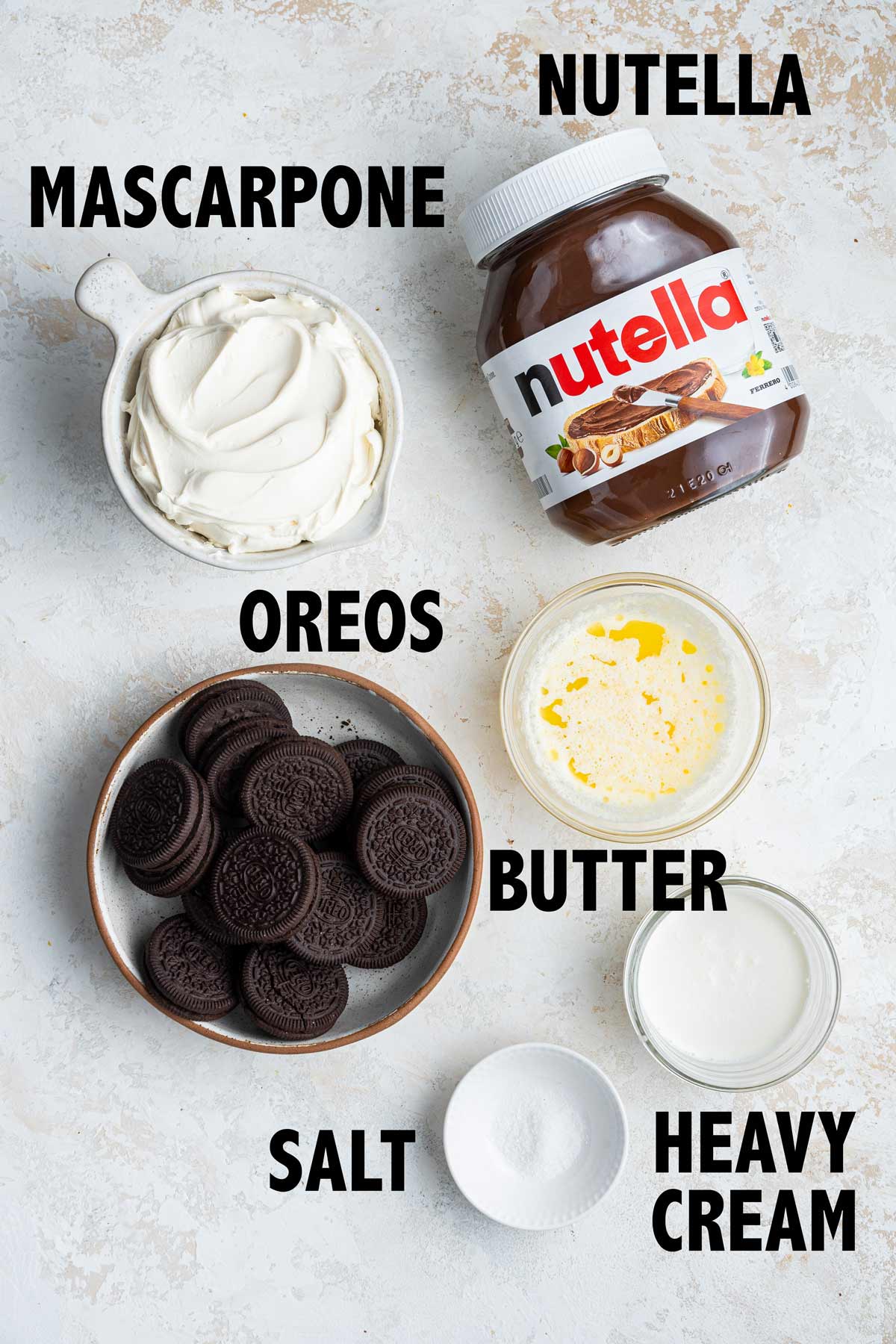 Oreo Crust + Nutella Filling
We'll start with the easy-peasy Oreo cookie crust recipe I shared earlier this week. That's right – we're filling a cookie crust with Nutella. Does it get much better? No, no it does not.
I like to bake the crust for a few minutes to get it a little crispier, but you can skip that step if you want to keep it a truly no-bake pie.
Then, we let the mixer do all the hard work for us. Nutella. Mascarpone cheese. Heavy cream. A sprinkle of salt. Whip together until light and fluffy and scrape into the crust. Boom. Done.
And while we're here, let's talk about mascarpone for a minute. What makes it so incredibly creamy? How does it remain so soft, yet somehow more solid than sour cream or creme fraiche? We can answer this, of course, with my favorite subject… kitchen chemistry!
Kitchen Chemistry

Mascarpone starts with heavy cream. An acid, like tartaric acid or lemon juice, is added to separate the curds from the whey and the whey is cooked until smooth and creamy. Because mascarpone starts with heavy cream, it contains 75% butterfat (compared to 55% for cream cheese), resulting in its super creamy, super smooth texture.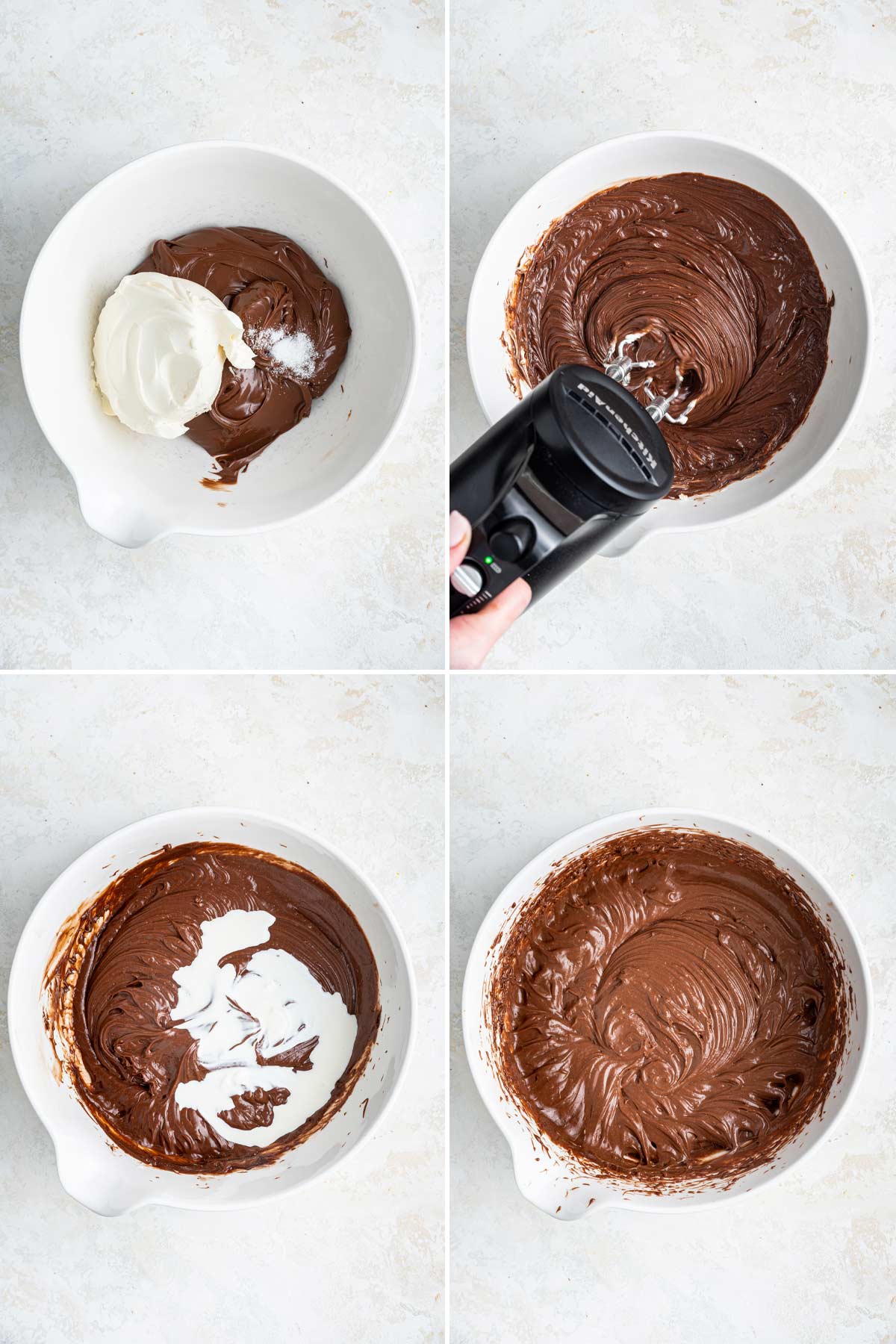 Perfect Make Ahead Pie
This Nutella pie does need a few hours in the refrigerator to firm up. Everything is soft and mousse-like at room temperature and slicing it would be an oozy (yet delicious) mess.
I like to refrigerate it for at least 4 hours before slicing, but you can even make it a few days ahead of time. It's perfect for entertaining!
I usually bake the crust for 10-12 minutes before filling if I'm making this ahead of time, to make sure it doesn't get soft and soggy sitting in the refrigerator for a few days.
Once the pie is assembled, cover it with plastic wrap and refrigerate for up to 3 days.
Want to make it even further in advance? The pie can be frozen for up to three months! Assemble the pie, cover it with a layer of plastic wrap followed by a layer of aluminum foil, and store it in the freezer.
Leftover slices can be frozen, too! (Nothing like pulling out a single serving slice when your sweet tooth kicks in.)
Freeze the individual slices on a cookie sheet for 2 hours, or until the Nutella filling is firm. Wrap tightly in plastic wrap and store the individual slices in a large freezer bag.
When you're ready to enjoy the pie, thaw it in the refrigerator for a few hours until soft enough to eat with a fork.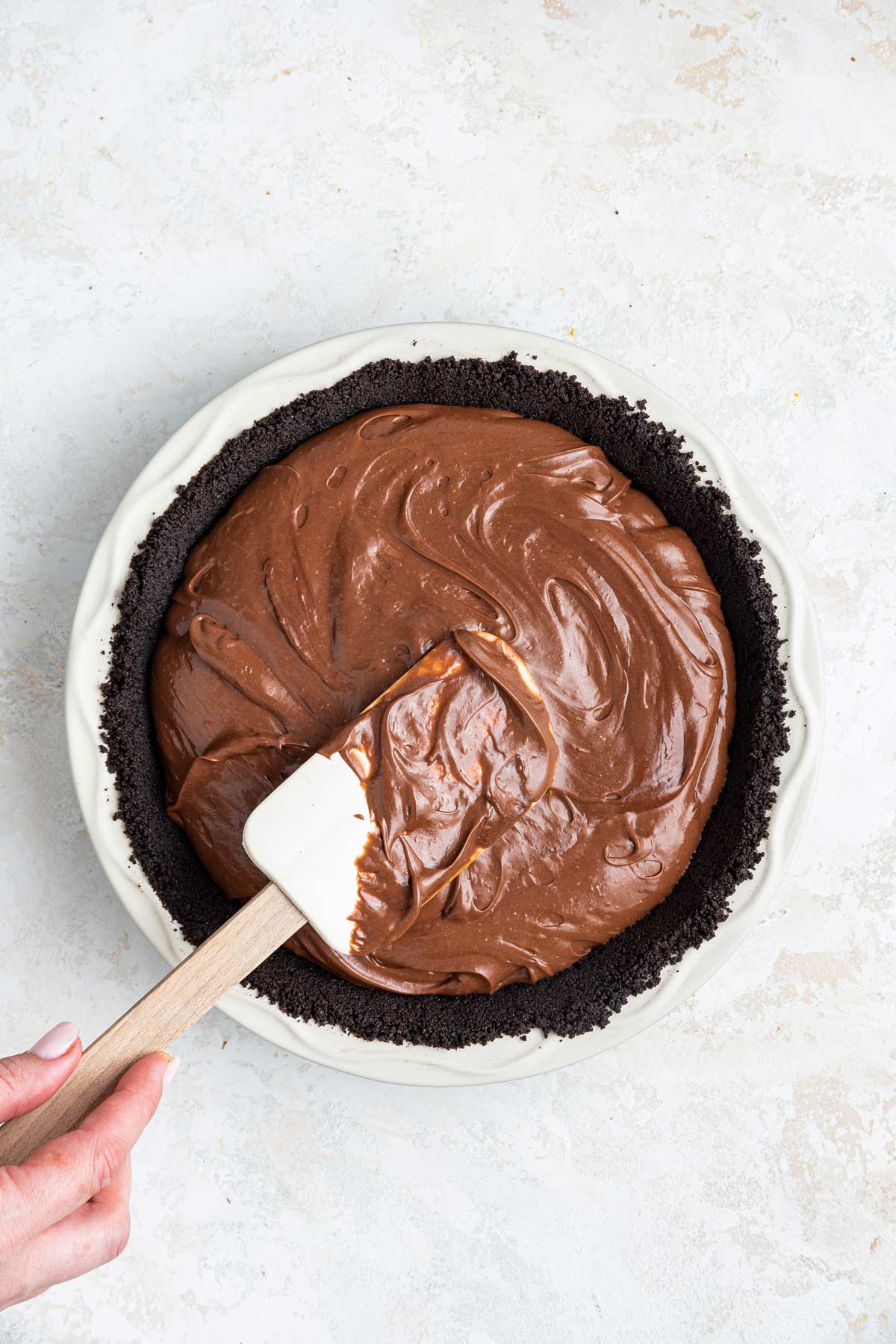 Recommended Tools to Make Easy Nutella Pie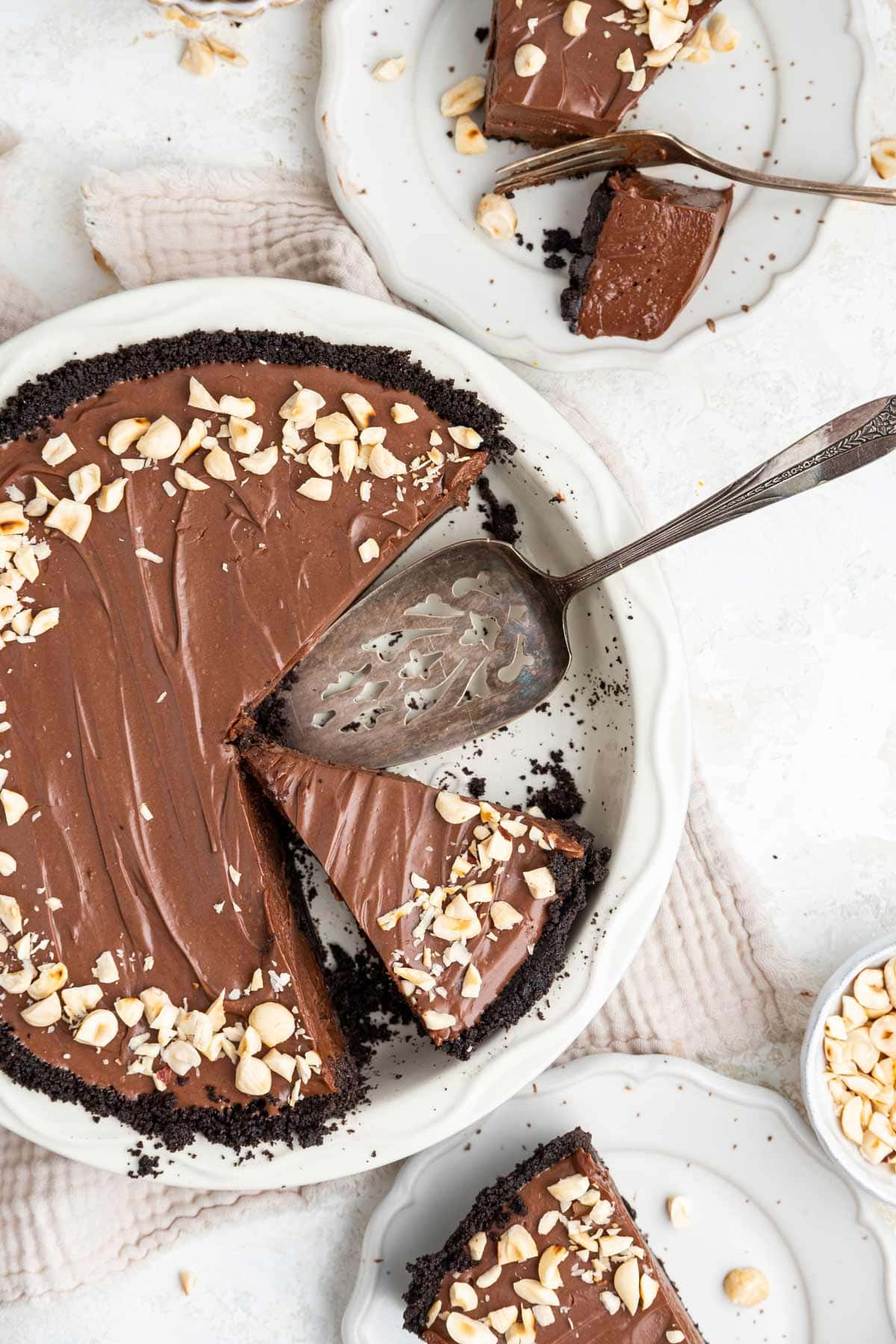 Tips and Tricks for The Best No Bake Nutella Pie
If you bake the Oreo crust, ensure the crust is fully cooled before pouring in the Nutella filling.
To make this pie gluten-free, substitute gluten-free Oreo cookies for regular Oreos.
Can't find mascarpone cheese? Substitute 12 ounces (1 1/2 cups) cream cheese blended with 4 ounces (1/2 cup) heavy cream. Stir together until the cream cheese is soft and use this instead. The taste will be just a little different, but the texture will be the same.
After adding the heavy cream, beat the mixture at high speed for a few minutes. This whips the heavy cream, resulting in a light, fluffy texture.
Refrigerate the pie for at least 4 hours, preferably overnight, to solidify the pie enough to cut neat slices. If the pie is a little too soft, place it in the freezer for 30 minutes prior to slicing.
Because the pie contains mascarpone, all leftovers must be stored in the refrigerator.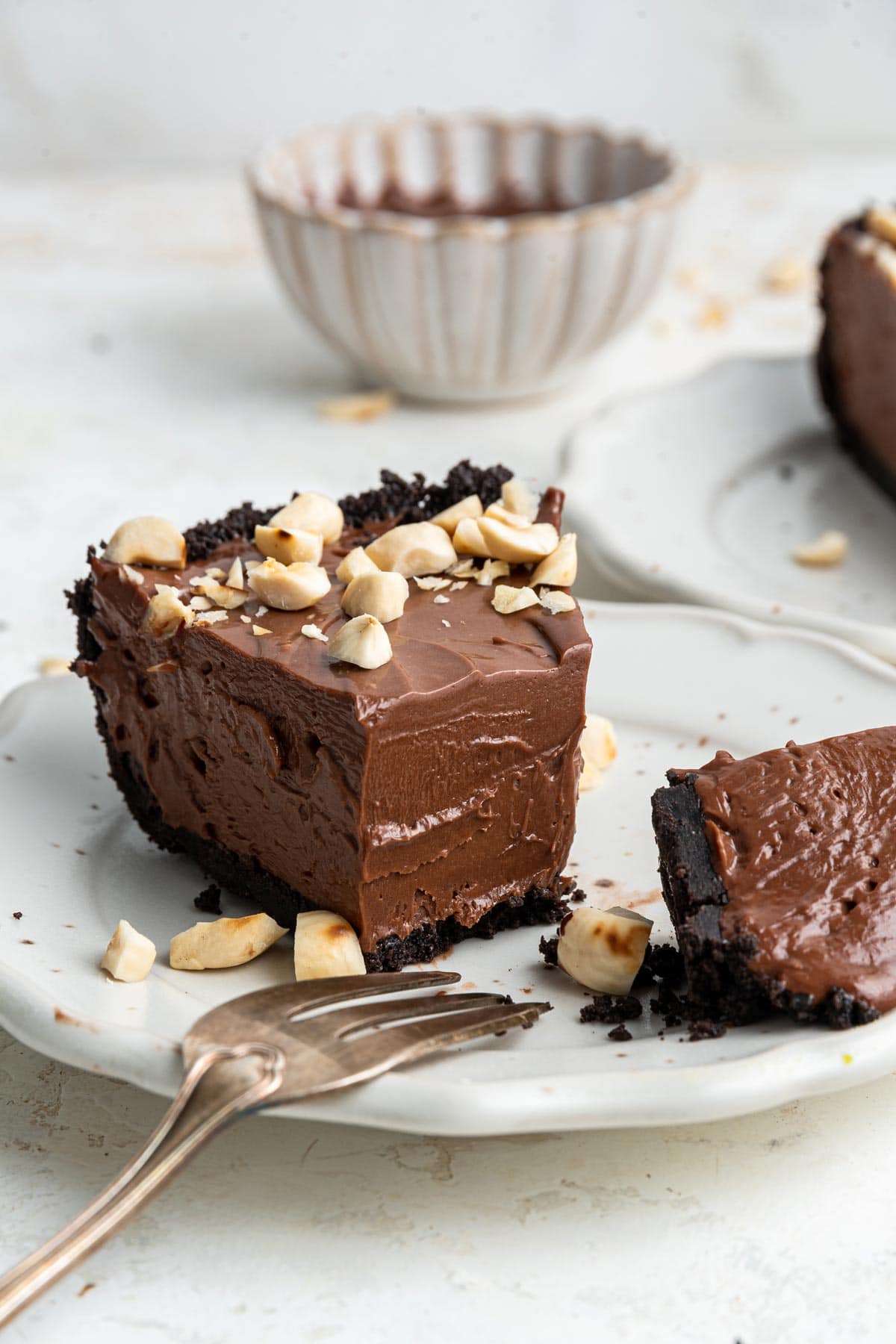 Love Nutella? Don't miss these recipes!
2018 Pie of the Month Series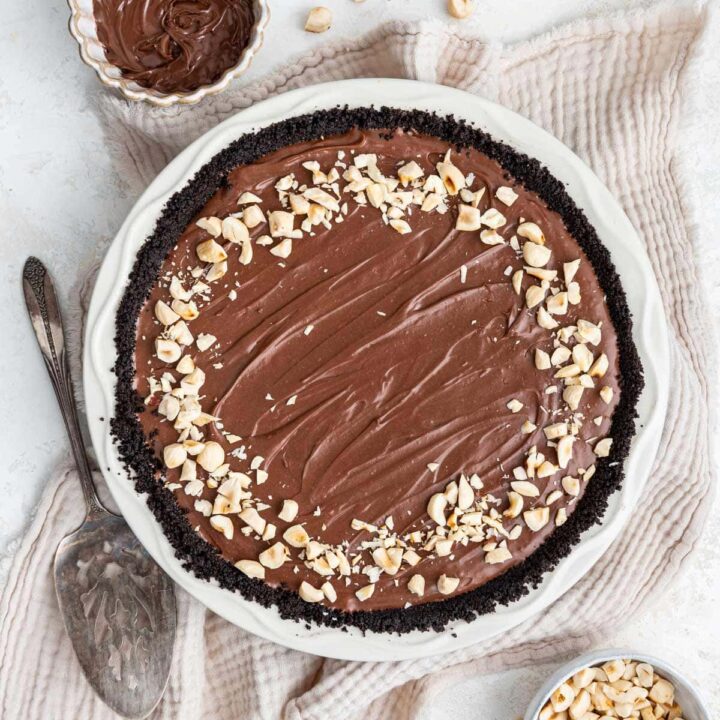 No Bake Nutella Pie
It doesn't get any easier than this creamy, dreamy no bake Nutella pie with a crispy oreo cookie crust!
Ingredients
25 chocolate sandwich cookies (Oreos)
4 tablespoons (57 grams) butter, melted
2 cups (640 grams) Nutella or other chocolate hazelnut spread
1 1/2 cups (338 grams) mascarpone cheese
1/4 teaspoon salt
1/4 cup (56 grams) heavy cream
toasted hazelnuts, optional for decorating
Instructions
Make the crust. Prepare the Oreo cookie crust following these directions. Either refrigerate the crust for 20 minutes or bake at 350 °F for 10 minutes and cool. (Baking the crust is recommended if the pie will be made a day or two ahead of time.)
Make the Nutella filling. While the crust chills or cools, prepare the filling. In a large mixing bowl, combine Nutella, mascarpone cheese, and salt. Beat on low speed using an electric mixer for 3-4 minutes, until fully combined. Increase the mixer speed to high and slowly pour in the heavy cream. Beat on high for an additional 2 to 3 minutes, until Nutella mixture is light and fluffy.
Assemble the pie. Use a rubber spatula to scrape the filling into the prepared pie crust. Smooth the top with the spatula. Decorate with chopped hazelnuts, if desired.
Chill the pie. Refrigerate the pie for at least 4 hours, or up to 3 days, before serving.
Notes
Mascarpone cheese can be substituted with 12 ounces (1 1/2 cups) softened cream cheese blended with 4 ounces (1/2 cup) heavy cream.
Refrigerate the pie for at least 3 hours, preferably overnight. If the pie is a little too soft, place it in the freezer for 30 minutes prior to slicing.
Leftover pie can be stored in the refrigerator for up to 5 days, or frozen for up to 3 months. To freeze the pie, wrap the whole pie (still in the pie plate) with plastic wrap and aluminum foil. Thaw in the refrigerator overnight. To freeze individual slices of pie, freeze slices on a cookie sheet for 2 hours, or until hard. Wrap in plastic wrap and store in a freezer-safe plastic bag. Thaw in the refrigerator for an hour or two, until soft enough to eat with a fork.
Recommended Products
As an Amazon Associate and member of other affiliate programs, I earn from qualifying purchases.