May 25, 2016
Vanilla Layer Cake with Blueberry Cardamom Curd
A three-layer blueberry vanilla cake filled with blueberry cardamom curd and covered with whipped cream.  Simple flavors combine to make a spectacular dessert!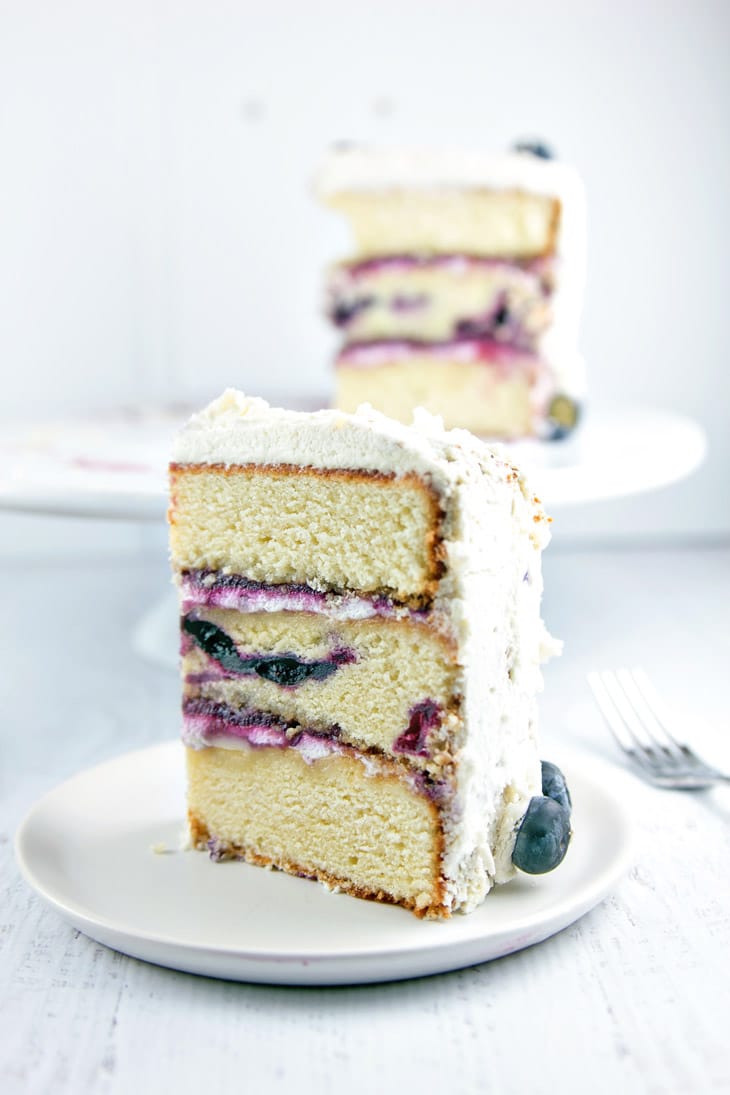 Six weeks ago, my little boy celebrated his first birthday.  An entire year – on one hand, it's hard to believe that it's been an entire year.  Wasn't he just born yesterday?  On the other hand, it's hard to believe that it's only been a year.  It feels like he's been a part of our lives forever.
We spent his actual birthday on a little trip to Nashville.  His birthday started out with a 100-layer doughnut from Five Daughter's Bakery and we let him try his very first bite of ice cream at Jeni's Splended Ice Cream.
Although we opted to not have a first birthday party for him, what kind of baking-loving mother would I be if I let his first birthday come and go without baking him a birthday cake?
Despite still having no teeth, Ryan eats and loves everything, thanks to baby led weaning.  And by everything, I truly mean everything — from spicy curries and chilis to okra and broccoli rabe.
But his favorite food of them all is blueberries.  We give him some berries after dinner every night, and he starts waving his hands and squealing in excitement if the blueberries appear.
As it just so happens, blueberries are one of my favorite foods as well (the apple doesn't fall far from the tree, apparently), and since blueberries work so well in baked goods, his birthday cake choice seemed pretty obvious.
Two weeks ago, I shared a recipe for a smooth, creamy, vibrantly purple blueberry cardamom curd.  This curd just so happened to star in Ryan's first birthday cake: three layers of blueberry vanilla cake with blueberry cardamom curd.
My favorite vanilla layer cake — dense and rich, one layer baked with an abundance of blueberries — with layers of blueberry cardamom curd and freshly whipped cream, covered with another layer of whipped cream.
It's amazing how such simple flavors combine into something truly spectacular.
Worried about making a cake with slippery curd layers?  Don't be.  Truth time: this cake is a little messy to make.  Just look above at that curd squishing out the sides!  But don't worry, we'll frost the cake with a crumb layer of whipped cream, which stops all that curd from running down the side.
As far as the curd that does spill out before you frost it?  Grab a spoon and dig in — this is a seriously delicious mess.
Since my husband and I don't need an entire layer cake to ourselves (remember, want and need are not the same thing!), we brought this to a friend's house to share.  They hosted a delicious "pizza and prosecco" night and we ended the evening with a rendition of Happy Birthday to our little guy and slices of cake.
Afterward, our friends admitted to not being huge fans of fruit-based desserts, but still raved about this cake.  It really is an exceptional blueberry vanilla cake on its own, but sandwiched between layers of blueberry cardamom curd elevates it to something else entirely.
And how about the birthday boy?  Well, they say a picture is worth a thousand words.  It's safe to say that he liked it, even if he was most interested in picking off all the blueberries from the outside and licking the blueberry curd.  I know his tastes will change, but I hope he lets me make this cake again for the next few years.  And maybe someday, we'll trade off and he'll start making this for my birthday.
Vanilla Layer Cake with Blueberry Cardamom Curd
A three-layer blueberry vanilla cake filled with blueberry cardamom curd and covered with whipped cream.  Simple flavors combine to make a spectacular dessert!
Ingredients:
1 cup butter, softened
1/2 cup vegetable shortening
3 cups sugar
5 eggs, room temperature
3 cups flour
1 teaspoon baking powder
1/2 teaspoon salt
1 cup buttermilk
2 tablespoons vanilla extract, divided
1 cup blueberries, plus more for decorating
2 cups heavy cream
1/4 cup confectioners sugar
2/3 recipe blueberry cardamom curd
Directions:
Preheat oven to 350°F.  Line three 8-inch round cake pans with parchment paper, then spray parchment paper with nonstick baking spray.
In the bowl of an electric mixer, beat together the butter and shortening until light and fluffy.  Add in the sugar, one cup at a time, followed by the eggs, also one at a time.
In a small bowl, stir together the flour, baking powder, and salt.  Add half of this mixture to the butter and eggs and beat until just combined.  Pour in the milk and 1 tablespoon of the vanilla extract, mix to combine, and follow with the remaining flour.  Beat until just combined and no lumps remain.
Divide the cake batter between the three prepared pans.  Add blueberries to one of the pans, gently pushing the blueberries down into the batter.  Bake for 35-40 minutes, until a tester inserted into the center comes out with a moist crumb.  Remove from the oven, allow to cool in the cake pans for 5 minutes, then turn out onto a wire rack to cool completely.
While cakes are cooling, prepare the whipped cream.  Add the cream to a large, cold mixing bowl.  Using an electric mixer with the whisk attachment, beat at medium speed until the cream begins to thicken.  Add the confectioners sugar and remaining tablespoon of vanilla to the bowl, then increase the speed to medium high and continue to whisk until the cream holds a stiff peak, an additional 5-7 minutes.
Spread a thin layer of whipped cream on the bottom of a cake plate to help prevent the cake from sliding.  Place a plain layer of vanilla cake on the bottom, spread a thin layer of whipped cream on top, and add half of the blueberry curd.  Repeat with the blueberry layer of cake, followed by topping with a plain layer of cake.
Spread a thin layer of whipped cream along the sides of the cake.  Blueberry curd will leak out and the whipped cream will tint purple — don't worry! This will be covered.  Add a thin layer to the top of the cake and refrigerate for 30 minutes.
Remove the cake from the refrigerator and use the remaining whipped cream to cover the sides and top of the cake.  Decorate with additional blueberries as desired.  Refrigerate cake until serving.
A Bunsen Burner Bakery Original Protocol