August 6, 2019
S'mores Quick Bread
Bring the s'mores inside, with this toasted marshmallow-covered S'mores Quick Bread!  Now you can enjoy your favorite childhood campfire treat year-round, regardless of the weather — no fire pit necessary.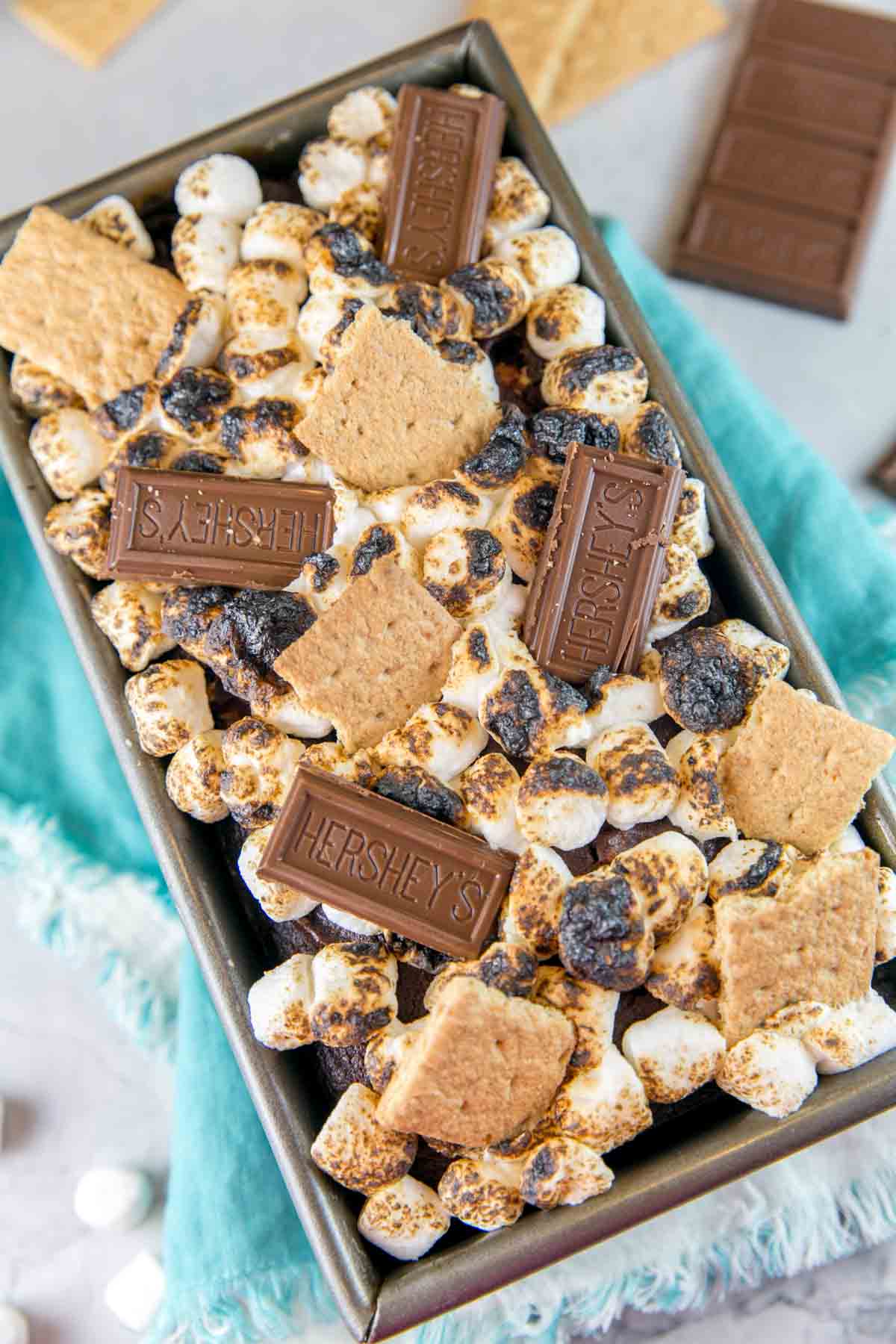 This Saturday (August 10th) is National S'mores Day. I'll be honest — all these food holidays are kind of pointless (actually, extremely pointless).
I'm sure National S'mores Day was started by some lobbyist behind Big Marshmallow – but well… as someone who loves all s'mores-themed desserts… I'm all in.
So this year, in celebration, I'm sharing not one, but TWO s'mores recipes. In fact, not one, but two… s'mores breads. Today, a s'mores quick bread. And later this week, a s'mores yeast bread.
Oh yes. We're going all in.
So first up, this s'mores quick bread. A chocolate quick bread filled with graham cracker crumbs and pieces, marshmallows, and chocolate chips… and then topped with toasted marshmallows and some extra graham crackers and chocolate. Chocolate lovers, this is the one for you!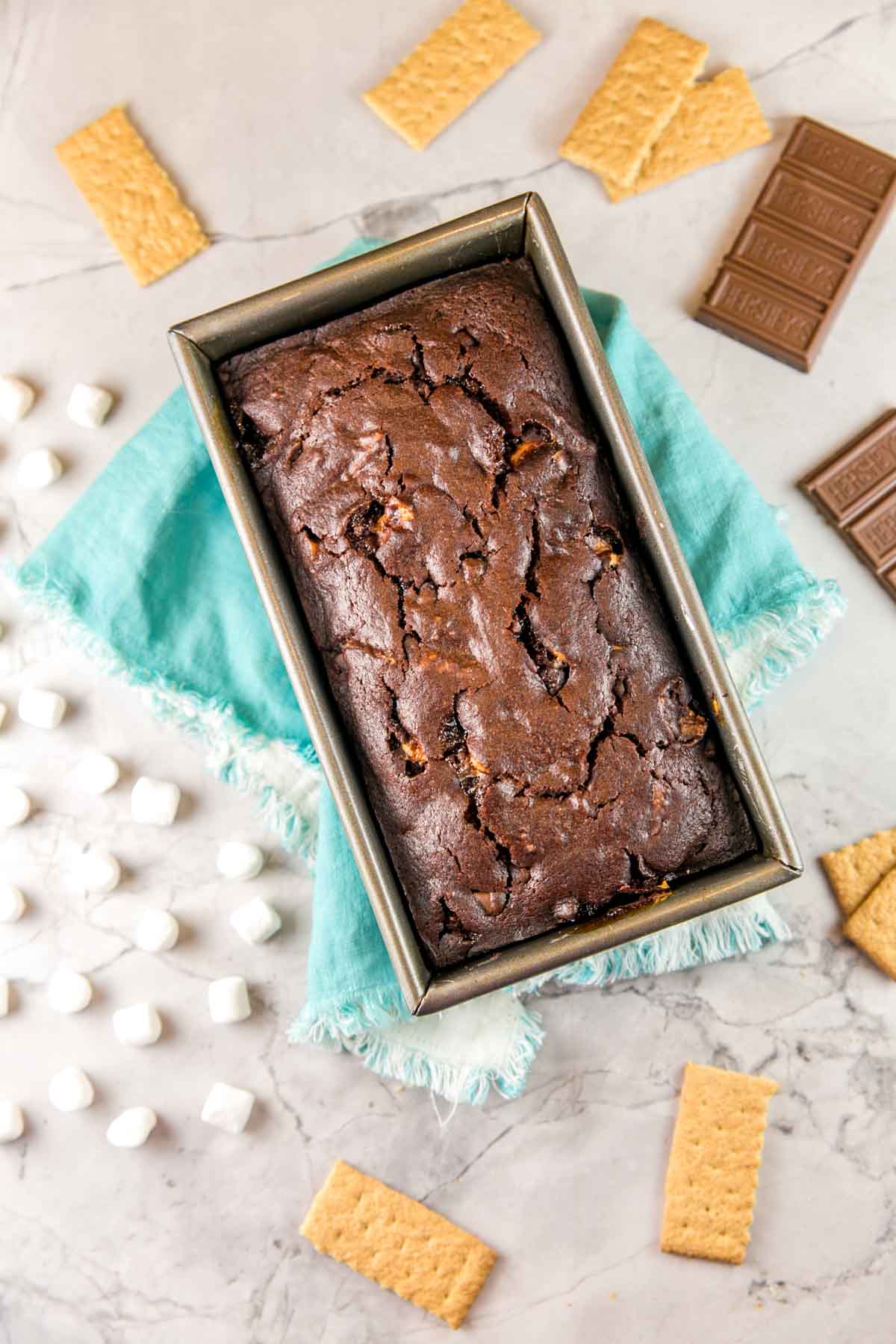 Chocolate Graham Cracker Bread
The chocolate graham cracker bread which serves as the base of this s'mores quick bread is, indeed, easy and quick. Nothing too special involved. We'll include graham cracker crumbs along with the flour, and use brown sugar to keep the bread extra moist and soft.
The quick bread also includes plain yogurt. I routinely get asked questions about exchanging plain yogurt for Greek yogurt, or plain yogurt for flavored yogurt. Greek yogurt and 'regular' yogurt have different moisture contents, so if you want to use Greek yogurt, you'll need to add extra liquid.
Flavored yogurts have added sugar, so you'll either wind up with an even sweeter bread (which is not necessarily a bad thing!) or take out a little of the brown sugar.
Because this is an oil-based recipe (not butter), the whole bread is mixed by hand with a whisk — my favorite kind of baking! No need to pull out the mixer and fewer bowls to wash.
In addition to the crushed graham crackers (which are acting like a form of flour), we're also adding whole pieces of graham crackers in here, too.  Take the large sheets of graham crackers and break them into individual little fourths – and gently fold them into the batter.
As you can see from the sliced bread, the pieces show up after baking –> this helps impart some extra graham cracker flavor, which is otherwise overpowered by the chocolate bread.
After the s'mores quick bread is baked and cooled, it's time for the fun part: toasting the marshmallows!  Spread miniature marshmallows (or chopped-up full-size marshmallows) across the top of the bread and get to work!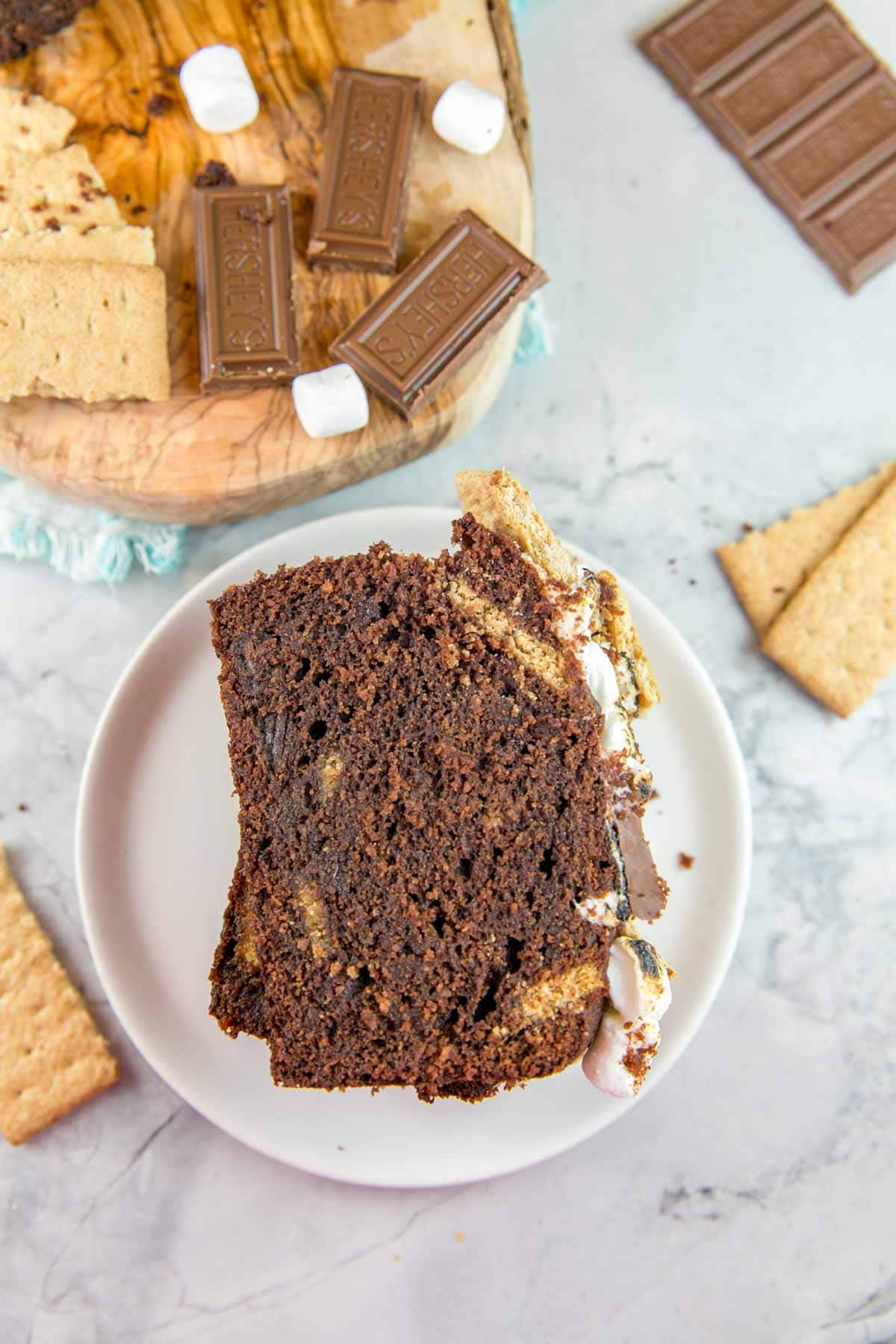 Toasting Marshmallows Indoors
There are a couple of options here for getting marshmallows toasted, depending on what you have available and how toasty you like your marshmallows.
Oven broiler:  This is probably the easiest way since most ovens come with a broiler.  Put the quick bread 5-6″ underneath the broiler and slowly move the pan from side to side to ensure even toasting.  This ensures a nice golden, even toasty color.  Watch it closely – it only takes 2 seconds to go from toasty to scorched! 
Kitchen torch: A kitchen torch is a small butane-filled torch that emits a reasonable amount of fire.  Kitchen torches, also called creme brûlée torches, have a very moderate flame and will allow you to get a nice golden color. 
Welding torch: This is definitely the most fun way since it involves EVEN MORE fire.  I use a soldering torch, which has a pretty intense flame and results in marshmallows bordering on fully charred.  I like my marshmallows on the blacker side, so this works just fine for me — but for a number of reasons I've been meaning to downgrade to a kitchen torch for a slightly calmer take on indoor marshmallow toasting!
Regardless of how you heat your marshmallows, one thing you'll notice: as marshmallows heat, they expand. So while we'll cover the top of the quick bread, don't worry if there are some gaps between the marshmallows. Once you apply heat, the marshmallow will puff up to fill the space. Why is this? It's time for my favorite subject… kitchen chemistry!
Kitchen Chemistry

As marshmallows are mixed, gelatin is beaten with the hot sugar syrup, which creates lots of air bubbles. Theses are bubbles are trapped as the liquid cools into the soft foam-like solid state — air makes up more than half of the volume of a marshmallow. As the temperature of the marshmallow increases, the air expands, causing the marshmallow to expand and take up more space.
Now, the inverse to this is that once a marshmallow cools, it deflates. As the marshmallow loses height, it will expand outward, filling in all those little gaps — and leaving us with a fully covered gooey, toasty, marshmallowy layer of deliciousness.
Just don't forget to push in some extra graham crackers and chocolate squares while the marshmallows are still warm!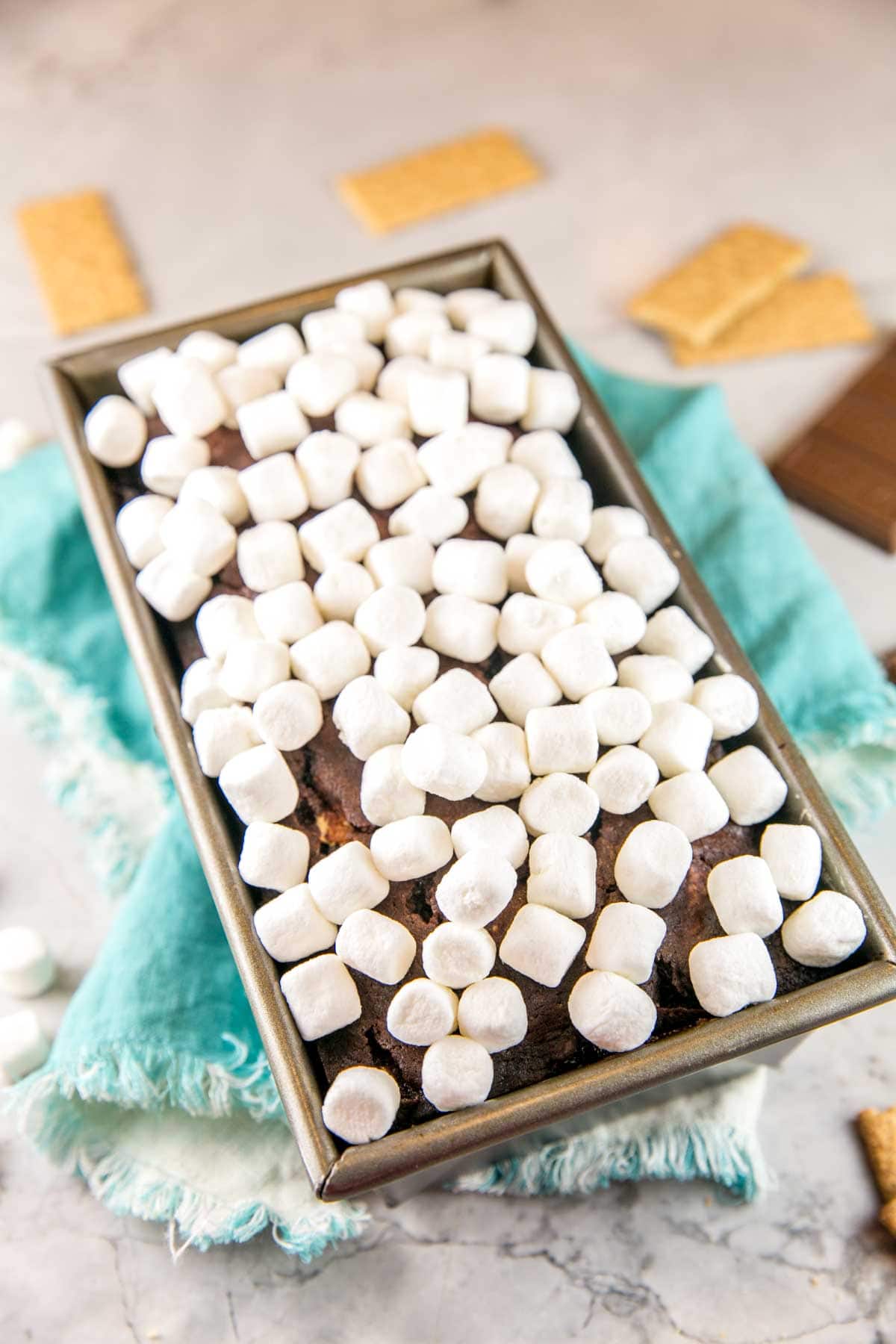 How to Store S'mores Quick Bread
S'mores quick bread is, if we're being honest, best consumed while the marshmallows are still warm and gooey. (That said, we still very much enjoyed this bread days later, so it's still worth making if you need to make it ahead of time!)
For leftover slices, store them at room temperature in an airtight container for up to 5 days.
To make the bread ahead of time, bake the bread, cool it, wrap it in foil, and store it in a freezer-safe bag.  Remove from the freezer, bring to room temperature, and then add the marshmallow layer and torch.
To freeze leftover slices of the bread after covering them with marshmallows, place individual slices on a cookie sheet and freeze them in a single layer.  Once frozen, remove the slices from the freezer, wrap them in plastic wrap, and store them in a freezer-safe bag.  (Trying to wrap the room-temperature bread in plastic wrap is a sticky mess when the plastic wrap touches the marshmallows!).  To thaw the bread, unwrap first, then leave it at room temperature.
The marshmallow topping may fall off the bread after thawing, but just squish it back on there and enjoy. 😉
Recommended Tools for S'mores Quick Bread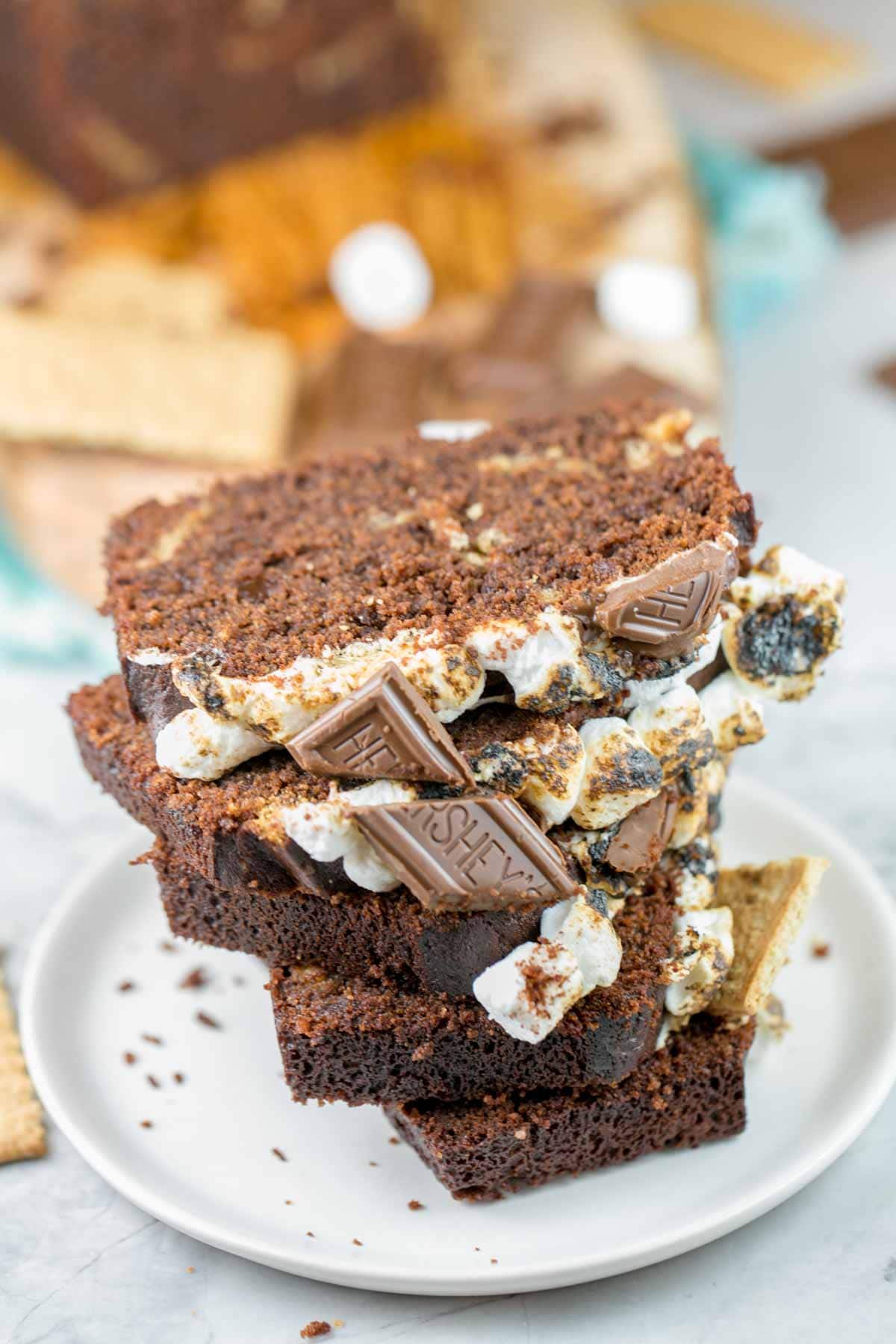 Tips and Tricks for S'mores Quick Bread
Make sure the 1/2 cup of graham cracker crumbs are very finely ground before adding them to the batter.  Use a food processor or a heavy rolling pin, making sure to sort through and remove any larger chunks.
Fold in the larger graham cracker pieces gently with a rubber spatula – we want them to stay in large pieces in the batter.
If making the bread ahead of time, wait to add the marshmallow topping until serving.  The un-topped bread can be frozen for up to 3 months.
For perfectly cut slices, wait until the marshmallows have fully cooled before cutting.  For best flavor, cut while the marshmallows are still warm – but it will be a little messy!
Store leftover slices in an airtight container at room temperature, but preferably on the cooler side.  At warm temperatures, the marshmallows will be extra sticky and the chocolate squares on top will start to melt.  Again, delicious – but messy.
More S'mores Desserts: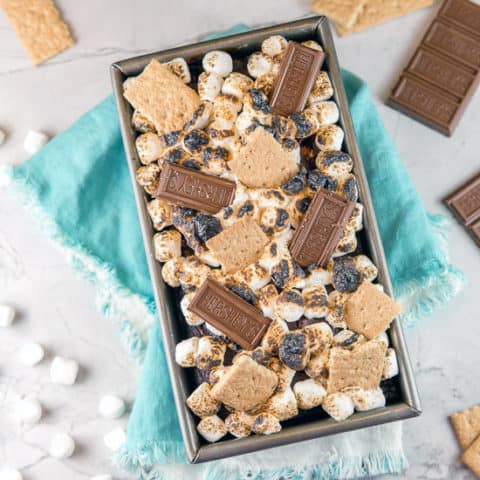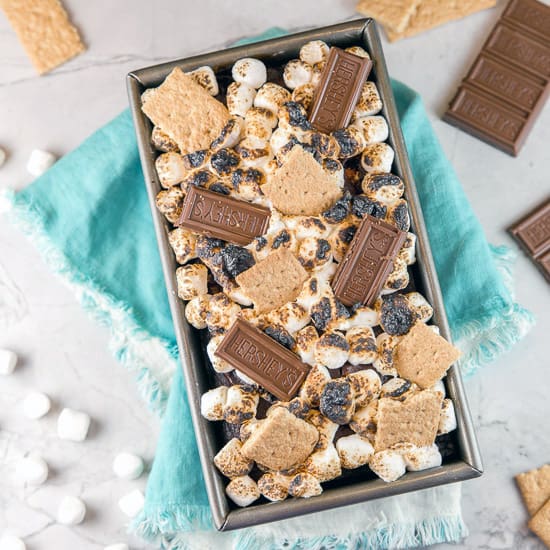 S'mores Quick Bread
Yield:
1 loaf (12 slices)
Total Time:
1 hour
15 minutes
Bring the s'mores inside, with this toasted marshmallow-covered S'mores Quick Bread!
Ingredients
For the Bread:
1 cup (120 grams) all-purpose flour
1/2 cup (72 grams) graham cracker crumbs
1/2 cup (42 grams) unsweetened cocoa powder
1/2 teaspoon salt
1 teaspoon baking powder
1/4 teaspoon baking soda
1 cup (198 grams) neutral oil (like vegetable oil or grapeseed oil)
1 cup (213 grams) brown sugar, lightly packed
2 large eggs
1 teaspoon vanilla extract
2/3 cup (151 grams) plain yogurt
3/4 cup (128 grams) chocolate chips
4 sheets graham crackers, broken into quarters
3/4 cup mini marshmallows
For the Topping:
3/4 cup (32 grams) miniature marshmallows
additional graham crackers, for decorating
squares of chocolate bar, for decorating
Instructions
Preheat the oven to 350 °F. Grease an 8.5 x 4.5-inch baking pan.
In a medium bowl, whisk together the flour, graham cracker crumbs, cocoa powder, salt, baking powder, and baking soda.
In a large bowl, whisk together the oil, brown sugar, eggs, vanilla extract, and yogurt, until well combined. Add the dry ingredients to the wet ingredients and stir until no streaks of dry ingredients remain.
Using a rubber spatula, carefully fold in the chocolate chips, quartered graham crackers, and miniature marshmallows.
Pour the batter into the prepared pan and bake for 50-60 minutes, or until a toothpick inserted into the center of the cake comes out with moist crumbs and the top of the cake springs back lightly when touched. Let the bread cool in the pan for 10 minutes, then remove to a cooling rack to cool completely.
Once cool, top the bread with miniature marshmallows and toast, either by broiling or with a kitchen torch. While marshmallows are still hot and sticky, press additional graham crackers and chocolate pieces into the top.
Notes
If baking the bread ahead of time, wait to add the marshmallow topping until shortly before serving.
Wait until the marshmallows have fully cooled before cutting.
Leftover slices can be stored in an airtight container for up to 5 days or frozen for up to 3 months. Wrap in plastic wrap before freezing and unwrap before thawing.
Recommended Products
As an Amazon Associate and member of other affiliate programs, I earn from qualifying purchases.
Nutrition Information:
Yield:

12
Serving Size:

1 slice
Amount Per Serving:
Calories:

408
Total Fat:

24g
Carbohydrates:

46.6g
Protein:

4.5g