June 11, 2020
Fudgy Oreo Brownies
Why decide between brownies and cookies when you can have both with these easy Fudgy Oreo Brownies? This is an easy one-bowl, mix-by-hand, brownie recipe, stuffed with a layer of Oreos in the middle and on top, guaranteeing Oreo crunch in every bite!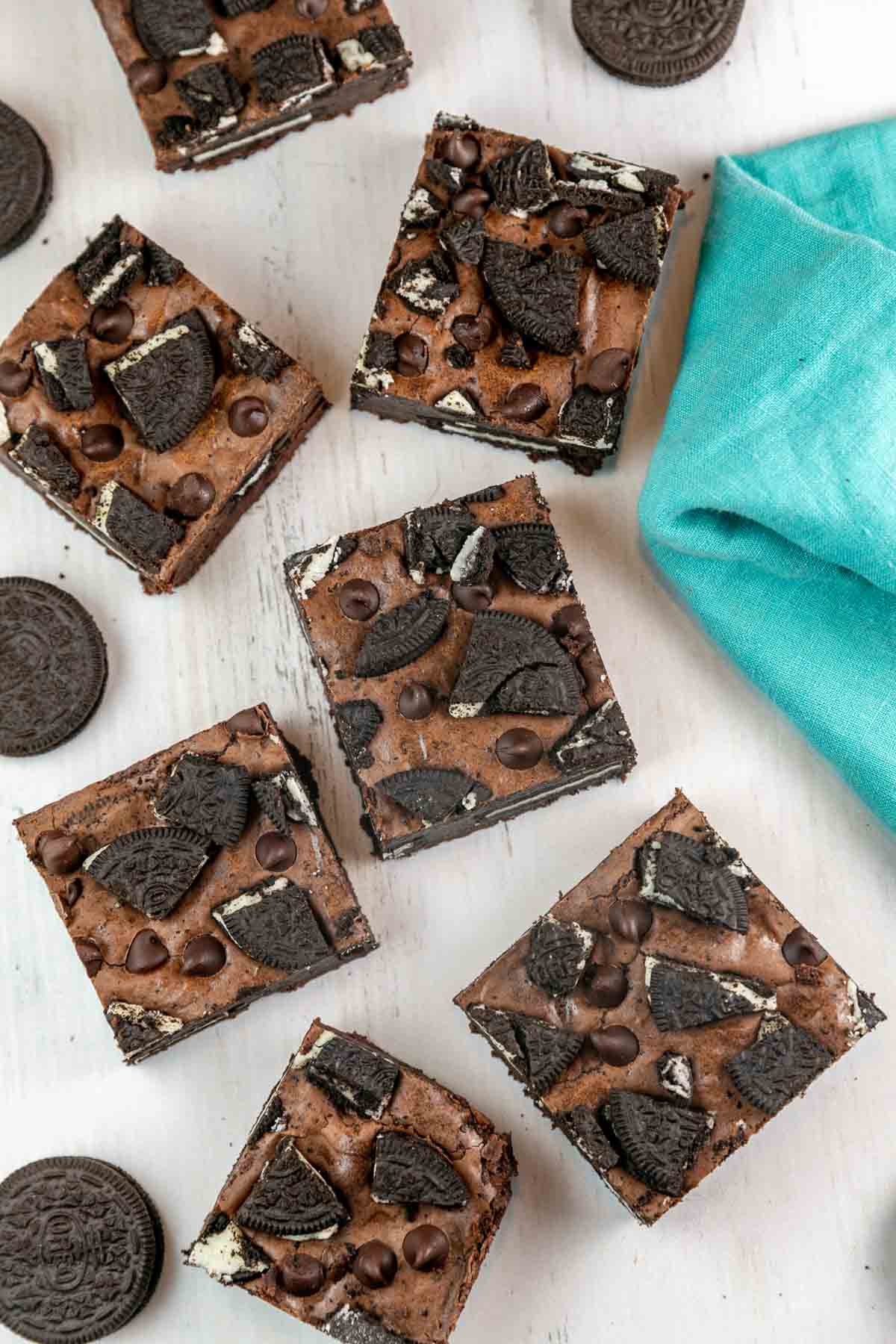 This post may include affiliate links. As an Amazon Associate I earn a fee from qualifying purchases.
Do you love brownies? (Yes.) Do you love Oreos? (Yes.)
Today, we're combining the two into a chocolatey, gooey, rich, fudgy Oreo brownie recipe. Oreo stuffed brownies, if you want to get specific.
Oreo stuffed brownies with chopped Oreos and chocolate chips layered on top, actually. Because twice the Oreos are twice as delicious, obviously.
I couldn't very well do a yearlong series on brownies without including a classic Oreo brownie recipe, could I?
What goes better with a soft, fudgy brownie than a slightly crunchy chocolate sandwich cookie? Very few things, if you ask me.
And the best part: this is a seriously easy Oreo brownies recipe. One bowl brownies, mixed by hand. No special equipment or ingredients necessary. The perfect brownie recipe!
Easy One Bowl Brownie Recipe
This is one of my favorite homemade brownie recipes (yes, I have multiple favorite basic brownie recipes, depending on what I'm adding to them!). It's thick enough to handle an entire layer of Oreos in the middle. It's still soft and fudgy, achieved by decreasing the amount of flour and omitting all chemical leaveners (baking soda/baking powder).
And most importantly, it has a super rich chocolate flavor, because we're using cocoa powder instead of melted chocolate.
Some people think that cocoa powder results in cakey brownies and the fudgiest brownies are made from melted chocolate. Don't get me wrong – both kinds of brownies are delicious (like these mint Irish cream brownies, made with melted chocolate!), but the thought that cocoa powder = cakey brownies is just plain not true.
It's simple, really — and can all be explained by my favorite subject… kitchen chemistry!
Kitchen Chemistry

Brownies using cocoa powder get all their fat from butter. Melted chocolate brownies have some added butter, but much of the fat comes from the cocoa butter that is already in the chocolate. Cocoa butter is much firmer than butter at room temperature — this means that as the brownies cool to room temperature, they become a little harder, more solid, and more crumbly. A brownie which has all its fat derived from butter, however, stays soft and tender for longer.
Not only are brownies made from cocoa powder less likely to dry out and crumble, but they also have a more intense chocolate flavor. A chocolate bar contains additional emulsifiers and stabilizers, along with sugar and cocoa butter. Cocoa powder, however, is just 100% pure cocoa. More chocolate flavor to pack into our brownies!
(Even the experts at Bon Appetit agree that cocoa powder brownies are fudgier, softer, and more chocolatey!)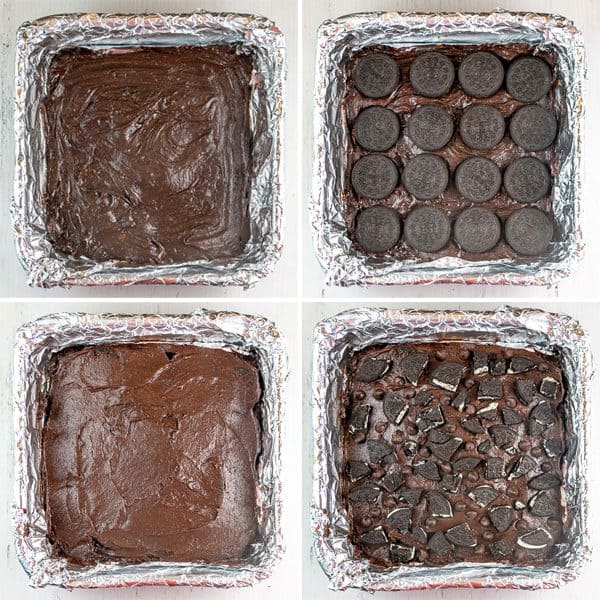 Oreo Brownie Variations
I kept these classic: chocolate brownies with the original Oreo cookies and semi-sweet chocolate chips. Everyone loves a good classic, which is exactly what these are. But sometimes it's fun to experiment; either on purpose or to use ingredients you already have on hand.
While these are made from scratch, which is barely more work than a boxed mix, you can replace the homemade brownie batter with a box mix. Prepare according to the box directions.
Try a different Oreo flavor! There are so many different types now, from peanut butter to mint to birthday cake. I can't think of a single flavor that wouldn't be delicious in these Oreo stuffed brownies.
Switch up the chocolate chips sprinkled on top. Try peanut butter, butterscotch, or white chocolate chips — white chocolate makes such a great visual contrast on brownies.
Or combine two amazing flavors and add dollops of Nutella to the brownie batter. Chopped Oreos AND Nutella? Oh yeah!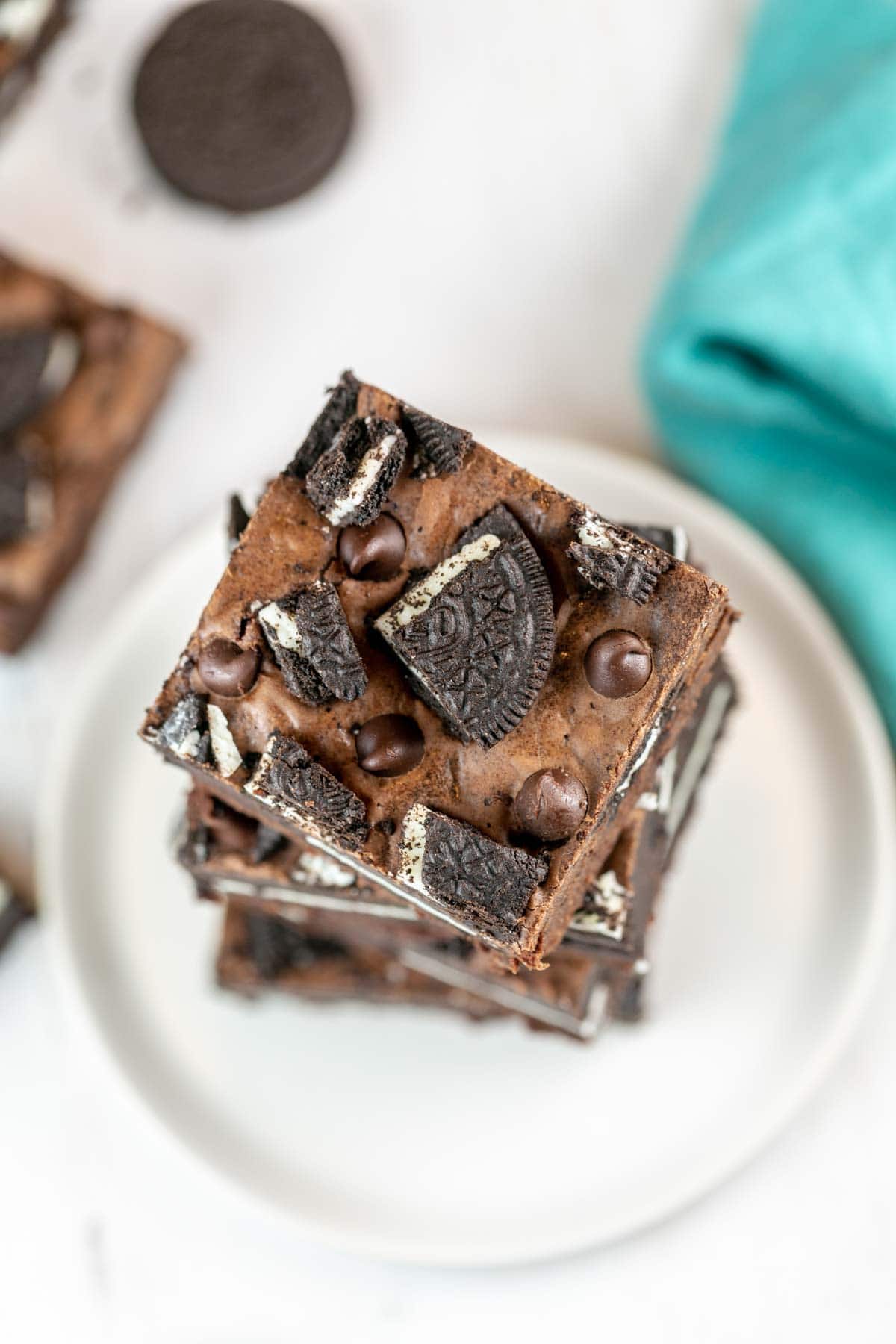 Tips and Tricks for The Best Fudgy Oreo Brownies
Since this recipe does not contain chemical leavaners, either natural unsweetened or Dutch-process cocoa powder can be used. I suggest using Dutch-process cocoa powder; the color is darker and richer and the cocoa flavor is more prominent.
Use good quality cocoa powder for the best chocolate flavor. My favorite brands include Divine Chocolate, Droste, and Valhrona.
Don't over bake the brownies! A tester inserted into the middle should come out with a moist crumb.
Cool the brownies completely before slicing. The brownies will set quite a bit as they cool. For smooth, even cuts, refrigerate the brownies for an hour before cutting.
Prefer your brownies still warm? Let the pan cool completely before slicing, then microwave an individual brownie for 20 seconds.
Double the recipe and bake in a 9×13-inch pan, adding an extra 5 minutes to the baking time.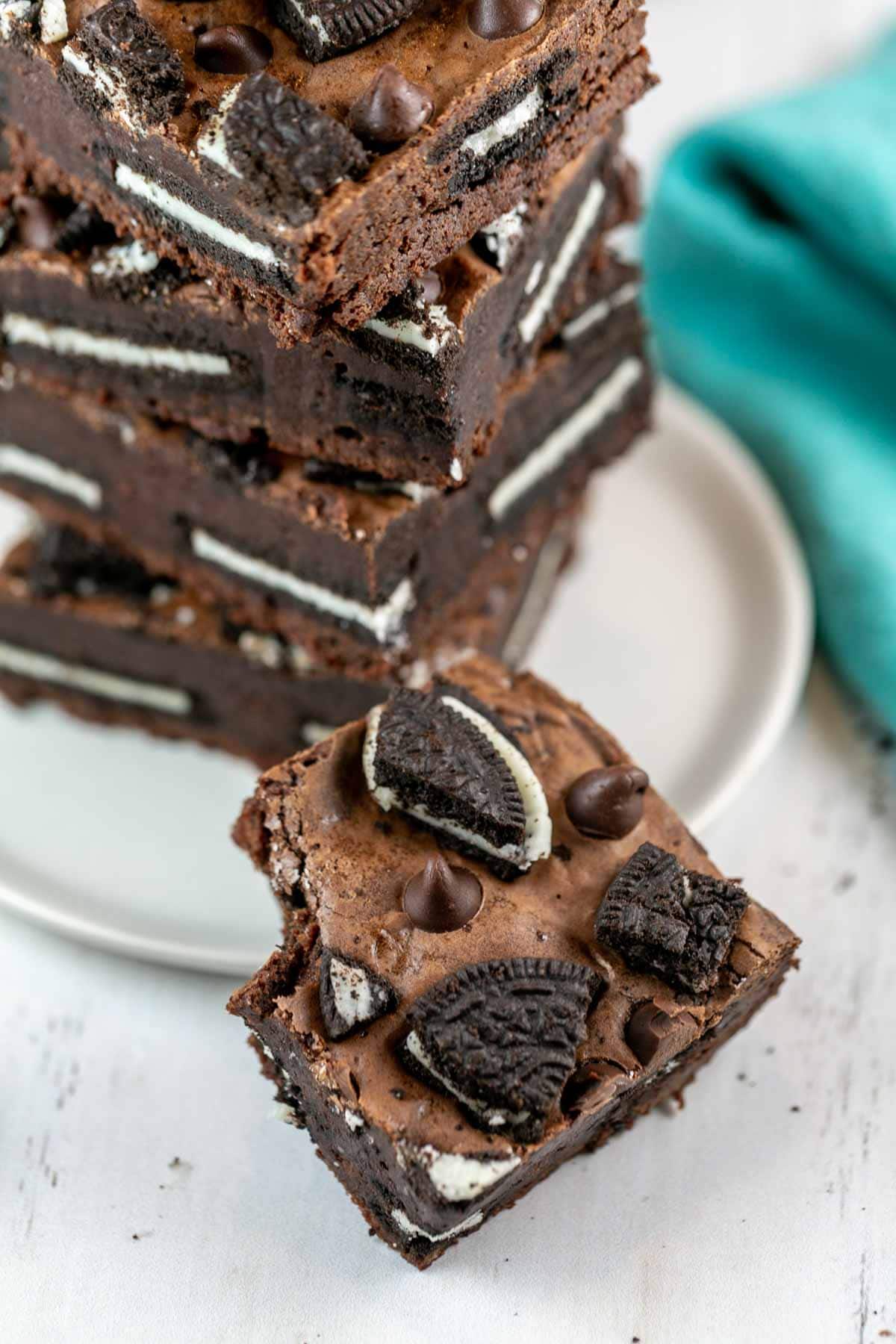 More Oreo Recipes:
2020 Brownie of the Month Series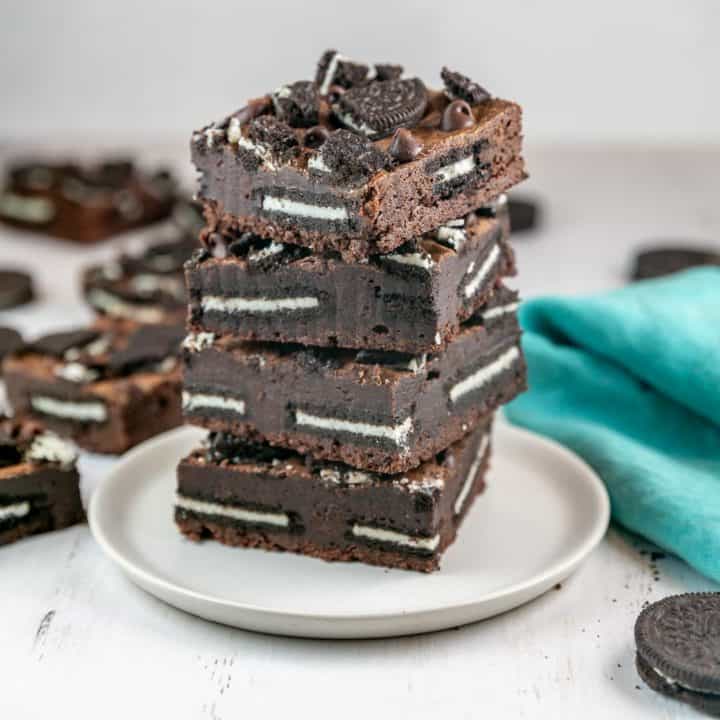 Fudgy Oreo Brownies
Why decide between brownies and cookies when you can have both with these easy fudgy Oreo brownies? 
Ingredients
3/4 cup (170 grams) unsalted butter
1 1/2 cups (270 grams) granulated sugar
3 large eggs
3/4 cup (63 grams) Dutch-process cocoa powder
1/2 teaspoon salt
2 teaspoons vanilla extract
1 cup (120 grams) all-purpose flour
24 Oreo or chocolate sandwich cookies
1/4 cup (42 grams) chocolate chips
Instructions
Preheat the oven to 350 °F. Line a 9″ square baking dish with aluminum foil, extending the foil over the edges to form handles, and grease the foil.
Make the brownie batter. Combine the butter and sugar in a large microwave-safe bowl. Microwave for 30 seconds, then whisk. Repeat this process twice more, or until all the butter is melted and the mixture looks shiny (granulated particles of sugar will still remain). Allow the mixture to cool for 5 minutes.
Whisk in the eggs, one at a time, followed by the cocoa powder, salt, and vanilla extract. Stir by hand with a wooden spoon until well combined and shiny. Add in the flour, folding in gently until just combined and no dry streaks of flour remain.
Prepare the brownie and Oreo layers. Spread half brownie batter in prepared pan, using a knife to carefully spread the batter into the corners.. Layer 16 oreo cookies on top. Spread the rest of the batter on the cookies; the batter is thick but there will be just enough to cover the Oreos.. Chop the remaining 8 oreos and scatter on top of the batter, adding the chocolate chips.
Bake the brownies. Bake 25 to 30 minutes, until a toothpick inserted into the center comes out almost clean. Leave at room temperature until cool.
Notes
Either natural unsweetened or Dutch-processed cocoa powder can be used, but Dutch-process will result in a darker and richer color and a deeper chocolate flavor.
Use good quality cocoa powder for the best chocolate flavor.  My favorite brands include Divine Chocolate, Droste, and Valhrona.
Cool the brownies completely before slicing.  To eat the brownies warm, microwave an individual brownie for 20 seconds.
This recipe can be doubled and baked in a 9x13-inch pan. Add an additional 5 minutes to the baking time.
Brownies can be stored at room temperature for 4 days, refrigerated for a week, or frozen for up to 3 months.

A Bunsen Burner Bakery Original Protocol
Recommended Products
As an Amazon Associate and member of other affiliate programs, I earn from qualifying purchases.
Nutrition Information:
Yield:

16
Serving Size:

1 brownie
Amount Per Serving:
Calories:

251
Total Fat:

11.7g
Carbohydrates:

34g
Protein:

4.6g