May 14, 2020
Raspberry Crumb Cake
Made with a light and fluffy buttermilk cake, a layer of homemade raspberry jam, and a raspberry streusel topping, this easy Raspberry Crumb Cake is perfect for dessert.. or breakfast!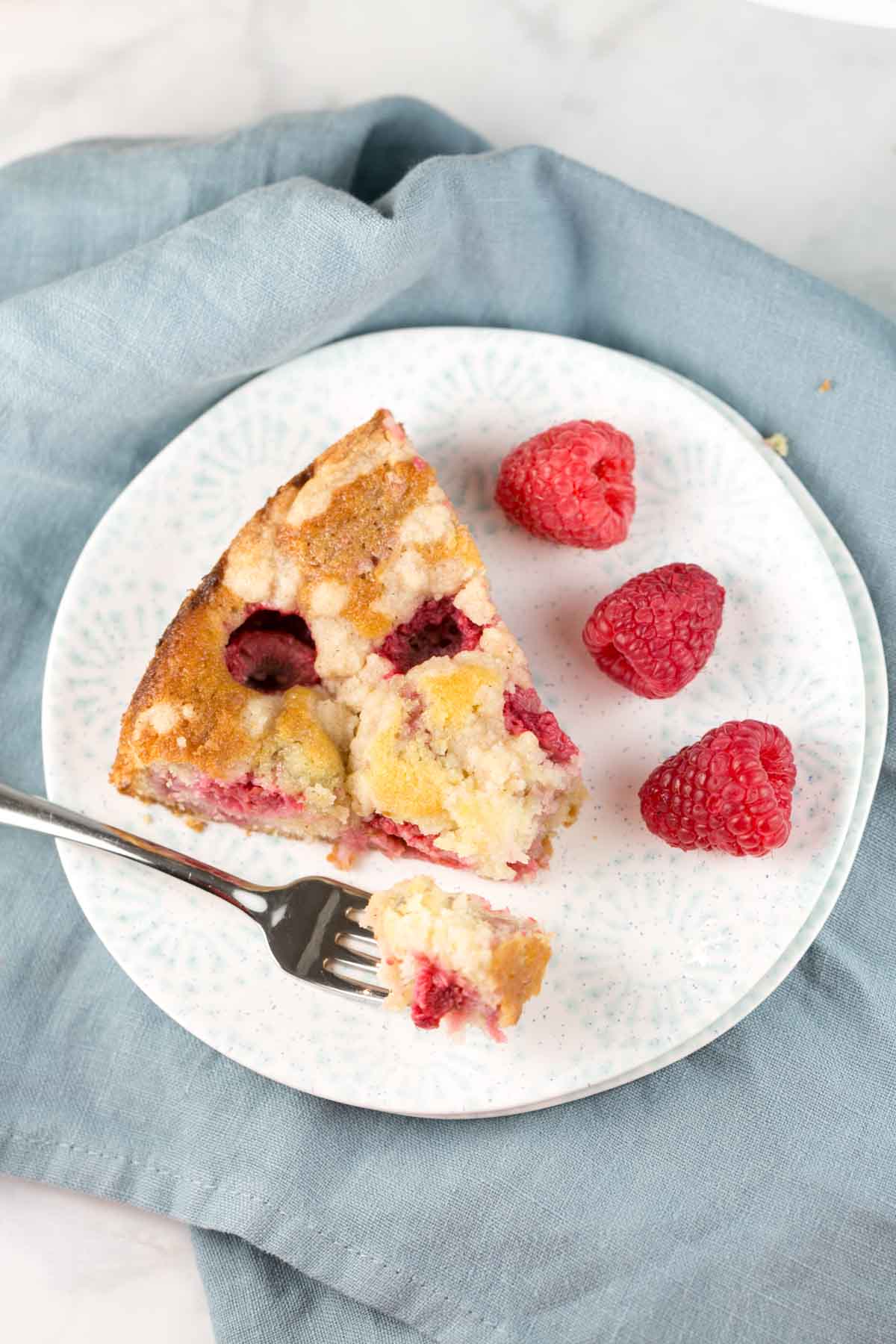 Breakfast cakes, like this raspberry crumb cake, are some of my favorite cakes to bake (after bundt cakes, of course!).
They're easy and simple. Without heaping piles of frosting, they rely on flavorful ingredients — like fresh berries — to take a starring role. Covered with a buttery crumb streusel, there's a texture contrast between the soft cake and the slightly crispier streusel.
But best of all — they're easy and fast. It's like the best comfort food dinner version of cooking. Minimal prep work, maximum deliciousness – and the perfect to have up your sleeve for unexpected guests.
(Not someone who routinely has unexpected guests stop by? This cake is also a perfect "it's Thursday and I would like a cake for breakfast or dessert, please, kind of a cake!)
This cake has three parts, but don't let that turn you away: it comes together quickly and easily.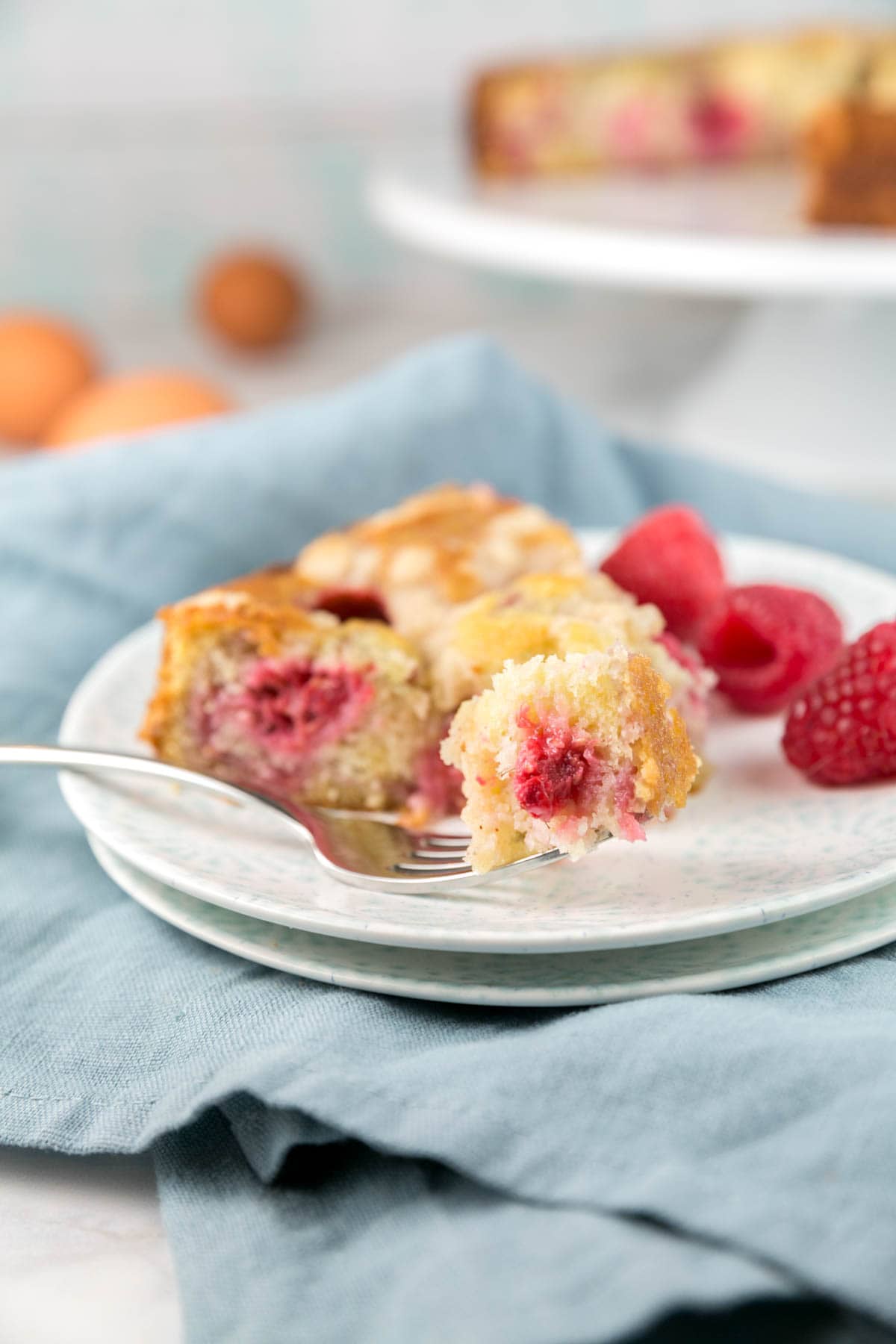 Ingredients and Substitution
To make this cake, you'll need to gather the following ingredients:
Flour: Use all-purpose flour, either weighed in grams or properly measured (fluff the flour with a fork and scoop it into the measuring cup). To keep this cake gluten-free, use a 1:1 baking mix.
Baking Powder/Baking Soda: Because this cake batter is acidic, we'll be using both baking powder and baking soda as leavening agents.
Salt: Use table salt, sea salt, or Morton's kosher salt; if using Diamond Crystal, adjust as necessary.
Butter: The butter should be room temperature for the cake batter – still cool and able to be indented with a finger. Don't use butter that is too warm!
Sugar: Granulated sugar is used in the jam, cake batter, and cinnamon crumble.
Vanilla Extract: If you love almond flavor, you could substitute almond extract for the vanilla extract (or use in addition to the vanilla extract).
Egg: The egg should be at room temperature to incorporate fully in the batter.
Buttermilk: Real buttermilk will have the best texture and flavor – and especially if you can use thick, high-fat buttermilk. If you can't get buttermilk, add a squirt of lemon juice to whole milk and wait for 5 minutes before adding to the batter.
Raspberries: Either fresh or frozen raspberries can be used for this cake. If you're using frozen raspberries for the jam, add a few minutes to the cooking time. To add frozen raspberries to the cake, add straight from frozen without thawing. Any other berries, like strawberries, blueberries, or blackberries, can be substituted for raspberries.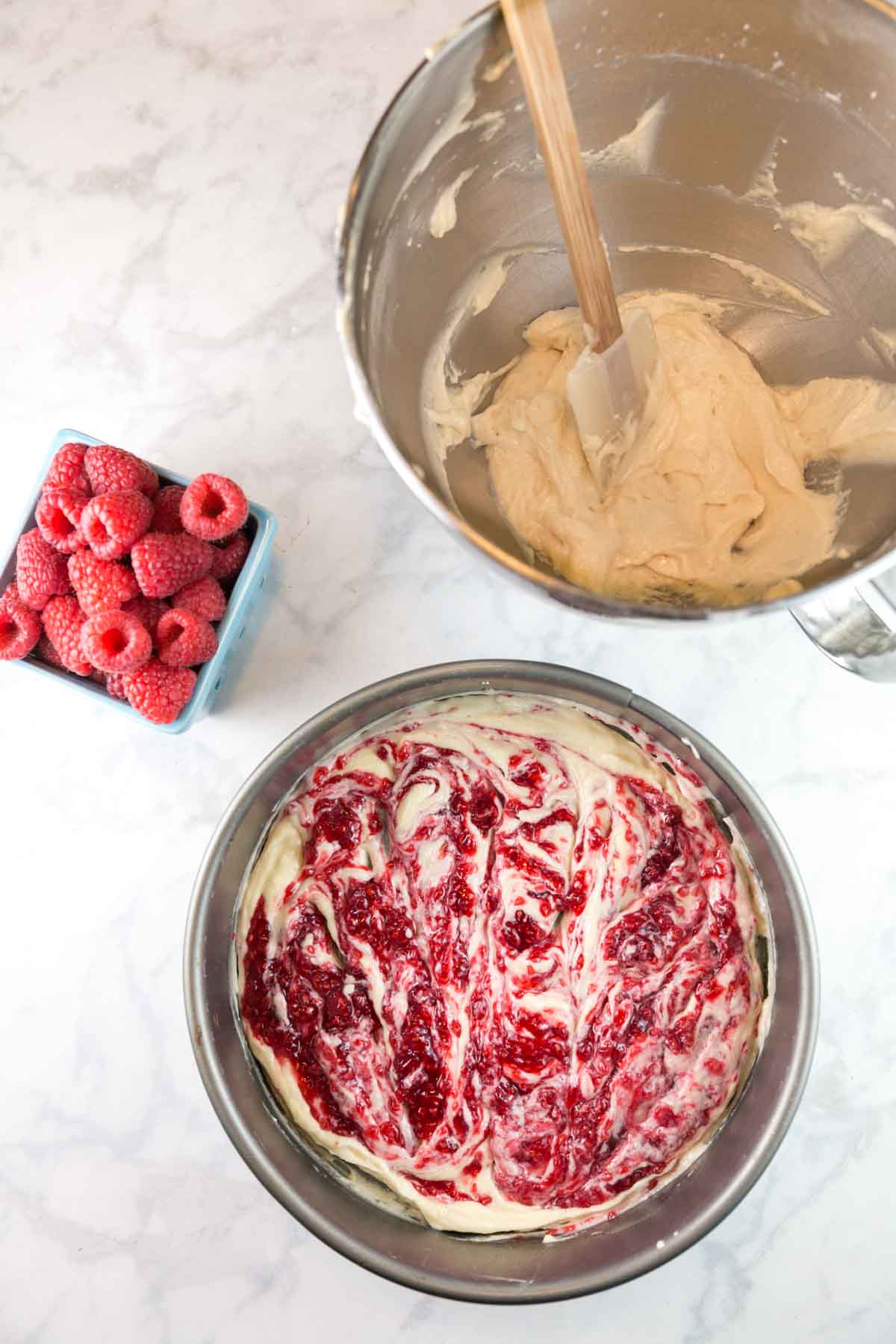 Easy Buttermilk Coffee Cake
The cake layer of this is my favorite buttermilk-based coffee cake. It's easy, it's quick, and it has the perfect light crumb, thanks to one of my favorite baking ingredients.
You know what's coming, right? It's time for my favorite subject… kitchen chemistry!
Kitchen Chemistry

The acidity of buttermilk contributes both to the leavening of baked goods (by reacting to carbon dioxide) and breaks down tough strands of gluten, making baked goods more moist and tender than using regular milk.
There are a lot of "hacks" for buttermilk out there — adding cream of tartar, or letting regular milk sit with lemon juice or vinegar to lower the pH of the milk. While this does lower the pH, the lactose in the milk doesn't fully convert to lactic acid and undergo the classic clabbering process, and the faux "buttermilk" doesn't get quite as thick and tart.
While it will work in a pinch, your buttermilk-based recipes are going to be even better using real buttermilk. Don't need a whole container of buttermilk at once? Pro tip: freeze it! Freeze buttermilk in ice cube trays (measure your trays to figure out the volume) and pull out buttermilk cubes whenever you need them for a recipe!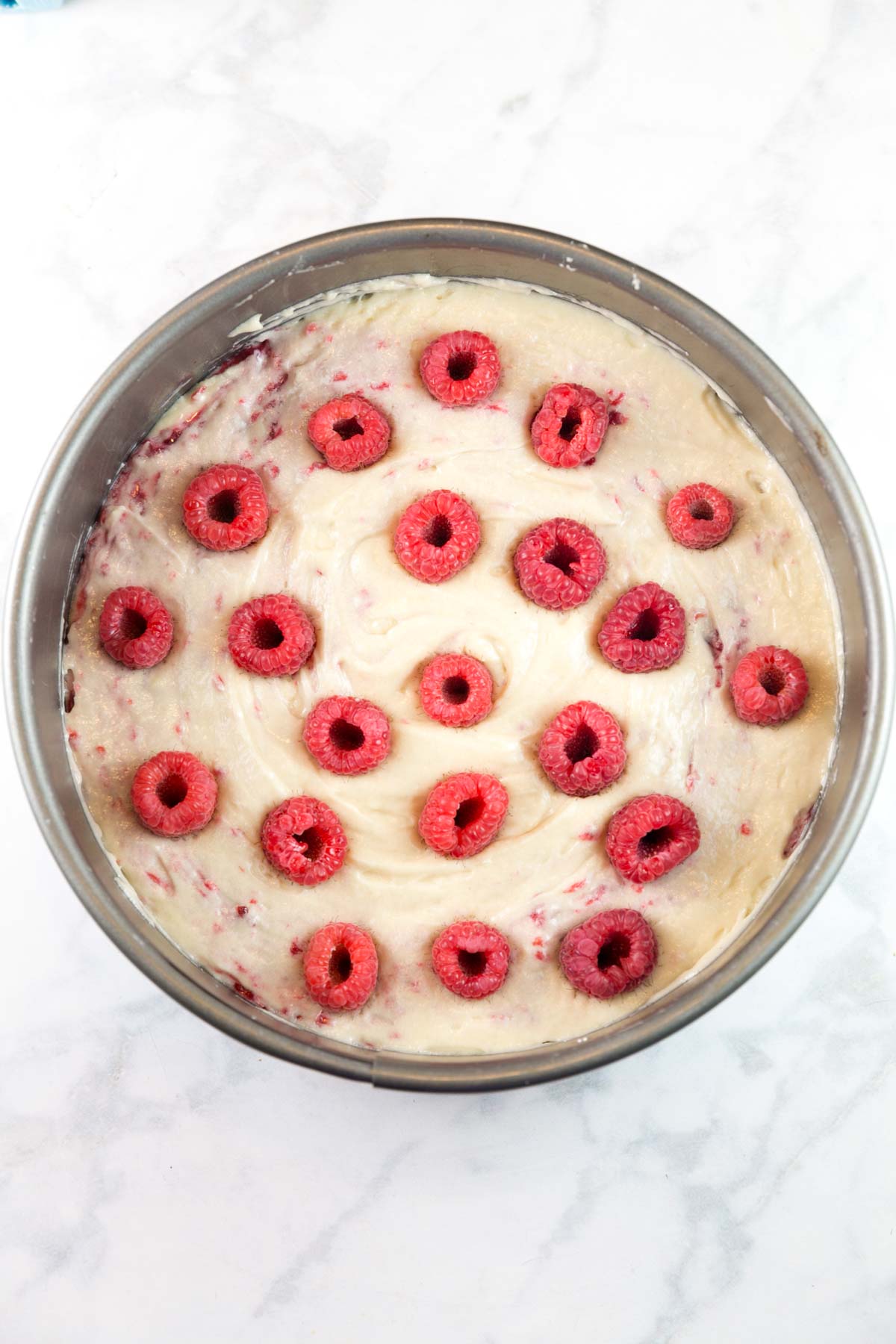 Two Ingredient Homemade Jam
When we bake this raspberry buttermilk cake, we'll pour in half the batter, then spread on a layer of jam, and pour on more batter.
I made a homemade raspberry jam for this because raspberries were on super sale and perfectly ripe when I made it. If you're not a homemade jam person, you can replace the layer with store-bought if that's more your, well, jam.
But if you're game to try your own – it's super easy since there's no pectin necessary. We're really just simmering together raspberries and sugar until the mixture thickens.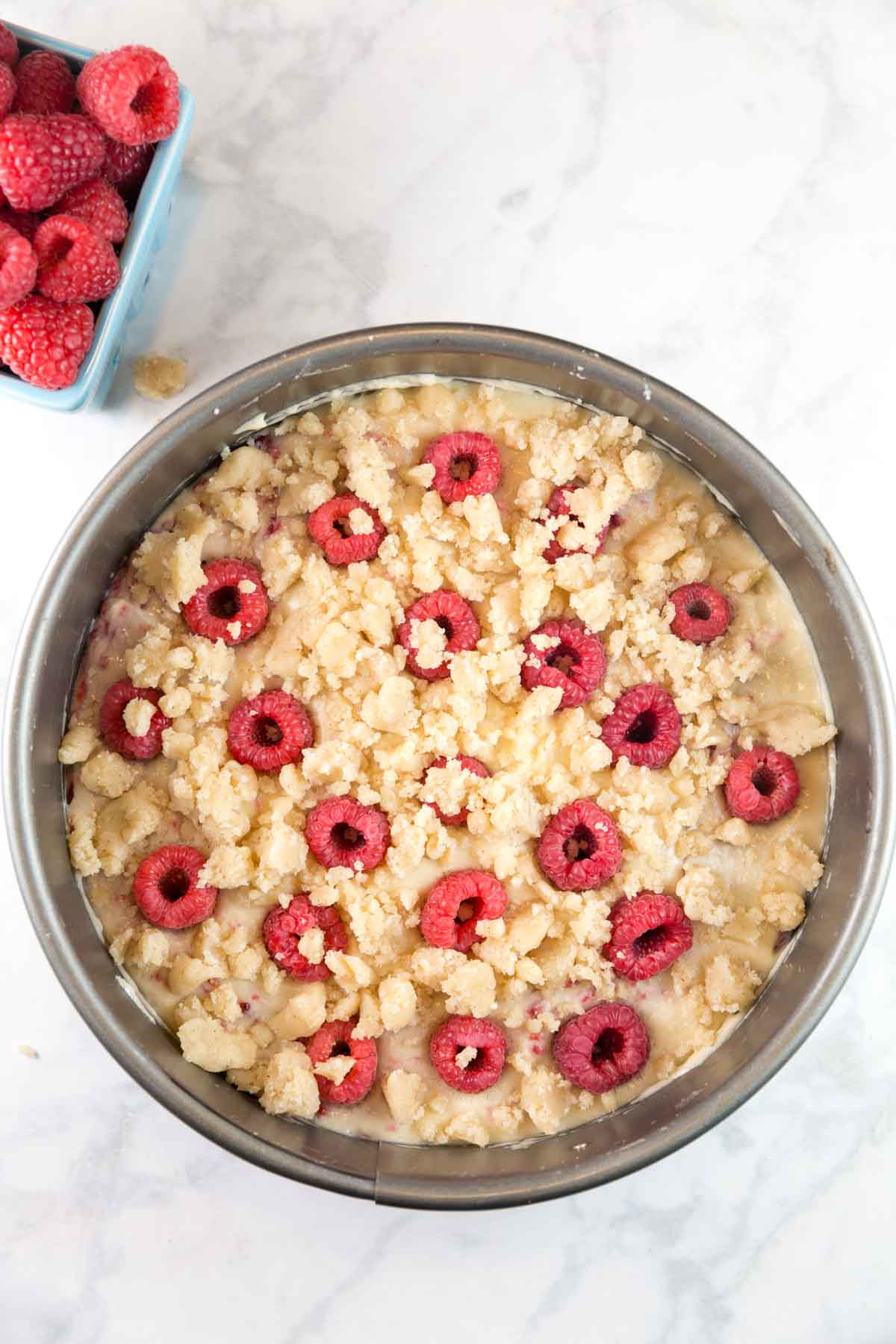 Cinnamon Crumble Topping
The cinnamon crumble topping for this raspberry crumb cake is just as easy as the jam layer — just one bowl, a whisk, and some melted butter.
Combine some flour, cinnamon, and sugar, and stir in melted butter until the mixture has a sandy texture. Top the cake with raspberries (fresh or frozen!) and sprinkle clumps of the crumble on top.
If you prefer a little more crunch, adding sliced or slivered almonds to the topping would be delicious!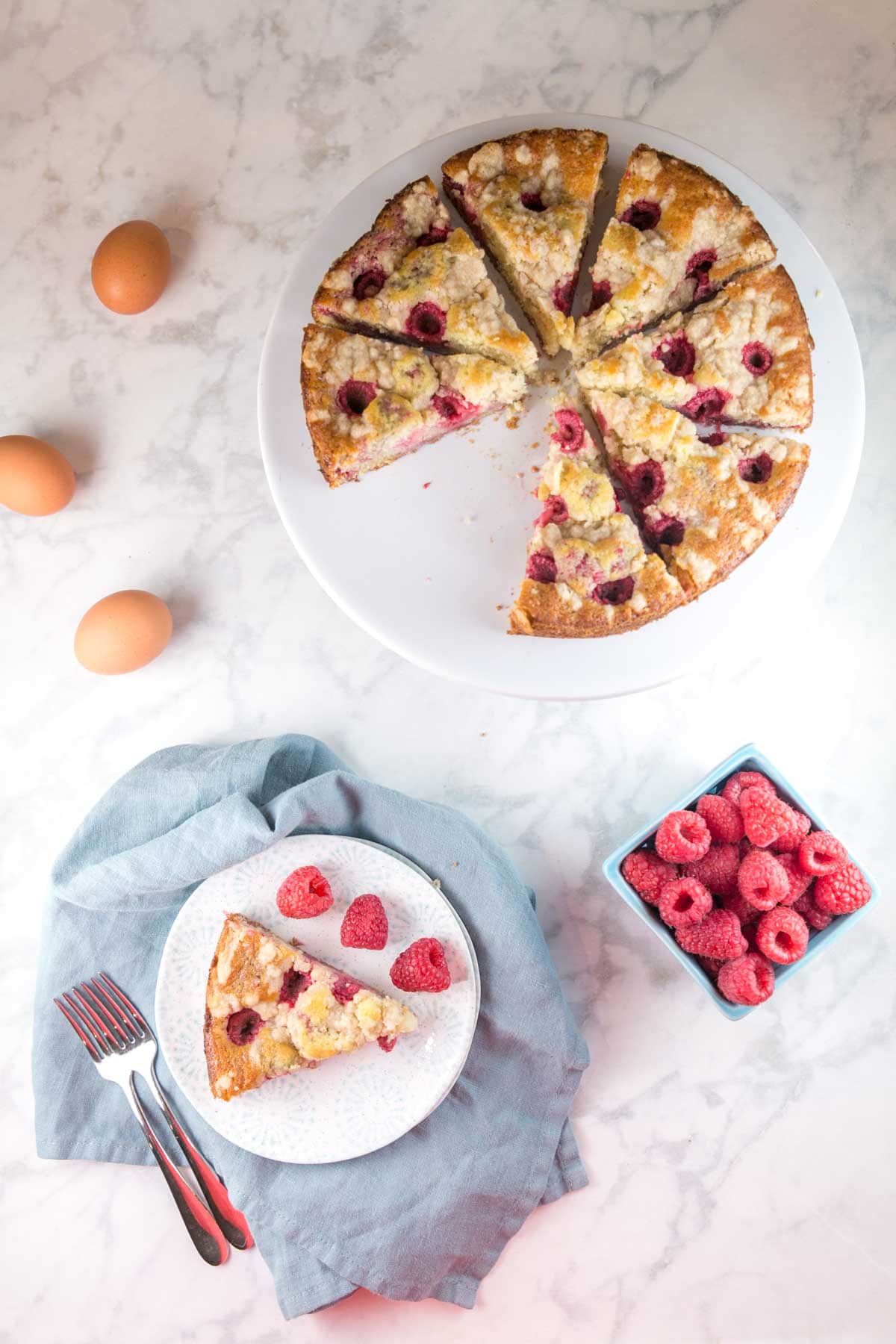 Recommended Tools for Raspberry Crumb Cake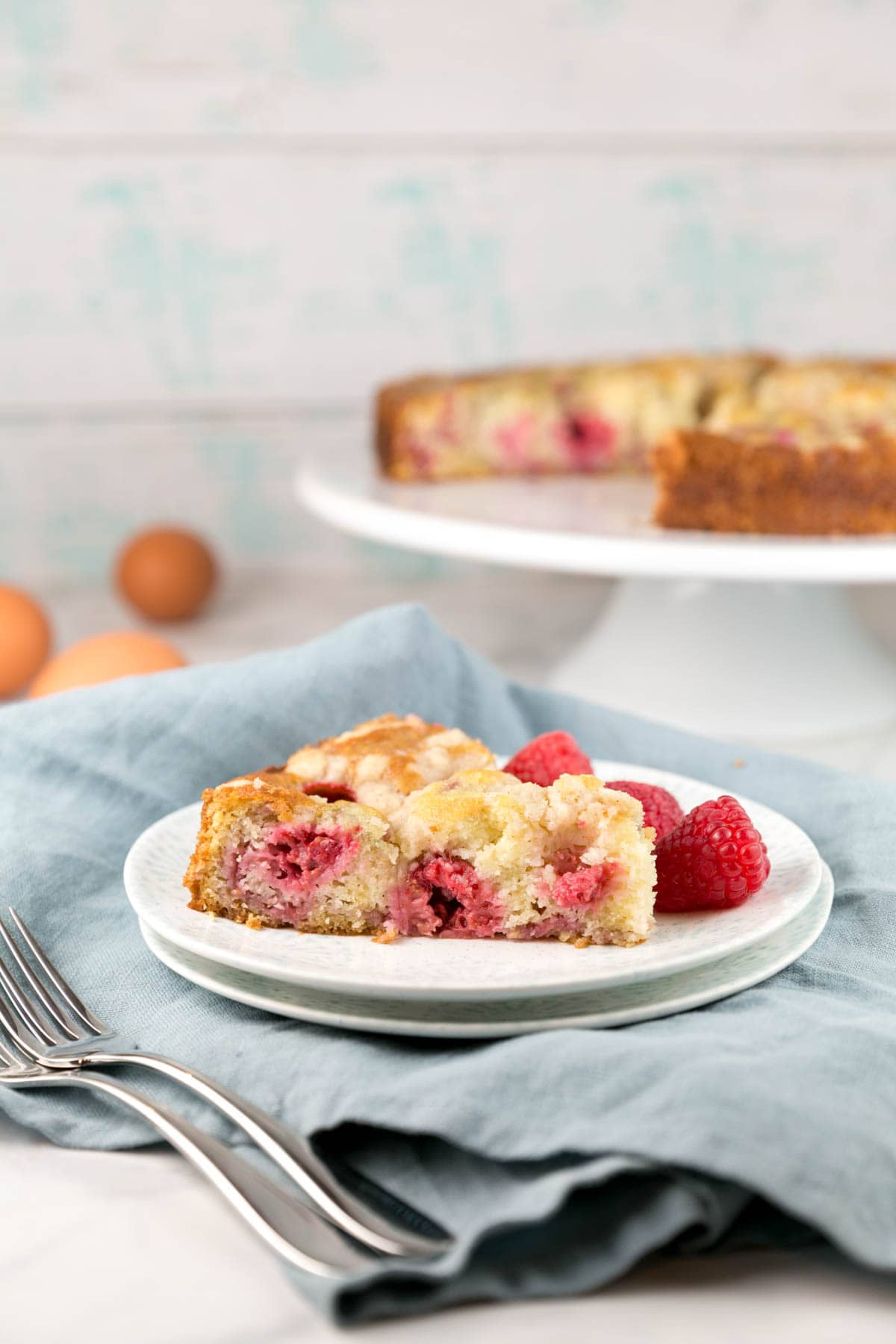 Tips and Tricks for The Best Raspberry Crumb Cake
Use real buttermilk, if possible. Mixing milk with lemon juice or vinegar doesn't have the same thick texture and tart flavor, so using real buttermilk will improve the texture and flavor of the cake.
Fresh or frozen raspberries can be used. If using frozen raspberries, do not thaw first – add to the jam straight from frozen (it will take longer to cook down and thicken the layer) or place on the top of the cake straight from frozen and bake immediately.
Not into raspberries? Substitute any other berries! This is delicious with blueberries or blackberries and I imagine would be just as good with strawberries, too!
Store-bought jam can be substituted for the homemade jam layer; it may just need to be thinned with a little water or juice if the layer is too thick to spread on the batter.
To keep the raspberries on the top of the cake, place them cup-side up (so you can see the hole) when you add them to the top of the cake. Raspberries placed cup-side down will sink into the cake while baking.
More Easy Coffee Cake Recipes
Raspberry Crumb Cake
Made with a light and fluffy buttermilk cake, a layer of homemade raspberry jam, and a raspberry streusel topping, this easy raspberry crumb cake is perfect for dessert.. or breakfast!  
Ingredients
For the jam:
2 cups (240 grams) raspberries
1/2 cup (99 grams) granulated sugar
For the cake:
1 cup (120 grams) all-purpose flour
1/2 teaspoon baking powder
1/2 teaspoon baking soda
1/4 teaspoon salt
1/4 cup (57 grams) butter, room temperature
2/3 cup (132 grams) granulated sugar
1 teaspoon vanilla extract
1 large egg, room temperature
1/2 cup (114 grams) buttermilk, room temperature
1 cup (120 grams) raspberries
For the cinnamon crumble:
1/3 cup (40 grams) all-purpose flour
1/4 cup (50 grams) granulated sugar
1/4 tsp salt
1/4 tsp cinnamon
1/4 cup (57 grams) butter, melted
Instructions
Preheat the oven to 400 F.
Make the jam. Combine the raspberries and sugar in a small saucepan over medium-high heat. Bring to a gentle boil and stir for 5 minutes, mashing the raspberries with a spoon. Set aside to cool.
Make the cake batter. Using an electric mixer, beat together the butter and sugar at medium-high speed until light and fluffy, 2 to 3 minutes. Beat in the egg, followed by the vanilla extract. Turn the speed to low and beat in half of the flour, followed by the buttermilk, followed by the baking powder, baking soda, salt, and the rest of the flour mixture. Mix just until no streaks of dry ingredients remain.
Make the cinnamon crumble topping. Whisk together the flour, salt, sugar, and cinnamon until combined. Stir in the melted butter until the mixture is sandy.
Assemble the cake. Grease a 9-inch springform pan or cake pan. Spoon half of the batter into the pan. Gently spread the raspberry jam onto the batter. Top with the remaining batter, smoothing the top with a spatula. Place the raspberries cup-side up over the batter and sprinkle with the cinnamon crumble.
Bake the cake. Bake until the top of the cake is golden in color and a toothpick inserted into the center comes out clean, 25 to 30 minutes. Cool in the pan for 10 minutes, then unmold the springform pan and cool on a wire rack. Serve warm or at room temperature.
Notes
Fresh or frozen raspberries can be used.  If using frozen raspberries, do not thaw first. The jam will take longer than 5 minutes to cook down and thicken. Place on top of the cake straight from frozen (baking time will not change.).
Blackberries, blueberries, or strawberries can be substituted for the raspberries.
Store-bought jam can be used instead of homemade; depending on the jam it may need to be thinned in order to spread on the batter.
Cake can be consumed warm or at room temperature. Leftover cake can be stored in an airtight container at room temperature for up to 3 days, or frozen for up to 3 months.
Recommended Products
As an Amazon Associate and member of other affiliate programs, I earn from qualifying purchases.
Nutrition Information:
Yield:

8
Serving Size:

1 slice
Amount Per Serving:
Calories:

351
Total Fat:

12.7g
Carbohydrates:

56.7g
Protein:

4.0g