May 22, 2013
Caramelized Onion Salad
Looking for a delicious and easy salad recipe? Look no further than this Caramelized Onion Salad, featuring sweet and savory jammy onions, mixed greens, and a tangy mustard vinaigrette dressing. This salad is perfect for a quick lunch or as a side dish for dinner any time of year.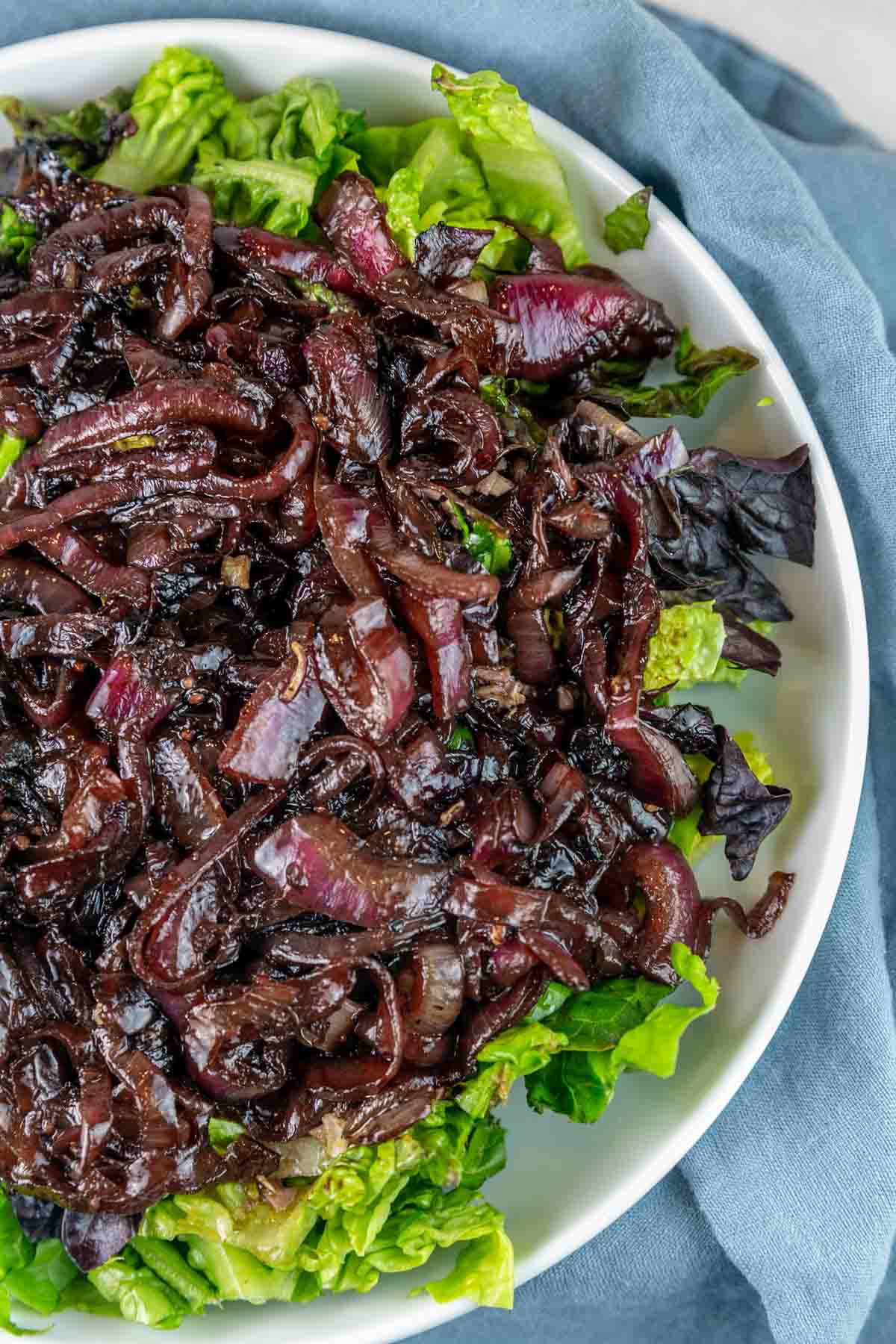 I am a huge fan of salads. They're super versatile and healthy. Salads are packed with nutrients and a fantastic way to incorporate more vegetables into your diet.
But.. they can often be a little boring and mundane. I don't know a lot of people who truly rave about salads. Until I started making this one.
When it comes to food (or pretty much anything other than Philadelphia sports), my husband is a man of few words. I generally have to prod him for his thoughts on dinner, and even then, it's typically summed up as "it's fine" or "I'd eat it again."
So when I made this salad, and my husband offered up that it was good without me even asking his opinion, my mind was blown. A salad coming in as "good" on the rating scale from a man who hums the "You don't make friends with salad!" line from The Simpsons every time I try to make one for dinner is basically a 5-star review.
The caramelized onions really shine in this. Caramelized onions add a sweet and savory flavor to any dish, and this salad is no exception. They're coated with a syrupy balsamic glaze that packs a ton of flavor and piled high on lettuce dressed with a shallot and mustard vinaigrette. Simple ingredients, maximum flavor.
Whether you're eating this as a light lunch, a side dish for dinner, or a potluck contribution, this caramelized onion salad is going to be a guaranteed hit. Add your favorite toppings if desired (goat cheese! feta cheese! walnuts! grilled protein!) and sit back and wait for the compliments to come rolling in.
Ingredients and Substitutions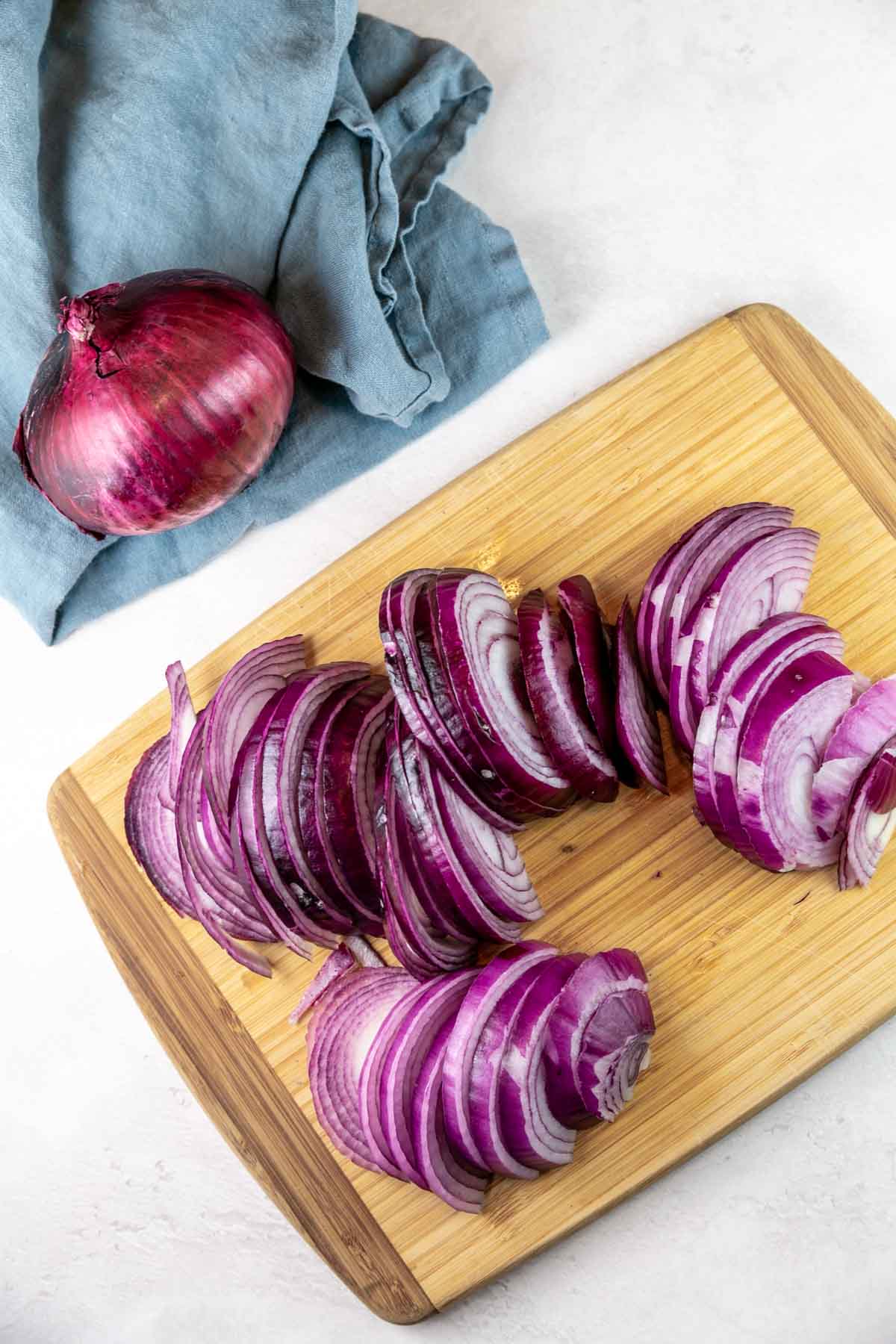 Caramelizing Onions
The true start of this salad is, of course, the caramelized onions! But how do you caramelize onions and what makes them so sweet? Here we go!
Let's start by talking about what happens when onions are caramelized. We'll cook them low and slow with a heat source (either on the stovetop or in the oven) until the onions transform from raw (crunchy and sharp-tasting) to deliciously soft and sweet. How does this happen? The answer is all in my favorite subject… kitchen chemistry!
Kitchen Chemistry

Caramelized onions undergo a non-enzymatic form of browning, known as pyrolysis. This means that the browning is a chemical process, rather than browning due to oxidation (think about an apple turning brown when exposed to the air). Insead, an onion undergoes caramelization when the natural sugars in the onion are exposed to heat. The large sugar molecules inside a raw onion are broken down into smaller simple sugar molecules, which our taste buds are able to detect, resulting in a noticeably sweeter flavor.
We can achieve this caramelization process in two ways:
Stovetop Caramelization: This is generally my preferred way – you're actively involved stirring the onions and can keep a closer eye on them. Because you're stirring the onions, they caramelize evenly, as all the onions come in contact with the hot surface of the pan.
Oven Roasting Caramelization: This is arguably an easier, more hands-off approach – roast the onions on a sheet pan for 20 to 25 minutes, stirring once or twice. If your oven heats evenly, this works well, but most onions have hot spots and if you don't pay careful attention, you can burn the onions on one side of the pan.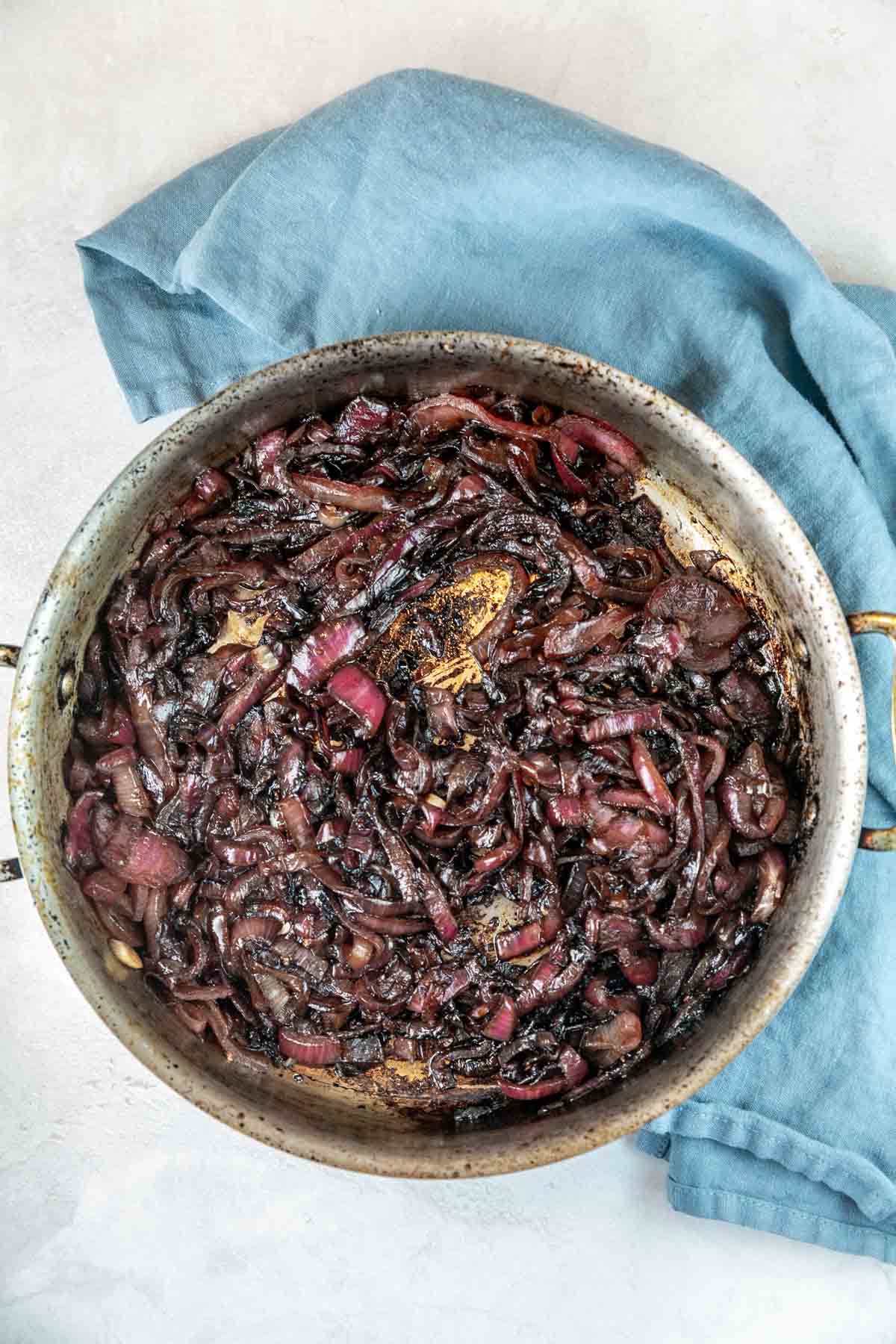 Additional Topping Ideas
I've kept this salad simple – buttery lettuce, sweet balsamic caramelized onions, and a mustard vinaigrette. It's delicious on its own and in its current state is both gluten-free and dairy-free.
But if you want to add a little more, here are some of my favorite toppings to take this caramelized onion salad to add additional flavors or textures: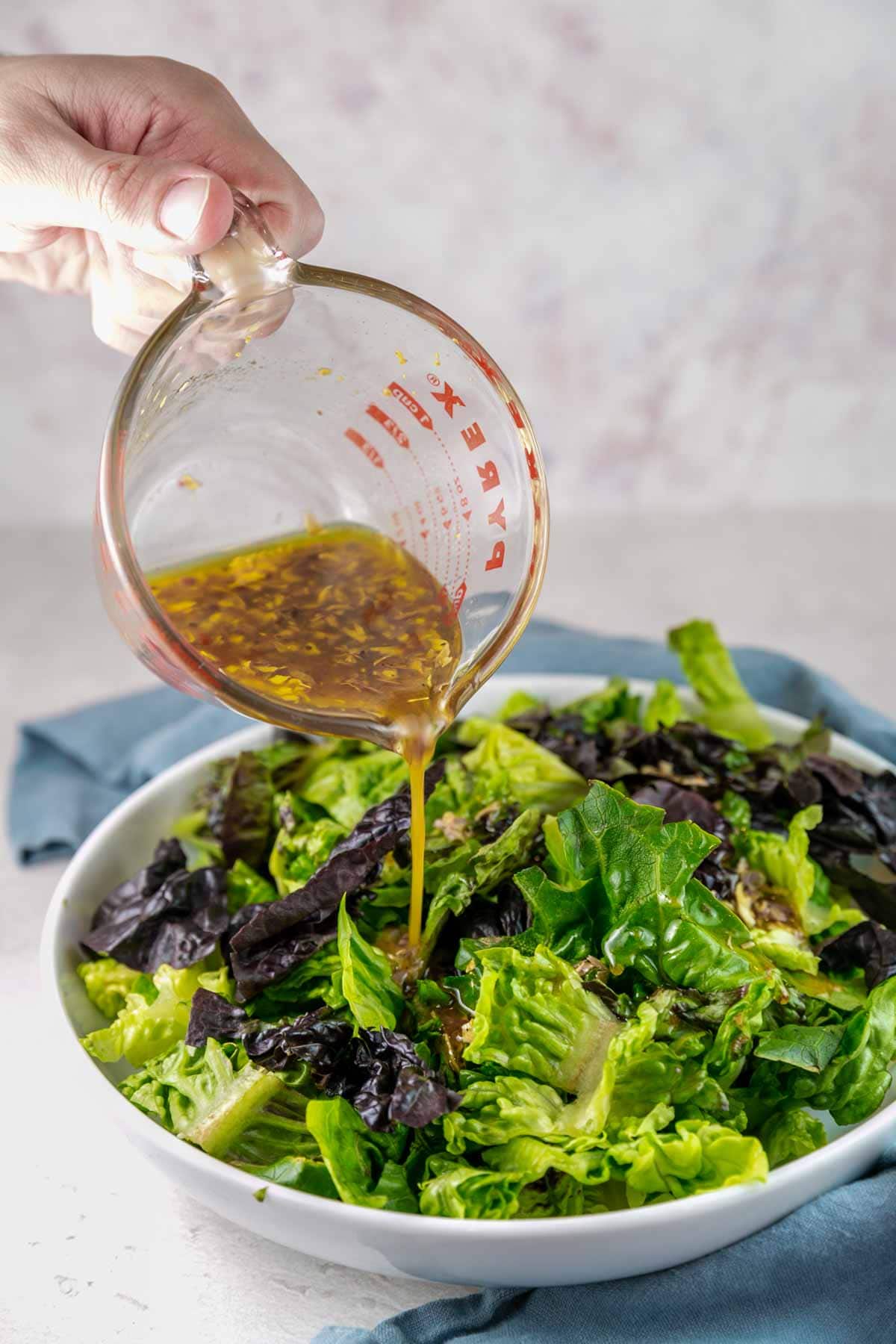 Recommended Tools to Make Caramelized Onion Salad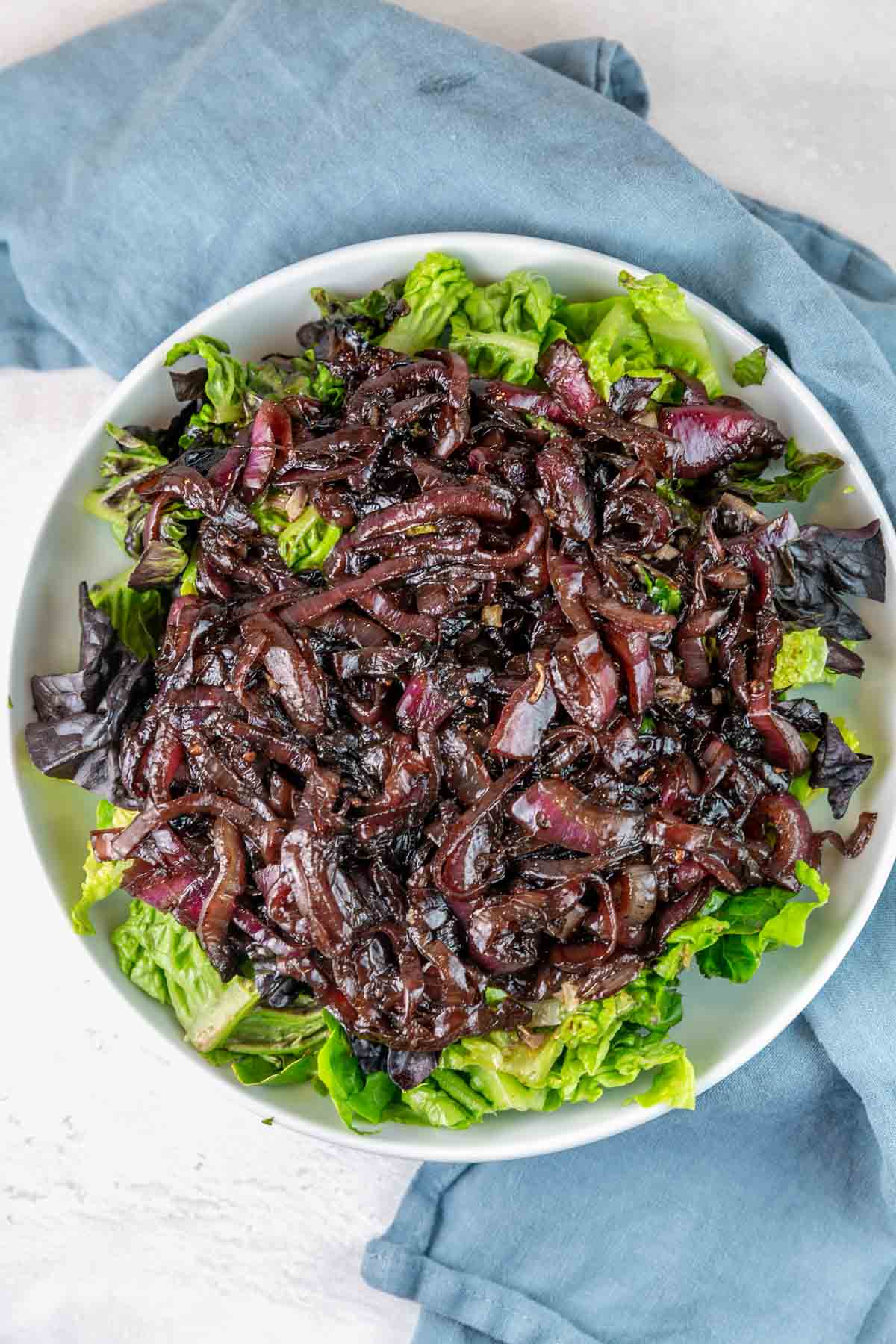 Tips and Tricks to Make The Best Balsamic Caramelized Onion Salad
Red onions are my favorite for this salad, but if you want to substitute yellow onions, use a sweet variety like Vidalia, Walla Walla, or Maui onions.
The balsamic onions can be caramelized either on the stovetop or by roasting in the oven.
Try not to overcrowd the pan with onions – the more onions in the pan, the longer it will take for the onions to release their moisture and start to brown.
Let the caramelized onions cool down before adding to the salad. If you add hot onions to the salad, they will wilt the salad greens.
The onions can be caramelized in advance. Prepare the onions up to 3 days in advance and refrigerate or freeze for up to 3 months. Bring the onions up to room temperature before adding to the salad.
More Salad Recipes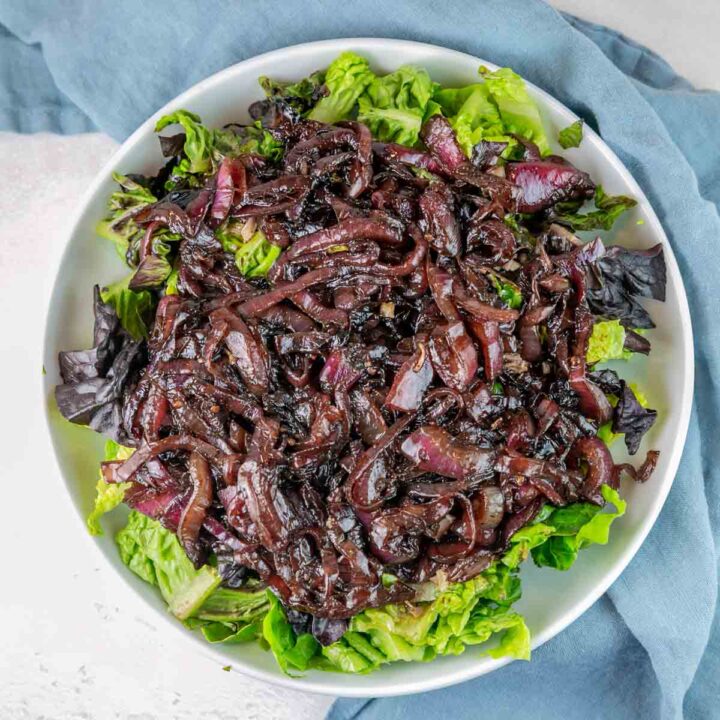 Caramelized Onion Salad
Featuring sweet and savory jammy onions, mixed greens, and a tangy mustard vinaigrette dressing, this easy Balsamic Caramelized Onion Salad is anything but boring!
Ingredients
3 red onions, sliced into thin half-moons
1/4 cup balsamic vinegar
1/2 cup olive oil
1 1/2 teaspoons kosher salt
1 teaspoon freshly ground pepper
2 large shallots, minced
3 tablespoons spicy brown mustard
1/4 cup red wine vinegar
2 heads red leaf, butterleaf, bibb, or looseleaf lettuce
Instructions
Toss the onions with balsamic vinegar, 1/4 cup of olive oil, 1 teaspoon salt, and 1/2 teaspoon pepper.
Cook in a large saute pan set over medium heat. Add the onions and stir every few minutes. If the onions are getting too crispy or the glaze looks like it is getting too thick and dark, turn the heat down to low. Continue to cook for 30 minutes, more if the pan is crowded, until the onions are soft and starting to take on a caramelized color. Remove from the heat and set aside to cool.
Whisk together the shallots, mustard, red wine vinegar, 1/2 teaspoon salt, and 1/2 teaspoon pepper in a small bowl. While whisking, add 1/4 cup olive oil and continue to stir until emulsified.
Place the lettuce in a large salad bowl. Drizzle the dressing over the lettuce and top with the caramelized balsamic onions and any extra glaze in the pan along with the onions.
Notes
Instead of caramelizing on the stovetop, the onions can also be roasted in the oven. Add the onions, tossed in the balsamic glaze, to a large sheet pan and bake at 400°F for 20 to 25 minutes, stirring once or twice, until tender and starting to caramelize.
The onions can be caramelized ahead of time and stored in the refrigerator for up to 3 days or frozen for up to 3 months. Bring the onions up to room temperature before adding to the salad.
Recommended Products
As an Amazon Associate and member of other affiliate programs, I earn from qualifying purchases.