April 23, 2023
Mediterranean Barley Salad
This simple, easy Mediterranean Barley Salad takes roasted veggies seasoned to perfection along with tender barley to make a filling and healthy superfood salad! Top it all off with feta for extra texture and flavor!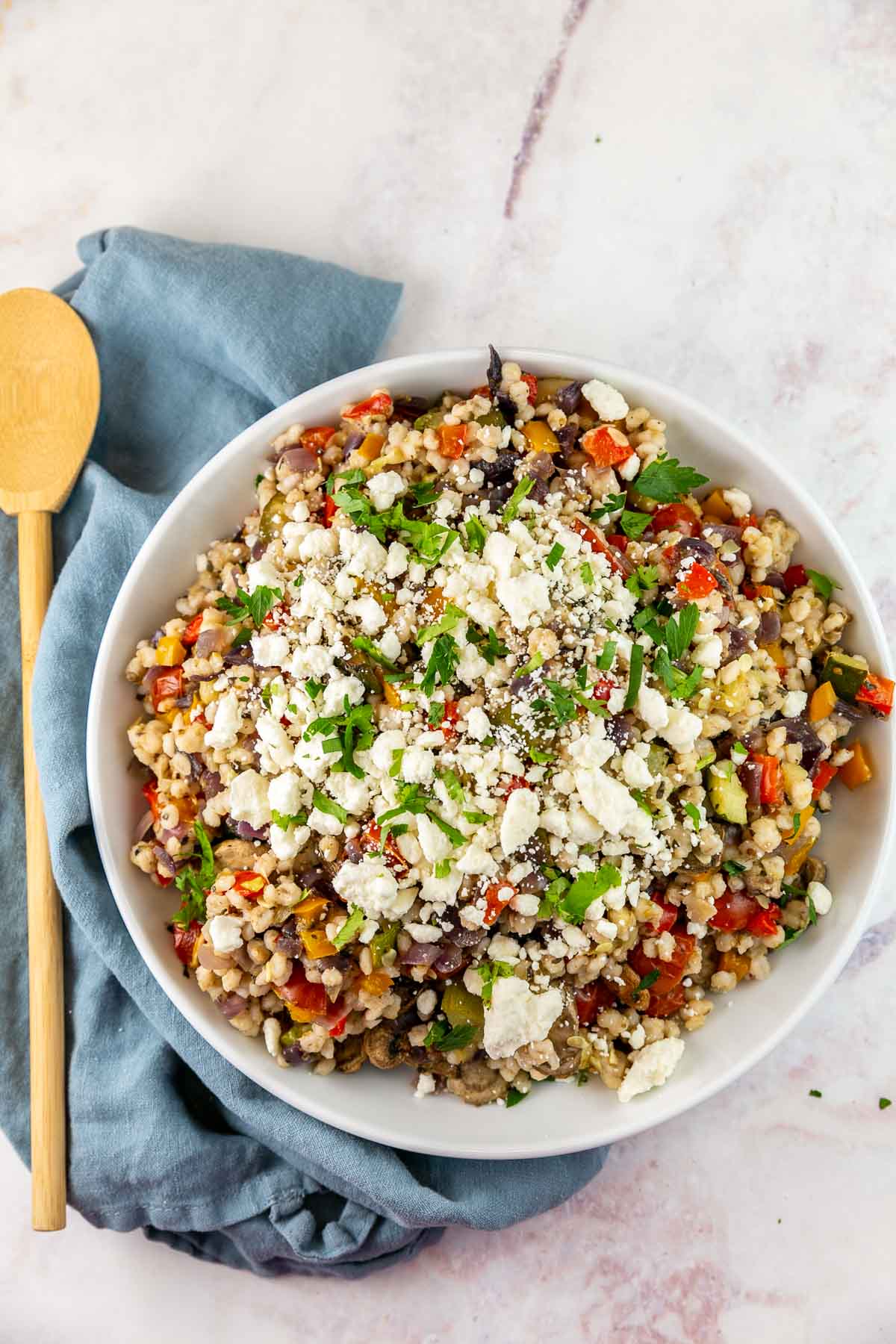 I love make-ahead one-dish recipes that check off lots of boxes. Make-ahead meal prep to make earlier in the week? Yes! Easy lunch to pack to work? Absolutely! Quick light dinner or the perfect side for a family dinner or to feed a crowd? You bet! This Mediterranean barley salad checks off all those boxes and more.
By roasting a ton of veggies and mixing them with pearled barley, we get a salad that is full of flavor and texture! I love topping this off with feta, but you can top it off with your own favorite cheese or skip it to make this recipe vegan. Unlike most salads, this roasted vegetable salad with barley lasts in the fridge for several days and is hearty enough to stand as a meal on its own.
Looking to bump it up even more? It's delicious topped with grilled chicken (like this grilled tahini chicken!) or roasted salmon!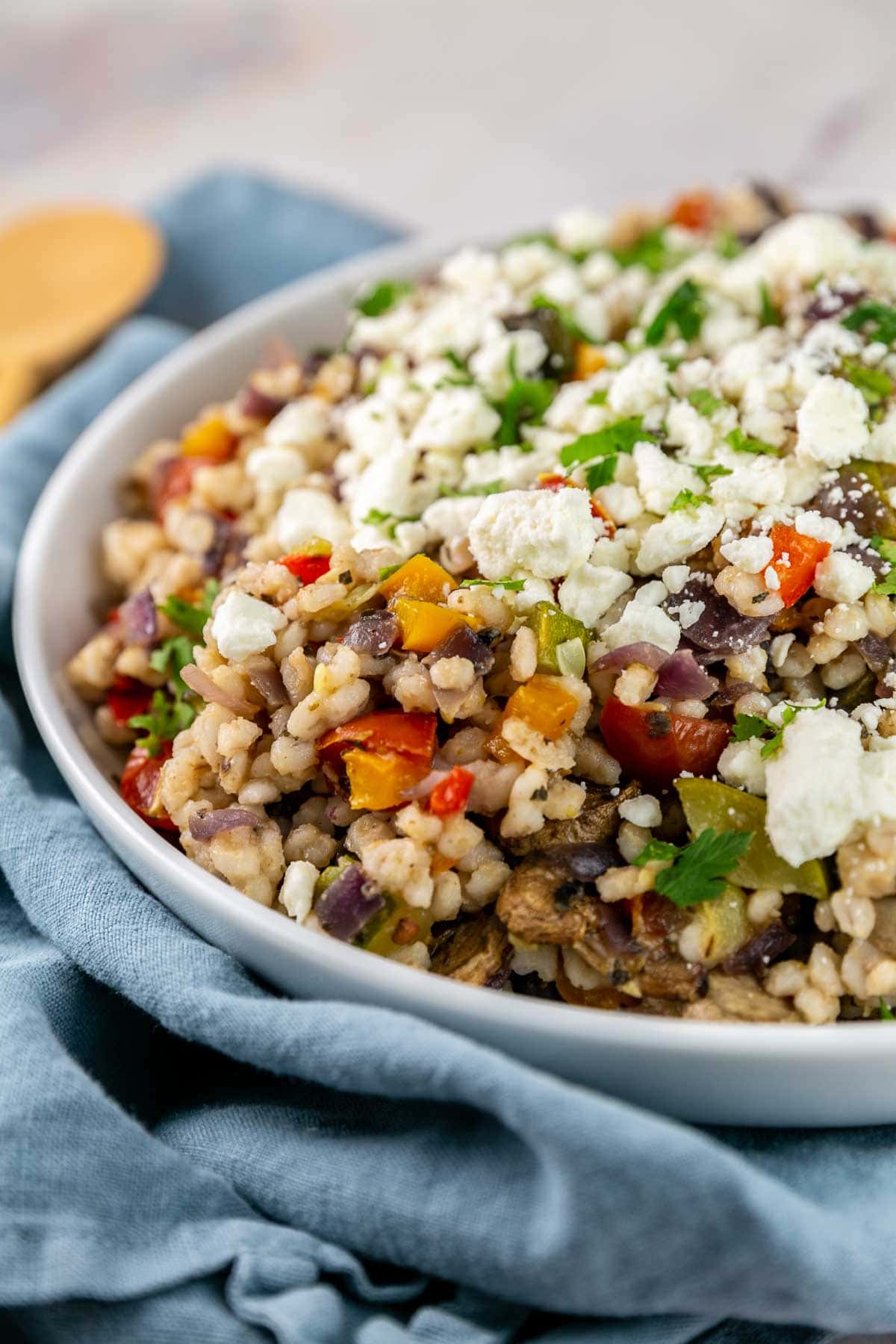 Pearled Barley
Barley is an ancient grain that has been used in Mediterranean cuisine for many, many years. The barley in this salad adds substance and lots of nutrients. If you have never had pearled barley, you are in for a treat. When cooked properly, pearled barley has a tender and slightly chewy texture with a nutty flavor that goes super well in this salad recipe. Barley is a good-for-you grain that is full of fiber, vitamins, and minerals.
When you go to the store to look for barley, you will notice a few different kinds you can buy. You can usually find them in the same aisle as the oats, rice, and quinoa.
The two most common types are hulled barley and pearled barley. Pearled barley is processed a bit more to remove the bran layer on the grain and is therefore easier to cook. On the other hand, hulled barley can take longer to cook but it is even more nutritious and is considered a whole grain.
If you're using hulled barley instead of pearled, soak it in water overnight first, and then boil for 45 minutes to an hour until it is chewy and tender.
You can substitute the barley for farro (my personal favorite swap!), couscous, pearl couscous or even quinoa, which is a great gluten-free option!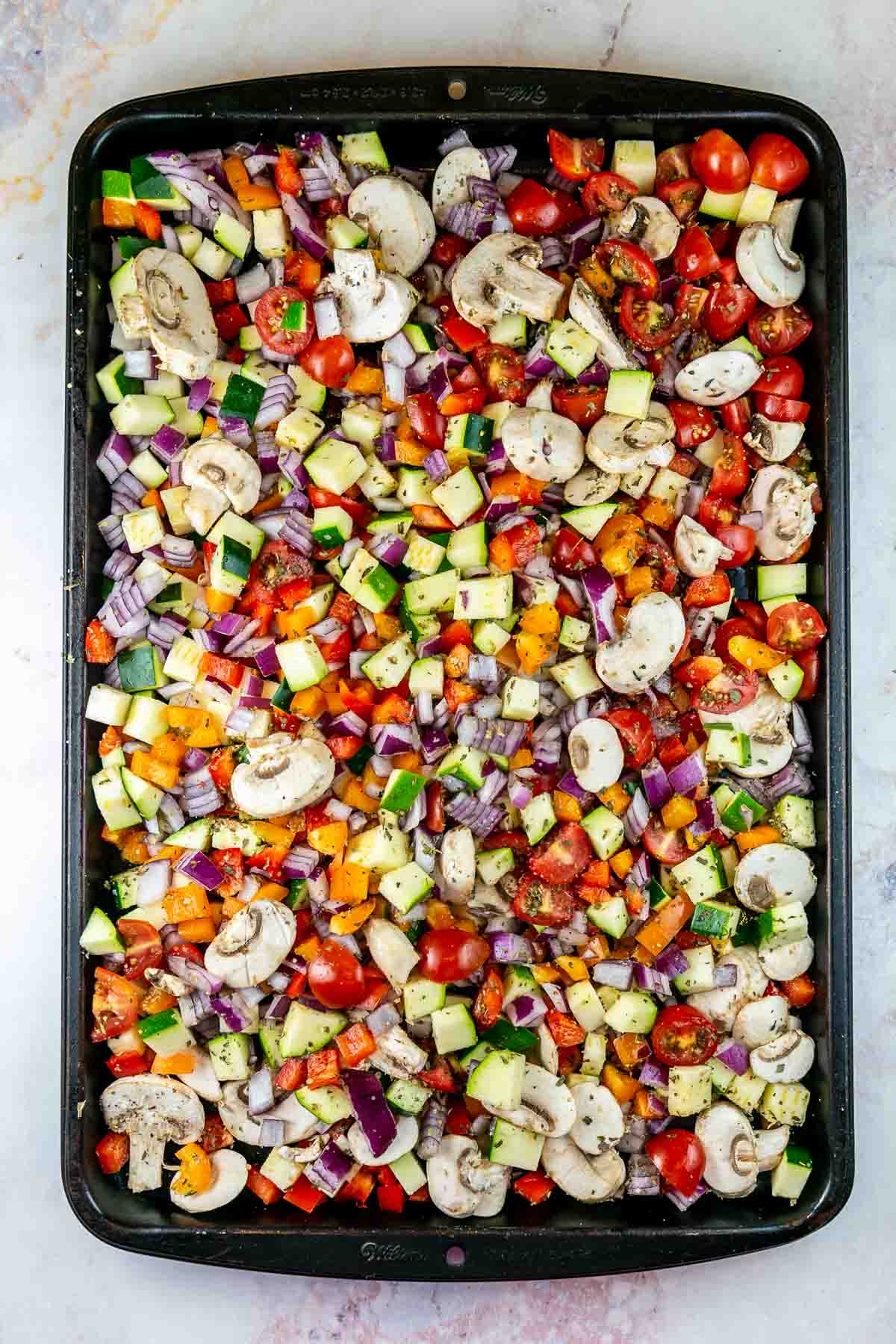 Roasted Veggies
I absolutely packed this Mediterranean barley salad with all of my favorite Mediterranean-inspired veggies! Zucchinis, red and orange bell peppers, cherry tomatoes, and mushrooms are combined along with seasonings like oregano, basil, and parsley and roasted for the best flavor! Add in any other veggies that you love, too – like eggplant or fennel.
The secret to the BEST flavor is to roast the vegetables for a full 30 minutes. Why does roasting vegetables completely change the flavor? It's time for my favorite subject… kitchen chemistry!
Kitchen Chemistry

When dry heat is applied to vegetables during roasting, the vegetable undergoes caramelization, a non-enzymatic browning reaction. The naturally occurring sugars in the vegetables break down (around 320 ° for sucrose and glucose) into hundreds of new aromatic compounds, making the vegetables taste much sweeter. During the cooking process, water inside the vegetables is heated and released as steam, which further helps to break down the natural sugars.
While the veggies are roasting, boil your barley or grain of choice so that everything will be done around the same time. With only two components of this salad to prep and cook, it is probably the easiest side dish or lunch ever!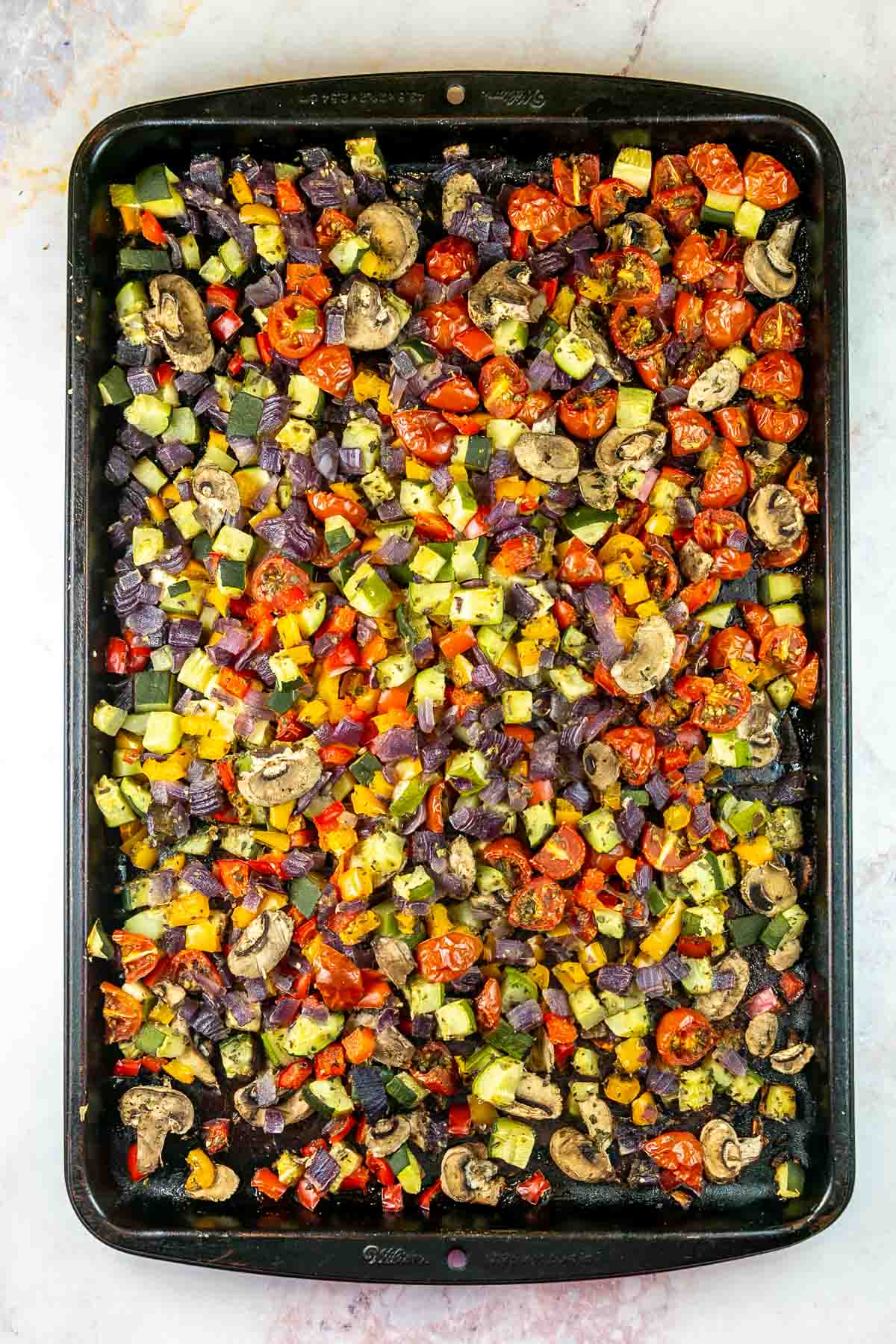 Recommended Tools to Make Mediterranean Barley Salad
Sheet Pan: Roast the vegetables on a sheet pan. Don't overcrowd them too much – if you have lots of veggies, divide them up on two sheet pans!
3 Quart Sauce Pan: A 3 quart saucepan is a great size for cooking the barley (or other grains).
Chef Knife: A sharp knife is essential for cutting up all the vegetables before roasting!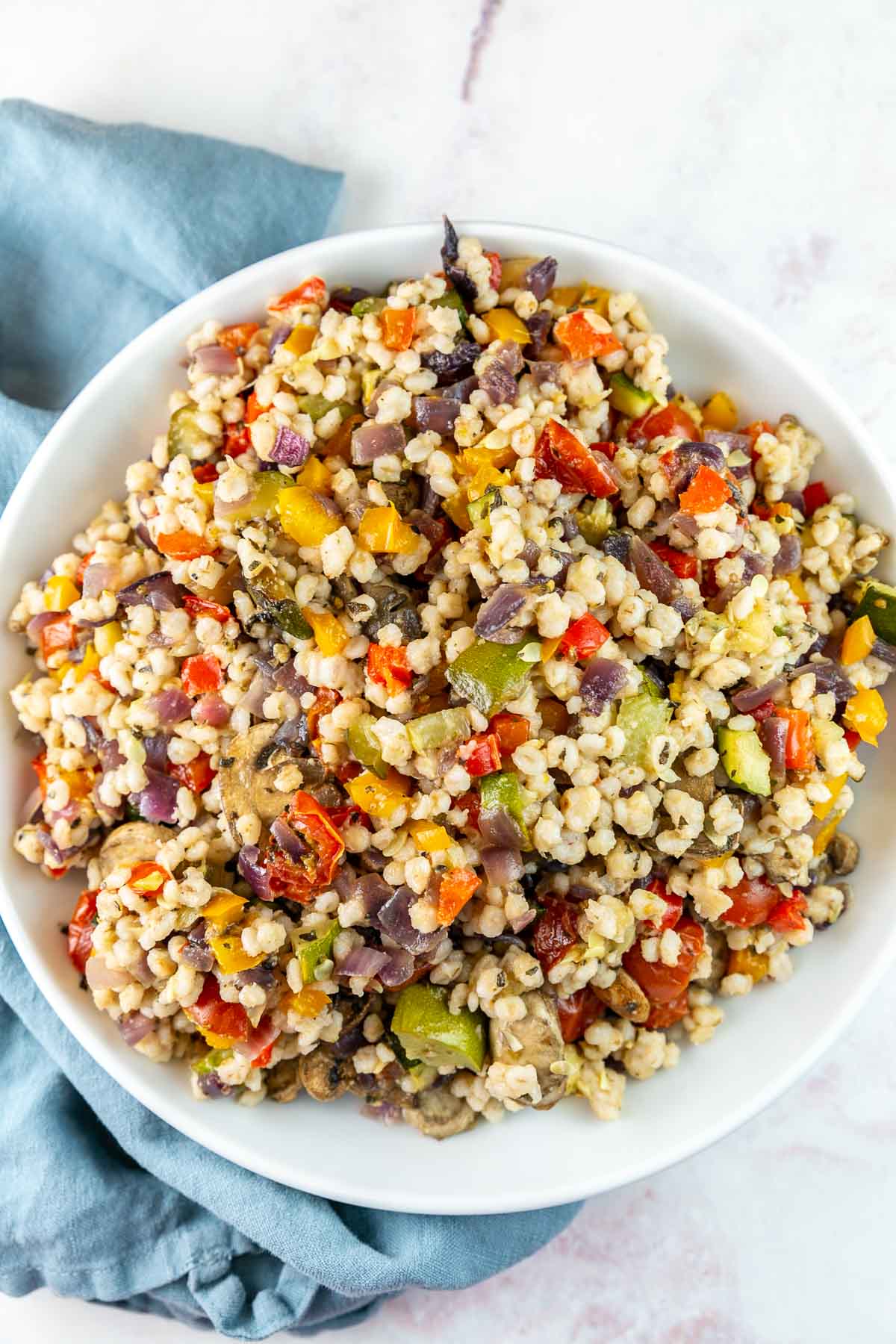 Tips & Tricks for the Best Mediterranean Barley Salad
You can make this meal gluten-free by substituting the barley with quinoa! Or make it dairy-free by omitting the feta cheese.
Don't love feta? No problem! You can replace the feta with pearl mozzarella or dollops of ricotta!
For more Mediterranean flavors, add chopped olives to the top along with the cheese.
Just before serving, top the salad with your favorite fresh herbs, like basil, oregano, or thyme.
Mediterranean barley salad is perfect for make-ahead meal prep! Prepare the salad, minus the feta and fresh herbs, up to 3 days in advance and store in an airtight container in the refrigerator.
More Salads to Try
Mediterranean Barley Salad
This simple, easy Mediterranean Barley Salad takes roasted veggies seasoned to perfection along with tender barley to make a filling and healthy superfood salad! 
Ingredients
1 cup dry pearled barley
3 cups water
3 tablespoons olive oil, divided
2 zucchini, diced
1 red pepper, diced
1 orange pepper, diced
1 red onion, diced
1 pint cherry tomatoes, halved
8 oz white mushrooms, sliced
4 cloves of garlic, minced
2 teaspoons dried parsley
2 teaspoons dried basil
2 teaspoons dried oregano
1 teaspoon salt
freshly ground pepper, to taste
2 tablespoons freshly squeezed lemon juice
feta and fresh herbs, optional, for topping
Instructions
Combine the pearled barley and 3 cups of water in a heavy-bottomed saucepan. Bring the water to a boil, then turn down the heat to low. Cover and cook for 30 to 40 minutes, until most of the liquid is absorbed and the barley is cooked through. Drain any excess water. Season with salt and pepper to taste and stir in the olive oil.
While the barley cooks, roast the vegetables. Heat the oven to 400 °F. Combine the prepared vegetables wit 1 tablespoon of oil, the dried herbs, 1 teaspoon of salt, and ground pepper to taste. Spread the vegetables in a single layer on one sheet pan (use two if the vegetables are piling on top of each other) and roast for 30 minutes.
Once the barley is done cooking and the vegetables are roasted, come both together with the lemon juice and 1 remaining tablespoon of olive oil and stir well. Add additional salt or pepper to taste and top with additional fresh herbs and feta, if desired.
Notes
Farro, couscous, or pearled couscous can be substituted for the barley, or use quinoa to keep the salad gluten-free. Following the cooking directions for the grain you are using.
The salad can be made up to three days in advanced and enjoyed warm, cold, or at room temperature.
Recommended Products
As an Amazon Associate and member of other affiliate programs, I earn from qualifying purchases.