August 10, 2017
S'mores Bundt Cake
A graham cracker bundt cake, layer of chocolate ganache, and homemade marshmallow fluff frosting toasted to a perfect brown — this S'mores Bundt Cake is the best part of childhood summers, made even better!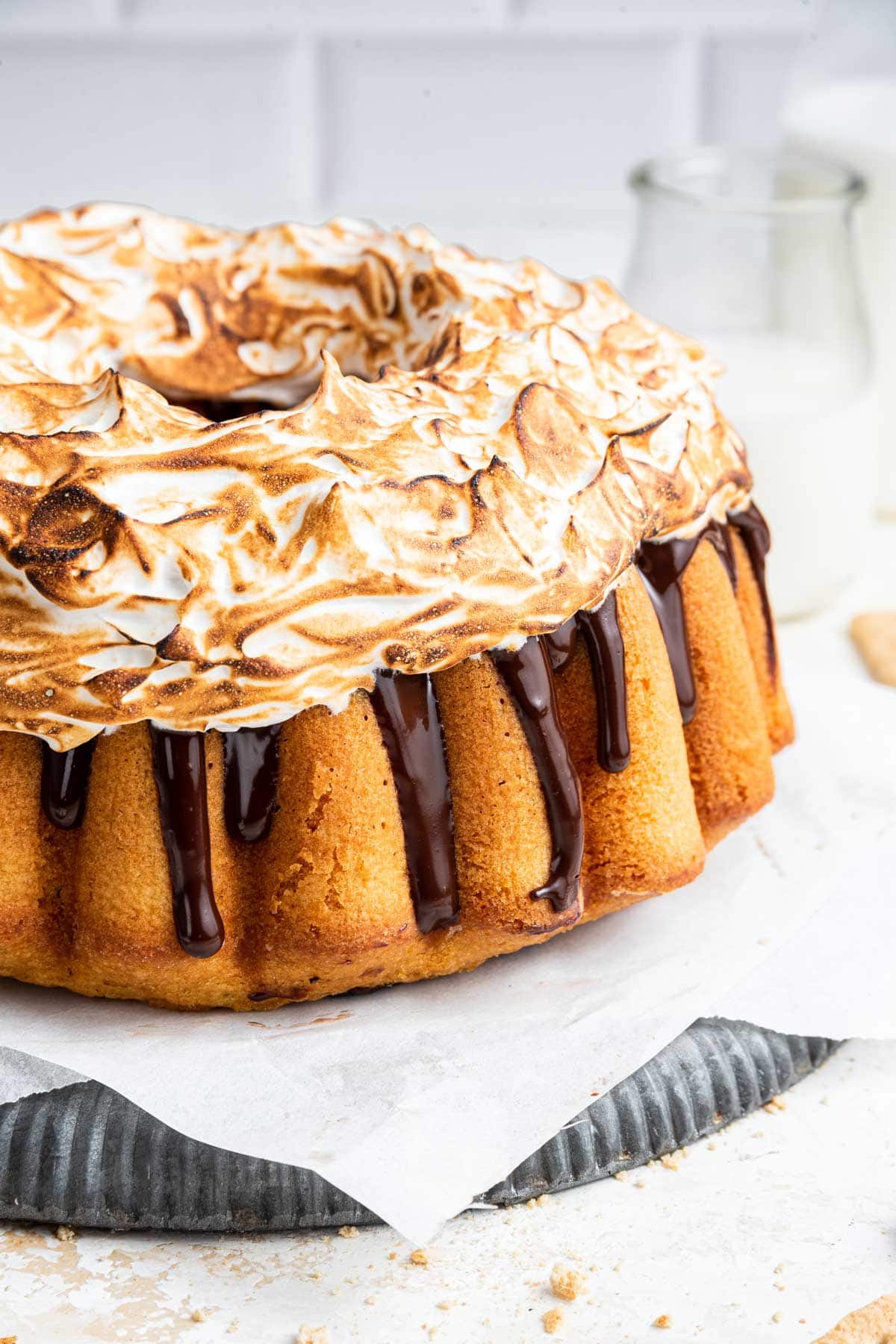 This recipe is, officially, the fastest turnover ever on Bunsen Burner Bakery. Because that cake pictured above? I made it at 9:30 pm last night. I covered it with marshmallow fluff and toasted it at 12:15 am.
And then at 12:37 am, I scraped it all off and made my own version from scratch. (More on this below.)
Why this complete last-minute cake insanity? Well… did you know today (August 11th) is National S'mores Day? Yeah, I didn't either… until about 4 pm yesterday. Coincidentally, I had already planned on making this S'mores Bundt Cake for my August Bundt Cake of the Month.
I just hadn't, you know, made it yet. (Well, I've made it before for a lab picnic. I didn't make it again to photograph, however.)
I thought I would be baking this over the weekend, leisurely decorating and taking pictures and sharing sometime next week. But when I heard it was National S'mores Day — well, how can I resist sharing a S'mores Bundt Cake on National S'mores Day?
Clearly, I can't.
And you shouldn't resist making it, because this bundt cake has it all! Picture the nostalgic flavor of graham crackers, gooey marshmallows, and rich chocolate all wrapped up in a beautiful bundt cake. I'm declaring this the Official Cake of Summer!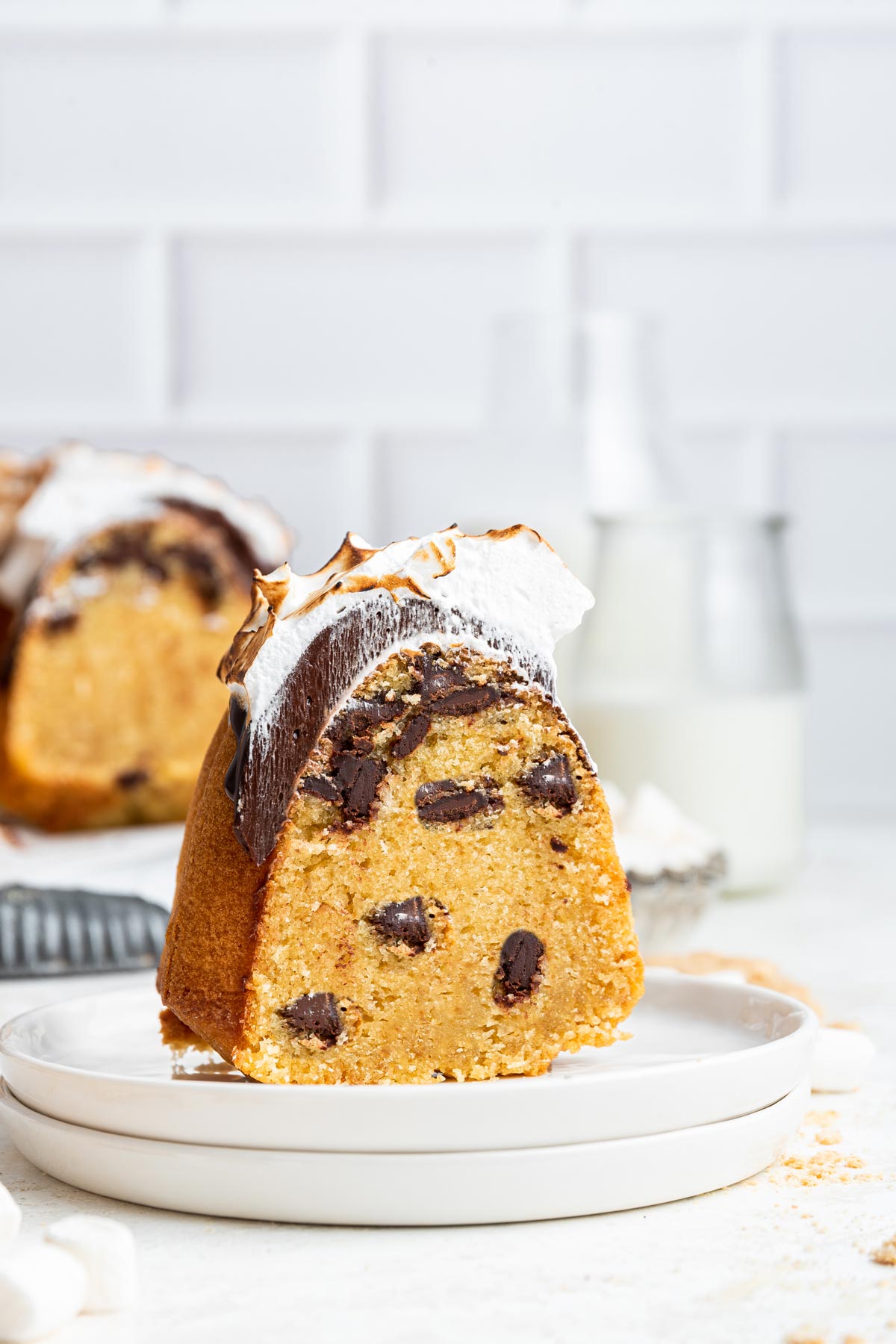 Ingredients and Substitutions
See the recipe for a full list of all ingredients, but here are some important notes or potential substitutions!
Eggs: Make sure these are room temperature.
Vegetable Oil: You can use any neutral flavored oil, like vegetable, canola, or grapeseed.
Milk: I always bake with whole milk, but you can substitute a protein-rich plant-based milk, like soy milk or pea milk. (Don't use low-protein options, like almond milk or oat milk.)
Flour: All-purpose flour can be swapped for a one-to-one all-purpose gluten-free baking mix.
Graham Cracker Crumbs: Use gluten-free graham cracker crumbs for a gluten-free s'mores bundt cake.
Chopped Dark Chocolate: The ganache will be smoother and silkier if you use a chopped chocolate baking bar rather than chocolate chips.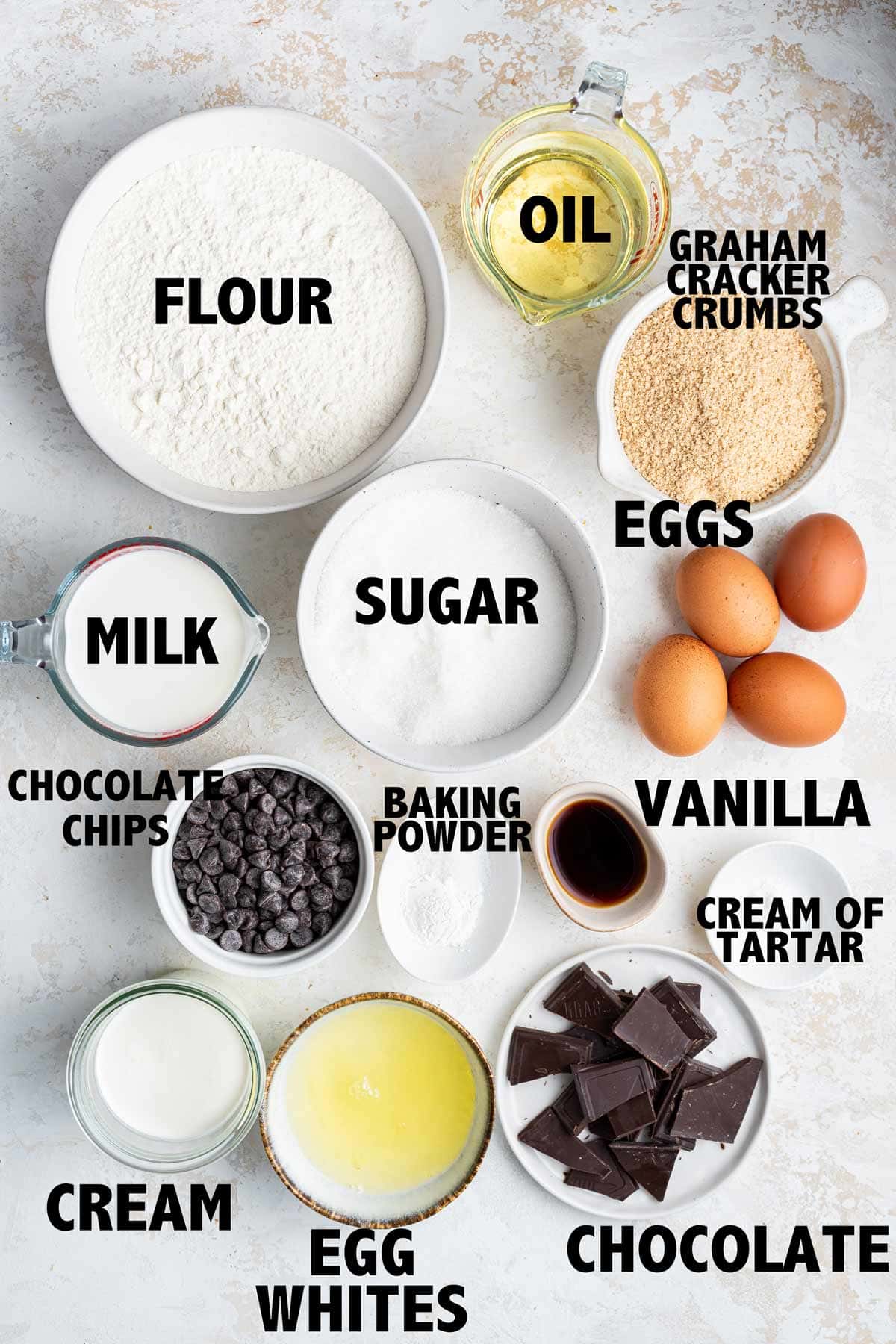 Graham Cracker Bundt Cake
The base of this cake is a graham cracker bundt cake. We'll add crushed graham crackers right into our cake batter, which adds both flavor and a little classic s'mores crunch into every bite!
Because this is an oil-based cake, rather than a butter-based cake, you can even mix it by hand instead of using a mixer!
Combine all the ingredients, folding in the chocolate chips last. Try to make sure they are equally distributed throughout the batter.
Then bake the bundt cake and set it aside to cool.
Easy Chocolate Ganache
Next, we'll make the ganache to pour over the cake. There are a few ways to do this: you can use a double boiler method on the stove, or the microwave (which is a lot easier and quicker). Heat the milk to steaming (but make sure it doesn't boil!), pour it over the chocolate, and let it sit for 5 minutes.
After the chocolate starts to melt, whisk until the ganache is smooth, then set aside for 5-10 minutes to let it cool and thicken a little before pouring over the cake.
Experiment with your favorite kind of chocolate here — we usually use dark chocolate to make ganache, but milk chocolate will lend an even more classic s'mores flavor!
Homemade Marshmallow Fluff
Yes, we're going to make homemade marshmallow fluff. Yes, this is necessary, and I learned the hard way! Given the extreme last-minute nature of this baking endeavor (described above), I tried to take a shortcut and use store-bought marshmallow fluff.
It… does not work. At all. Don't do it.
I'm not trying to say this as a hoity-toity food blogger, like the people who tell you you should never, ever use boxed cake mix. Come on – we've all baked a cake with boxed mix at some point, and it makes a totally good cake.
No, I'm saying this as someone who tried and failed epically. As soon as I tried to toast the store-bought marshmallow fluff, it melted and ran right off the sides of the cake. Epic fail.
Homemade marshmallow fluff frosting, however? It's much thicker (who knew?) and thus actually stays on the cake. Yeah. It takes like, 15 extra minutes to make. In my attempt to save 15 minutes, I wasted nearly two hours.
And it's really not that hard to make! If you've ever made Swiss meringue buttercream, it's practically the same – just without adding the butter!
Whisk together egg whites, sugar, cream of tartar, and vanilla extract in a bowl. Place the bowl on the top of a simmering saucepan filled with water (make sure the water doesn't touch the bottom of the bowl) and whisk until the temperature of the egg white mixture reaches 175°F.
Then remove the bowl from the heat and beat using the whisk attachment of an electric mixer until stiff peaks form.
Voila! Homemade marshmallow fluff that stays on your cake.
But! You might be asking. Why are we heating the egg white and sugar mixture? Why not just start with room-temperature egg whites, like a meringue? We can answer this, of course, with my favorite subject… kitchen chemistry!
Kitchen Chemistry

Heating the egg whites and sugar helps ensure all the sugar is dissolved in the egg whites, creating a super smooth meringue. It also helps the egg white proteins unfold and then coagulate, despite all the sugar, which creates a more stable foam that is less likely to collapse.
Toasting Marshmallow Frosting
In baking this cake, I also learned that homemade marshmallow fluff toasts so much better than the store-bought stuff! This version toasts to a beautiful toasty golden brown. The store-bought variety? Ignighted in areas and resulted in lots of black, charred frosting.
There are a few different ways t toast the marshmallow frosting.
Broil in the oven. Put the bundt cake 5-6″ underneath the broiler in your oven and broil until the frosting is toasty brown. Watch closely – broilers tend to go from 0 to 100 quickly. One second your frosting is all white, and 10 seconds later it's black!
Kitchen torch/soldering torch. Kitchen torches, also called creme brûlée torches, have a very moderate flame and will allow you to get a nice golden color. If you have a "go big or go home" motto like yours truly, you can use a soldering torch, but just be warned that this is a lot more power than you need and tends to over-toast.
Long-Reach Butane Lighter. You know, the long stick-like lighters people use to light birthday candles? Just be prepared for this to take a long time because the flame is so small.
Recommended Tools to Make S'mores Bundt Cake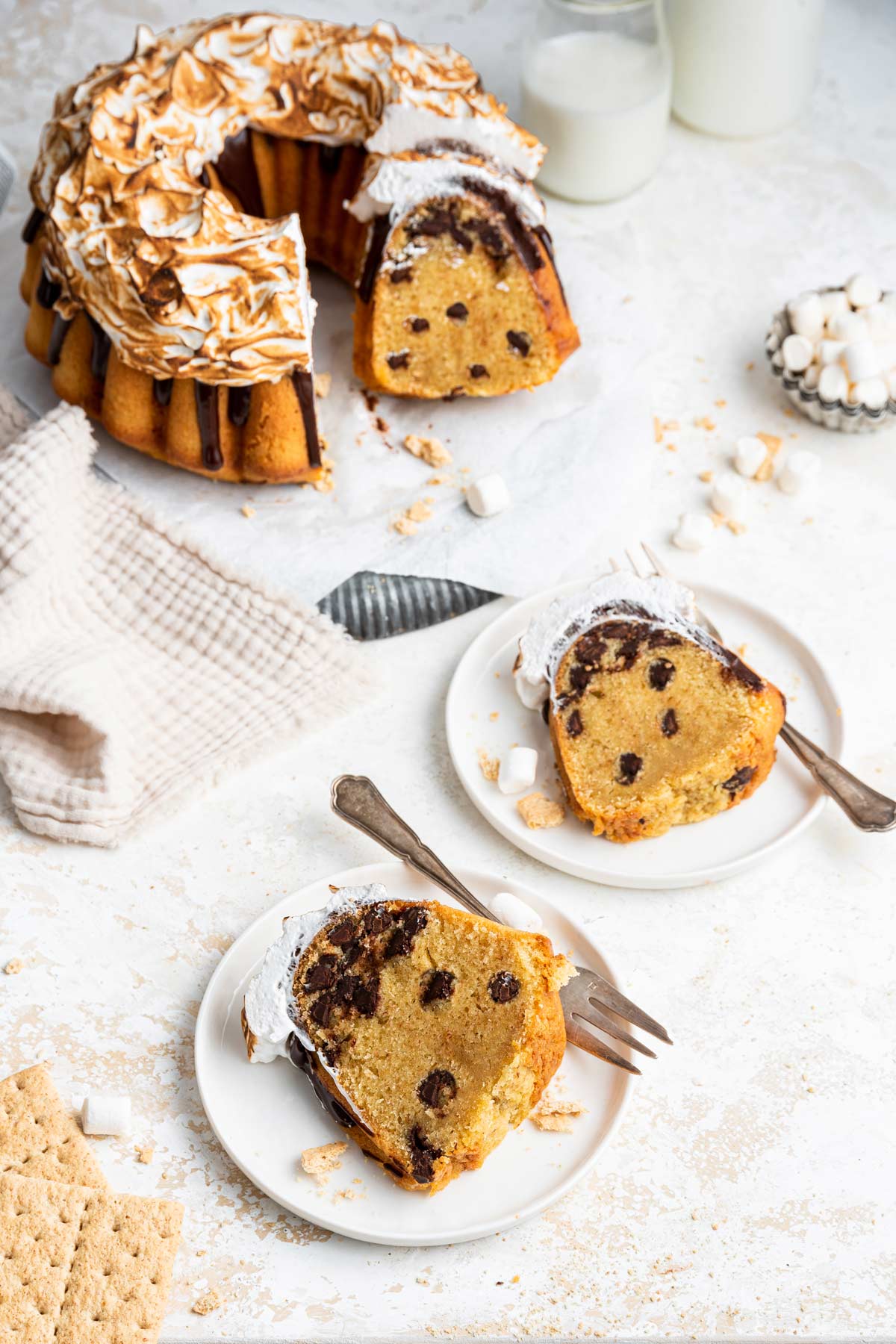 Tips and Tricks for the Best S'mores Bundt Cake
Don't overmix the cake batter! It's easy to overmix an oil-based cake if you're using an electric mixer, which leads to a tougher, denser cake.
For the smoothest ganache, use chopped bar chocolate, not chocolate chips. Chocolate chips have additional stabilizers that help them hold their shape.
Use an instant-read thermometer to heat the egg whites and sugar to 175°F to make the marshmallow fluff. Most swiss meringue recipes call for heating the egg white mixture to 150-160°F, but increasing the temperature helps create a more stable fluff that holds its shape better on the cake.
Whip the fluff frosting to stiff peaks. Don't overwhip – but you want to be able to turn the whisk upside-down and the frosting should stay in place. If the peaks are too soft, they'll start to slide off the cake when you toast it.
Looking to perfect your bundt cake baking skills?  Definitely give this post on ESSENTIAL BUNDT CAKE TIPS a quick read — it covers everything from how to make sure your bundt cake doesn't stick to how to prevent the bottom of the cake from doming! 
S'mores Bundt Cake can be stored in an airtight container at room temperature for up to 4 days or frozen for up to 3 months.
More S'mores Desserts
2017 Bundt Cake of the Month Series
S'mores Bundt Cake
Total Time:
2 hours
50 minutes
Graham cracker bundt cake, layer of chocolate ganache, and homemade marshmallow fluff frosting toasted to a perfect brown.
Ingredients
For the Cake:
4 large eggs, room temperature
3/4 cup (149 grams) vegetable or other neutral oil
1 cup (227 grams) whole milk, room temperature
2 teaspoons vanilla extract
2 cups (240 grams) all-purpose flour
1 cup (100 grams) graham cracker crumbs
1 1/4 cup (248 grams) granulated sugar
1 1/2 teaspoons baking powder
3/4 teaspoon salt
1 cup (170 grams) chocolate chips
For the Chocolate Ganache:
8 ounces (227 grams) dark chocolate, chopped
3/4 cup (170 grams) heavy cream
For the Swiss Meringue Marshmallow Fluff Frosting:
3 large egg whites, room temperature
1/2 cup (396 grams) granulated sugar
1/8 teaspoon cream of tartar
1/2 teaspoon vanilla extract
Instructions
Preheat the oven to 350 °F. Grease and flour a 12-cup metal bundt pan.
Make the graham cracker cake batter. Using an electric mixer, beat together the eggs, oil, milk, and vanilla. Add in the sugar. Slowly add in the flour, graham cracker crumbs, baking powder, and salt. Continue to beat until the ingredients are fully incorporated and smooth. Add in the chocolate chips and mix until evenly dispersed.
Bake the cake. Pour batter into the prepared bundt pan. Bake for 50 minutes, or until a tester inserted into the cake comes out clean and the cake springs back gently when pressed with a finger. Cool the cake in the pan for 10 minutes, then invert the cake onto a wire rack to cool completely.
Make the chocolate ganache. Chop the chocolate and place it in a heat-safe bowl. Heat the heavy cream in a small saucepan or in the microwave until simmering. Pour over the chocolate, allow the mixture to sit for 5 minutes, then whisk until smooth. Allow the ganache to cool for an additional 5 to 10 minutes, then pour over the cake. Refrigerate the cake for 30-45 minutes, until the chocolate ganache has set.
Make the marshmallow frosting. Combine the egg white, sugar, cream of tartar, and vanilla in a mixing bowl set over a pot with a few inches of simmering water. (If you are using a stand mixer, you can do this right in your stand mixer bowl.) Whisk by hand until the egg white mixture reaches 175 °F. Remove the bowl from the heat and whisk using an electric mixture on high until stiff peaks form, 5 to 6 minutes.
Decorate the cake. Use a spoon to spread the marshmallow frosting over the cooled ganache. Use a kitchen torch to toast the frosting until browned.
Recommended Products
As an Amazon Associate and member of other affiliate programs, I earn from qualifying purchases.