December 12, 2018
Chocolate Cream Pie
Nothing beats a silky smooth slice of old fashioned chocolate cream pie with a mile-high pile of whipped cream. With a no-bake custard filling and a crispy pie crust, it's bound to become a family favorite!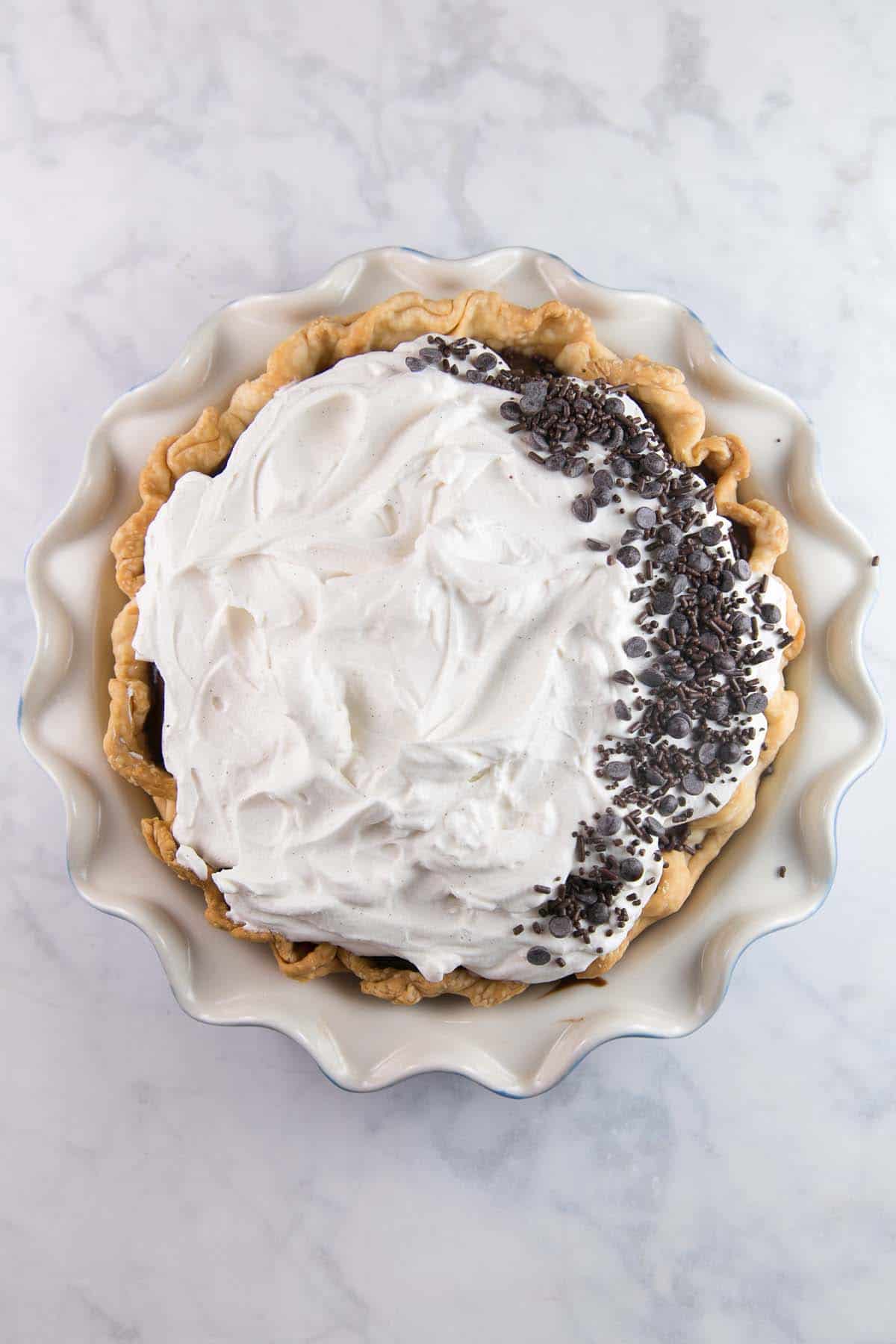 Phew, friends. It has been A WEEK. Actually, it has been A THREE WEEKS, which is why there's been radio silence over here and I'm just now sharing November's Pie of the Month on December 10th. We just moved into a new house, and suffice to say: we're struggling a little.
We also moved into a house without a working refrigerator/freezer, so that's been fun. But someday, maybe, we'll dig through the boxes and have a functional kitchen again. Maybe. Hopefully. We'll see what happens.
In other words, this Chocolate Cream Pie, which was supposed to be November's Pie of the Month, may actually be December's Pie of the Month, because odds are slim that I'll be baking any more pies before 2019. But we can hope! And if not, we'll end the Pie of the Month series with a delicious one!
This year, we decided to do something a little different for Thanksgiving. Given my yearlong series on pies, and the expected presence of a pie as a Thanksgiving dessert, making a pie was a no brainer. But what kind of pie?
I already have recipes for a nutella swirled pumpkin pie and a chocolate bourbon pecan pie… and honestly, my husband's family isn't really into pumpkin pie or pecan pie anyway.
So instead, I let my 3 year old decide. I asked him what kind of pie he wanted, and his response was, of course, CHOCOLATE PIE! This flourless chocolate brownie pie is already a holiday favorite for my family, but I wanted to veer off our typical path, so I went with the other obvious choice: chocolate cream pie.
What is Chocolate Cream Pie?
Just like your favorite childhood diner, this chocolate cream pie is full of rich, custardy stovetop cooked chocolate and topped with a pile of homemade whipped cream. It's almost no bake, minus that crust (but you know, you could always buy a pre-baked one if you really don't want to turn on the oven!).
(But please, make the homemade whipped cream. Cool Whip has its place in the world, but the real deal is just so good on top of a homemade chocolate cream pie.)
The star of a chocolate cream pie is the custard filling, obviously. But how does a custard work? What makes it so smooth and soft? It's time for my favorite subject… kitchen chemistry!
Kitchen Chemistry

Custard gets its silky-smooth texture from the egg yolks. Under gentle heat, the proteins in an egg yolk begin to unravel, a process known as denaturation. As we continue to cook the egg yolks, these denatured proteins begin to crosslink with each other, starting to form a solid structure around the milk or cream. This change in state is called coagulation — the scientific word for thickening. As we stir the cooking custard, these links are broken and reform in shorter strands, given the classic wobbly semi-solid state of custard.
How to Make Chocolate Cream Pie
Just like your favorite childhood diner, this chocolate cream pie is full of rich, custardy chocolate and topped with a pile of homemade whipped cream.
First off, blind bake the crust. A custard pie isn't baked, so we need the crust to be cooked and crunchy before pouring in the custard. Of course, you'll find a link to my very favorite No Fail Pie Crust, but you can use store bought if you prefer.
While the crust bakes, make the custard. Custard is an easy combination of egg yolks, cream, and sugar — but for this, we'll add some cocoa powder for a rich chocolate flavor, a little espresso powder (totally optional — it just helps bring out the chocolate flavor even more), and a pinch of salt. We'll also add a little cornstarch for extra thickening; there's nothing sadder than a cream pie that doesn't truly set!
Let the custard cool a little and pour into the pie crust. Refrigerate the pie (which allows the butter fats in the custard to firm, creating a custard that holds its shape instead of spilling everywhere), then pile on a thick and fluffy later of homemade whipped cream. Chill again to really set that custard – otherwise you'll wind up with a delicious chocolate soup!
And as for the pint-sized chocolate pie requester? He gave it two chocolate-covered thumbs up.
More Recipes for Chocolate Lovers:
Chocolate Cream Pie
Total Time:
8 hours
30 minutes
Nothing beats a silky smooth slice of old fashioned chocolate cream pie with a mile-high pile of whipped cream.
Ingredients
For the crust:
12 tablespoons butter, frozen for at least 2 hours
3 cups all-purpose flour
1 teaspoon salt
1 tablespoon sugar
1/3 cup vegetable shortening, frozen for at least 2 hours
6 tablespoons very cold water
For the chocolate custard:
3 egg yolks
1 1/2 cups sugar
4 tablespoons cornstarch
1/2 cup unsweetened cocoa powder
1 teaspoon espresso powder (optional)
1/4 teaspoon salt
1 cup heavy cream
2 cups milk
1 tablespoon butter
For the whipped cream:
1 1/2 cups heavy cream
1/3 cup confectioners sugar
1 teaspoon vanilla extract
Instructions
Prepare pie crust according to the No Fail Pie Crust recipe. Preheat oven to 350 °F. Poke bottom of crust with a fork, then line with aluminum foil and fill with pie weights. Bake for 20 minutes, remove weights and foil, and bake an additional 10 minutes until golden and fully set. Cool completely before filling.
In a large saucepan, whisk together the egg yolks, sugar, cornstarch, cocoa powder, espresso powder, salt, heavy cream, and milk until well combined and no lumps remain . Cook the custard over medium heat until boiling, whisking constantly. Once the mixture starts to boil, turn the head down to medium-low and cook an additional 5 minutes more, continuing to whisk.
Remove from heat and whisk in the butter until fully melted and well combined. Strain the custard through a fine mesh strainer into a clean bowl to remove any lumps. Use a spoon to stir the mixture through the strainer. Cool for 10 minutes.
Pour the chocolate custard into the baked pie crust. Refrigerate until custard is chilled, at least 2 hours.
To make the whipped cream, beat the cream using the whisk option for an electric mixer or hand mixer. Once soft peaks have formed, add in the confectioners sugar and vanilla. Continue to whip until the cream holds medium to firm peaks.
Spread the whipped cream across the top of the pie and garnish with sprinkles or chocolate shavings, if desired. Refrigerate entire pie until set, preferably overnight.
Notes
A Bunsen Burner Bakery Original Protocol
Recommended Products
As an Amazon Associate and member of other affiliate programs, I earn from qualifying purchases.