September 14, 2017
Roasted Garlic White Bean Dip (Vegan + GF)
Looking for a delicious, healthy dip, perfect for parties and gatherings? This roasted garlic white bean dip is so good, you'll never guess it's gluten free, vegan, and healthy!
As someone who runs a mostly dessert based food blog, you might think that I have a pretty intense sweet tooth.  But in reality, I love to bake much more than I love to eat the things that I bake.  My snack food tooth, however — well, that's a whole different story.
I love salty and savory snack foods.  Things like dips, cheese plates, flavored popcorn, charcuterie trays… basically, if you serve it at your football party, I'm all over it.  Buuuuut…. we all know these sorts of foods are not exactly healthy, right?
What if I told you the best dip I've had lately was not only delicious… but healthy, too?  And not to brag or anything, but I consider myself to be a bit of a dip connoisseur.
If I wasn't a dessert blogger, I'd totally be a dip blogger.  (Except I'd eat all the dips instead of give them away like I do with desserts, and that would not be good for anyone.)
This roasted garlic white bean dip is both gluten free and vegan.  Step aside, mayo and cream cheese — I love you in my caramelized onion dip, cheesy bacon corn dip,  chili bean dip, and spinach and artichoke dip… but we don't need you here.
So now that we talked about what isn't in this dip.. how about what is in it?   We have: olive oil, roasted garlic, fresh herbs, cannellini beans, and white balsamic vinegar.  Don't have white balsamic vinegar?  No sweat.  Use red wine vinegar, or even apple cider vinegar instead.
See?  Everything in here is easy and healthy – so there's no guilt when you go back for seconds (or thirds.)  (Or if we're being honest, when you pack half the dip for lunch with some celery and pepper strips.  I FEEL NO SHAME OVER THIS.) .
What really takes this roasted garlic white bean dip from good to great is right there in the title — roasted garlic.  Roasting garlic magically transforms raw, crunchy garlic into soft, caramelized, deliciousness.  A whole head of raw garlic in this dip?  Yikes!  A whole head of roasted garlic in this dip?  Yes, please!
How to Roast Garlic
Now let's chat about roasting garlic for a second.
Peel off the outer layers of garlic paper, chop off the top quarter of the head of garlic, toss with a few tablespoons of olive oil, wrap in foil, and roast at 400 °F for 45 minutes.
Roasted garlic freezes for several months, so it's easy to toss in a head of garlic next time you're cooking a casserole or roasting chicken and save the garlic for a later day.
"Roasting" Garlic in the Microwave
But what if… oh no!  You want to make this dip now and you don't have any roasted garlic?  Time for one of my favorite kitchen hacks: "roasting" garlic in the microwave.
No problem — we'll steam it in the microwave.  Take my word for it — used in this dip, you can't taste a difference between roasted garlic and steamed garlic.
Peel off the outer laters and cut off the top of the head of garlic.  Place it in a little microwave-safe bowl and drizzle with olive oil.  Add a tablespoon or two of water into the bowl, cover with a microwave safe lid, and microwave at 50% power for 5 minutes.  If the garlic still isn't soft, repeat for another 2 minutes.
Done.  5 minutes to pseudo roasted garlic.  Easy peasy!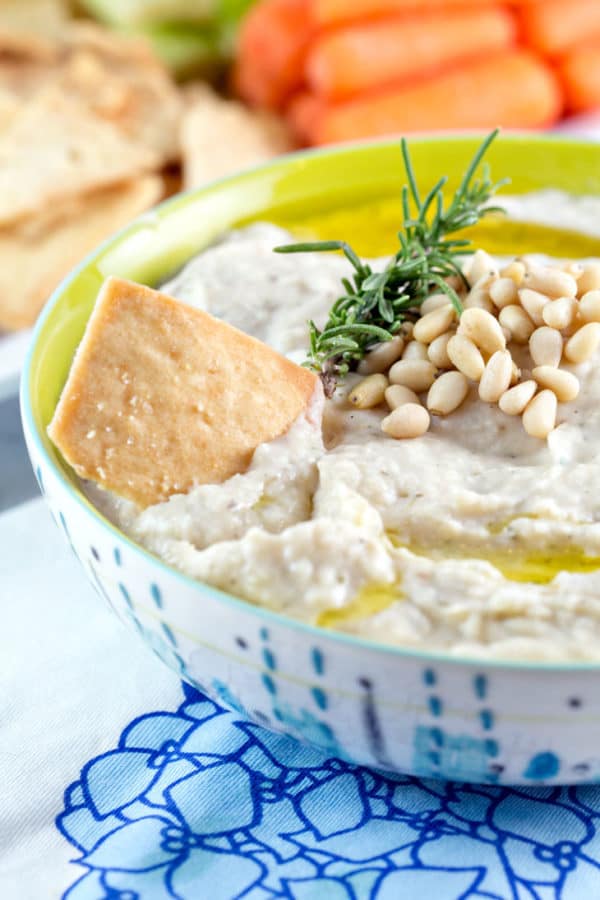 Now that we're into football season, followed shortly by holiday party season, there are an endless number of reasons to make this dip.  You can have all the cookies and cupcakes on the dessert table.
I'll wave at you from across the room, where I'll be shoveling this roasted garlic white bean dip straight into my mouth.
Roasted Garlic White Bean Dip
This roasted garlic white bean dip is so good, you'll never guess it's gluten free, vegan, and healthy!
Ingredients:
1/4 cup olive oil
1 head of garlic, oven roasted or microwave steamed, peeled
1 tablespoon fresh thyme, chopped
2 tablespoons fresh rosemary, chopped
2 (15.5 ounce) cans cannellini beans, drained and rinsed
2 tablespoons white balsamic vinegar
1/4 teaspoon salt
Directions:
Add all ingredients to a food processor or high powered blender.  Blend until no lumps remain and dip is smooth and creamy.  Transfer to a serving bowl and serve with fresh vegetables and pita chips.