January 27, 2014
Caramelized Onion Dip
Slowly caramelized onions mixed with cream cheese, sour cream, and mayonnaise combine to make the ultimate party dip! Caramelized onion dip is a total crowd pleaser.
This Sunday, the players from my favorite football team will be doing the exact same thing that I'll be doing: watching someone else play in the Super Bowl. Womp womp. I guess you can't win them all.
Unfortunately, my husband will also be on call during the game, so we won't be hosting a Super Bowl party this year. If we were, though, I'd certainly be making this caramelized onion dip. It's one of my favorite, most-requested party recipes, and it's so easy.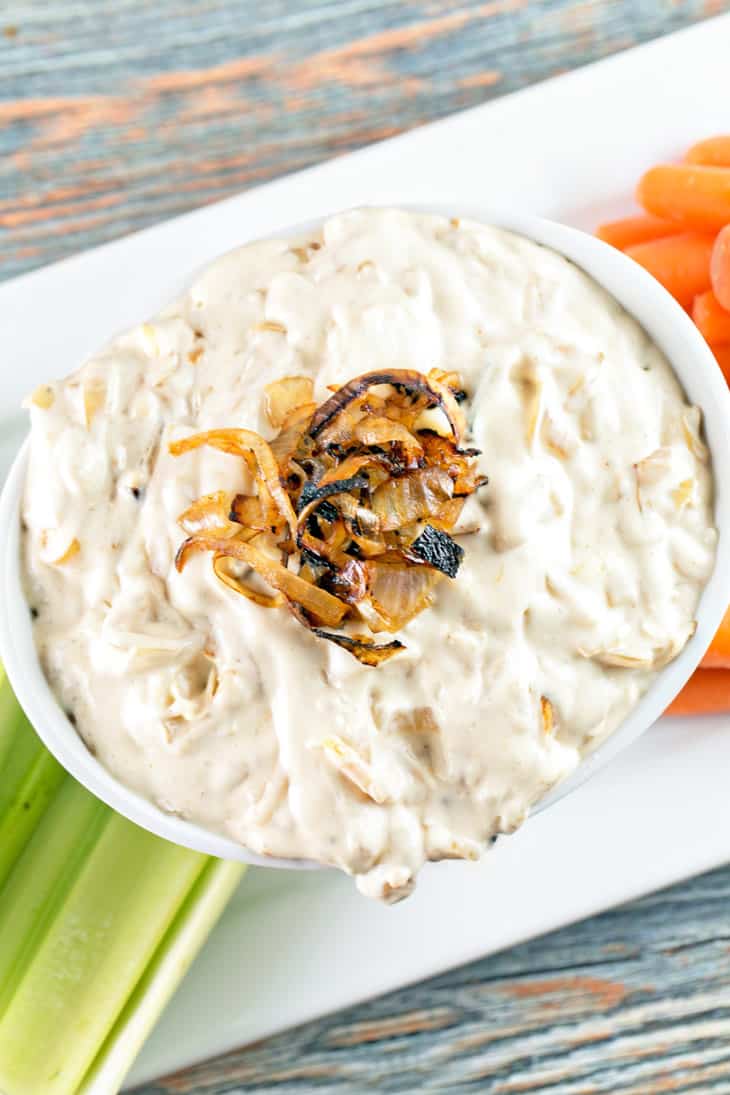 The hardest part, by far, is waiting patiently for the onions to slowly caramelize. Don't skip this step and try to rush it along, though! The key to the deep, rich oniony flavor is this caramelization. This is what takes caramelized onion dip from good to great.
So with that said, let's focus on the caramelization of the onions for a minute, since it's so important.
What is caramelization?
Caramelization is a form of non-enzymatic browning. Browning happens in two ways: enzymatic browning, which is what happens when bananas or apples sit out and over-ripen — it's a result of exposure to oxygen. Non-enzymatic browning comes in two forms: caramelization and the Maillard reaction. Are you ready for some kitchen chemistry?
Caramelization is the result of pyrolysis of sugar — a chemical change that occurs following the addition of heat. Not only does the chemical structure of the onion change (the starch and sugar molecules break down), a physical structure also changes. Three polymers, caramelans, caramelens, and caramelines are the groups of polymers responsible for turning the yellowish onion to that deep golden brown.
How to caramelize onions
The classic way to caramelize onions is on the stovetop. Start by thinly slicing the onions, aiming to cut them all to a similar size. When everything is (roughly) the same size, it cooks at the same rate! We'll start with 4 large onions, which seems like an awful lot, but onions lose most of their volume as they cook (an onion is nearly 90% water!).
Add oil to your skillet and heat over medium high eat. Once the oil is hot (but not smoking!), add the onions. Stir well to coat with the oil and spread them out throughout the pan.
Cook the onions for 10 minutes, stirring occasionally, on medium high heat. Then reduce the heat a little, and cook for an additional 15 to 20 minutes, until golden brown.
Did you know caramelized onions freeze really well? They do! You can make a huge batch at once and store them in the freezer and pull some out whenever you want to make this dip (or anything else with caramelized onions).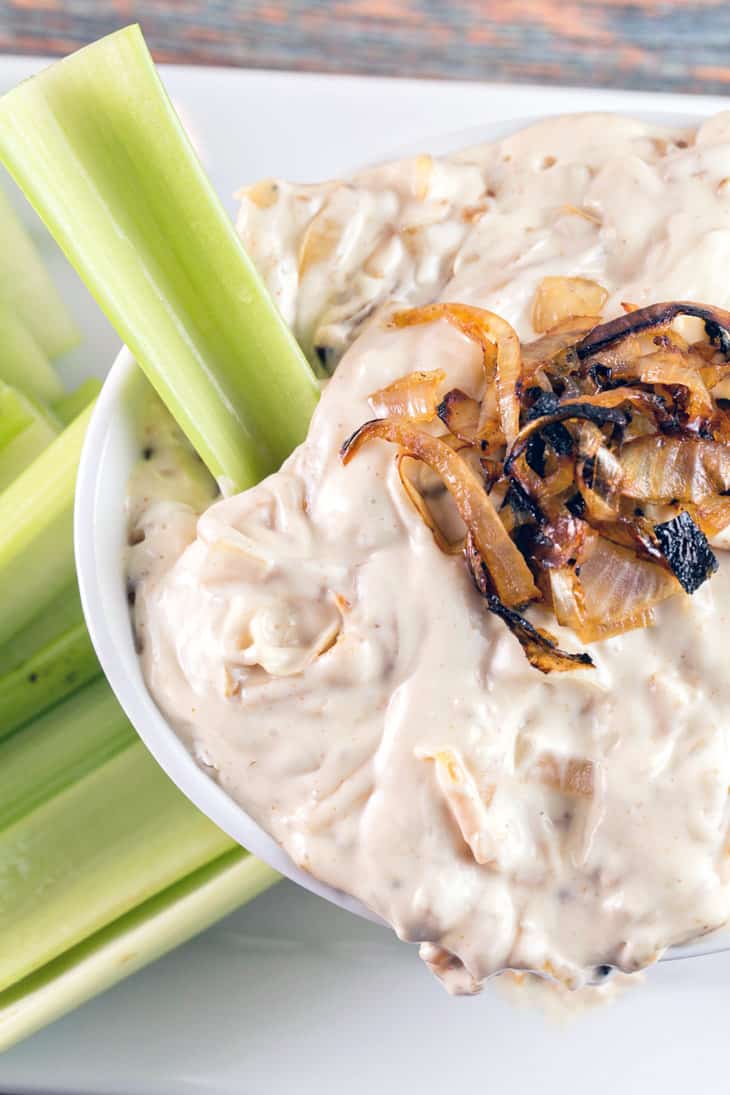 How to make caramelized onion dip
Now that we've talked about caramelizing onions, lets talk about this dip!
You'll see I add a pinch of cayenne to the onions while they cook. If you are completely spice-averse, skip the cayenne pepper. But if you can tolerate just a little heat, it's the perfect addition.
Once your onions are done, the rest of the dip is easy-peasy. Mix together cream cheese, sour cream, and mayonnaise until nice and smooth. (Mayo haters, don't worry: you don't really taste too much of it in the dip!)
Once the onions cool a bit, stir them in. Serve dip at room temperature or cold; either way is delicious.
Sweet caramelized onions, savory dip, and the slightest punch from the cayenne — this dip is the true Super Bowl winner.
Skip the stuff in a can and make your own this year. I promise, you won't regret it. Unless you forget to double the recipe and run out before halftime. Honestly, I'm not sure why I'm even sharing the recipe at this "half size" since I'm pretty certain I double it every single time I make it. (Yeah, I like it that much.)
In fact, there's a possibility that I may even make some to hog all to myself, while I sit on the couch and watch the game with my dog.
(Stay tuned for more of my favorite Super Bowl worthy recipes all week!)
More Dip Recipes: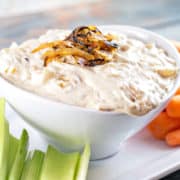 Caramelized Onion Dip
Slowly caramelized onions mixed with cream cheese, sour cream, and mayonnaise combine to make the ultimate party dip!
Ingredients:
4 large onions
2 tablespoons olive oil
1 teaspoon kosher salt
1 teaspoon sugar
1/2 teaspoon cayenne pepper
1/2 cup (4 ounces) cream cheese, room temperature
1/2 cup sour cream
1/2 cup mayonnaise
Directions:
Cut the onions in half, and then slice into 1/8-inch half rounds.  Heat the olive oil in a large saute pan over medium heat.  Add the onions, salt, and sugar, and saute for 10 minutes.  Add the cayenne pepper and reduce the heat to medium-low and allow the onions to cook for 15 – 20 more minutes, stirring occasionally, until caramelized.
Mix together the cream cheese, sour cream, and mayonnaise until smooth.  Add in the onions and mix well.  Serve at room temperature.