April 10, 2018
The Sweetest Recipe
I've been baking up a slightly different kind of recipe over the past year.  Despite all the bundt cakes and pies and muffins and brownies, I've been working on something even sweeter behind the scenes.
Introducing our daughter, Brielle Jacqueline, who joined us on April 2nd, in a manner entirely unlike her older brother.
Ryan's birth was long, traumatic, and fraught with complications, both during and after delivery.  Brielle's birth was as absolutely easy and relaxing as a c-section can possibly be.
Because my previous c-section required a T-incision to remove one very stuck baby, I was told within moments of Ryan's birth that I would never be able to try for a VBAC.
Let me tell you, there is a world of difference between being rushed into an emergency c-section after 2 days of laboring in the hospital and a c-section where you literally walk yourself into the operating room and climb up on the operating table yourself.  Probably the hardest part of the whole process was hauling my pregnant self up onto the table.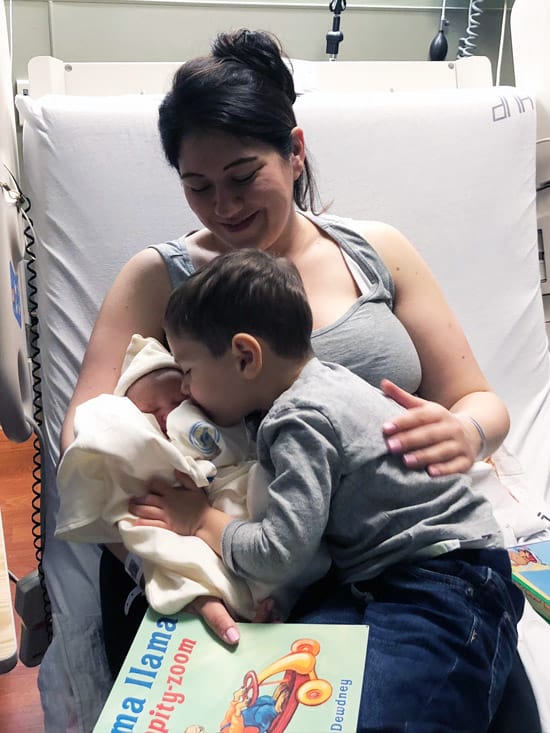 Joking with the anesthesiology attending while the resident did the spinal.  Listening to my OB sing along with Fitz and the Tantrums while announcing she was making the first incision.  Eavesdropping on the chatter of the resident and fellow assisting.
It was all so calm, so relaxed, so unlike my prior experience.
And the recovery – literal night and day.  One dose of oxycodone the next morning after the c-section and I was walking up and down the halls.  Not even a mere ibuprofen by the next day.
Up and down the stairs multiple times once returning home.  Yesterday, we took a 1.5 mile walk for a weight check follow up appointment.
This recovery has been a complete and total breeze compared to a raging infection and an incision that was wide open for 10 weeks after delivery.
Of course, life with a newborn is always disorienting, no matter how easy the delivery.  We're all a little sleep deprived and feeling upside-down at the moment.
Ryan has embraced the changes in stride, not paying too much attention to his new baby sister, aside from asking to help put her in the swing, gently poking her little nose, and confirming multiple times a day that she has had enough to eat.
My husband is home this week to ensure that Ryan gets to and from preschool everyday; the real challenge begins for me next week.  Can I get myself and *two* children up and ready and out the door in time to walk everyone to preschool?  And can I manage to do it without walking through Philadelphia in my pajamas?  Will report back.
In the meantime, things may slow down a little bit over here.  I will probably scale back from my usual twice-weekly new posts to once a week, at least in the beginning while I'm nursing and pumping around the clock to try to get our tiny girl back up to her birth weight.
And of course, I'll be in the kitchen, baking up delicious new treats to share in the coming months… and a special new project I am extremely excited to unveil.  Coming soon to Bunsen Burner Bakery: the perfect intersection of science and baking.