Silky smooth and sweet-tart, this easy Lemon Pie is the perfect spring and summer dessert (or anytime you want to pretend it's summery!).  The lemon custard is made with only 3 ingredients, bakes in less than 20 minutes, and can be made ahead of time for easy entertaining.
Brand new month… brand new pie for our 2018 Pie of the Month series!
(I really don't know who I am anymore, getting all these pie recipes out at the beginning of the month. I was usually down to the wire for my bundt cakes, sharing on the last day or two of each month!)
We're inching closer to my favorite kind of pie: fruit pies!  We started with lots of no-bake pies to get us through the winter produce dearth (coconut cream pie, mint chocolate chip pie, Nutella pie) .
We're not quite up to summer berry pies yet. But this month is a lemon pie, made with fresh lemon juice and lemon zest. Getting closer!
When I started planning out my year-long series of pies, April seemed like the perfect month for lemon pie.  Bright, sunshiney, springy – everything you think of when it comes to both April in the mid-Atlantic and lemon.
Except instead… we're stuck in perpetual winter.  On Monday, it snowed and sleeted.  This weekend: more snow is predicted.  I probably should have made something more in line with this chocolate bourbon pecan pie if I wanted to be "weather appropriate."  Sigh.
Nevertheless, let's pretend it's spring with this creamy, dreamy lemon pie.  Maybe it actually *is* spring where you live!  (If so, say hello to the sunshine on behalf of us mid-Atlantic dwellers.)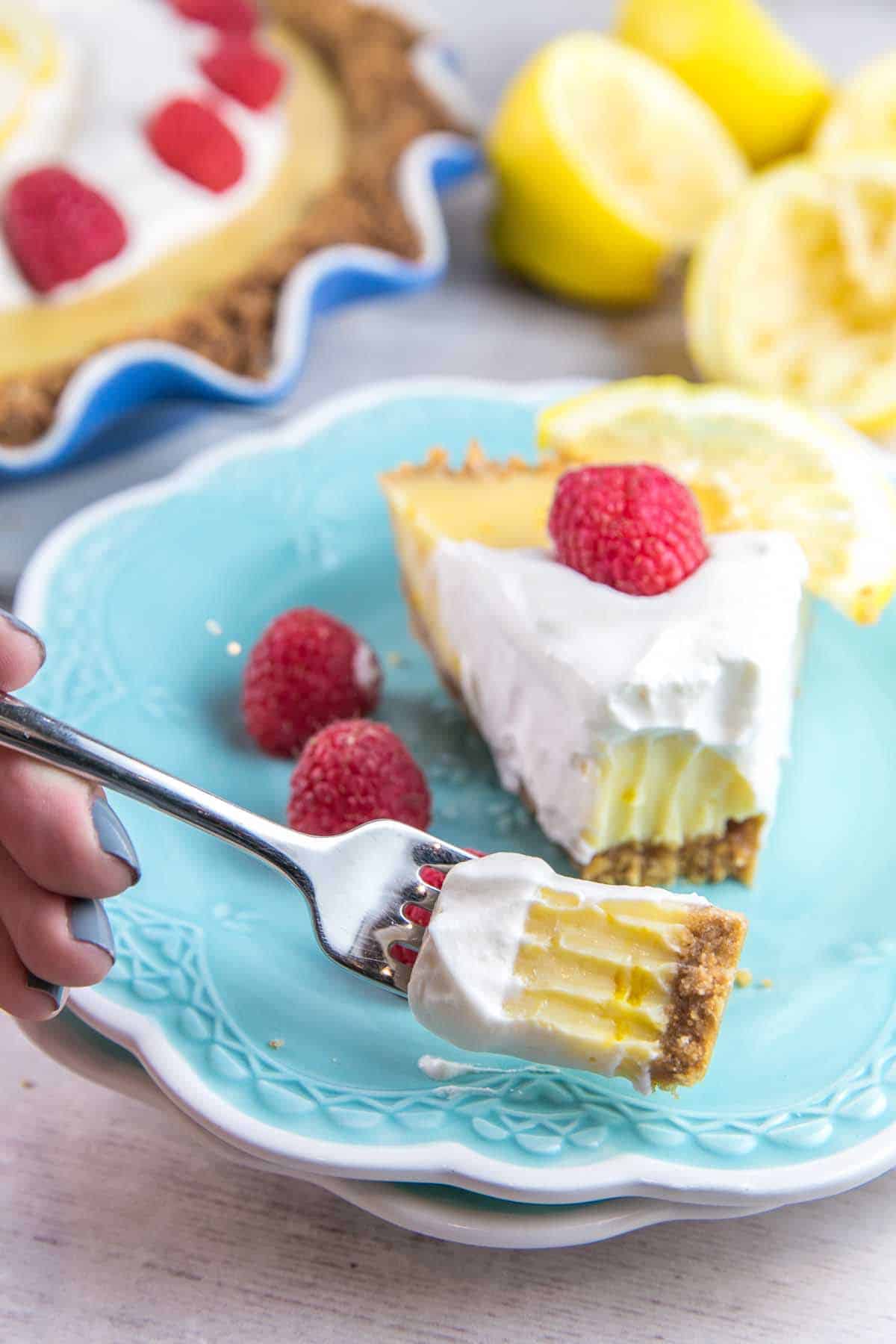 3 Ingredient Lemon Pie
That's right – only three ingredients! This lemon pie has the same base as a key lime pie: egg yolks and condensed milk, but lots of lemon (both juice and zest) instead of key lime juice.  And that's it!
Sweetened Condensed Milk: The sweetened condensed milk provides sweetness and creaminess for the lemon custard. Make sure to use sweetened condensed milk and not evaporated milk!
Egg Yolks: The egg yolks are required to help set the filling.
Lemon: We're using both the lemon juice and the lemon zest for this pie, so stock up on fresh lemons. Meyer lemons, with their slightly sweeter favor, can also be used for the pie.
Three ingredients, plus a homemade graham cracker pie crust and whipped cream for topping.  Super duper easy!
Magical Lemon Custard
The filling for this pie is really more like a custard or a cream pie – it's soft, creamy, and oh-so-delicious. But unlike a typical custard which you cook separately on the stovetop, this is a dump-and-bake sort of a pie.
Whisk together the condensed milk, lemon juice, lemon zest, and egg yolks and pour it into the pie crust. Then bake – no tempering egg yolks into hot milk and whisking on the stove.
How does this work? The answer, of course, is all in my favorite subject… kitchen chemistry!
Kitchen Chemistry

Lemons are full of citric acid, which not only provides the classic tart lemon flavor, but also is the key to setting the custard in this pie. The acid reacts with the casein proteins in the milk and the lipoproteins in the egg yolks which denature as they begin to cook in the oven, creating a stable structure and resulting in the smooth custardy texture. 
There are dozens of different ratios for the egg yolk to condensed milk to lemon juice out there. I love the sweet-tart taste of lemon desserts, so I wanted to play up the tart side of the lemon, adding extra lemon juice (and some extra egg yolk) to compensate for the extreme sweetness of the condensed milk.
Don't worry, it's not too tart — it's like a refreshing glass of lemonade on a hot summer day. (Hot summer day? I don't even remember what that is anymore.)
I have one request for this pie: use fresh lemon juice. I'm all about keeping a bottle of lemon juice in the fridge for cooking or adding a little bit here or there, but when it comes to this pie: fresh is best.
Bottled lemon juice lacks the citrusy pop of the fresh stuff, meaning the resulting pie won't taste as bright and may not set as well in the oven. Squeezing all those lemons is well worth the effort.
Creative Twists on Lemon Pie
I'm going to be honest here: this is one of my favorite desserts I've ever made, and that's saying a lot, because obviously, I make a lot of desserts.  But there was just something about this lemon pie that I couldn't stop eating.
The silky smooth texture.  The prominent lemon flavor.  The crispy graham cracker crust.  The pile of whipped cream and raspberries on top.  All of it.
Let's say you've already mad this 5 or 6 times (like me) and want to try switching things up a little. Here are a few ideas to get you started!
Meringue Topping: Whip up a fluffy meringue using the leftover egg whites and spread them over the chipped pie before giving it a quick toast under the broiler.
Coconut Dream: For a tropical twist, add shredded coconut to the custard filling! You can either mix it into the custard before baking or sprinkle it on top of the pie once it has cooled.
Lavender Infusion: Gently warm the sweetened condensed milk and seep culinary lavender buds in the milk for 30 minutes. Strain out the buds, then use the milk to proceed with the rest of the recipe as written.
Lemon Blueberry Swirl: Before pouring the custard into the graham cracker crust, scatter a handful of blueberries evenly over the bottom and gently swirl them into the custard.
Lemon Basil: Infuse the custard with a little basil for a truly unexpected, sophisticated twist! Finely chop basil leaves and mix them into the custard before baking.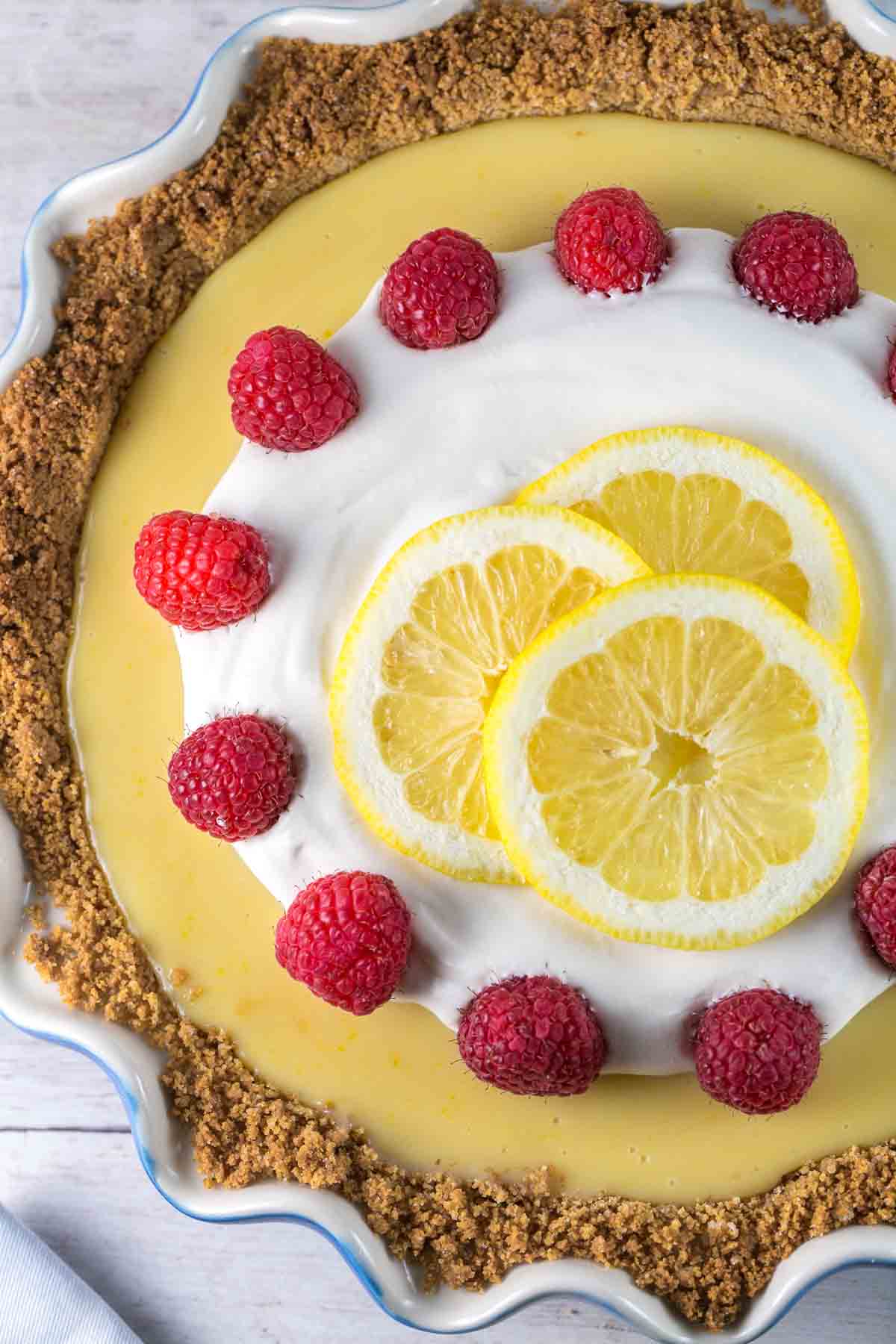 Recommended Tools
Tips and Tricks for the Best Lemon Pie
Use room temperature ingredients. Make sure the sweetened condensed milk and egg yolks are at room temperature, which will help prevent curdling and ensure the custard sets evenly.
Save your egg whites! Egg whites can be frozen for future use – like in one of these recipes using extra egg whites.
Blind bake the graham cracker crust and let it cool slightly before adding the custard. The crust needs the extra time in the oven to remain crispy.
Let the pie cool for at least one hour, but preferably refrigerate it overnight before slicing for the bext texture and flavor.
Slice the pie using a sharp, thin bladed knife. To achieve clean, smooth slices, dip the knife into hot water and wipe it dry before each cut. Heating the knife helps it glide through the custard without causing it to stick or tear.
Leftover lemon pie can be stored in the refrigerator covered in plastic wrap for up to 4 days or frozen for up to 3 months.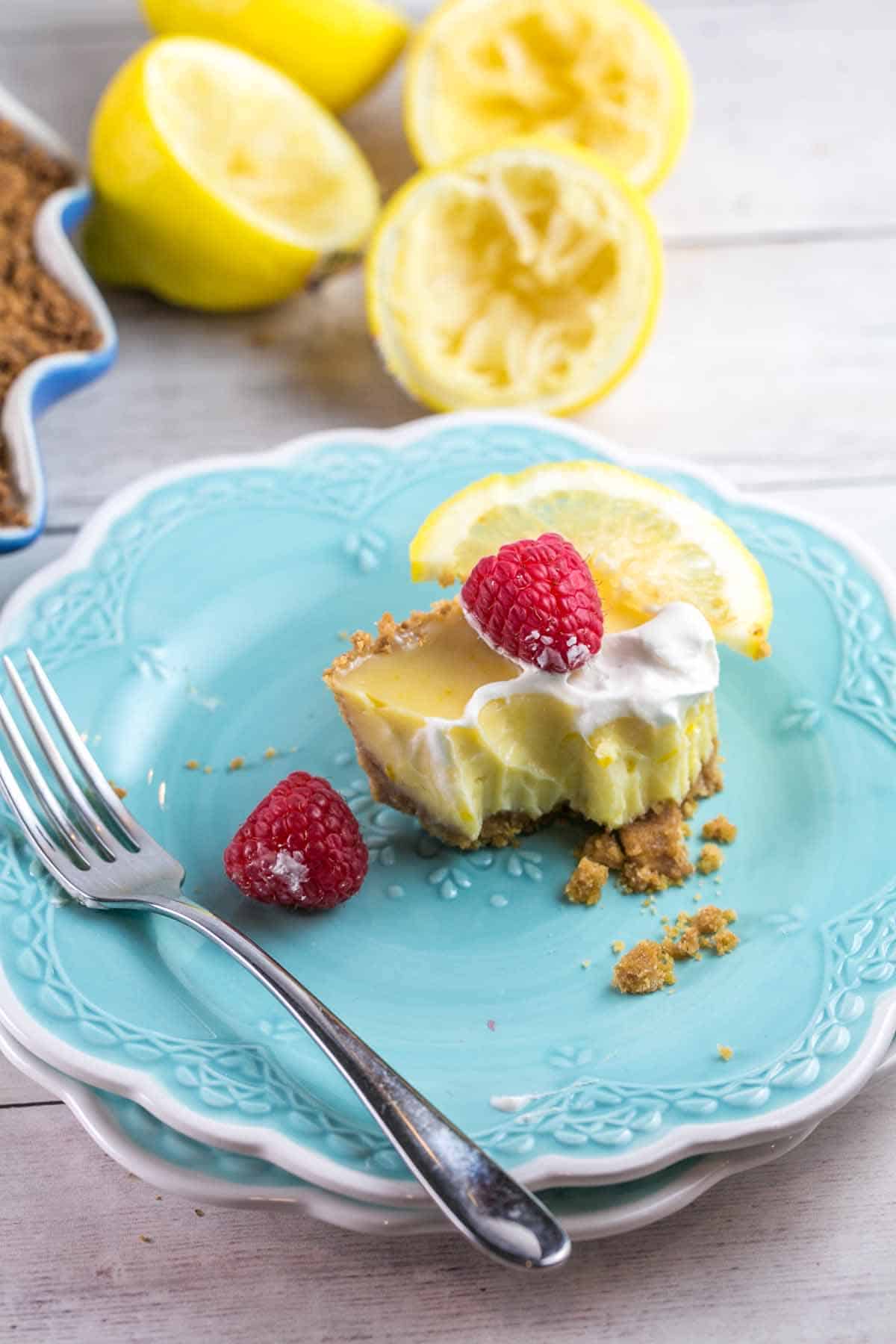 More Lemon Desserts:
2018 Pie of the Month Series
Lemon Pie
Total Time:
1 hour
30 minutes
Silky smooth and sweet-tart, this easy lemon pie is the perfect spring and summer dessert (or anytime you want to pretend it's summery!).  
Ingredients
For the Graham Cracker Crust:
1 1/2 cups graham cracker crumbs (approximately 12 full size sheets, finely crushed)
1/3 cup granulated sugar
6 tablespoons melted butter
For the Lemon Pie:
2 (14 ounce) cans full-fat sweetened condensed milk
3/4 cup freshly squeezed lemon juice (about 4 lemons)
zest of 1 lemon
4 large egg yolks
optional garnish: freshly whipped cream, additional lemon slices, raspberries
Instructions
Preheat oven to 350 °F.
Prepare graham cracker crust according to instructions. Remove from oven and let cool briefly while making lemon pie filling.
In a large bowl, whisk together the sweetened condensed milk, lemon juice, lemon zest, and egg yolks until well combined. Pour into graham cracker crust.
Bake the pie for 18-20 minutes, until pie is set along the edges and slightly jiggly in the center. Remove from oven and cool to room temperature, then transfer to refrigerator and chill for 1 hour, up to a week.
Top with desired garnish: freshly whipped cream, additional lemon slices, and raspberries.
Notes
Pie can be made ahead of time.  After baking, cool at room temperature, then loosely wrap with plastic wrap and store in the refrigerator for up to 1 week, or cover tightly with a layer of plastic wrap and aluminum foil and freeze for up to 3 months.  Thaw overnight in the refrigerator.
Recommended Products
As an Amazon Associate and member of other affiliate programs, I earn from qualifying purchases.