July 21, 2023
Healthier Tomato Pie
This not-so-southern Healthier Tomato Pie capitalizes on fresh tomato flavor with minimal mayo, in a delicious, crispy pie crust. So long, soggy tomato pie!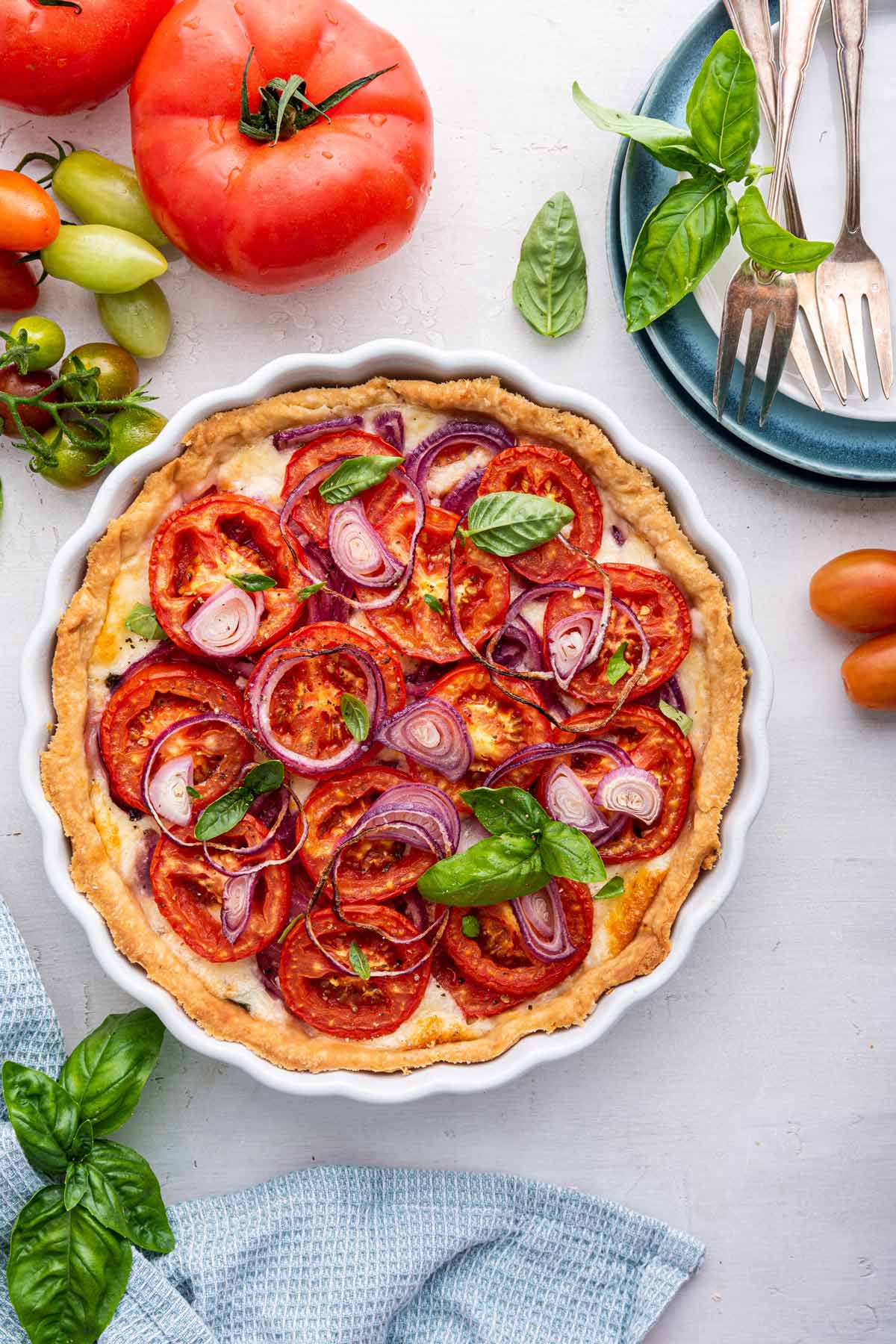 Late August and early September is prime tomato season around here.
When the tomatoes first start appearing in early July, you might be humming a few verses of "It's the Most Wonderful Time of the Year." In the beginning, the tomatoes come slowly and each one is savored.
Fast forward a few weeks, and you can't keep up. There's only so many salads and tomato sandwiches you can eat.
While facing a tomato overload from our CSA a few years ago, I stumbled across a recipe for tomato pie. (And I need to clarify here that I mean a tomato pie – as in, tomatoes baked in a pie crust. Not tomato pie as it exists here in Philly, which is essentially foccacia-type dough covered in tomato sauce, kind of like a cheeseless pizza.)
Despite my complete lack of southern roots, tomatoes and mayonnaise are one of my favorite combinations (aforementioned tomato sandwiches). I thought a tomato pie would be right up my alley.
But then… I tried it. It was so soggy with so much mayo piled on top, it was completely unappetizing. The tomato juice ran into the crust. The tomato flavor was lost in the pile of cheesy mayo on top.
So, I set to tweaking, resulting in a healthier, less mayo, less cheese, actually-taste-the-delicious-summer-tomatoes version of tomato pie.
It's not so Southern anymore, but it IS delicious. This is a great way to highlight really fresh tomatoes and leave behind all the extra goop.
If you too have ever been frustrated with soggy tomato pies, fret no more, as this recipe maximizes tomato flavor while minimizing the extra mayo and "goop". Get ready for a crispy pie crust and a burst of fresh tomato flavor in every bite!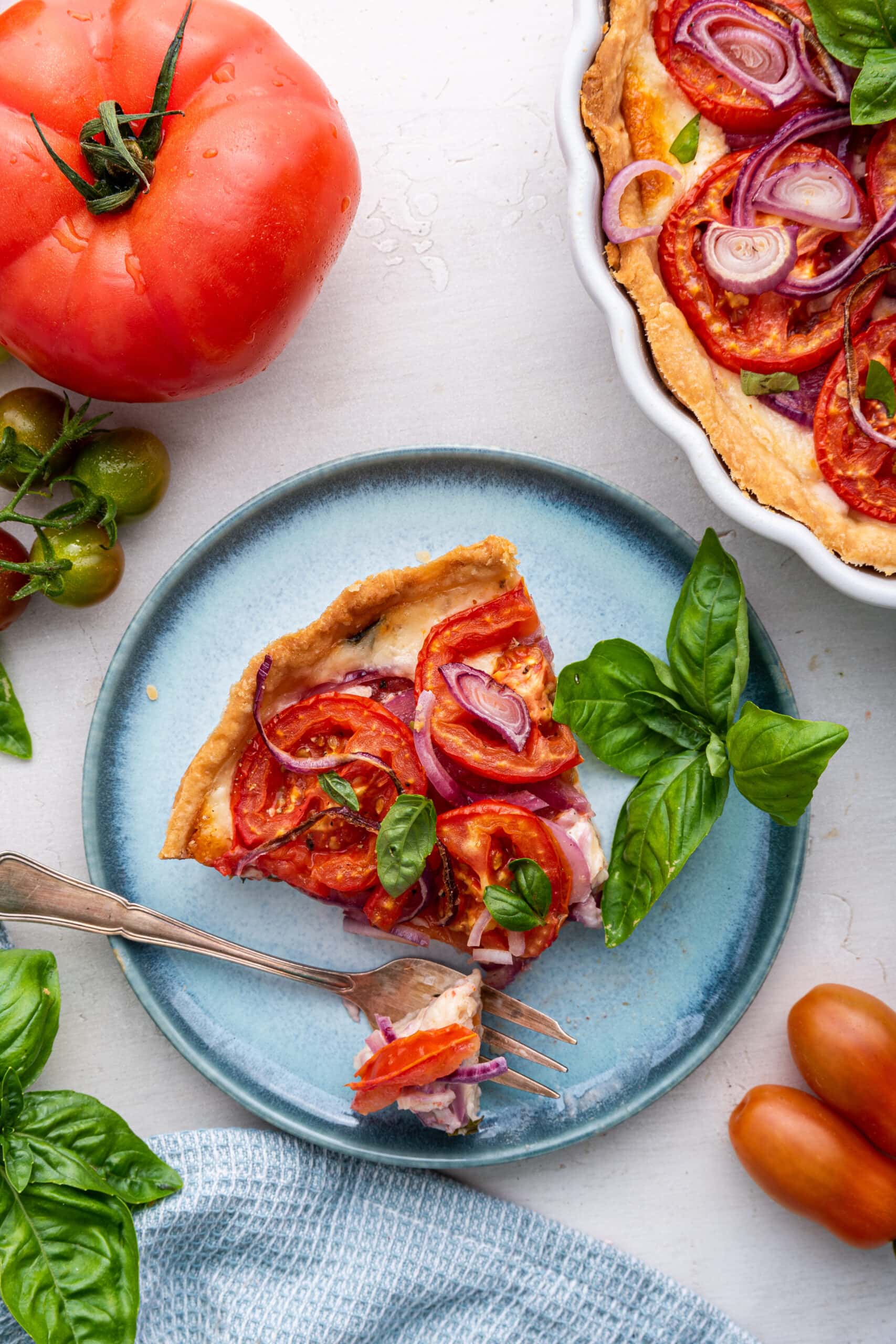 Ingredients and Substitutions
Pie Crust: I always recommend using my homemade crust (more details below!) but you can substitute in a store-bought frozen crust, too. Just be sure to blind bake the crust before adding the filling! Swap out the pie crust for a gluten-free pie crust to keep this tomato pie gluten-free.
Red Onion: A little red onion adds both a pop of color and flavor. Substitute shallots if preferred.
Mayonnaise: We're still going to use just a little mayo here for the classic flavor, but not so much that the tomatoes are swimming in a pool of it! If you're anti-mayo, a little cream cheese thinned with buttermilk or Greek yogurt can be used as a substitute.
Mozzarella Cheese: I usually use shredded mozzarella, but you can swap this out for cheddar or half mozzarella/half cheddar.
Tomatoes: The most important part! Use firm, ripe, flavorful summer tomatoes.
Fresh Basil: Fresh basil adds a summery herb flavor.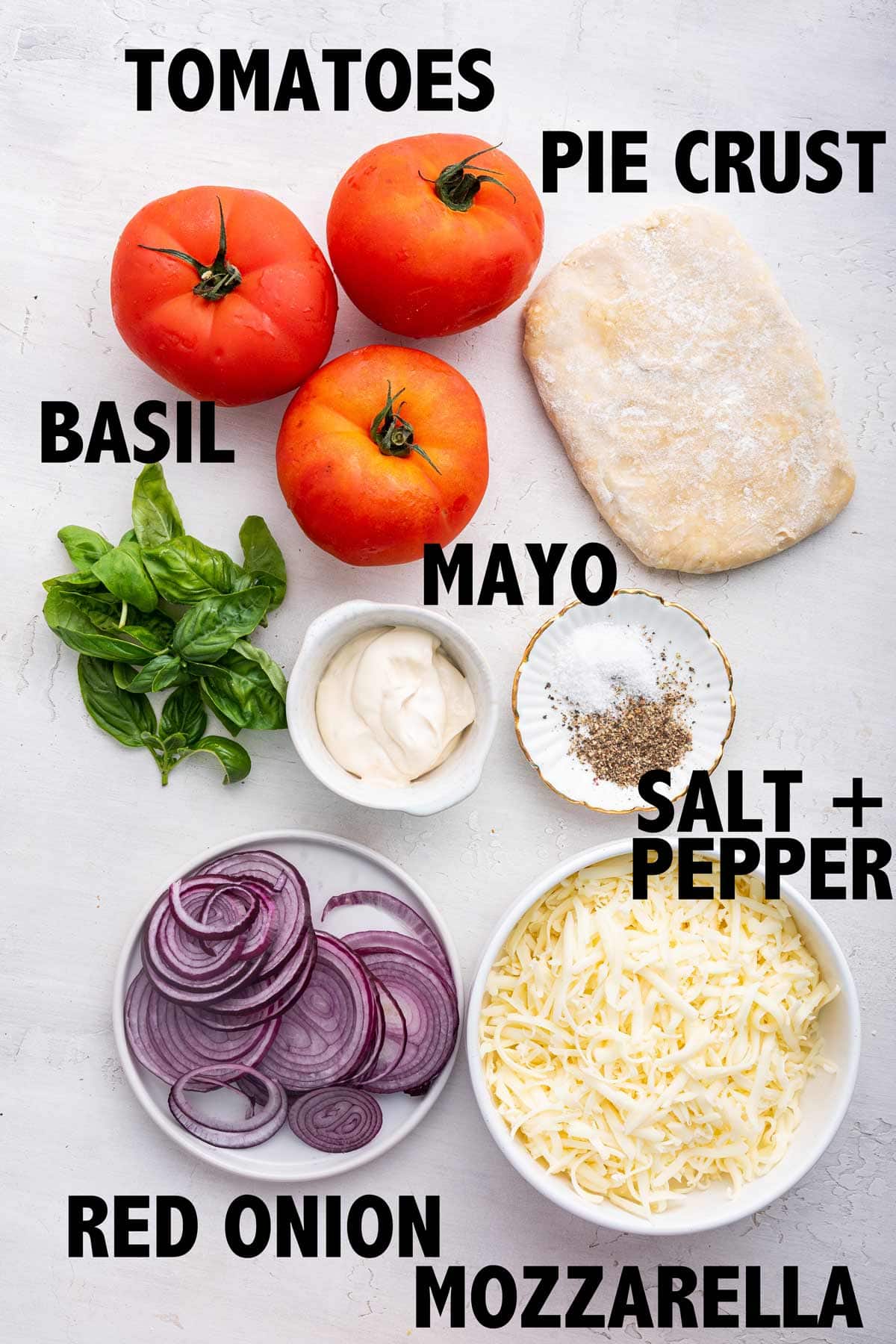 Homemade Pie Crust
I start with my homemade No Fail Pie Crust for this recipe. I like homemade crusts because they don't brown as quickly as a store-bought crust. But if you're not a crust-from-scratch person, a frozen crust works just fine.
You can use either a regular pie dish or a tart pan with a removable bottom, which makes removing slices of tomato pie even easier.
Once you've pressed the crust into your tart pan or pie dish, poke some holes in the dough with a fork. Cover with a layer of parchment paper and some pie weights (or dried beans). Blind bake the crust for 15-20 minutes, or until just starting to get a little brown.
Blind baking the crust will help retain a crispy crust, despite all the moisture in this tomato pie.
Just a Little Mayo
We're making this pie upside-down compared to more "traditional" Southern tomato pies. Instead of putting the mayo and cheese on the top, we're putting it on the bottom!
The heavy topping won't weigh down the tomatoes, and I think the tomatoes on top are just prettier – this pie is about the tomatoes, not mayo and cheese!
Buuuut since a pie of nothing but crust and tomatoes would admittedly be a little bland, we'll put a little mayo + cheese + basil layer on the bottom.
Use Large, Firm Tomatoes
Since this pie focuses on fresh summer tomatoes, let's talk about what kind to use.
Use medium-to-large tomatoes (not cherry tomatoes) — we want more interior tomato than exterior tomato skin.
You'll also want to use firmer tomatoes. Soft, juicy tomatoes release a little too much juice and will make your pie soggier.
I find Roma tomatoes work best because of their lower water content, but I've made many a tomato pie with big beautiful heirloom tomatoes, too – just draw out any extra juice first!
To do this, start by salting the tomatoes, which will prevent a soggy tomato pie. Why? It's time for my favorite subject… kitchen chemistry!
Kitchen Chemistry

Salt draws excess moisture out of raw vegetables through a process called osmosis. Water will always flow through cell walls from an area of more dilute solution to an area with a higher concentrated solution. By sprinkling salt on the outside of the tomatoes, we create a higher concentration of particles on the surface of the tomato, which draws water out.
Slice your tomatoes, sprinkle with salt, and let them sit for 10 minutes. Then blot off all the tomato juice with paper towels.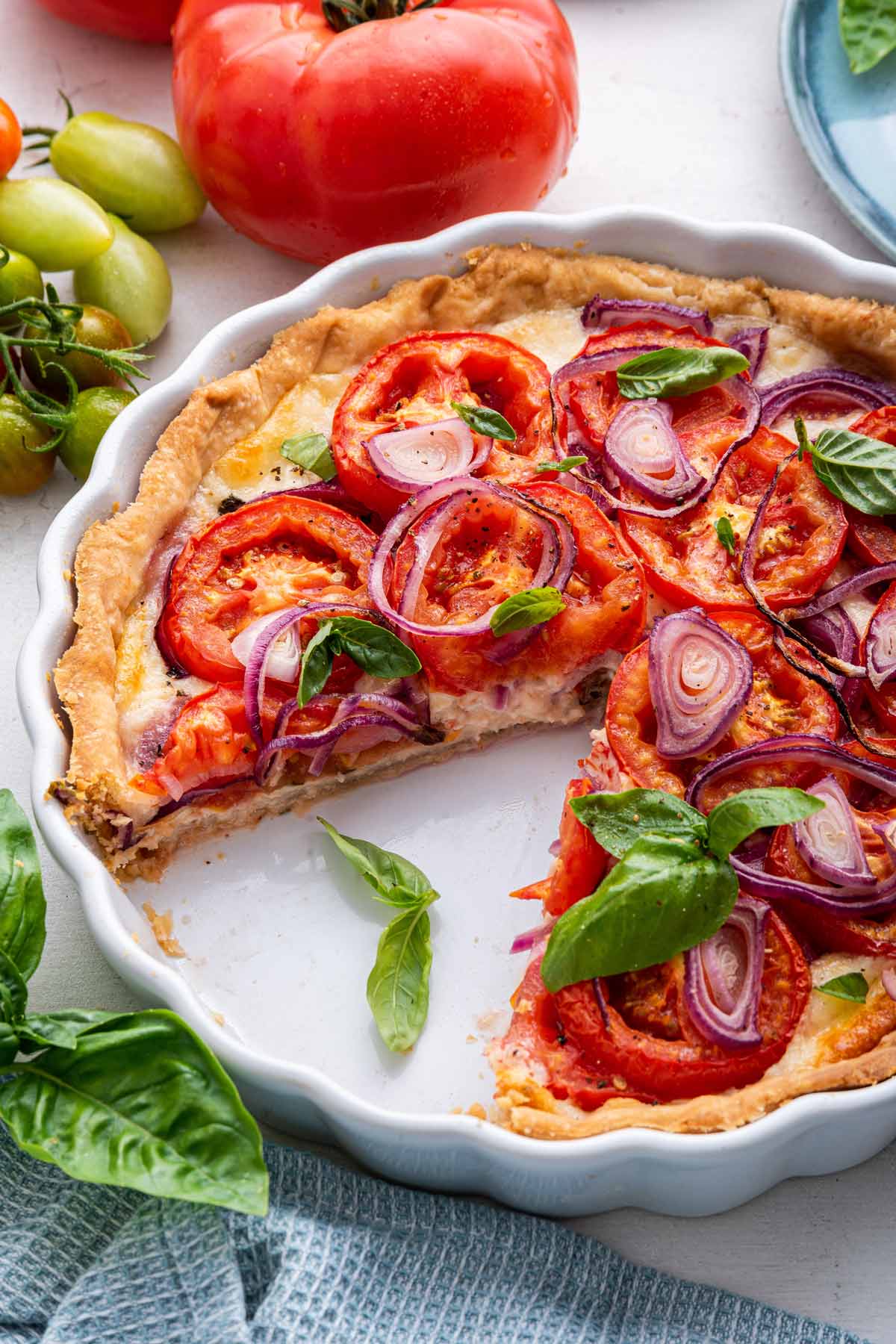 Recommended Tools for Tomato Pie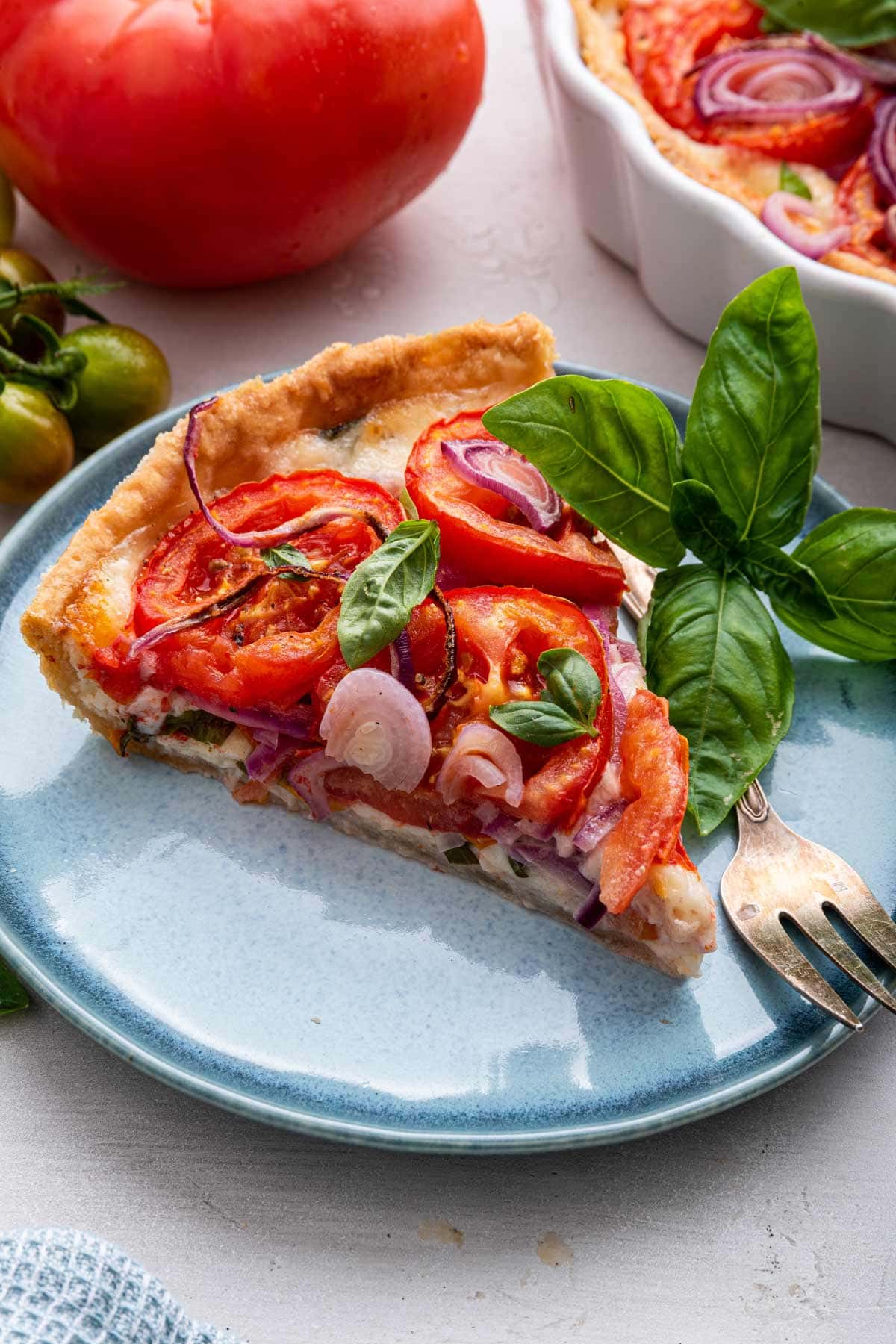 Tips and Tricks for The Best Tomato Pie
Slice tomatoes 1/4-inch to 1/2-inch thick. Tomatoes that are thinner will fall apart and tomatoes that are thicker will retain extra moisture.
Salt your tomatoes first to draw out excess moisture. Letting the tomatoes sit for 10-15 minutes will result in a less-soggy pie.
Blind bake the crust to keep the crust crisp, even for a few days.
Let the tomato pie sit for at least 20 minutes after baking. This lets the tomatoes set a bit and re-absorb any juice that may be bubbling along the edges.
More Summer Tomato Recipes: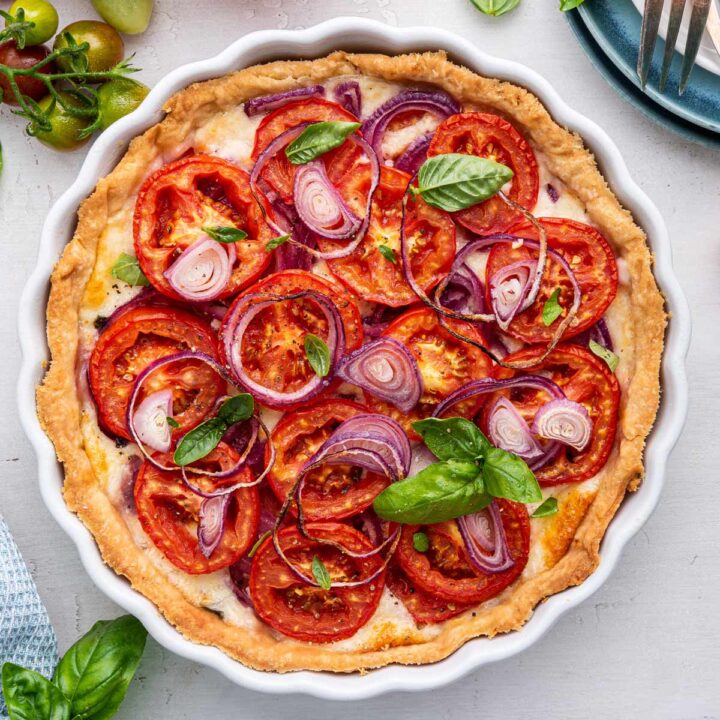 Healthier Tomato Pie
This not-so-southern healthier tomato pie capitalizes on fresh tomato flavor with minimal mayo, in a delicious, crispy pie crust. 
Ingredients
1/2 red onion, sliced thinly into rounds
1/4 cup mayonnaise
6 ounces shredded mozzarella cheese
3-4 ripe tomatoes, sliced about 1/4 – 1/2-inch thin
4 tablespoons fresh basil, half sliced into ribbons (chiffonade)
salt and pepper to taste
Instructions
Preheat oven to 400F.
Line a 9" tart pan with prepared pie dough. Poke a few holes in the dough with a fork, then cover with parchment paper and pie weights or dried beans. Bake for 15 minutes, until crust is starting to turn golden.
While the crust bakes, slice the tomatoes. Place the tomatoes on several sheets of paper towels and sprinkle with salt. Flip and salt the other side as well. Let the tomatoes sit for 10 minutes, then blot off moisture with dry towels.
Mix together the mayonnaise and the shredded cheese, and spread this mixture in the parbaked pie crust. Sprinkle 2-3 tablespoons of the basil on top of the cheese.
Top with one layer of the sliced tomatoes, the onions, followed by a second layer of tomatoes. Add a third layer if space permits. Sprinkle liberally with salt and pepper.
Bake for 30 minutes, until crust is golden and some juices along the edge of the pie crust are bubbling. Remove from the oven and set aside for 20 minutes to cool before slicing. Top with the remaining basil and serve warm or room temperature.
Notes
Tomato pie is best served on the day it is made, but leftovers can be stored in the refrigerator and reheated in the oven at 350 °F for 15-20 minutes.
Recommended Products
As an Amazon Associate and member of other affiliate programs, I earn from qualifying purchases.
Nutrition Information:
Yield:

8
Serving Size:

1 slice
Amount Per Serving:
Calories:

245
Total Fat:

16.1g
Carbohydrates:

17.8g
Protein:

7.3g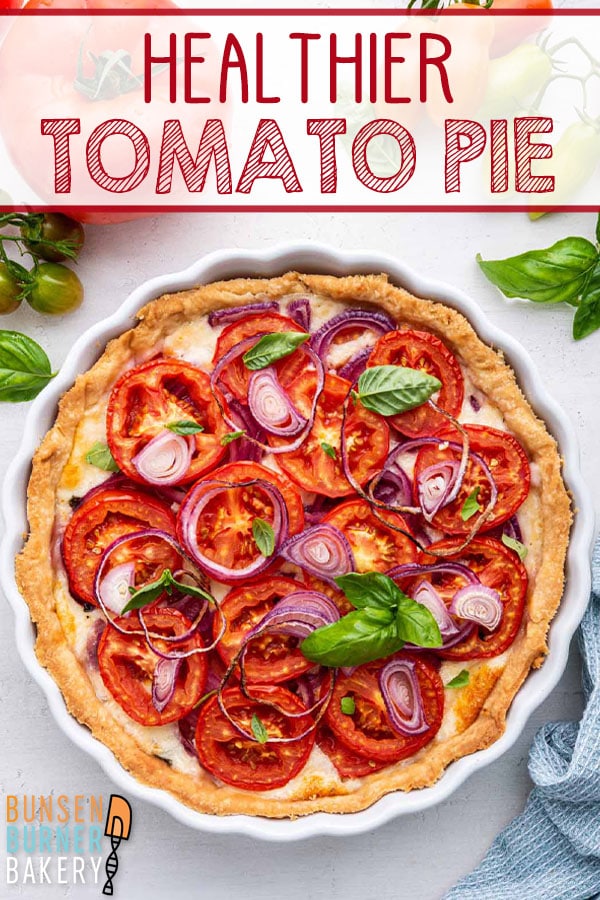 This Healthier Tomato Pie recipe was originally published on 09/08/2014 and was republished with updated pictures, text and recipe tips in July 2023.