September 8, 2014
Healthier Tomato Pie
This not-so-southern healthier tomato pie capitalizes on fresh tomato flavor with minimal mayo, in a delicious, crispy pie crust.  So long, soggy tomato pie!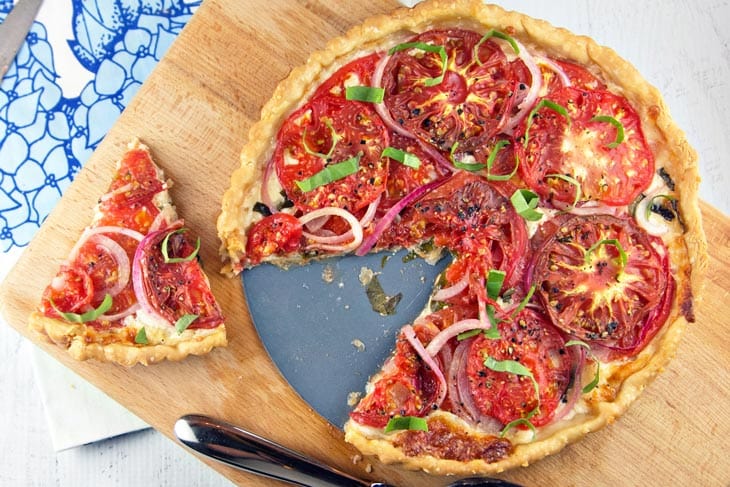 I'm declaring this week Tomato Week on Bunsen Burner Bakery! Why now, towards the end of tomato season?  Well, I don't know about you, but I'm feeling the tomato overload right now.
When the tomatoes first started appearing in my CSA box and in my garden back in July, you may have caught me humming a few verses of "It's the Most Wonderful Time of the Year."  In the beginning, the tomatoes came slowly and each one was savored.
But now that we've reached the peak production of tomato season, I just can't keep up.
Each week we're receiving 5+ pounds of tomatoes from the CSA.  In addition to my harvest from my little vertical garden, the tomatoes are overwhelming.
Last week, I actually had to throw out a beautiful heirloom tomato because I just couldn't get to it in time before it started to mold.  Well, no more!
This week, I'm using up all my tomatoes, and showing you what I'm doing, in the event you also are drowning under the weight of late-summer tomatoes.
First up, tomato pie – perfect for any of those large, fat tomatoes you have on hand.  Despite the complete lack of any southern roots, tomatoes and mayonnaise are one of my favorite combinations.
Tomato sandwiches are probably my favorite part of summer, so I was really excited the first time I learned about tomato pie… until I tried it.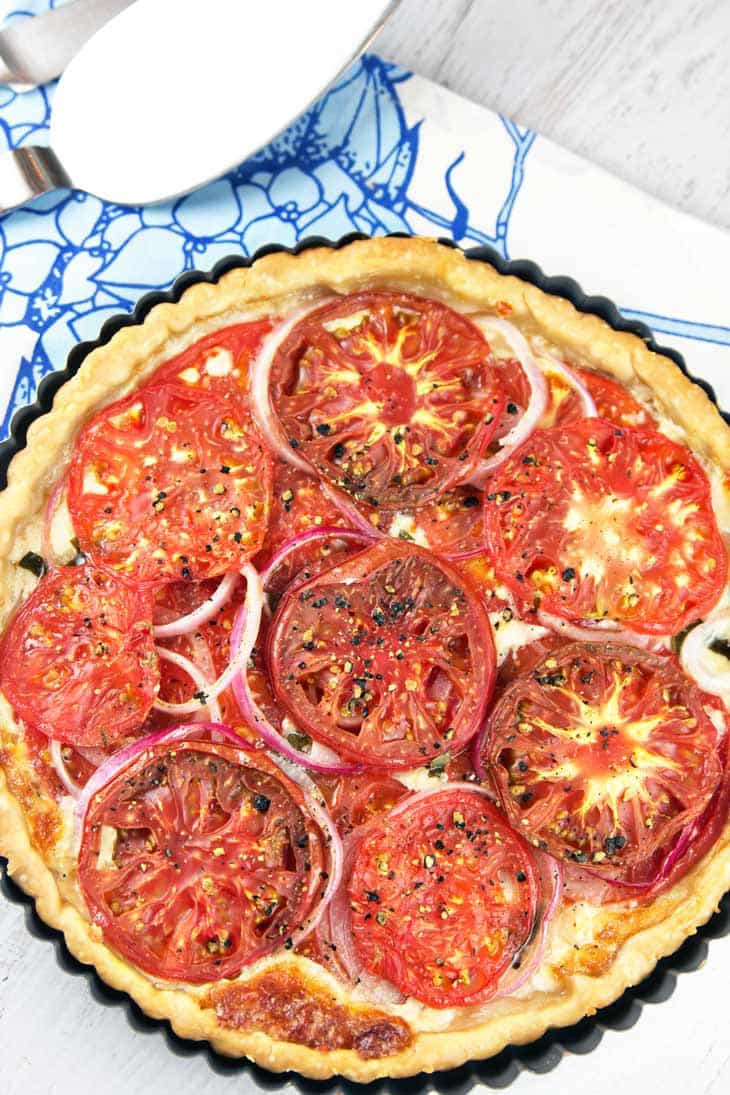 It was so soggy with so much mayo, it was completely unappetizing.  A few tweaks here and there, and I finally have a tomato pie I like.  A little mayo, a little cheese, but mostly just delicious tomato flavor.
You can actually see the tomatoes – it doesn't just sink the whole way into the gloppy cheesy mayo!  This is a great way to highlight really fresh tomatoes, and because it's not soggy, it will reheat well if you're finishing your leftovers for a few days like we did.
Tomato Pie
This not-so-southern tomato pie capitalizes on fresh tomato flavor with minimal mayo, in a delicious, crispy pie crust.
Ingredients:
1/2 red onion, sliced thinly into rounds
1/4 cup mayonnaise
6 ounces shredded mozzarella cheese
ripe tomatoes, sliced about 1/4 – 1/2-inch thin (I used about 2.5 heirloom tomatoes for this)
4 tablespoons fresh basil, cut into chiffonade
salt and pepper to taste
Directions:
Preheat oven to 400F.
Line a 9" tart pan with pie dough.
Mix together the mayonnaise and the shredded cheese, and spread this mixture on the pie dough.  Sprinkle 2-3 tablespoons of the basil on top of the cheese.
Top with one layer of the sliced tomatoes, the onions, followed by a second layer of tomatoes.  Sprinkle liberally with salt and pepper.
Bake 30 minutes.  Top with the remaining basil and serve warm or room temperature.
A Bunsen Burner Bakery Original Protocol