July 26, 2023
Zucchini Bundt Cake
This Zucchini Bundt Cake is rich, fudgy and moist, making it the most delicious way to eat your veggies! Top it off with a homemade dark chocolate ganache for an unbelievable dessert.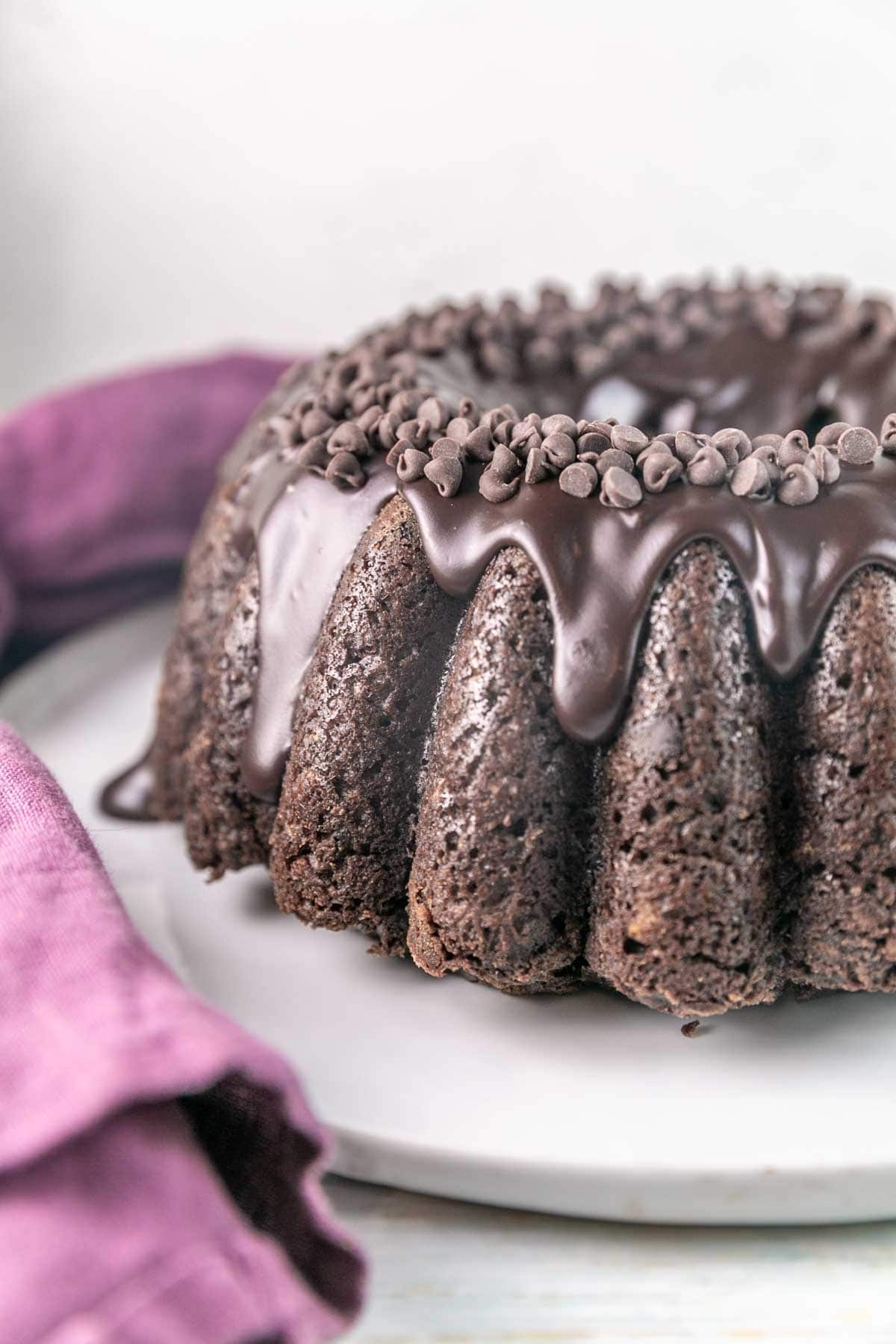 During the summer months, the bounty of zucchini can be a little overwhelming! Don't get me wrong, I love having so many produce options in the summertime. And I also love eating zucchini on its own, especially as this One Skillet Mexican Zucchini!
But sometimes… there's such a thing as too much zucchini. And then you make it into a cake!
(To clarify, you can also buy zucchini just to make this cake, which is what we do. My kids LOVE this cake. Even once I broke the news to my son that there is zucchini in it. He was momentarily horrified, then remembered how delicious it is, and requested it again and again.)
Zucchini might not seem like the best ingredient to add to cake, but it is actually so delicious in this chocolate cake! It adds tons of excess moisture (without adding more oil and thus additional fat) and results in the fudgiest cake texture. You honestly don't even notice the zucchini in the chocolate cake once it is baked, but you are secretly eating loads of veggies!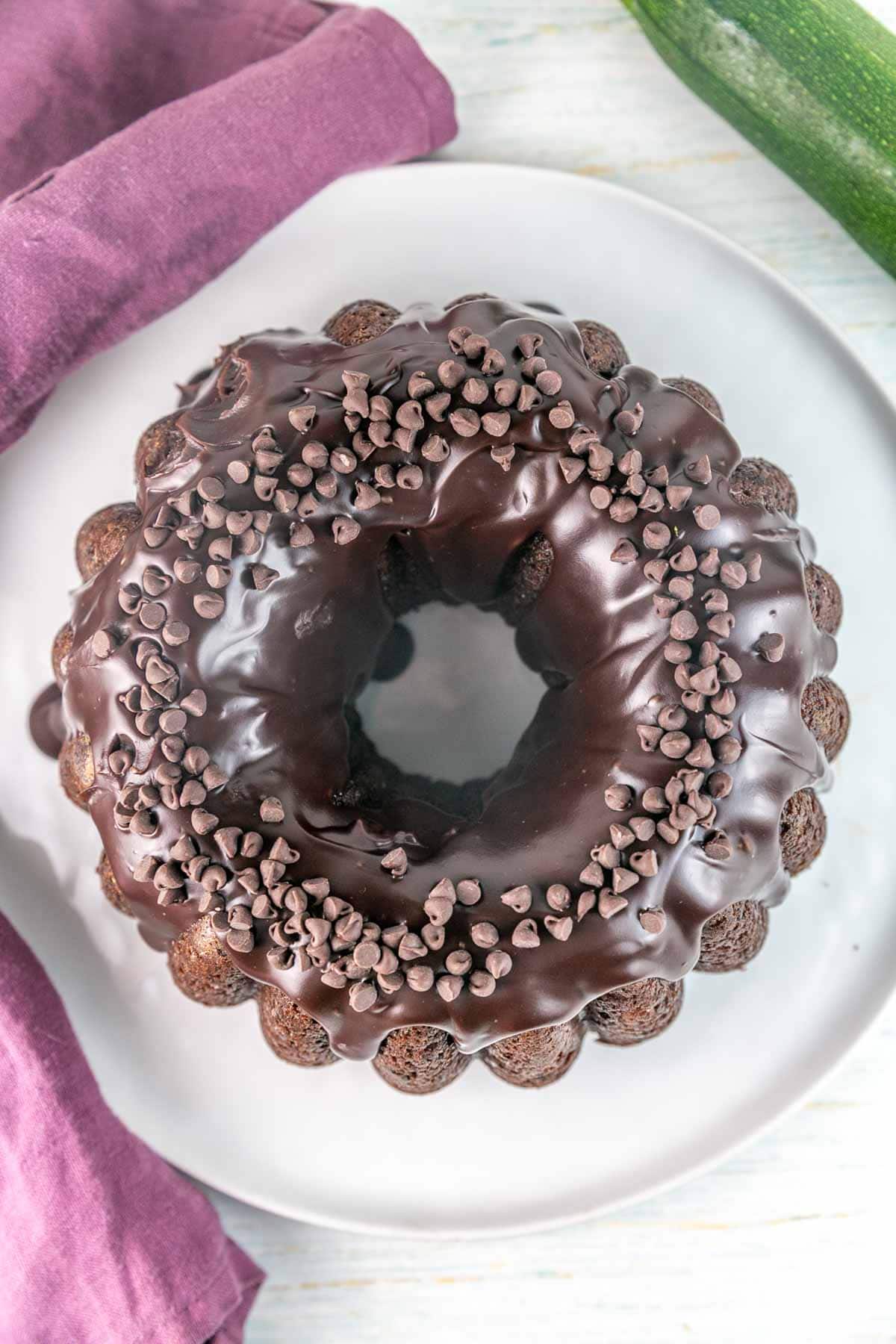 Ingredients & Substitutions
This chocolate zucchini cake uses basic pantry staples that you probably already have on hand! It can be made with a few different substitutions if needed. Here's what you'll need:
Flour: Use all-purpose flour or gluten-free 1:1 baking mix to make gluten-free chocolate zucchini cake. You can even substitute half of the all-purpose flour with whole wheat flour for a little extra protein and fiber.
Cinnamon: I love the combination of cinnamon and chocolate, but if you're sensitive, feel free to omit it.
Baking Soda: Because the cake uses sour cream, which is acidic, we'll use baking soda as our leavening agent.
Unsweetened Cocoa Powder: For a super rich chocolate flavor, I like to use a high-quality unsweetened cocoa powder.
Espresso Powder: Espresso powder is a highly concentrated coffee powder that is usually used in baking. It magically makes chocolate taste even more chocolatey (and no added taste of coffee).
Canola Oil: Use canola oil or any other neutral oil to add moisture and fat to the cake.
Granulated Sugar & Brown Sugar
Eggs
Vanilla Extract
Sour Cream: I like baking with full-fat sour cream for the best flavor, but you can also use low-fat or substitute this with plain Greek yogurt! Bring it to room temperature before adding to the batter.
Zucchini: Look for medium-sized, firm zucchini. You can also use yellow summer squash instead of or in addition to the zucchini.
Chocolate Chips
Chocolate Ganache: For a homemade chocolate ganache, you just need chopped chocolate and heavy cream. I like to top it off with more mini chocolate chips for decoration before the ganache is set.
Easy Zucchini-Packed Batter
The bundt cake batter is seriously so easy to throw together! You will simply mix together the oil, granulated sugar, brown sugar, and eggs, and then add the sour cream and vanilla. Once that is thoroughly mixed, fold in the grated zucchini. You can then gently mix in the dry ingredients: flour, cinnamon, baking soda, salt, cocoa powder and espresso powder.
Once you add in the dry ingredients, you have to be careful not to over mix. Only mix until the ingredients are just combined, and then gently fold in the chocolate chips.
That's it! At that point, your batter will be ready to pour into a prepared bundt cake pan and bake.
The zucchini can simply be grated and added straight to the batter. There is no need to peel the zucchini and unless the zucchini is extra juicy, you don't have to squeeze out any of the moisture. If you think that your zucchinis are particularly juicy, you can dry some of the juices by squeezing the grated zucchini with some paper towels. But in general, the moisture in zucchini is what makes baking with zucchini so special.
Kitchen Chemistry

Zucchini adds moisture to maked goods, similar to applesauce or bananas, but in a more solid form. Pouring additional water into a batter results in a cake that won't set; adding zucchini locks in the moisture in the moisture without offsetting the liquid to dry ingredient ratio, resulting in a moist and tender cake, cookie, or muffin.
Creamy Chocolate Ganache
Obviously, the best way to top off our chocolate zucchini cake is a creamy dark chocolate ganache! Ganache is so easy to make but makes cakes look so nice (and tastes delicious, too!).
Homemade ganache is made by simply mixing together high-quality chopped chocolate (use baking chocolate from a bar, not chocolate chips!) with heavy cream and slowly heating it up in the microwave until it is a smooth glaze.
Let the ganache sit and chill until it is a little thicker but still pourable, and then simply pour the ganache over the baked zucchini bundt cake. Before the ganache sets on the cake, sprinkle with some mini chocolate chips!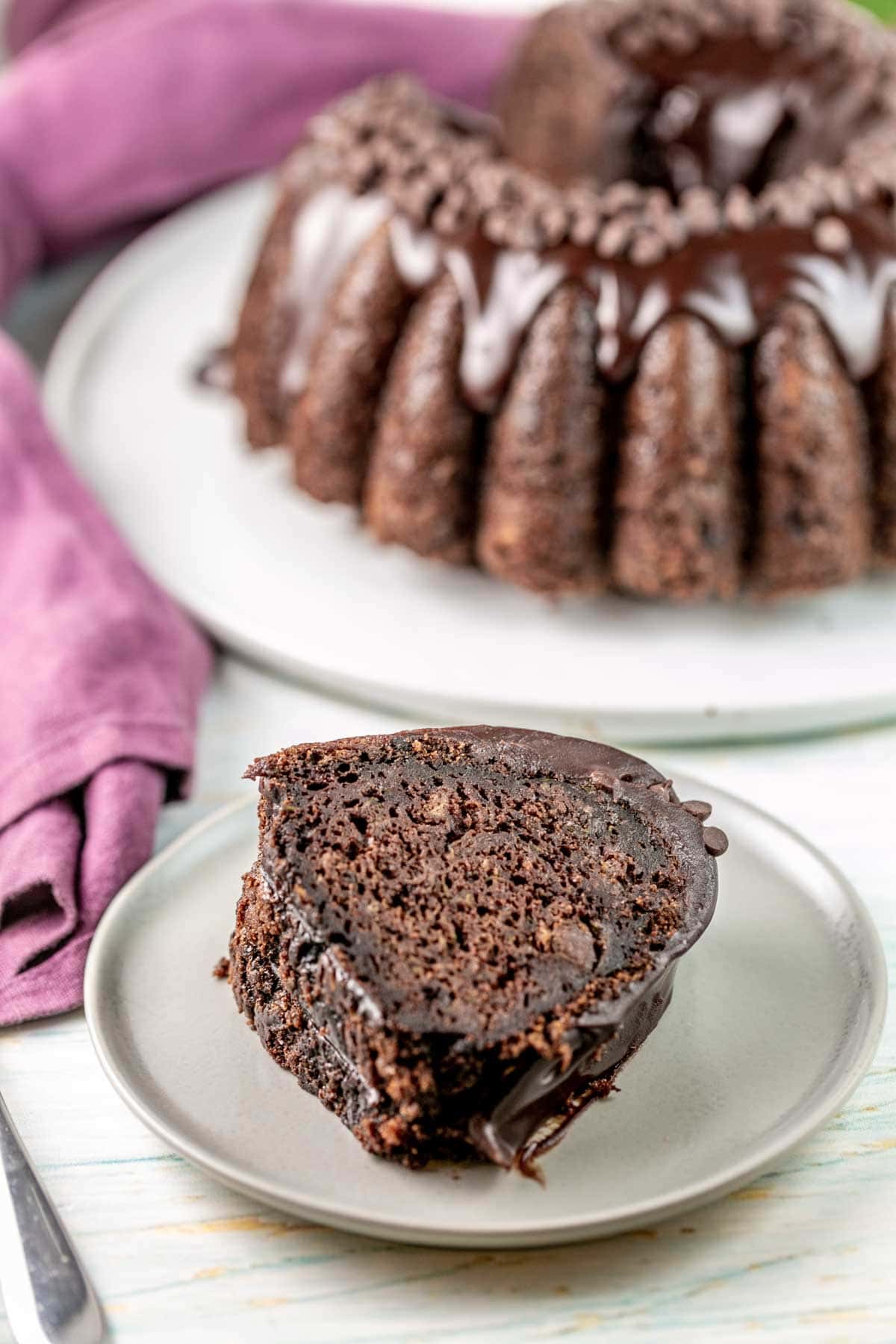 Recommended Tools to Make Zucchini Bundt Cake
Tips and Tricks for the Best Zucchini Bundt Cake
Don't peel the zucchini — there's just no need. Plus, most of the fiber and nutrients are in the zucchini skin!
Use freshly grated zucchini. The longer the grated zucchini sits out at room temperature or in the refrigerator, the more moisture it will lose.
Let the cake cool before touching it. After baking the bundt cake, it is best to set the cake upside down on a wire rack to cool while the cake is still in the pan. Let gravity help release the cake from the pan for 10 minutes before you touch it. If the cake is still in the pan, you can help it out with a rubber spatula or offset spatula!
Bring ingredients to room temperature. For best results, make sure all of your ingredients have been brought to room temperature before baking.
Use a nonstick spray to prep your bundt cake pan! To make sure the cake doesn't get stuck in any nooks or crannies, make sure to spray it well with nonstick spray. Read my article on bundt cake tips to ensure no sticking or doming at the bottom!
Chocolate zucchini bundt cake can be stored in an airtight container at room temperature for up to 4 days. For an even fudgier texture, store the cake in the refrigerator. The cake can also be frozen for up to 3 months.
More Chocolate Zucchini Recipes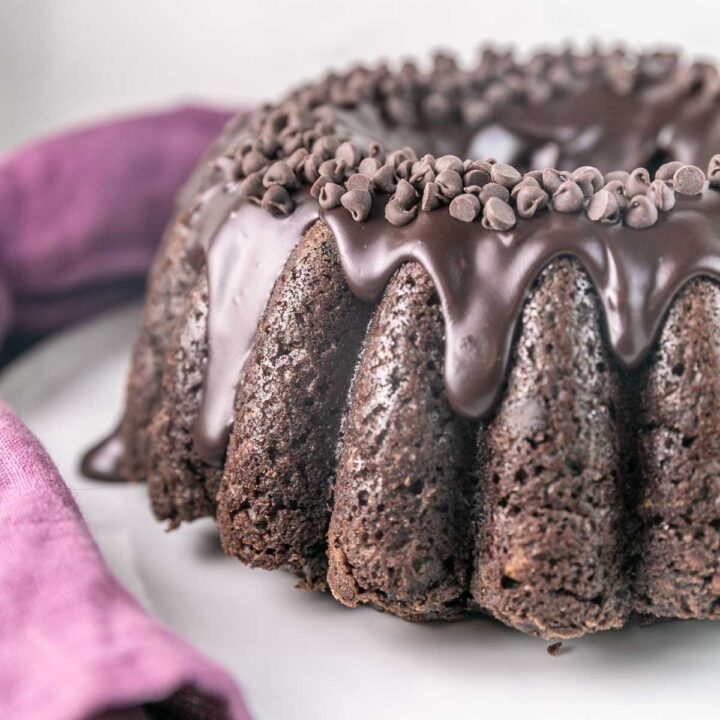 Zucchini Bundt Cake
Total Time:
1 hour
15 minutes
This Zucchini Bundt Cake is rich, fudgy and moist, making it the most delicious way to eat your veggies!
Ingredients
For the Cake:
2 cups (240 grams) all-purpose flour
1/2 teaspoon cinnamon
1/2 teaspoon salt
1 1/2 teaspoons baking soda
1/2 cup (42 grams) unsweetened cocoa powder
1 teaspoon espresso powder
1/2 cup (99 grams) canola oil
1 cup (198 grams) granulated sugar
1/4 cup (54 grams) brown sugar
3 large eggs
2 teaspoons vanilla extract
1/2 cup (113.5 grams) sour cream
3 cups (410 grams) grated zucchini
3/4 cup (127.5 grams) chocolate chips
For the Ganache:
1 cup (170 grams) chopped chocolate
1/2 cup (113 grams) heavy cream
miniature chocolate chips, to decorate
Instructions
Preheat the oven to 325°F. Grease a 10-cup metal bundt pan.
Make the batter. Using a mixer on medium-low speed, beat the oil, granulated sugar, brown sugar, and eggs together until combined and slightly fluffy, approximately 2 minutes. Add the vanilla extract and sour cream and mix until combined. Gently fold in the grated zucchini.
Add the flour, cinnamon, baking soda, salt, cocoa powder, and espresso powder to the wet ingredients and stir until just combined. Fold in the chocolate chips.
Pour the batter into the prepared bund pan and tap the bundt pan on the counter a few times to help bring any air bubbles to the surface.
Bake the cake. Bake for 50-60 minutes, or until a tester inserted into the center of the cake comes out with a moist crumb.
Allow the cake to cool in the pan on a wire rack for 10 minutes, then invert and remove from the pan to cool completely before frosting.
Make the ganache. While the cake cools, make the ganache frosting to pour over the cake. Combine the chopped chocolate and heavy cream in a small microwave-safe bowl. Microwave at 50% power for 30 seconds and stir; repeat this process until a thick but smooth glaze forms.
Decorate the cake. Allow the ganache to cool slightly until thick but still slightly pourable, then pour it over the cooled cake. Sprinkle additional miniature chocolate chips over the ganache.
Notes
Grate the zucchini with the skin still on, no need to peel.
Use freshly grated zucchini for this recipe - we don't want it to start to dry out.
Zucchini cake can be stored at room temperature for up to 4 days or frozen for up to 3 months.
Recommended Products
As an Amazon Associate and member of other affiliate programs, I earn from qualifying purchases.