July 29, 2016
Italian Herb Tomato Bread
An easy savory quick bread combining fresh tomatoes, Italian herbs, garlic, and cheese.  Bake up some summer right in your kitchen with this tomato bread.
Once again, we're sneaking in just under the wire for my Quick Bread of the Month.  This month, we're changing things up a bit and going savory.  Typically "quick bread" conjures up the idea of a sweet, fruit-filled bread.
But really, any bread that doesn't contain yeast is a quick bread – like this herby, cheesy, tomato bread.  Summer is full of extra-ripe tomatoes and this is a great way to use them, paired with fresh herbs from your garden.
The inspiration for this tomato bread came from some leftover red and yellow tomatoes on the vine.  I love focaccia with fresh tomatoes, so why not impart that flavor into a quick bread?
I tried searching for tomato quick bread recipes, but came up short.  Really short.
Almost every recipe I found used tomato sauce, a can of crushed tomatoes, sundried tomatoes in oil, or in one instance – ketchup. (Ew.)  No worries – I can forge this path on my own.  To the experimental kitchen, STAT!
Savory quick breads are much easier than sweet, in my opinion, because there's no need to worry about sugar.  For a sweet quick bread, you want something sweet – but not too sweet.  Too much or too little sugar completely changes the taste of the bread.  A savory quick bread, however, is just about maintaining the proper ratio of flour, liquid, eggs, and fat.
Are you ready for a little kitchen chemistry?
I like to use a 4:1 ratio of flour/liquid to fat/eggs.  Ratios are my favorite way to bake — it means you can adapt things quickly.  For a savory quick bread, I use 4 times the weight of flour and liquid as fat and eggs.  Of course, it's not quite that simple, since milk is both a liquid and a fat, eggs are roughly 75% water, etc.
But if you're like me and love this stuff, you already know all that.  And if you don't, that's why you look for recipes from trusted sources to do the kitchen experimenting for you.
How to Make Bread with Fresh Tomatoes
Sorry, I hope I didn't lose you there.  Let's get back to this specific bread at hand.  Thanks to my handy dandy food processor, this tomato bread was really easy (once I figured out all those ratios mentioned above).
Add your ripe tomatoes, some roughly chopped garlic, and a big handful of basil and oregano right into the food processor.  Pulse it a few times (10-15 1-second pulses worked for me) and stir it right on in with the rest of the ingredients.  Everything else can be whisked by hand.
Don't have a food processor?  Use a blender, or chop it all by hand – just use a cutting board with a juice groove to catch the tomato juices.  After all, that tomato juice is important to maintain the proper liquid ratio!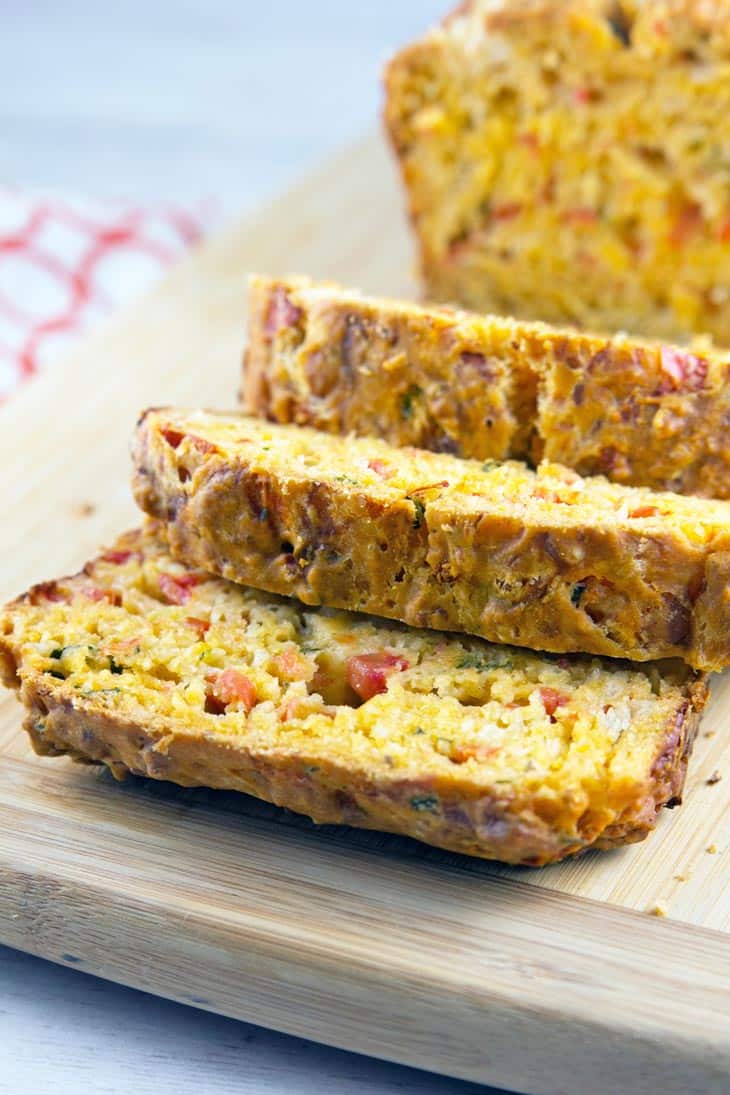 Between the fresh tomatoes, the basil and oregano, and the three cloves of garlic, your kitchen will smell amazing while this bakes.  Seriously, seriously amazing.  I wish I could bottle the scent and spray it in my kitchen on a regular basis.  Is that weird?  No, I didn't think so.
I really enjoyed eating this warm, while the bread was most fragrant, but it was still quite good the next few days at room temperature.  This isn't a bread that will last for too long on the counter – thanks to the ripe tomatoes, mold will grow within a few days.  Bake it and enjoy it in the next day or two.
I didn't get a chance to test it myself, but I bet it would be amazing toasted or as a savory french toast.  Pop a slice of tomato bread in the toaster, let it get a little crispy, and spread on some butter.  Oh, yeah.
Yield:
1 loaf (12 slices)
Italian Herb Tomato Bread
An easy savory quick bread combining fresh tomatoes, Italian herbs, garlic, and cheese.  Bake up some summer right in your kitchen with this tomato bread.
Ingredients:
3 cups flour
1 1/2 teaspoons baking powder
1 teaspoon baking soda
1 teaspoon salt
1 egg
1/3 cup vegetable oil
1/2 cup milk
1 cup grated cheddar
3 cloves garlic, roughly chopped
1 pound fresh tomatoes
large handful of fresh basil and oregano
Directions:
Preheat oven to 350°F.  Grease an 8.5-inch loaf pan.
In a large mixing bowl, whisk together flour, baking powder, baking soda, and salt.  Stir in the egg, oil, and milk, followed by the grated cheese.  The batter will be very thick.
Combine the chopped garlic, tomatoes, basil, and oregano in a food processor.  Using a series of 10-15 one-second pulses, chop the tomatoes and garlic until no large pieces remain, but mixture is not completely smooth.
Fold the tomato and garlic mixture into the batter.  Resulting batter will still be thick.
Pour (scoop) the batter into the prepared loaf pan.  Bake 45-50 minutes, until a tester inserted into the center of the bread comes out clean.
Cool in pan for 10 minutes, then turn out onto a wire rack to continue cooling.  Enjoy while still warm.
A Bunsen Burner Bakery Original Protocol